Although vintage inspired weddings are exceptionally popular, the 1960's is an era I  don't see replicated as often as I'd like. However this all changed when Rosa & Doug's incredibe wedding landed on my desk. I swooned, I let out a little squeal and I emailed them back right away saying "yeah baby!"
The wedding took place at Don the Beachcomber, a bar on Huntington Beach, CA. Rosa wore a custom dress by Dolly Couture, made especially for her and inspired by a genuine vintage dress pattern she'd seen in a 1963 copy of Modern Bride. The bride's accessories and jewellery were all vintage and mostly found on eBay.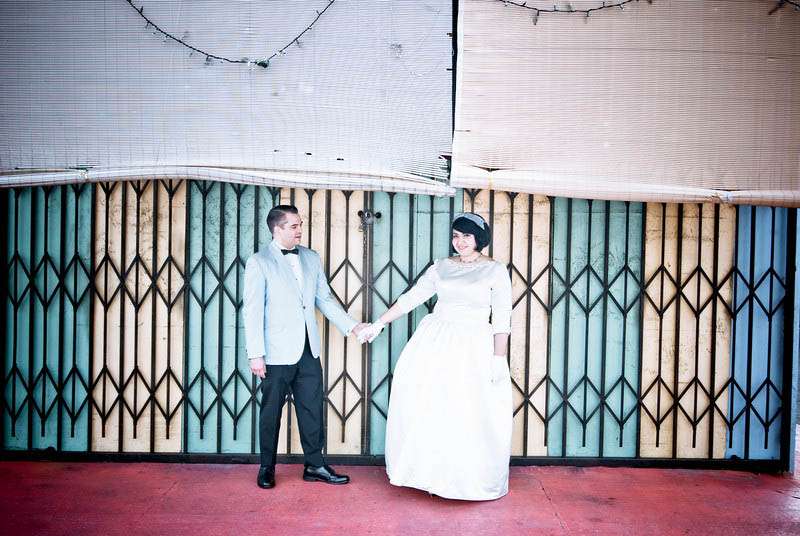 To match his bride, Doug wanted a powder blue vintage tux (you don't get more 60's than that do you!?) however he searched high and low with no luck. "We even looked into having one custom made for him because at this point we had our hearts set on this and nothing else would do!" Rosa told me. "Then one day, alas! On Etsy! The. Perfect. Blue. Tuxedo. Jacket. Purchased it on a whim and it was PERFECT. Perfect condition, perfect fit, perfect, perfect, perfect! It was meant to be his!"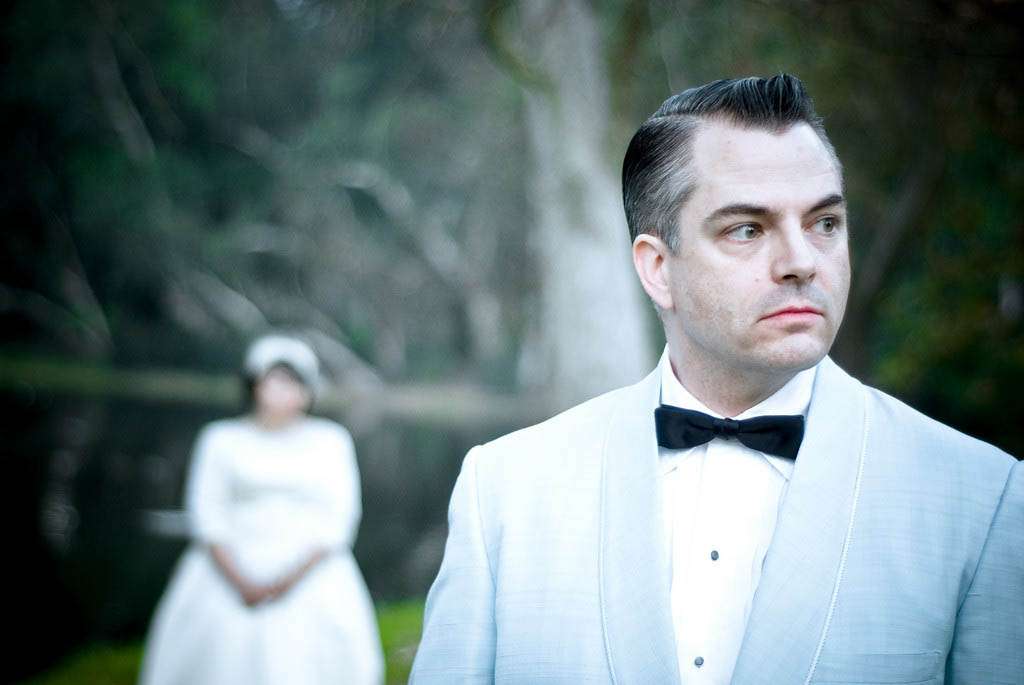 The bridesmaid's dresses might just been some of my favourites I've seen in a long while. The yellow colour and the cute collars are perfectly 1960's! They came from Michelle Tan on etsy (custom made) and were put together with shoes and accessories of the girl's choosing.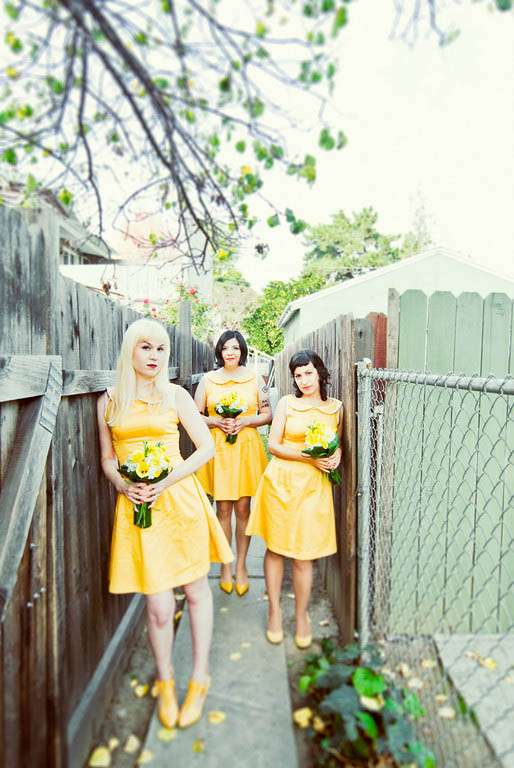 "Doug and I both love late 50s/early 60s Americana, Mid-Century design, mod culture & all that goes with it: 60s music, Italian scooters, fashion," Rosa concluded. "Our home & wardrobe reflects this & well, we felt our wedding should incorporate it into our wedding too. And when looking for a venue, the more outdoors-y venues or over-the-top Art Deco or big Victorian mansion-type of venues were soooo not us. Don the Beachcomber is, by no means, a venue that screams wedding. But.. my God! It worked perfectly. It had an awesome vintage Polynesian-vibe that felt like you had just stepped foot inside Disneyland's Enchanted Tiki Room. Plus, where else could our guests be sipping on mai tais & jungle jetsetters while we exchanged vows?!"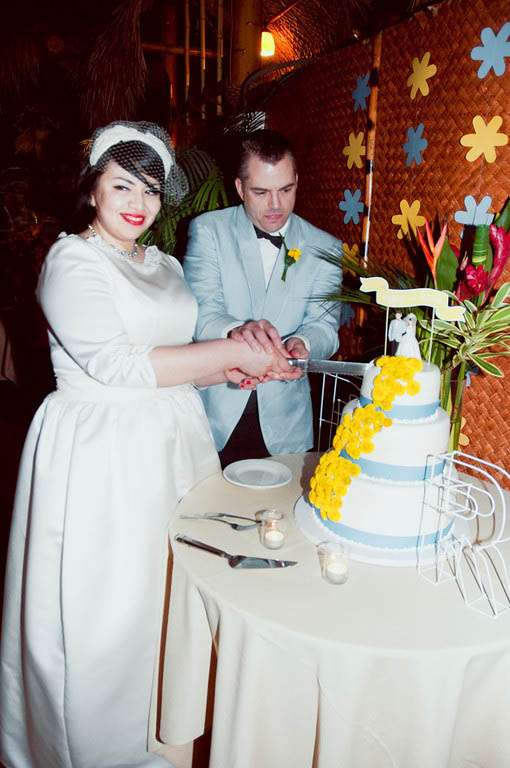 How cute is this video made for the couple by their photographer too? What a stylish group of wedding guests!
HUGE thanks and big fat 1960's loving to Rosa & Doug for sharing their wedding with us today
Photography Credit: Julie Pepin Photography
Venue: Don the Beachcomber
Bride's Dress: Dolly Couture
Groom's Suit: etsy
Bridesmaid Dresses: Michelle Tan on etsy
Cake: King's Hawaiian Bakery
Flowers: Sanctuary Design
Centrepieces: DIY
DJ: Dan Melendez & Marv Mack