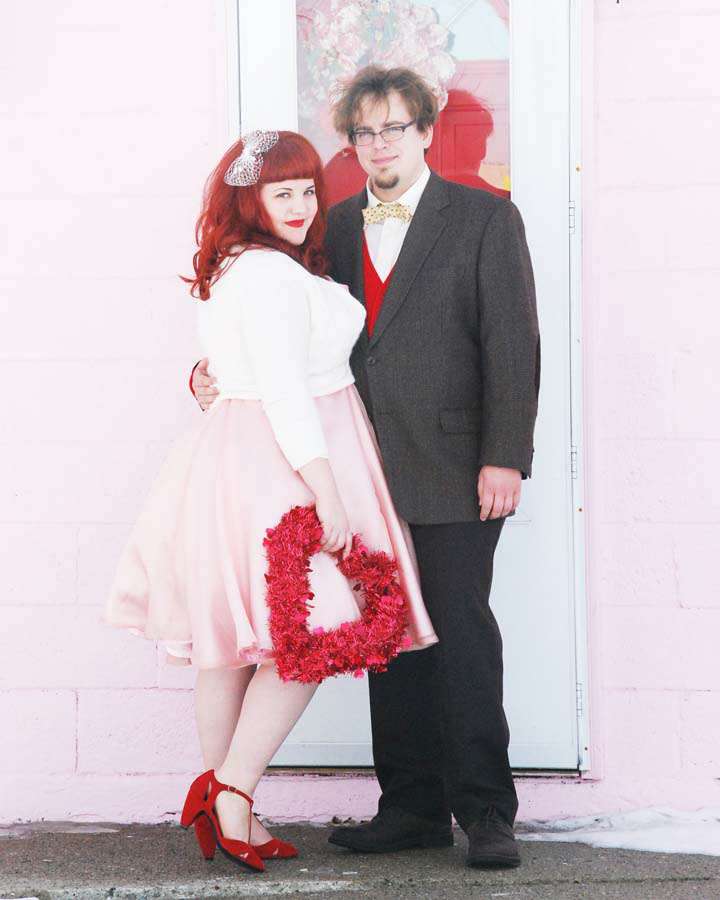 Autumn & Kevin were married the day before Valentine's Day so of course their wedding had to be a full on romantic affair. The bride is a self-confessed Valentine's addict and so the theme was not only perfect for the fact that it was a wedding (aww love!) but because it was themed around the celebration she loves so much. The wedding took place at the bride's Mother's house which was not only the ideal setting for their colour scheme of red and white, but made the day a lot easier for Autumn's Grandmother who also lived in the house with her. It was very important to the couple to have her there.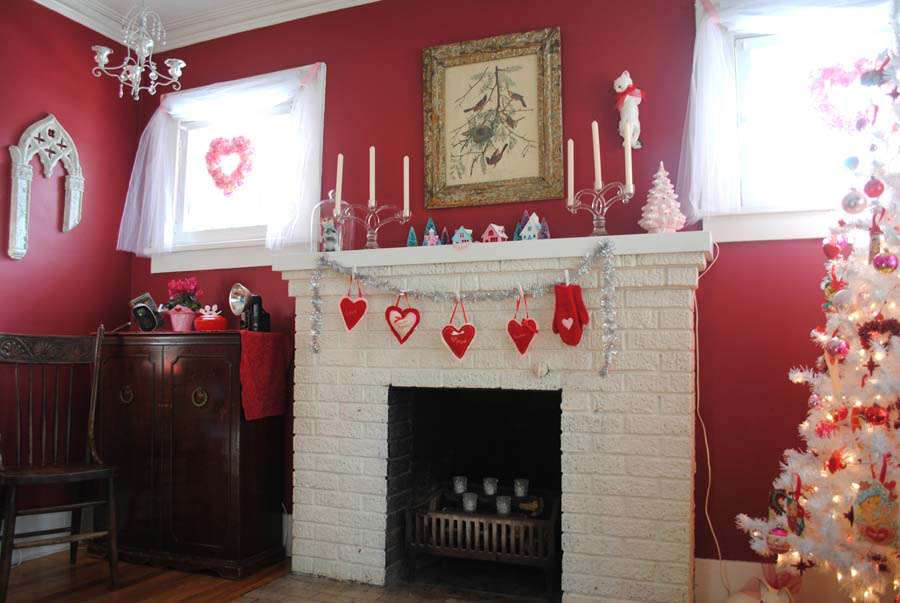 Autumn explained, "I wanted to have the wedding at my Mom's because it would be easiest for my Grandma since she lives there too. Plus my Mom's living room is red and white, with wood floors and a fireplace, which was my ideal setting. I knew from the beginning I wanted to have a vintage Valentine's day wedding. It's my favourite holiday and I already had tons of vintage Valentines. After christmas I transform my white retro christmas tree into a Valentines day tree and I wanted to incorporate that. A lot of the other decor was found at craft stores, or hand made by my Mom. We also incorporated a lot of personal items, like my antique cameras, and Kevin's model airplanes that he had built. We featured a wall of photos with us as kids, and as a couple."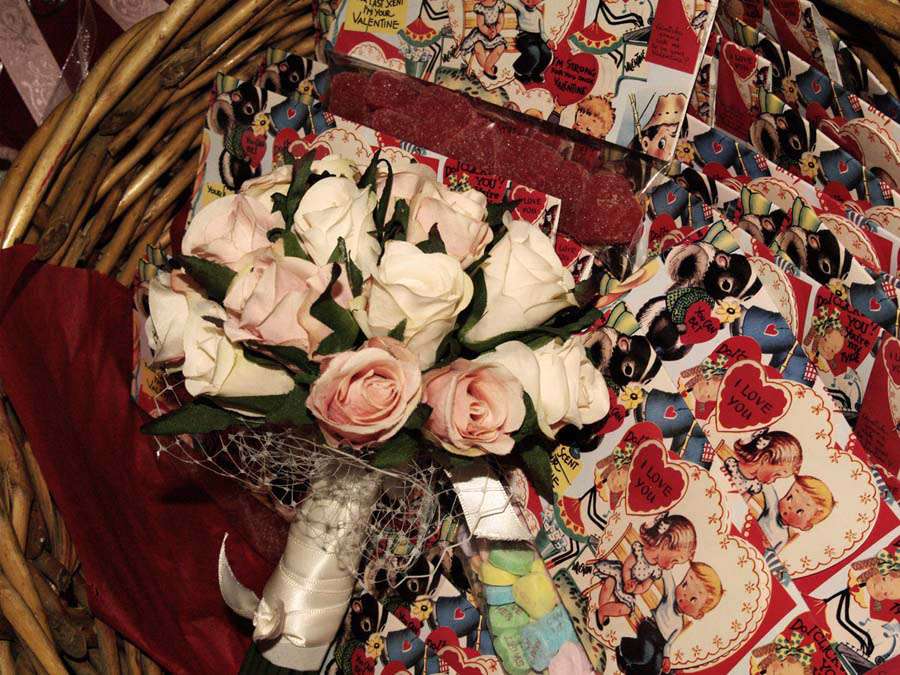 "Since the wedding was at my Mom's house we had to keep the guest list small, only 45 people. We each only had one person stand up with us, and our flower girl (who we dressed as cupid) and our ring bearer. We wanted to keep things easy and simple. The wedding invite was a photoshopped vintage Valentine that I threw together, since everything was so last minute we emailed the invites, vs. snail mail. The food was put together by my family, mostly my Mom and Aunt. And the ring bearers pillow was made by my Mother-in-law. We started photos at our house, in our kitchen and in front of the house and them moved to old town for the rest. Our first dance was to "Coney Island Baby" by the Excellents. We visited Coney Island about three months into our relationship for kevin's birthday. We kissed at the top of the wonder wheel while they shot fireworks off the beach, and from then on Coney island was our place."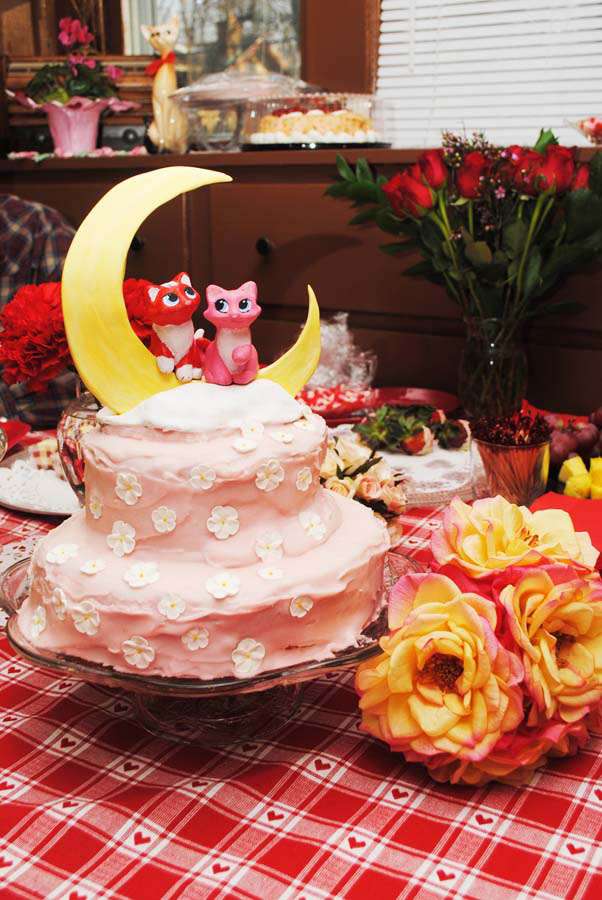 "It was pretty thrown together but I think it turned out super cute. We're actually having part 2 in October. A big reception to celebrate so we can invite all our friends that couldn't fit into my Mom's house. I'll be wearing a different dress, and we're going to have sideshow performances, including our friend Eak the Geek, who worked at the coney island sideshow for 11 years. We're going to have a mock-remarried ceremony standing on his chest while he lies on a bed of nails! So it should be pretty amazing. I'll be sure to send those photos along as well!"
I can't wait to see those can you?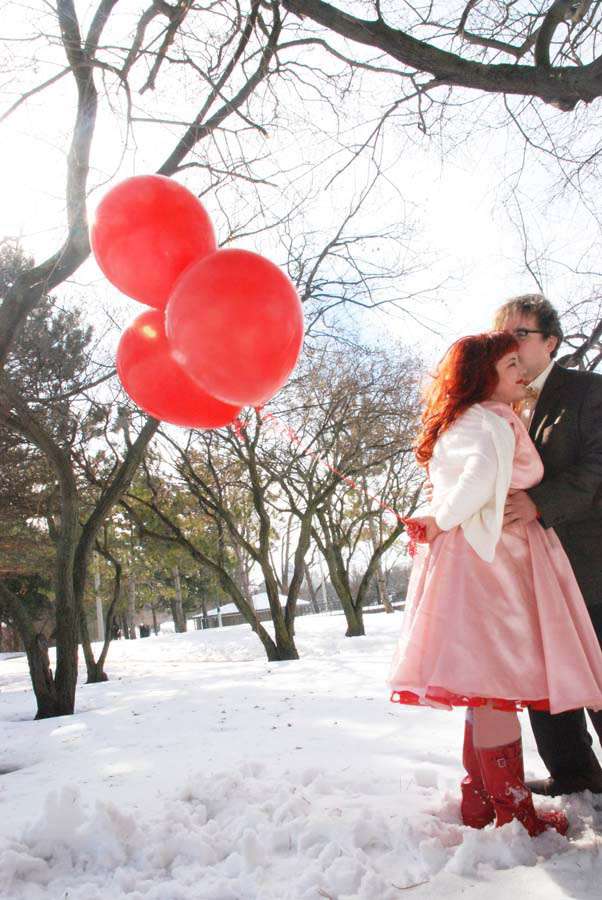 Big love and thanks to Autumn & Kevin for sharing their special day with us.
Photography Credit: Jasmine Miller
Venue: Bride's Mother's house
Bride's Dress:  DIY (Made by the bride's Grandma and Aunt from a 1950s vintage vogue pattern
Bride's Shoes: Urban outfitters
Bride's Hair piece: DIY (bride)
Bride's Jewellery: Antique locket, gift from the groom
Cake: DIY (bride's Mother, Anet McPherson)
Cake Topper: DIY
Flowers: DIY
Bridesmaid's Dress: ModCloth