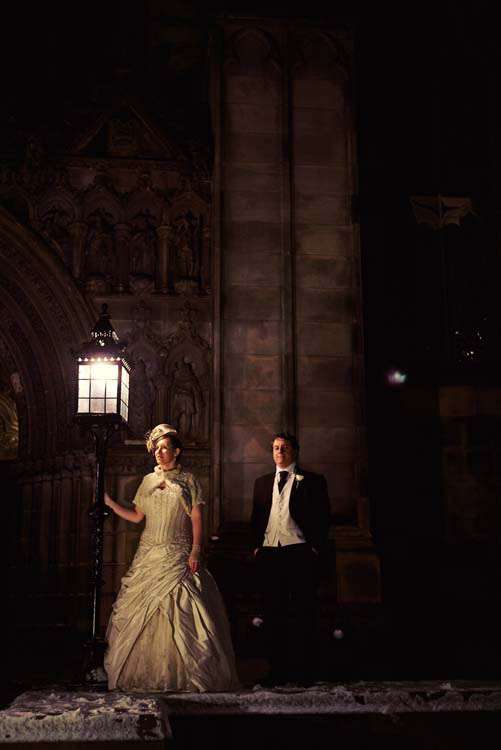 Mark & Fiona's Steampunk inspired wedding took place at the Signet Library in Edinburgh in November. "We chose a Steampunk theme after Mark told Fiona her general day to day style was slightly Steampunk when he bought her a watch for Christmas in New York," the couple explained. "Fiona had not heard of it, but looked it up and realised it was exactly what she was in her choice of films, clothes and even her writing (she's an aspiring novelist)."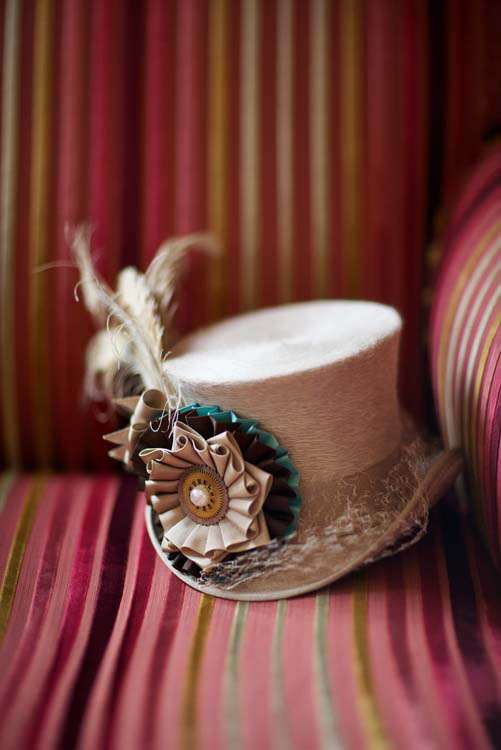 Fiona didn't want to be a traditional bride, so chose a mini top hat instead by House of Nines Design instead of a veil. She explained, "Before I even chose my dress I'd decided I wanted a hat and it had to be a  House of Nines Design Hat.  I had it made specifically to my colours and my specification.  Trisha was a real pleasure to work with and a great help, sending me various samples to chose from.  Trisha is based in San Francisco and has previously made hats for Dita Von Teese, amongst others." The bride's dress was by Ian Stuart. She also wore handmade shoes from Beretrun Design and gloves byMetamorphDK on Etsy.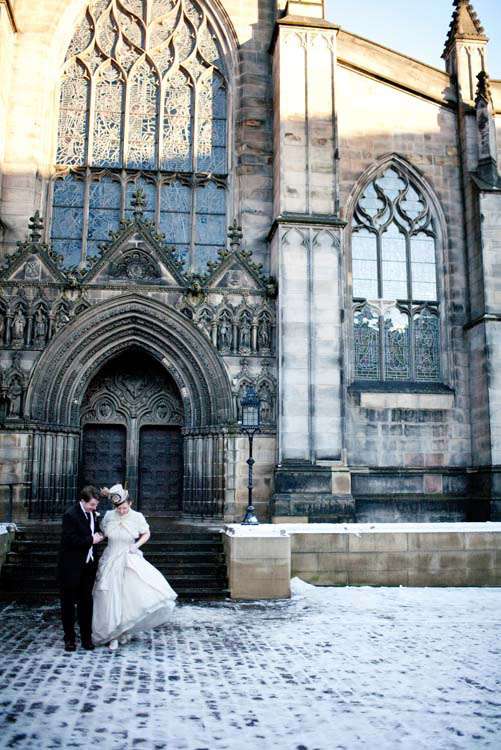 The couple also didn't use any traditional wedding music and instead chose some of their favourite songs for the  ceremony. Music from Spirited Away and Stardust accompanied the couple's recessional and processional and Led Zepplin's Stairway To Heaven played on harp during the signing of the register. 
Finally, Fiona made all the women's favours which were flavoured lip balms.  She had lots of fun the months before experimenting making different flavours, colours and styles and she said they were actually very easy to make.  Mark chose Lego key rings for the men's favours.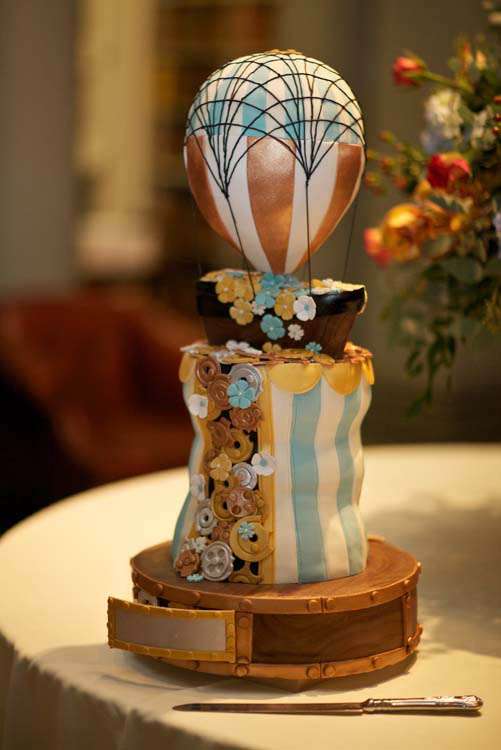 Thanks to Fiona & Mark and their photographer David for sharing this wedding with us today
Photography Credit: David McNeil Photography
Venue: Signet Library in Edinburgh
Bride's Dress: Ian Stuart
Bride's Hat: House of Nines Design
Bride's Shoes: Beretrun Design 
Bride's Jewellery: Angel Collection, Yarwood White
Bride's Gloves:  MetamorphDK on Etsy
Groom's Outfit: Hired from Impeccable
Groom's Cuff Links: Pretty Eccentric
Bridesmaid's Dresses: Style Shake
Bridesmaid's Jewellery: (necklace) babyjewlz on Etsy (bracelet) Mirabelle
Bridesmaid's Hairpieces: Clockwork Couture
Cake: 3D Cakes, Edinburgh
Bouquet: hairbowswonderworld on Etsy
Venue Flowers: Planet Flowers, Edinburgh
Band: The Tim O'Connor Band