I am literally dying of excitement over Hope & Brian's GORGEOUS wedding. These guys certainly blow the lid off boring or traditional weddings. This is the kind of shindig I wish I'd be at. Uber stylish, painfully hip and Rock n Rollin' til the early hours at the after party!
The wedding took place on 10/10/10 at The Hyde Park, NYC. Here, the couple were married and the first part of the reception took place. They wanted an intimate wedding and so only invited 85 people. They also wanted a day that reflected heir love for one another as well as their adoration for New York. They did this by employing mostly local vendors – in fact almost every vendor was within a 10 minute walk from their apartment.
Hope is a hairdresser and Brian is a recording engineer so aesthetic and music were important to them. Music was used to great effect prominently in their ceremony (they are both avid music lovers and their first interaction 10 years ago was actually a heated argument over who was more influential, Elvis or John Lennon!) The bride walked down the aisle to "comptine d'un autre ete" by Yann Tiersen (from the movie Amelie) which was significant not only because it is the bride's favourite film but also because they were engaged in Paris at the Sacré-Cœur. The couple exited the ceremony to 'Oh Yoko' by John Lennon.
The wedding was full of gorgeous and personal DIY elements. Hope and her mother put together all the hanging tissue pom poms (which they found on etsy) the night before and strung them from the trees.  The centerpieces were a mix of bowls, vases, crystal and candle holders which were gathered by the bride from numerous sources such as Anthopologie, flea markets and vintage stores.
The couple chose Royal Steamline for their invitations, "As a side note, I must tell you that the invitations were incredible," photographer Angie told me. "They were like nothing I've ever seen and were the topic of conversation for weeks. Royal Steamline does a magnificent job and was so helpful from beginning to end."
After the main reception came the after party which took place at The Living Room, NYC. Here, the hardcore party-heads danced the night away to the band Rawles Balls, friends of the couple. The bride changed into a cute, short, pink and ruffled number so she could really dance her socks off!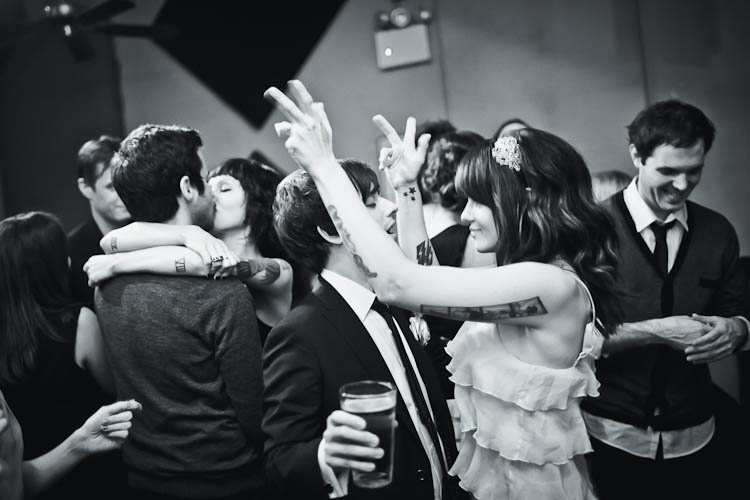 Finally, I couldn't blog this wedding without drawing extra attention to this utter cuteness that happened at the beginning of the day. Goodness me that is one cute doggie – he looks like a little teddy bear!!
Huge love to Hope & Brian for sharing their wonderful wedding story with us today, and to photographer Angie for sending over her beautiful images.
Photography Credit: Entwined Studio
Ceremony & Reception Venue: The Hyde Park, NYC
After Party Venue: The Living Room, NYC
Bride's Dress: Carolina Herrera
Bride's Veil: Kleinfeld, NYC
Bride's Headband: Wink, NYC
Groom's Suit: Michael Andres Bespoke, NYC
Invitations: Royal Steamline
Cupcakes: Billy's Bakery
Flowers: Ariston Florist
DJ: Chris Enriquez
Band: Rawles Balls