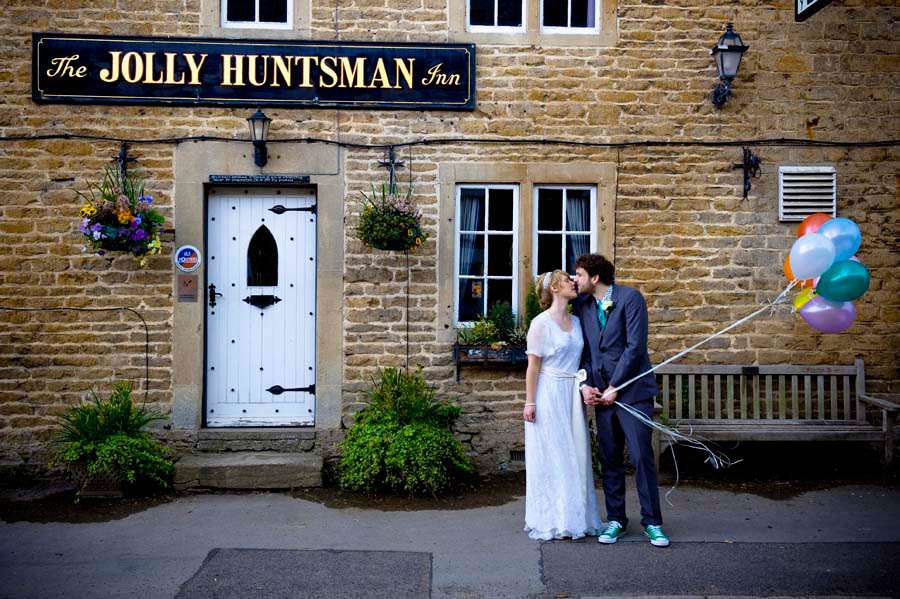 Amy & Jonathan were married in May, in a cute village hall wedding. The couple clearly put a lot of love, thought and detail into their wedding as you can see from the incredible reception images! The whole thing ties together so beautifully – the bunting, the sweets, the cake, the flowers, the mismatched tea cups…I just love it all!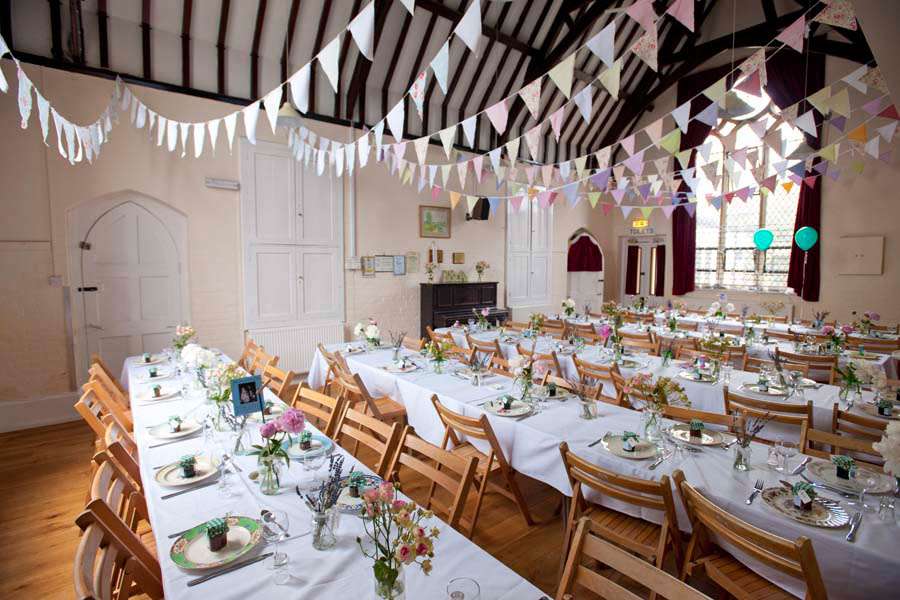 The ceremony was held in Kington St Michael Church, Wiltshire and the reception that followed was at Kington St Michael Village Hall. "We tried to do as much as possible ourselves so the wedding would be as personal as possible," explained the couple. "We had our wedding in church and then walked across the road to the village hall which we had decorated the day before with our family and friends. It made the day very personal and very different. We hung bunting that a friend had lent us, fairy lights, union jack flags etc and had jam jars of flowers on the tables. We made favours of jam and chutney that doubled as place names."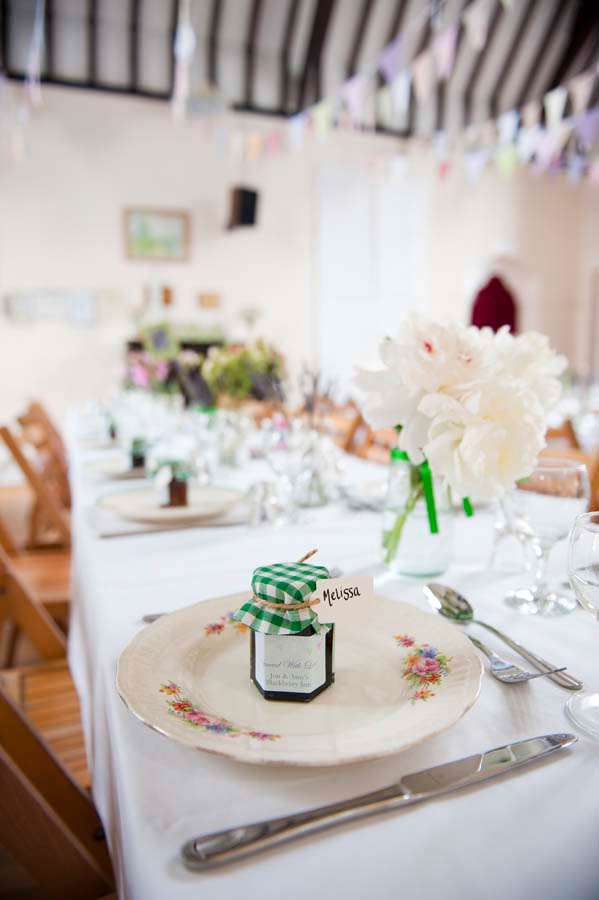 "We tried to keep things fairly traditional but with our own spin on it and we tried not to be limited by what a wedding "should" be.  So many weddings seem like the same thing over and over but we wanted ours to stand out. We made summer berries gin for the toasts by adding raspberries, strawberries and blackberries to gin with sugar and letting it sit for four months. Then we removed the fruit and we had pink gin! I also made the cake topper after a visit to Hobbycraft!"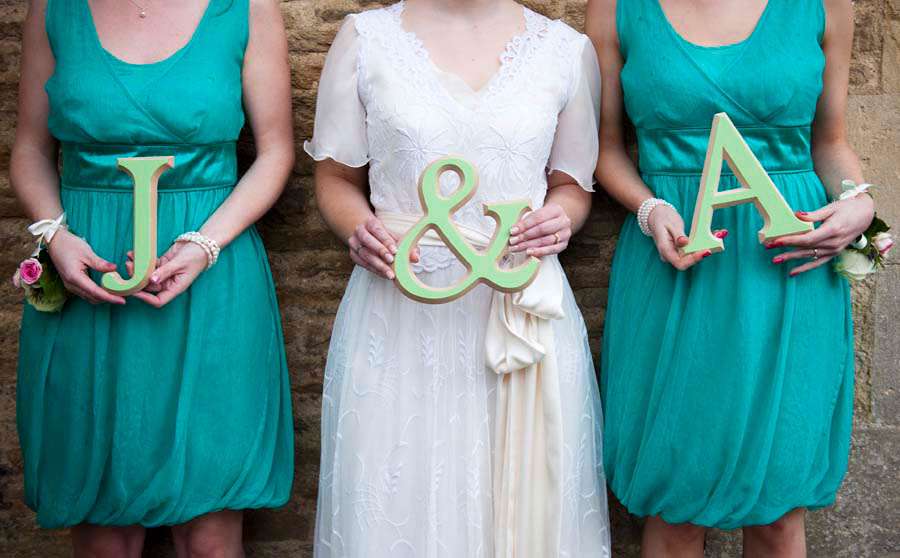 Amy wore a stunning vintage lace dress which she found on eBay. She added her own personal touches to it by adding a silk dress underneath made by Alison Miles.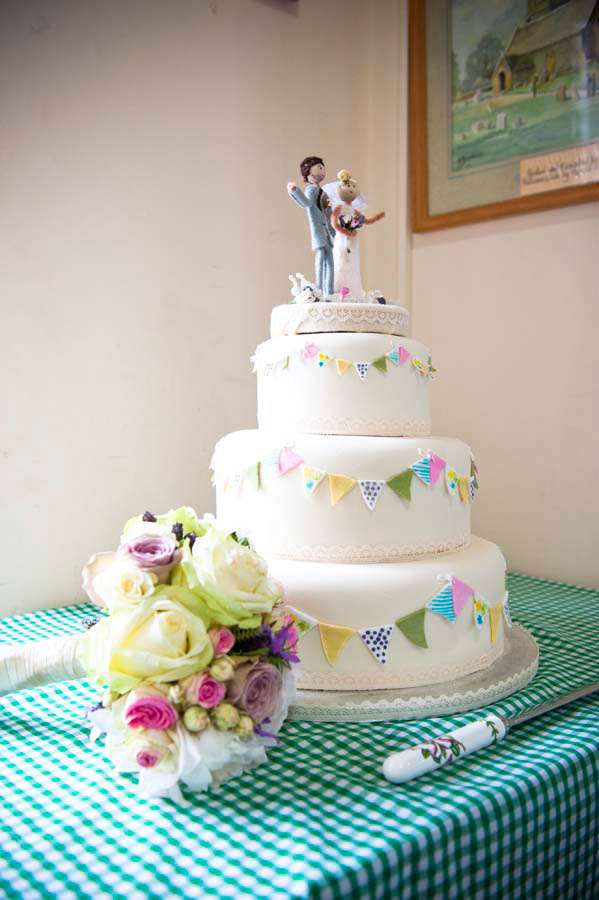 Love to Amy & Jonathan for sharing their gorgeous wedding details with us and to Jordan & Ines of Source Images for sending over the images
Photography Credit: Source Images
Ceremony Venue: Kington St Michael Church, Wiltshire
Reception Venue: Kington St Michael Village Hall
Bride's Dress: Vintage from eBay + silk dress underneath made by Alison Miles
Bride's Shoes: Rachel Simpson
Bride's Veil: Alison Miles
Bride's Jewellery: Accessorize
Groom's Suit: Moss of Bath
Groom's Shirt: Paul Smith
Flowers: Young Blooms
Bridesmaid Dresses: Warehouse
Bridesmaid Shoes: New Look
Cake: DIY (Gift)