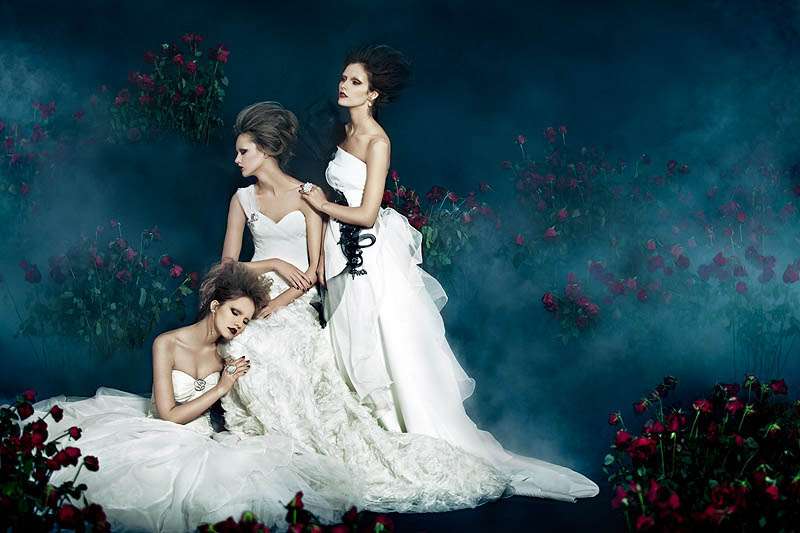 Photography Credit: {via Fashion Gone Rogue} Julia, Sasha & Zivile by Zhang Jingna in 1000 Roses
♥ Working Girl – "…in more than a third of households woman are now the primary breadwinner" (turn to page 22)
♥ Make it Happen
♥ A Modern Cali Christmas Party – a succulent Christmas tree. I want!
♥ Regular Rock n Roll Bride reader Ashley's engagement session was featured on SoYourEnGAYged.
♥ A Tartan Wedding shoot
♥ Vintage Texan Wedding – there is something very Audrey about this bride
♥ Fun Gift Ideas for the Photographer and other photo people
♥ Design Sponge post some fabulous business advice. Check out these incredibly helpful videos on Getting your Blog Ready for Going Pro (Content and Efficiency) and Diving into Advertising
♥ Valentine pins
♥ Door knob bouquet!
♥An Open Letter to PR Agencies Targeting Wedding Bloggers – wish I'd written this! (I did write a similar post a while back however, about how to get your wedding featured on a blog)
♥ Caleb and Karli's Indie Washington Wedding
♥ Record store engagement
♥ Caleb & Marissa's Musical Magic
♥ Hello, Inspo: Anthropologie Windows
♥ A gorgeous tattooed Elizabeth Dye bride
♥ Real Mobile, Alabama Wedding – Charlie & Brian
♥ Amazing Thanksgiving cupcakes + tutorial! – could easily translate to Christmas cupcakes
♥ Babies Breath in Weddings
♥ Ellen Calvert: Recycled With Love
♥ Gracie + Dave's Vintage Picnic Wedding
♥ Art to make you go 'awww' 
♥ Waterfront Brooklyn Wedding
♥ Thanks to the lovely Elsie of Studio Artifice who sent me this gorgeous Parisian Save the Date that she created.
♥ And finally, big love to reader Jennifer who sent me her engagement story this week. Damien proposed by commissioning a graffiti artist to create a piece of art asking her to marry him in Paris. J'adore!