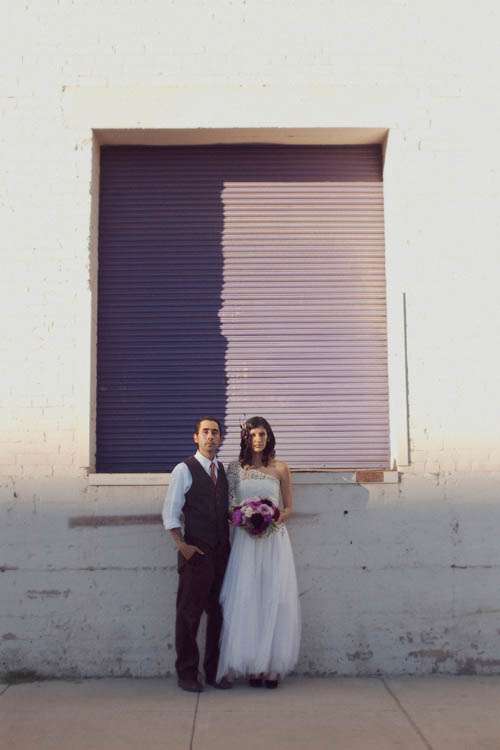 When a wedding as gorgeous as this one hits blog-land, you just know the wedding blogs are going to be fighting over who gets to feature it. I'm not one to boast, but I'm pretty chuffed that photographer Galaxie Andrews  chose Rock n Roll Bride to showcase this amazingly stunning wedding. The bride is Monique, the uber talented designer and owner of Rock n Roll Bride favourite, Ouma Clothing, and her marriage to John really is a match made in Rock n Roll heaven. The details of this wedding are killing me…and don't even get me started on her dress. Epic isn't even the word!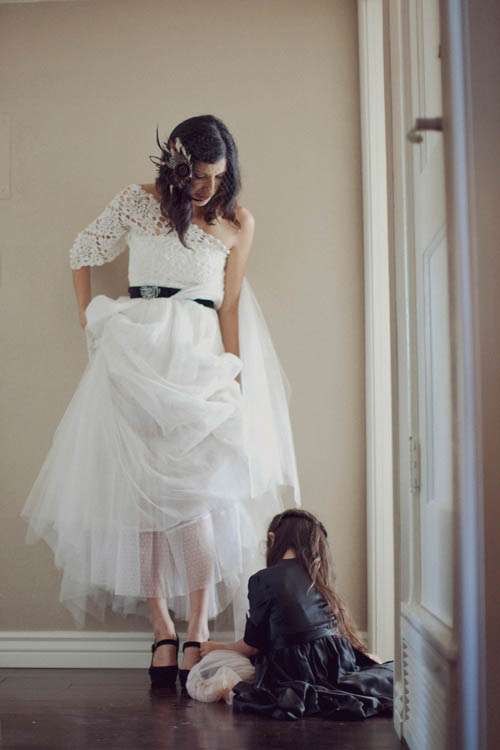 I got chatting to Monique all about their elegant Halloween themed wedding inspiration. "John & I wanted everything handmade so we turned to etsy. It was important to us that our wedding felt authentic, minimally "produced" and intimate.  We also thought it was important to work with local vendors and to include some of our favorite restaurants. Pumpkin has to be my favorite flavor this time of year, so it was so fun coming up with a menu that included pumpkin cupcakes, empenadas, pumpkin rolls, pumpkin tamales (yes these are amazing!) and pumpkin beer."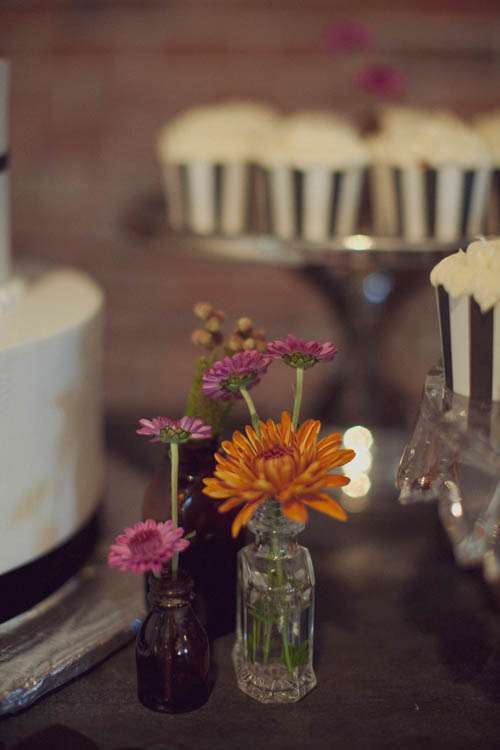 "John actually chose our Halloween theme on a whim.  Once he mentioned it, I was instantly inspired.  I saw prominent visions of pumpkins, October weather in Arizona, masks and elegant costumes.  Arizona is gorgeous in October.  We wanted the wedding to be held in downtown Phoenix (our city is awesome!). We knew we wanted a raw, brick venue and a friend mentioned the Ice House. It was an instant "YES, that's it" moment.  The Ice House was extremely inspiring with it's roofless cathedral – perfect for a ceremony, the column room which is set up like an art gallery, we felt this would be perfect for cocktail hour and a nice place to display our engagement photos. Basically, it was a blank canvas, so we could do whatever we wanted. It was actually used as a place where they manufactured ice in the early 1900's."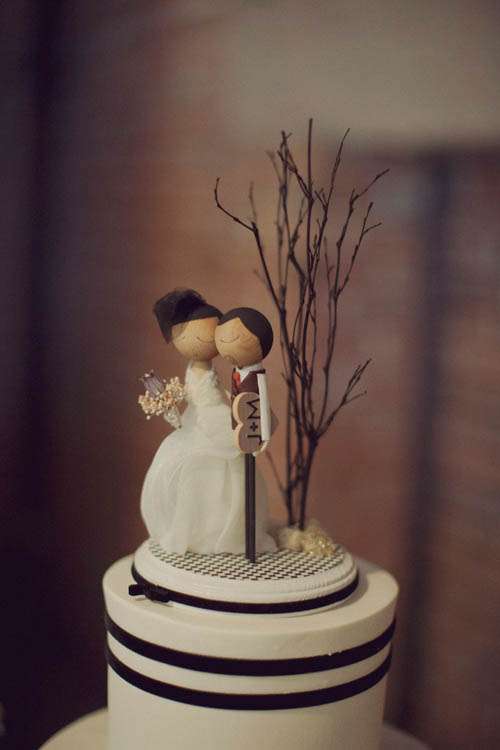 "Our inspiration came from the holiday itself, we wanted to create a rustic/festive type event – the exact opposite of how you might imagine a Halloween wedding to be. I think we have a pretty talented group of friends and family.  My brother and his friends played the music and instead of a traditional wedding dance we had a soul train line-up and we busted our old school James Brown moves.  Our friend Andrew designed the save-the-dates and invites (he hand stamped all 125 himself!), my assistant and great friend Xappa designed my headpiece and the women in my family hooked it up with the most delicious treats ever AND of course Galaxie the gorgeous person behind the camera was there to document it all.  We are grateful and honored to be amongst such brilliant company.!
Monique hand made her dress the night before the wedding (!) She also designed, hand dyed and made all of the bridesmaid dresses herself.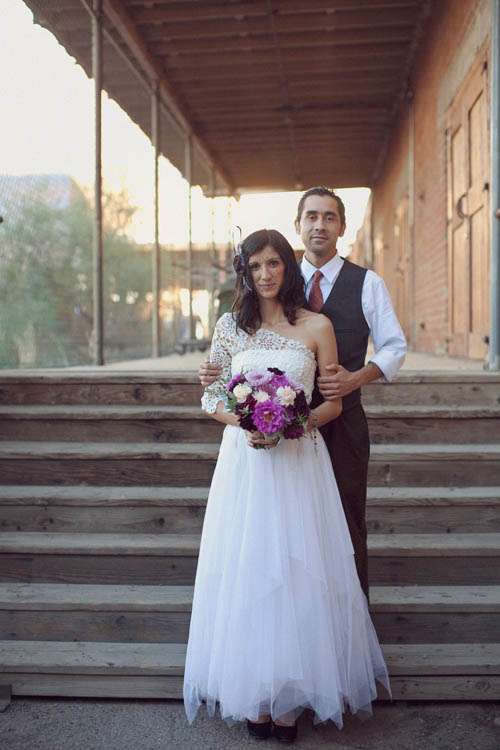 For an exclusive interview with Monique on her wedding dress inspiration and more about company, Ouma Clothing, be sure to head over to Love My Dress who are chatting to her today
Also be sure to check out Ouma Clothing's etsy store for a tulle-fueled explosion of wedding dress awesomeness! ps I've been in love with this party dress for about a year. I think I may just need to go ahead and buy it for my next event!
Huge thanks to Monique & John and their amazing photographer Galaxie for sharing their oh-so-gorgeous wedding with us today
Photography Credit: Galaxie Andrews Photography
Venue: The Ice House
Bride's Dress: Ouma Clothing on etsy
Bride's Shoes: Via Spiga
Bride's Bracelet: Lisa Dominy of Lilew Treasures, [collection of saint charms and rosaries]
Bride's Dressing Robe: Plum Pretty Sugar on etsy
Bride's Headpiece: Space Cadet Jewellery on etsy 
Bridesmaids Dresses: Monique Martinez (Ouma Clothing on etsy)
Hair & Make Up: Brooke Baker brookeannbaker@gmail.com
Flowers: Jennifer wood of Mignonne Handmade on etsy 
Flower Girl Dresses: faith works 4 youon etsy
Groom's Outfit: Banana Republic
Groomsmen outfits: Banana Republic, mix & match pieces from thrift-stores
Cake: Fleur de Lis
Cake Topper: MilkTea on etsy
Cupcakes: Pastel a Pastry Shoppe pastelshoppe@aol.com
Wedding Coordinators: Cristi & Bianca of Blissfully Chic Events cristi@citychicdesign.com
Spanish Guitar: Miguel DeMaria elegantspanishguitar@gmail.com
Graphic Design: Andrew Coppola
DJs: Ariel Perez the_ariel_one@mac.com, Conrad Martinez & Kristhefist Herrera
Officiant: Matt Nathanson