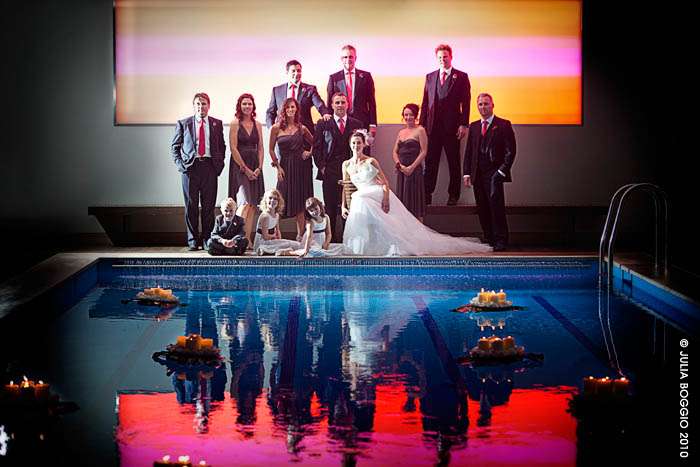 This is a subject I have wanted to address on the blog for a while, but I'll be honest, I have been a little afraid of bringing it up. I really do hope I don't get lynched afterwards for talking about this unspoken subject but I really do think this is something worthy of discussion.
I need to make a few things clear first…
♥ I am a HUGE advocate of helping start up businesses. I often feature the work of brand new and up and coming photographers on the blog and this article is in no way intended to discredit or slag off newbie photographers.
♥ I am a true believer that a fantastic photographer can make even the most budget wedding look kick ass – more than the dress, the decor and the extra details. Seriously, while all these aspects are important it is the photographer that will capture these memories that will last a lifetime and I think this is the one thing that shouldn't be scrimped on or "DIY-ed".
♥ Everyone deserves to have a truly fantastic photographer to capture their day. Whatever your budget, I can't stress enough how much I'd urge you to spend as much money as you are able to in order to get the very best photographer that you can afford.
I don't want the fact that I have approached the subject of money, business and all that icky stuff to in anyway ostracise any readers of my little blog. However I do think that just how much you're going to spend on photography is something that should be addressed. It's something that all couples will talk about when they plan their weddings and budget but it's a subject that is never spoken about on blogs or in magazines. Why is this? Well, people don't really like to talk about money do they?
My reasoning behind this post is not in anyway to try and encourage you to spend more than you can afford or are willing to on your wedding photography, however I do want to make you stop and think if the service you are getting for the price you're paying really is good value.
I have lost count of the number of brides I've had email me asking for photographer recommendations for under £500 and I've also lost count of the number friends I've spoken to who have recoiled at the fact that a lot of the photographers I know are charging £2000 + for "one day's work" (seriously? do people still think photographers only work one day a week!? I was chatting to a photographer friend of mine about this subject who told me that after everything she has to do, her hourly rate is less than £20 an hour…and she's not one of the cheaper ones!)
I know weddings are expensive things and that the thought of spending a couple of grand on a photographer is a lot for most people, but I can't stress enough that I feel photography is really the one thing you should splash out on. If you can only afford £500 for a wedding photographer then great, but just be aware that the results that you get from a photographer who is only charging that much will most certainly be inferior to someone a bit more pricey – even if the talent is there. Someone able to charge more than this, will if anything have a lot more experience than someone still charging around the £500 mark.
If you are happy to pay under £500 for a photographer then fantastic – rock it out, but just be aware that for that price you aren't going to get Jose Villa/ Jasmine Star/ Jonas Peterson/ Lisa Devlin… I hate to say it, but in this industry, you really do get what you pay for.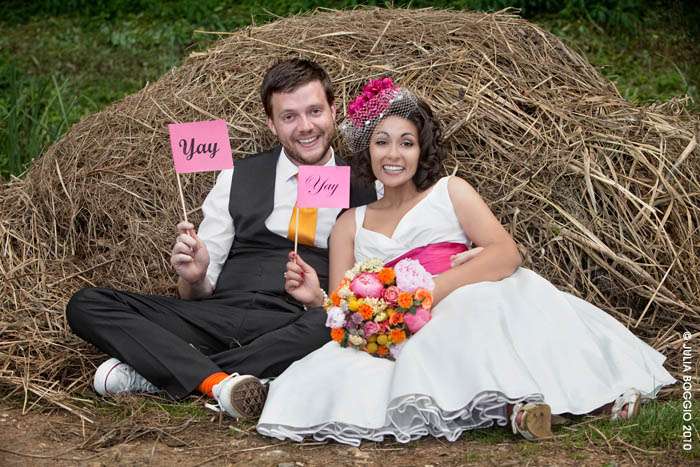 This is a subject that us wedding industry folk chat about a lot. The preconception by some brides is that in some way photographers are trying to rip you all off. While I'll be honest, there are certain photographers out there who I think are ludicrously expensive for what they offer (and no I'm not naming names!) in the majority, the price you pay generally covers the quality of the service you are given. After that it's just down to personal taste.
When I mentioned on Twitter that I was going to cover this topic, the response was positive if not a little wary…
"depends on your point of view!? Could provoke a witch hunt!"
"having a heated "discussion" with a friend about this very subject.He says price things lower-I'm saying don't be too cheap!"
"haha brave!"
"wow! You are brave!"
"that should be interesting…"
"oooh sounds controversial"
"hope the amazing pics you blog already help people realise its worth paying for good photography"
"oowww that's a can of worms on so many levels but i am sure you will do a great job!"
After reading this I hope you will all realise that my intention was not to be controversial or to even spark a debate on this matter – I merely wished to address a subject that I feel affects us all – brides, bloggers and of course photographers.
Therefore I wanted to get the opinion of a photographer and so I asked someone who is greatly respected in the UK wedding industry. Julia Boggio is regarded as one of the UK's leading wedding photographers and has won many awards for her business acumen as well as her photography. She has had her worked featured in all the major UK wedding magazines and she is a regular columnist for the same photography magazine I write for, Photo Pro – and she was the one who actually got me the job so I owe her a lot! She also openly admits to being at the higher end of the market in terms of her pricing so I thought she would be the perfect candidate to address this matter.
I'd love to hear your thoughts (from photographers AND brides please!) on this subject in the comments section below.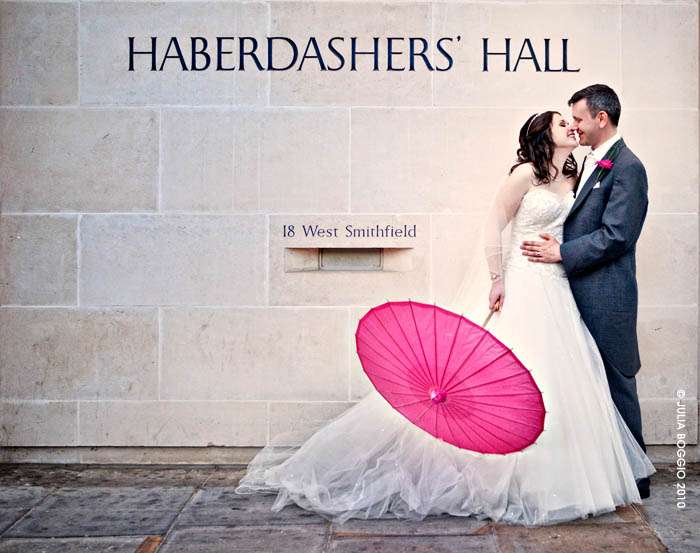 When Kat asked me to write this guest blog post, I accepted with a small amount of trepidation. The reason for this is two-fold: first, there is no way I can write this post without ruffling some feathers because, second, I'm going to be completely honest about this subject.
Let me start out by saying this: everybody deserves to have a photographer at their wedding. For this purpose, it's great that there are a range of prices, skills and talents out there for them to choose from. There is no hard and fast rule about what you should budget for your wedding photography. You may have heard of the 10% rule, in which 10% of your wedding budget should be allocated to your wedding photography. In reality, what I find is that people who value photography and have the budget want to spend more on it. Period.
Like any other lifestyle market, there are a variety of brands out there for you to choose from. To put it into the context of brands you are familiar with, there are the equivalents of BHS and Asda to Debenhams and John Lewis to Harrods, Liberty and Harvey Nics. What I am going to explain to you is what you are paying for as the price increases.
At the low end of the market, the photographers are most likely 1) photography students, 2) weekend warriors, that is, wedding photography is not their full-time occupation and they do photography for a bit of cash on the side, or 3) new wedding photographers who are just starting out. It is also likely that it's going to be a shoot and deliver package; the photographer will shoot the images and then give you a disc of images. Like I said in the beginning, it is great that there are options available in the low-budget area because everyone deserves to have a wedding photographer. But I'm not going to lie to you: it can be a gamble at this end.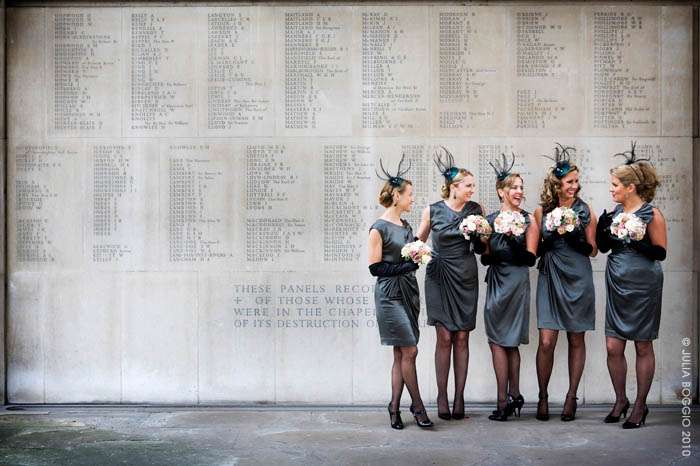 In October last year, a story broke in the news about a couple that was distraught over their wedding photos and video. Out of the 400 images, they liked just 22; the videographer was heard to swear in church when he dropped his camera. People's backsides were a common feature in the images. When I read this story, I was appalled for the couple. After all, that was it – their one chance at capturing their wedding day in a memorable way, gone. Then I read what they paid for the services: £1,450 for their photography and videography. Well, suffice it to say you're not getting Annie Leibovitz and Steven Spielberg for that kind of money. Nor should you expect to.
I was a guest at a wedding recently, always a nice change for me. I make it a rule not to shoot friends weddings because I like to enjoy their day as a guest. However, that doesn't stop me from scoping out the wedding photographer. I had given this friend a load of suggestions about who he should look at, but they went ahead and booked somebody else. I watched the photographer, who was wearing jeans, as he photographed the bride and groom squinting into direct sunlight; tried to photograph the group shot of all the guests with a telephoto lens (imagine holding up a toilet roll tube to your eye and trying to see a group of 100 people through it, and you'll get the idea); and then before the first dance, he turned to me and whispered, "Help!" as he jumped in to shoot it with his non-professional camera with pop-up flash. The photos, when I saw them, were not inspiring. As I said earlier, people who value photography will pay for it; those who don't, won't. This couple could have afforded a better photographer. Heck, they could have afforded me. But photography was not important to them.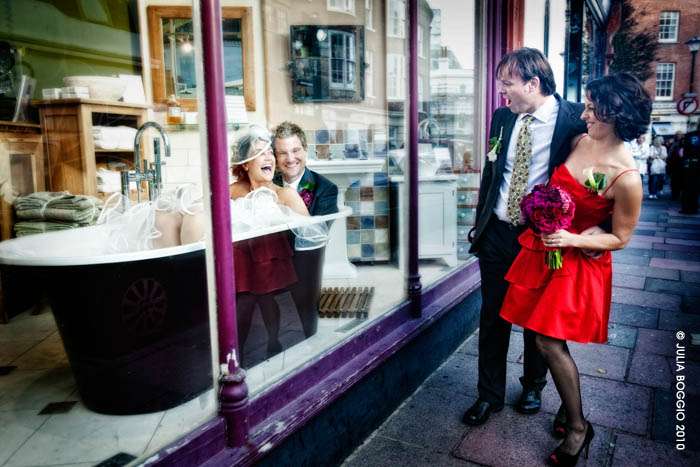 I'm making this point because what you choose to spend on your photography is not always down to budget. I've had couples with small budget weddings hire me to do their wedding photography because it was what they wanted to spend their money on. Instead, they held back on flowers and the cake or asked family members to donate their skills and make the bouquets and confections. What you want to spend your budget on is your choice.
Being a photographer is not just about owning a professional camera; it's about knowing how to use it. I get so frustrated when people lump all photographers together, as though we all have exactly the same skill set. We don't. So what are you paying for as the price goes up?
First and foremost, it's experience. The more experienced a photographer is, the more he or she should cost. A wedding day is fraught with pitfalls and booby traps for the inexperienced. For example, the lighting conditions on a wedding day change from bright (outside) to dark (in the church) in seconds. And then, we're often told we can't use flash inside the church. A photographer needs to know how to deal with this.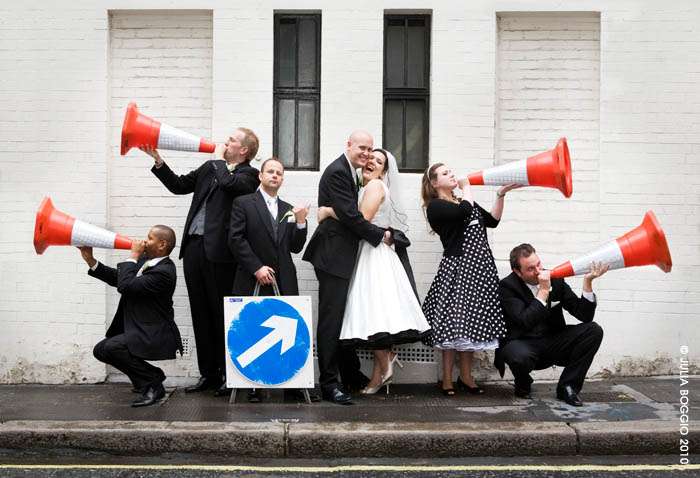 Experience shows up in other areas, too, like in ability to pose a couple. The majority of you will read that and think, "Posing?! I don't want to be posed." And I'm telling you: trust me, you do. Posing is not the opposite of having natural-looking photographs; it just makes you look better and more natural in that natural-looking photograph. Or at least, good posing does. Perhaps posing is the wrong word for it. "Directed" may be a better word. I look at my couples as two pieces of a jigsaw puzzle that I have to fit together appealingly in flattering light. This is not easy and it takes years to get truly good at it. In a lot of trendy or young wedding photography today, I can easily see where a photographer has no idea what he or she is doing regarding posing or directing a couple. The bride's waist isn't visible or looks thick; arms look huge; men look like they have beer bellies; hands look like talons; faces look chubby because they're in the wrong light. No, it is not dieting that can fix all this, but good posing.
Some people will have read the above and think that it doesn't apply to them because they want entirely reportage photography. Well, here is news for you. Good reportage ain't easy either. I can probably count the number of great reportage wedding photographers on one hand (and they charge appropriately). There is a fine line between snapshots and reportage. In the past ten years or so, reportage is a word that brides seemed to have latched on to. They would come into a meeting with me and say they wanted reportage photography and then look through my portfolio and gush over images that are so not reportage, completely posed, but natural-looking. One of the most famous reportage photographs in the world of a couple kissing outside of a Parisian café by Robert Doisneau was found to be a fake in 1993. In fact, he had hired two actors and set the whole thing up. It came to light when two people claiming to be the subject of the famous photograph tried to sue the photographer and he came clean. Reportage, by definition, is documentary photography (also known as photojournalism). That means the photographer stands back and doesn't get involved; he or she just photographs the day as it happens. As I said earlier, there is a fine line between snapshots and reportage. This is due to two factors: lighting and expression. A really good pure reportage photographer is going to cost you money.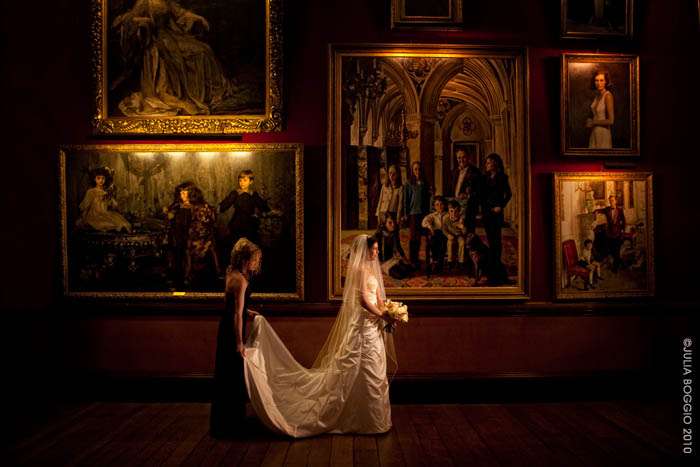 Another thing that you pay for as prices go up is the ability to see light and knowledge of different lighting techniques. Using purely natural light is great, but what if you're in a dark church and need flash? If you're a wedding photographer, flash is your friend. If someone says they are purely a natural light photographer, their skill-set may not be suited to shooting a winter wedding. Winter weddings is a topic that seems to strike fear into the hearts of many wedding photographers. There are entire issues of photography magazines dedicated to the subject. Why? Because they are dark and you have to be confident with light. Ironic, since photography is literally "painting with light."
I shot a wedding in March at a castle up north. The ceremony started at 5:00. Every photo I took, I had to light. That means I had to bring lots of expensive equipment with me, like flashes and video lights. Because I also run a family portrait studio, I work with that kind of lighting on a regular basis. But many photographers don't. Experience with lighting increases their value and, therefore, their price. And getting good training and experience is an investment and can be expensive for the photographer, too.
At a recent wedding, one of the guests turned to me and said that I must have the best job in the world because I only had to work one day a week. If I could have mustered the patience, I would have explained to her that each wedding we shoot takes a lot of work. There's pre-production (planning the wedding, doing pre-wedding shoots, and not to mention booking the wedding in the first place), then there's the hard work of shooting the wedding (physically and mentally demanding, but the part of the process that takes the least time), and finally post-production (downloading the images, backing them up, sorting through them, Photoshopping them, presenting them to the client, designing an album, getting the album ready for press, etc.). It takes a lot of time and time is money.
And regarding time, more experienced photographers will charge more for their time. It's like when you go to the hair dresser; you can pay top dollar (or pound) for the senior stylist who has been practicing the art of hair-cutting for a long time or you can save money and get the junior stylist who has had a few lessons in hair-cutting, but more than makes up for the lack of expertise with enthusiasm.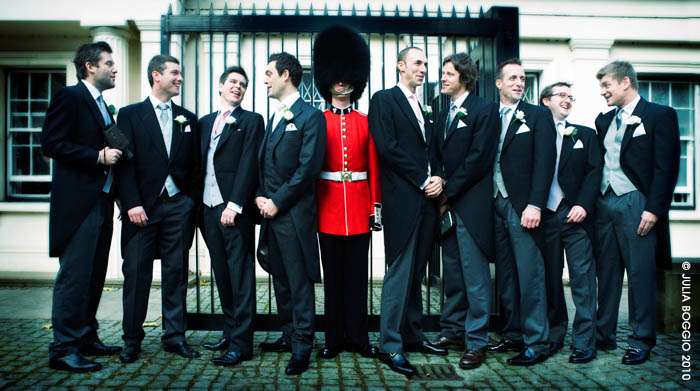 Photoshopping is another skill that holds a lot of value in photography. These days, many brides ask if they will be retouched. Back when I was in advertising, it was rare to find a photographer who was also good at retouching, but today, it's a necessary skill.  At the low end of the market, it's probable that wedding coverage and the disc of images you paid £750 for will not be retouched. Retouching takes time, which means it costs money. Always beware of deals that are too good to be true! The thing to be careful of with Photoshop is over-Photoshopping. It shouldn't be used to make a bad photo good. The photo should be good when it's taken in camera. At a party of photographers recently, a girl came up to me and talked about how she used photo shop effects to turn bad photos into good photos in Photoshop. Adding artistic effects to photographs is fine, as long as the basic photograph is good – well posed, well lit and well composed.
What the package includes is another thing that can drive up price. Generally, the better the album and the better the album design, the more it should cost. Like photography, good design isn't easy. The problem is that, like with photography, a lot of people can't tell the difference between good and bad design. Those who are hot on design will pay more for a higher standard.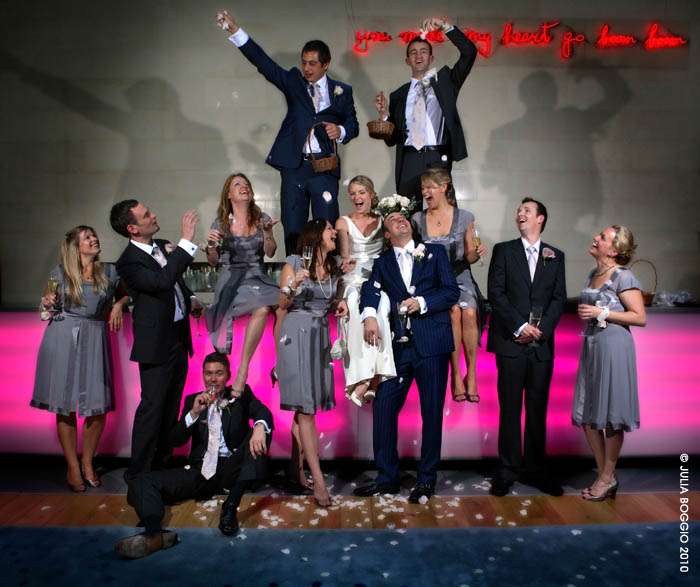 When you go into BHS, do you expect the same service that you get at Harrods?  Customer service is another thing you pay for as the price goes up. Customer service includes everything from the way the phone is answered when you call to every contact you have with the photographer's company leading up to the day you receive your final printed album. While being a small business should be no excuse for bad customer service, it can easily get overlooked when your photographer is stressed because they have 15 weddings waiting to be processed in the month of June because they have taken on too much work. I'm lucky because I have built up a remarkable team of people around me.
Do I even need to mention that photography equipment is expensive? When I'm at a wedding, I have thousands of pounds worth of equipment with me. And that equipment needs to be insured, too, which again costs money. Recently, I read about a scam on a wedding photography forum where thieves would turn up at weddings pretending to be guests and make off with the photographer's equipment. That's a scary prospect for a photographer, whose entire livelihood rests on that equipment and the images that are in their camera bag.
The wedding industry is made up of small businesses, mostly run by people who made the brave decision to leave comfortable, full-time employment to take on the joys and stresses of working for themselves. For this reason, you have to take into account the costs of running a business and the cost of living. Running a business means you need to pay a lot of bills: rent, gas, electricity, computer equipment, data back up, software, marketing costs like advertising, and travel. The list could go on for paragraphs. And what about the cost of living? Mortgages, food, entertainment (photographers need a life, too), pensions, clothing, etc. And believe it or not, photographers need to train not just in taking better photographs, but also in how to run a solid, successful and profitable business.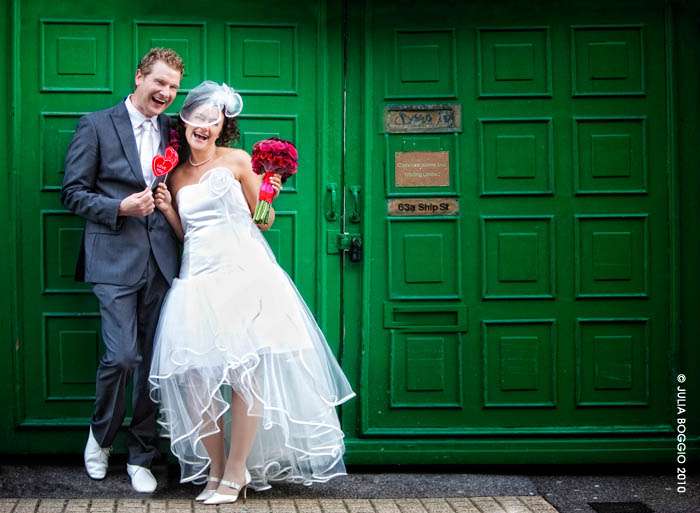 And before you start bargaining with your photographer because your budget is tight, realise that a wedding photographer will work hard at your wedding. I feel like I've been through a war at the end of every wedding I shoot. He or she charges what s/he charges because that's what their experience, artistry and costs demand them to charge. The recession, the day of the week your wedding is on, the size of your guest list (e.g. "I'm having a small wedding"), and the fact that you chose to spend a large sum on your cake, doesn't affect how much it costs your photographer to shoot your wedding. For a fun insight into the life a wedding photographer, have a quick look at this film on You Tube.
Well, I've exceeded Kat's original word count request by over 2000, so I think it's time to sign off now. And I haven't even touched on the value of a photographer with ideas (not an easy skill in high-pressure situations, like weddings). But before I leave you, I'll answer the question that I'm sure is on all your lips: what do you charge, Julia? For an 8-hour wedding with me and a second photographer, including a pre-wedding shoot in London or at my studio, an album designed by our professional designer, all images on a password-protected site, retouching of all the images in the album or images that are ordered from our website, and bespoke thank you cards, we charge £4600 including VAT. And that does not include a disc of images. This year, I shot 20 weddings. Next year, I'm only planning to shoot ten.  My associate photographer who also shoots weddings for us (£2950) will shoot 20 next year. On a wedding forum this week, I read a post by someone who said they had called up for our packages because they loved our work and she stated our prices. Another poster exclaimed that £4600 was even out of her range. However, looking back through the posts, this same person thought £1500+ was high-end wedding photography. It's not. High end in the UK is £4000+. And we completely understand that we are out of most people's budgets.
When I started out, I charged £600 and then £800 for my first two weddings. After that, I went up to £1750 and it's gone up from there, as the quality of my product, cost of doing business, and experience have increased. One bride who booked me when I was starting out told me last year that she considered herself to be the luckiest bride in the world to have caught me early. Now we're regarded as one of the top wedding photography companies in the UK and have just won the You &Your Wedding Bride's Choice award for 2010.
If it's any consolation, I couldn't have afforded me when I got married. The good news is there's a wedding photographer out there for everyone; you just have to find the one that's right for you and your budget.