Hi Kat,
I absolutely love your blog, I luckily came across it when I was looking unique wedding dress ideas. I really love all the vintage and short dresses your brides wear and I'd love to get something like that for myself. It's been quite a relief to see that not everyone wants the whole traditional wedding!
However, living in quite a remote location, all the wedding dress shops around my area only stock boring, traditional wedding dresses. Argh! My thought is that I wanted to try and buy a vintage style dress online. I've found a few great online shops through your site (Vivien of Holloway, Unique Vintage, Fur Coat No Knickers) but I'm a little scared of ordering such a big purchase online. I don't suppose you have some tips on how to make sure I order correctly? Style, sizing etc?
Thanks so much in advance and I really do love your site!!
Love Toni
A few weeks ago I received this email from reader Toni, so I asked my friends at Vivien of Holloway if that had any insider knowledge they could share…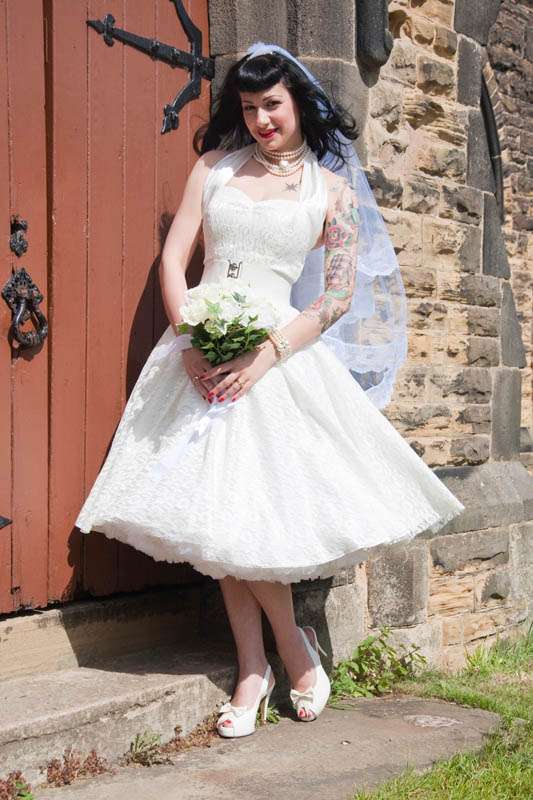 Photography Credit: Jazz Hans Photography
Model: Anna Fur Laxis
Buying your perfect wedding dress online can be a little bit tricky. But knowing a few tips and tricks for a perfect fit can make it a little easier. Here at Vivien of Holloway, we have sold countless brides their perfect gown, some from as far away as America and Australia, and we're always safe in the knowledge that they will look as good as they feel on their big day. So hopefully a bit of advice from us will prove useful!
When buying retro-style clothing and wedding dresses, the sizing is usually slightly different to normal High Street sizes, and may seem smaller. Most sellers will therefore provide a size chart. All our dresses are designed and made by us, and therefore our own sizing chart is extremely accurate; but if the retailer sells dresses made by a range of different brands or designers, then sizing may well vary. If you're in any doubt, you should always email or call and ask them to measure the styles you're interested in, just to be safe. Usually, online retailers have good returns policies, to avoid sizing pitfalls, but knowing your own measurements is half the battle.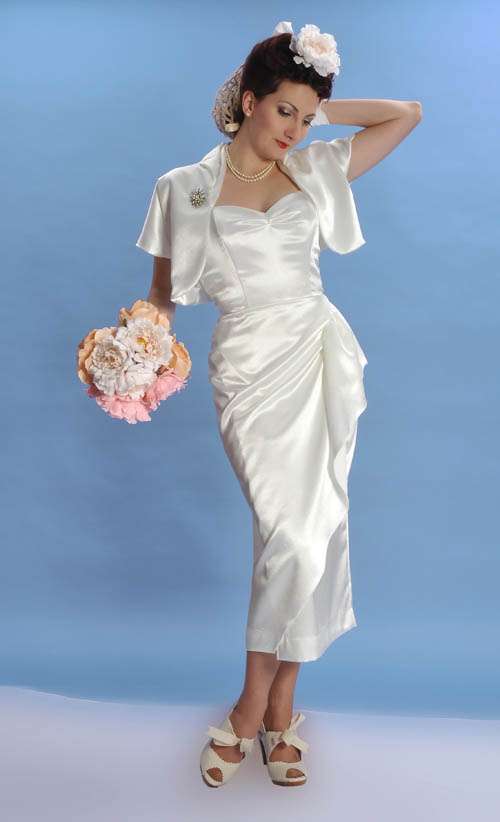 Photography Credit: Malcolm Davis Photography
Model: Kitten Von Mew
Our tried and tested tips:
When measuring yourself, you'll need to get a friend to help you for the best accuracy. Make sure you are wearing the undergarments you intend to have on underneath your dress. Stand normally, not like a toy soldier, and don't be tempted to stick your bust out to its maximum, nor suck your tummy in too far! After all, you want to look good and feel comfortable all day.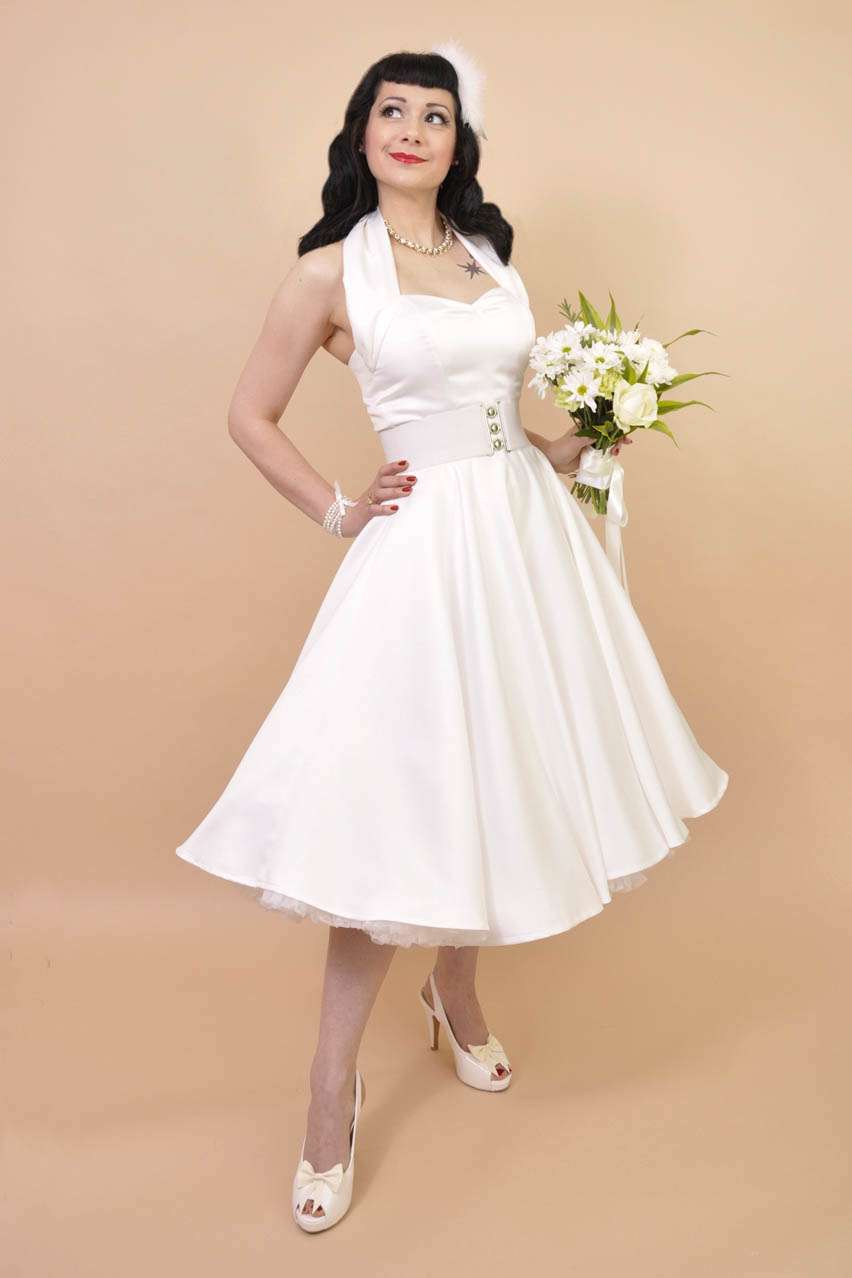 Photography Credit: Jazz Hans Photography
– Measure around the fullest part of your bust, pulling the tape snug, but not tight. This is an important measurement for some styles, but with Fifties style gowns like ours, the bust can usually accommodate a few extra inches, especially if you want a killer cleavage! And it's very in keeping with vintage style to add a bit of padding, if in fact your cups do not runneth over.
– Your natural waist is the smallest point of the body – not around your navel. If in any doubt, tie a thin piece of elastic around your middle, and let it settle into the narrowest point. Measure that point with the tape pulled tight. 1940s and 1950s vintage-style dresses look their best when they fit your waist perfectly, even snugly (especially if boned like ours – no cincher required), and if you're wearing extra foundation garments or a corset, under an un-boned dress, then it should fit like a second skin if you want to look like a beautiful vintage hourglass!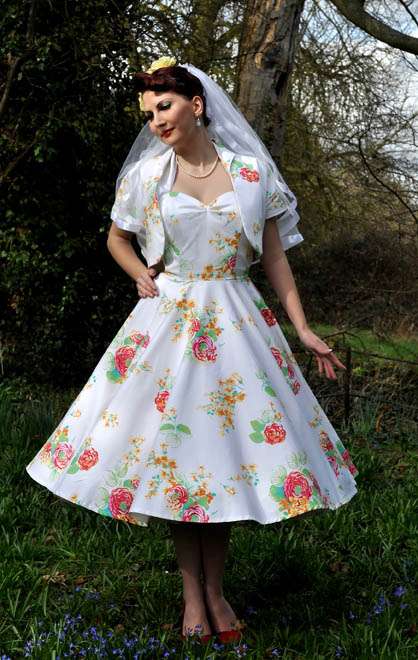 Model: Kitten Von Mew
– Hip measurements should be taken at the widest part of your hips and thighs, not around your hipbones. Depending on your height, this is around 6-9 inches below your waist. If your intended gown has a slim skirt, this is an key measurement, and you must decide if you want your gown to be tight or curve-skimming. You do need to make sure you can sit down comfortably, as you'll be doing a lot of that on the day!
– Some other useful, if less crucial, measurements to take, are your neck to waist length, taken from the highest knobbly bit on your spine, to your naturalwaist; and your ideal skirt length. Just below the knee or mid-calf lengths are perfect for Forties and Fifties rock'n'roll brides!
Finally, if you're close to a perfect fit, a good seamstress should be able to help, and it's absolutely worth it for your wedding day. And if in any doubt, just give us a call, and we'll do our best to help.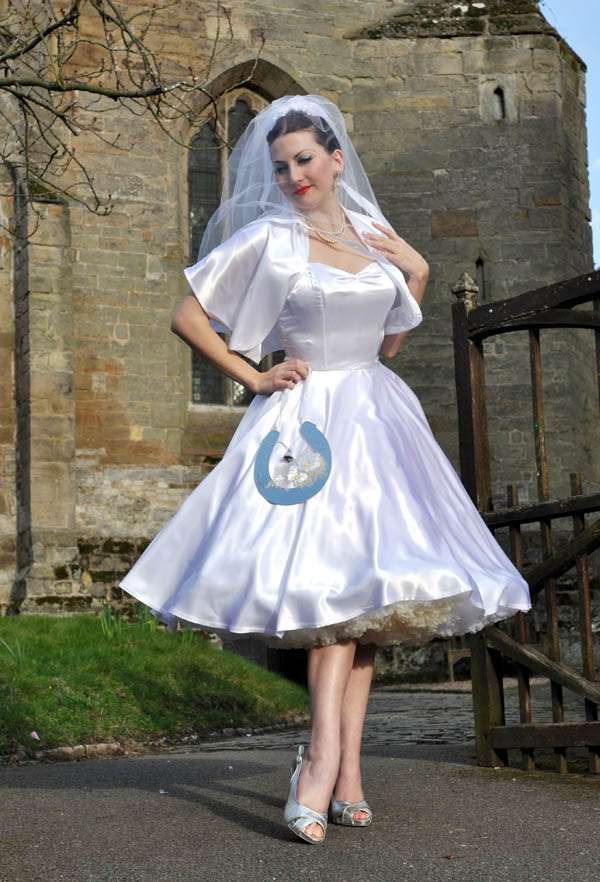 Model: Kitten Von Mew
Thanks to the girls at Vivien of Holloway for working with me on this feature. If you have a wedding dilemma that you'd like one of my crack team of wedding warriors to tackle for you, please don't hesitate to drop me an email!