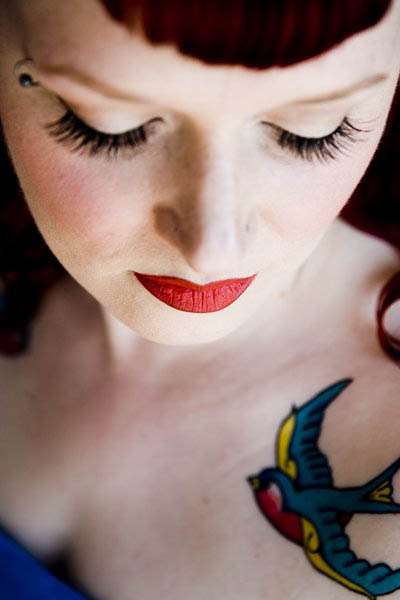 Music, tattoos and 40's/50's rockabilly provided the inspiration for Laura & Scott's gorgeous wedding. Laura looked every bit the rockabilly queen in her Avalon from Dolly Couture skirt and top, teamed with lace gloves from ASOS and leopard print shoes from Mary Jane Shoes which were a bargain at just £15!
The tables were named after all their favourite rock bands – Kiss, Whitesnake, Guns n Roses, Alice Cooper, Thin Lizzy, Iron Maiden, AC/DC, Van Halen and the top table was The Ronnie James Dio table. For a really personal and fun touch their favours were mini cupcake lip glosses for the girls and polystyrene gliders for the boys. They also had dishes of haribo rings and hearts on each table (yum!)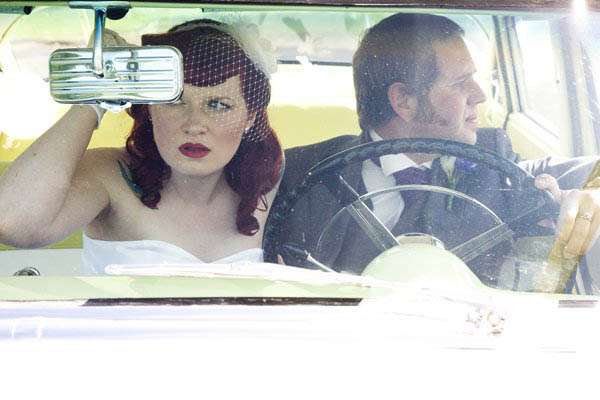 The couple diy'ed all their stationary – in a vintage tattoo style. The boy's place names had flaming dice and the girl's had pink nautical stars. They made the table planner with a big piece of MDF covered in a tattoo print fabric from Etsy. They had friend make the cake in the same tattoo theme.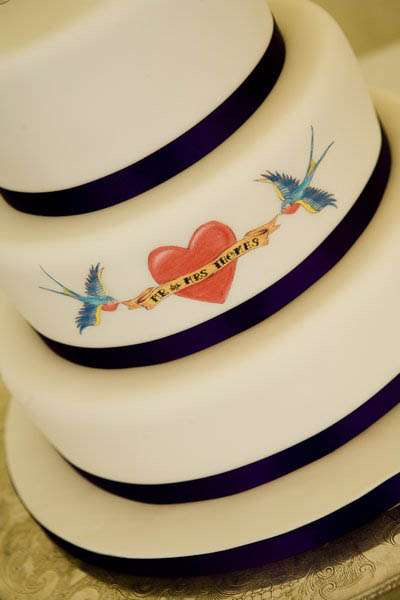 "I walked down the aisle to Tom Petty – Here Comes My Girl. We signed register to Kiss – I Want You and Stevie Wonder – Signed, Sealed, Delivered and we both walked out to Gonna Fly Now from Rocky. First dance was Pulp – Something Changed, closely followed by Kiss – Lovegun" Laura concluded. "We're both huge classic rock fans and I've always been a fan of 40's/50's style. We're both geeks at heart. I'm not against any traditional weddings but we knew it wasn't for us. We both thought our wedding day should be about our love for each other and that love includes all the things that make us who we are."
Finally, Laura and her bridesmaids performed "Kiss – I Was Made For Loving You" – a dance routine that they had perfectedon the hen do (bachelorette party) Be sure to check out the video after the 'jump'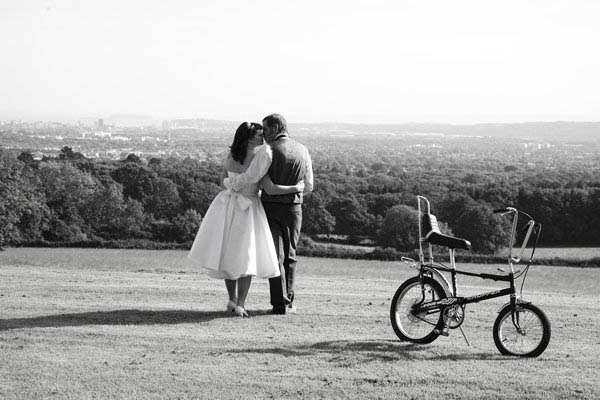 Thanks to Laura & Scott and their photographer Mike for sharing this fabulous day with us
Credit: Dearden Studio
Venue: New House Country Hotel in Thornhill, Cardiff
Bride's Dress: Avalon from Dolly Couture
Bride's Gloves: ASOS
Bride's Shoes: Mary Jane Shoes
Bride's Headpiece: Etsy (seller no longer trading)
Groom/Groomsmen's Suits: Dyfed Menswear
Groom/Groomsmen's Shoes: Converse
Hair:  SQ Hairdressing
Make Up: Victoria Curtis from MAC
Flowers:  Bloomcraft in Caerphilly
Cake: Made by a friend
Cake Topper: 1977 Han Solo and Princess Leia toys (Scott collects them)
Car: 1951 Buick Special