Following on from yesterday's Steampunk-esque wedding, I wanted to share another – and this time, an all out authentically styled Victoriana wedding fest!
Stacy & Eric got married in April and had one of the most incredible weddings fitting this theme that I have ever seen! The whole wedding was filled with circles – from old type writers, clocks and top hats to that truly incredible (and fully edible!) cake (made by Let Them Eat Cake in California – seriously go check out their website, they have cakes and designs like you've never seen before!) You are going to go nuts for these details – I am loving the typewriter/flower combo. It's like nothing I've ever seen. The centrepieces consisted of flowers, old books books, typewriters, gears, light bulbs, test tubes and had a real authentic Steampunk vibe. Stacey collected all the props throughout their planning and then gave them to florist Debbie Fields who put everything together on the day. The place names, which were made of old-looking train tickets (found at a craft store) had individual keys stuck to them that with significant words on them like 'life' and 'dreams'. The keys and gears on the place cards were found at a local craft store-they come from a scrapbook line by a guy named Tim Holtz (you can buy everything though his online store too – bonus!) 
Eric shared their thoughts and inspiration behind their wedding with me. "Both of us love history and are fascinated with the Victorian time period. We're also both fans of Sci-fi/fantasy fiction, so that's how our theme came about.  Steampunk has it's roots in Victorian Sci-Fi (Jules Verne, H.G. Wells), but has taken off in the last few years into an aesthetic all it's own.  We wanted something a little irreverent while still being classy, so it fit very well.  And it gave our guests a chance to have fun with their outfits! "
Be sure to check out the full vendor list after the 'jump'
ps I just can't get over this cake…wow. How is this even possible?!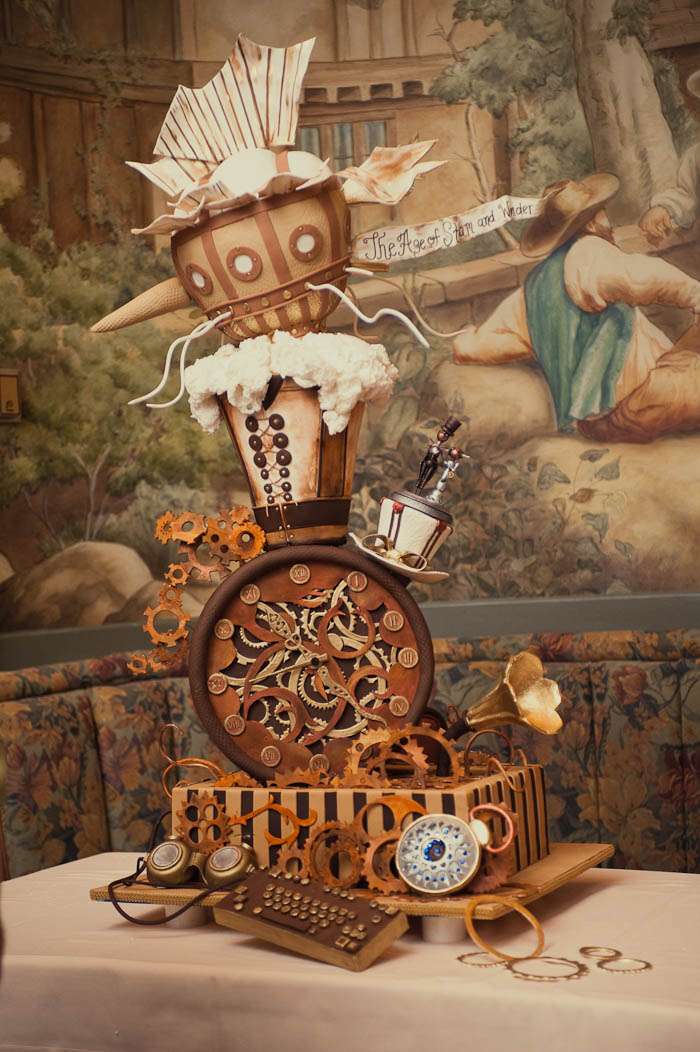 Thanks to Stacy, Eric and photographer Joel Maus for sharing this ridiculously awesome wedding with us today
Credit: Studio EMP Photography
Venue: Lawry's Prime Rib in Beverly Hills
Cake: Let Them Eat Cake
Florist: Floral Fields
DJ: Hey Mister DJ
Makeup Artist: Kathleen Hagan at Beau Ideal Beauty
Wedding Favors: Old English Crackers
Bride's Outfit: Damsel in this Dress
Groom's Outfit: Twin Roses Designs
Bride & Groom's Hats: Gypsy Lady Hats
Bride & Groom's Shoes: Fluevog
Cake Topper: Builder's Studio
Stationary/Invitations: Royal Steamline