OK so this was the Australian wedding that I'd planned on posting yesterday but me being a bit pink (as apposed to blonde) I forgot about the crazy time difference between here and Oz so when I was emailing the photographers to get the info I needed, unsurprisingly they weren't replying because it was like 3 in the morning or something. Aaaanyway it matters not because NOW my babies I am able to share this fan-bloody-tastic wedding with you…and I'm so pumped to hear what you think. I literally wet myself with excitement when I saw Madeline's purple and green dress! 
Madeline & Nic decided very early on that they didn't want a traditional wedding – the bride's two sisters had both done the white wedding thing and although their days were beautiful and perfect for them, it wasn't quite right for this couple. "We are non-traditionalists (hence no white/ no flowers/ no favours/ no wedding cake/ no sit-down dinner) and we wanted a wedding that reflected our personalities and relationship. Bit crazy, lots of fun, different and unique" the pair told me.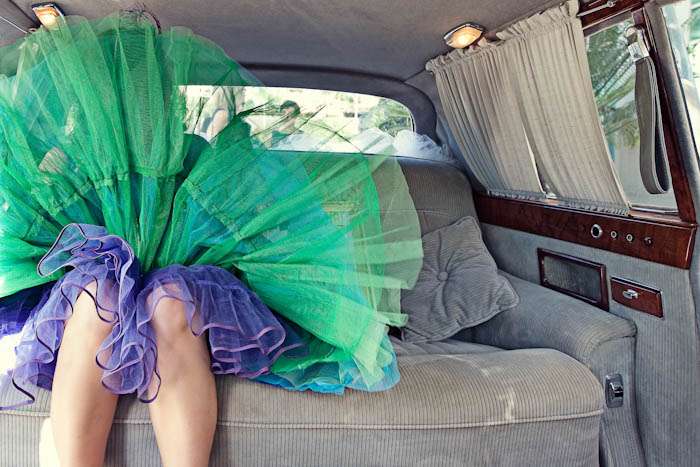 They themed their wedding around the dress! It came from one piece of fabric – an Indian silk sari that was a gift to the bride when she was 21. "I have always planned to use it for my wedding dress… and have been saving it for 10+ years" she explained (hello, amazing!!) She always wanted a 50's style short dress and so had her very talented artist cousin help her design it a dressmaker friend called Jade made her dream come to life. Underneath the silk sari part of the dress, Madeline wore two petticoats. The green one actually came from an old ballet costume and the purple one came from Janis at Rockabilly Gals Fashion. She teamed her amazing dress with purple stain peep-toes for the ceremony, cream and gold trainers for the reception and a custom made fascinator by local Brisbane designer Shae Eldred of Shady Lady Designs who used pieces of the dress fabric and worked with different feathers to bring out the colours in the dress.
Wow wow wow..that is all I can say! Thanks so much to photographers Seth & Tenielle and Fernando & Suzanne and to Madeline & Nic for sharing this incredible wedding with us!
If you need to see more of this wedding then go check out their awesome slideshow
Credit: Feather + Stone
Dress/bride's outfit: Custom made – see above
Make up: Sheridan Brown
Hair: Salvatore Canino at Jaffa's Hair Design
Car: 1967 Daimler