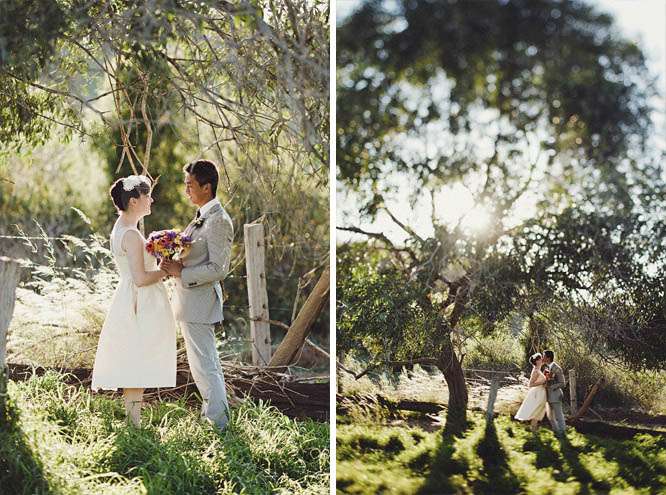 I actually featured a link to Cassie & Loc's gorgeous wedding in Thursday Treats two weeks ago as I'll be honest, with most of photographer Jonas Peterson's weddings, I figured one of the big daddy American blogs would have snapped it up to feature instantly (this dude's work is in high demand!) So you can imagine my surprise and excitement when I received an email from the bride to not only tell me I'd made her day by linking to her wedding, but that she was a huge Rock n Roll Bride fan and that she'd love for me to feature them. Score!
I'm sure Cassie won't mind me sharing her initial email with you all. It made my heart melt!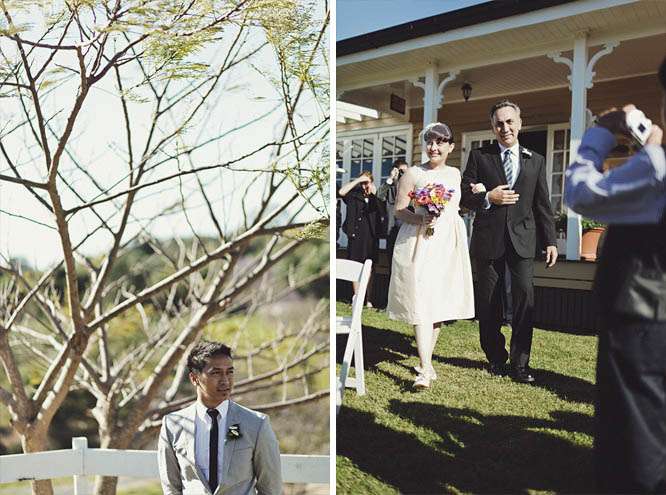 "I got married to my wonderful, lovely, insanely sweet husband Loc about a month ago.  While the sunshine that cames from that is still hanging around my brain, I was SUPER excited to see a link to our little wedding on your blog post for Nov 11.  When we got engaged in 2008, I started stalking a couple of blogs.  Seriously stalking.  One was Jonas Peterson, who when we first contacted him, hadn't shot a wedding 'formally'.  And the second was yours!"
 
"What resonated so strongly with me about your blog is the idea that being yourself, not your family, not your friends, and certainly not the bridal industry, is worth more than can ever be expressed when it comes to your own wedding day.  Because Loc's family is Vietnamese, and my Dad Italian, needless to say our 40 people, out in the country wedding was not at all what either of our families wanted for us.  And I say 'for us' because through all of the bickering and heated discussions, I learnt that all of these 'wants' that came from our family, came from their love.  And we are lucky that in the end they accepted what we wanted for the day and had an amazing time.  And more than that, that day, that beautiful, sun-smiling, psychotically windy day, was filled with our love for each other.  And you're totally right.  Jonas is a freak. An amazing artistic, life-capturing freak, whose photos are a gift to us every time we look at them.  Noone else can make us physically feel as though we are there again, looking into each other's eyes, feeling insanely in love, and all that other mushy mushy stuff, that hallmark card stuff that was our day.
Anyway enough gushing, onto the awesome wedding details! The couple got married at Loc's family's house in Sunnybank, Brisbane, and their western ceremony and reception took place at Branell Homestead in Laidley, Queensland. For the Vietnamese tea ceremony, Cassie wore a red Vietnamese dress called an áo dài. "It wasn't a full-on traditional bridal one, but was equally as beautiful with little embroidered flowers and beading," she told me. "It was purchased for me by Loc's best friend's Mother as a wedding present. Mum made a little hair-slide of red paper flowers, and I wore a pair of my late Nonna's favorite gold earrings."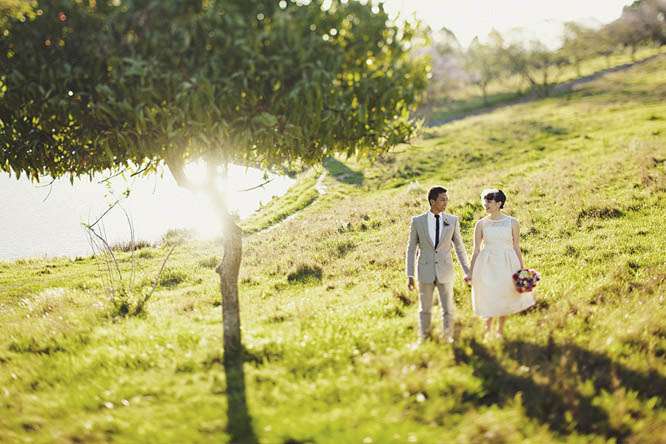 Cassie's second wedding dress was made by her Mother from an original 1960's paper pattern, bought from tiddleywink VINTAGE on etsy. "Mum and I made heaps of changes as we went, adding a lace bodice, waistband and pockets," explained Cassie. "Making the dress with my Mum was a wonderful, though slightly stressful experience, scalloping the lace using water glasses, googling how to sew pockets beside inseam zips, messing around with neckline and armhole bias' and a plethora of other tricky things for us 'un-couture' sewers!  It was really trial and error… one picked to pieces toile, and about four not quite right bodices, lots of swearing and unpicking!  But it is a beautiful, beautiful dress that means more to me (and my Mum) than any store-bought, dressmaker-made dress could ever be.  Mum stitched a little ribbon into the pocket of my dress where I tied Loc's wedding band, along side my vows (hand scribbled because our printer broke the night before the wedding), a hankie from Mum, and a quick-unpick (I realise as I was unpicking the stitches on the back of my Dad's jacket just before the ceremony that I forgot to unpick the same stitches on Loc's jacket, so I brought it with me to unpick after the ceremony!)  Mum also made her own beautiful red vintage-inspired two piece suit for the wedding, and while she is quick to downplay her cleverness, EVERYONE loved everything she did."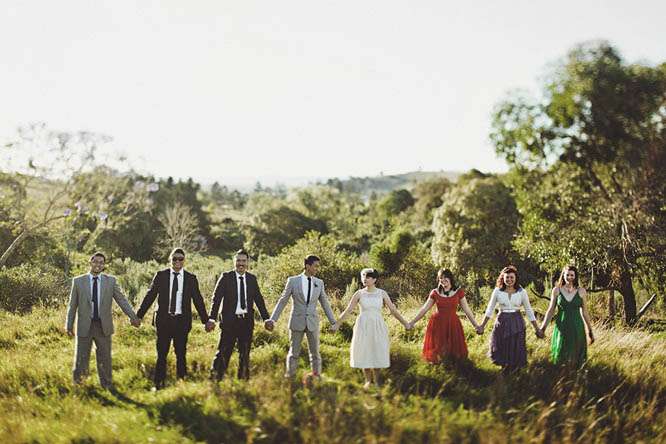 The couple chose not to have bridesmaids or groomsmen, favouring it just being the two of them up there. "All of our family and friends are so important to us, and our wedding so intimate that we felt we didn't need to single people out in that way.  It was a really beautiful and special thing for the two of us to be standing up there, just with each other, in front of the people that mean everything to us.  The whole bridal party thing is a tradition that just wasn't something we wanted!  My best friends pictured in some of Jonas' photos were my unofficial bridesmaids, they picked their outfits the night before the wedding from their own favourite things.  Loc's two brother's and his best friends wore their own suits.  They all looked so handsome and beautiful, so themselves, that if we had tried to plan it or 'style' it, it absolutely would have felt forced, and not just all of us together, celebrating this awesome time.  My girls wore gumboots most of the day, it had been raining solid for almost two weeks before the wedding and we all had kick ass gumboots.  I'm so glad that even though the sun came out the girls were themselves and comfortable in their wellies!!!"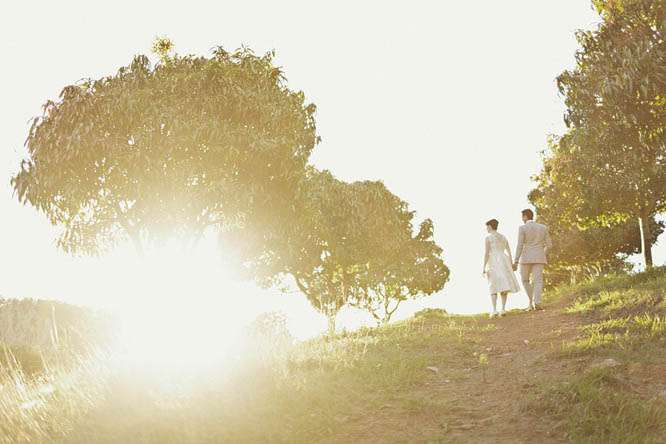 "From the moment we began planning the wedding, we knew that we wanted it to be about us and our love,"concluded Cassie. "Neither of us wanted a cookie cutter wedding, where you could replace the head of the bride and groom and it would look like anyone's wedding from any one of a million wedding magazines.  And while a lot of the 'weddingy' elements have remained, every little part of this journey has been for, by and about Loc and I, and the family and friends that we love.  And really, the 'traditional' parts that remained happened because they suited us and our love, and our family."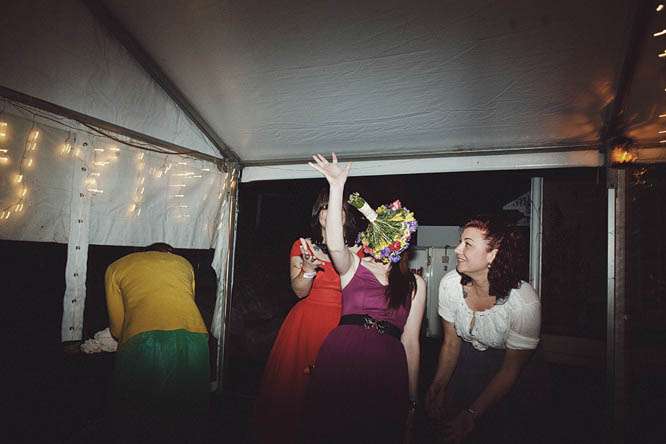 Gorgeous huh!? Huge thanks to Cassie & Loc for sharing their stunning Rock n Roll wedding with us and to the awesome Jonas Peterson for sending over the photos
Photography Credit: Jonas Peterson Photography
Vietnamese Ceremony Venue: Loc's Parent's Home
Western Ceremony & Reception Venue: Branell Homestead in Laidley, Queensland
Bride's Vietnamese Dress: Gift
Bride's Western Dress: DIY (Mother of the Bride)
Bride's Shoes: Office
Bride's Cardigan: Review
Bride's Head piece: DIY (Mother of the Bride)
Bride's Jewellery: Vintage
Groom's Suit: Saba
Cakes: DIY
Cake Topper: Littleclaypeople on etsy
Flowers: DIY (Mother of the Bride)
Hair: Truc at Truc Le Hairdesigns
Make Up: Bec Finch bec.finch@hotmail.com
Wedding Bands: Kimmison Jewellery
Decor: All DIY
Invitations: DIY