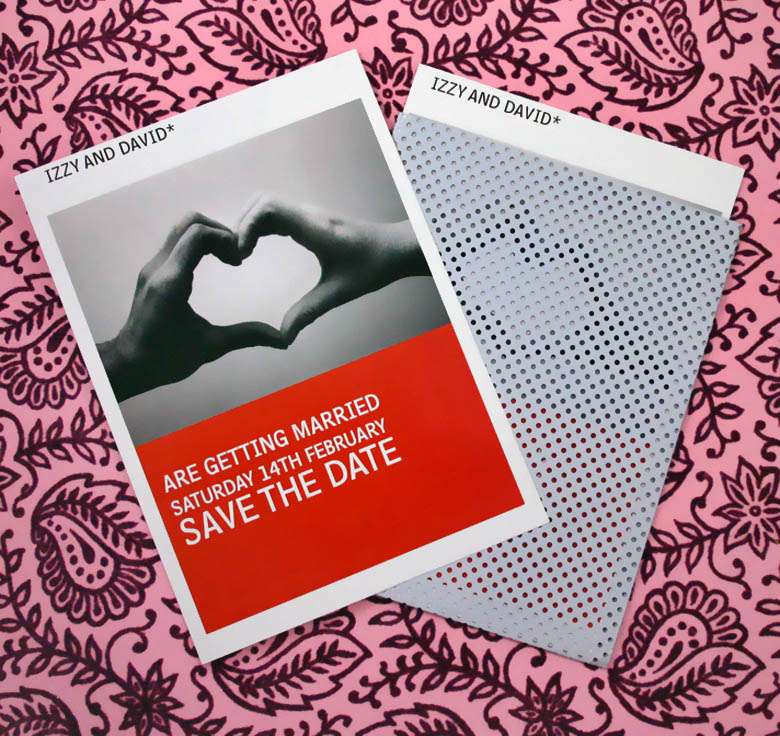 As you begin planning your wedding, one of the first things you'll be thinking about (after the dress of course!) is the invitations. They're the first thing your guests will see in relation to your wedding and the perfect invitations will set the tone, theme and vibe of your Rock n Roll wedding day. It's my pleasure to introduce to you today one of the UKs latest and greatest invitation designers on the block, Amma of Beyond Beyond. Enjoy!
Who are you and what do you do?
My name is Amma, and I am an invitation designer,graphic designer and web designer.
Where are you based and where in the world can you send your work?
I am based in London, but as long as you are in a country where you can get UPS I can send your invitations to you; I might not travel, but the invitations will.  And if someone wants a wedding website then I don't have to send anything at all! Well, nothing except for the link.
Can you tell me a little about the process of your custom design service?
Generally, I like to have a face to face meetings, but when time or distance makes it impossible then the telephone and email are my friends.  When it comes to wedding stationery it is important for me to communicate with the couple so that I can get a sense of their personal aesthetic.  This ensures that what I create is both personal and unique.  Story telling is a core element of my work, so, if there is an idea that is at the heart of the wedding or something that is significant to the way in which the happy couple got together, I like to weave strands of that into my final piece.
Does the client have complete control over the design or do they pick from templates?
I like the client to have as much input as possible.  My designs are generally from scratch.  I encourage my clients to be 'design detectives' so I gently push them to find things that they like that represent who they are, and tie in with their wedding theme.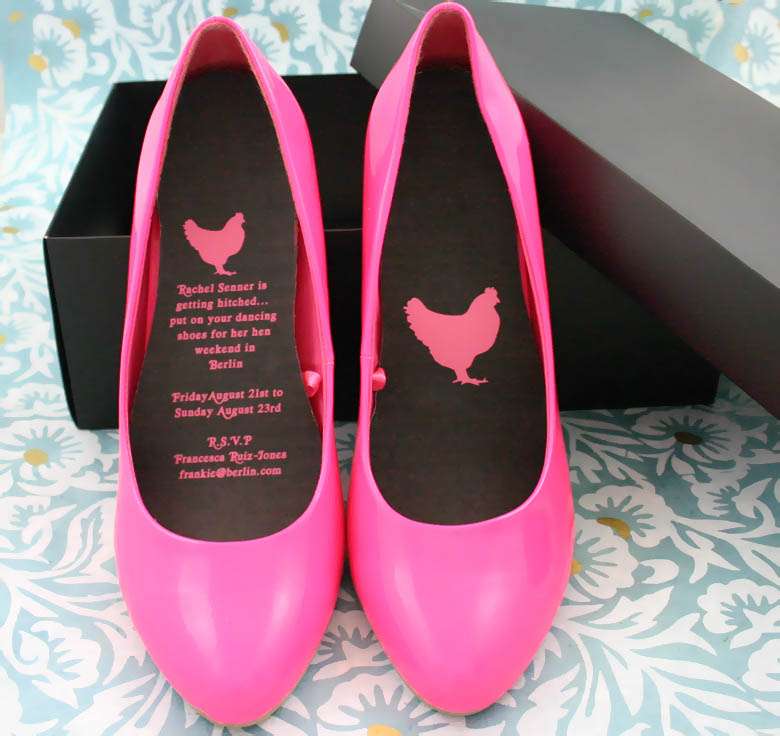 What is your most popular design?
The hen night shoes are real crowd pleasers. I love them because I am a hoarder and I have memory boxes filled with keepsakes and memorabilia from different stages in my life. I get a ripple of pleasure envisioning a little silver haired old lady in 2050, opening her memory box and smiling as she holds electric pink disco pumps and reminisces about her BFF's hen night and how they danced the night away.
Who/what are your biggest influences? Whose work do you really admire?
One of my biggest influences is a friend of mine Gregory Skiffer.  I actually gave up on design for a while and he was one of the main reasons why I coaxed myself back into being creative.  He is a fantastic artist and one of the most inspirational people I have met in my life. Ever.  Generally, I am influenced by everyone and everybody especially fellow invitations designers.  I really admire a lot of the output I have seen from Hello Lucky and Oh Joy; it makes me want to keep pushing myself to be better.
Other than that I generally take my influences from everywhere old album artwork, cartoons, art galleries, window displays, and everyday life really. You can normally find me trawling the streets of London with my camera in hand, snapping away.  I also draw a great deal of inspiration from my fantastic friends and family both offline and online (hello dribblers x)
How did you start your business, what and why did you begin?
I started my design life as a corporate graphic designer, but one day I was doing web surfing and I saw this amazing wedding invitation that was made from tin cans.( And)  I   had an eureka moment and said to myself 'I want to do that!'  So, I created a few pieces for friends and family – and based on the feedback I just went for it.  I have to add that designing invitations is a richer experience than designing for companies.  When you design for a company you have generally made a committee happy, when you design for a couple you make their day.  Knowing that I have contributed to one of the most important days in someone's life it warms my heart.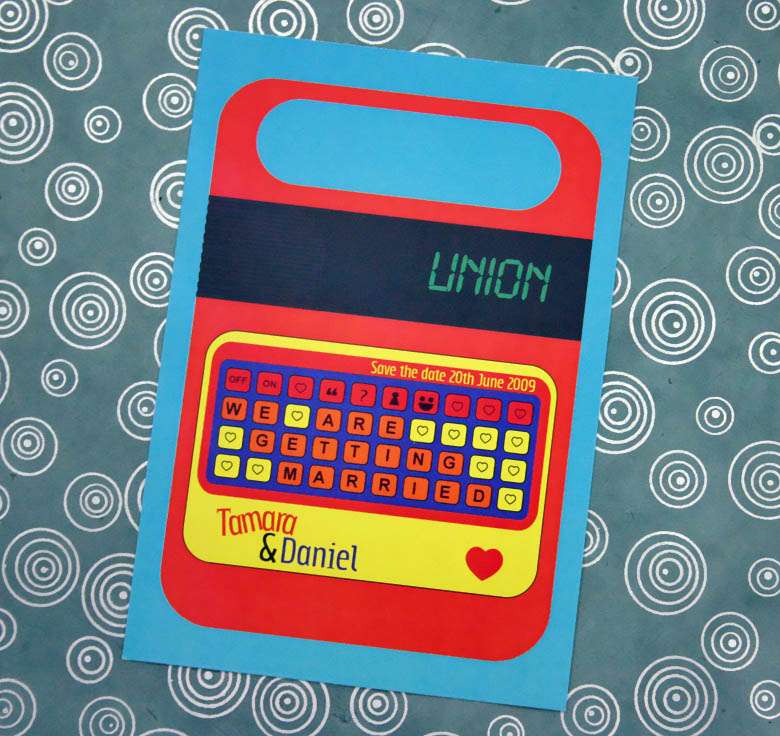 Who or what are your perfect clients?
My perfect clients are people who are true to themselves and their identities. I think it is a real shame when someone has a cookie cutter wedding based on other people's values.  I don't want to use the word selfish – I prefer to say self-full; but my perfect clients are couples who are self-full enough to honour their authenticity.  Who wants to look back at wedding and not see anything of themselves? Be like Frank Sinatra, do it your way!'
What do you love about weddings?
Being an old romantic I love the fact that two people want to be together. Also it is one of the few days in your life where everyone that you love is in under the same roof, at the same time.  What could be better than that!
Why do you feel your designs are perfect for a rock n roll couple?
Because, they are designed for individuals and not for the masses.  We have all seen those beige minimalist invitation jobs land on our doormats and even if you are ecstatic that your friends are getting married it is almost as if their personality is surgically excised from the day.  I love couples who are willing to express themselves; it just makes every project that much more unique and special.  It is easy as a designer to churn out indentikit projects, so it is always great to work with people who want something different. A bit of opulence, a bit of quirkiness – just makes it all a bit more magical.
Tell me a little about your favourite ever commission and why?
Easily the hen night shoes, they were so much fun to create – and you just imagine someone's face when something like that is delivered.  I know how I feel when I get a special or interesting package delivered. It makes a change from credit card bills and pizza menus!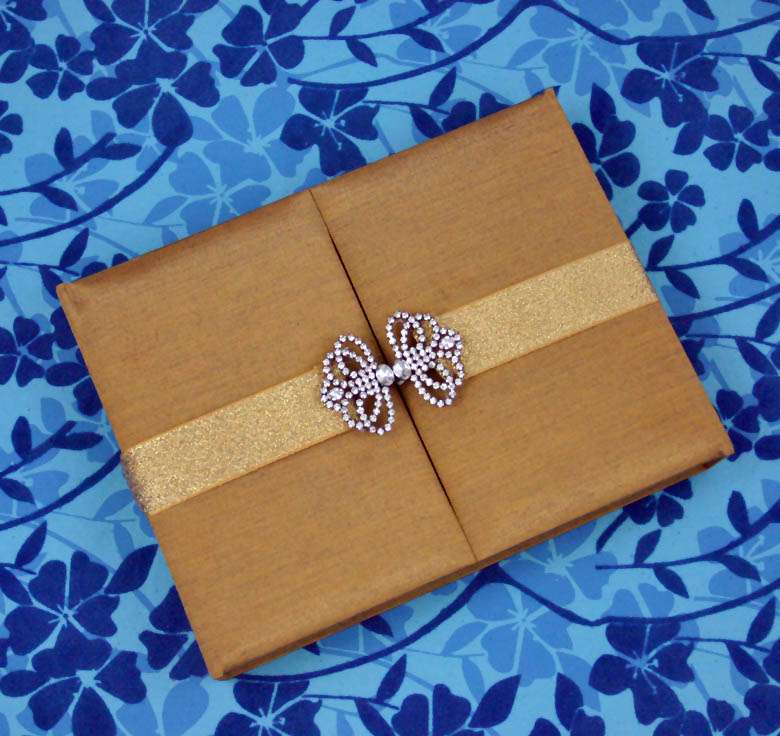 What would you say your greatest achievement has been to date?
Every time I get a smile from a couple pleased with their invitations it goes on my great achievements list.
Why are the invitations so important?
Invitations are to a wedding, what a flyer is to an event. I know that because I have gone to events based on just the flyer alone. So, if I see an exciting wedding invitation I know that I am in for an special experience!
Some rock n roll brides might be on a budget and want to make their invitations themselves? Why do you think they should spend that little bit extra and get something made by a professional?
There is an indescribable feeling of luxury and security that comes out of handing over responsibility. I have been married two years – we ran away to Vegas and dodged all of the traditional stuff.  However, we still owe everyone a big party and when that happens – it might surprise some but I am not going to design my own invites – I am happy to pay someone else to do my party invites for me.
The reason: absolute and complete removal of stress levels, and knowing that I have a consummate professional taking care of my needs.  I know I can cook, but I still like restaurants.  I can my paint my own toes, but I still go to nail bars. 
While I say more power to those who are skilled and happy to make their own invitations; I like the idea of being spoilt.  A wedding for almost all of us is a once in a life time event.  It is a once in a lifetime outlay; so for me it is a no brainer.  Also, I know how anal I can be– I would probably redesign my invitations a million times and still not be happy.
Can you give an idea of price range?
This is harder one to price as it depends on what is required if a custom wedsite is created then the price begins at £250.  If I am screen printing then because of the time required to create screens and artwork the price would begin at around £200, with additional cost for the papers.  The best thing to do is just to email me I am friendly and I don't mind questions at all!
What has been the highlight of your career so far?
Every time someone is happy with something that I have designed is a highlight for me
What can we expect from you in 2010?
Loads, I don't think my mind ever stops to be honest.  Just experimenting with more materials – I am working on a laser cut range at the moment.  I am also working on a ready made range – but they will be limited editions. I aim to stick to my exclusivity so I will have a policy of doing 100 runs of a design – and then it's good night Vienna.
I am also working on putting together a mini wedding showcase and wedding zine later on this year.  So, that pretty much means that I may never sleep again.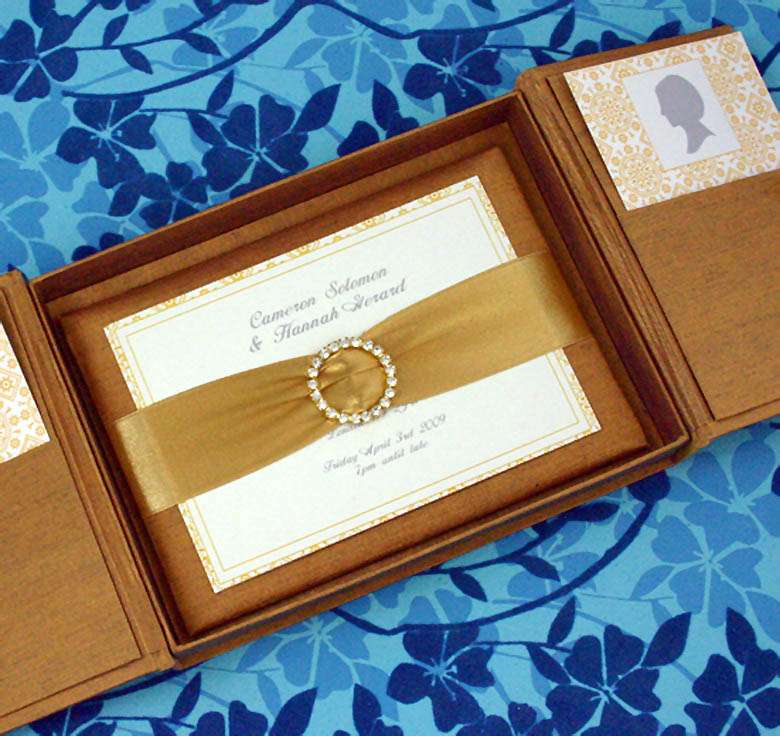 Haha I know that feeling! Thanks to Amma for taking the time to share her amazing work with us today. If you want to learn more about Beyond Beyond be sure to go check out the website or drop her an email to hello@beyondbeyond.co.uk for more info.
If you are a photographer or wedding vendor and are interested in being featured in a future 'Under the Spotlight' post then drop me an email for all the info.