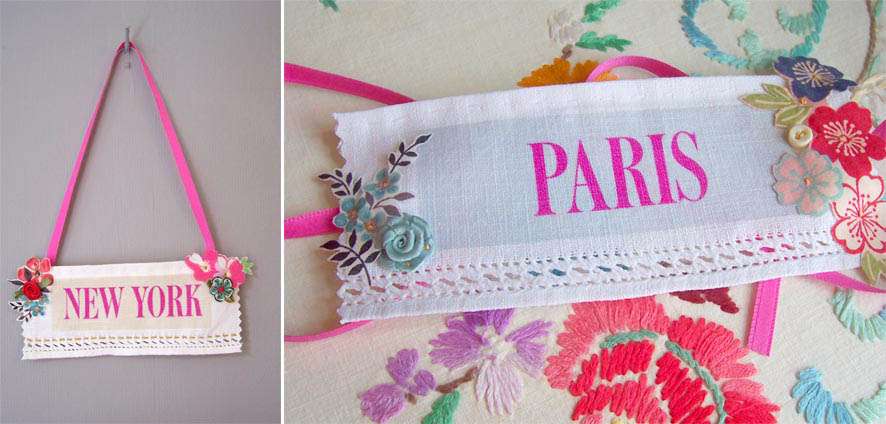 Today I've got one of the prettiest new stationery ranges to introduce to you – and I just know you're going to love it! Created by Cleveland (UK) based  Vicky Trainor, The Vintage Drawer collection is one of vintage inspiration – with vintage lace, fabrics and little added extras, all are made by hand and with love.
♥  ♥  ♥
Who are you and what do you do?
My name is Vicky, and very simply I'm a designer and maker of stationery.
How did you start your business, what and why did you begin?
I started a business back in the mid 90's where I designed and made greetings cards for some of the leading high street stores, lifestyle and little gift havens around the country.  Then had a little break to start a family and returned a few years ago to the world of stationery.  I didn't want to produce a collection that  'screamed wedding stationery'.  My background is in textile design and I wanted that to come through more.  It worked.  I tend to find that clients come to me because they are wanting that floral, vintage feel but also something a little different and as we are a design studio and not necessarily a commercial printer then we can be far more versatile and accommodating to the client's creative side and I have never been more happier in the 'working world'.
Where are you based and where in the world can you send your work?
I work from my little design studio in Cleveland (UK), it's wonderfully and conveniently attached to my 1930's semi, so my commute to work takes approx 23 seconds.  My work is far better travelled than myself, during the last few months it has taken little trips to Germany, Australia, Brunei, and the US.  We mainly work with our clients via emails and sending out samples, so the only difference between national and international based clients is the price of postal charges!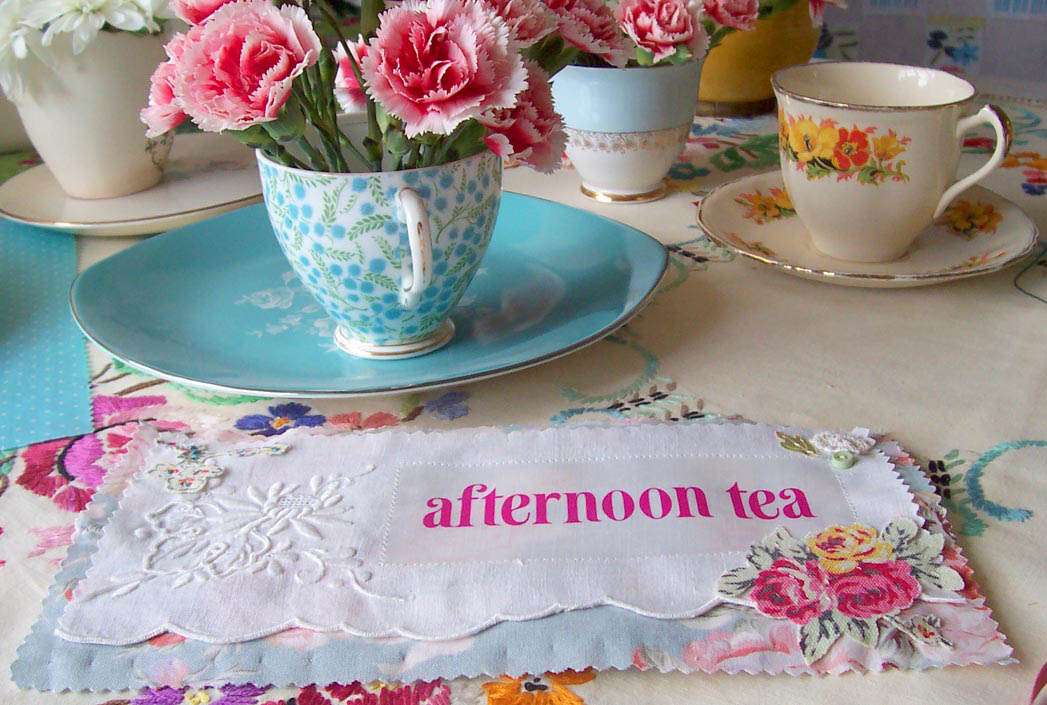 Can you tell me a little about the process of your custom design service?
I begin by listening/reading.  I ask about their story so far which takes place via a rather long telephone call or emails that become more like novels.  I pick out words as they talk about their journey, how they met, their likes and dislikes, the music they love, where they have travelled, who and what inspires them… these words give me a very visual take on where we can go with a collection.
Some clients have already mastered 'the visual' side and email me fabulous mood-boards (a few are masterpieces and put my own to shame) or photo's of their scrapbooks and files, I have received boxes of treasures in the past as a starting point too.
Does the client have complete control over the design or do they pick from templates?
Most importantly it is fun and clients are so involved in the design process that at times it has ignited a creative streak in them.  I try and ensure that they don't see each 'wedding category' as separate tasks and that they are thinking of everything, the venue, the flowers, style of photography, styling of the tables, props that show a glimmer of their personality, lots of twists and turns.  Some become totally involved and immersed in the process becoming fully fledged stylists by the time they say 'I-do'.
We can also work from our current templates and mix the collections, change scales, change colours until it works for them.  We may add to the collection the placement of buttons, brooches, vintage stamps, hand drawn imagery, feathers, raffia, twine, anything that adds to the finish of the stationary.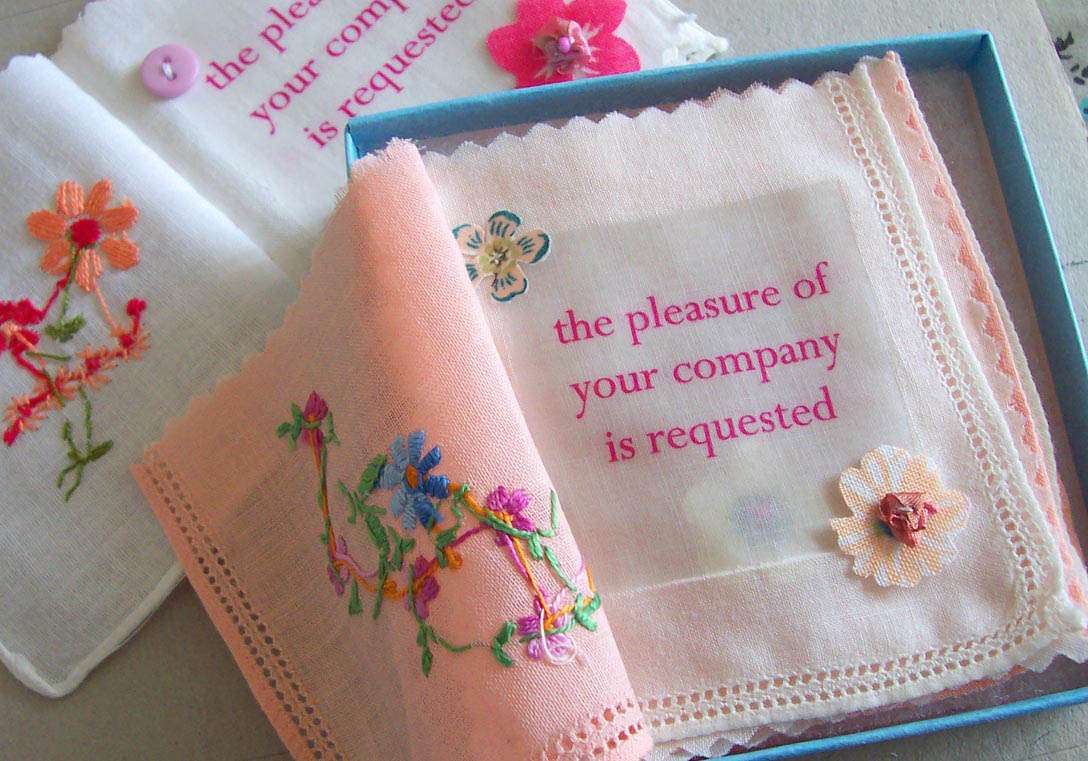 What is your most popular design?
Every year it is always one of the rose collections, English, Vintage and Miss Fondant but it works so well; from screaming hot pinks and lipstick reds to Parisian blues, sugary tones of all things sweet to the quintessential English garden.
Who/what are your biggest influences? Whose work do you really admire?
Influences change from week to week.  An illustrator, a vintage dress, a Sunday stroll, a trip to the theatre, a leaf you have picked up in the park, antique fairs, old photograph albums, holidays in my caravan, music….it's just a continuing absorption and addictive process of taking photographs, drawing, I'm obsessed with filing and scrapbooking and buy far too many lifestyle books and magazines, I drive everyone mad as I never want to throw anything away, I'm a hoarder of treasures.
I spend far too much time reading, scanning magazines, blog-scaping, a two minute coffee break can turn into a 2 hour marathon of totally indulgent research.  I continually revisit the paintings of Bonnard, Carolyn Quartermaine's styling, Robert Rauschenberg's varied use of media, Warhol's fashion illustrations, Eugene Atget photography, Angie Lewin's botanical designs, the prints of Celia Birtwell, the addictive visual world of Emma Cassi, Midwinter ceramics, the sketchbook paintings of Sabrina Ward Harrison, Charley Harper's bird illustrations, Elizabeth Blackadder's watercolours, the musical poems of Bob Dylan, the paintings and prints of David Weidman and Olle Eksell.  I could spend hours, days and years immersed in the V&A, formal gardens, the lake district, and hours, days and years writing a list of what influences me, it is such a continual and enriching cycle.
Who or what are your perfect clients?
One of the best aspects of this job is that I have met and worked with some fantastic, funny, creative, mix of folk that brighten and enrich every day, each client is so different in their ideas, their character, their little quirks and you can't get more perfect than that.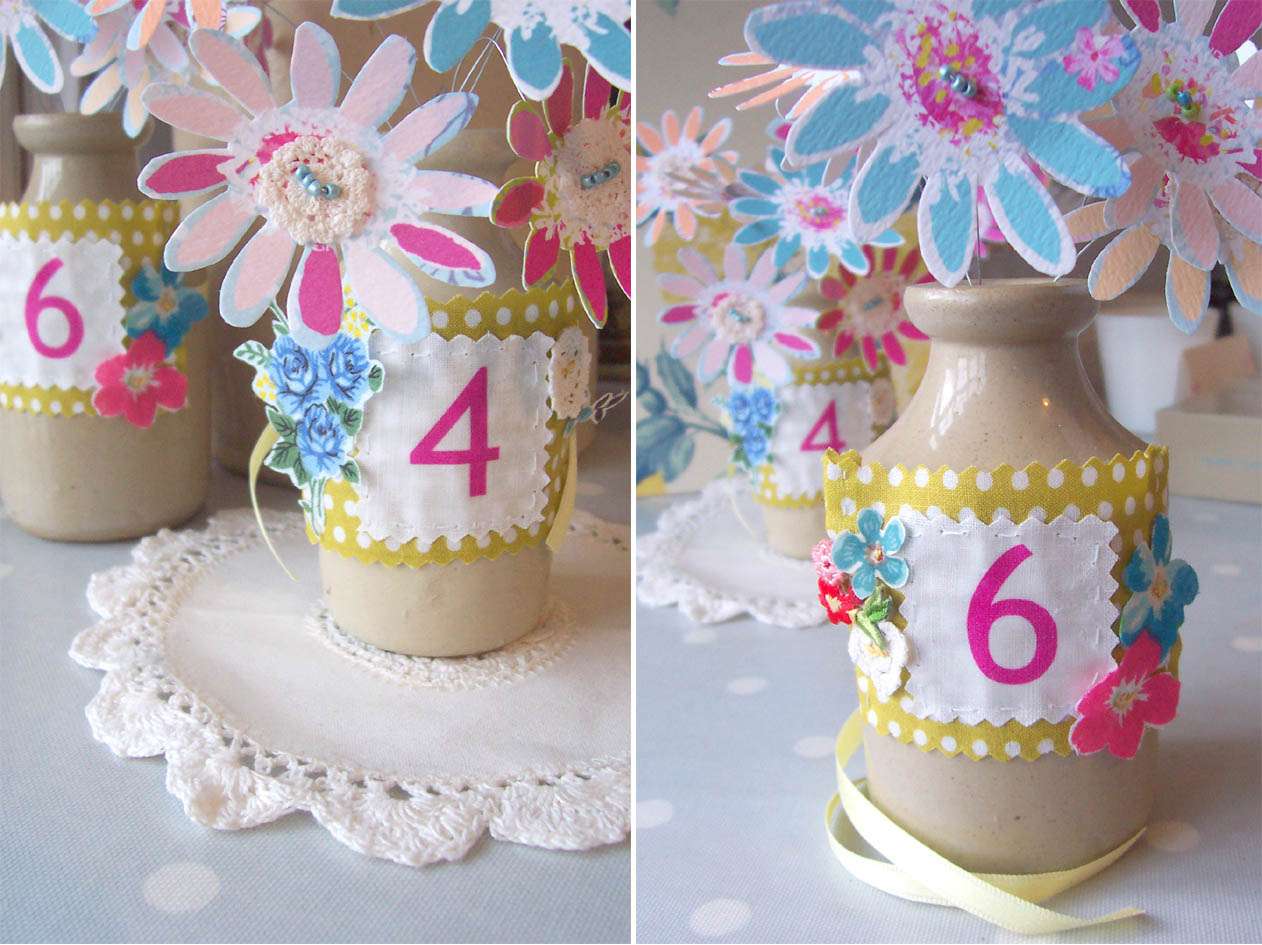 What do you love about weddings?
The 'behind the scenes'.  The 'performance' that leads up to the wedding.  I think that should be documented with just as much va va voom and detailing as the day itself.  The 'early day' cosy chats with your partner, the discussions about whether to have a 7 tiered iced mountain or a simple Victoria sponge, the miles walked to find that perfect dress, the months spent perfecting how to knot a bow tie, evenings spent trying to learn the formal names of flowers to impress the florist and then in the end saying 'the bright pink frilly ones', hours spent inventing more seductive descriptions of the food you will be eating (like the Marks and Spencer adverts) and then just putting Vanilla Cheesecake, days hunting for those perfect heels that will be mainly hidden by your underskirt (but that shoe bit is still very important!).  The passion, the creativity, the detailing, the intensity, the new friendships, the community,  it's all bloomin' wonderful!!!  So much so that when it is all over, you want to start planning another.
Why do you feel your designs are perfect for a rock n roll couple?
Because we all want to do things a little bit different to the norm, be cheeky with the detailing, interesting with colour, possibly be traditional but have a little flash of naughtiness, go exploring with our ideas, be inventive, have fun and 'marry in a way that nobody has been married before'…
Tell me a little about your favourite ever commission and why?
A few years back I worked with a couple who loved to spend their weekends being outdoors, walking for hours as they both had office jobs.  So the best way to research what they wanted was to take a walk for the day with them.  They told me that one of the things they loved (and actually both did separately when they were kids)  was looking up through the trees, the dizziness of the light filtering down and the shadows on the floor.  So lots of photographs were taken until the perfect one was captured, and then scanned and worked into and from this The Fauna Collection was created.  I love the simplicity of this collection and how you can play around with the colour either subtly or dramatically.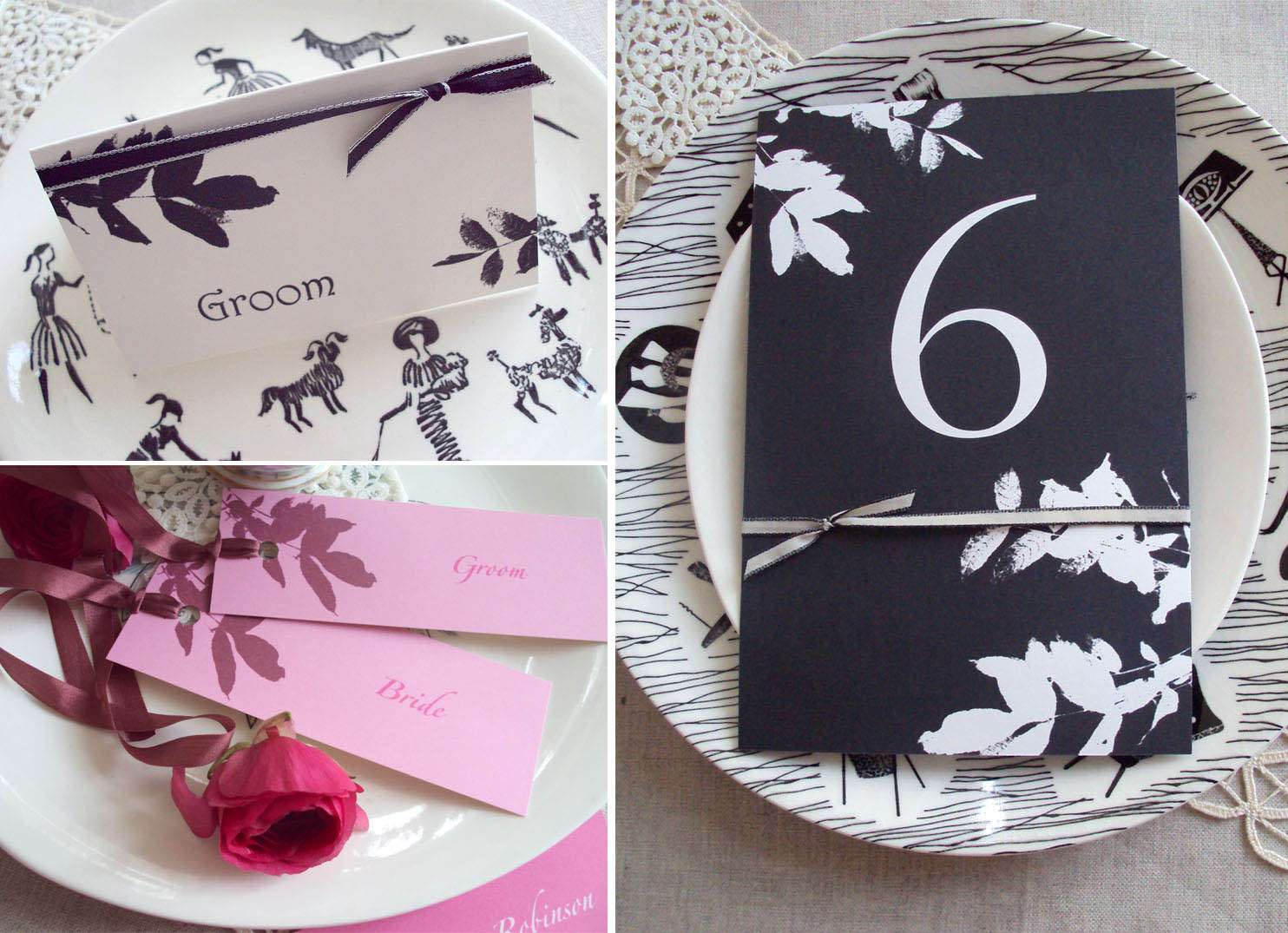 What would you say your greatest achievement has been to date?
Firstly, finding my soul mate and our two gorgeous dots Ava & Mia…
My greatest achievement concerning my working life, is something that I think is echoed within the industry and that is that I have rode the recession wave and I'm still here and still a busy bee.  I am sat in my studio, being creative for a living, every day is so different from the last and most importantly I love what I do.
Why are the wedding invitations so important?
They link everything together.  You can't have wedding guests without an invitation, whether it has been produced by a printer, a designer maker or hand written on the back of a postcard by your good self.  Everyone will need to know when and where…
The invitation also gives a little insight to your day, the design will suggest 'a look', 'a theme', 'a colour'… annnnddd, after all, we have spent so long planning the day do we really want to say 'I do' without being surrounded by all the people we love and treasure…
Some Rock n Roll Brides might be on a budget and want to make their invitations themselves? Why do you think they should spend that little bit extra and get something made by a professional?
If you are really creative and know your way around a computer program or two or are nifty with a glue stick  I would never put anyone off making their own.  As long as you will be happy with the results, then go for it.  I have seen some fabulous creations where bride and groom have been really inventive with their ideas and  have created fabulous 'home-made' stationery.
BUT, I have received many an email saying, Dear Vicky….. I have started to make my own stationery and have given up,…. or,  I have started to make my own stationery and it looks like the dog has chewed it,….. or, could you do my order of service inserts as I can't quite work out how to do that bit….
Five months ago I did receive an email – she has allowed me to share it with you….
"Hi Vicky, I ordered samples from you in March this year, I loved them, exactly what I wanted – sooo me! I did the sums, couldn't afford them with my exhausted budget (gutted).  So I decided to go down the DIY route.  I have spent a fortune on wallpaper, ribbon, paper, card, envelopes, special scissors, a Cath Kidston apron, a cutting board, some nifty scissors, basically I bought half of Hobbycraft.  I forgot one thing when deciding I was going to make them myself – I got an E in Art.  HELP (please???)"
So sometimes making them yourself is not the cheapest way of doing it.  You are convinced, at the time, that it is, but it really isn't.  It can cause stress, sleepless nights, arguments, (crikey and I do it for a living!!)  Do you really want to be writing out place cards and seating plans the night before your wedding day when you could be having a manicure, pedicure and an early night????
It is so important to have a good relationship with any of your vendors, where you can speak freely and be honest about your budget.  We all understand about the management of finances as we do it on a daily basis. Sometimes it can be a refreshing challenge to be given a set budget and a list of requirements.  At the end of the day we will be honest with you too about what is a realistic option.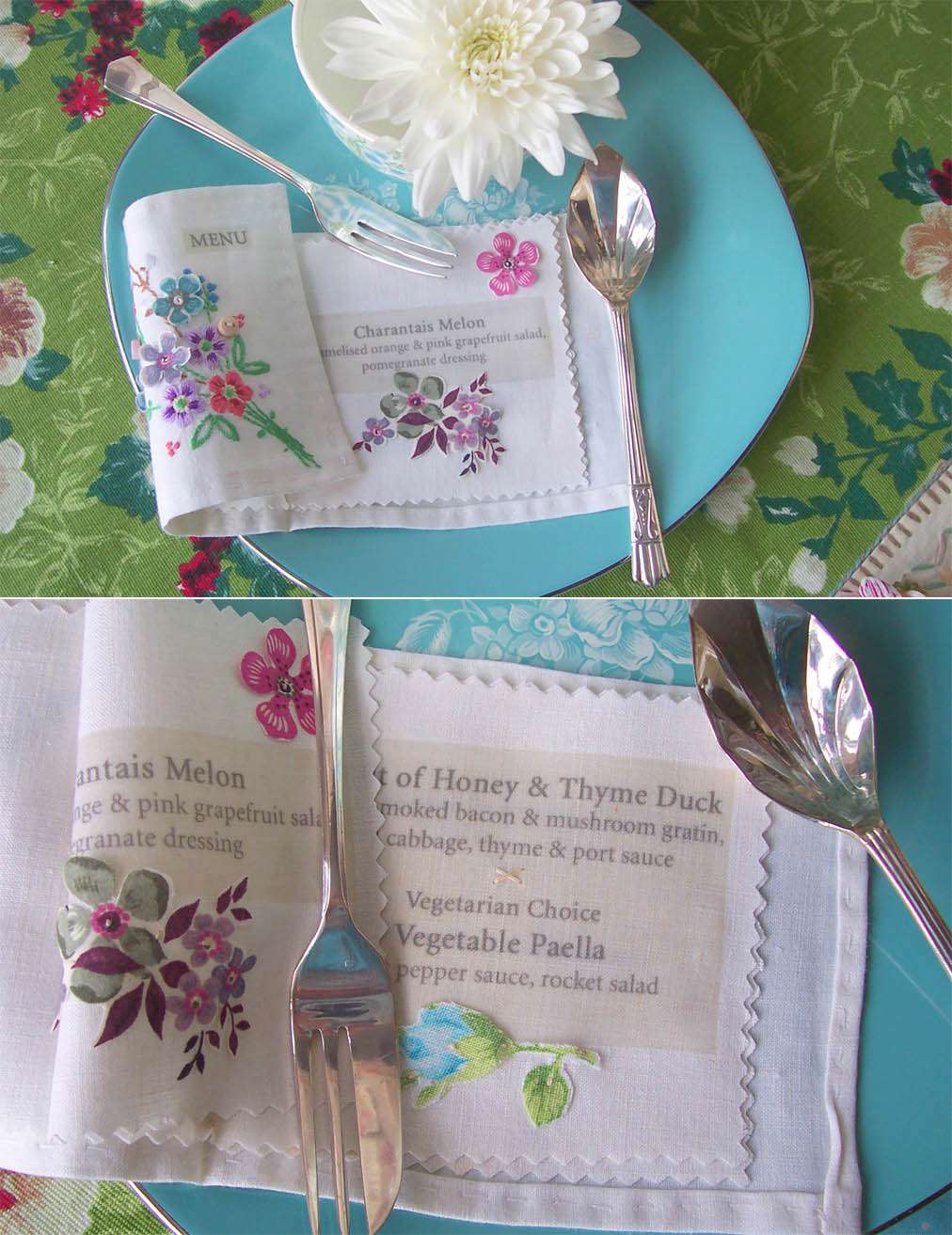 Can you give an idea of price range?
We have two types of stationery.  Our 'Printed Collections' (invitations from £2.25, place cards from £1.10 and the vintage fabric and haberdashery based collection 'The Vintage Drawer' (invitations from £6.00 and place names from £4.00).  All of our prices are on both web sites.  We also have little offers and giveaways over at the studio blog so you may want to keep popping over there from time to time, open to countries overseas too.
What has been the highlight of your career so far?
(still managing to do my own books and not yet employ an accountant is one of them!!! Amazes me every month that I can still find my way round a spreadsheet)
There isn't necessarily one stand on its own 'highlight' as it has been fun all the way.  However, each year, when I close for business at Christmas time, I get a little sentimental and reflective.  Each year I learn a little more about how the studio operates, how I can improve the service for my clients, where I want to go next.  The exact same excitement, as in the beginning, is still there whenever we get a feature in a magazine or a shout out on someone's blog.  Receiving lovely emails from 'happy clients' is always so uplifting.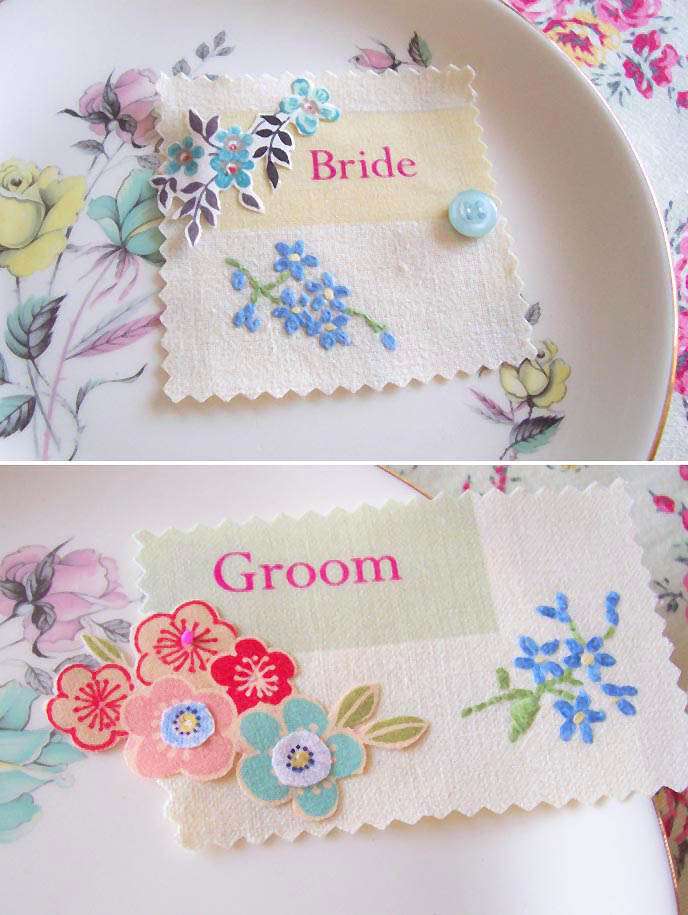 What can we expect from you in 2011?
Well…..this is a very exciting year.  We have just launched a very different range of stationery to our printed collections.  It is called The Vintage Drawer and the influence behind the collection is a development of the 'make do and mend' ethos that has been around for a little while.  Each piece is made from vintage and retro linens and haberdashery, all made by hand with love and care.  It is perfect for the bride that is searching for stationery that feels and looks as if it has been made in the 1940's/50's – a little piece of nostalgia.  As each piece is bespoke, we have little catalogue sheets that we can email through to you of the products that are currently available, however we have a little web site to support this collection so you can see all of the details and prices over at www.thevintagedrawer.com
Within this collection we also produce little favours/gifts such as lavender pillows, vintage sewing cases, love quote bookmarks.  We also have for your little abode door signs such as 'boudoir', 'the sewing room', 'the love room' as well as reception signs such as 'naughty but nice', 'sew in love', 'we love cake'……. We are currently having a giveaway over at our main blog
www.vickytrainor.blogspot.com
where you can have the
chance to win one of our little signs
!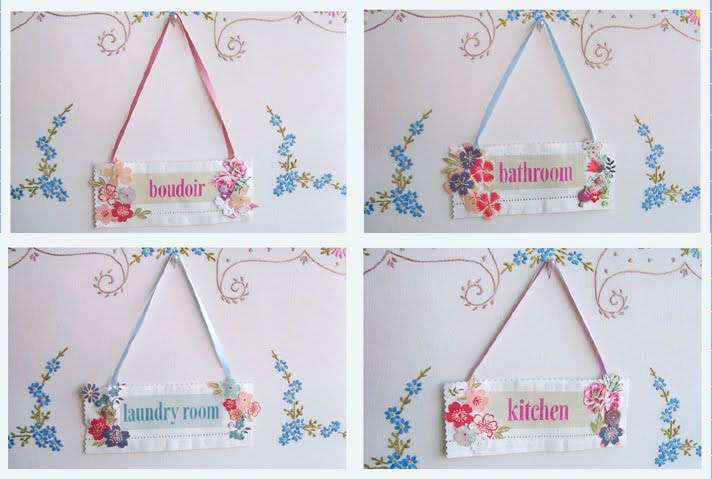 Contact details:
Tel: 44+(0)1642 491087