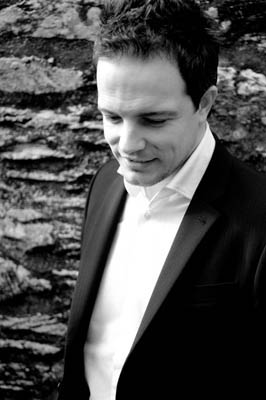 Today's Under the Spotlight victim is Northern Irish photographer Dylan McBurney. I've fallen in love with not only Dylan's beautifully naturalist approach to photography, but his passion for his work, his family and his clients. From speaking to him today, I'm totally convinced he'd be a great photographer to work with! So all your Irish brides who think there's not enough Rock n Roll on the emerald isle…I beg to differ!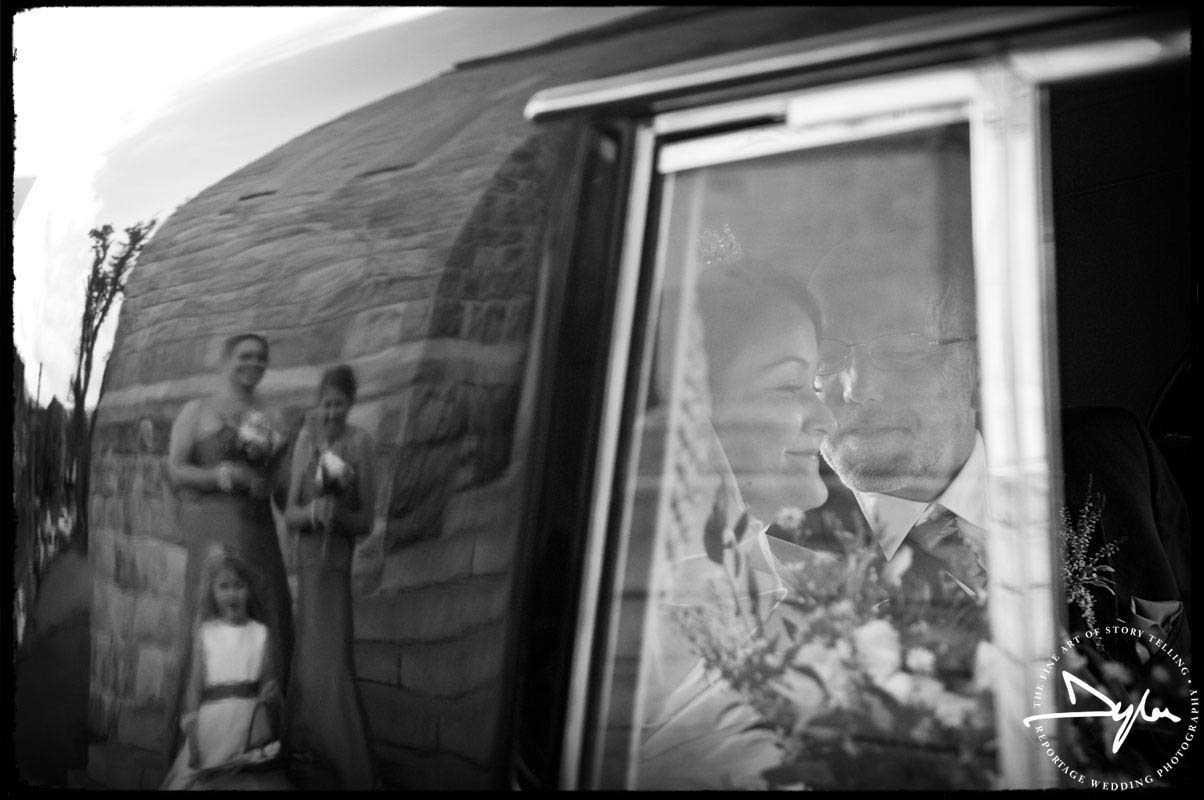 Who are you and what do you do?
I'm Dylan McBurney and I'm a photographer.
Where are you based and what cities/countries are you available to work in?
I live in Carrickfergus just outside Belfast, Northern Ireland with my wife Caroline and daughter Corrina and I photograph weddings across Ireland, France and elsewhere in Europe.
You're the first person I've interviewed from Northern Ireland? What is the wedding industry like over there?
Northern Ireland is a pretty cool place to get married. The people are renowned for their friendliness. That's what I love most about working here.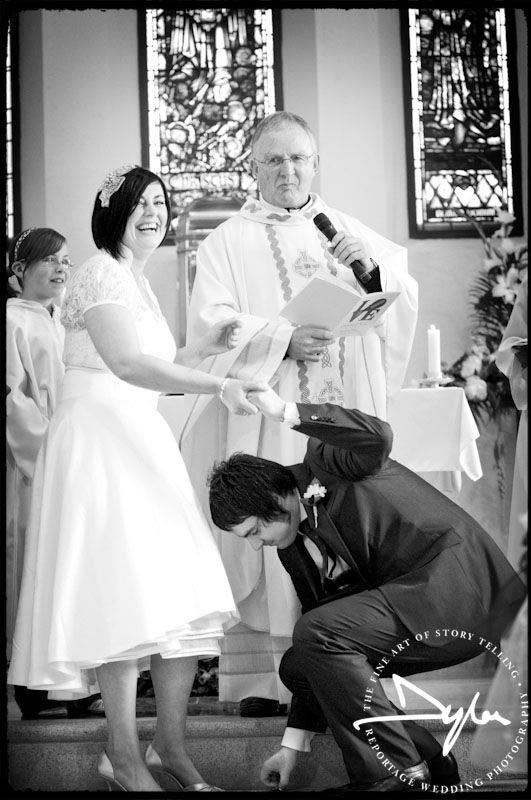 Do you get to work with a lot of great clients?
Fortunately the type of clients we attract are very much into photography and they can understand why my pictures look different to other people's pictures. A lot of our clients have a relationship with the visual and creative arts – we seem to cover a lot of architects and musician's weddings.
How would you describe your photography?
Unobtrusive, journalistic and moment-oriented. I shoot with my emotions – I like to capture the feeling between people and that's generally not something you can pose or stage.
Who/what are your biggest influences? Whose work do you really admire?
Henri Cartier-Bresson for his sense of composition and timing. Garry Winogrand for his ability to make pictures out of the chaos of the street. And Joel Meyerowitz, again for his street pictures, but also for his fine art colour work of which I'm a big fan.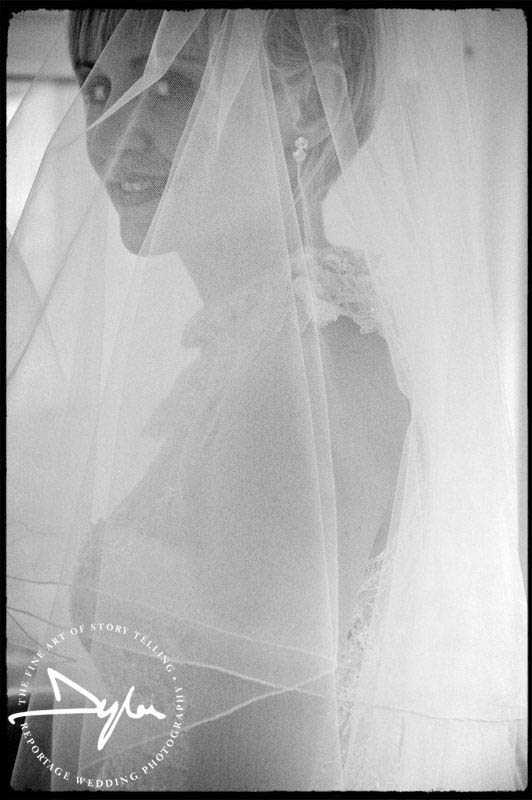 Do you have an ethos to which you stand by in regards to your photography?
I like photographs that tell stories. To do that, you have to be in the background, quietly observing and then reacting to what's happening in front of you.
What about formal group photographs?
My formals are quick to do and my clients appreciate that. I usually cover about six to seven groups if required – often in a session lasting less than fifteen minutes. Most of my coverage is documentary. At a wedding I'm a reactive soul and I see my role as one of documenting what's going on rather than trying to direct things.
How many weddings do you average per year?
I shoot about 40 weddings each year.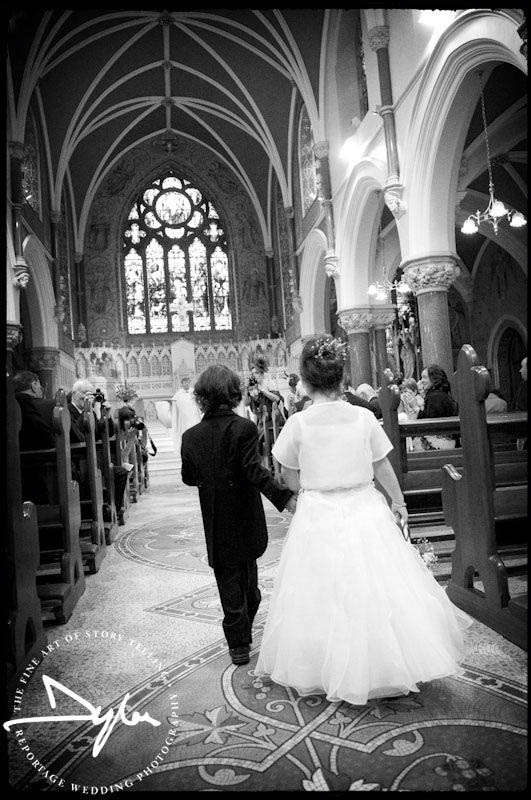 What or who made you get into photography?
Seeing Lance Mercer's black and white documentary pictures of the band Pearl Jam in the 1990's inspired me to pick up a camera. Great pictures of a great band!
Did you go to school to study photography?
Only a part time City and Guilds course at my local college. My tutor was great though – he was a big fan of Cartier-Bresson, Don McCullin and others. I've found that that grounding in social documentary photography has served me well. I learned a lot about photographic theory and black and white darkroom work.
Apart from photography, what drives you? What are you passionate about? Are you able to bring this into your wedding photography?
I'm completely in love with Caroline. We married in her hometown in Brittany, France in September, 2003. Every week when I photograph my client's weddings I'm reminded of our own wedding that day – all of the friends and family gathered together, all of the emotions, joy and happiness. And I think of all the precious moments that came and went in the blink of an eye.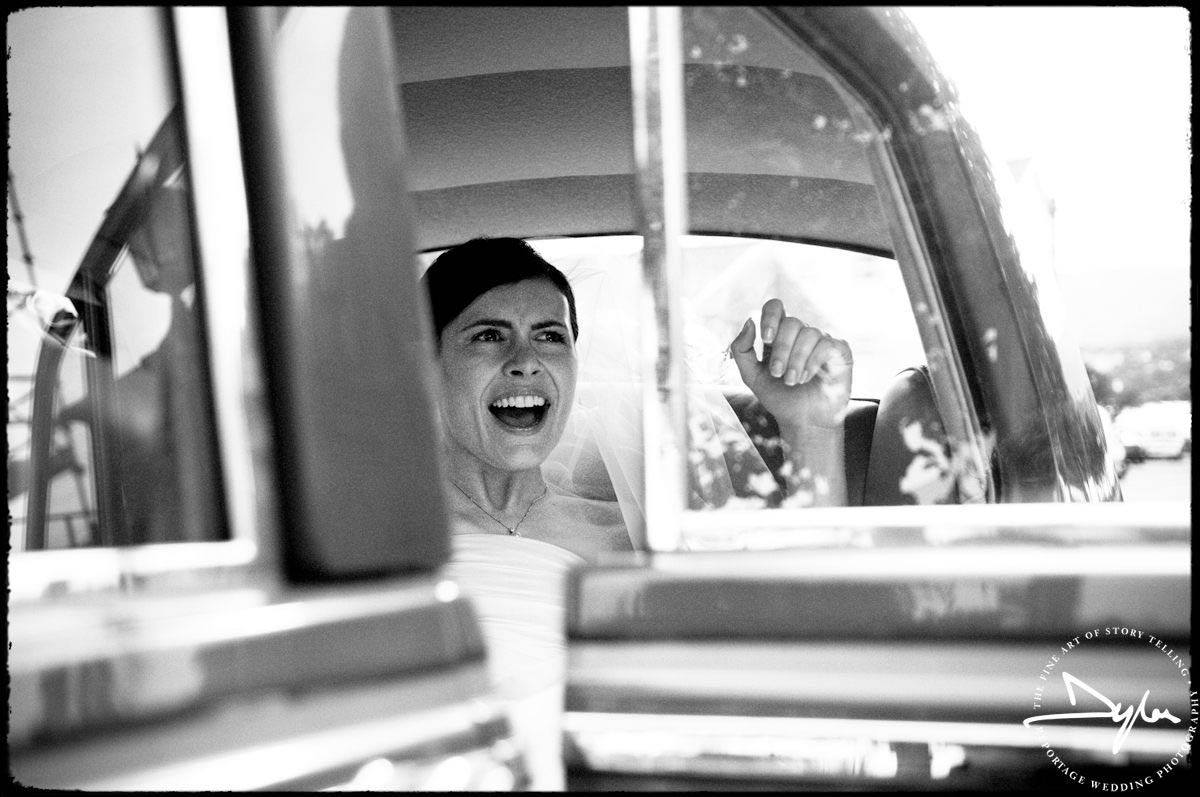 Who or what are your perfect clients?
My clients all seem to be really good at living in the moment. Fortunately that's what's important to them and to me also.
What do you love about weddings?
No two weddings are the same because the dynamics of the relationships are always unique and I just love that.
What do you think makes a great Rock n Roll wedding?
Didn't John Lennon say the essence of rock and roll was to 'be here now'? I've always thought that that was a great declaration for having a great wedding!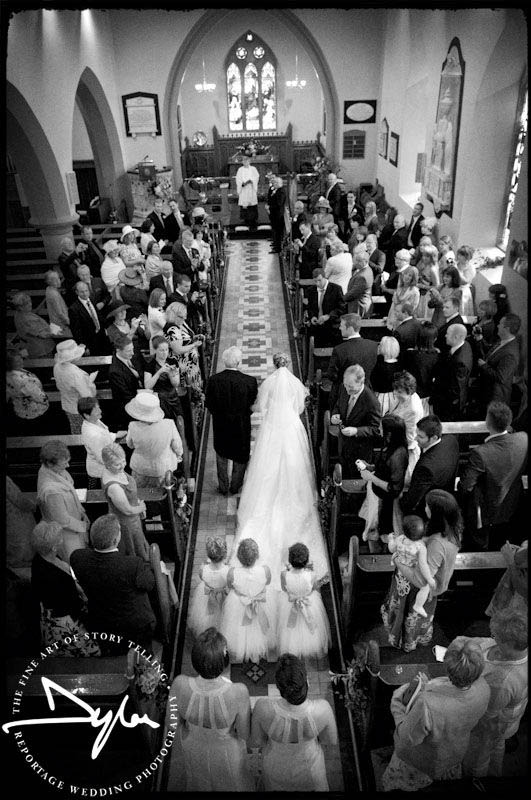 What would you say your greatest achievement has been to date?
Hands down – meeting Caroline and getting her to marry me.
Any real Rock and Roll moments that you can share with us?
Going to check out of our hotel room in Rotterdam last year Caroline and I actually bumped into all of the members of Pearl Jam in the corridor (who unknown to us, were also checking out of the very same hotel at the very same time!). We got to chat about their tour, their new album and managed to successfully invite them back to Belfast to play a show later this year – something I'm really looking forward to!
How important is an awesome website to your business?
It's the single most important part of any photography business. In my opinion it's your shop window. I'm amazed at how many photographers have such poor sites.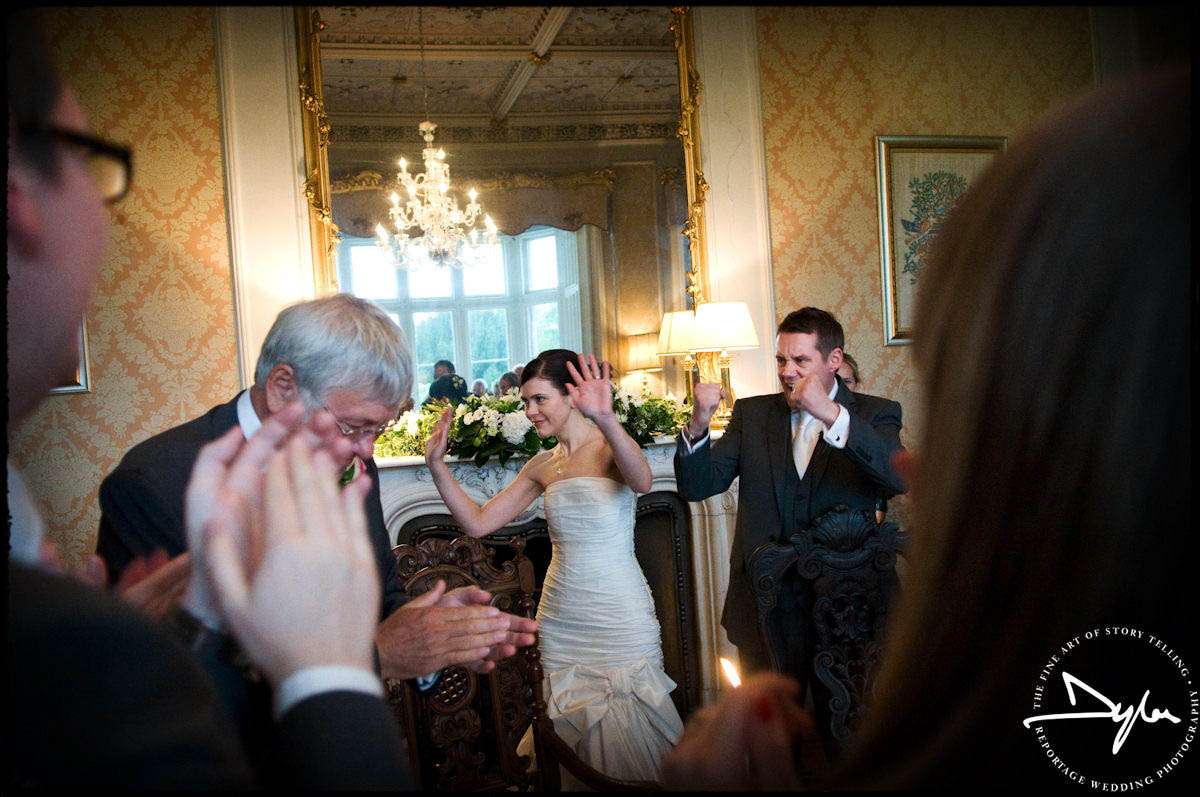 How important is Photoshop to your final images?
It's absolutely essential. Every single image out of the camera goes through Photoshop at some stage, although I don't do anything that I couldn't do in the darkroom.
How do you present your images to your clients?
Clients receive a finished album with all of their pictures about six weeks after the wedding. We don't do proofs. Basically, we're providing our clients with a finished product, very much like a videographer would do. We're telling the story of that day and our approach is very similar.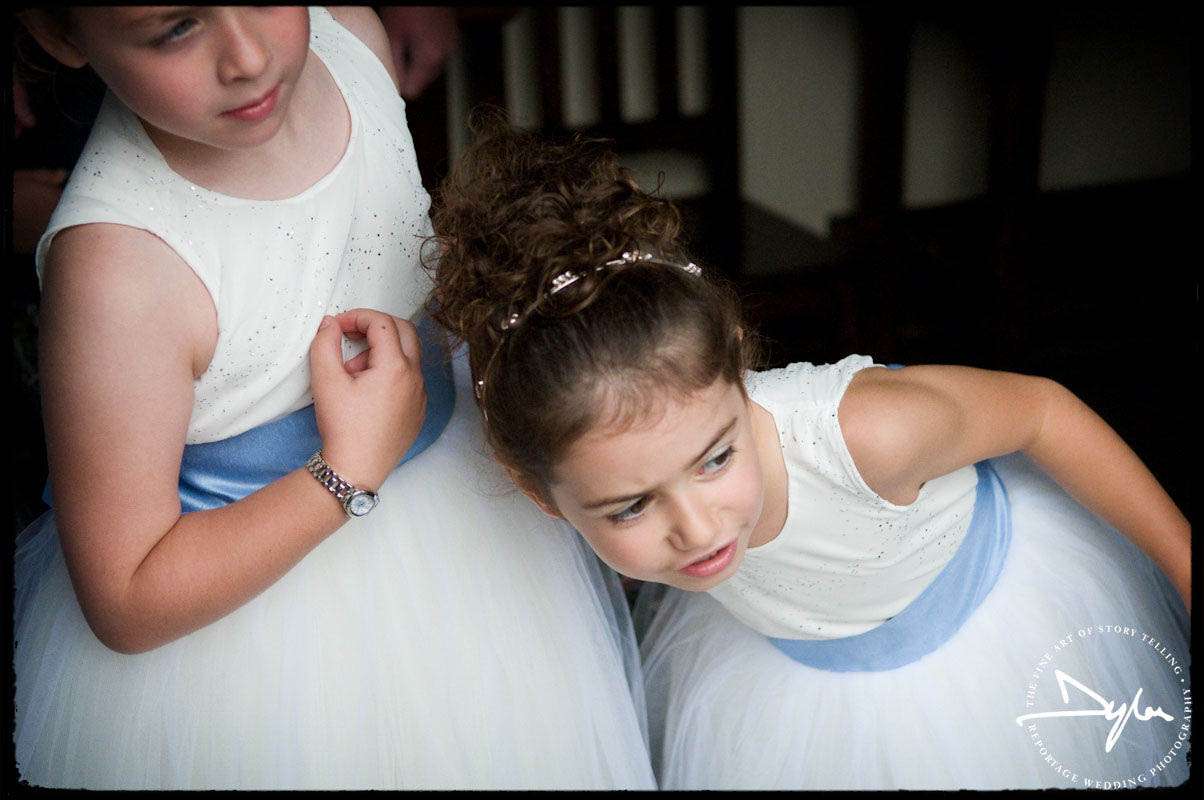 What advice would you have for couples on the wedding photographer hunt? What is a sign of a good/bad wedding photographer?
Photographers are usually hired for their ability to see things and you can assess that pretty easily these days thanks to the internet. Remember that you can't retake your wedding photographs – it's a once in a lifetime event – so you should hire a professional who is consistently shooting great photographs week in week out.
What has been the highlight of your career as a wedding photographer so far?
Getting to see our clients thumb through their books and witnessing the memories of their day coming back to their faces. That's the best feeling in the world.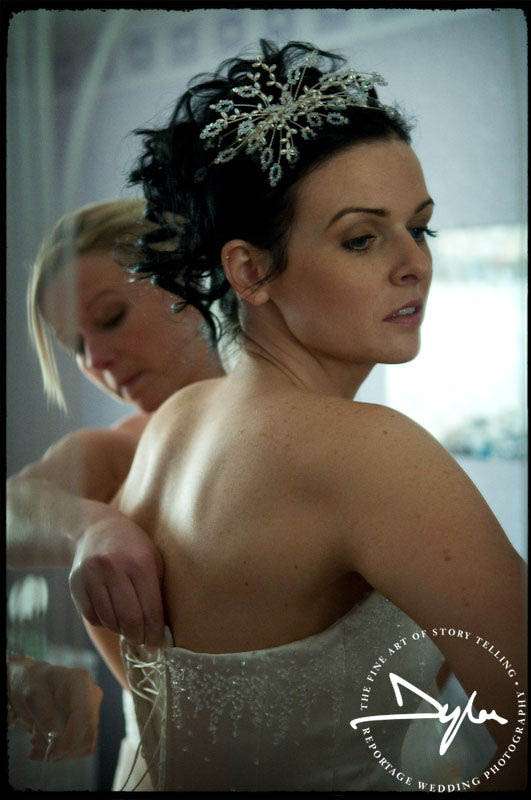 Do you have any advice for budding photographers out there who want to get into weddings?
It's not easy. Unfortunately with digital, there are now a lot of people shooting wedding photographs who think you can just turn up with a digital camera and take pictures of people having a good time. If you want to bring it to a level where it becomes a valuable form of art then it requires a higher level of skill and understanding of light, composition and technique. With shooting weddings you have to be so many photographers rolled into one. A photojournalist might have two weeks to get just 10 pictures. We've got five to six hours to get 150 pictures that all have to be good. That's a very demanding profession.
If you could photograph anybody's wedding whose would it be and why?
I'd go back in time and photograph my Grandparents wedding – I bet they knew how to throw a really good party and I'd love to look back and see what happened!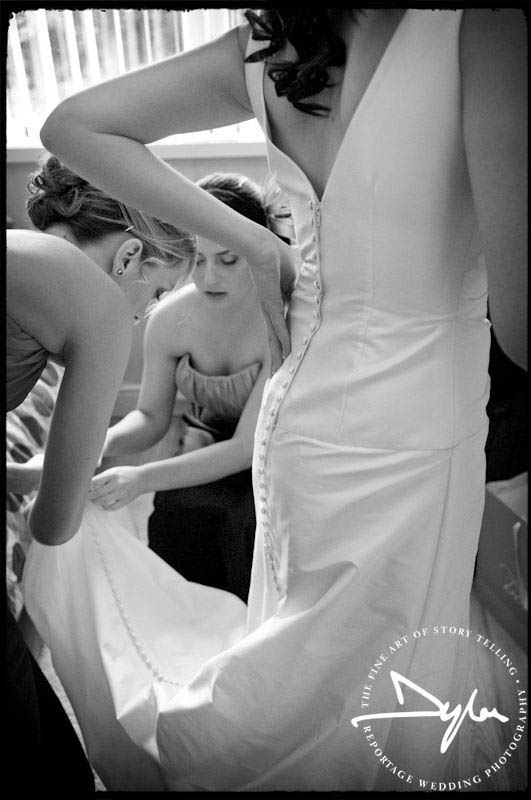 What can we expect from you in 2010?
I'm looking forward to documenting more amazing weddings and watching my daughter Corrina growing up!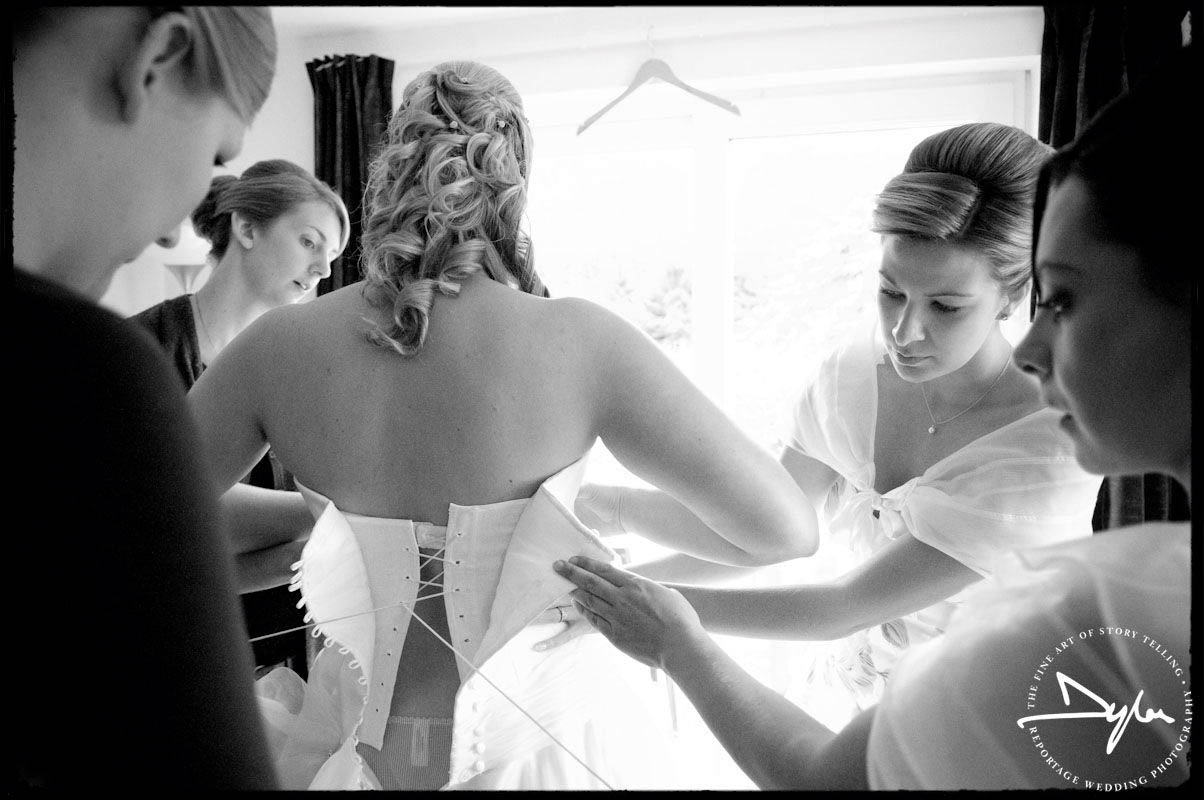 Thanks to much to Dylan for talking to me today. I've loved learning all about you! For more info on Dylan and to see more examples of his work, check out his website. You can contact him by phone 07783  277643 on or by email to dylan@dylanmcburney.com
If you are a photographer or wedding vendor and are interested in being featured in a future 'Under the Spotlight' post then drop me an email for all the info.