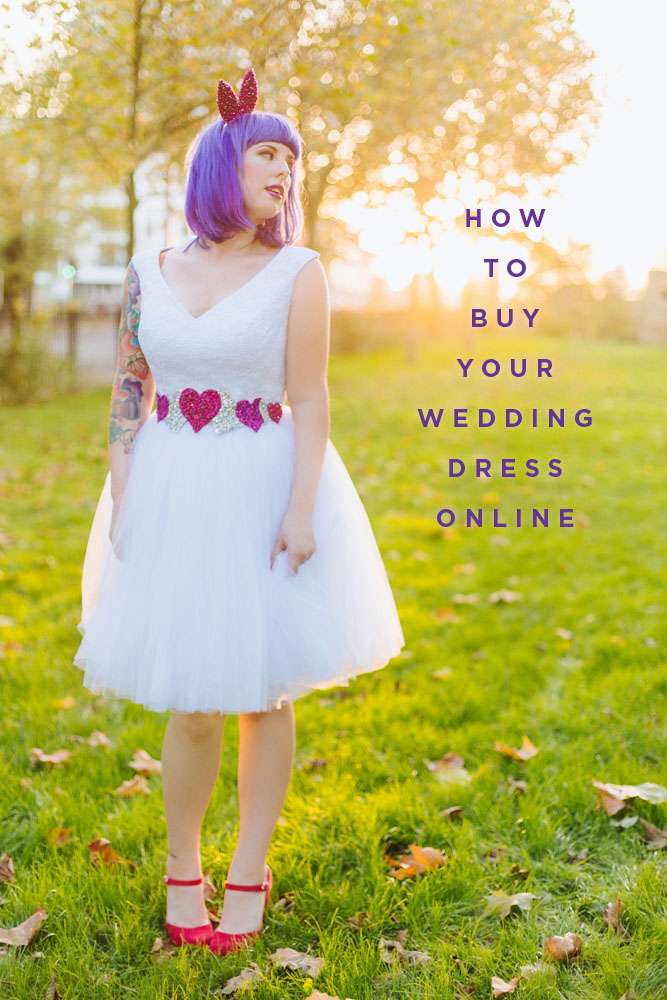 There's something undeniably magical about going to a fancy bridal boutique, sipping champagne and trying on beautiful, exquisitely made, designer wedding dresses. But for a lot of brides – who can't or don't want to – the mere idea of dropping £3000 on a dream dress is completely out of the question!
I think it's good to have options and so instead of just blindly writing about it, I actually wanted try it out for myself. I ordered two dresses from Adorona.com, based in Shanghai, who sell made-to-measure and customisable dresses online.
There are a number of things you should consider if you plan to buy your wedding dress online, either second-hand (from somewhere like eBay), from an independent designer on Etsy, or via a website that makes and sells wedding and prom dresses from China.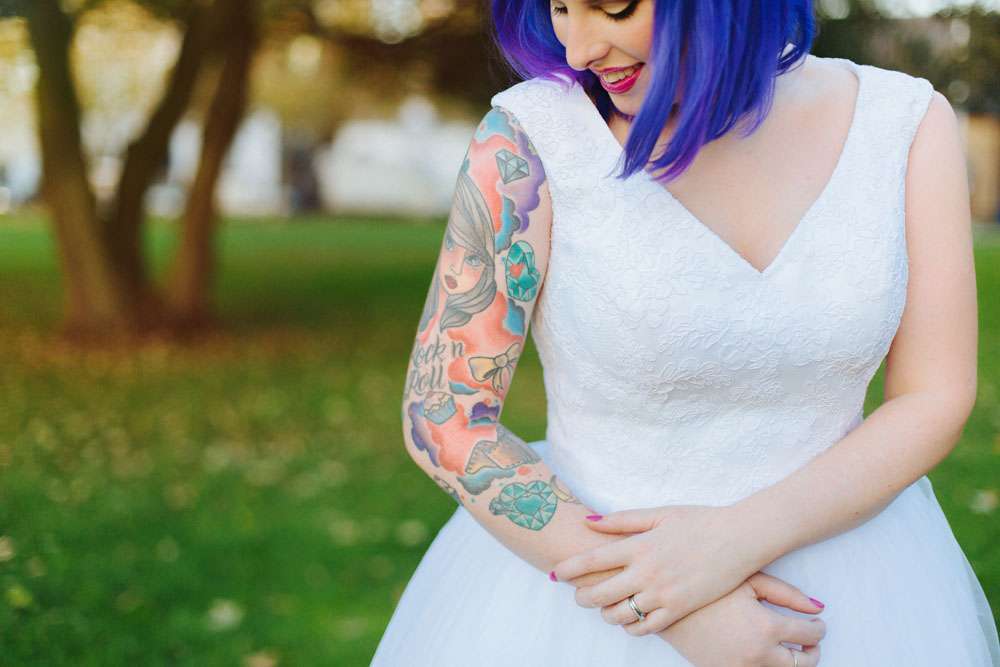 1. Do check the fabric
First and foremost you should check the fabric of the dress you like, and if at all possible, ask for swatches to be sent to you before you place an order. Sometimes clothing can look really beautiful online, but when you see it in the flesh you realise why it was so cheap! Using lower quality fabrics is one of the most common ways that online retailers keep their costs down.
I'm not going to lie, the fabrics used on the two dresses I ordered were in no way comparable to something you might see in a bridal boutique. However, I was pleasantly surprised. They were a lot nicer than I thought they might be, especially for the price. Most importantly though, the dresses were exceptionally well made. The fabric was thick and the stitching in all the right places. There were no threads hanging off, or unfinished edges, and the embellishments were of a high quality. The dresses were also both super comfortable to wear.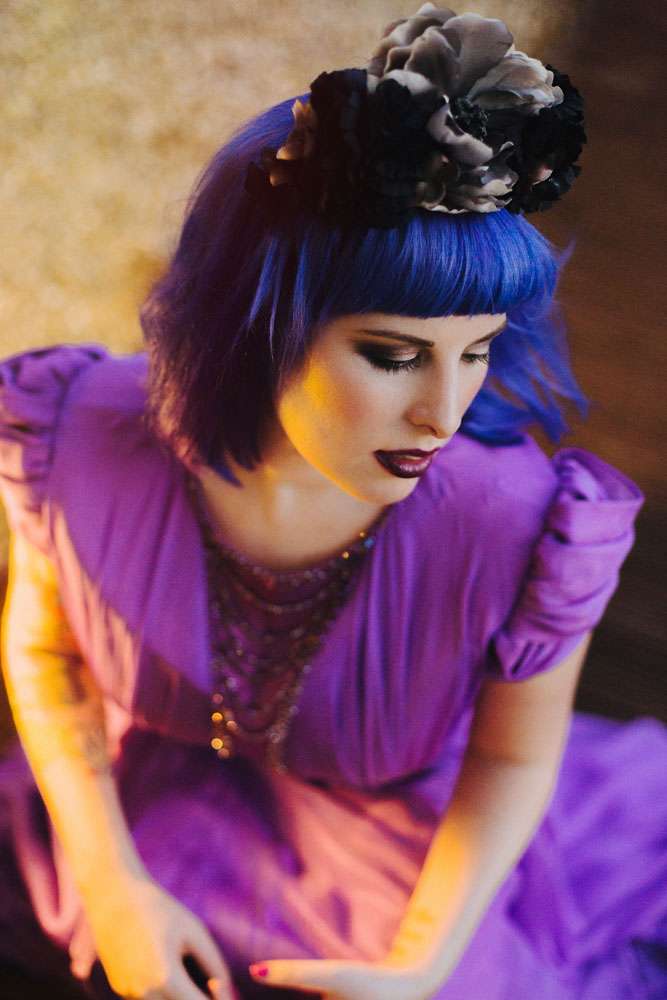 2. Do send accurate measurements
Ideally you don't want to be ordering your dress off a simple size guide. I personally NEVER trust them! I don't know about you, but I can be a size S in one shop (J Crew – hello vanity sizing!) and a XL in the next (American Apparel you are not my favourite).
The best case scenario is that the place you're ordering your dress from will ask for your measurements and then make a gown to fit you. This is what Adorona did, and both dresses turned out perfect. Ask which measurements they need and have someone to help you do it. Then check and double check that you've got them right!
I get it, no-one REALLY likes to measure themselves, but this is not the time for bending the truth. Don't stand there sucking in your tummy or wearing a padded bra. You want the dress to be comfortable. Be honest about your size. I promise, you'll look and feel a million times more beautiful in a dress that actually fits.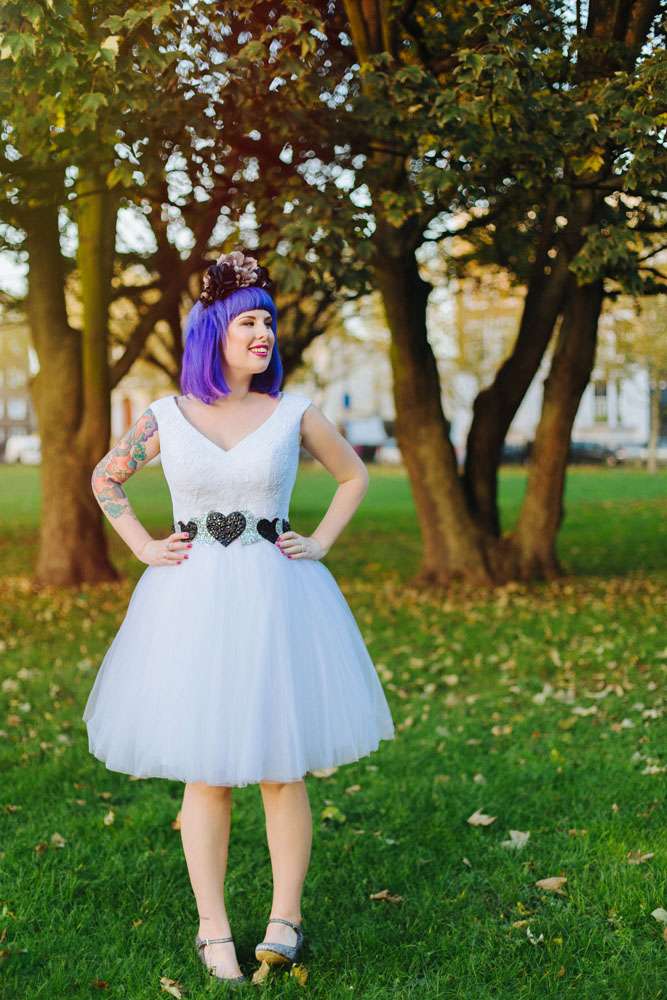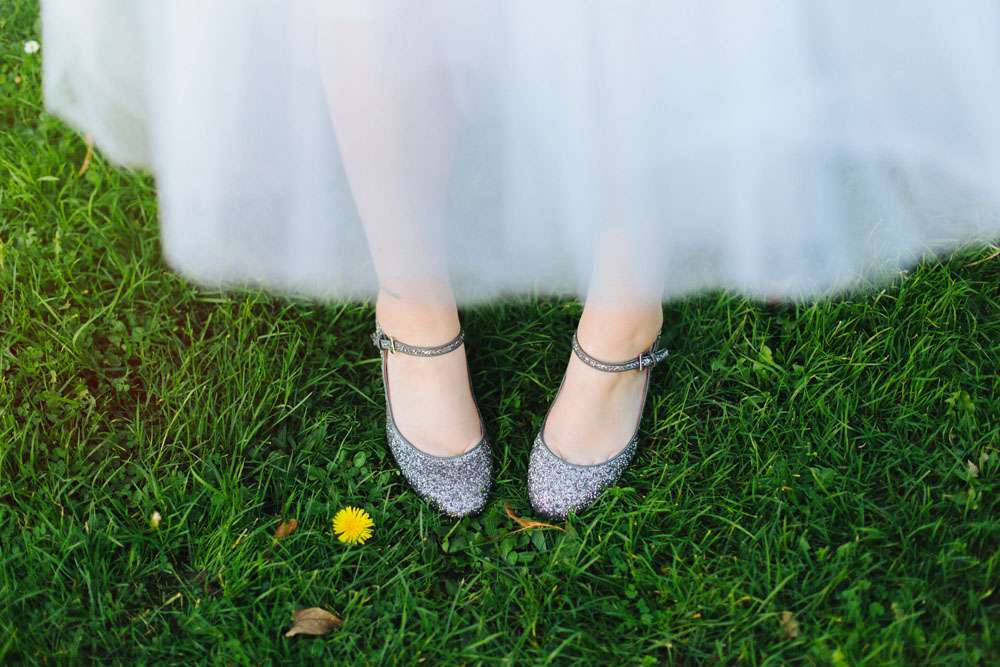 3. Don't ignore your usual style
You might be in love with a certain wedding dress trend, but just because its a wedding gown doesn't mean you should ignore your body shape or deviate from your usual style.
Have a look inside your wardrobe and pull out some of your favourite pieces. What do they have in common in terms of fabric, shape, colour and length? If you wear a certain style a lot, it's probably because you feel good in it! This should be the basis for your wedding dress too.
I wear a lot of 50s shapes and maxi dresses so these were the starting points when I came to pick my dresses. I went for white, over ivory, for the short dress because the colour suits my complexion more, and a pinky purple for the long gown because it's a shade I wear a lot.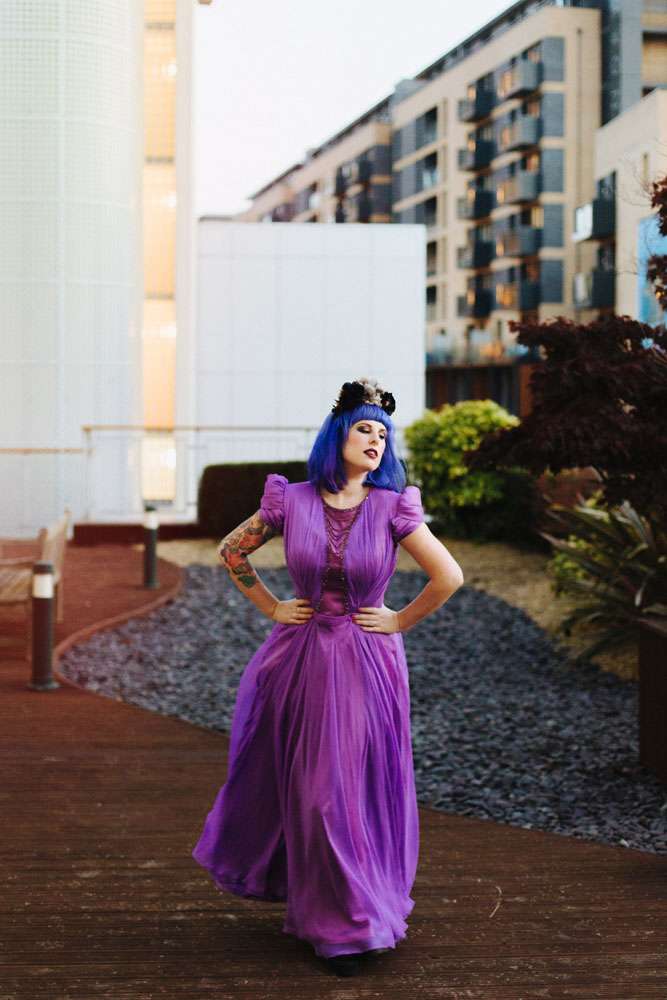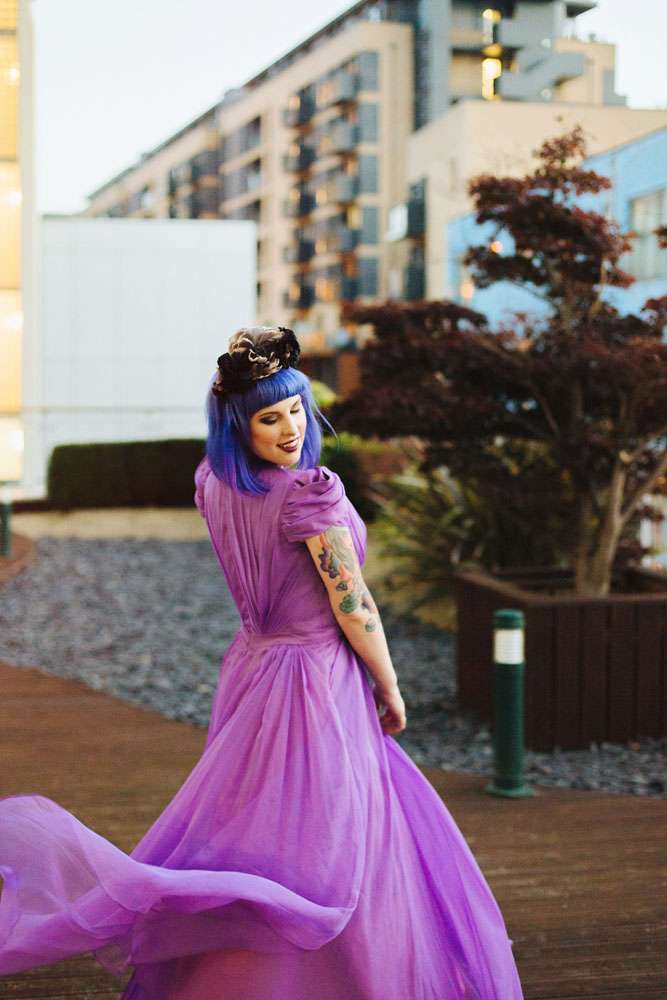 4. Don't be afraid to ask questions!
There should be a very open dialogue between you and the place you're buying your dress, especially if you're designing something custom. Don't ever feel like you're asking too many questions or annoying your designer. Good communication will lead to the best dress and will mean there are no nasty surprises when it arrives!
There are no stupid questions. You've probably never ordered a wedding dress before, so you need all the facts. If the person on the other end of the phone or email makes you feel like you're being a pest, then quite frankly they don't deserve your business!
5. Do leave plenty of time for delivery
A lot of us have got very used to next day delivery culture, but when it comes to ordering a wedding dress this just isn't going to happen! If your dress is being custom made or shipped from abroad, this is especially important. Check delivery times with the retailer and add on a little extra too. You do not want to be stressing that it won't arrive in time for the wedding. My dresses were custom made and shipped from abroad and they took around six weeks to arrive.
Remember about customs too. Depending on your home country, or the value of the dress, your dress may get delayed by the process and you might have to pay a charge to receive it. Make sure you include extra time and budget just in case this happens.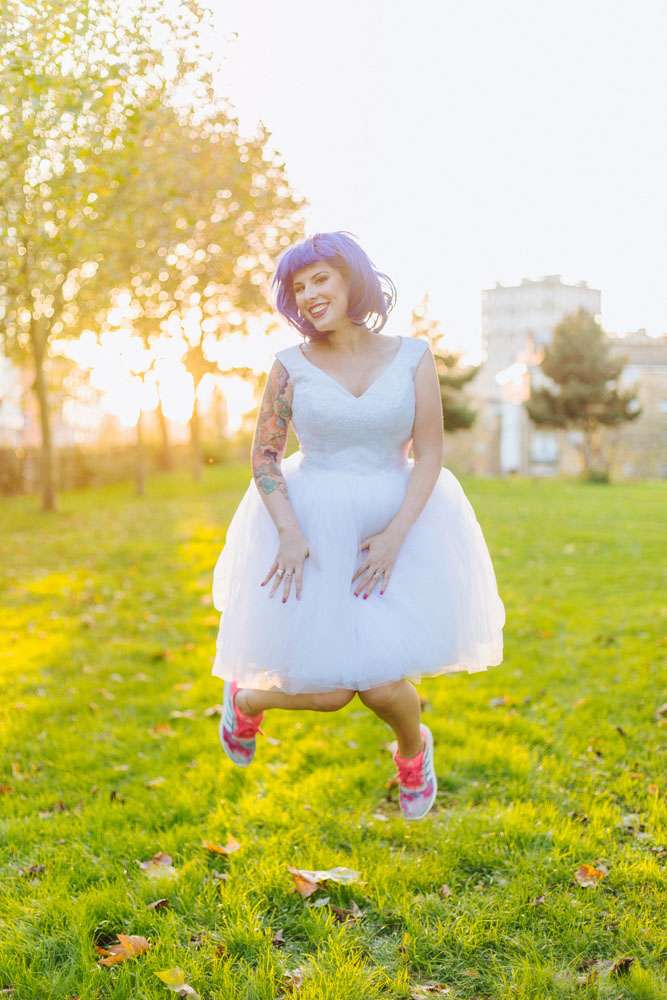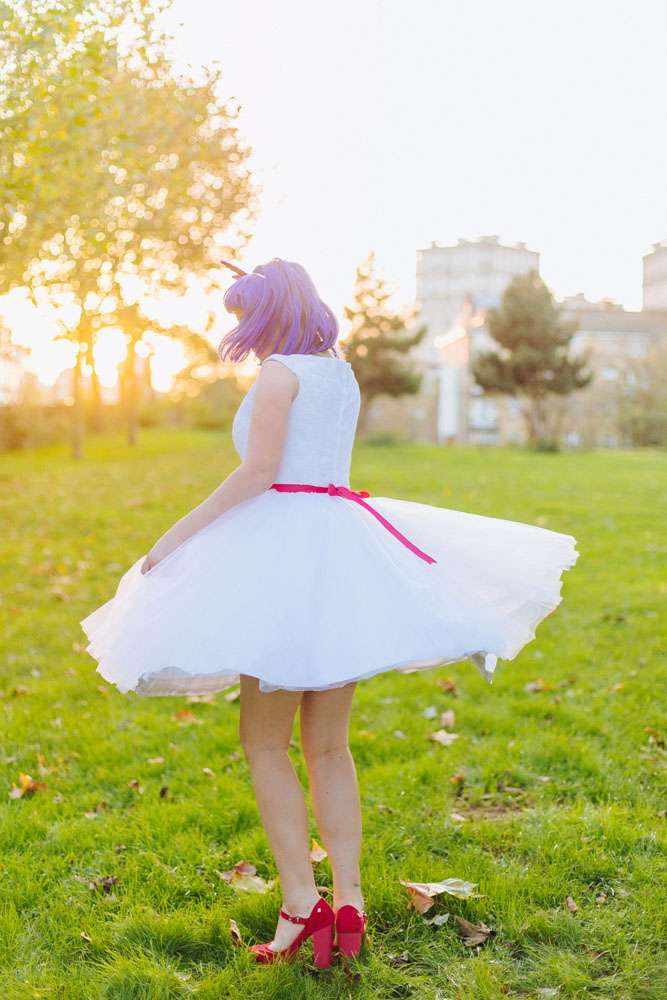 6. Do save some budget for alternations
I lucked out on my dresses. By sending over accurate measurements my two gowns fit like a dream and I didn't need any alterations, but this might not be the case for you. Whatever your budget, it's really worthwhile having some set aside for incidentals, or just in case it's not quite perfect when it arrives.
As a side note, Androna offer a customisation service on many of their dresses, which meant they were able to alter the neckline on the short, white one for me. The original design had a very high neck, which wouldn't have suited my shape. I was amazed to discover that they offered this at no extra charge.
7. Do make a simple dress your own
As you can see, I accessorised my dresses to make them more 'me'. I think you should do this whatever wedding dress you're wearing, its all part of the fun!
Another thing worth noting is that, usually, the simpler the dress (aka the less work it takes to make it) the more affordable it will be. The two dresses I ordered were at opposite ends of the pricing spectrum because I wanted to see how they compared. The white one was $152.99 and the purple one, over $1000. When they arrived, I actually much preferred the cheaper one because I could add my own twist to it with colourful accessories and fun shoes!
I hope this article proves that when it comes to buying a wedding dress it really isn't about how much you spend, and that there are plenty of options out there for brides on a budget. I've always been a firm believer that what really matters is how an item makes you feel. It could cost you £3000, or just £30, but if it fits you well and suits your style, then you'll always end up feeling like a million dollars.