I may well be stating the obvious here, but Amy & Jay's wedding is freakin' awesome. Hell to the yeah…I love to blog this stuff!
We were married on 01/02/10 in Brooklyn, NY. We really love our neighborhood and wanted to keep it local, allowing our guests to fully experience the day in Williamsburg Brooklyn. We had our ceremony and three course vegan meal at a place called Monkey Town. As a wedding gift, one of our best friends/dancer/aerialist/choreographer, Sarah Wollschlager, did an aerial performance to Etta James' "At Last," which contributed to the uniqueness and beauty of our ceremony. Our officiant, from the Brooklyn Society of Ethical Culture, Tasha Paley, also made the ceremony even more personal- she brought laughter to our guests and made several of us shed a tear while reading an excerpt from "The Little Prince."
We then had the reception at Trophy Bar, which included an open bar, dancing, vegan cupcakes, and a photobooth. For the photobooth, two of our best friends created a caution tape backdrop and set up a wireless remote, allowing the guests to get ready and pose! As far as vegan cupcakes in NYC go, Babycakes is the absolute best…we were so relieved that all of the non-vegan guests really loved them! They also made us a 6″ cake, where we put our super cute monster cake toppers, created by Leslie Levins.  It was absolutely an incredible day and it wouldn't have been what it was without our amazing friends!
Amy had two dresses – the ceremony dress was found on Ebay and was a similar design to Maggie Sottero's Rasharna dress, which she loved but when she saw the less-fussy Ebay version she was sold! Her reception dress was from Betsey Johnson's Spring 2008 collection. She carried a felt bouquet by Jennifer Rae of Ribbons n Bows Boutique (who she discovered through Rock n Roll Bride!)
Wanna see more? Check out their slideshow! Oh…and their wedding invitation video is too damn cool for words (check it out after the jump…)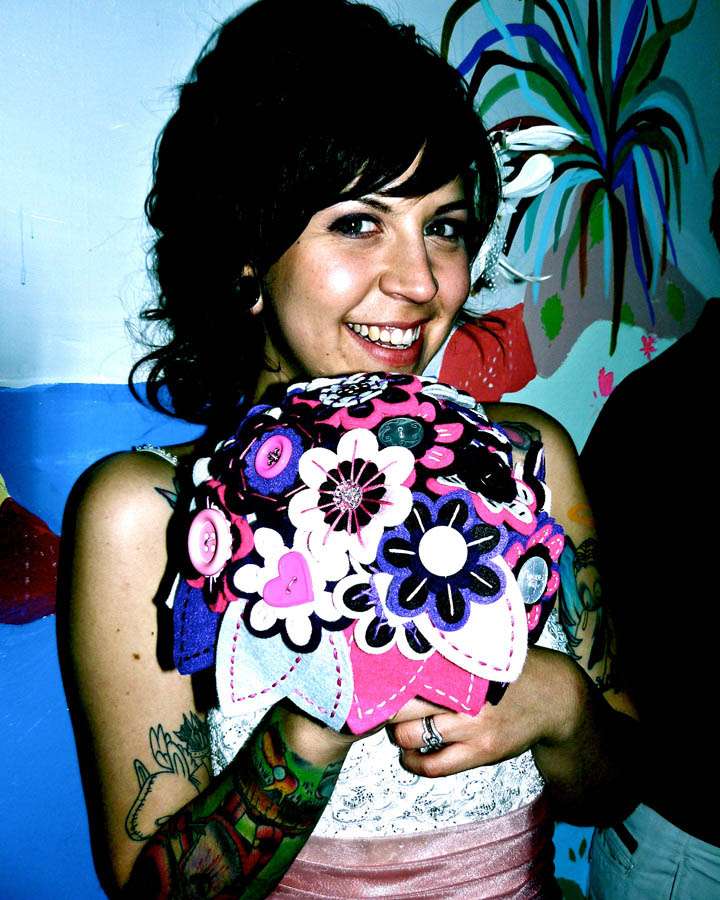 Thanks to Amy & Jay for sharing their way too awesome day with us!
Credit: JP Grace, Patrick Squire, Anna Goist, and Tom Pulver