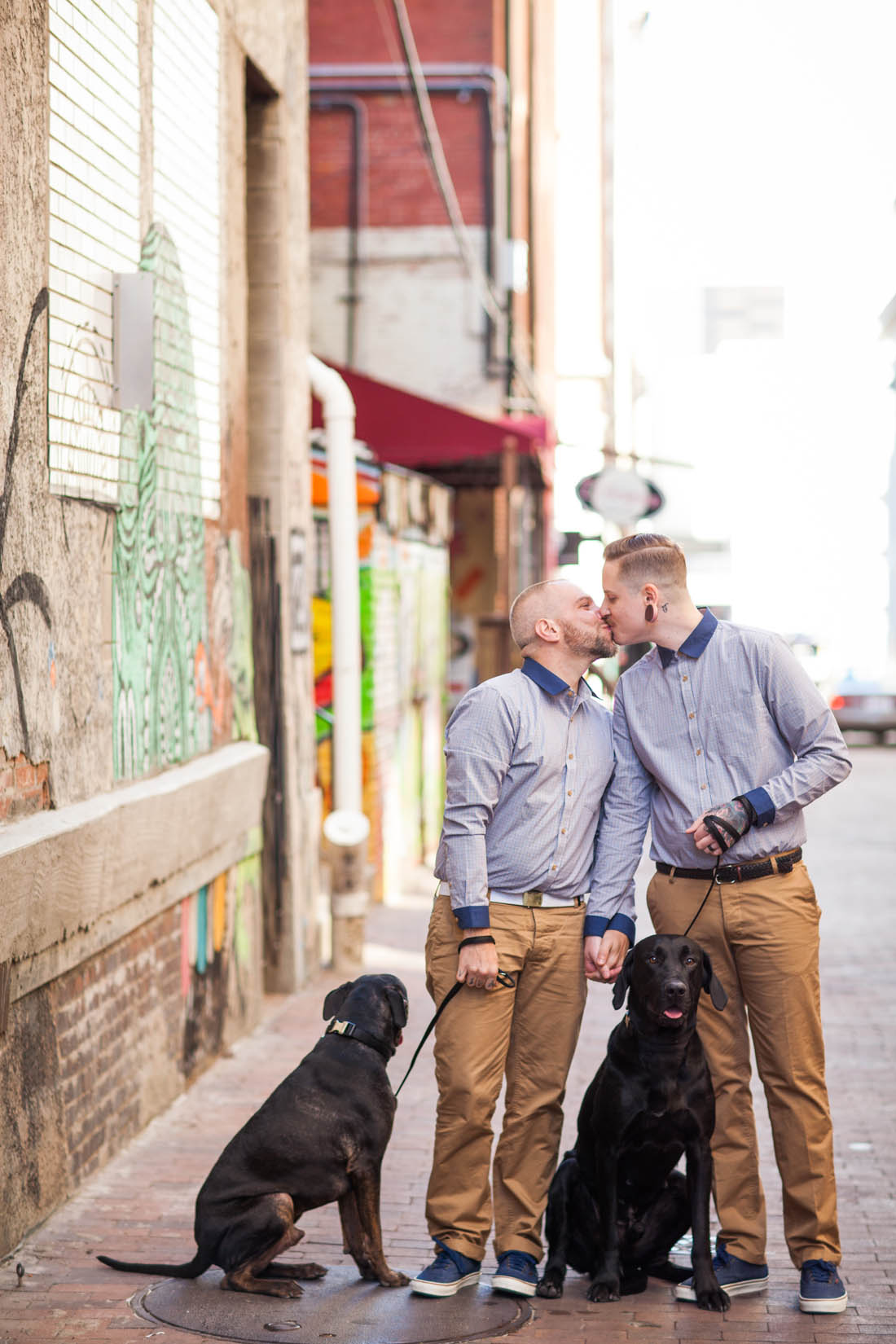 Before I even saw these photographs I knew I wanted to blog this wedding. Wedding photographer, Adam Lowe, described the event to me as 'a mega super awesome gay punk dude wedding' and I instantly knew it would be amazing… and oh boy how right I was!
Josh & Scott were married in October at 400 West Rich, a 100,000 sq foot warehouse in Columbus, Ohio. They did pretty much everything themselves and spent just $3000 making their wedding perfect. "We met through a gay social networking and just got to talking", they began. "About three months later we were taking turns visiting each other and three months after that Josh moved to Columbus. Josh is a huge Disney fan and we planned a trip to Disney and Scotty ordered an engagement ring. He proposed to Josh in front of Cinderella's Castle."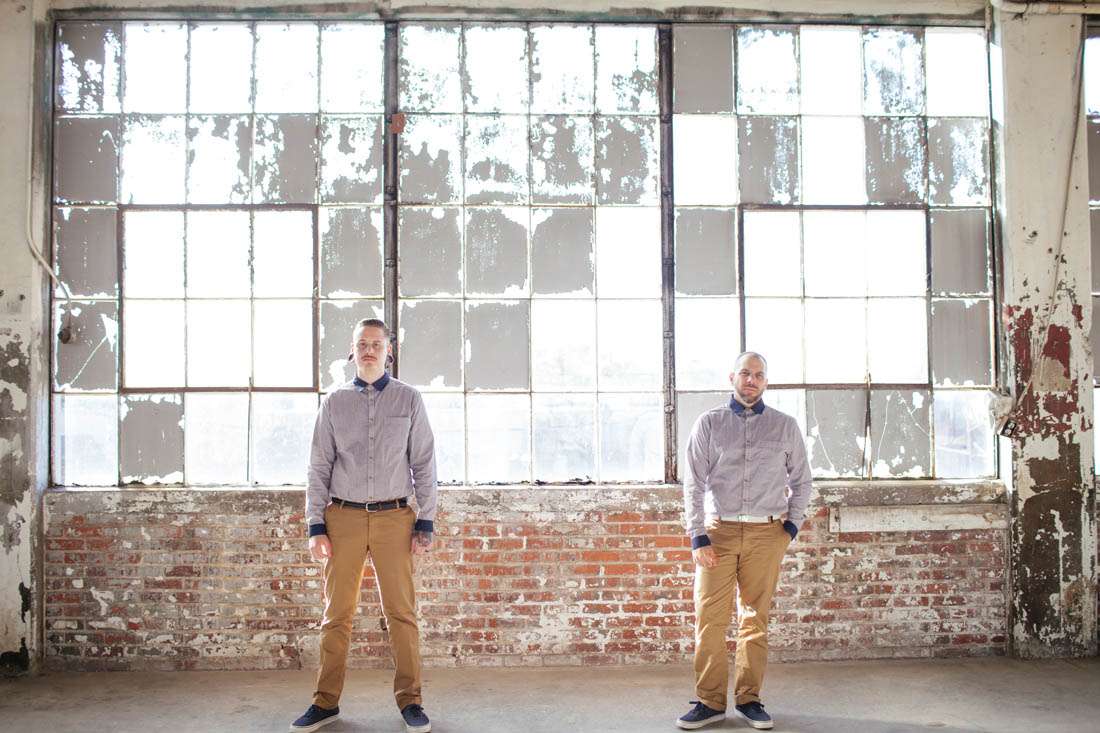 "We wanted a very organically flowing wedding. The ceremony was short but personal with personal vows", they continued. "The space we used for our wedding was an old factory that is being converted into artist studios. Being so DIY minded, it just made sense to use it and create a warm welcoming environment on our own. Being vegans and experiencing some bad catered vegan food options at weddings we knew we did not want to depend on a caterer to make the food. Instead we did it all ourselves with help of friends. We are talking 400 tamales, 100 'chicken' wings, 300 cake pops… We also had the majority of our friends and wedding party involved in doing something to help out. We know people in bands, people who are DJs and bartenders. Everyone volunteered their time and took turns helping out and partying!"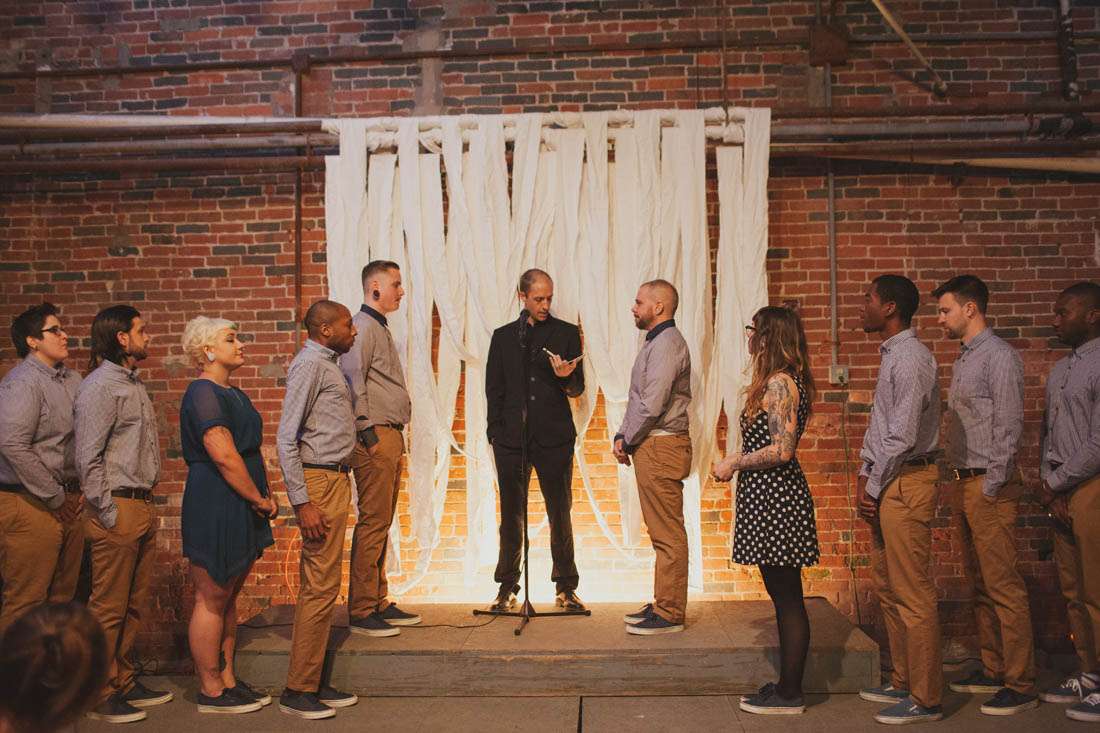 "Our theme was 'reclaimed and revisited'. We love thrifting and finding unusual items and having them in our home. We wanted to bring our home into the space and make it comfortable for ourselves as well as share who we are as a couple. We also made our own candles which was one of our favorite elements in the wedding. The candle scent was very important. We spent a quiet night together developing exactly a scent that represented us and something that people would associate with the night. The scent was woody sweet with a subtle musk to it."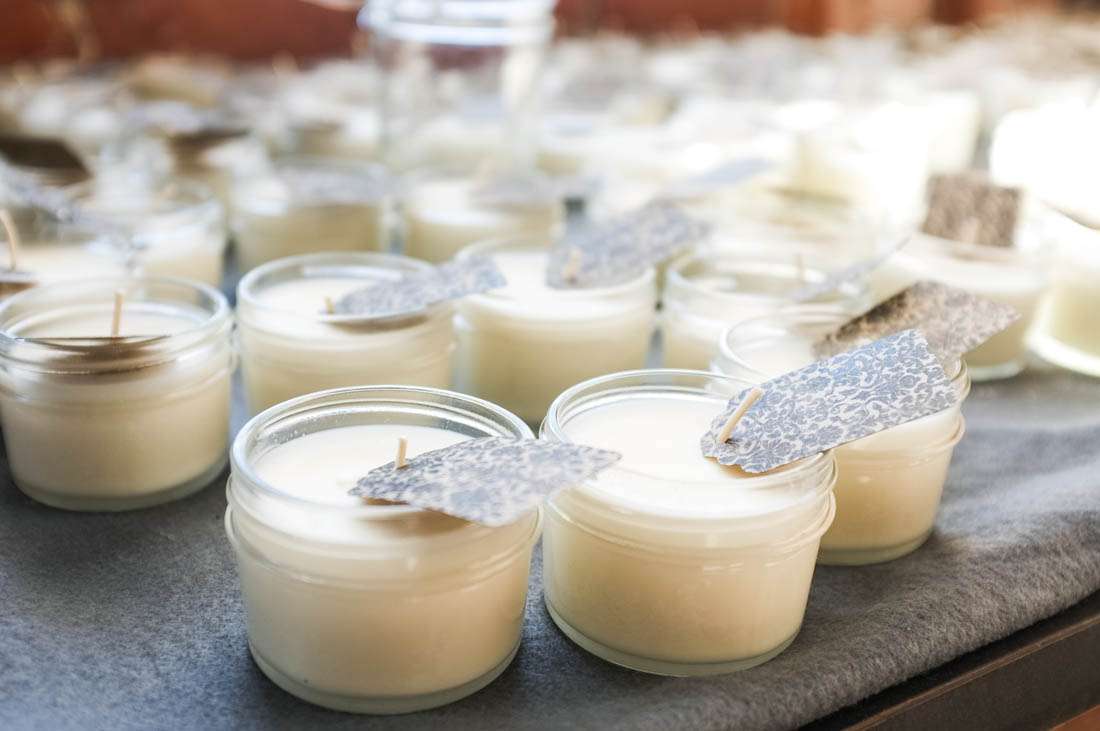 "Pinterest was super helpful but over time just became so overwhelming. There are just so many ideas! We used the same room for both the ceremony and the reception. We had bunting and pews to establish an aisle and then after the ceremony we moved them to the side and opened the room up. We used needle point hoops with stretched fabric inside to hang around and had mason jars decorated in lace, twine and spray paint for the candles which became centrepieces."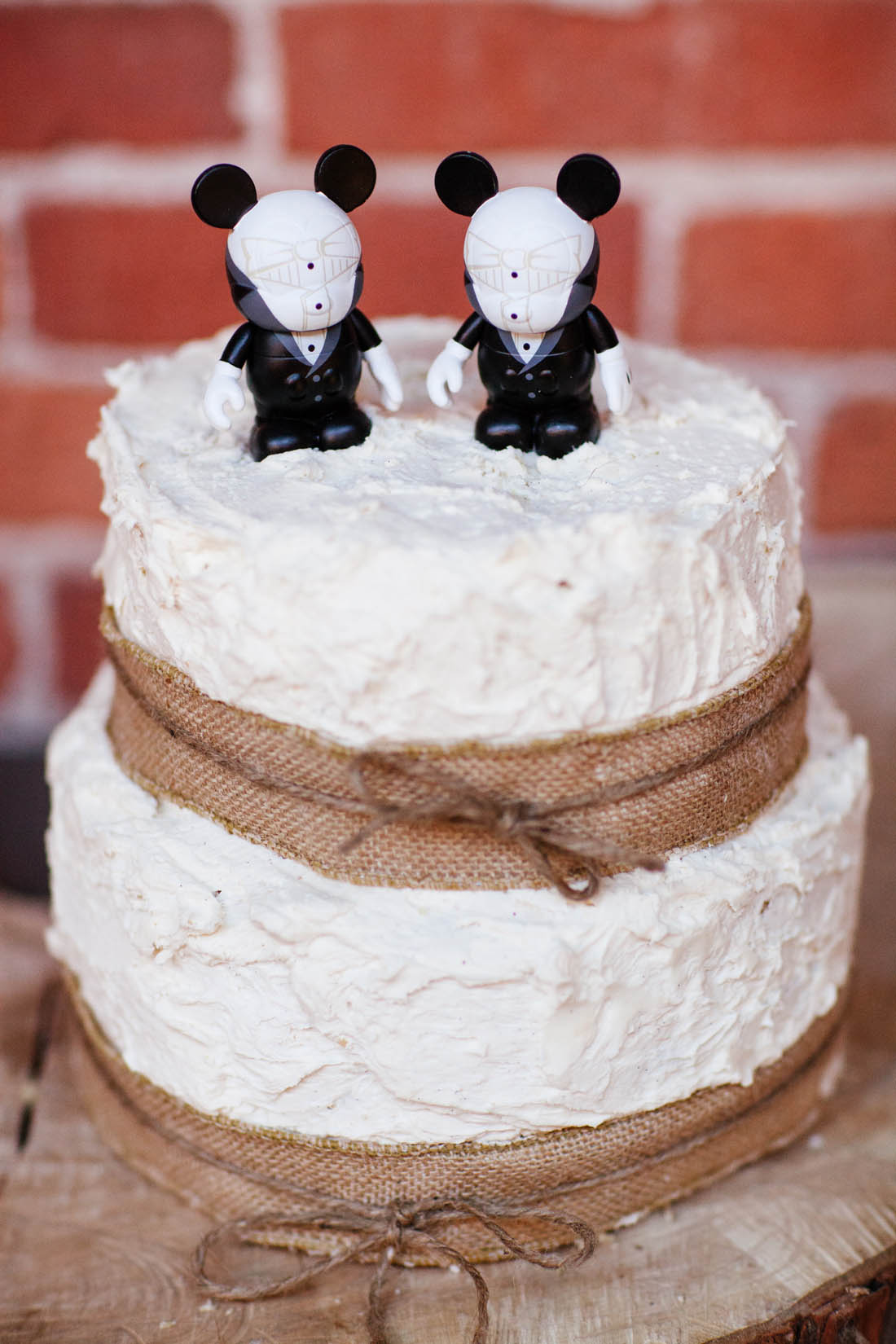 "Doing a whole wedding ourselves was intense but we saved tons of money", they concluded. "One thing we would of changed was to at least have one person to manage everything – to keep everyone in check and have a list of everything that needed to be done. Some small things fell through the cracks such as getting canned soda for the non-drinkers. But in the end it was easily solved with a friend hopping over to the gas station around the corner at the last minute!"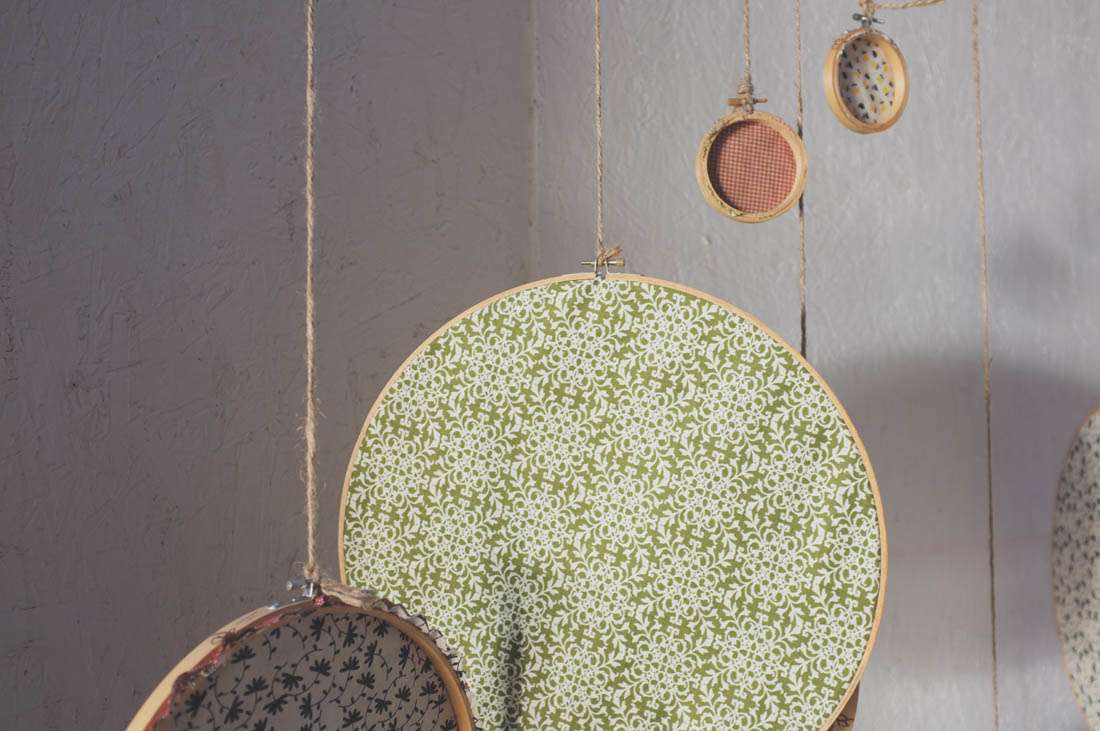 So so awesome. I love all the cute little details of this wedding but more than that I love how CLEARLY obvious it is that these guys are so totally in love. They can't keep their hands of each other! Huge congratulations to Josh & Scott and thank you for sharing your beautiful wedding with us today.