Oh Lord I must contain my excitement. This is just the type of wedding that Rock n Roll Bride was created for and just the type of wedding that sends me weak at the knees. You'll see why, believe me!
I was actually lucky enough to be able to share a little sneaky peak of Matt & Danielle's wedding by way of their photo booth pictures back in November and we all knew from then that this was gonna be a goodie. A photo booth fit to bursting with that many tattooed bodies can never be a bad thing!
Edit: For everybody who's been asking, Danielle's (vegan!) shoes were by Bordello.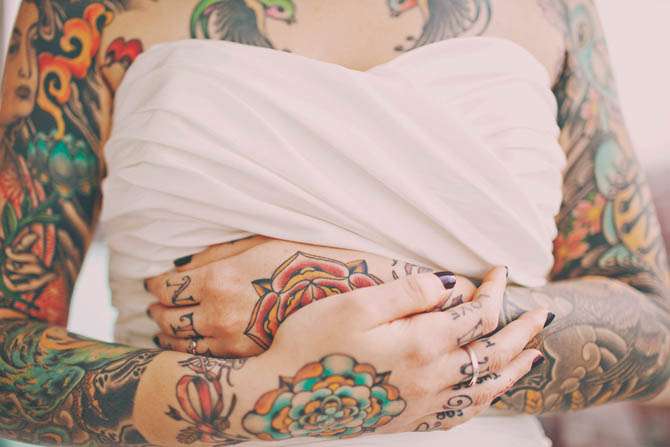 You can see their full 'n fabulous slideshow right here! But if even that isn't enough for ya, check out Our Labor of Love's blog for part one, (part two is to follow) and Matt's own blog (he's a kick ass photographer too) for yet even more. Now don't ever say I never give you anything. Squeeeeal!
Thanks to Matt & Danielle, Jessie & Whitney for sharing this ridiculous awesomeness with Rock n Roll Bride. I am forever in your blogging debt.
Credit: Our Labor of Love