For some reason, I have been sent a lot of amazing stuff from South African photographers and couples recently… I don't know why but it's nice to know the South Africans are feeling the Rock n Roll love now too!
Newlywed's Bianca & Sean got married in Cape Town (where they have now lived for 10 years) at a gorgeous restaurant called Pure at Hout Bay Manor. The wedding was based on a vintage/retrospective theme. The Bridesmaids all chose their own sleek black dresses and the boys wore skinny ties and sharp black suits. Bianca looked every bit the vintage princess in a custom made silver satin and lace wedding gown made by local couturier Cindy Bam and a vintage 1920s hat and veil.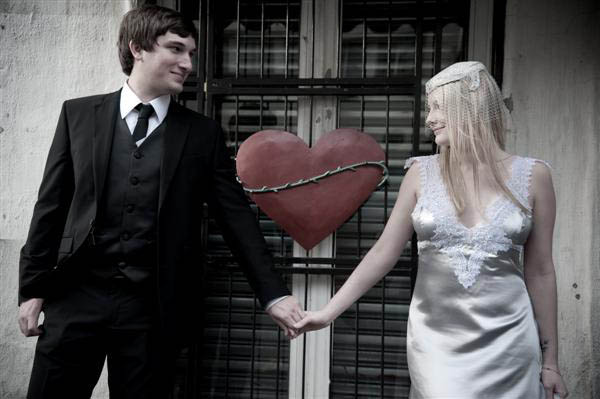 Bianca told me more about their truly perfect day:
"We decided to buck tradition and have pre-wedding portraits near our downtown apartment. We chose the backdrop of Long Street, a cultural and social hot spot near the center of the city. Lauren Kriedemann, our photographer, scouted out the area before the wedding and helped us recreate the vintage film feel we were after. Our portraits from this session range from the opulent to the decayed and even feature some of our favorite local hang outs. With our decision to take pre-wedding photographs we decided to drive ourselves to the venue, using the time to reminisce about our engagement and all the moments that had led us to our wedding day.
I walked down the aisle later that evening, after the sun set, to Ben E. King's Stand by Me, behind my lovely bridesmaids who lit the aisle with lanterns.We rocked the night away to Golden Oldies, culminating in an epic Greece Lightning rendition. Throughout the evening guests were encouraged to make use of our photo booth resulting in a series of tipsy, fun filled moments we'll cherish forever."
Thanks to Bianca & Sean for sharing their gorgeous day with us. You can see more info on the wedding and regular planning posts on the couple's blog, Chapel of Young Love and on Wedding Bee, where she blogs as Mrs Lightning.
Credit: Lauren Kriedemann Photography