This is going to sound more than a little bit weird but I almost don't want to blog these because once I do it will be done and I will be sad that the anticipation, excitement and exhilaration (I'm a very dramatic person) I have been feeling leading up to posting these will be gone. Yes I am very strange…
You might recognise Automne & Graham as one of the finalists in the Tinywater contest I ran a few months ago. As soon as I saw their entry I knew they were a completely awesome punk rock couple and that their wedding would be fab but OH. My. GOD nothing prepared me for this! I am so honoured and excited that the couple have chosen Rock n Roll Bride to be the lucky blog who gets to share their wedding and all the amazing details. Exclusives rock! I seriously want to cover this post with kisses, love and hearts ♥ ♥ ♥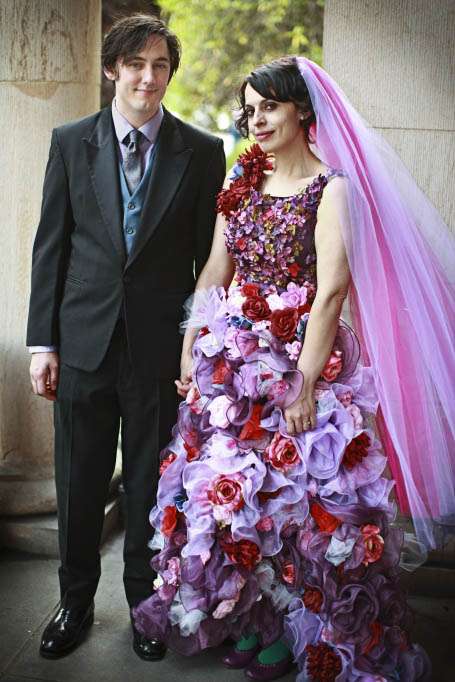 I'm going to hand over to Automne to share all the details with you and I'll be right back with the images…
♥
The Photography – Not sure if you guys remember our engagement photo from that rock 'n' roll bride contest so long ago. We were the ones posed on our records. What some of you may not know is that we took that picture ourselves. Thanks to the magic of Photoshop, you can't tell that those are two different shots stuck together. We were kind of worried we would have to take our own wedding pictures but a good friend said she would do them for us. Sadly, she was in my bridal party and a little bit drunk so we have very few decent shots to share. The ones she did take are stunning.
♥ 
The Dress  – My mother bought me an inexpensive dress from Ebay. When I received it in the mail, it looked nothing like the picture. It was a total eyesore with cheap looking flowers in some spots and glue stains in even more. Note to self, you get what you pay for on Ebay. Instead of spending money on a different dress, I spent a month fixing the dress to my liking. I took the crappy flowers off and added hundreds of new ones, I shortened it a few feet, put tulle in the spots that needed to be filled out, and turned it into my dream dress. It was a lot of work and it ended up weighing 12 pounds – but I was pleased with the end result. It looks nothing like the dress that came in the mail and nothing like any wedding dress I'd ever seen. I'm just waiting for another occasion to wear it again.
♥
The Wedding –  Graham and I are in our mid 30's and have been together for over six years. Basically, we're old and crusty and set in our ways. Because of this, we made absolutely no compromises with our wedding. We kept it our own with every detail (big and small). We have some family members that are religious but we're not and it was important to leave religion out of the ceremony. Instead, we focused on our love for each other and our love for our community. We had an incredible friend get ordained online to marry us. During the wedding procession, we had the members of our bridal party perform "The Birds In Your Garden" by PULP. Our dog was the ring bearer. My flower girls were grown women representing Youth, Beauty, Whimsy, and Charm. We also wrote a marriage manifesto expressing our beliefs that ALL couples should have the right to get married. Most of our friends (including the officiant) are gay and it was important for us to state our solidarity with them. Obviously we wrote our own vows. I think all couples should do that. Finally, instead of saying "You may kiss the bride", our officiant said "You may spin-the-bottle." Graham and I fell in love during a spin-the-bottle game and really had to incorporate that in the ceremony. It was perfect when the bottle actually landed on me and not my Dad or some poor member of the audience. Awkward.
♥ 
The Wedding Cupcakes – We don't have a lot of money nor the culinary skills to make over a hundred vegan cupcakes. Instead, we had Saint Cupcake make them for us. To save money, we decorated all of them ourselves. Graham made the cupcake stand out of old records. I printed out 120 different album covers to put on top of each one. They may not have been the prettiest things in the world but I loved them and they truly represented us and our record collections. I also got an exclusive shopping cart ride to them. It's a long, romantic story.
♥ 
The Wedding Zine – I can't even articulate how much we love our friends and family. Obviously we wanted to do something meaningful for all of them. Instead of cheesy gifts, we made every single guest a wedding zine with a complimentary mix cd. The cover is the movie poster from Rock 'n' Roll Highschool. I photoshopped all the members of our bridal party on their faces. The back is a picture I drew of our first date. I gave that to Graham as an anniversary card the same night he proposed to me.The insides had information on the people in our bridal party, our marriage manifesto, the story of how we met, and pictures of all the guests. It also included a centerfold of all the self portraits the guests drew on their RSVP cards. (We made people draw self portraits when we sent out the invites.) Anyway, it was kind of like a little yearbook celebrating everyone in our life. It took FOREVER but was totally worth it.
♥
The Reception – Both Graham and I have radio shows on the Portland Radio Authority. One of our friends is also a DJ there and we asked him to play music for our wedding. He did an exceptional job and we loved watching our parents dance to The Clash, Joy Division, and Spectrum. The guests also had a crunk off and I made everyone dance for the bouquet. Best dance party ever!
♥
The Shopping Trolley – Let me explain. It's not as ghetto as it sounds. One of the most romantic nights Graham and I ever had took place at a Buzzcocks show in San Francisco. We were a couple of drunk punks at the time and my shoes hurt. Graham (always the gentlemen) tamed a stray shopping cart and pushed me home. We were full of Jagermeister and I kept falling into the street. Anyway, both of us mentioned this in our vows and my dear friend Celeste took note. She found a shopping cart outside and brought it to Graham.
♥
Our Blog – My mother has a demanding job and a health condition that prevents her from being able to fly. Because of this, she could not come to our wedding. We're incredibly close so I wanted to do something to make her feel apart of everything. This is why I decided to create a blog sharing every single detail of our planning, our guests, and the celebrating. It ended up becoming much bigger than I anticipated. It still blows my mind that total strangers read the blog and leave wonderful comments. The internet can be a lovely place sometimes. Sometimes.
♥
Eeeeeeek here comes my favourite bit – photographs and video! I had to share this 'moments before' video as it's my favourite – the excitement off all the girls together….eeee! I can't post them all but go have a watch on You Tube the processional one nearly made me sob like a baby. Check these out and die happy. If this still isn't enough for you be sure to head over to their blog and flickr for more. I would particularly recommend the post about their wedding zine –  amazing.
Automne & Graham I flipping love you. Thanks so much for sending me the full report on your truely awesome day ♥ ♥ ♥
Credit: Desiree Pfeiffer (and other friends)
Polite note: This wedding has been sent exclusively to Rock n Roll Bride to share. If you wish to re-blog this wedding please ask permission from the couple and credit back to Rock n Roll Bride. Thievery isn't cool. Mwwwah