As many of you will already know, I like to pride myself and my blog on individuality and posting some of the best, exclusive and new weddings out there. However rules are made to be broken right?! I actually saw and loved Alicia & Jack's wedding a while back on another wedding blog (I even included it in a Thursday Treats post) but when their videographer Thomas of Vantage Point Films sent me the link to their gorgeous video (which hasn't been seen elsewhere) I couldn't help but as if I could share some of the photographs taken by Carla Ten Eyck Photography too. Sound good?
"For most wedding vendors, a couple like Alicia and Jack reminds us why we do what we do" Thomas began. "Just when you're thinking 'another day, another wedding', they infuse their cool style into the day, and put the 'art' back in 'artist' for you. They were hip, they were classy, and two of the sweetest people you'd ever want to work with. Of course it helps when, as a videographer, you get to shadow photographer Carla Ten Eyck all day, as she navigates her hometown of Hartford, CT. It makes my job a lot easier when the photographer is on the top of their game."
I then got to speak to the bride, Alicia who explained that unlike a lot of 'girlie girls' she had never been one to fantasise about her wedding day. She is sooo the perfect Rock n Roll Bride inspiration! "Unlike many of my girly-girl friends, I hadn't fantasized about my wedding day for my entire life and I certainly had no idea of what I wanted the dress to look like. I tried to go through the motions of trying dresses at the bridal shops- you know, the whole bridal circus…. but as soon as I discovered this Betsey Johnson dress  I knew I'd found it. I'd been admiring and wearing her fashion since I was thirteen. This dress just fit me perfectly, in more ways than one."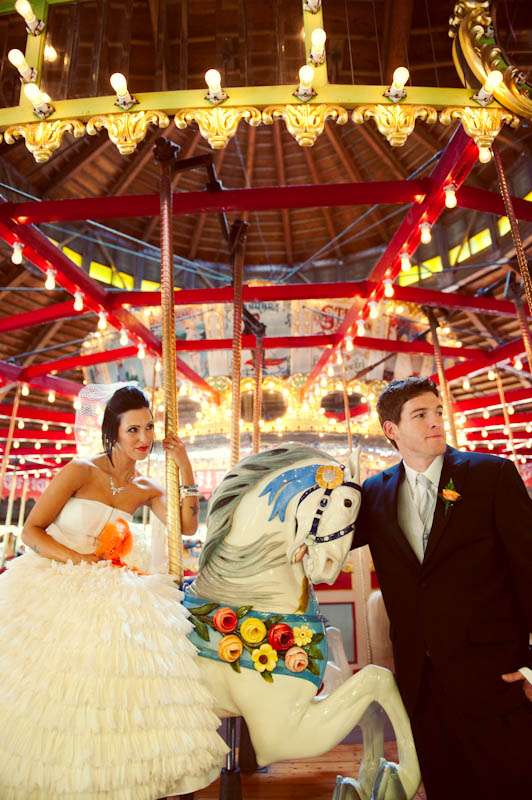 "We chose The G. Fox Room because it was both low-key and had a classy, retro vibe at the same time. We knew we weren't doing any church or temple – we wanted a fun, unique and non-traditional wedding… but not too informal! The offbeat musical selections and readings we chose for the ceremony were some of the most important parts. And we had an insane Yo-Yo performance during dinner—WHAT!!?!! When it came to other details, we tried to keep it as DIY as possible—not an easy feat considering we were planning from across the country! We couldn't have pulled it off without help from our amazing families. In the end, it was the most fun, surreal and exhilarating day of our lives—truly magical."
Amazing. Huge thanks to Thomas & Carla for sending over their video and images from the day and to Alicia & Jack for sharing their awesome wedding with us today.
Photo Credit: Carla Ten Eyck Photography
Video Credit: Vantage Point Films
Venue: The G. Fox Room
Personal & ceremony Flowers: Lane & Lenge
Table Centrepieces: Diy
Cake: Modern Pastry in Hartford (cupcakes), The Bean Counter Bakery (of Worcester) for the Vegan cake
Favours: Diy "Jack and I made a pretty bad-ass, un-cheesy mix-cd favor, and also put together a candy buffet in our colors"
Bride's Dress: Betsey Johnson 
Bride's Shoes: Moschino Cheap & Chic
Bride's Birdcage Veil: David's Bridal
Bride's Feather hairpiece Diy
Bride's Vintage Petticoat: Hubba Hubba Vintage (L.A.)
Bride's Skull bracelet: Tarina Tarantino
Bride's Necklace: Vintage – belonged to her great grandmother's from the 1920's or 30s
Bride's Diamond-style plugs: Piercing Emporium (Worcester)
Rings: Single Stone Jeweler (Los Angeles)
Groom's suit: Men's Wearhouse
Bridesmaids' Dresses: David's Bridal
Makeup: Anna Briggs
Hair: Christy Catala