I am super excited today as not only have I got a plethora of amazing stuff to share with you in the next few days but myself and David have decided the winners of the free wedding photography contest! I will be announcing the winners on here as soon as I have told them!
I really loved featuring Emily's first inspiration board on Monday and it seemed you guys did too..so hold on to your hats, here comes round two..
Hello again!  Today's board was inspired by the tattooed bride in the top left corner – I love the juxtaposition between her tattoo and her pearls, and tried to strike the same balance in my board.  This wedding is elegant and restrained, vintage and at the same time sort of modern, I think.  Try a fabulously feathered headband for the bride, a dark suit and skinny tie for the groom, unexpectedly mod calligraphy on envelopes, and spiky echinacea in square mirrored boxes as centerpieces.  A classic car borrowed from a friend or auto club is a stylish – and inexpensive! – getaway.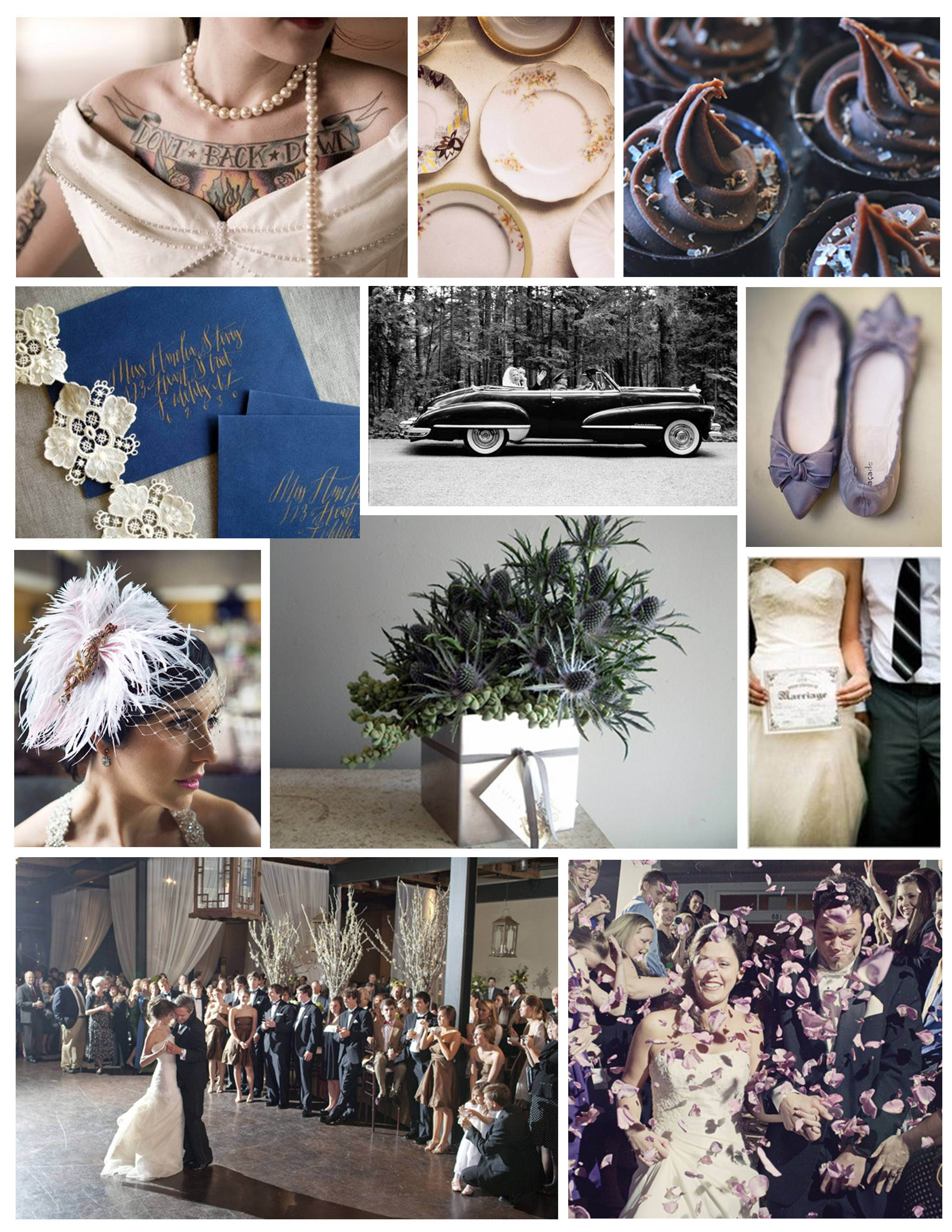 The Details
First row, left to right:
Tattoo bride portrait by Allebach Photography via Weddingbee; vintage plates and individual chocolate mousse cups by Jenifer Altman
Second row:
Calligraphy envelopes by Betsy Dunlap; classic car photo by Stacey Kane; suede ballet flats photo by Joshua Caine via Once Wed
Third row:
Feather headpiece portrait by Duke Photography via The Unbride; centerpiece by Saipua; marriage certificate portrait by Tec Petaja via Weddingbee
Fourth row:
First dance and confetti exit photos by Our Labor of Love
Until Friday!
Credit: Peach & Pearl