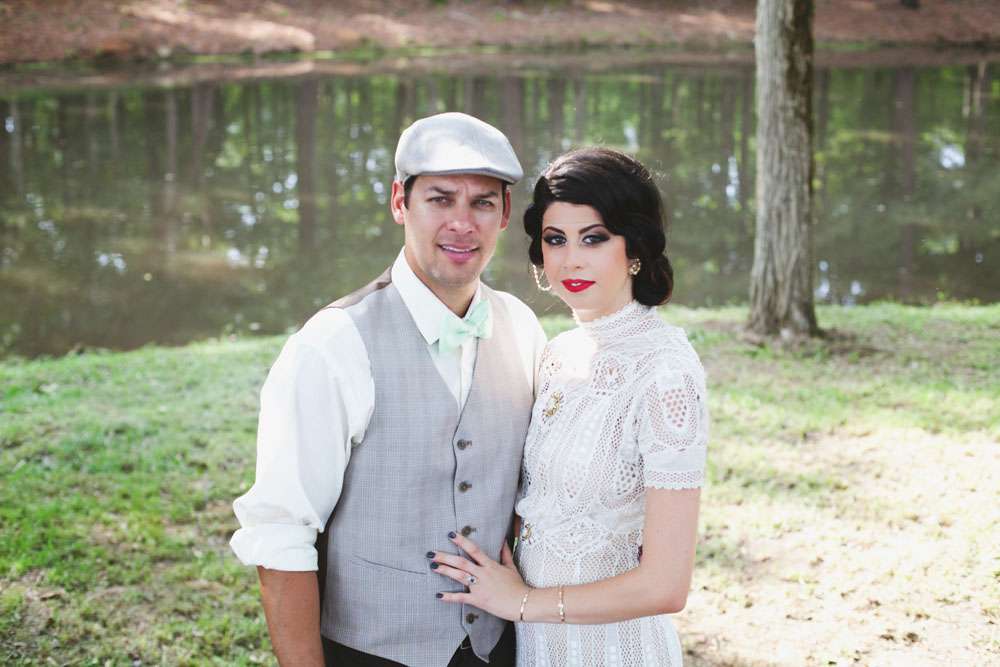 Heather and Jeremy had a distinctive 1920s vintage theme for their South Carolina wedding. Held at The Farm at Ridgeway, the Friday wedding was a true labour of love, with the bride hand crafting and collecting nearly everything herself. She scoured thrift shops and antique stores and got a lot of things from Etsy.
"I have always loved all things old timey and the romance and sweetness that vintage lace, keys, napkins and little details bring back to life", Heather explained. "The things that were distinctly different about our wedding was the time we spent to go out and hand pick each and every item that was used to decorate the venue and the time I spent crafting. I did everything from making the invitations and programs to assembling the bouquets and making the napkin rings for each place setting. We asked that all guests dress in 1920s inspired clothing, almost everyone did!! We also played 1920s music throughout."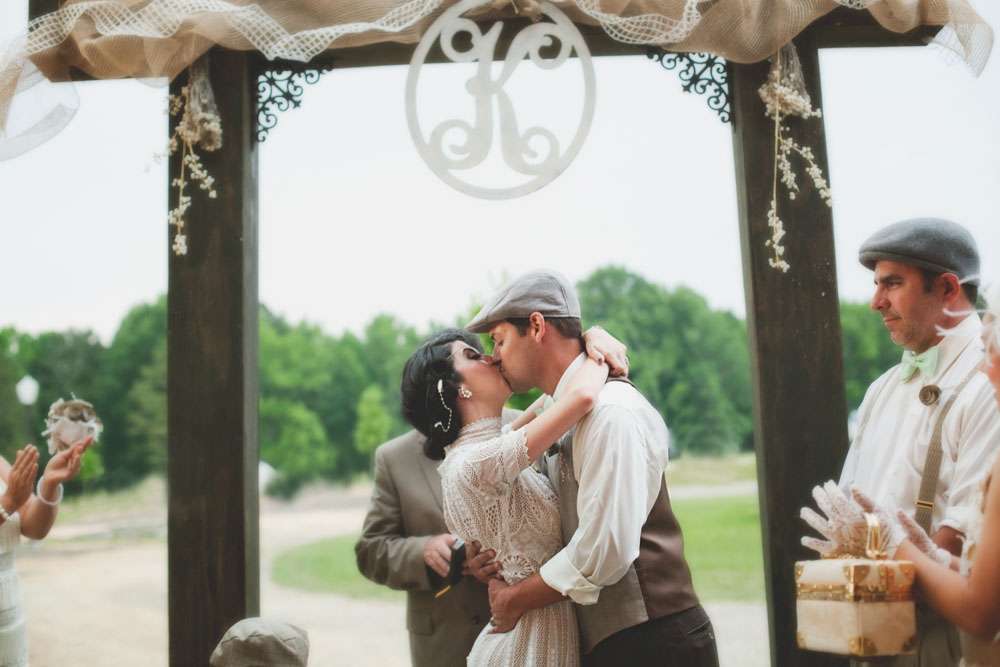 The bride bought her gorgeous dress from Etsy for just $199! The vintage gown was made of lace and was from the early 1900s. The condition was almost perfect and Heather only had to give it minor alternations. Her headpiece was homemade to match.
Her bridesmaids were given pretty much free reign on their dresses. Heather's only stipulation was that they were light in colour and vintage inspired. Her flowergirls wore dresses that the bride made herself from curtains found in a thrift store for 50 cents!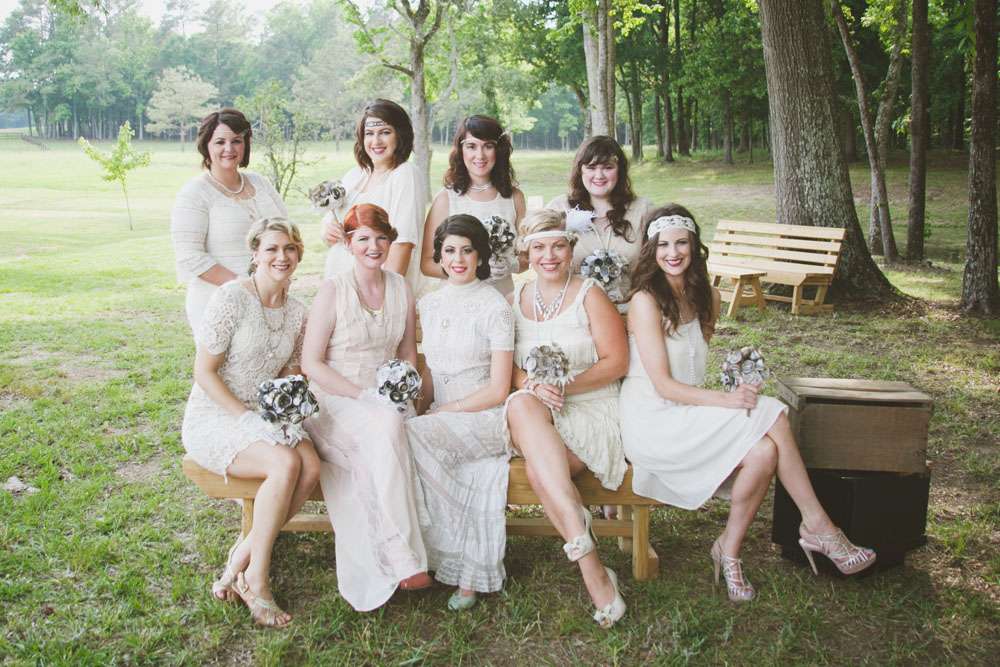 Both the bride and her maids carried paper flowers made from 1920s sheet music which was also bought on Etsy which Heather then arranged into bouquets herself. All of the decorations at the reception were also collected by or made by the bride too. "I did lots of thrift store and antique shopping", she said. "The groom made all the wooden crates for centerpieces and I decorated around them. Each table had eight vintage napkins with homemade napkin rings made from wine corks and antique buttons that we also made. Instead of a guest book, we had antiques keys that we tied to paper tags for everyone to write their 'keys to a successful marriage' on."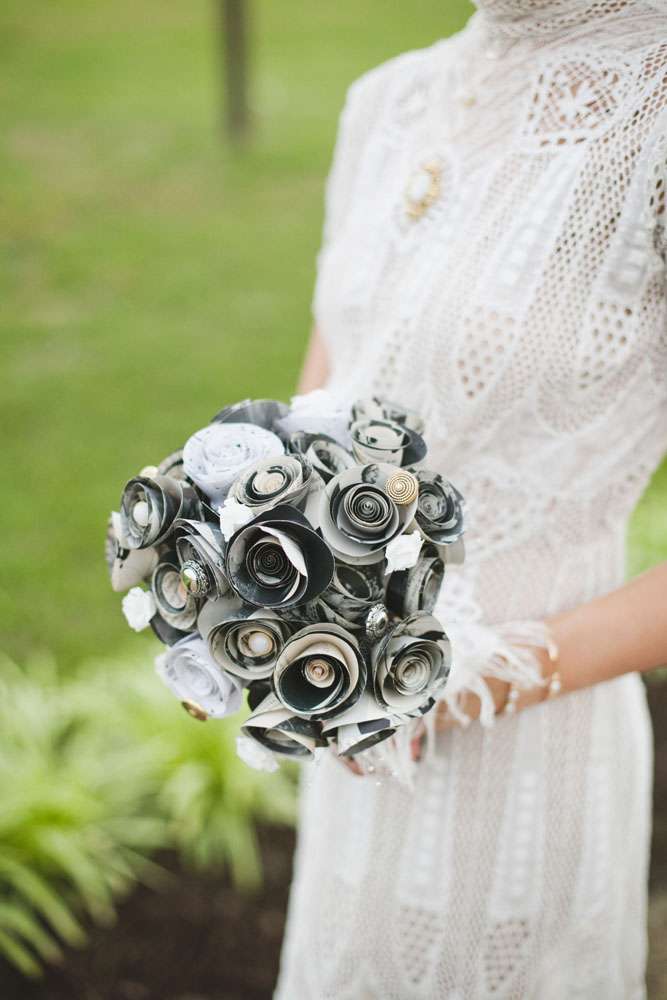 "Our biggest expense was the venue at $1000 but that was still a really great deal!" she explained. "The price included tables, chairs, kitchen, access to the entire premises for the entire day before and day of AND the following morning for clean up! We really lucked up and found this gem right before it became popular and went up a few thousand dollars."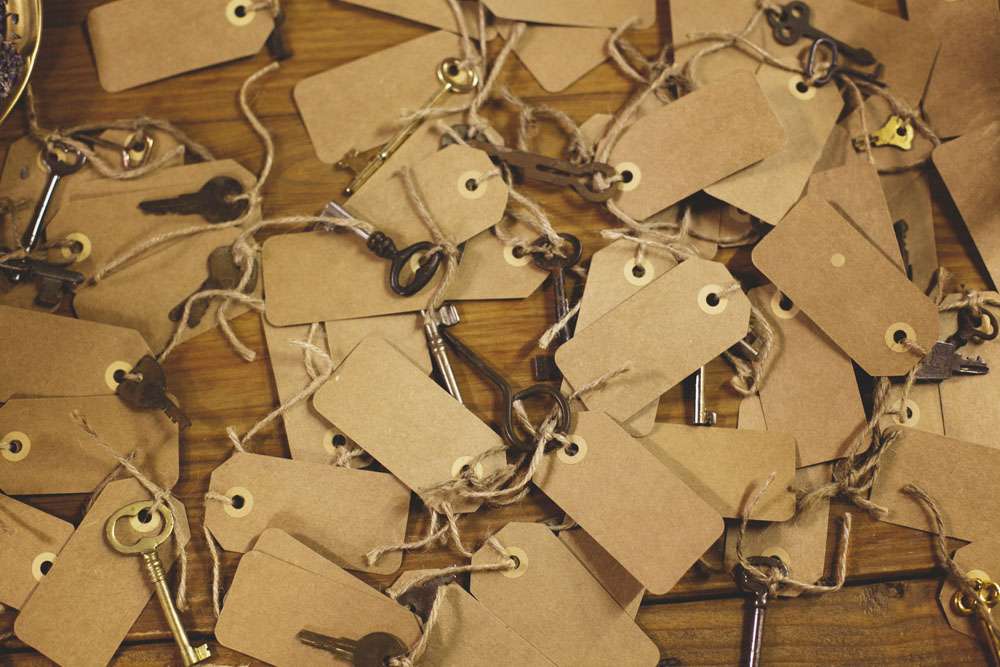 "Our biggest money saver was doing out own invitations. They took lots of time but they were perfect and I even had a few people ask where I ordered them from! Also, by having our wedding on a Friday night we saved $500 on the venue and everyone loved not having their whole weekend tied up with the wedding!"