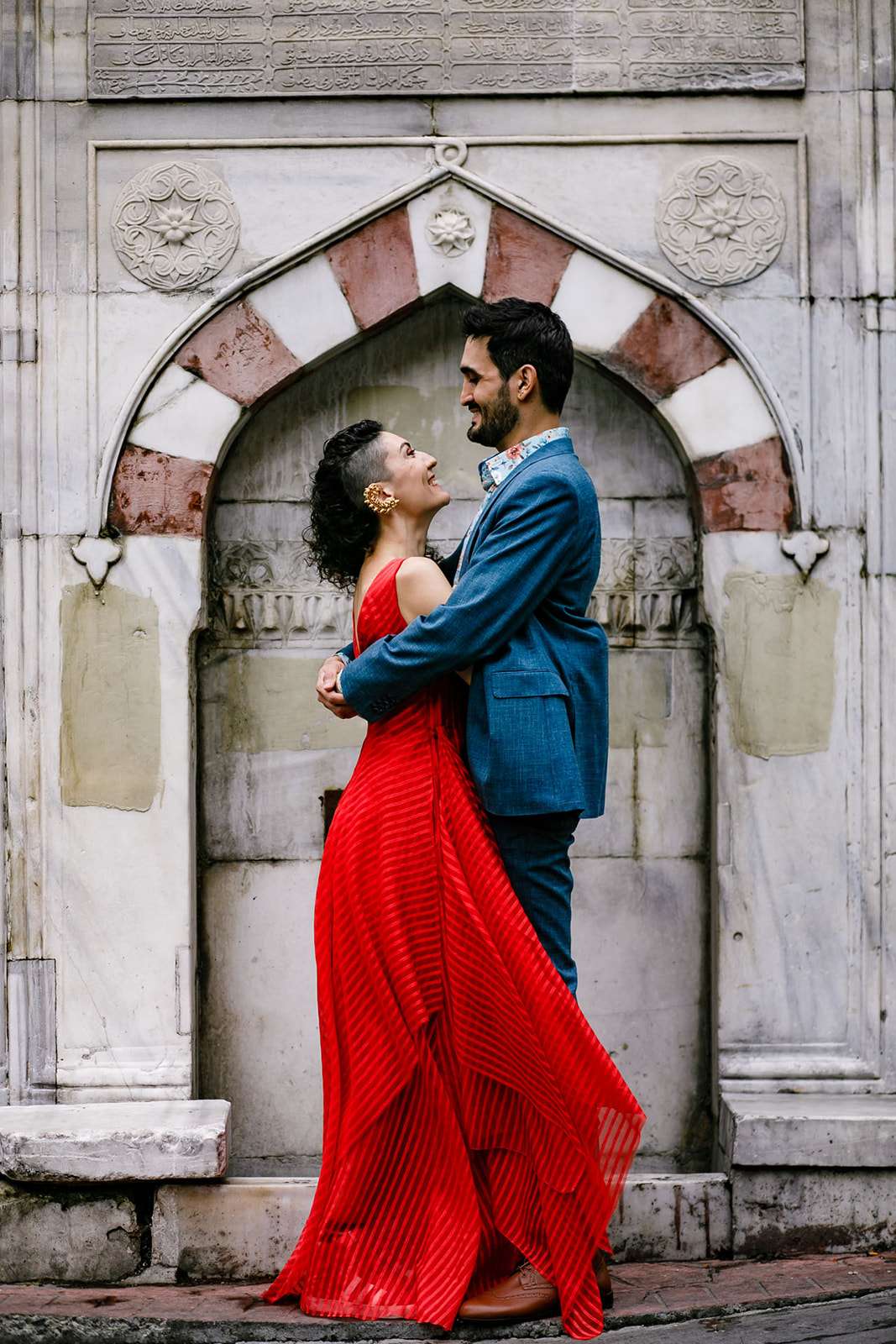 India and Emir's wedding was a colourful and joyous celebration that seamlessly blended their diverse cultural backgrounds. With a budget of £8,000, they planned an intimate affair on a boat in the Bosphorus in Istanbul, followed by a lively reception at a local bar. Their wedding was a true reflection of their personalities, heritage and love for one another.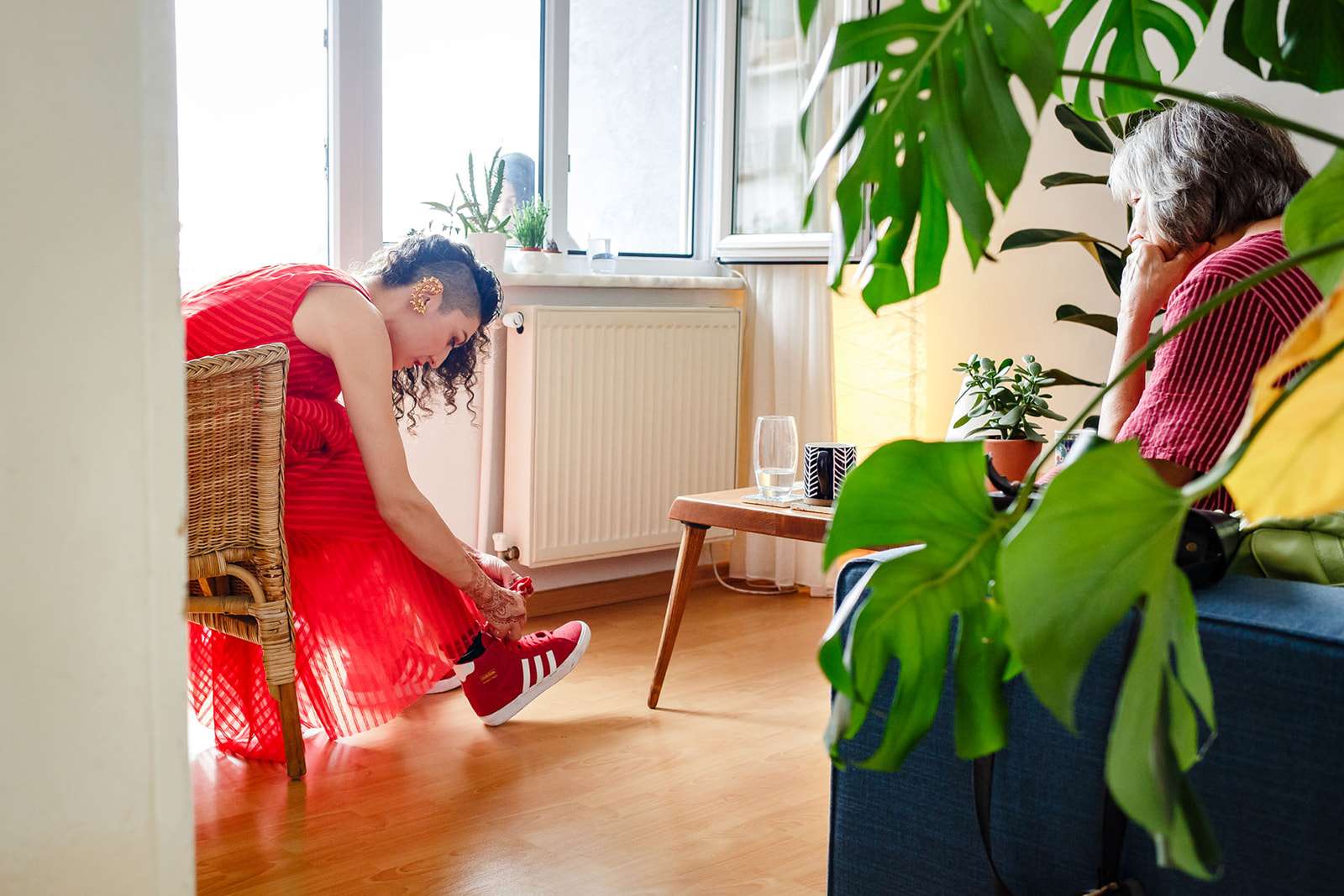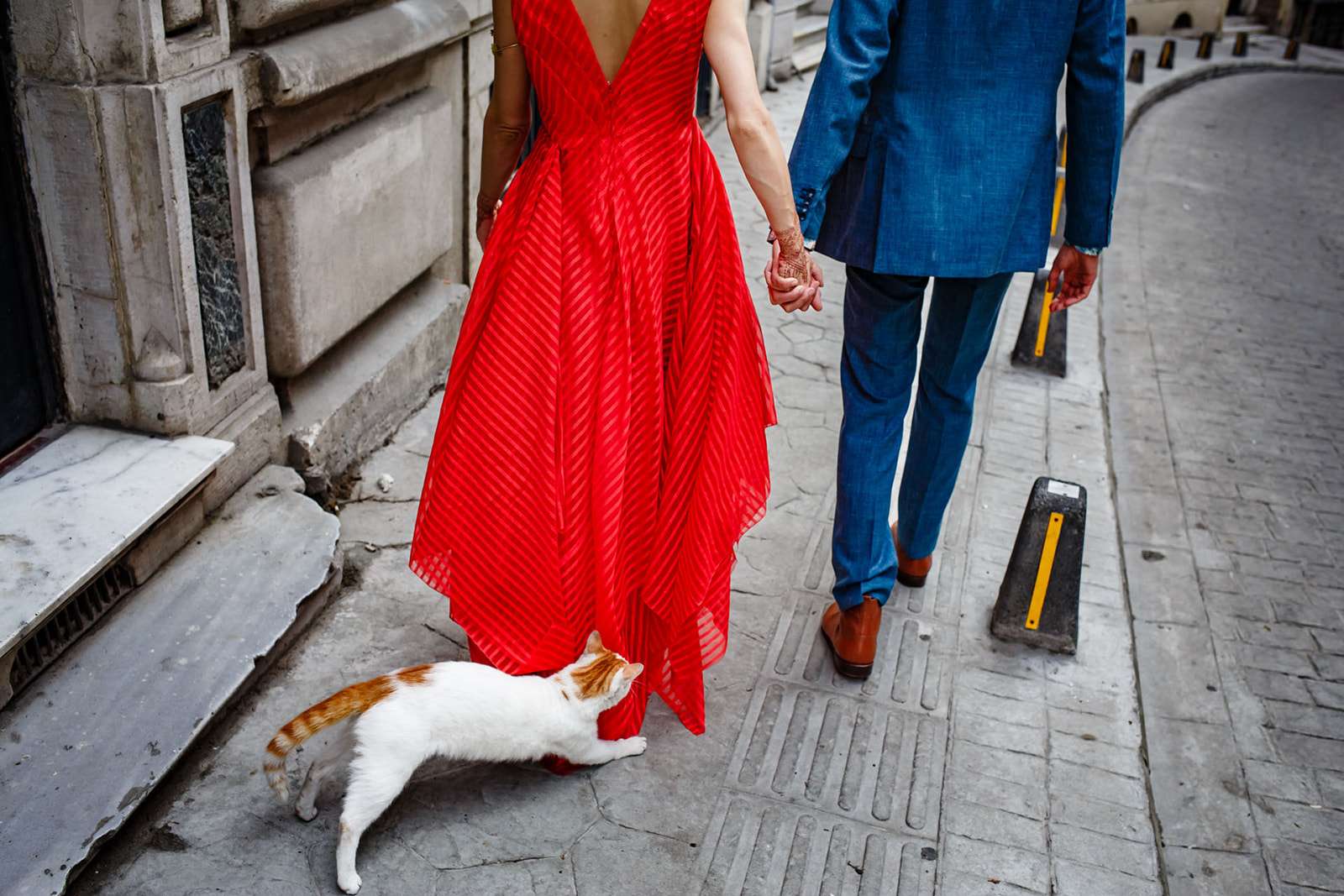 When asked about the inspiration behind their wedding, India shared, "We met in Beirut, Lebanon, and now live in Istanbul. I was born in the UK and am of mixed English, Irish and Indian heritage and Emir is Turkish but lived for much of his life in Lebanon, so for our wedding we wanted to incorporate elements from all these different cultural backgrounds." They aimed for a casual, colourful and fun wedding, embracing their shared love for vibrancy and uniqueness. With a guest list limited to 32 close friends and family members, they sought to create an intimate and meaningful experience.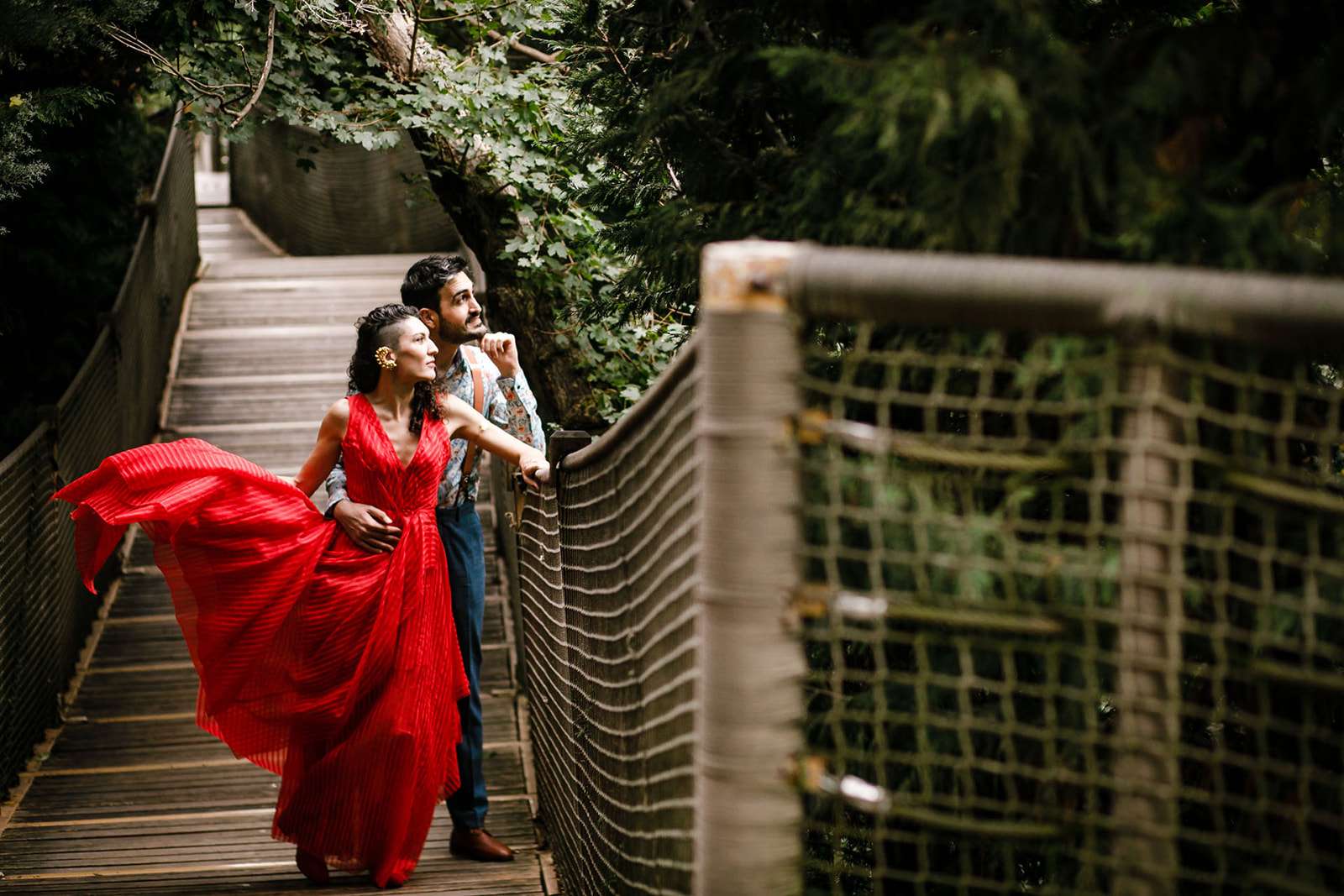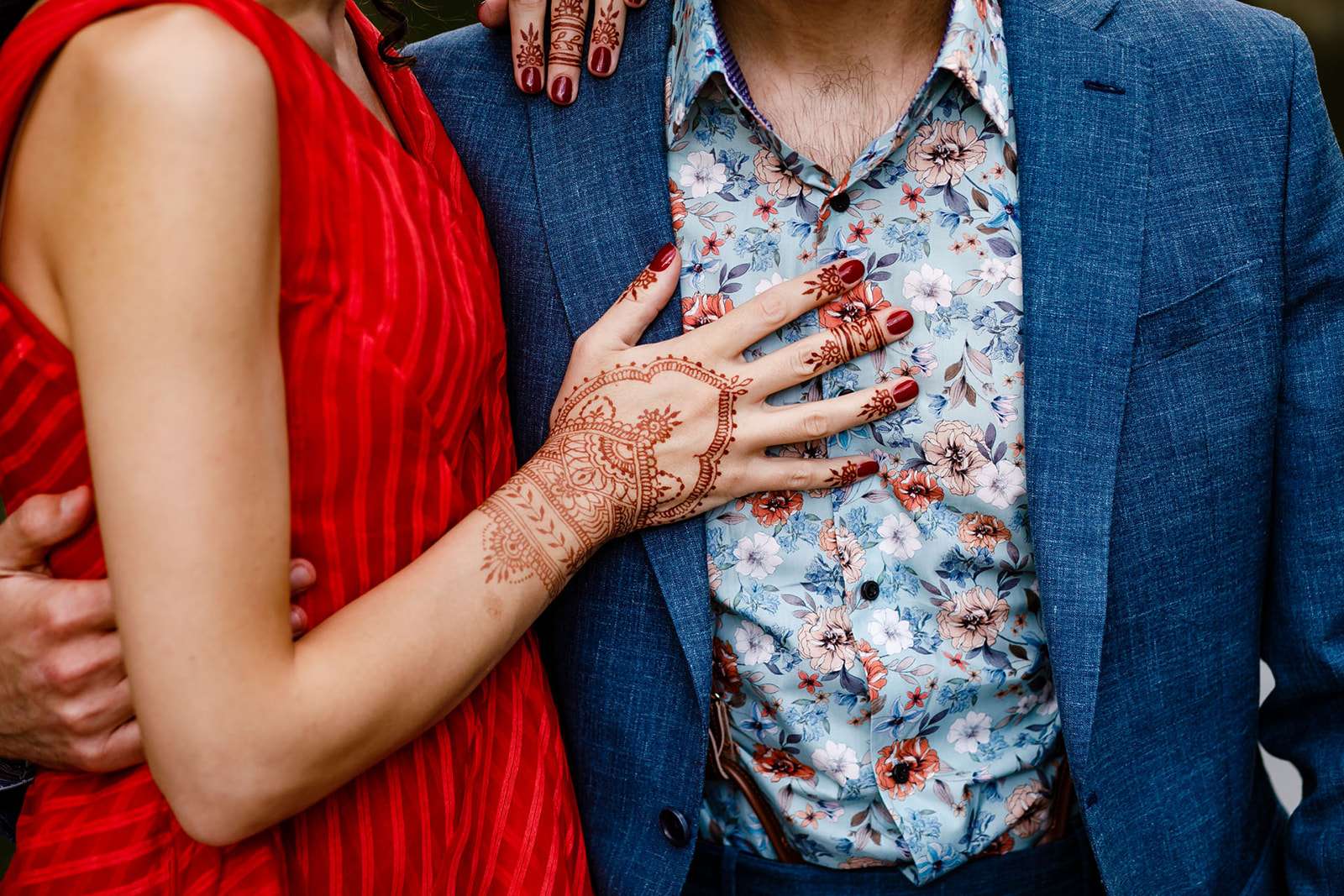 The couple envisioned an outdoor wedding and decided to exchange vows on the deck of a boat, surrounded by the breathtaking views of the Bosphorus. They requested their guests to wear whatever made them happy, and to their delight, everyone showed up in a stunning array of bright colours.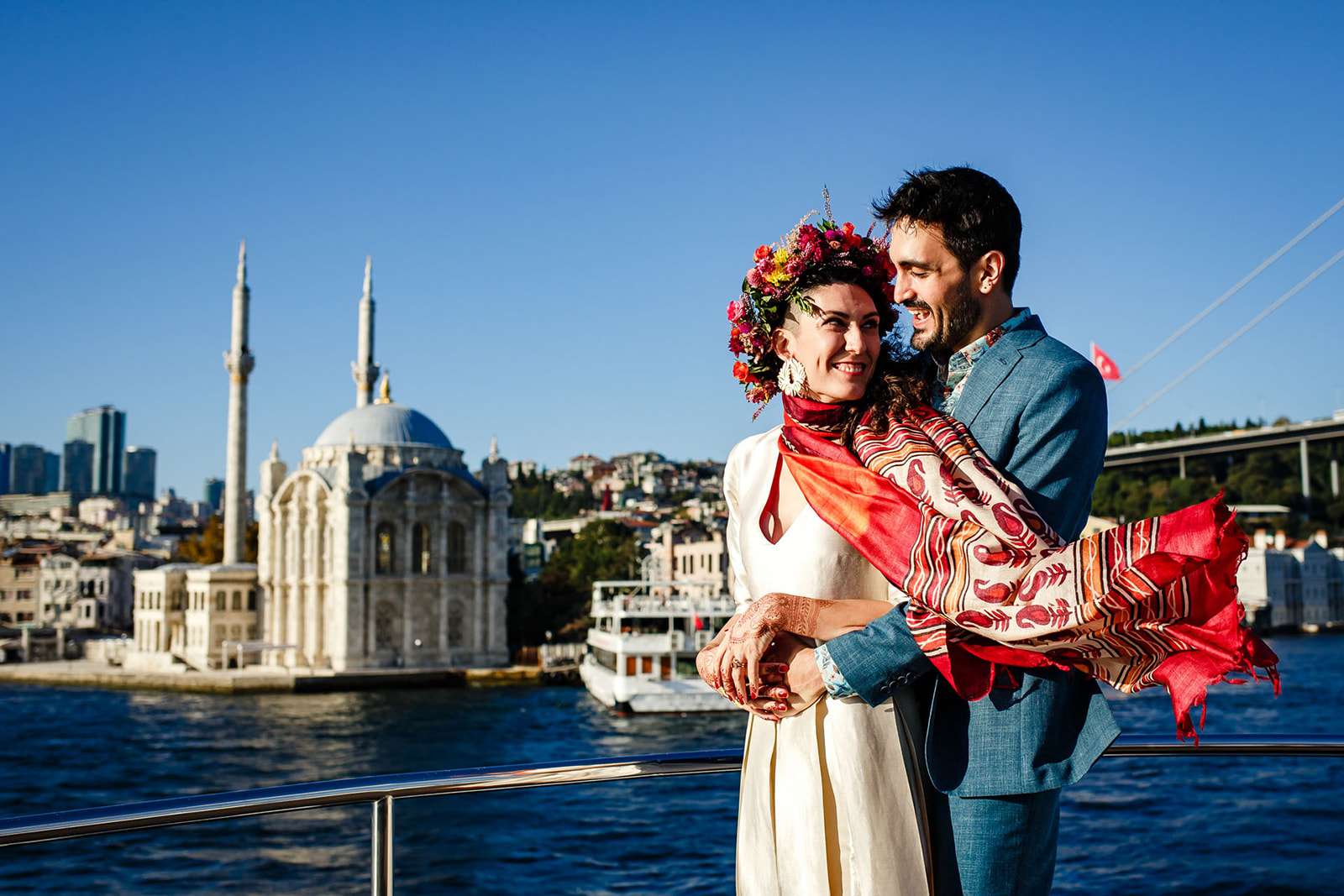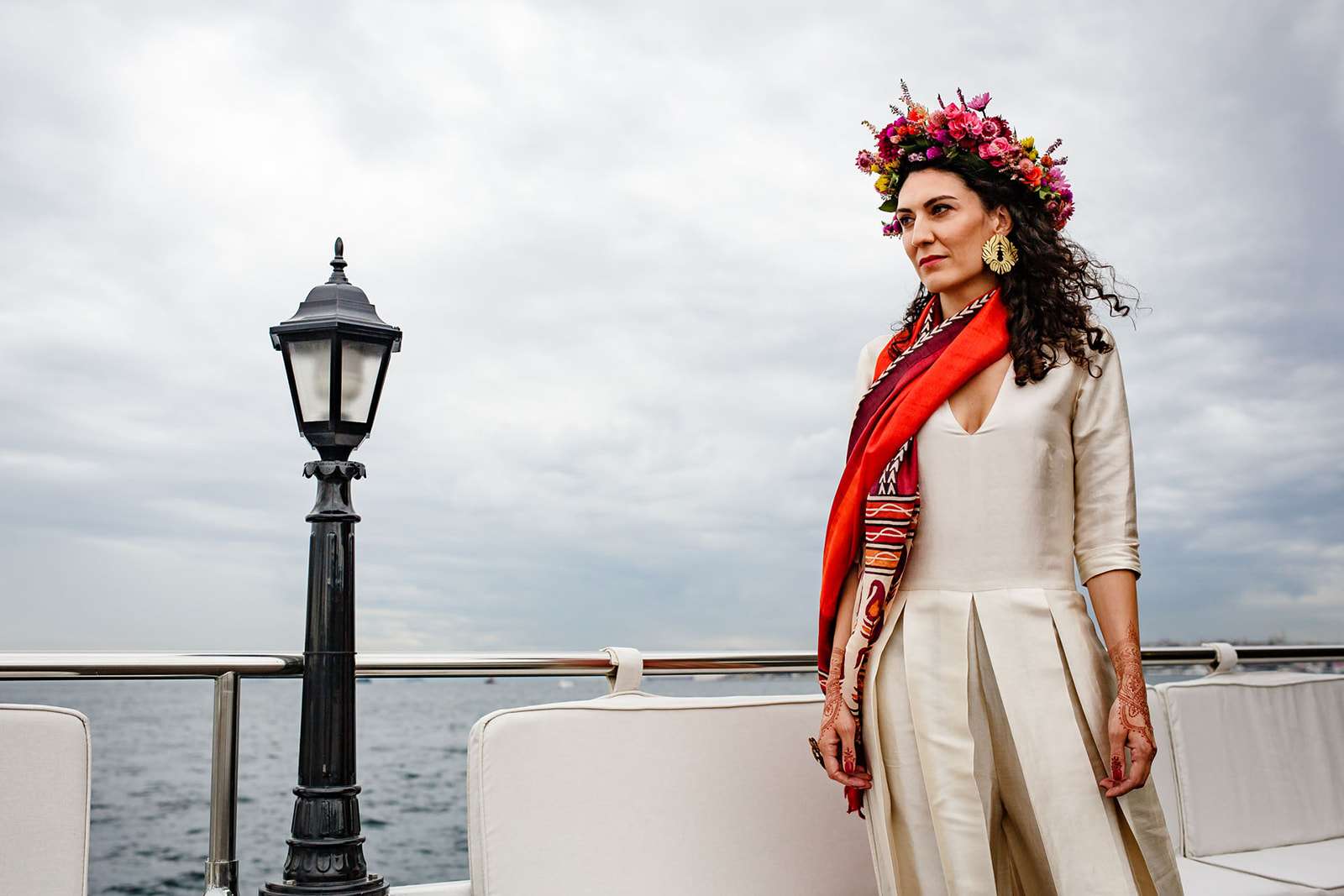 Their chosen color scheme drew inspiration from Indian weddings, featuring red, pink, and orange tones. India, deviating from the traditional white wedding dress, wore a custom white raw-silk jumpsuit made by an Indian designer for the ceremony and a pinstriped red silk dress, created by a Lebanese designer, for the reception. Adding a touch of sentimentality, India adorned her outfit with her grandmother's Indian gold ear cuffs and striking red-and-gold lightning-bolt boots inspired by David Bowie. Emir complemented her with a bespoke teal suit, a colourful floral shirt and unique brogue boots crafted by a local Turkish cobbler.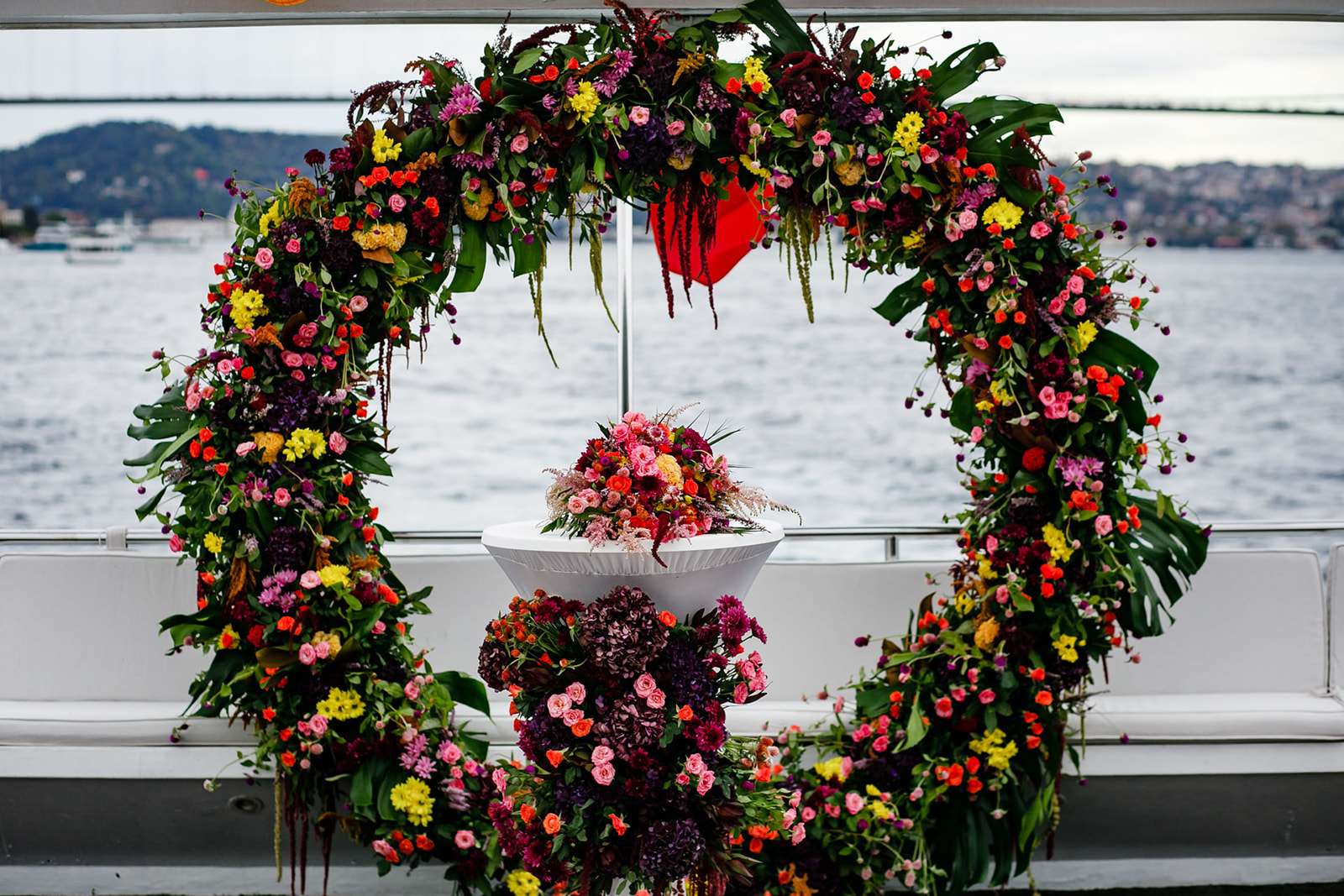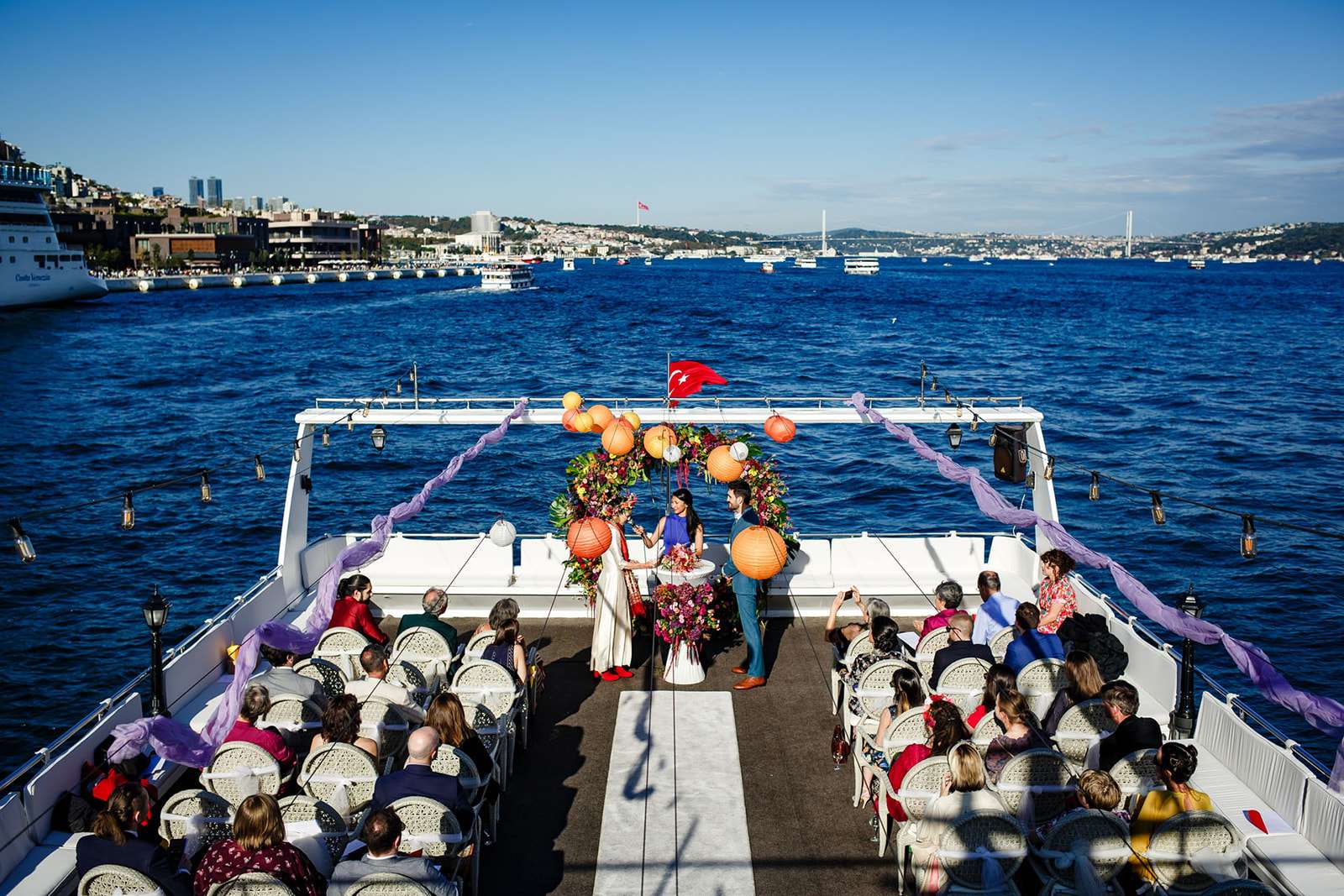 Reflecting on the planning process, India shared, "Putting together the outfits and thinking about the color scheme was the best part. I wanted to avoid patriarchal customs and chose a metallic cream jumpsuit for the ceremony, feeling cool and casual. For the reception, I wore a stunning dress I had admired for years, and it perfectly honored my Indian heritage. Helping Emir find the perfect floral shirt to complement his suit was an enjoyable experience too, ensuring he looked as colourful and festive as possible."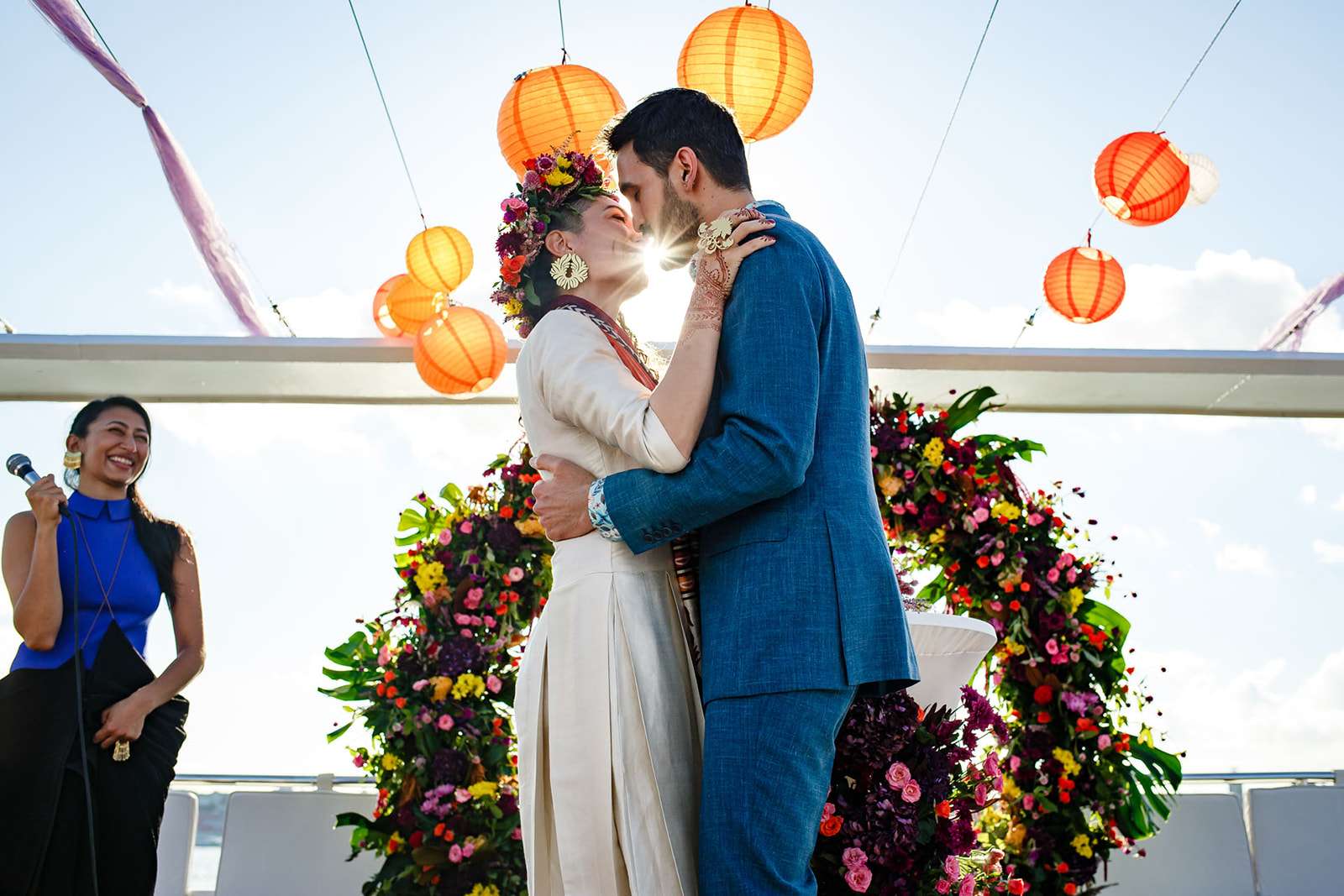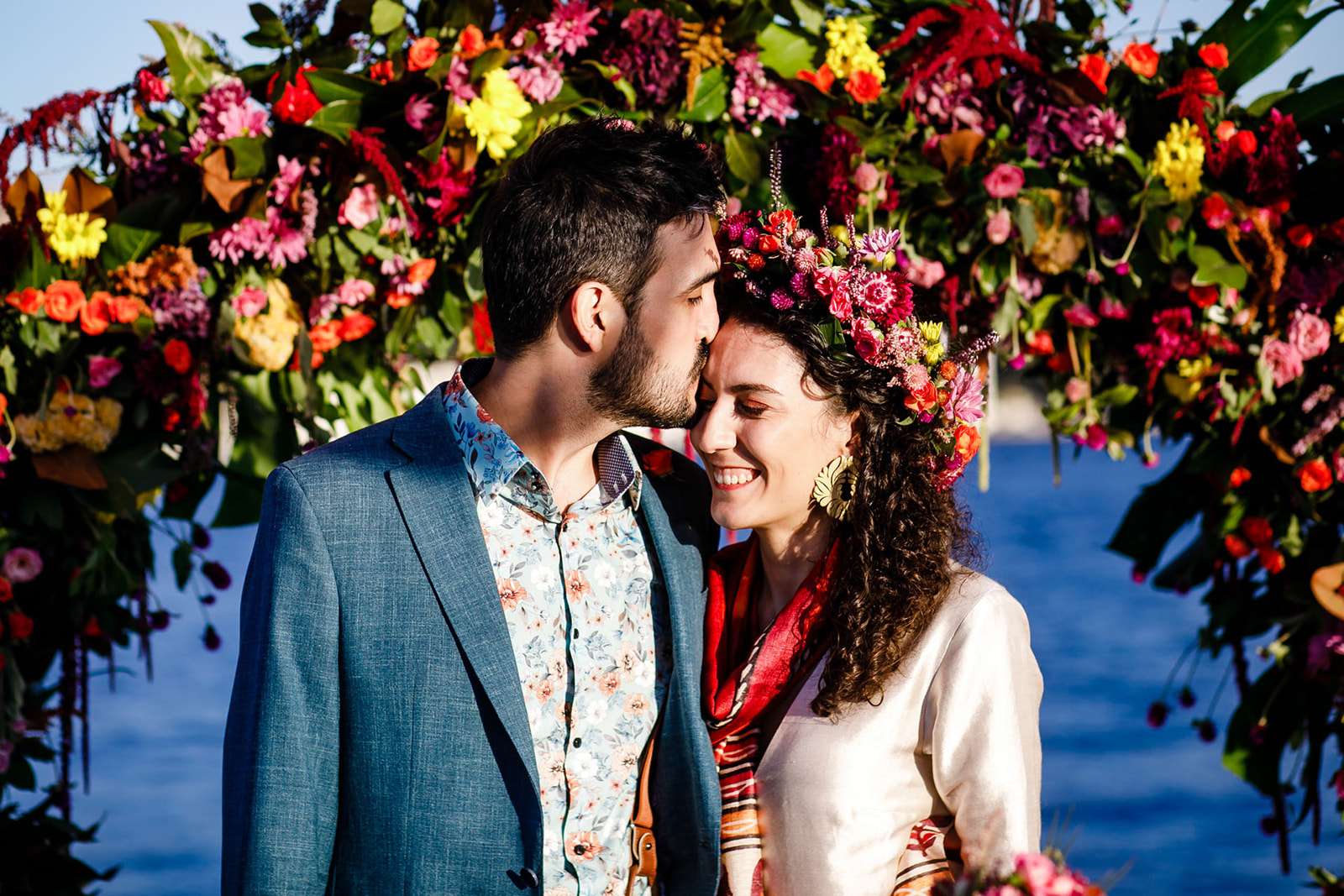 The ceremony itself was a beautiful amalgamation of cultural traditions. They began with a Turkish civil ceremony, including the playful tradition of the bride and groom competing to be the first to step on each other's feet. Following this, they designed a personalised ceremony officiated by a mutual friend. It combined an Irish ring warming and an Indian scarf-tying tradition, culminating in heartfelt English-style vows that celebrated their past, present, and future together.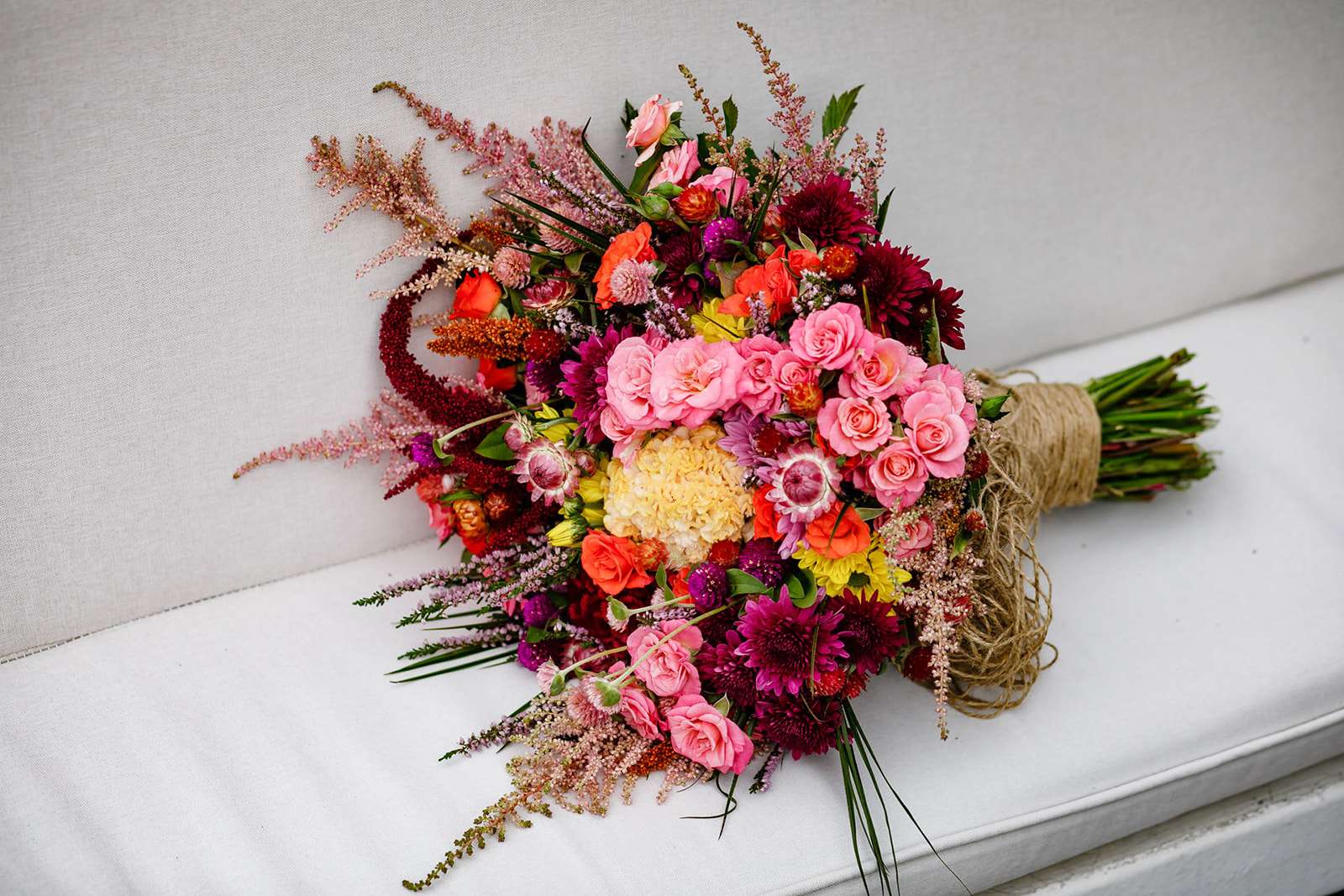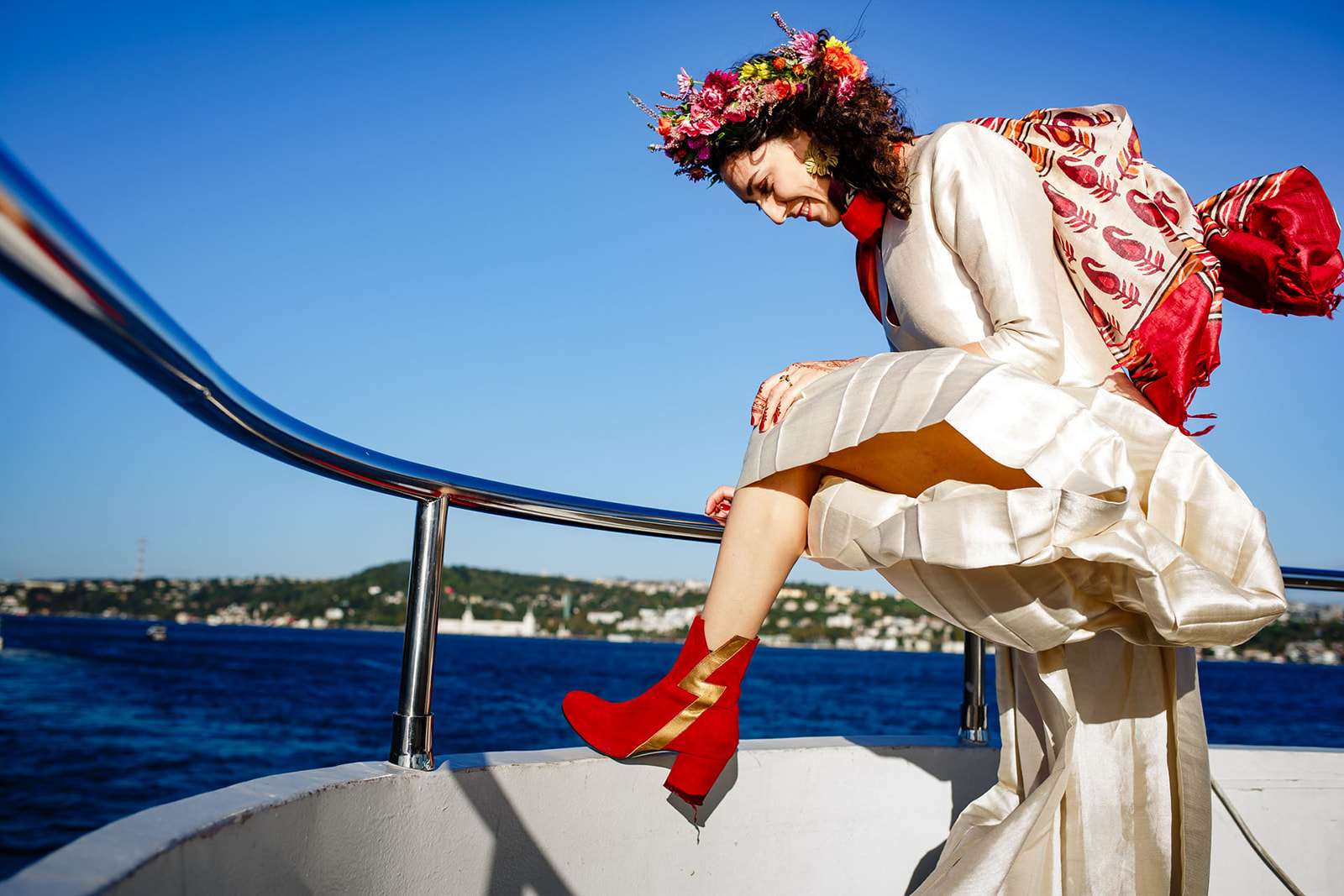 Despite their modest budget, India and Emir prioritised essential elements for an unforgettable experience. They allocated funds for a sit-down meal on the boat, a live band and an open bar. To save costs, they engaged in several DIY projects. They handmade place cards and crafted party favours, which consisted of traditional gold and silver sugared almonds paired with lucky glass evil eye tokens for each guest. India's father even baked a traditional English wedding cake, transporting it all the way from Cambridge!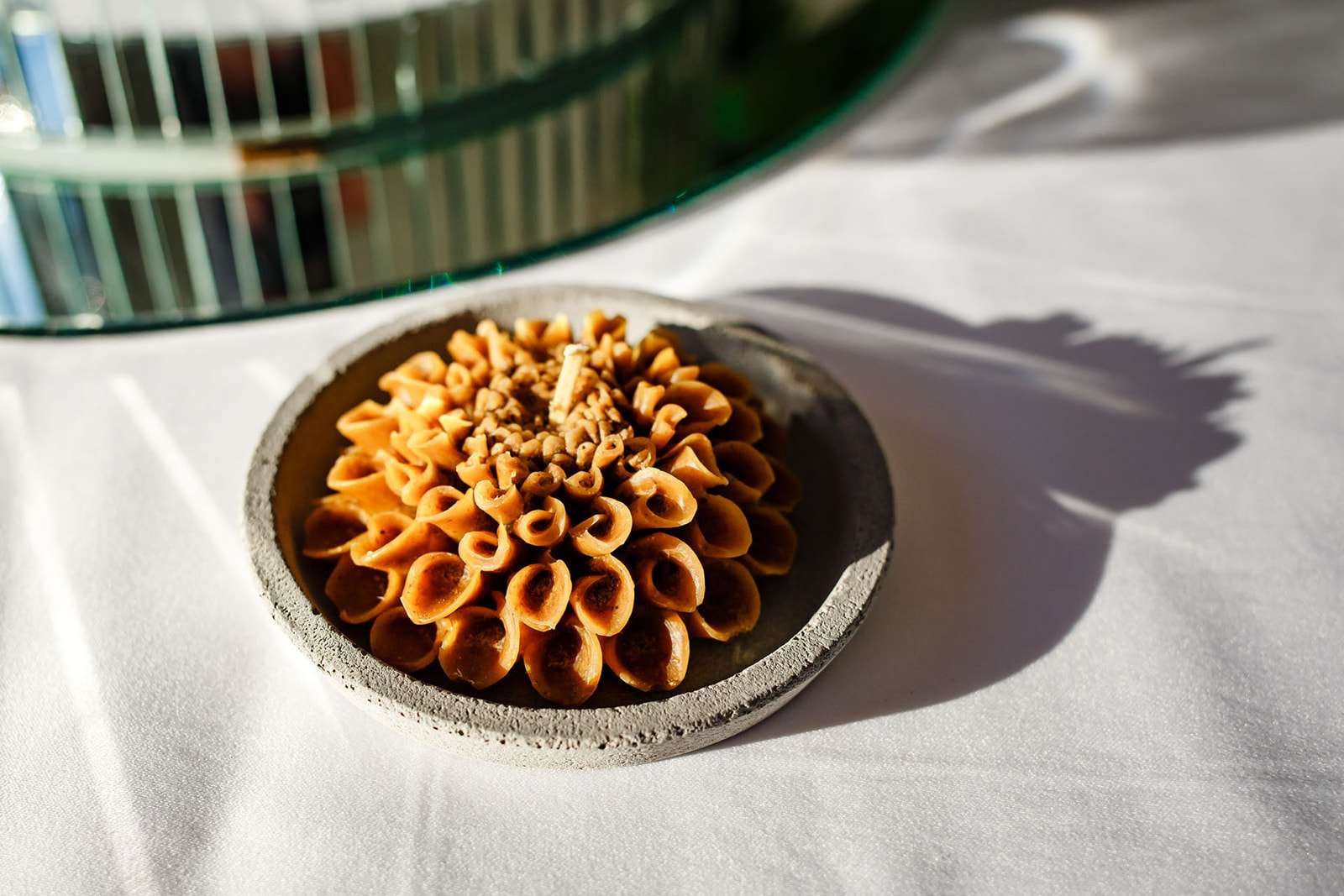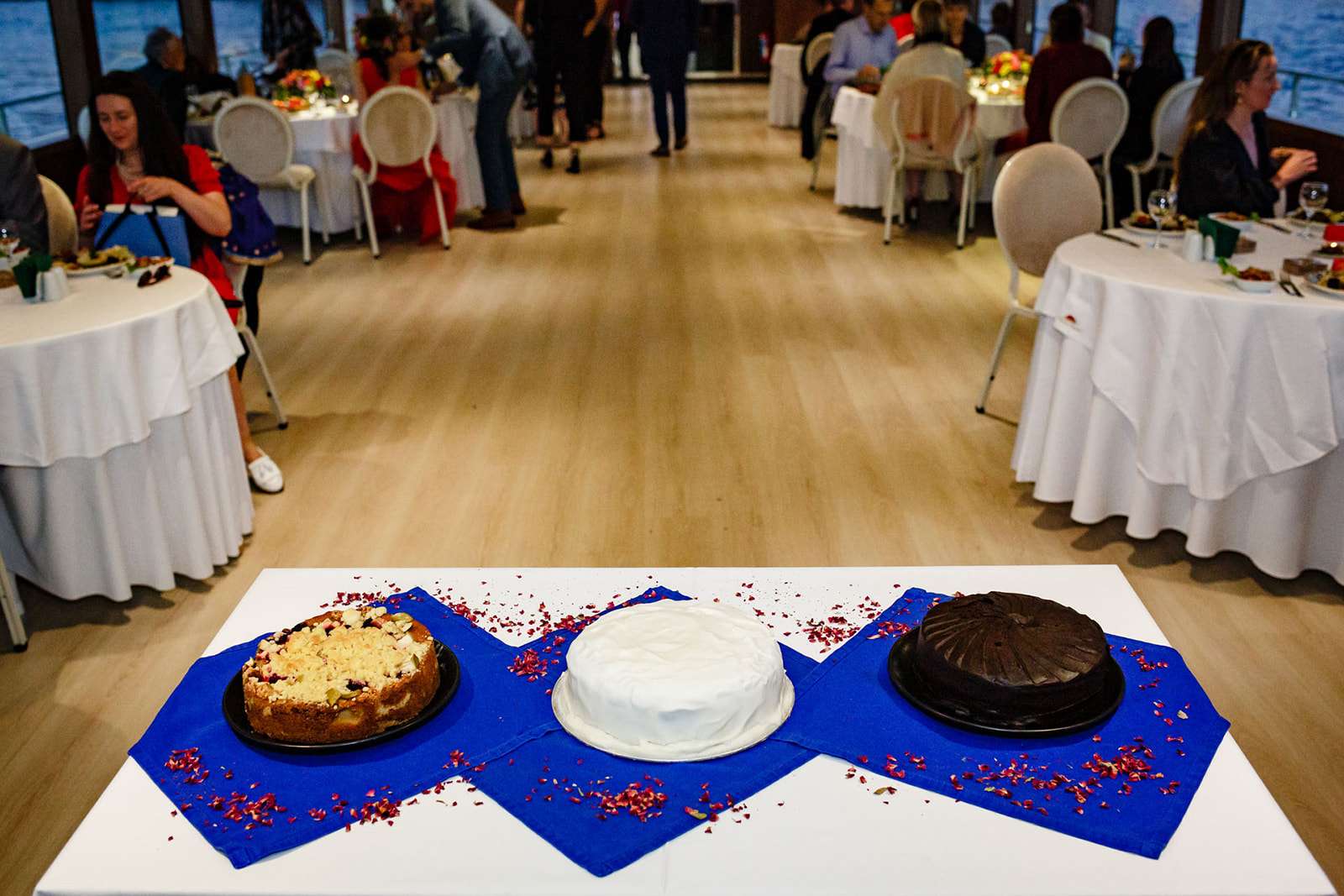 The reception décor seamlessly blended Indian and Turkish elements, with vibrant orange and yellow paper lanterns adorning the deck. Ayurvedic beeswax candles shaped like Indian and Turkish flowers, handmade by a local artisan, added an enchanting touch.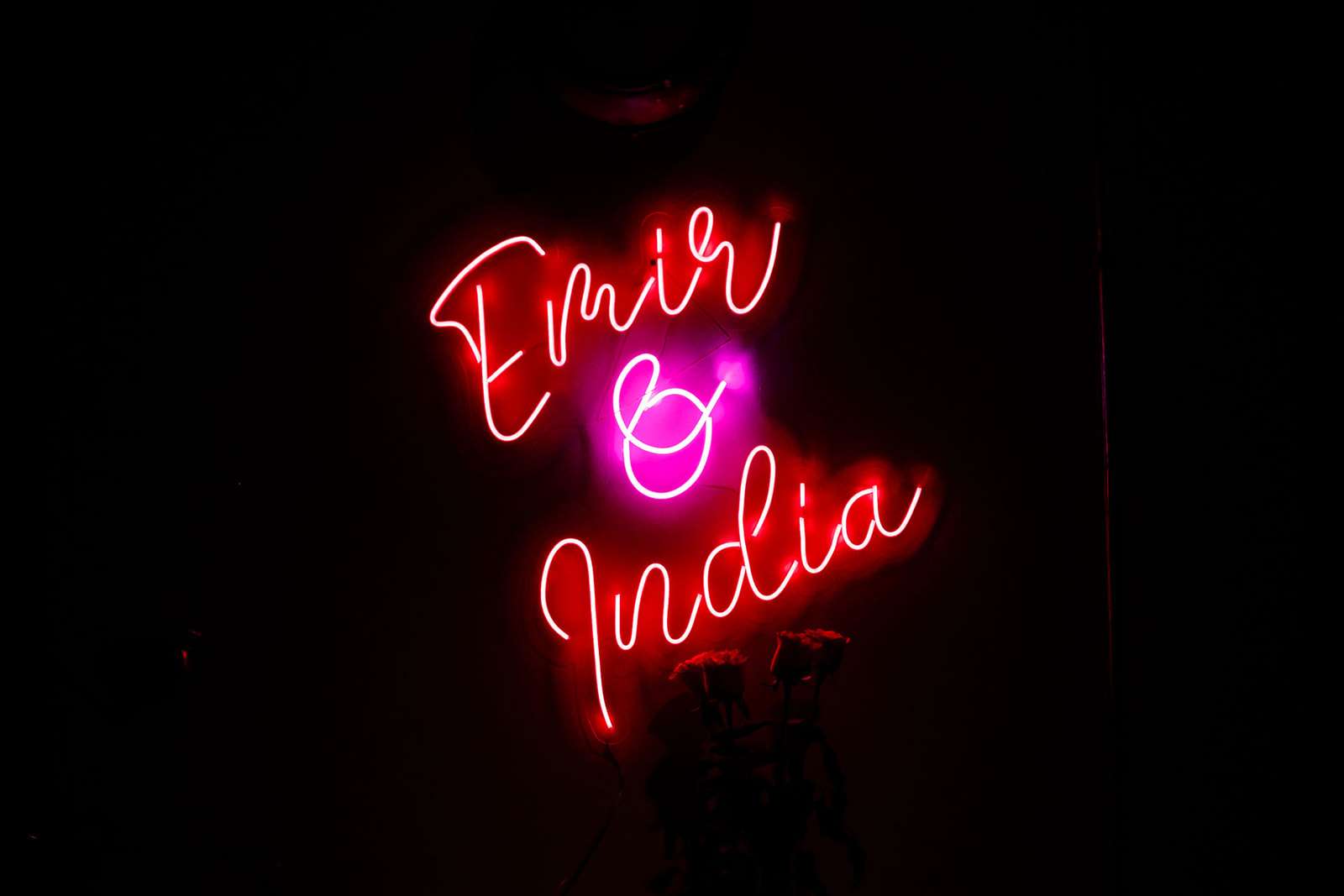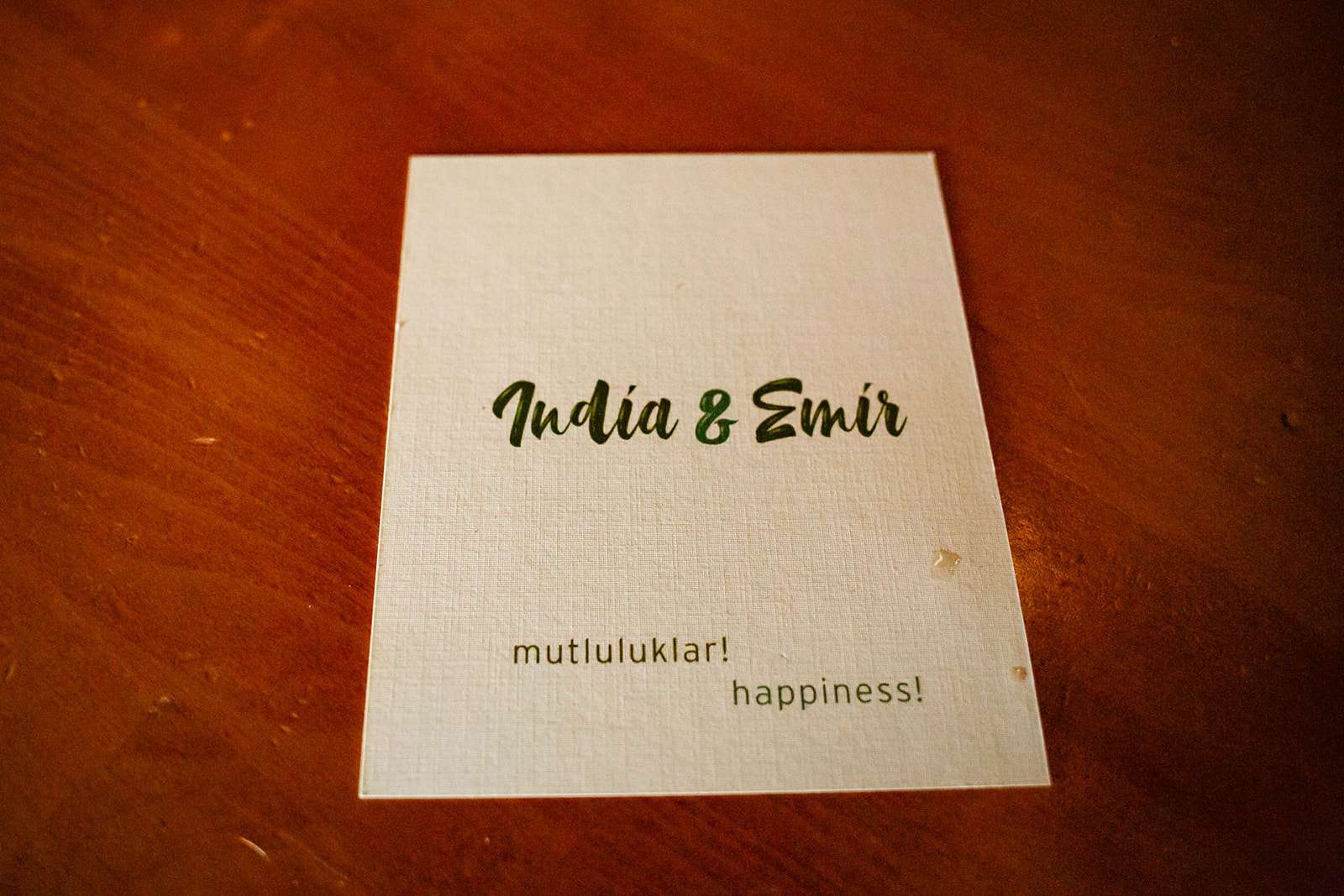 When reflecting on the day, both Emir and India expressed their contentment with how everything turned out. Emir shared, "While there were small things that could have gone smoother, it was ultimately a wonderful and joyful day, and I wouldn't change a thing." India added, "Looking back, we could have given more thought to certain details, like organising the confetti distribution or coordinating the wine service on the boat. However, those minor aspects didn't matter in the grand scheme of things. The most important part was being surrounded by our loved ones, and their willingness to help with anything we needed on the day."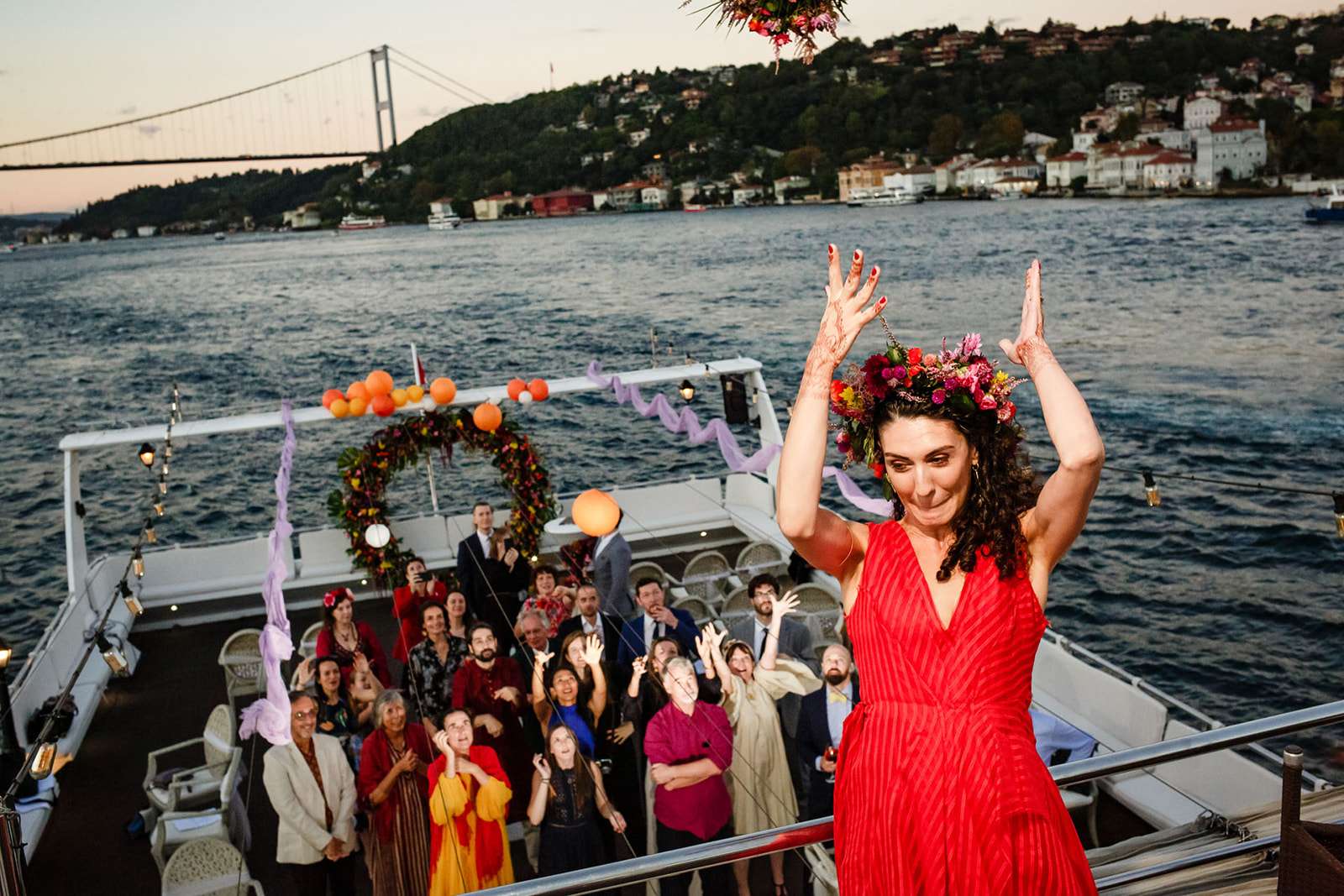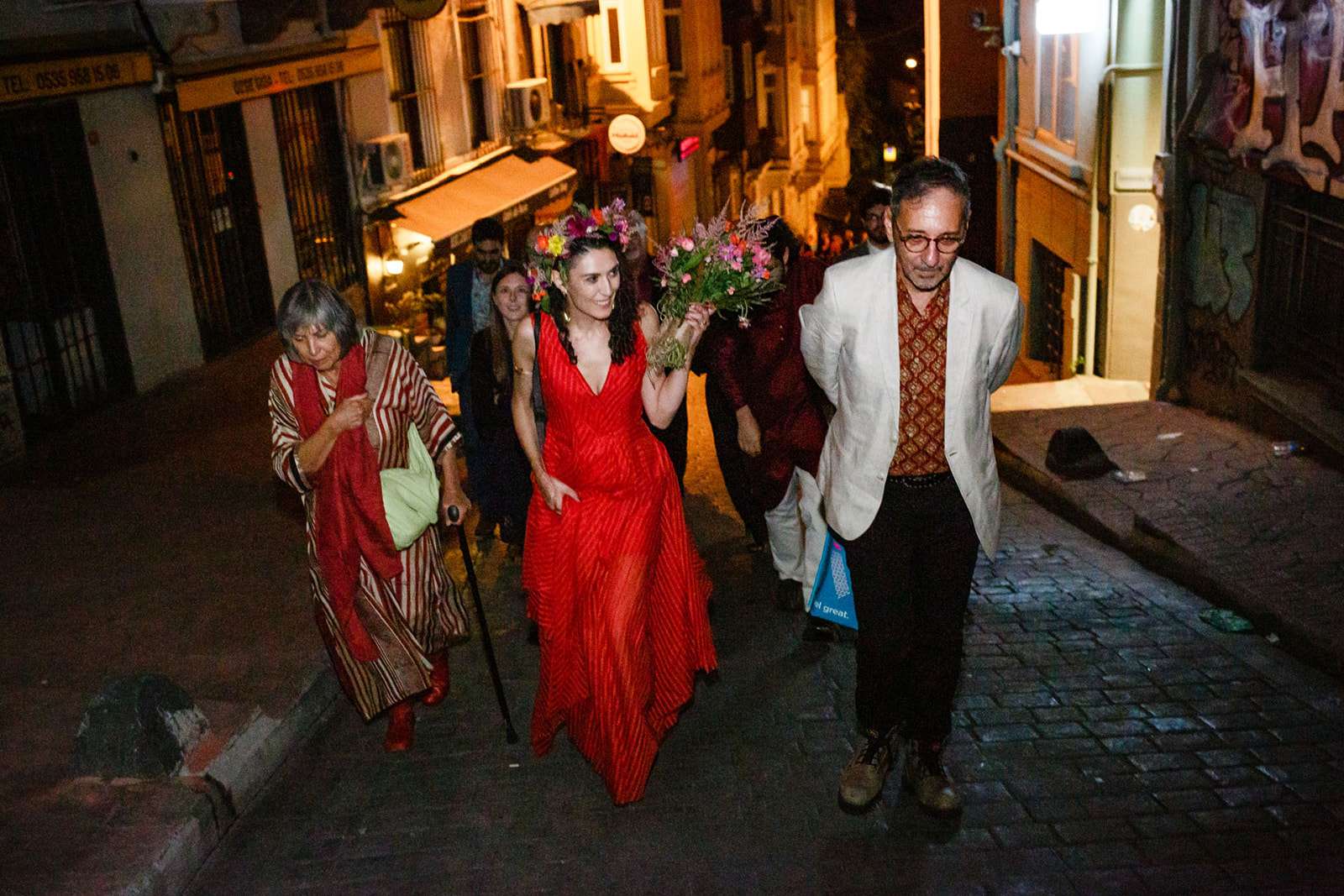 As advice for future engaged couples, India and Emir emphasised the significance of infusing their wedding with their unique personalities and tastes. They drew inspiration from Rock n Roll Bride, which encouraged them to explore unconventional ideas and create a truly memorable experience. "There are a million ways to make a wedding feel special and unique," India concluded. "The best parts of our day were the ones that truly reflected who we are as individuals and as a couple. Don't be afraid to do things differently and embrace your own vision."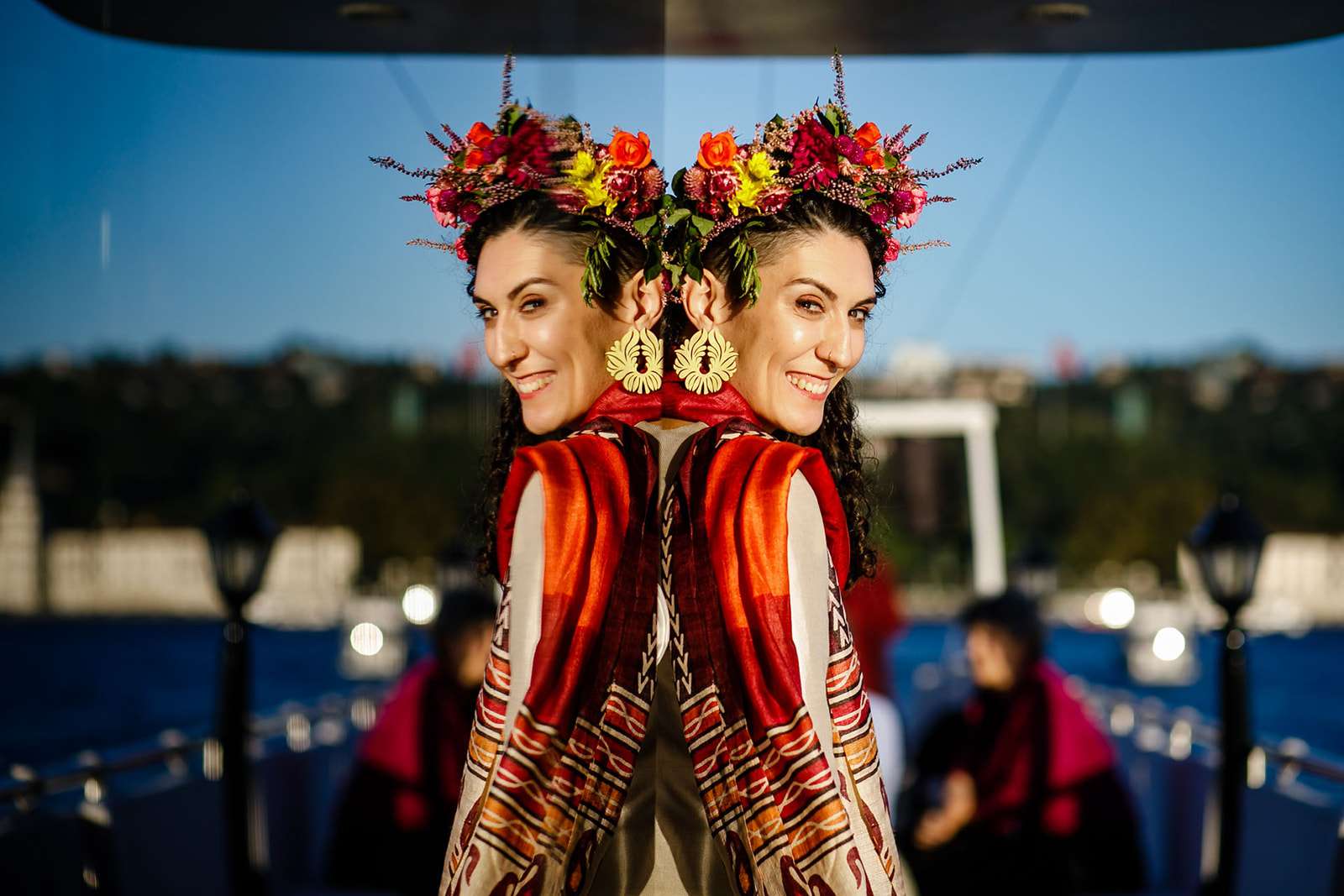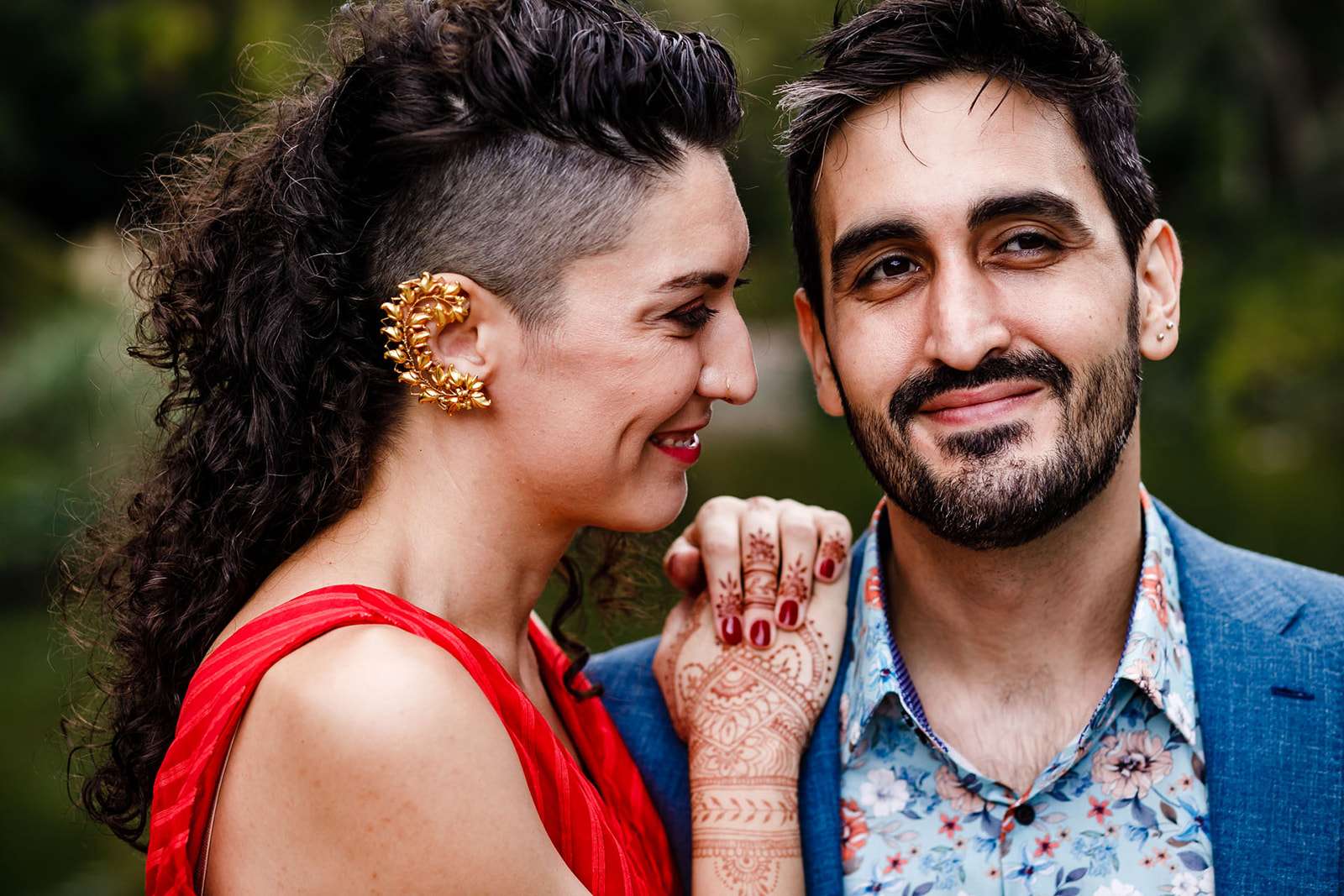 "Rock n Roll Bride taught me that there are a million ways to make a wedding feel special and unique and for us the nicest parts of the day were the ones that felt most like a reflection of us as individuals and as a couple. Despite the fact that the day was a bit chaotic, several of our guests even told us that it was the best wedding they'd ever been to, so I think in the end doing things differently made for a fun and memorable day for everyone, not just the couple getting married."