Sean and Eric wanted a big party for their wedding, with good food and good vibes, but with the heart of an intimate elopement. So, they decided to split the day into two. They started with their ceremony at The Jefferson Hotel with only a select few present, and followed up with a big party at a diner they used to go to while at college (where they met). With it's crazy checkered floor, wood panelling and random, Americana art it was the perfect spot for their kitschy themed day.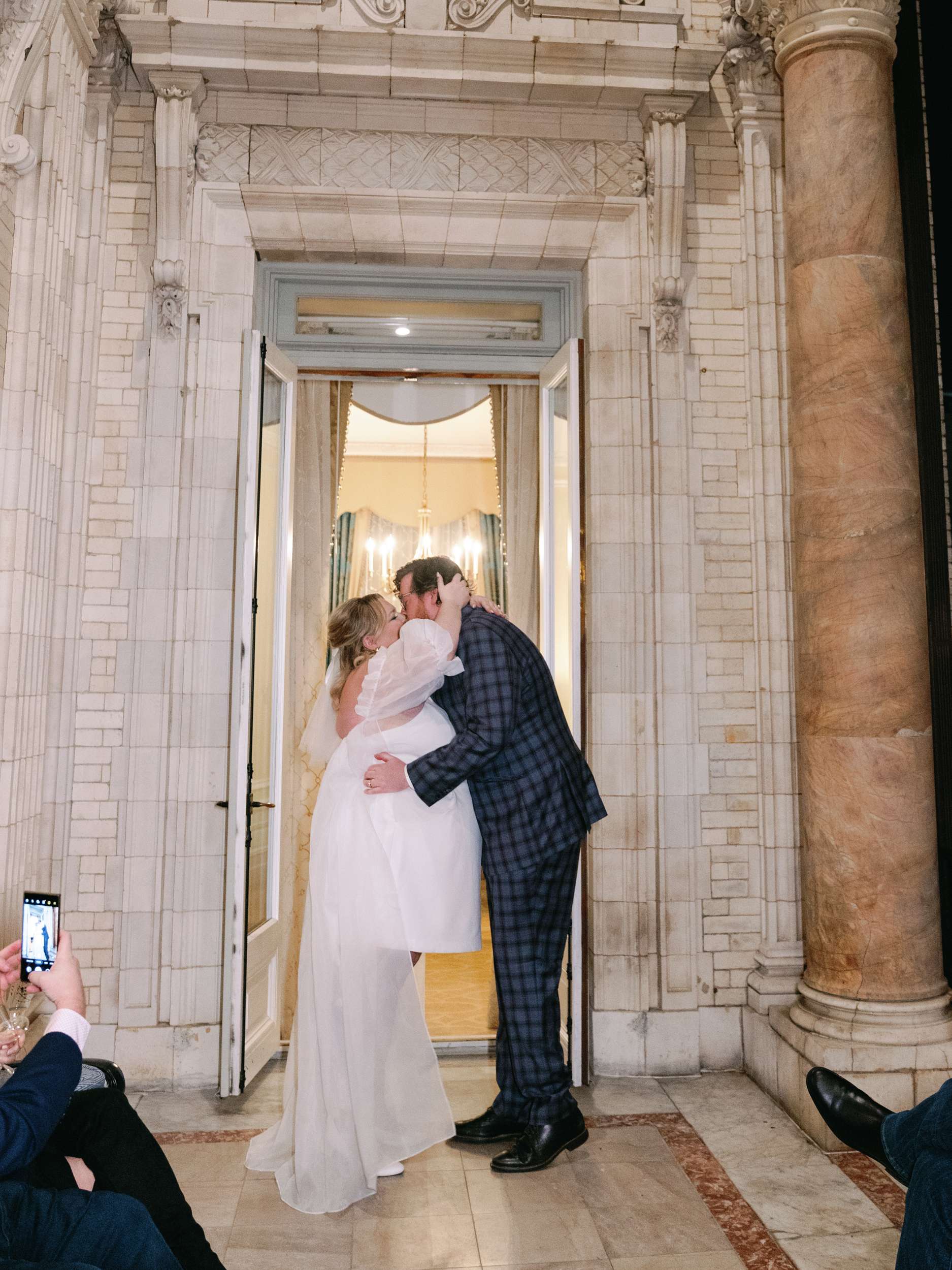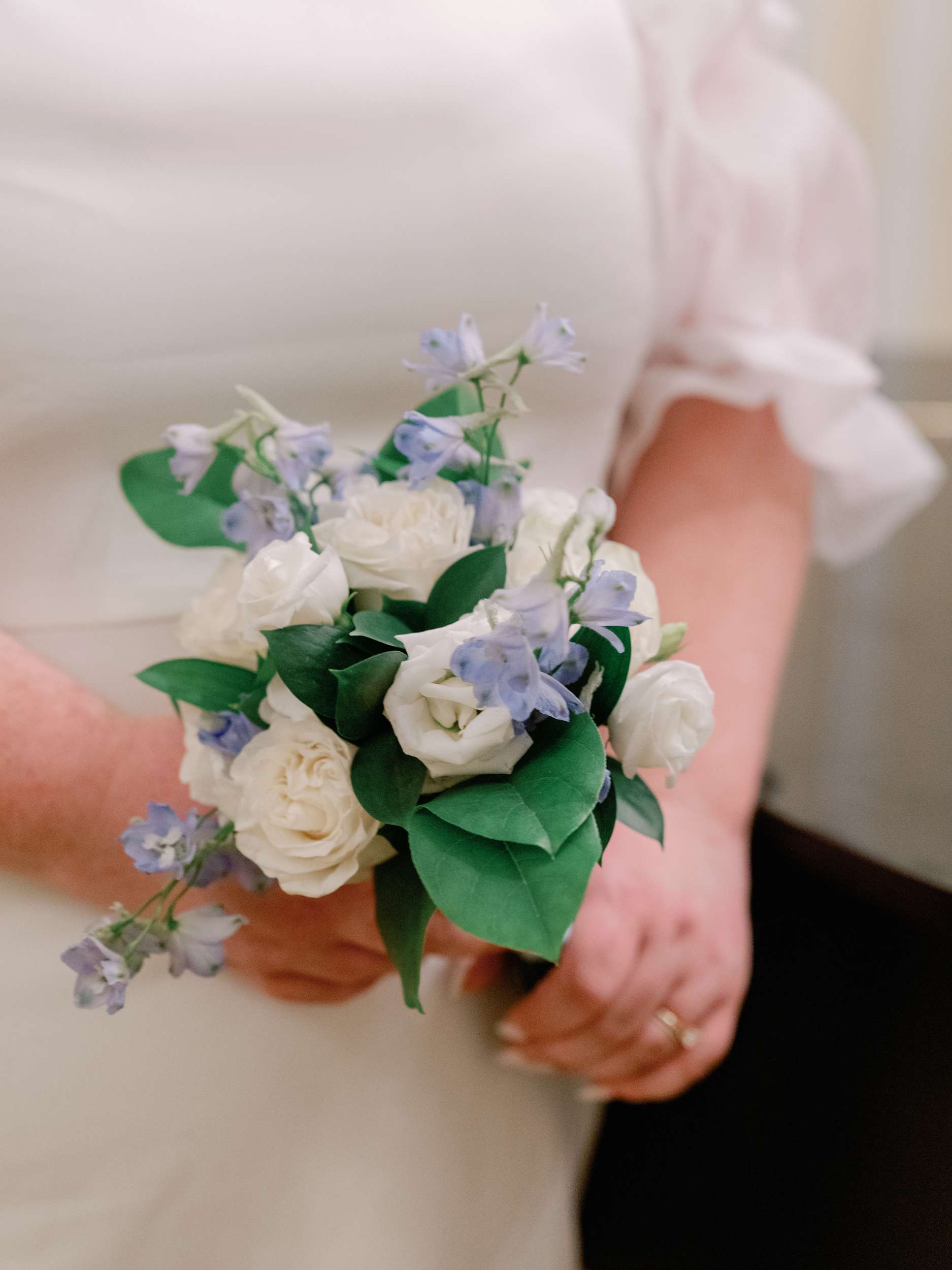 The dress code assignment for their guests, and the overall theme for the wedding, was 'Kitschy, Glitzy, Vegas and Camp' and their guests totally understood what was required of them! With brightly coloured outfits, tassels and accessories and shoes to die for, everybody looked fantastic. The couple had no formal bridesmaids or groomsmen, just wanting everyone to dress how they felt comfortable and to enjoy the day.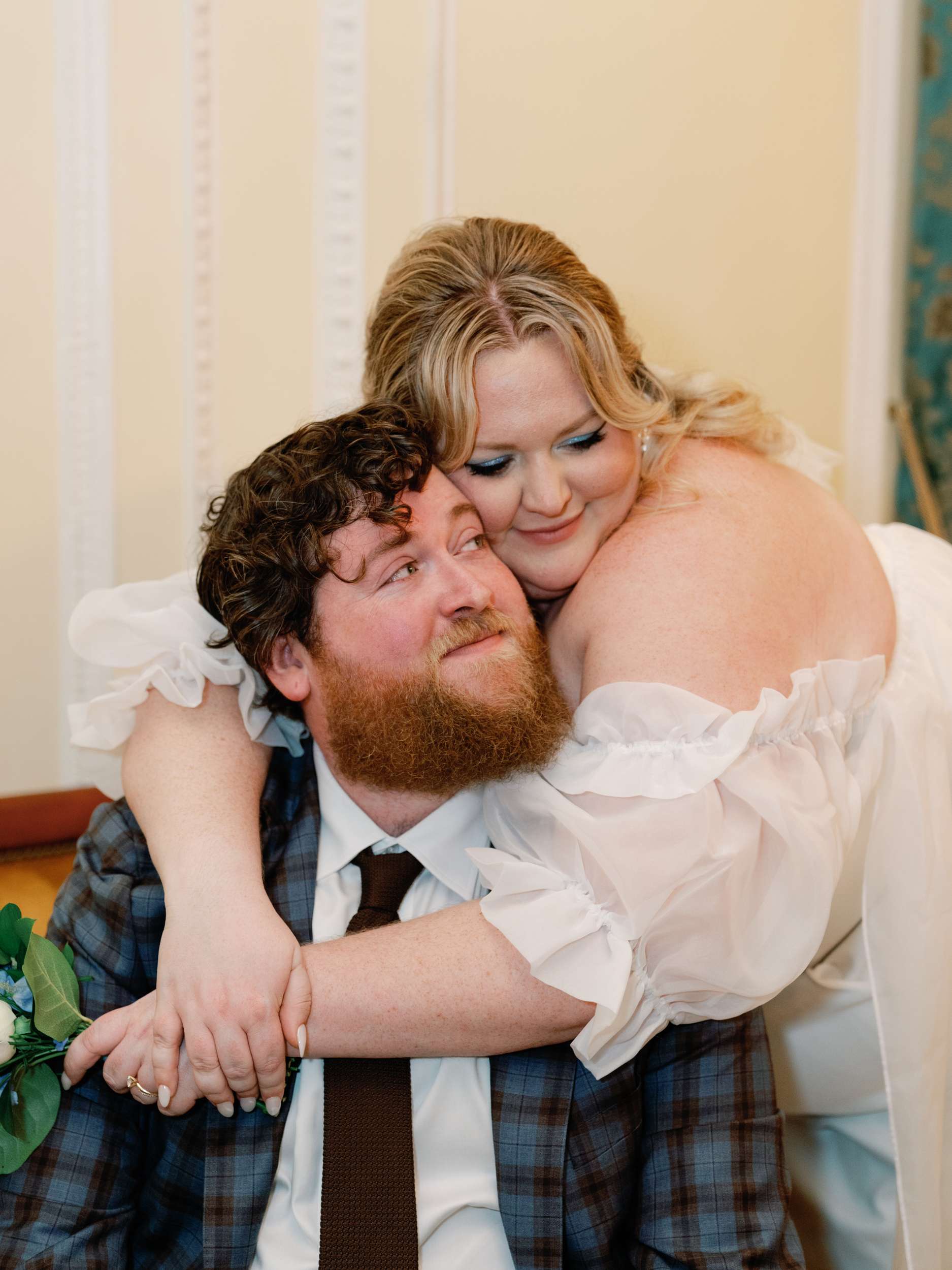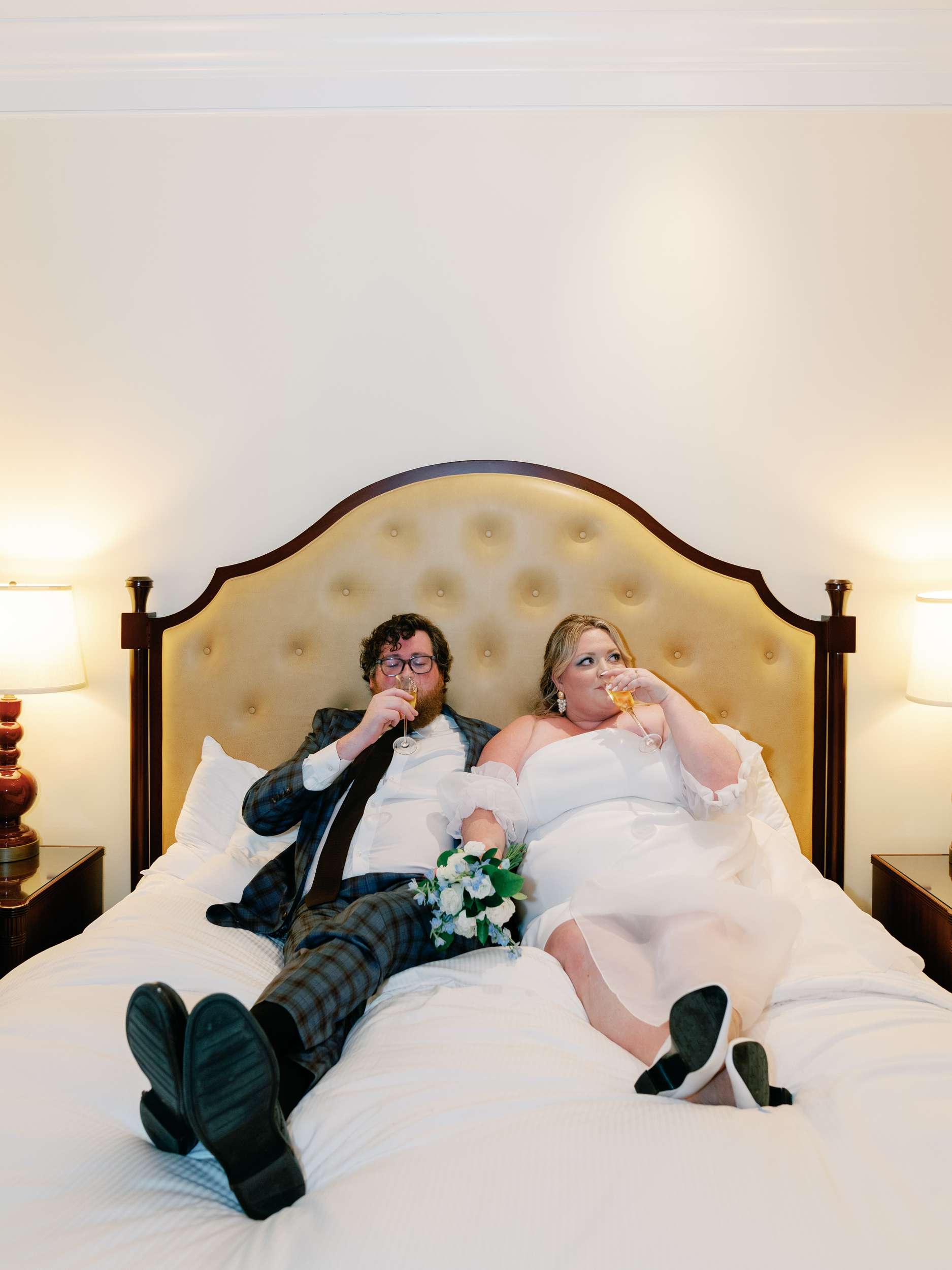 "I put together a Pinterest board with inspiration from lots of different media," Sean, the bride, told us, "from Pulp Fiction, Grease, The Royal Tennanbaums, The Nanny, Elton John and Lana Del Rey. I wanted the party to feel like an incredible collection of fascinating characters."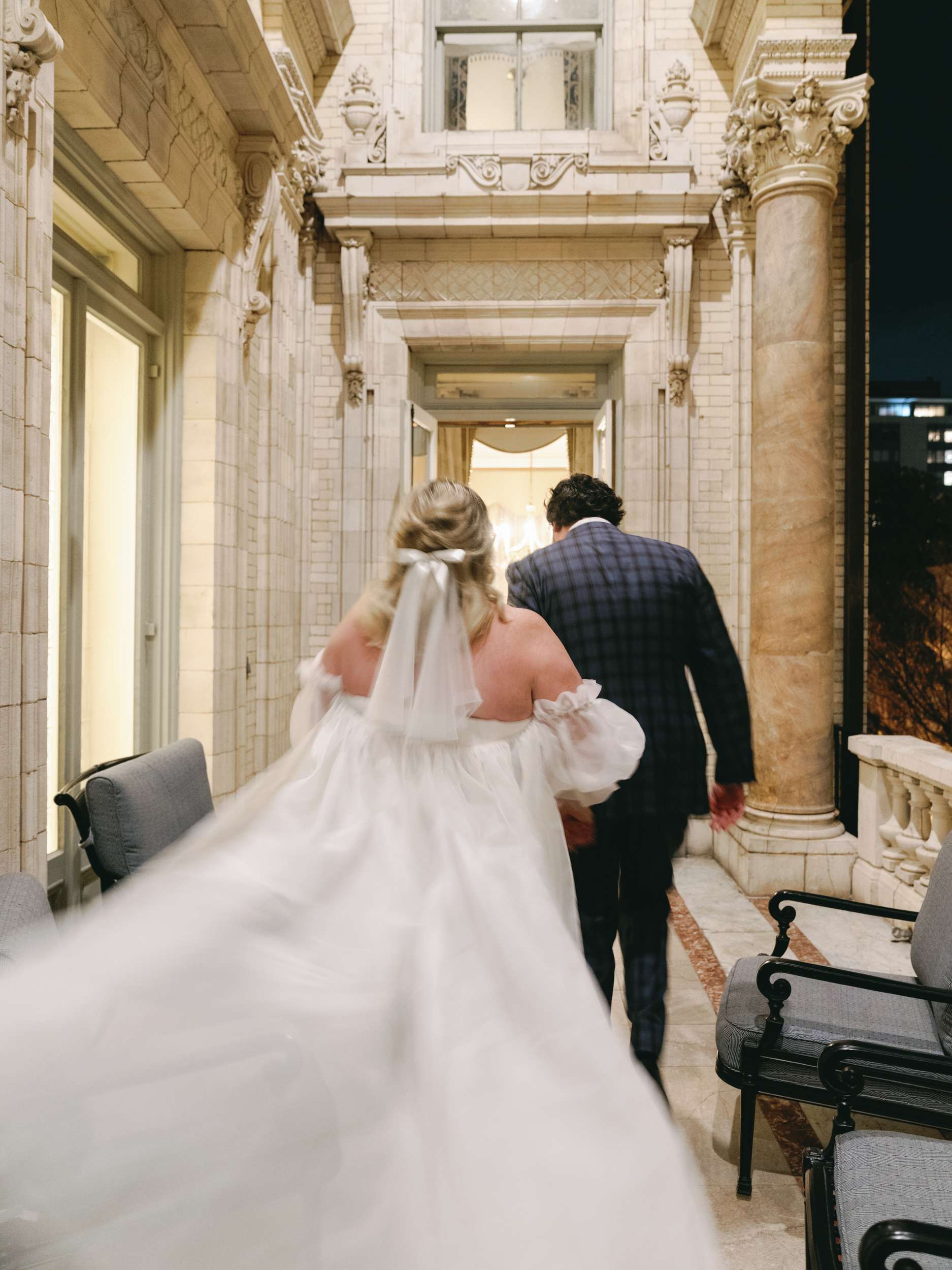 The bride wore a dress from Eloquii's new plus-size bridal collection and the groom had his suit custom made. Sean explains, "I am a size US 24W and Eric is big and tall (6'7″) so formal and bridal wear can be challenging. Eric went the custom route and had a dusty blue plaid suit made locally that turned out so well. I wore a white mini dress from Eloquii. The dress came with a detachable cape with puff sleeves. I felt like a little cherub bride and I loved it."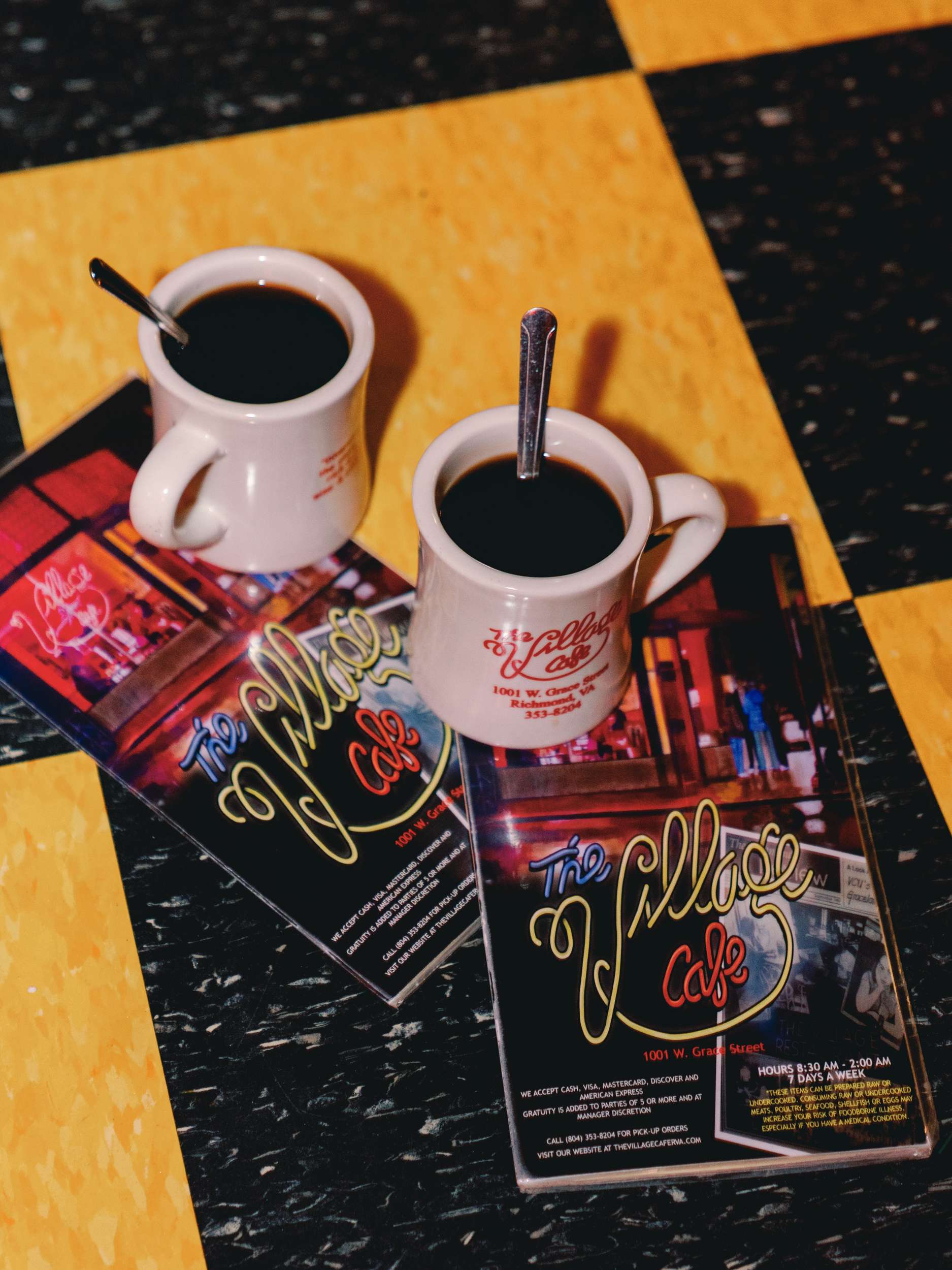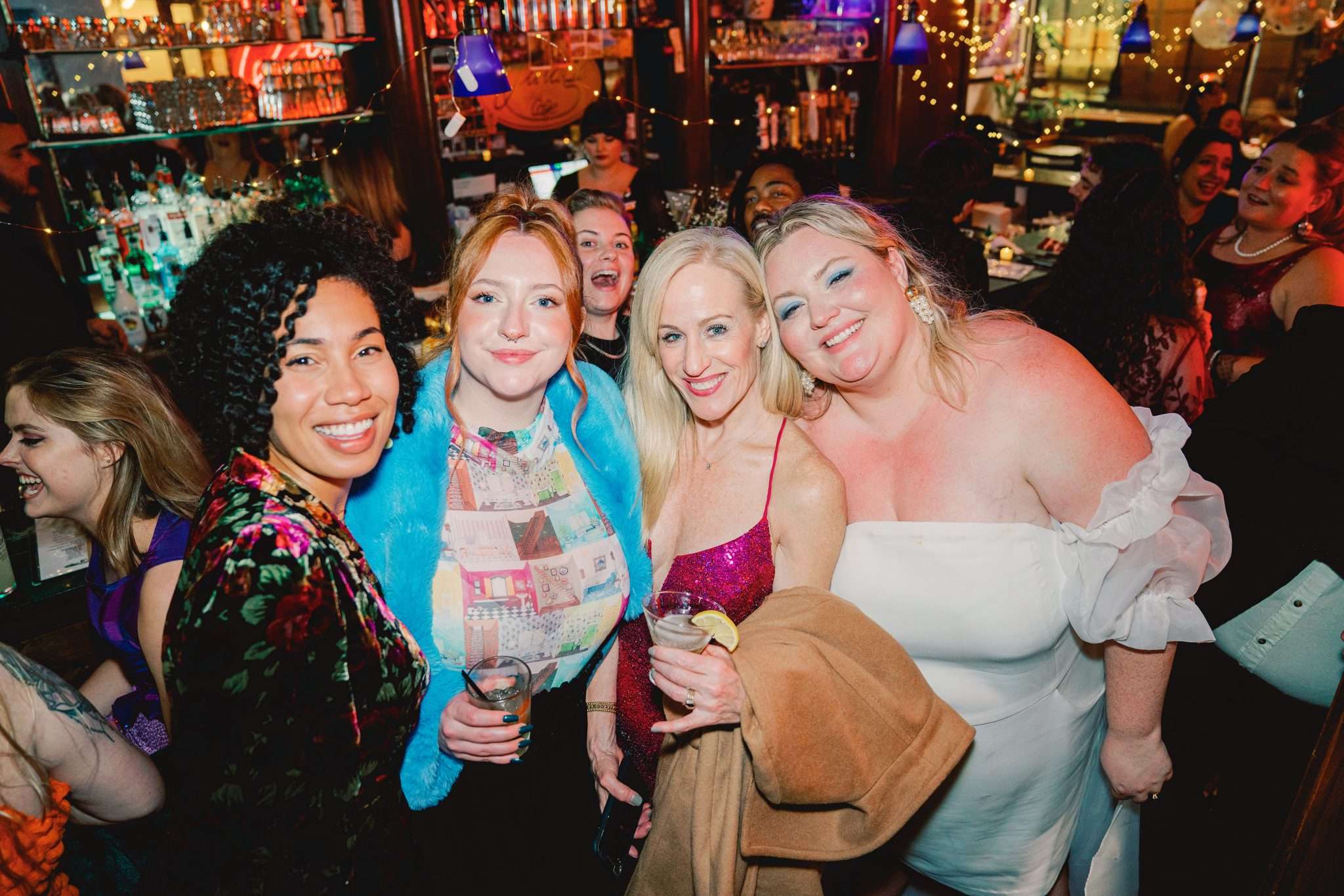 The funny (and maybe unromantic) part of the day was that they expedited the getting married process so that Sean could benefit from Eric's health insurance! She explains, "We chose to elope for the least romantic reason ever – I wanted to get Eric's health insurance, and we thought it might be a good idea to take care of all the legal action items before our 'big day'. Yes, we're still having a larger wedding in September 2023!"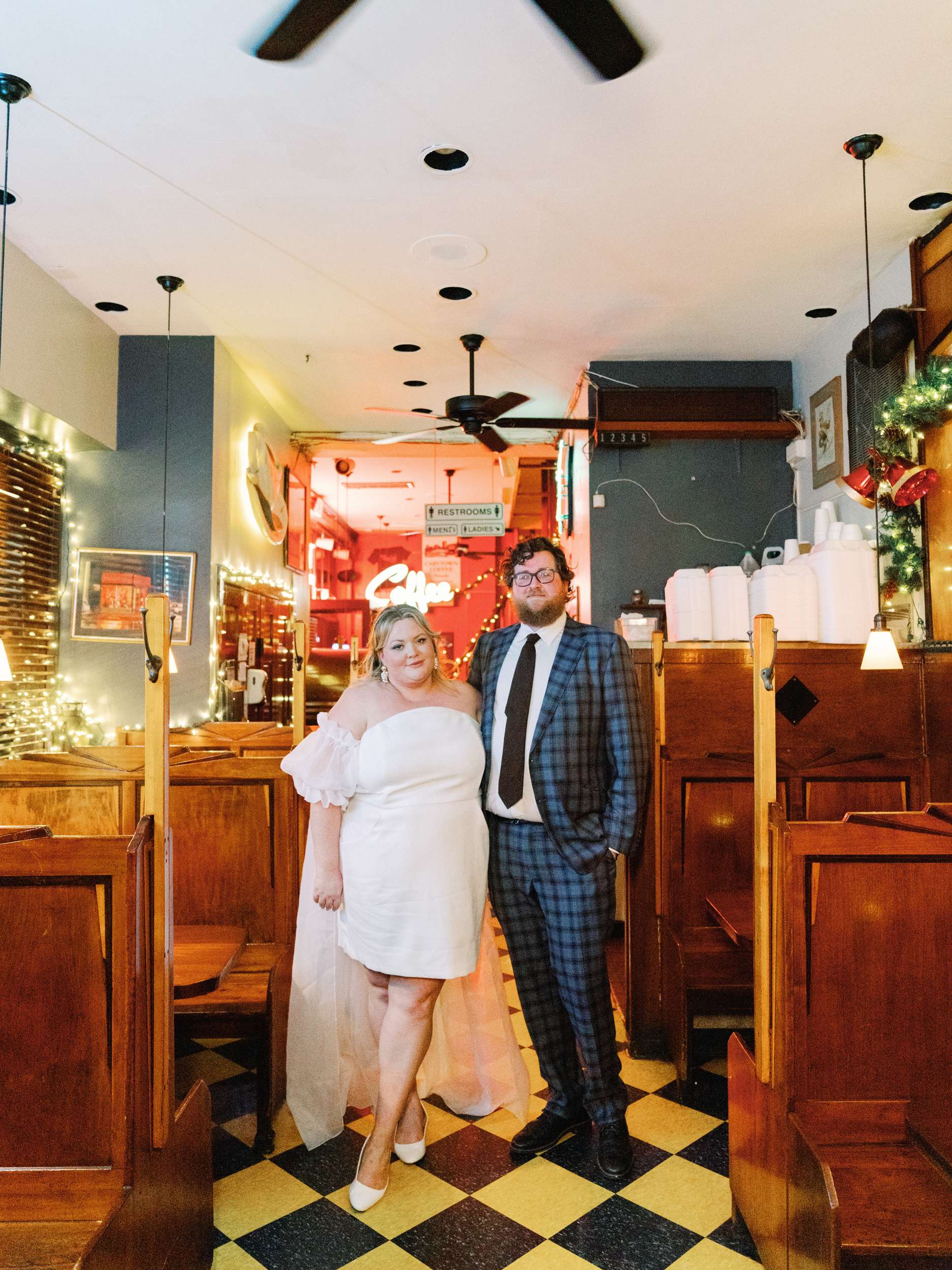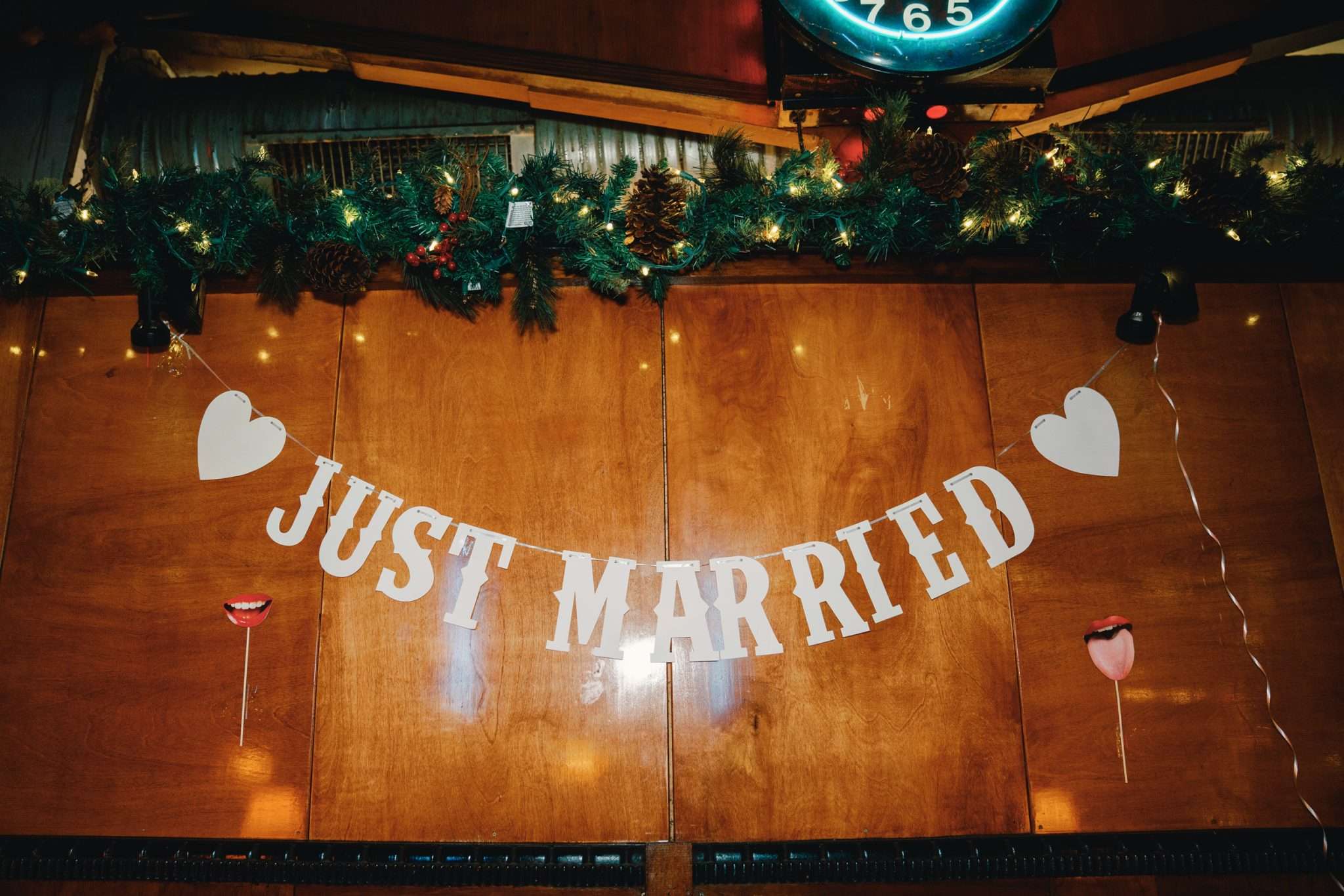 Their cake poked fun at this too, a heart-shaped, retro-inspired cake with 'Technically Married' inscribed and a health insurance card made of fondant made by their friend. "It was our elopement in a nutshell", Sean laughed.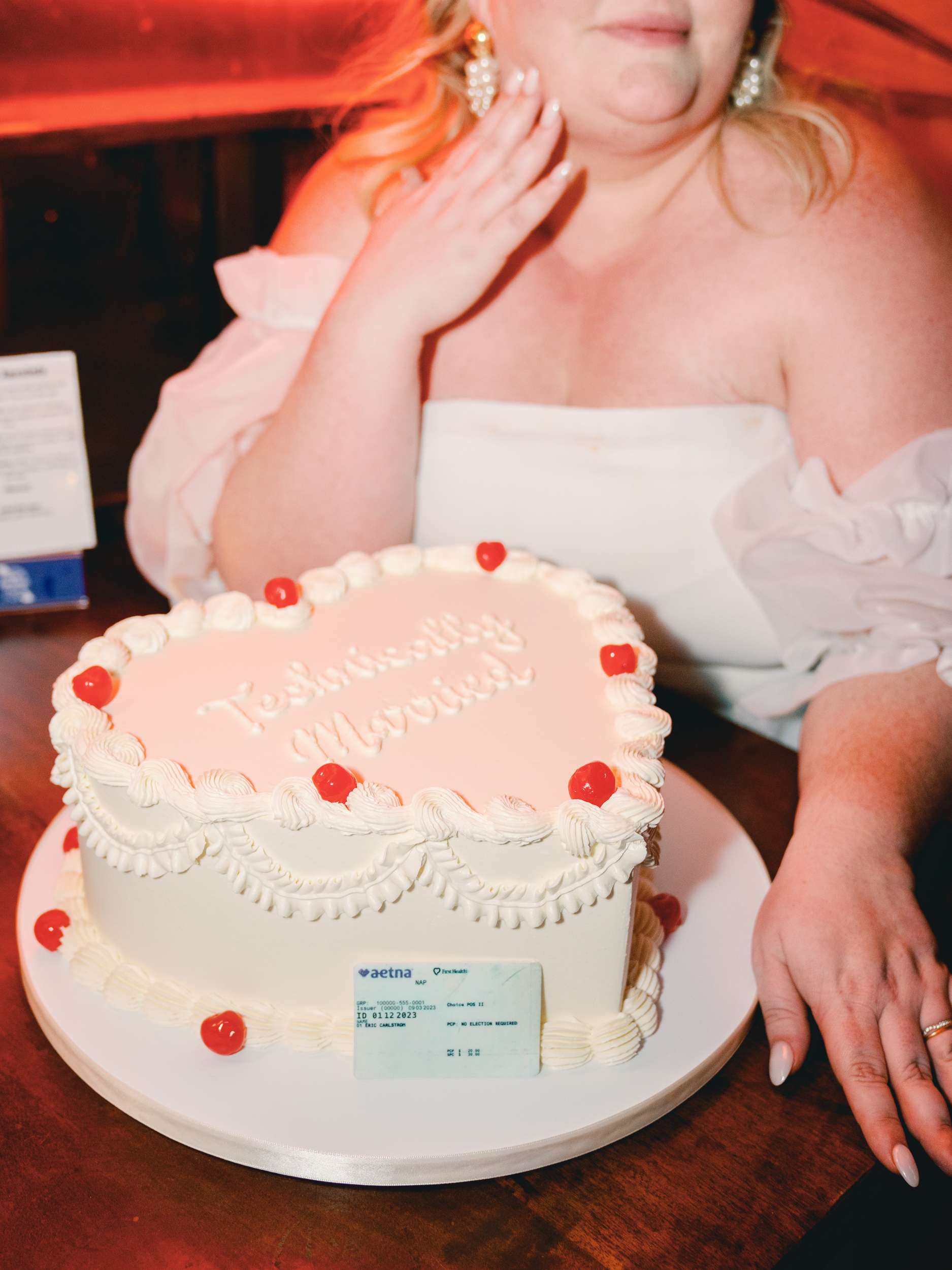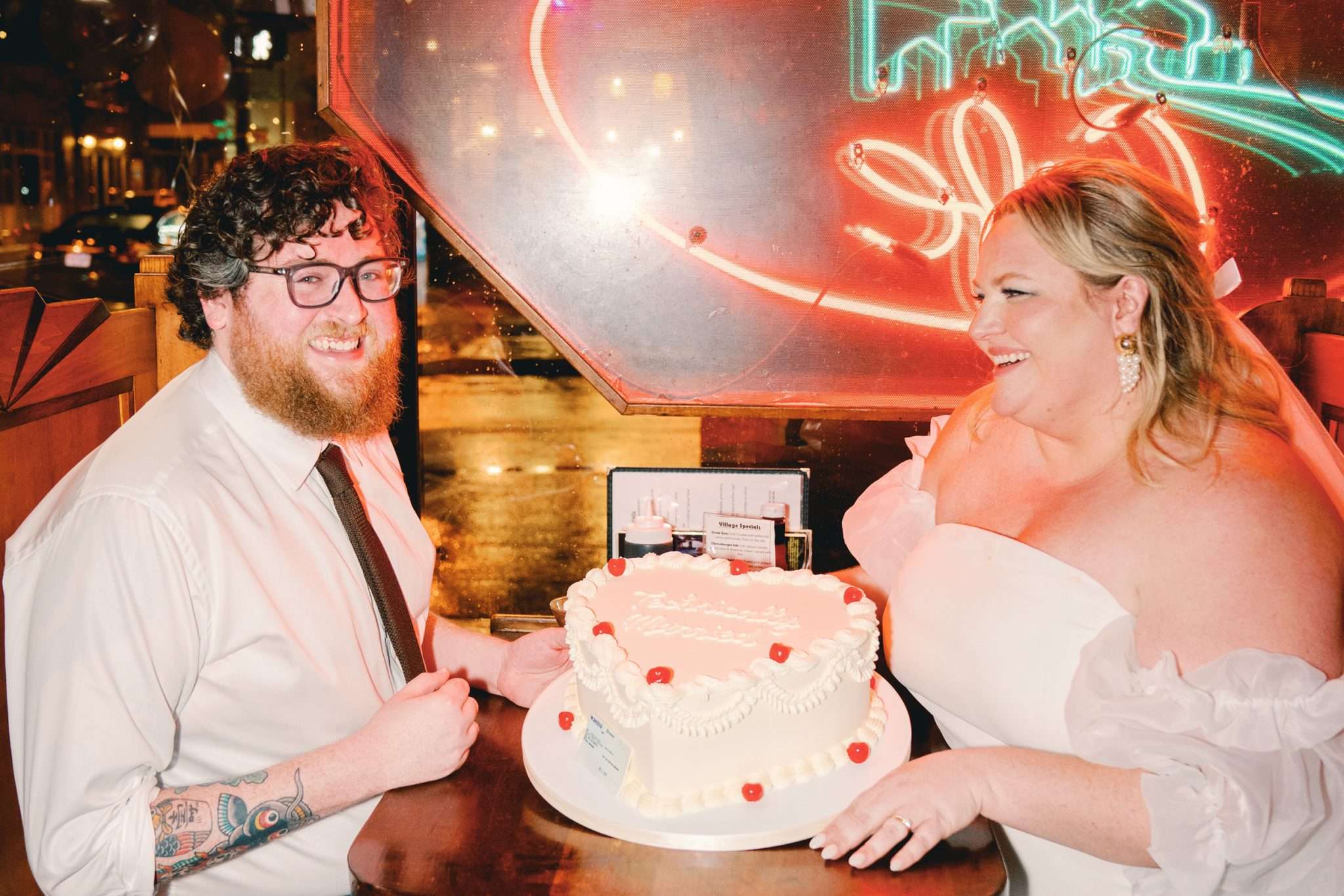 The highlights of the day for the bride were getting the group shots of everyone enjoying their food, ("We really wanted to capture all of our nearest and dearest
so we had a big, editorial group photo over a table full of classic diner food. Our photographer Nikki absolutely crushed it") and the 'breakfast shots' everybody did. "We had the bar do a round Jameson, Butterscotch Schnapps and an OJ chaser. That was an absolutely legendary moment."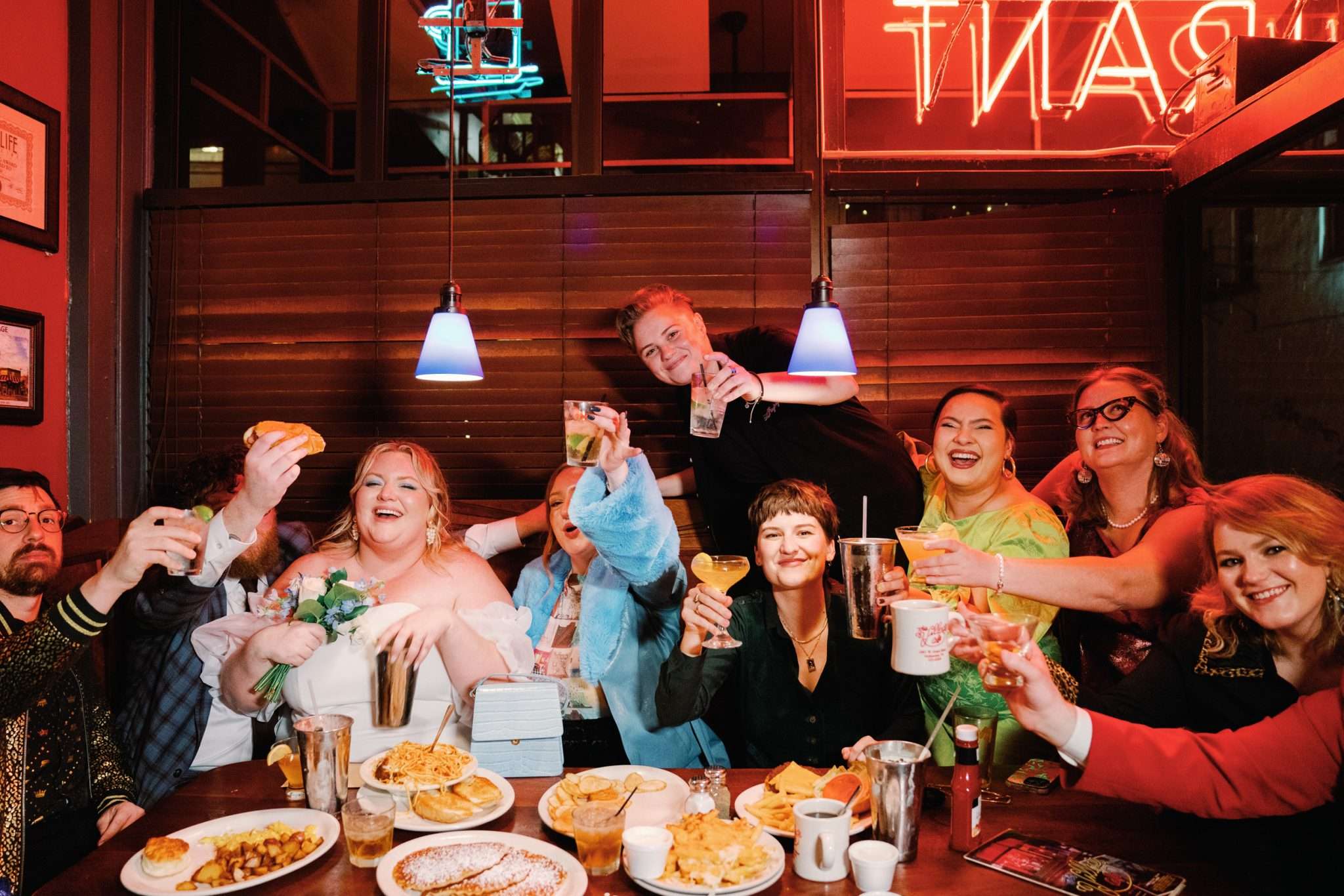 They had the most fantastic and fun day and are so glad they chose to get legally married before the big day planned for later this year. "We got to work with the hair and make-up artist, photographer and videographer that we'll use for our big day, so it felt like we got a practice run in", concluded Sean. "It also gave us some perspective on how fast it all flies by."