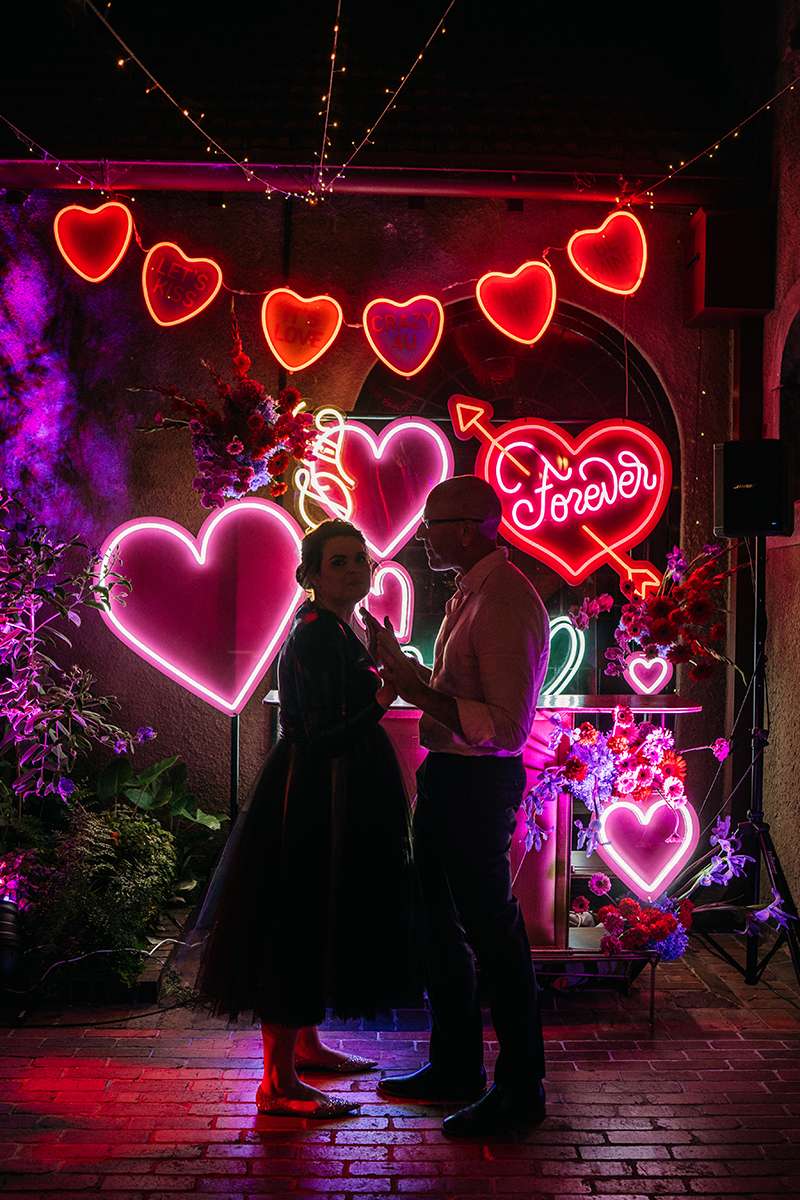 When it comes to choosing a colour palette for your wedding, we say more is more! Wanting to banish neutrals and snooze-worthy samey colour schemes from your day but not sure how? Well, read on colour lover because we got you…
If you type 'wedding colour palette' into Pinterest, your head will explode and you will die. Cause of death: Brain Overload of Blurgness (or BOOB). It's all burgundy and navy and (*clutches pearls*) neutrals. Side note: 'neutrals' is not a colour and should thus be banished from colour palettes until the end of time, or even later. Be gone neutrals, we do not miss you, because you barely exist.
Beyond the blurgness, there's a whole lotta copy and paste going on. Couples picking up a palette without question and rehashing it. Boring! It's simply multiplying the blurgery. Plus, there's nary a merry fuchsia, poppin' lime green, incandescent fluro yellow or an eye gouging 70s orange to be seen. A modern-day Pin-tragedy (*lies on sofa for 11 hours to recover from serious case of BOOB*).
But do not fret, here's how to create a kickass bright and bold colour palette that will cause zero BOOB deaths, is not a rehash of a rehash of a copy, and suits your rock 'n' roll wedding perfectly (*chef's kiss*).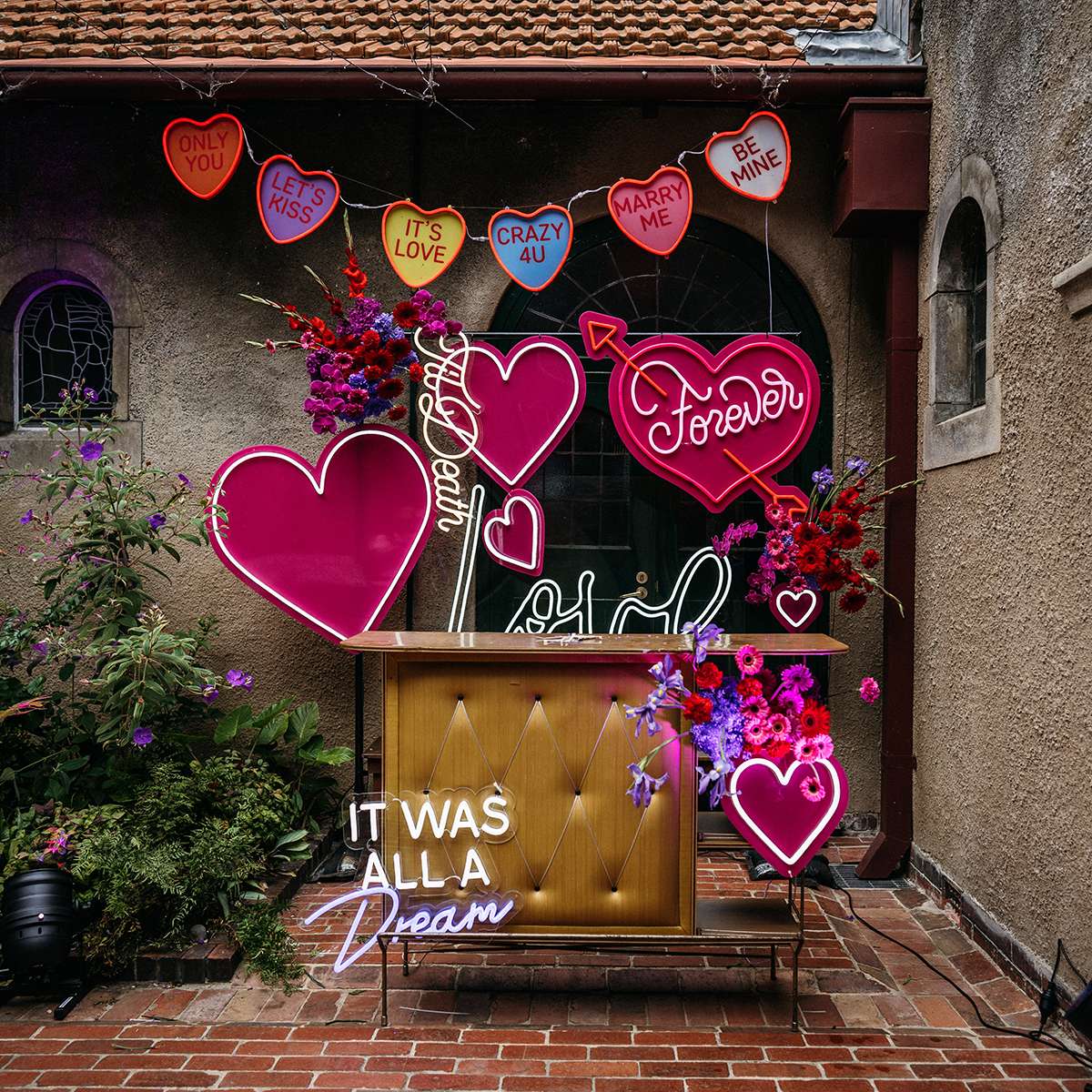 Get your wedding styling ball rollin'
Like starting an essay by writing an outline, mapping out your colour palette is the key to nailing your wedding styling, with max fun and min stress.
Start at the start. Go about your wedding planning pretending to not even know a single thing about colour schemes, combos or palettes. As you start to read wedding magazines (oh hello there, dear reader!), dabble in Pinterest and follow ace wedding blogs and vendors on Instagram and TikTok, make note of what attracts you. I betcha there's a bit of a pattern in terms of colours and styles that have you positively jazzed.
Wedding vibe = your colours
When you think about the wedding you want, what vibes and feels does it give you? Raging party = neon hues. Wintery and romantic = deep, moody colours that feel warm and cosy. Relaxed garden wedding = pastels and all the greens. Desert elopement = a mix of dusty and stark colours.
There! You've snuck up on a colour scheme without it even realising! Use it to help you narrow your searches and decisions. For example, when thinking about a florist, which ones do kick arse work in colours (and styles) already aligned with yours?! Get in touch with them and don't worry about anyone else. You don't need to talk to every florist in your 500km radius, and thus you've made your life heappppppps easier (nor will you waste the time of eleventy billion florists, and they thank you for that in advance).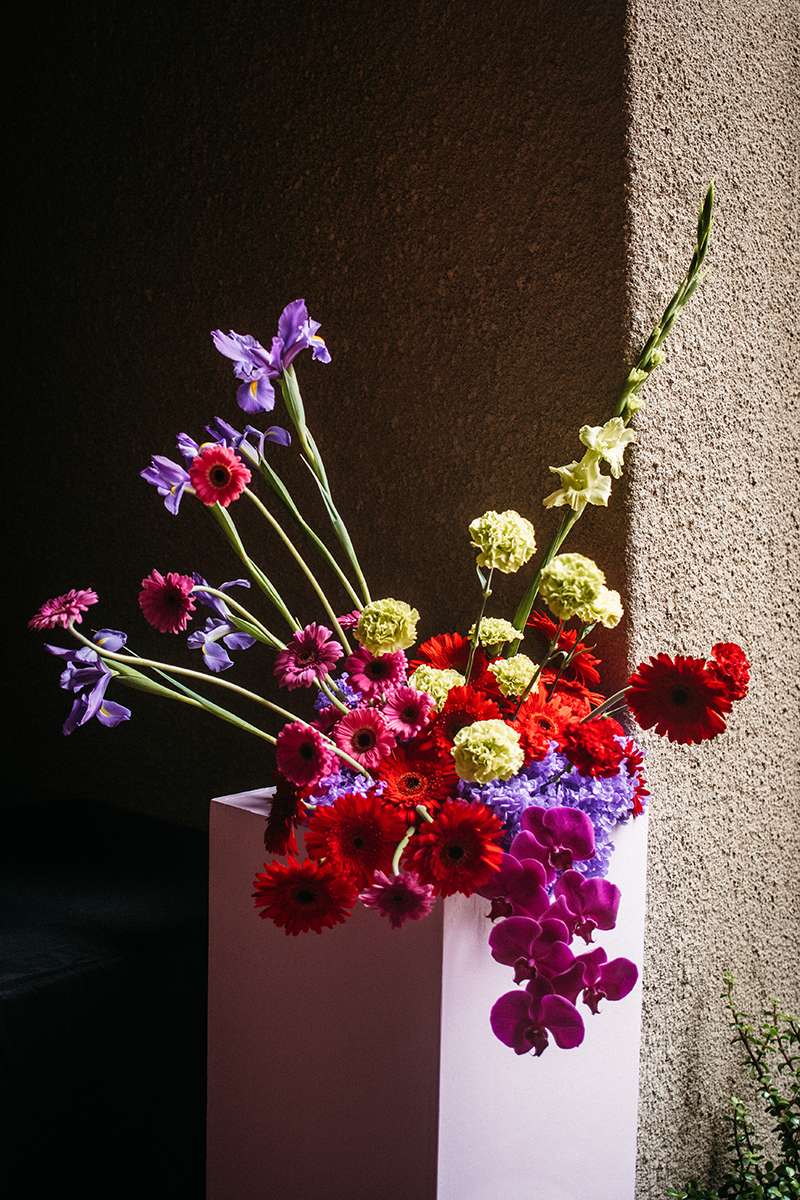 Take cues from stuff you love
As an event designer and stylist, I am never jauntier than when a couple's inspiration includes heaps of non-wedding stuff; art, design and interiors they love, landscapes that light them up, bars and holidays that made them as a couple, music, concerts, gigs, pop culture! It shows me who they are, rather than (*repeats herself till she's blue in the face*) snippets of other people's weddings taken from Pinterest that are copies of the same blurgness!
So, what things do you love? What things do you love love love love love love? As I look around my home, I see plants, marshmallow pink and warm, mid-century timber. Holy guacamole! That CAN be a colour palette!
You love disco balls and your collection of candy-coloured tutus and crinolines? KA POW!
You got yourself a colour combo. Don't think 'disco ball' is a colour? Get the fudge outta here, this is Rock n Roll Bride magazine. A mix of textures, colours, metals, timbers or other natural materials (Crystals! Artichokes! Desert Sands!) will help it to come alive in your mind so much more vividly than flat digital colours only.
Nature knows where it's at with perfect colour combos. And if nature thinks it works, then who the heck are we to disagree? A personal fave is how nature loves to pop together lilac and yellow. It's so gentle and relaxing, fresh and sunny all at once.
Sunsets are an ever-changing palette that keeps on giving. One of my favourite ever weddings I designed was based around a sunset palette, as the couple met during golden hour at a music festival. A gradient of indigo through to yellow. You can see this wedding on rocknrollbride.com of course (search for Becky and Gearoid).
Rainforests, snow-capped mountains, amazing birds, beautiful brightly coloured bugs; the combos kindly provided by nature are literally quite endless, magnificent and appreciated.
Take a walk through your local neighbourhood to admire people's gardens and how the colours go together. Head to your local art gallery, or take in a bit of street art. I recently came across a graffitied alley on my way to the post office (so rock 'n' roll) and the combo knocked my socks off; magenta, spearmint, rose and lime with a tiny splash of violet and turquoise. And there are literally no rules about a hot mess of a colour palette; confetti is a palette if you ask me! Rainbows are the OG colour combo!
Finally, colour schemes are not compulsory. You do not have to spend time using some magical equation to uncover your perfect colour scheme that includes semi-ludicrous names like Angel's Tears on a Monday, Marinated Cantaloupe and Vague Hat Feather. You can simply let the colours of your wedding develop organically from key parts like your wedding ceremony surrounds, reception venue, outfits and so forth.
But should you choose to follow the coloured brick road to find your perfect palette, have fun with it because colour is literally joy!
ABOUT KATE
Co-founder and creative director of Melbourne vintage furniture hire and event styling legends, Good Day Club, Kate Forsyth is an expert at stacking unstackable vintage chairs and designing the raddest, most non-traditional and fun weddings known to wo/man. Outside of running her business with husbo Dave, she parents small human Remy, plays the drums and just painted her house every colour of the rainbow.
This article originally appeared in issue 42 of Rock n Roll Bride magazine. You can purchase the latest copy here, or why not subscribe to never miss an issue?