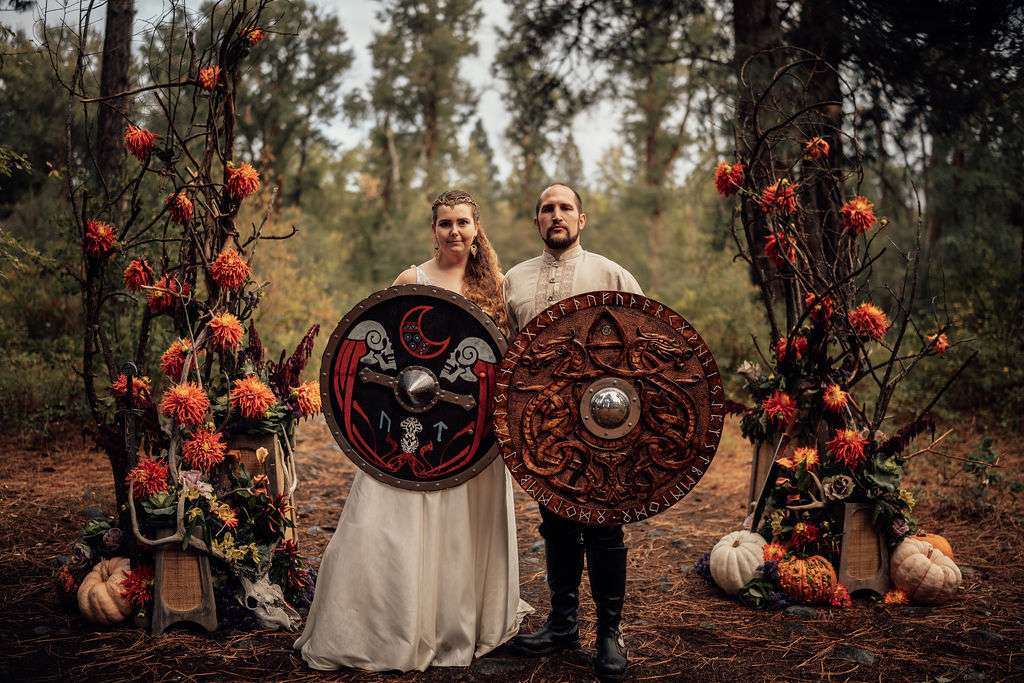 Fae and Ryan don't consider themselves religious people. however they are spiritual in the sense that they connect with many of the doctrines found in Paganism, particular Nordic paganism. Alongside Fae's Nordic heritage, Ryan's British background and stepping away from the 'norm' that most American weddings have, they put together a celebration that felt more in keeping with them.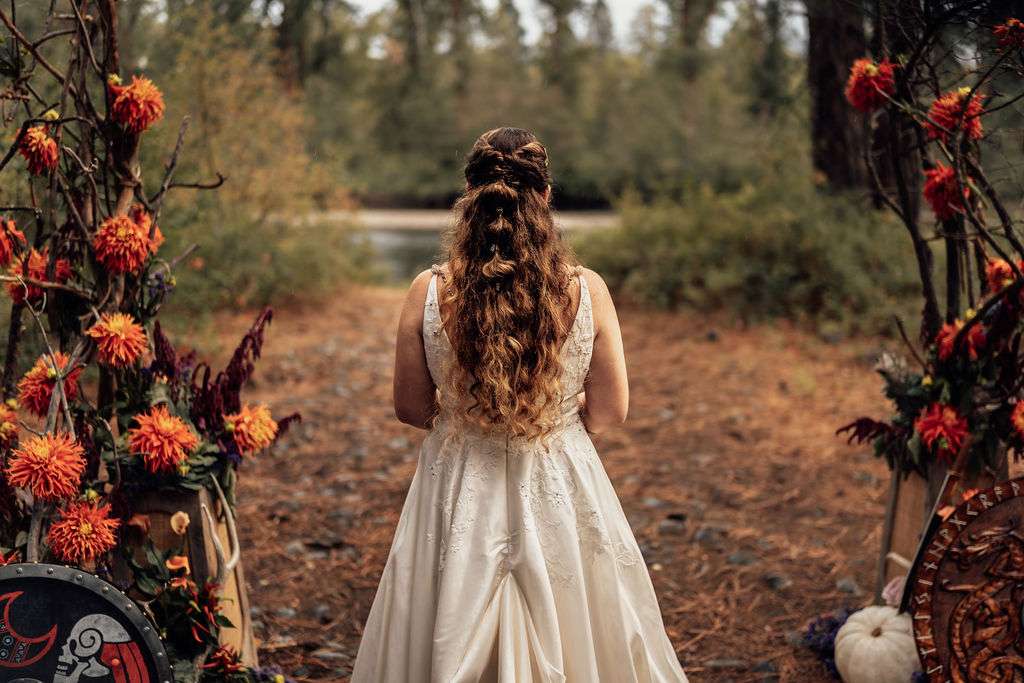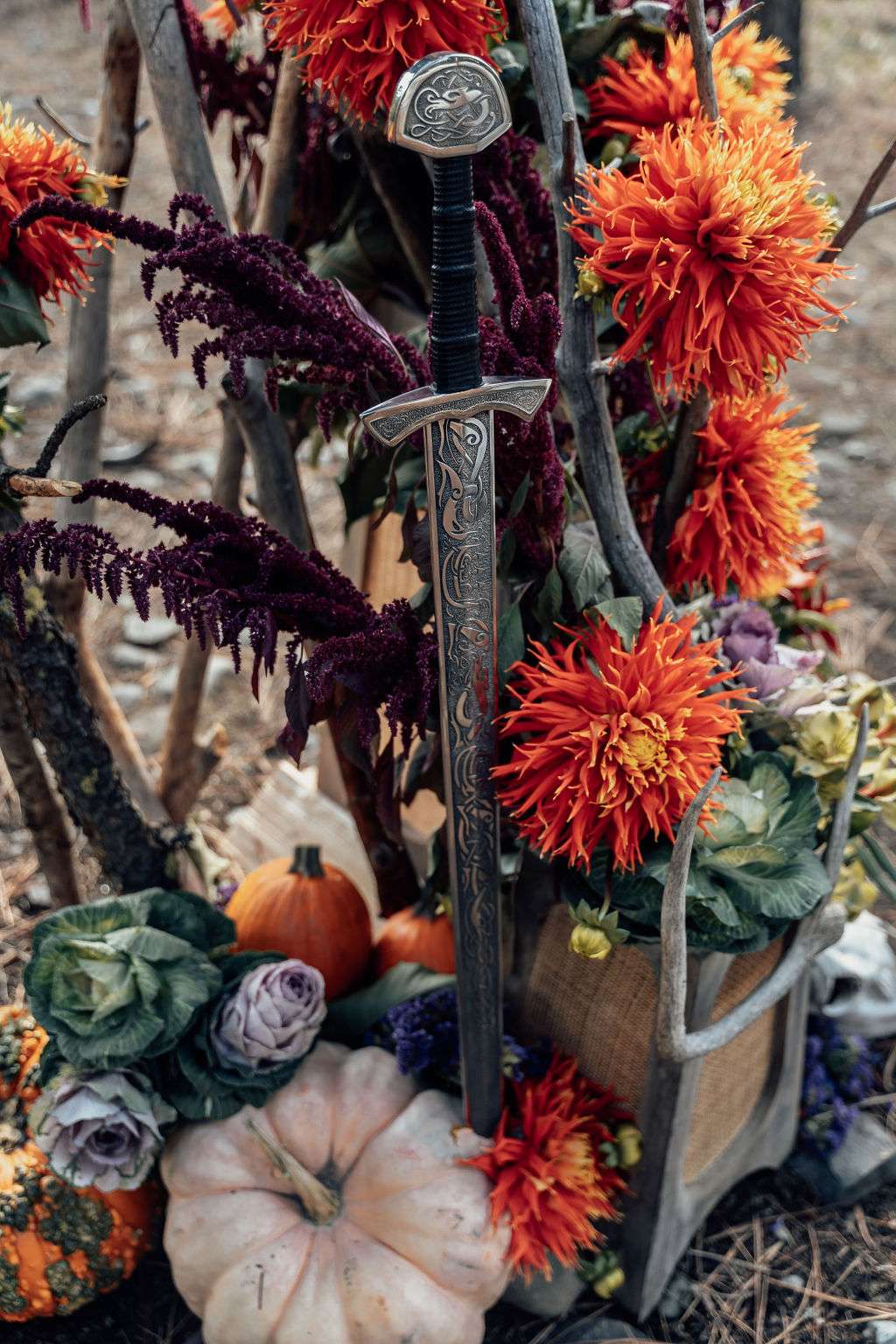 They actually had two ceremonies. The first, held on the Equinox, was a private ceremony in which the couple bound themselves to each other in blood. "Yes, you heard that right," the bride told us. "We each made a (sterilised) cut on the safest part of our forearms to eventually leave a scar, and the blood collected was kept to be burned in our second ceremony." Can't get much more badass than that!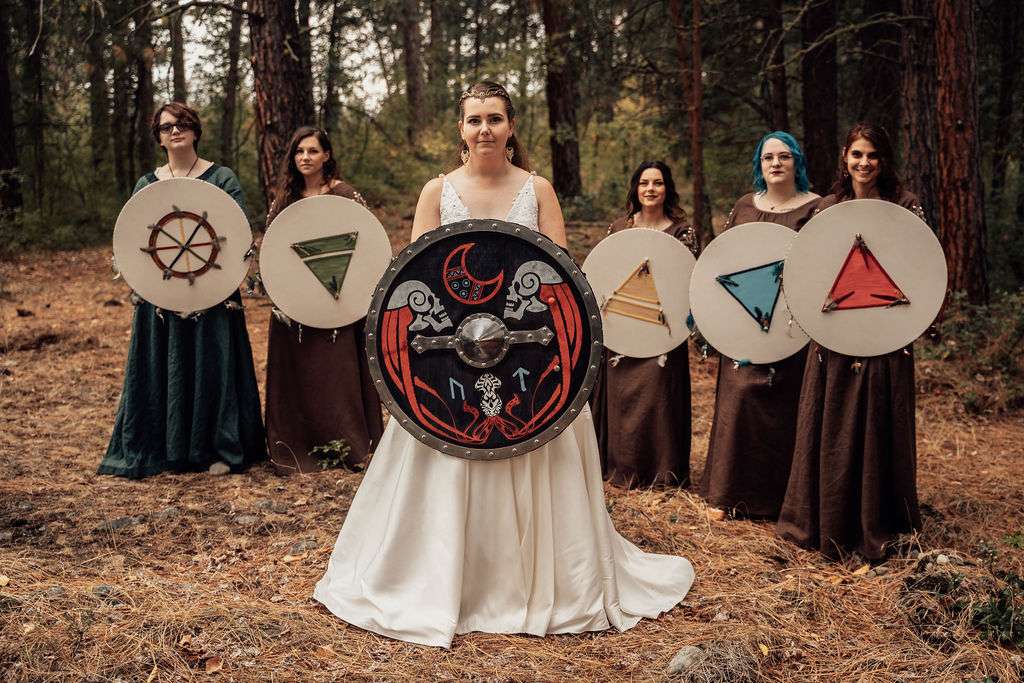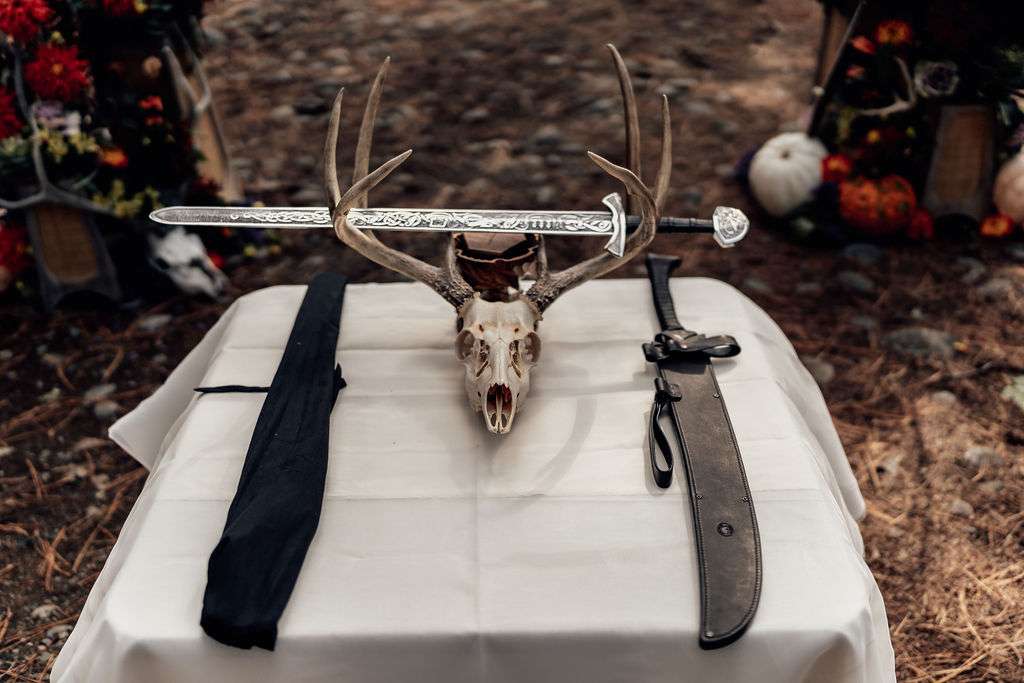 For their private ceremony, Fae wore a custom-made leather dress with Nordic knot work embroidery, killer strappy sandals and a shield that Ryan proposed to her with. For both ceremonies, Ryan wore a handmade linen tunic with Celtic/Nordic embroidery with black slacks and kick-ass, handmade leather boots that he personalised with Celtic buttons. He added custom-made leather armour for their Saturday ceremony.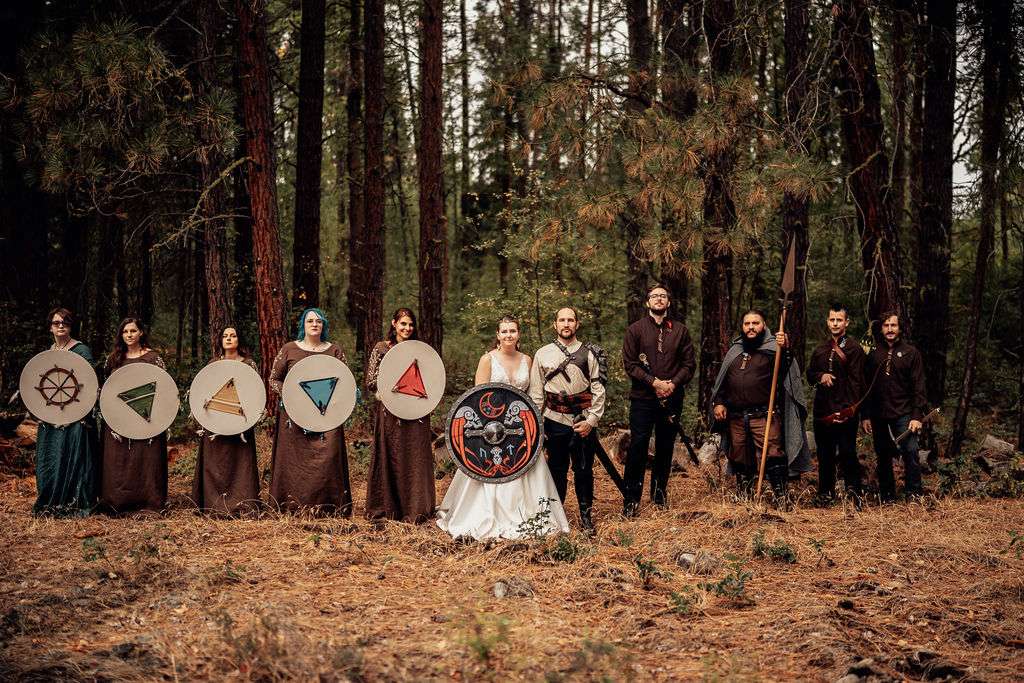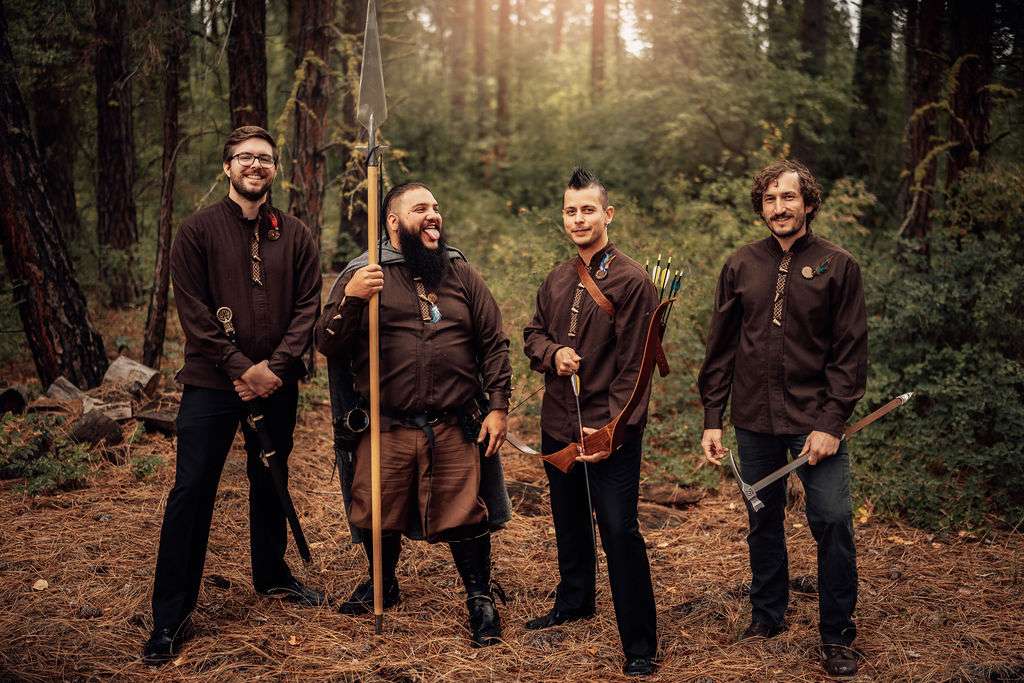 "For our 'Big Day' ceremony, I wore my baddass princess gown, and one of my bridesmaids, hereafter known as my 'shieldmaidens', made me a killer, pin-on beaded jewellery piece that draped across my shoulders, and my mom surprised me with an outrageous cape train." Flowers were also provided by Fae's mum, and she created an amazing alter for them out of found tree limbs, pumpkins, flowers and some of their deer skulls and assorted antlers. "Just about everything was DIY, mainly because we are surrounded by incredibly gifted artists who conveniently happen to be our closest friends and family members!"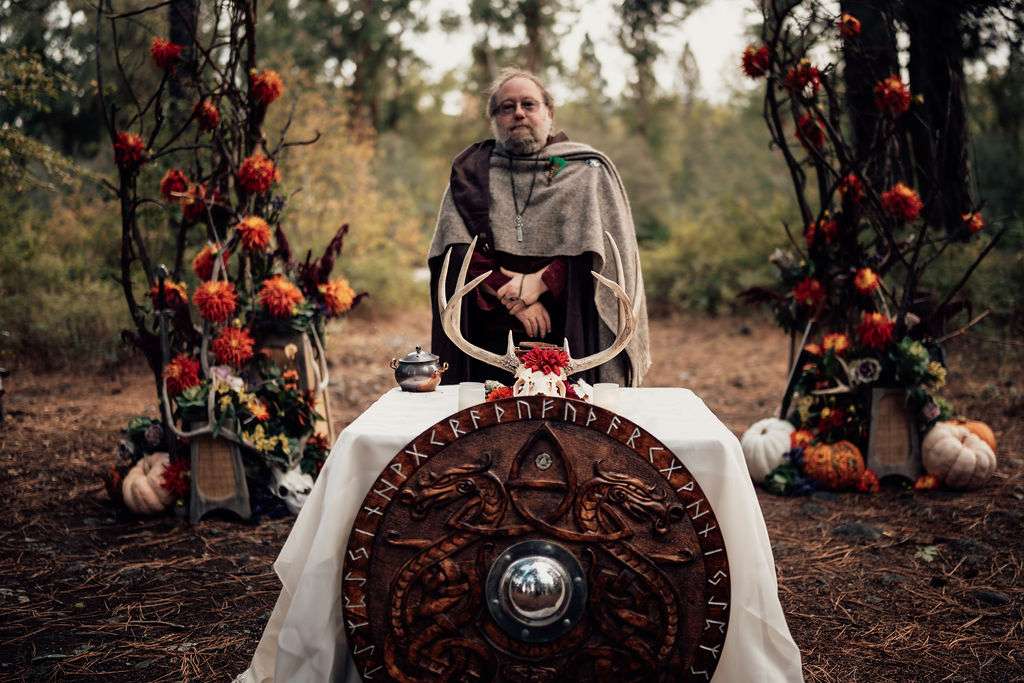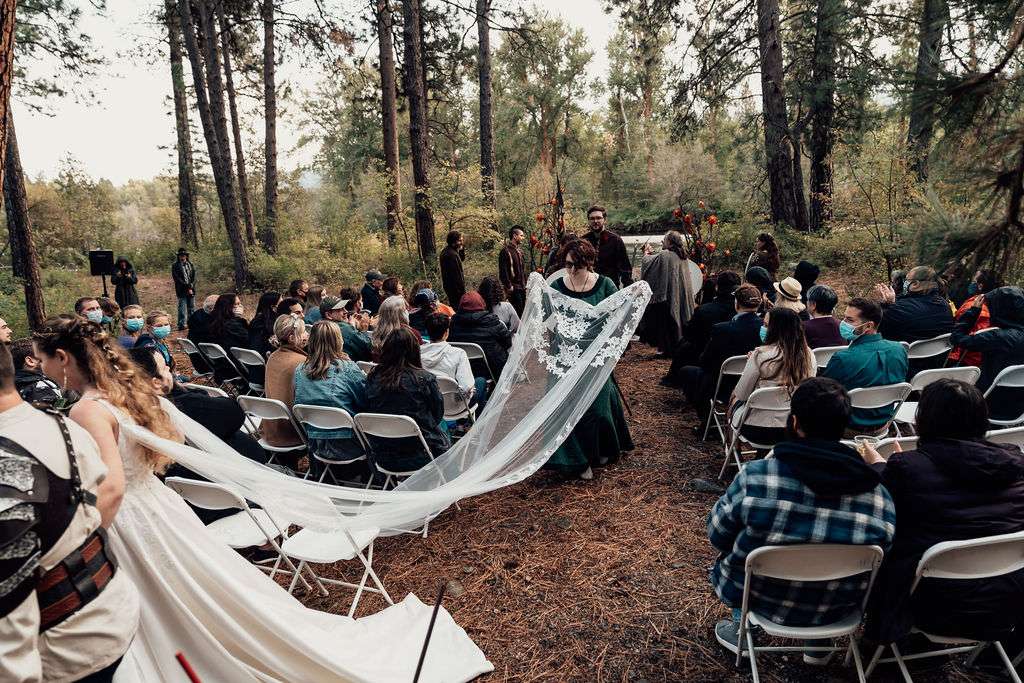 Their Big Day ceremony was as far from a modern, traditional wedding ceremony as they could get. Their officiant was a Druid. The shield-maidens wielded their soulful shields with pride, and they had a drummer pounding the wedding party in with a powerful beat. In a further break from tradition, Fae was given away by the bridal party as a surprise. They also used their bridal party to represent the five elements (fire, air, earth, water and spirit), and burned the blood collected during their private ceremony over a bonfire. Fae and Ryan exchanged swords; one to pass on to their firstborn and the other being the symbol of protection for their family.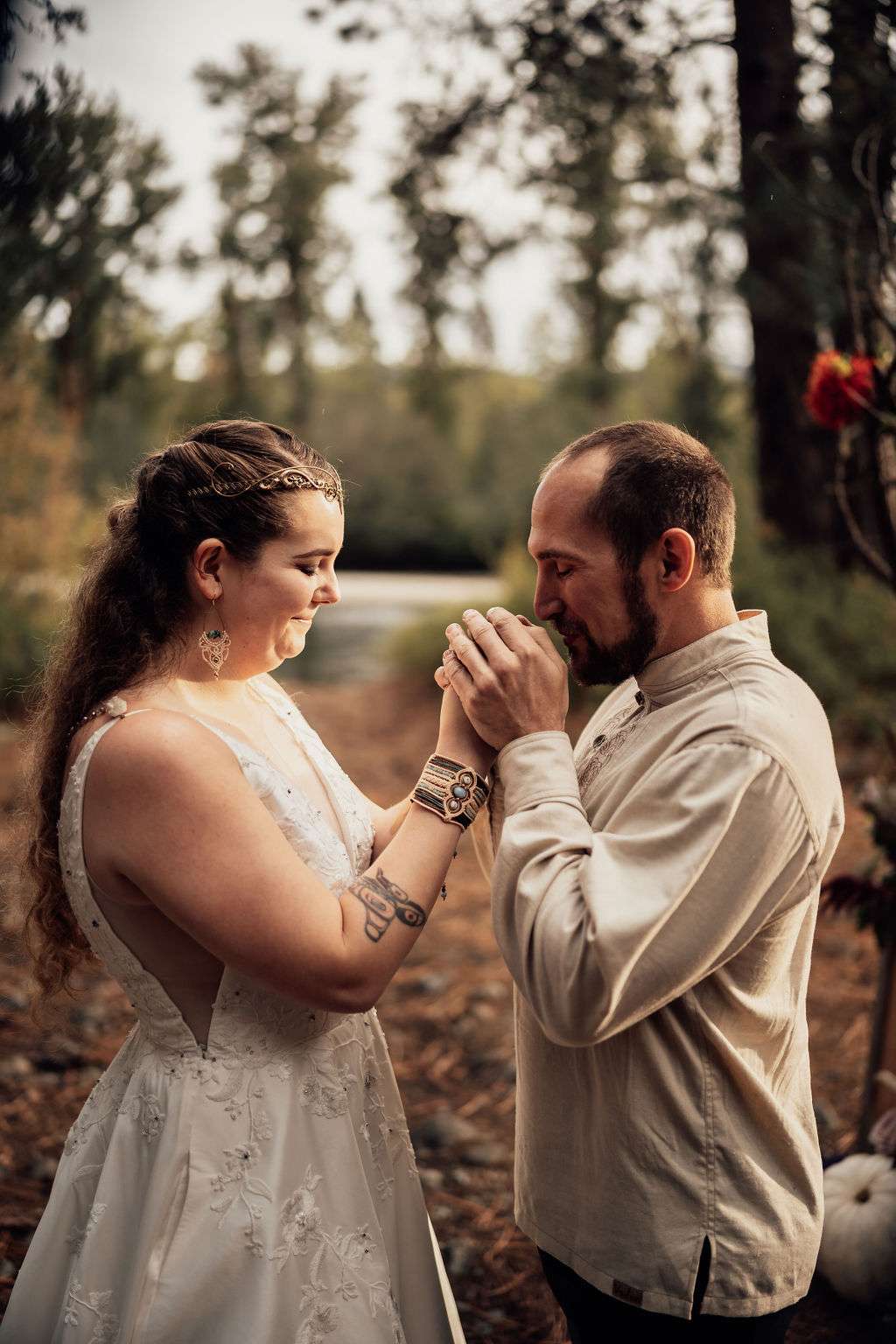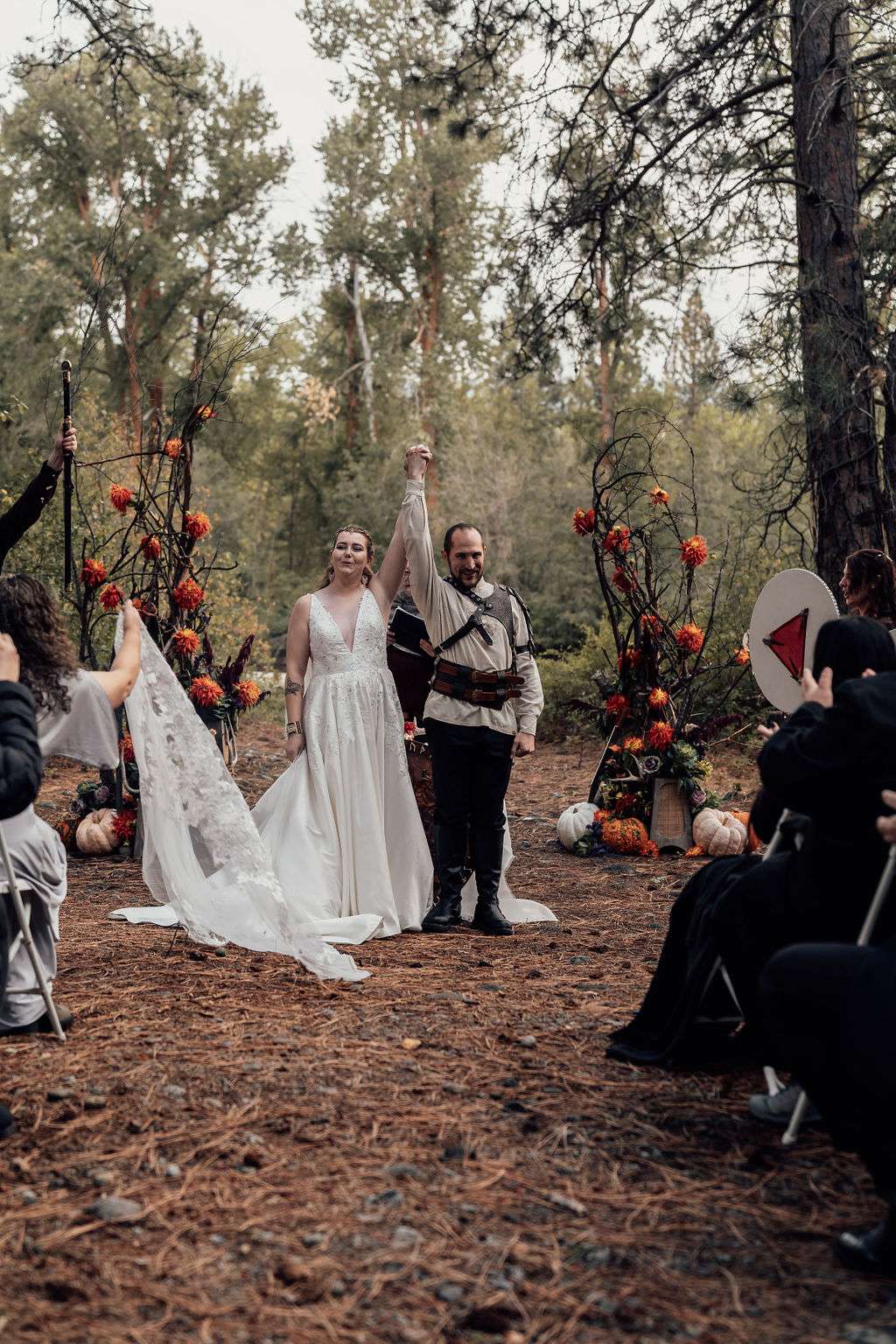 Their rings were very unique too, made from alternative metals; ethically sourced dinosaur bone (!) and meteorite infused with some of Ryan's dad's ashes. Instead of a cake they had a handmade, themed dessert display based on the World Tree from Norse mythology holding up the Nine Worlds, or in this case, nine themed desserts made by their 'horde'.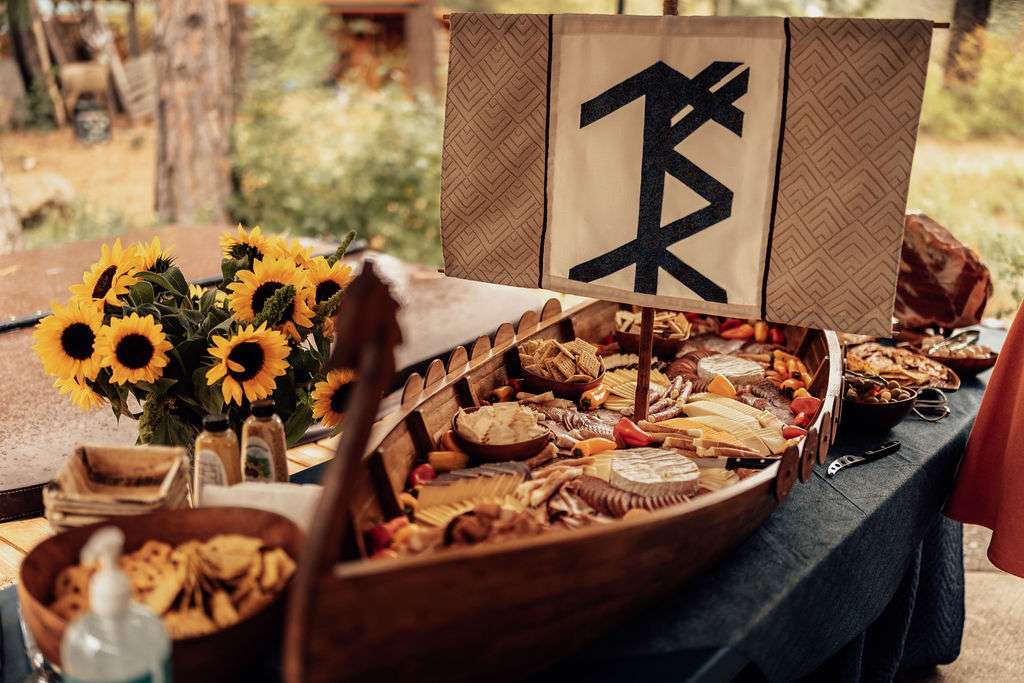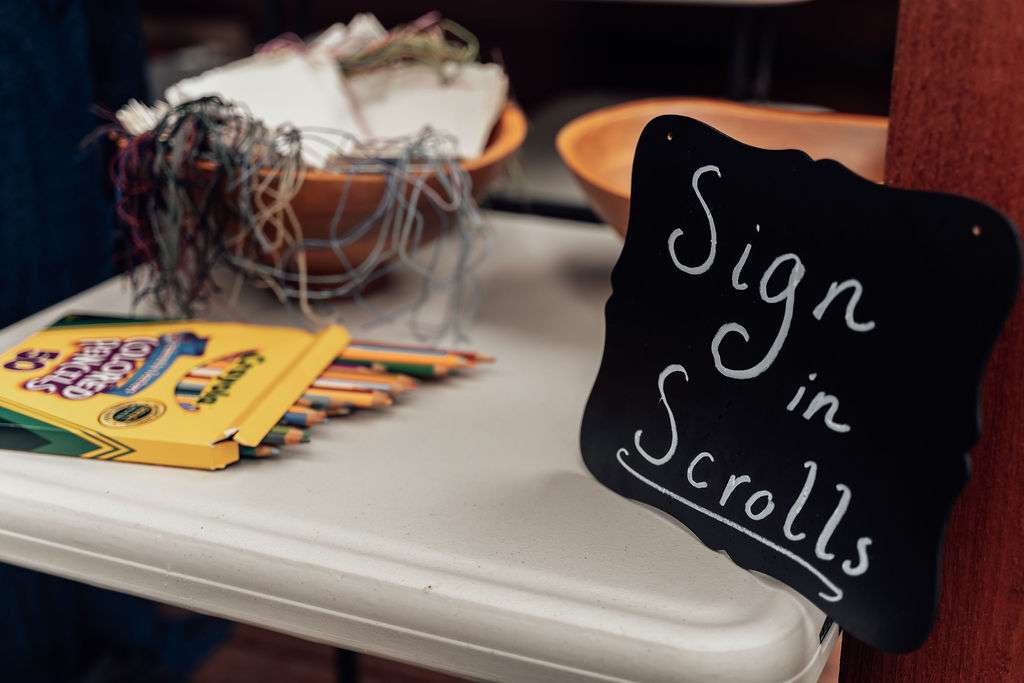 "It sounds crazy (and terribly new-age hippy), but it really was magical. The power and energy that surrounded Ryan and I just hit me in the gut. It was more than emotional. It was like…It was like I stepped out of my body and watched these incredible people connect in a way that only the cosmos can replicate. With our friend playing his drum in the background, and another reciting the most beautiful, and perfect words, it just felt…right."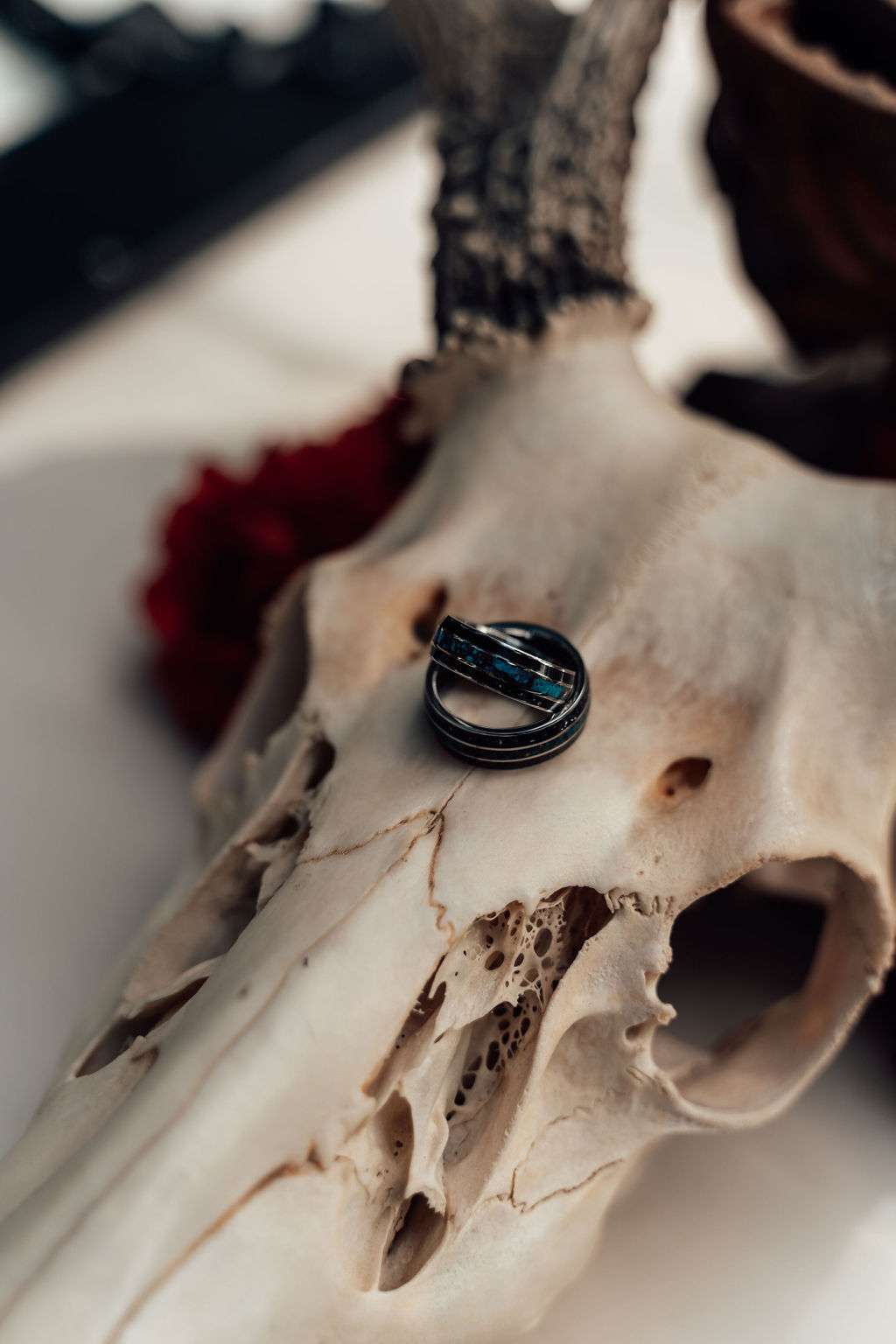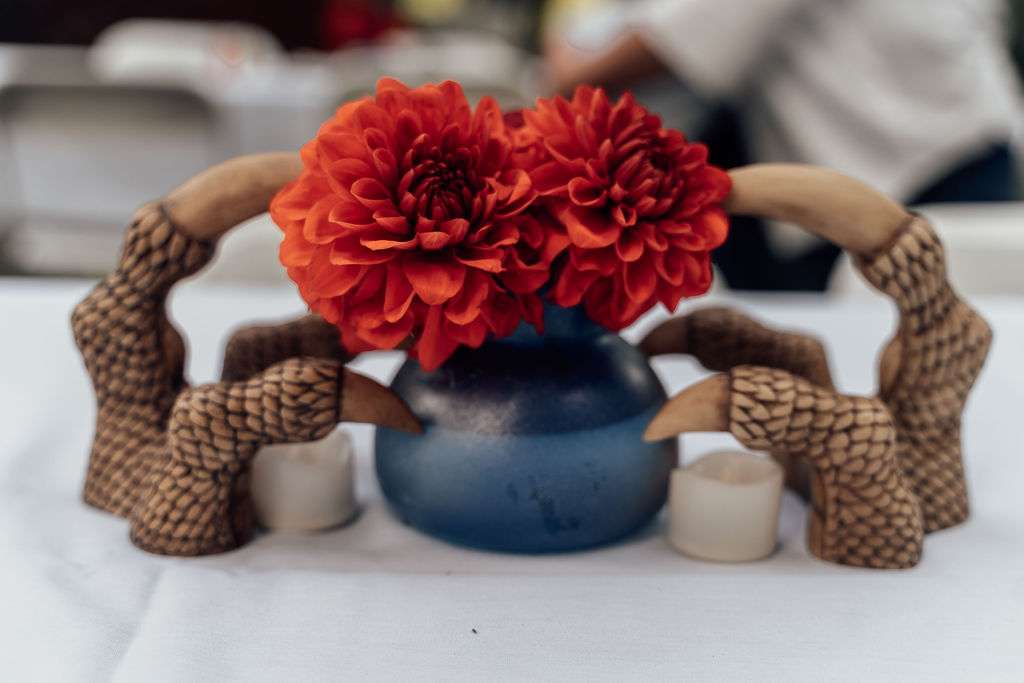 "Have you list of non-negotiables, negotiables, and like-to-haves-but-not-essentials," the bride advises future brides and grooms. "Stick to your guns on those non-negotiables and you won't regret it!"