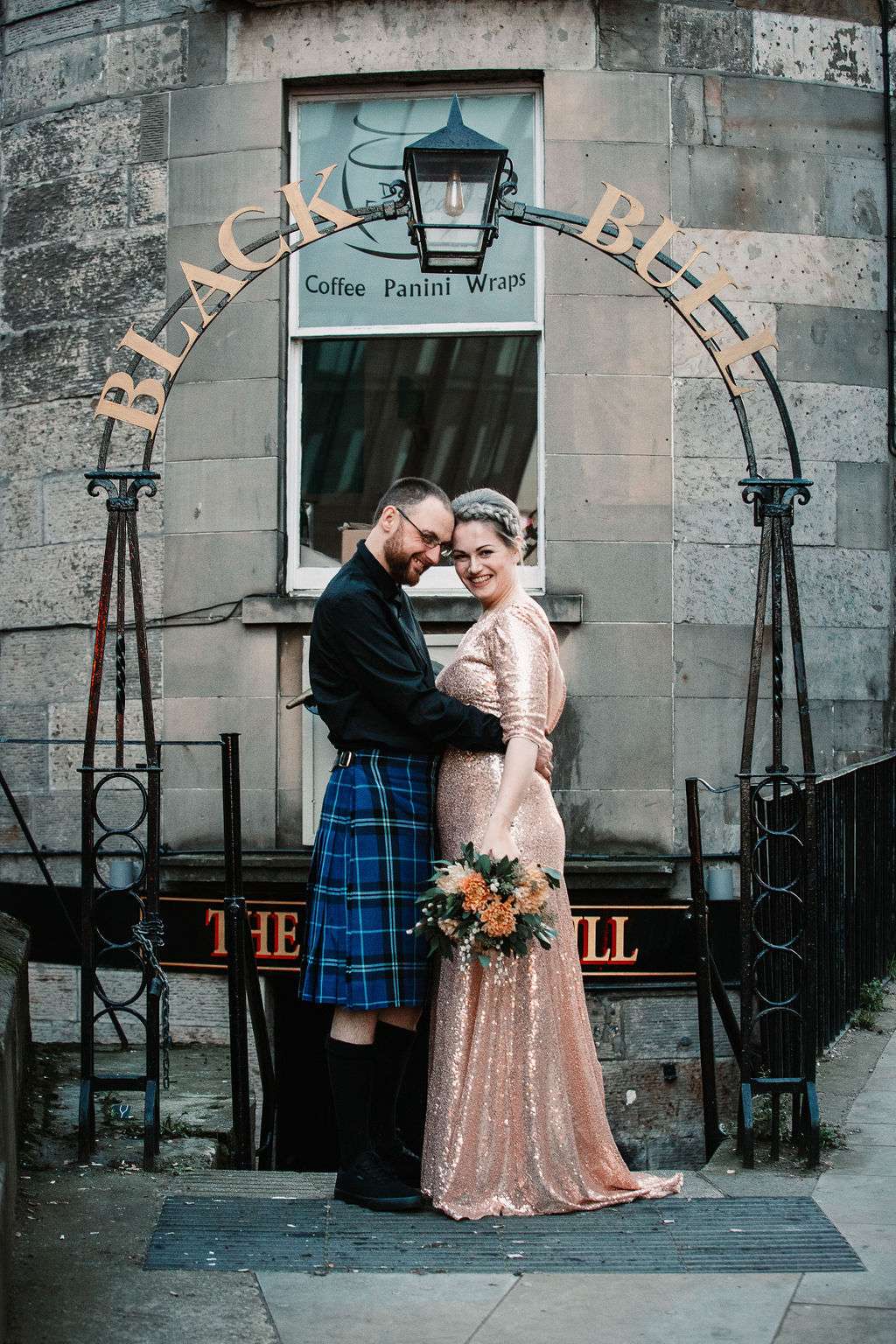 Amy and Craig are probably the only couple last year to actually choose to get married in the craziness of 2020! "It seems mad but we only got engaged in July on my 30th birthday," Amy told us. "We figured the year had already been crazy enough, so why not get married too?! It's obviously very different deciding to plan a wedding in a pandemic, as opposed to being forced into changing wedding plans. But it meant we went into this knowing things would likely chop and change and we knew we'd be happy with whatever we could do, however that looked; we just wanted to end the year as husband and wife."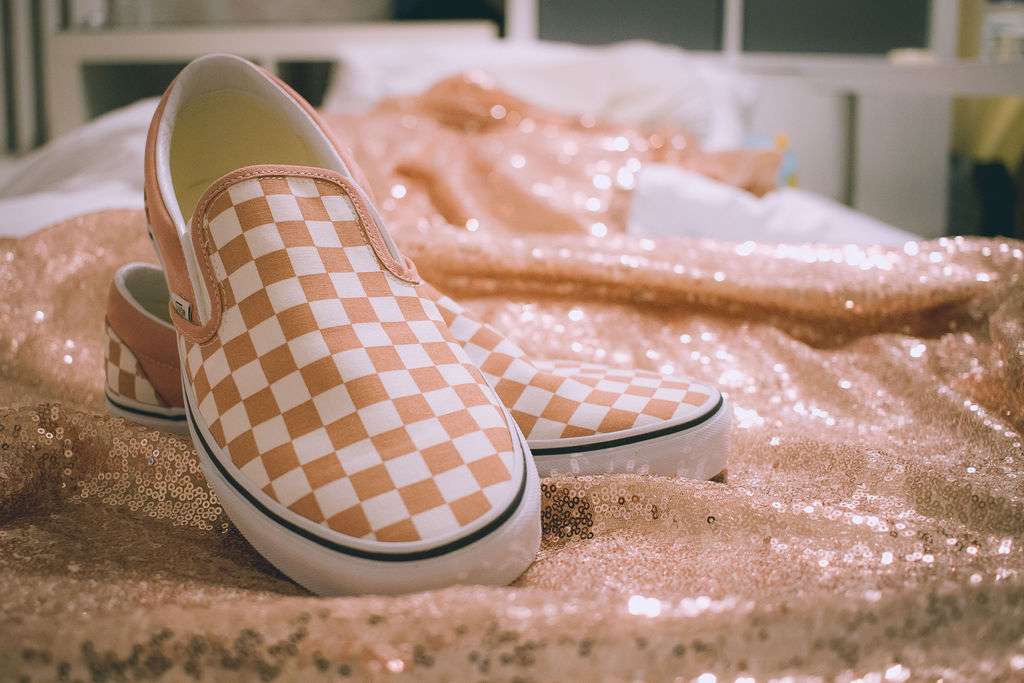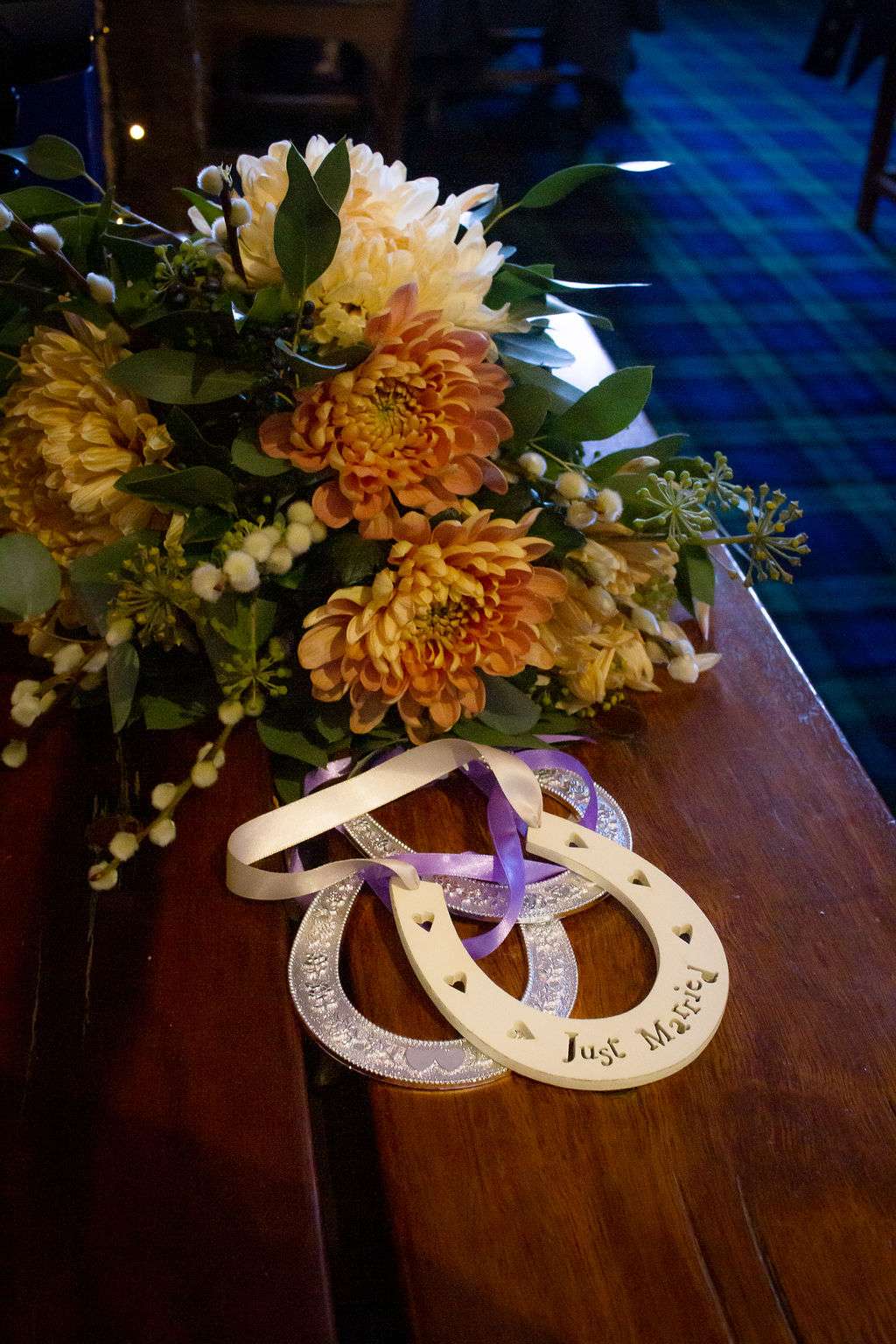 With this in mind, they kept things very loose in terms of themes and expectations; it was more a case of doing what they could, with their immediate families, within the restrictions. The only thing they did know was that they didn't want anything too formal, so this naturally inspired a lot of their decisions.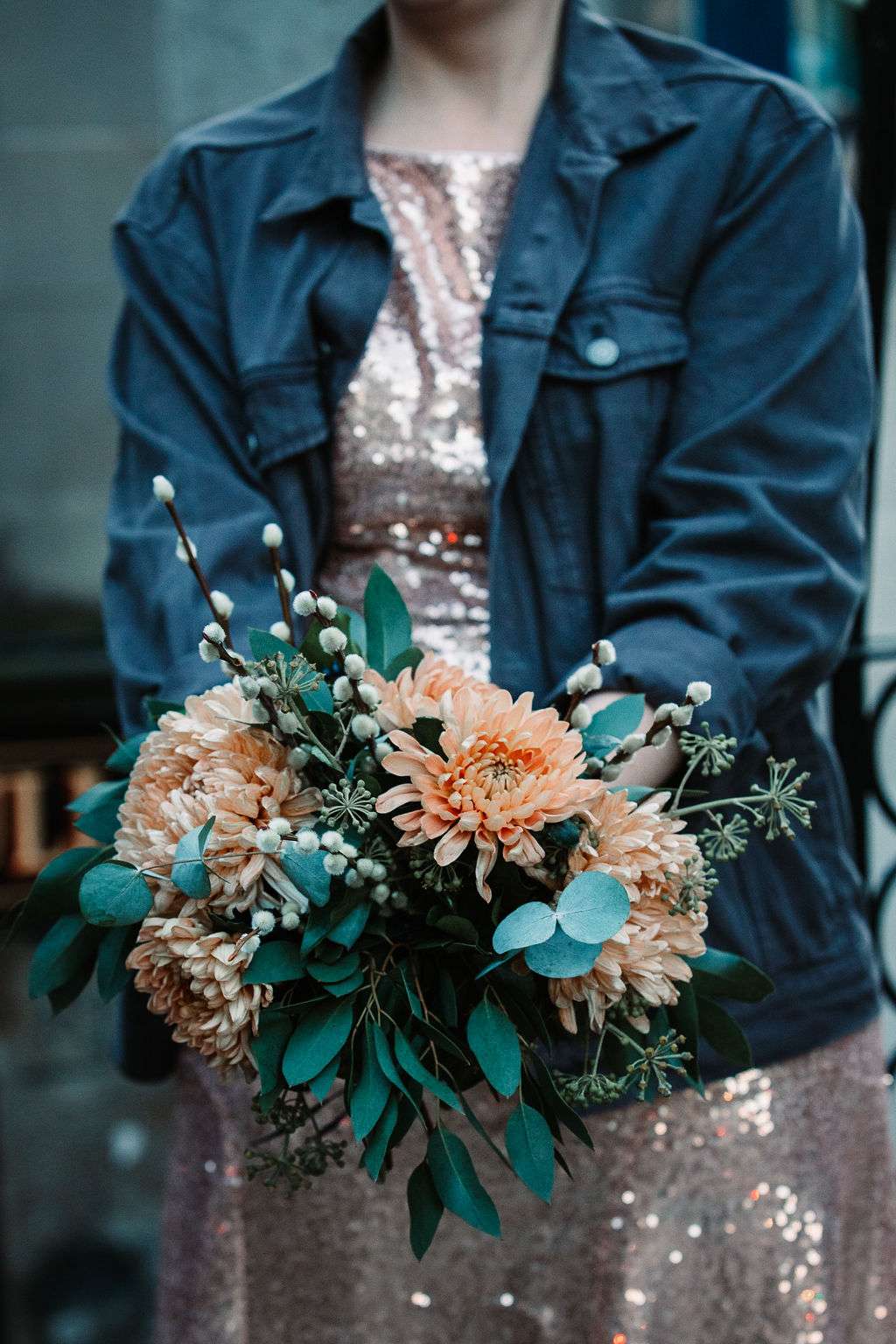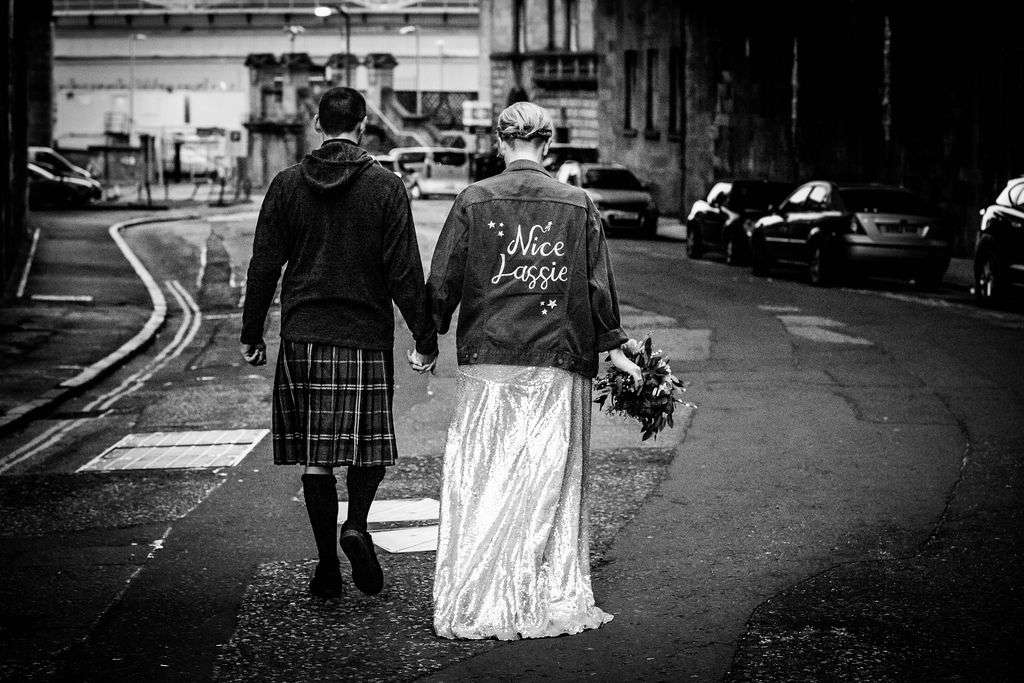 They chose South Queensferry register office for their ceremony, as Amy and her Dad had abseiled the Rail Bridge there in memory of her grandparents, so it was a way to bring them into the day. They had an after-ceremony meal at The Railbridge Bistro in lieu of a formal wedding reception, as per the restrictions at the time.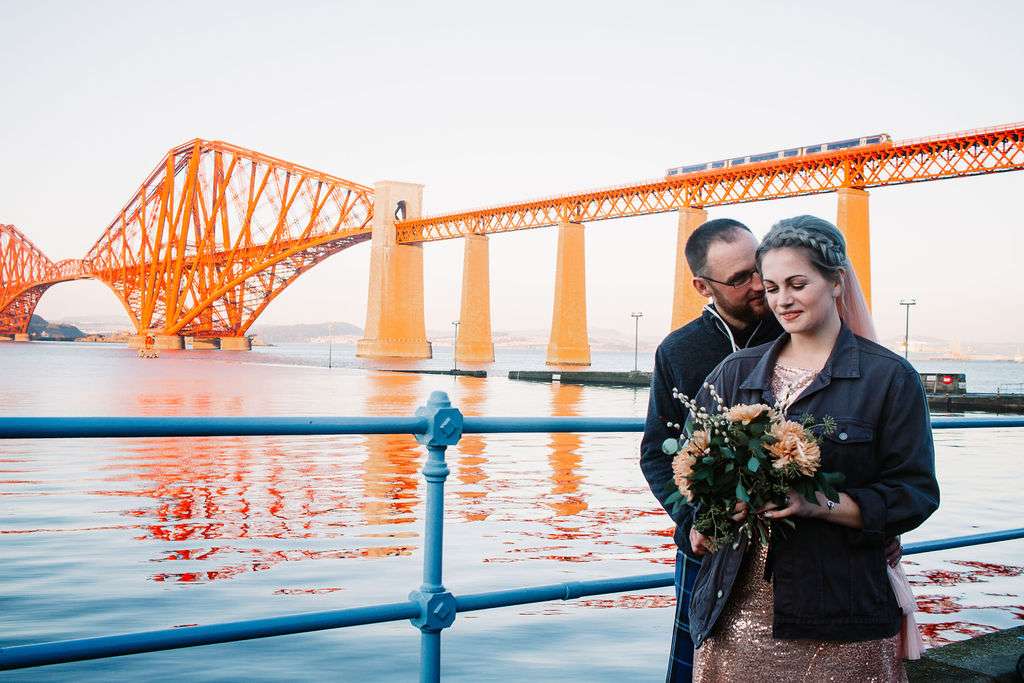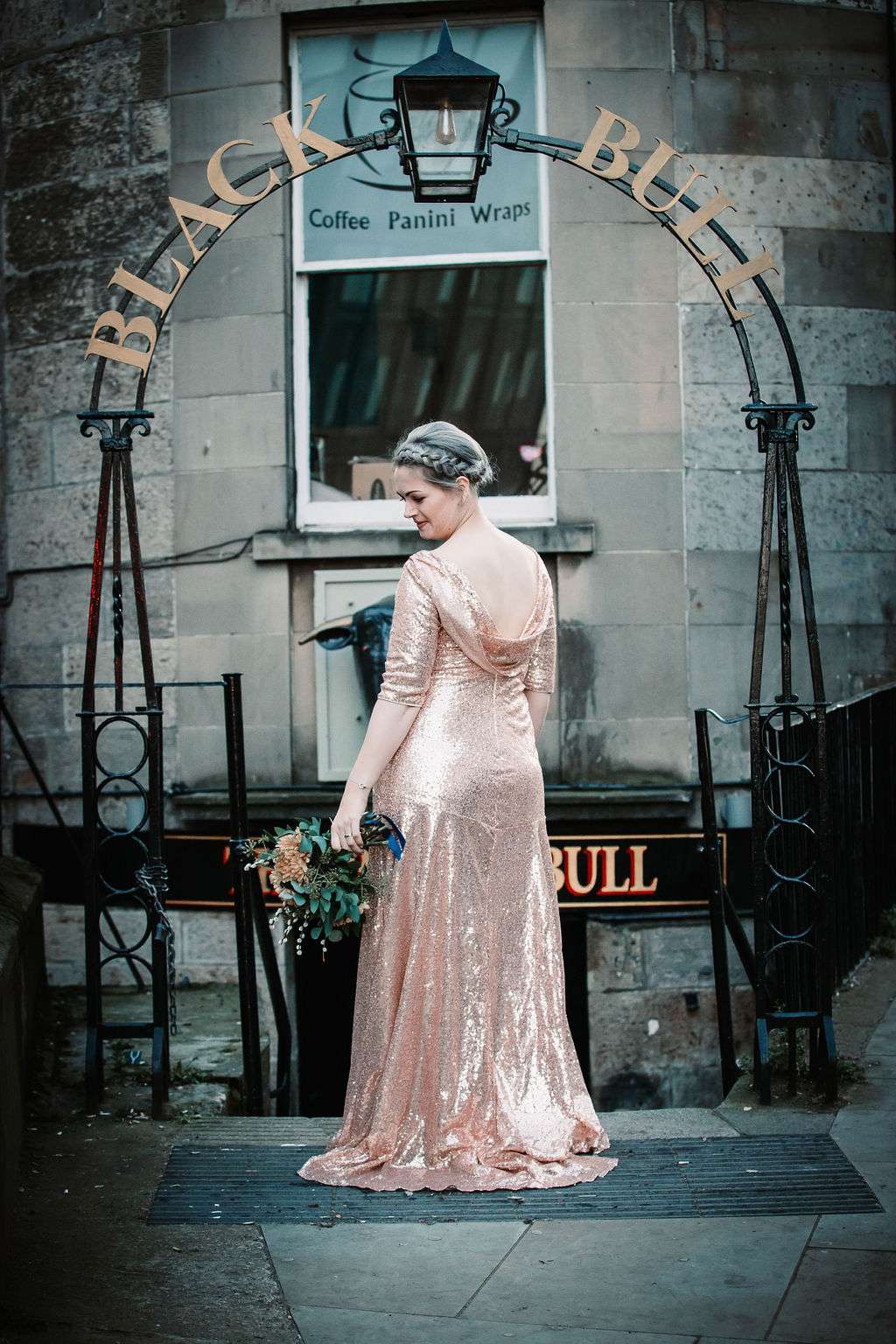 Amy wore a sequin rose gold dress by Renz Bridal, actually from the bridesmaid range but with added sleeves and a train to make it the dress of her dreams! She paired with her signature checkerboard Vans, a veil made by her mum and heirloom jewellery.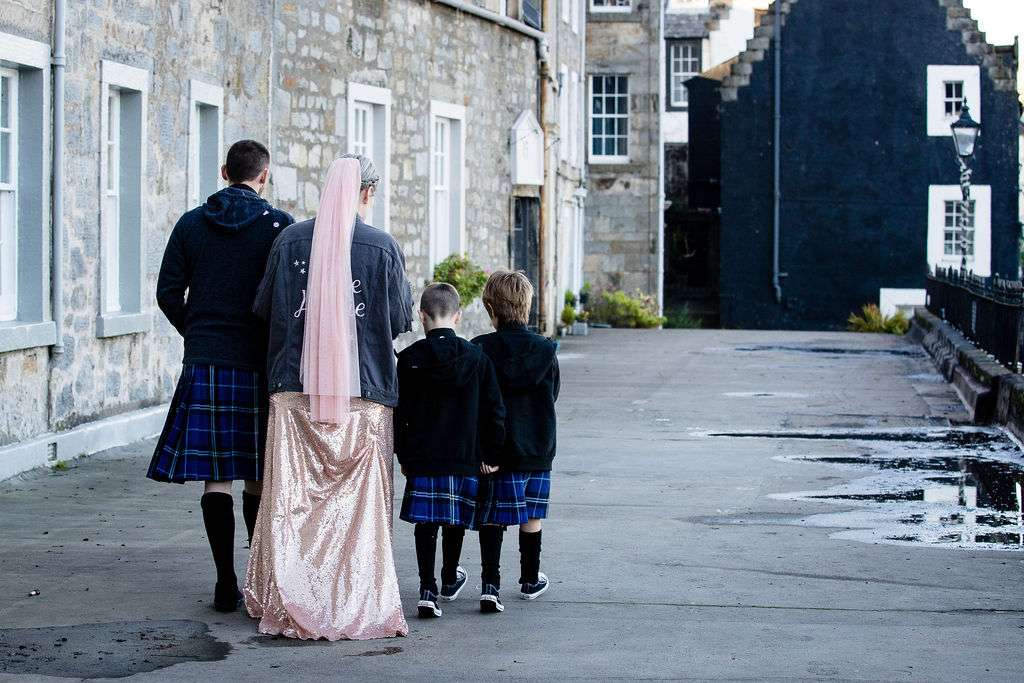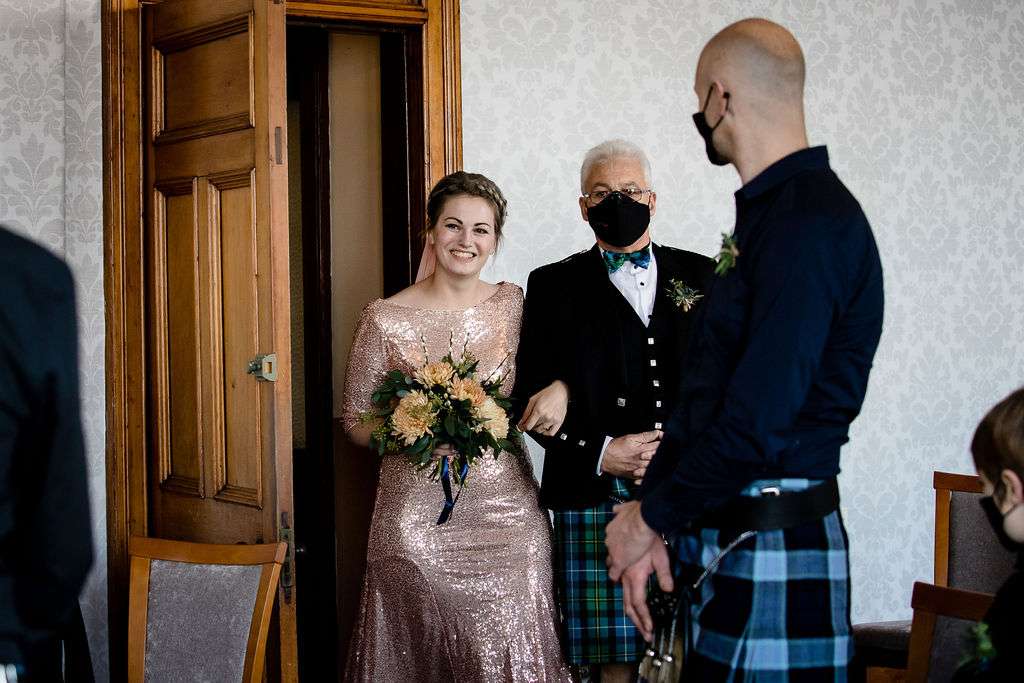 Amy's mum also made their cake, and Catkins Flowers created bouquets and buttonholes from chrysanthemums and pussy willows. Aside from some Christmas decorations at the restaurant, they needed little else in the way of decor. "We had planned to DIY everything for our reception but we held off starting, to see what the likelihood of a reception going ahead would actually be. Unfortunately the reception couldn't go ahead – the only thing we had started was some bunting, which we now have hundreds of metres of!"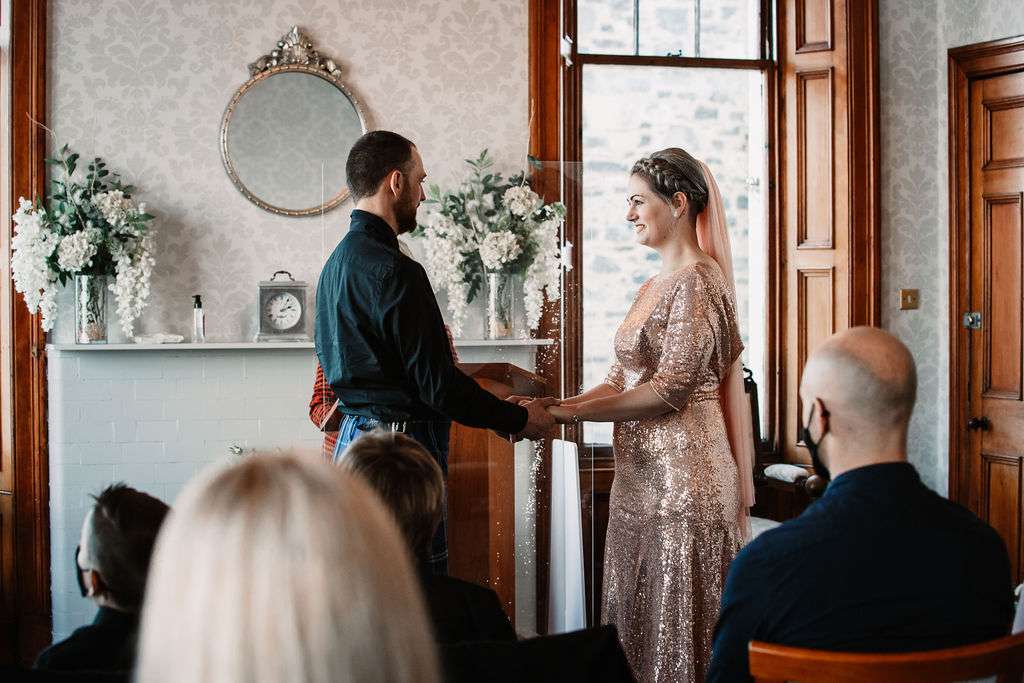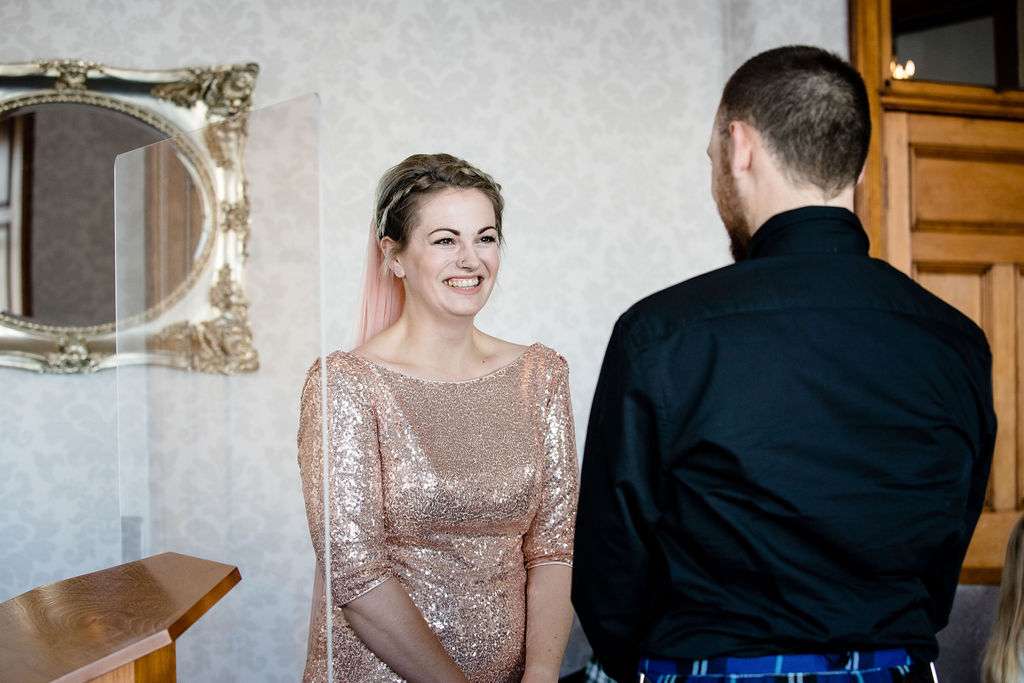 A big concern for the couple was how their ceremony would be with everyone wearing masks, but in reality, they didn't really notice; their focus was just on each other and trying not to laugh! "We couldn't stop giggling. My little sister did a reading of the lyrics from Saviour by Picture This, which is basically our story so that was quite emotional. My youngest son was going to do a reading of Dr Seuss We're All a Little Weird but decided on the day he was too shy. Instead my sons contributed by losing the rings right before the ceremony started! Thankfully they were found just as quickly as they were lost but both our Mums were prized and ready to offer up their rings as a temporary solution."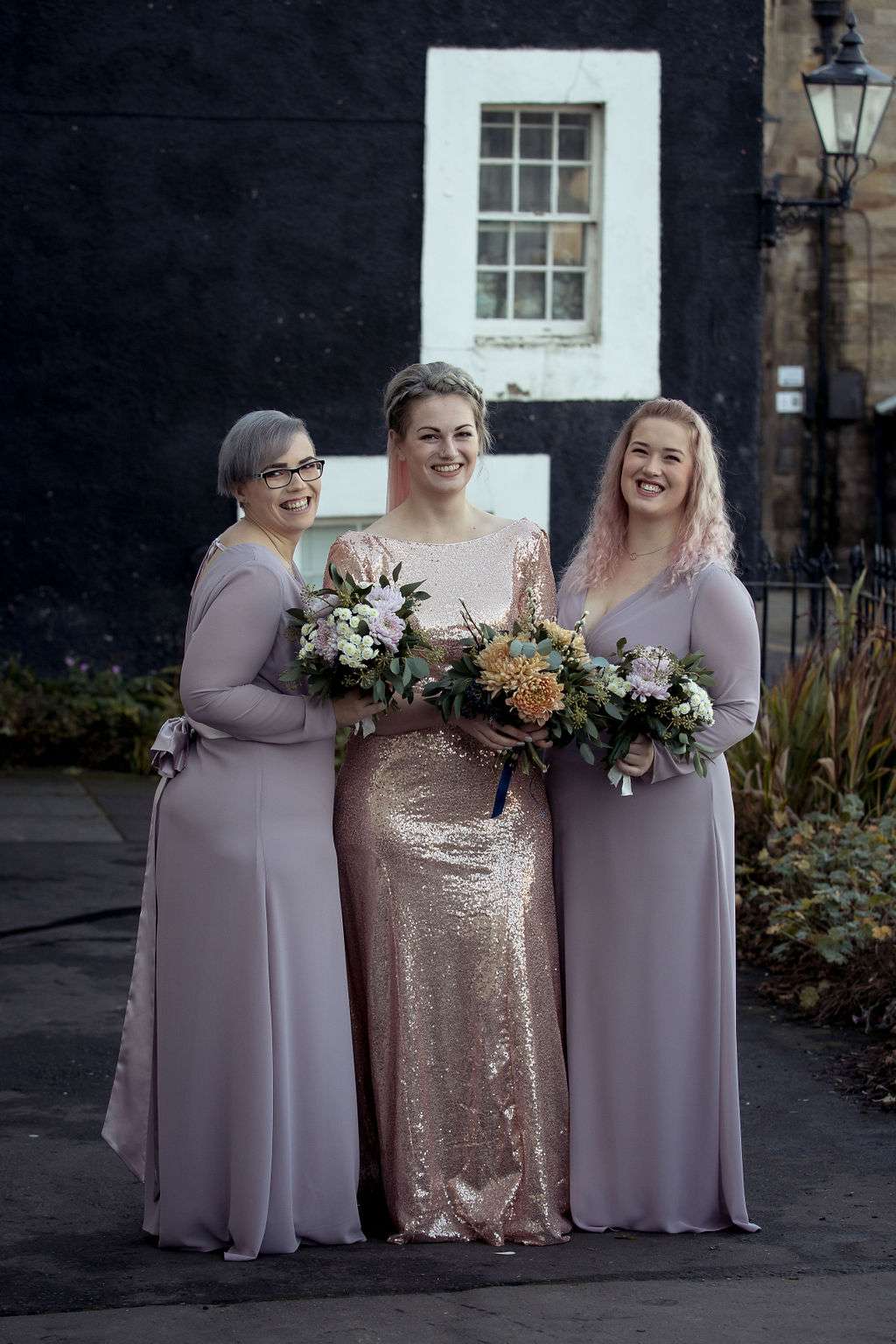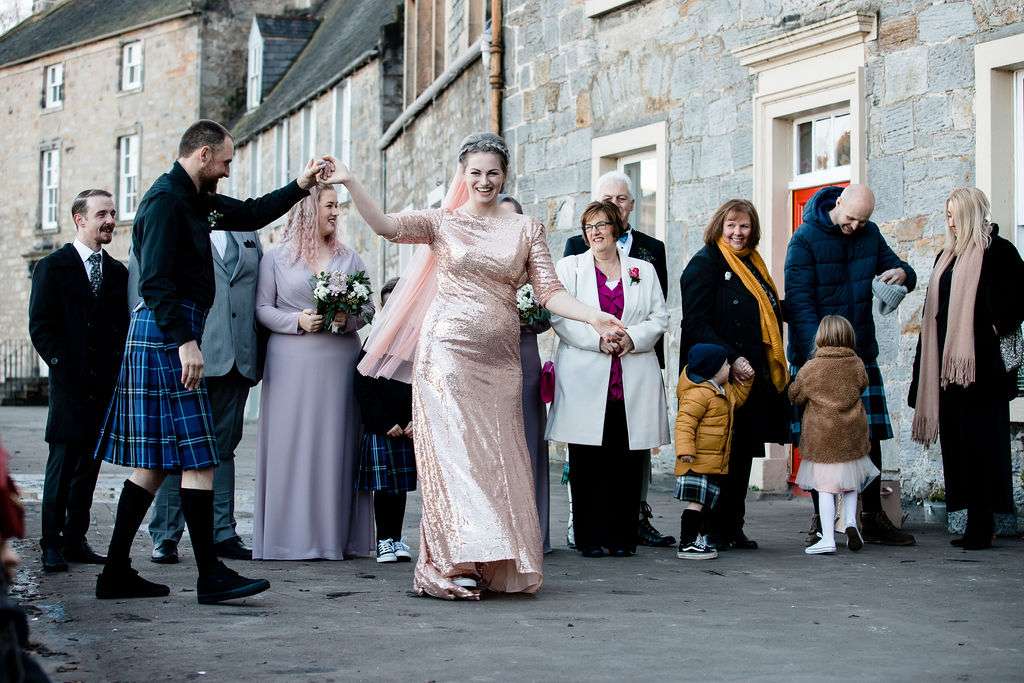 Their favourite part of the day was having their first dance in the street. "With music being so important to us, we knew we had to have a first dance," Amy continued. "We had the song Pistol by Dustin Kensrue chosen, as Craig had said 14 years ago if we ever got married it was the song he'd wanted. When our reception was no longer possible we were left with few options and decided to just do it right there in the street!"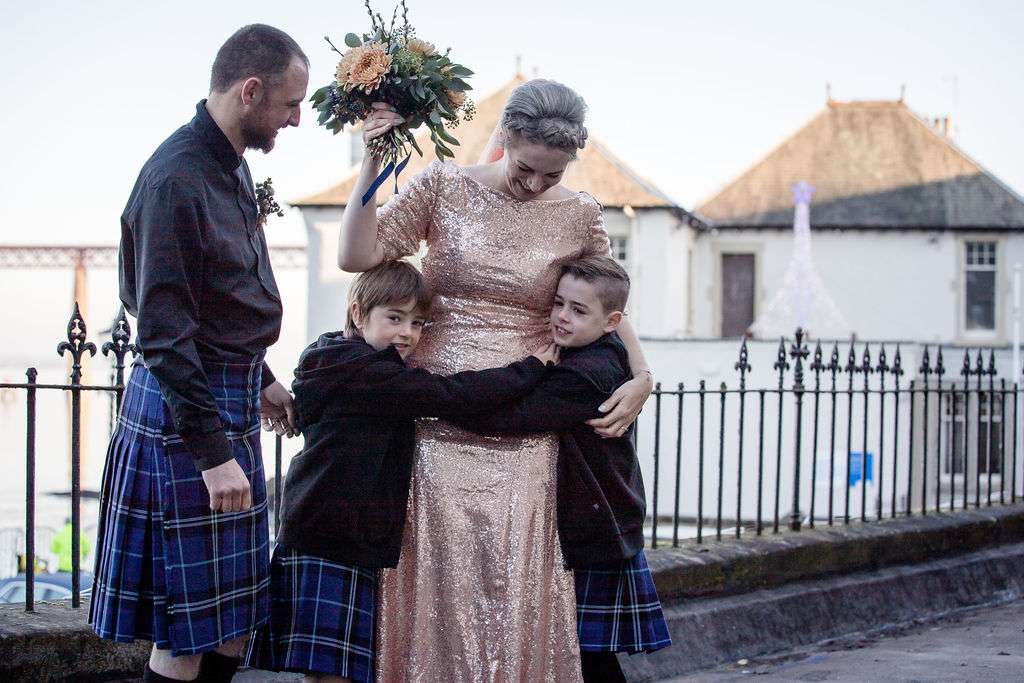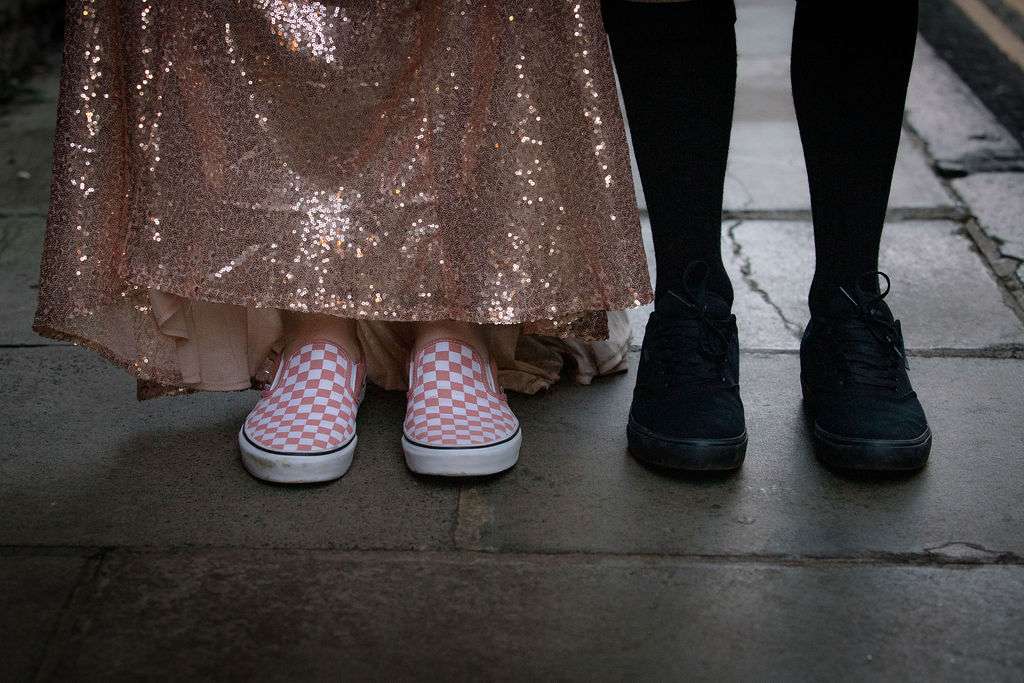 "We agreed right at the start that we would do things our way. For the most part our family were very supportive, knowing how stubborn we both are, so although they might have not necessarily agreed or understood some of the things we wanted and decided on, they knew we were doing what was right for us. And any signs of people trying to sway us were shut down unanimously by both/either of us. If you are unsure about going for a smaller wedding, go for it! We didn't have to stress about pleasing people, or making sure we'd spoken to everyone. Plus there was no grudgingly paying for people you don't really see or would especially like to attend either."