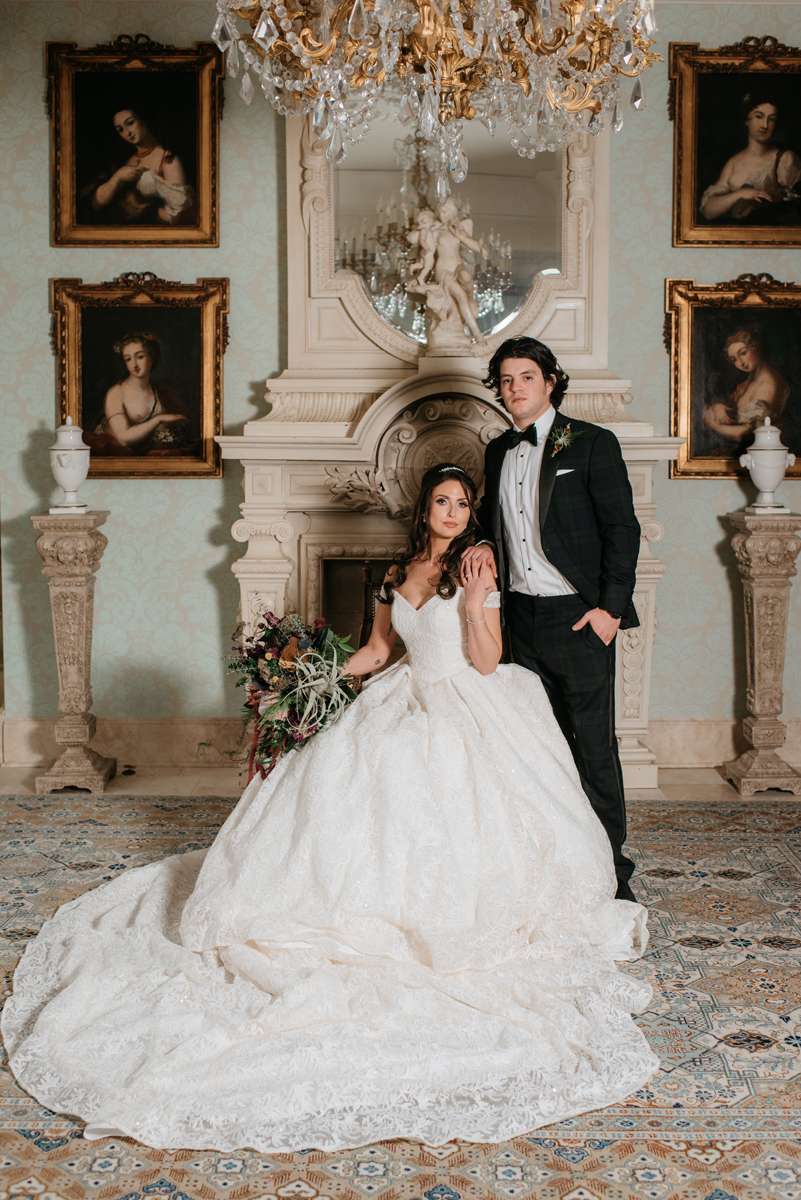 They wanted their wedding to feel like a dark and regal version of Marie Antoinette meets Alice in Wonderland so when Sabrina and Andres began planning their January 2020 wedding, they knew the details of the day would really matter. The bride in particular painstaking planned every element of the day, even going so far as considering the texture of certain elements and having a signature scent.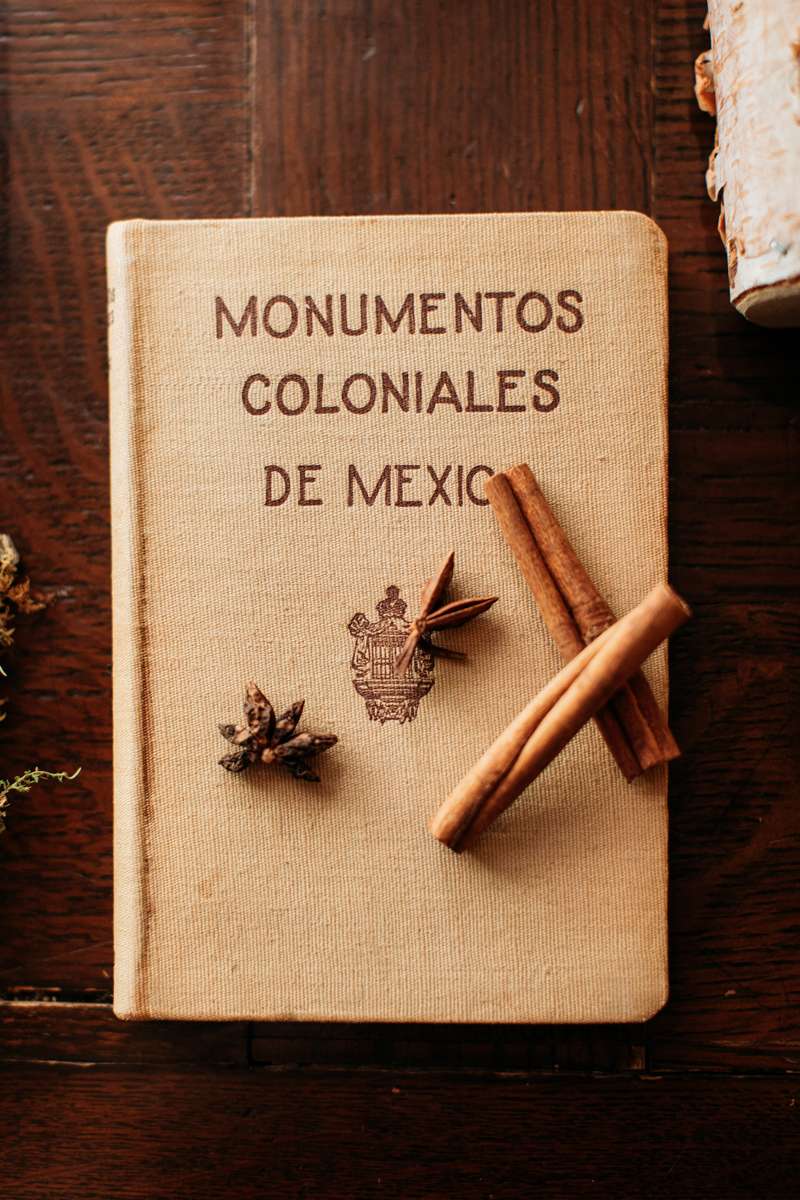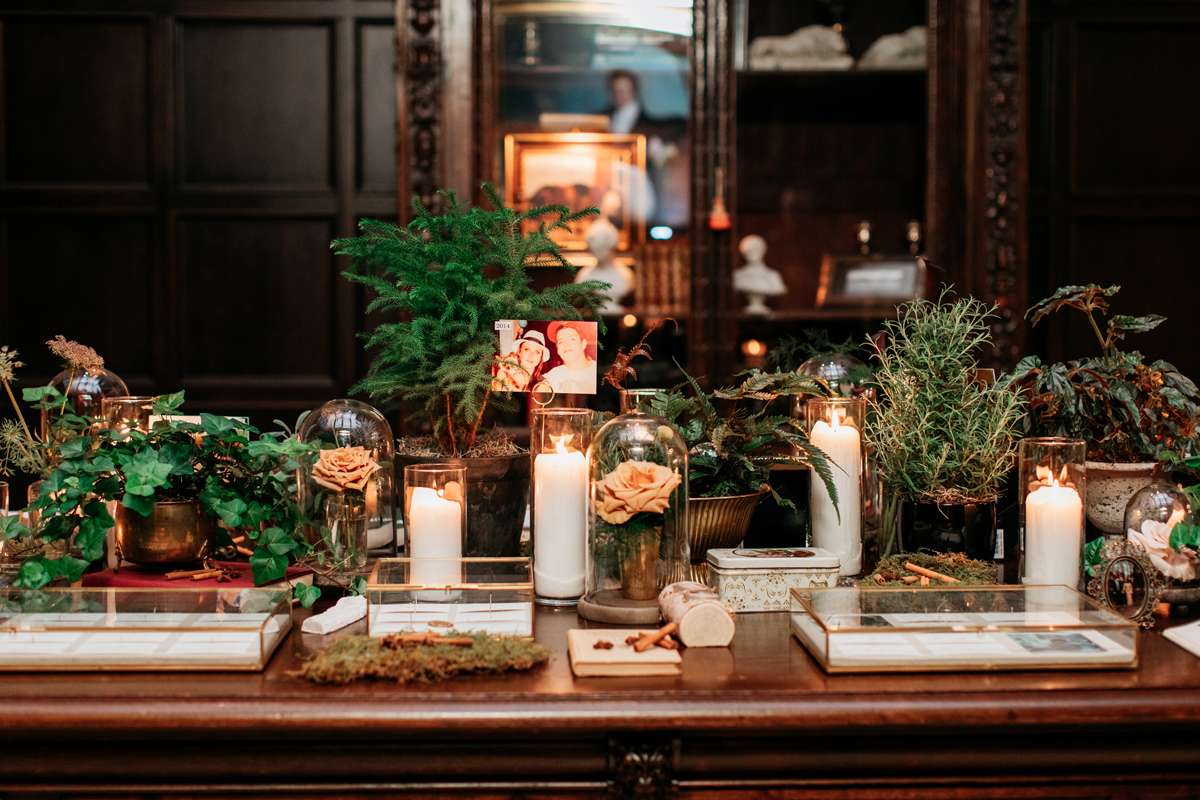 "We included so many gorgeous and specific details that told the story of our love", began the bride. "We put so much thought into every single detail. The flowers and invitations were our favourite parts (and seeing the whole thing come together so perfectly, exactly how we imagined, scents of cinnamon and all!)"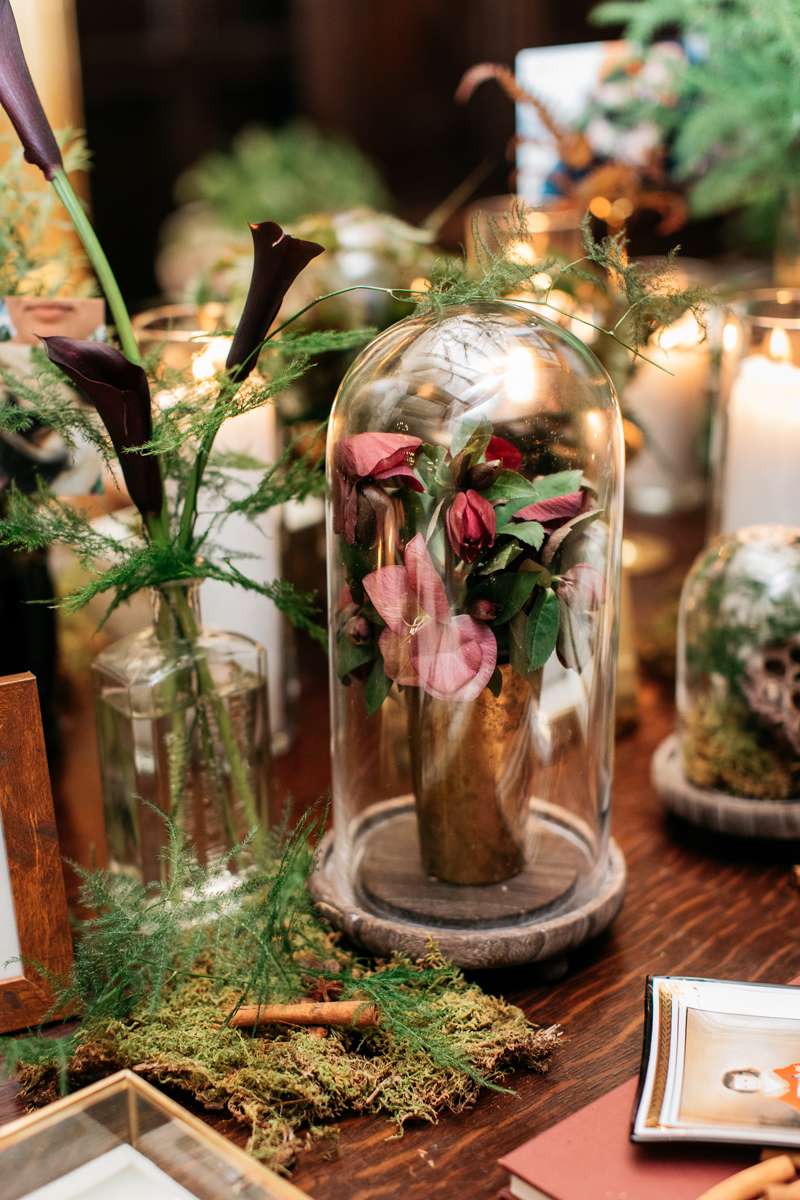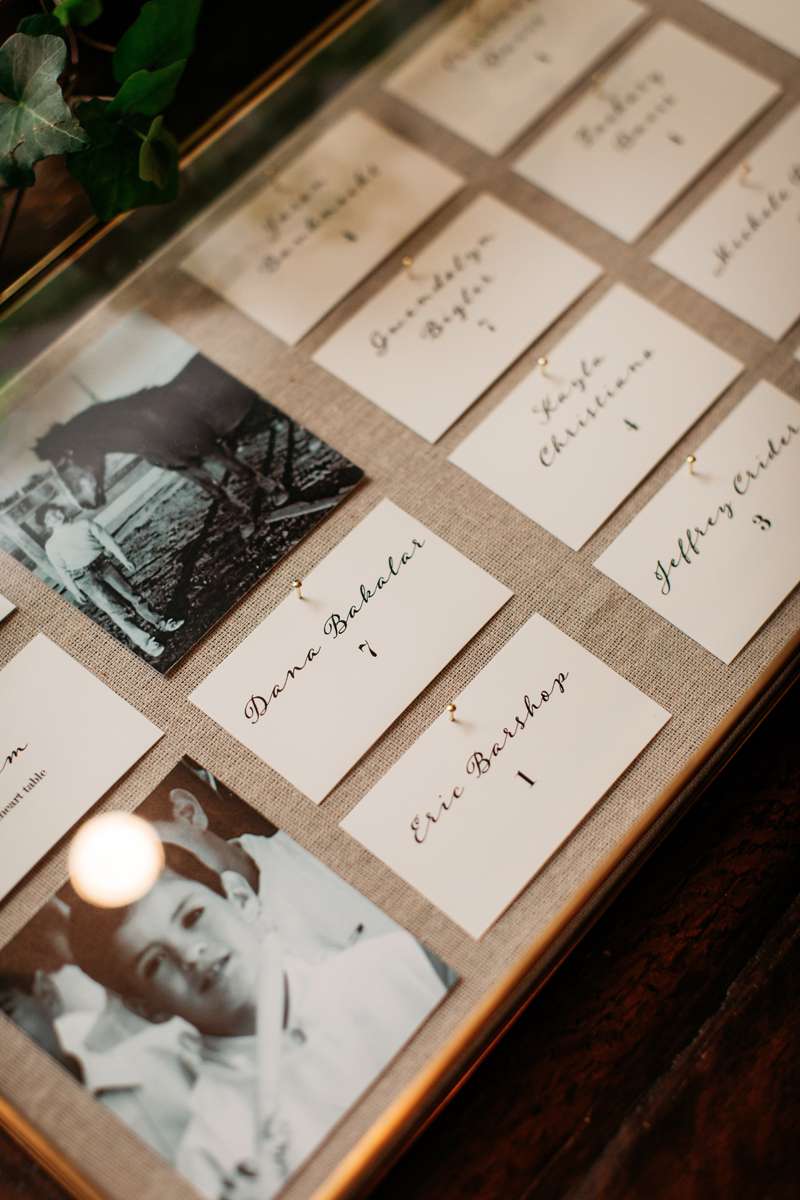 Another big consideration for them was to have the day be as eco-friendly as possible. "Given our theme of sustainability, there was no use of plastic during the wedding weekend. Most items for the seating assignment display were from items that we already owned or purchased at antique / thrift shops to reduce the waste. We mixed in many personal items such as photos of us as children, old books that were important to us or have important themes and our family crests. We also ensured that numerous components of the flower arrangements were potted plants that we reused after the event. All flowers were hand delivered to local nursing homes afterwards and remaining potted plants were gifted to loved ones."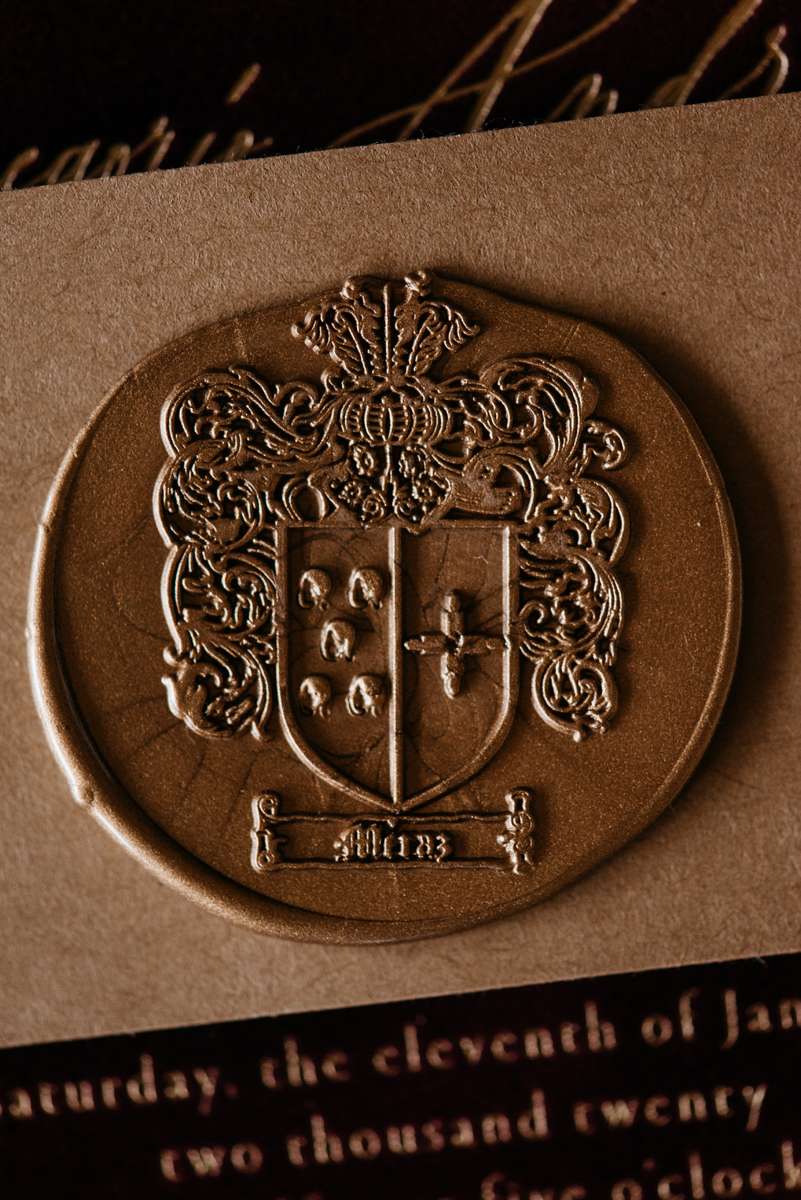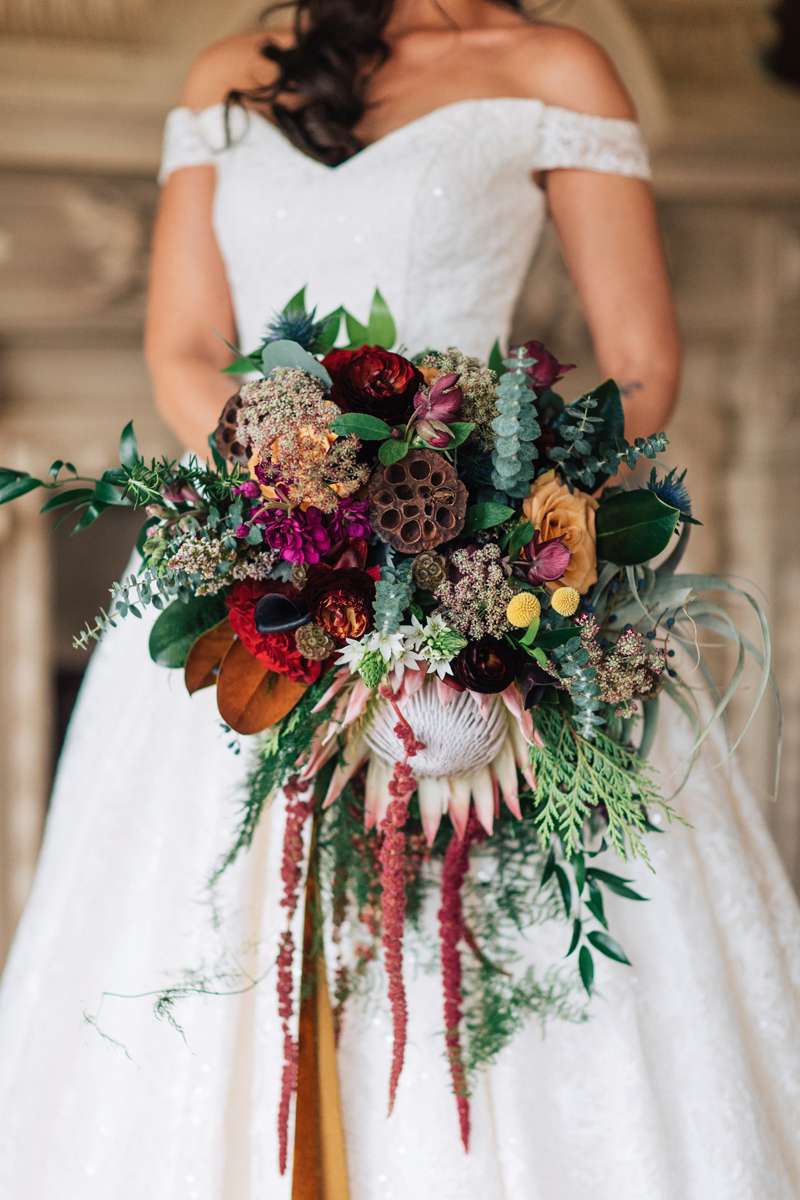 As well as the sight and sounds at the event, what the day smelt and felt like was a big consideration for this couple, too. Their signature wedding scent was cinnamon which was found in the candles and even their eco-friendly invitations were cinnamon scented! "We evoked the sense of touch by adding velvet linens, textured carnival glass at the table settings and extremely textured flowers including thistle, lotus pods, berries, evergreens, magnolias and king protea", Sabrina explained.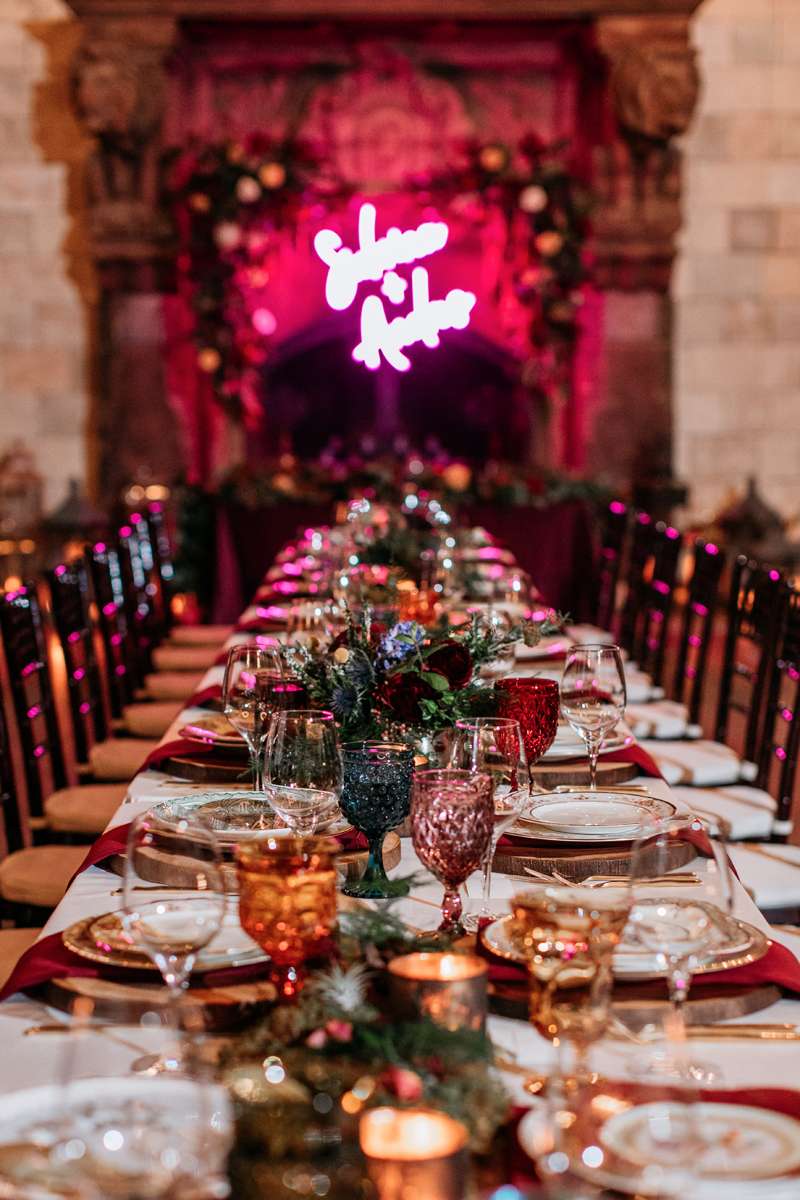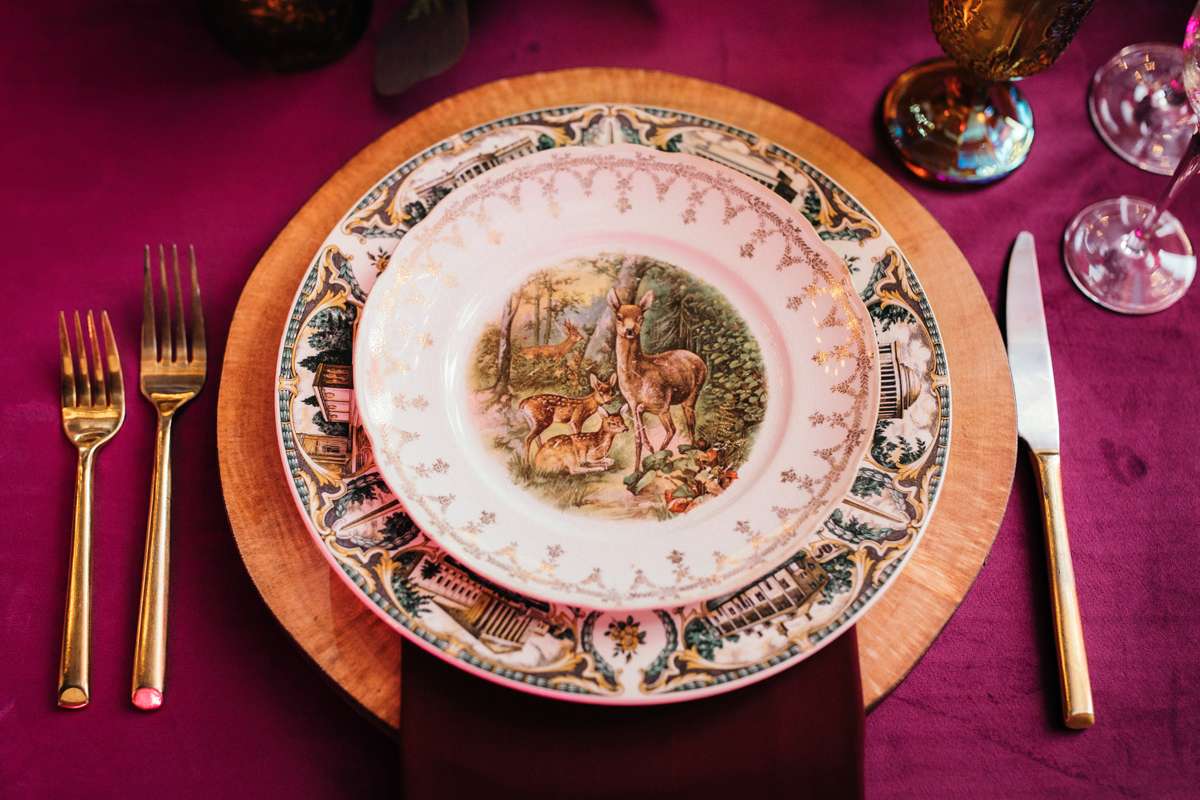 The ceremony itself took place in a large ballroom with vaulted ceilings, wooden floors and floor to ceiling red velvet curtains. The ceremony began with instrumental Bob Marley music. The couple wrote the entire ceremony themselves, "Each word spoken was the result of numerous collaborative hours between the two of us. We ended the ceremony in the only way we know how – our special handshake."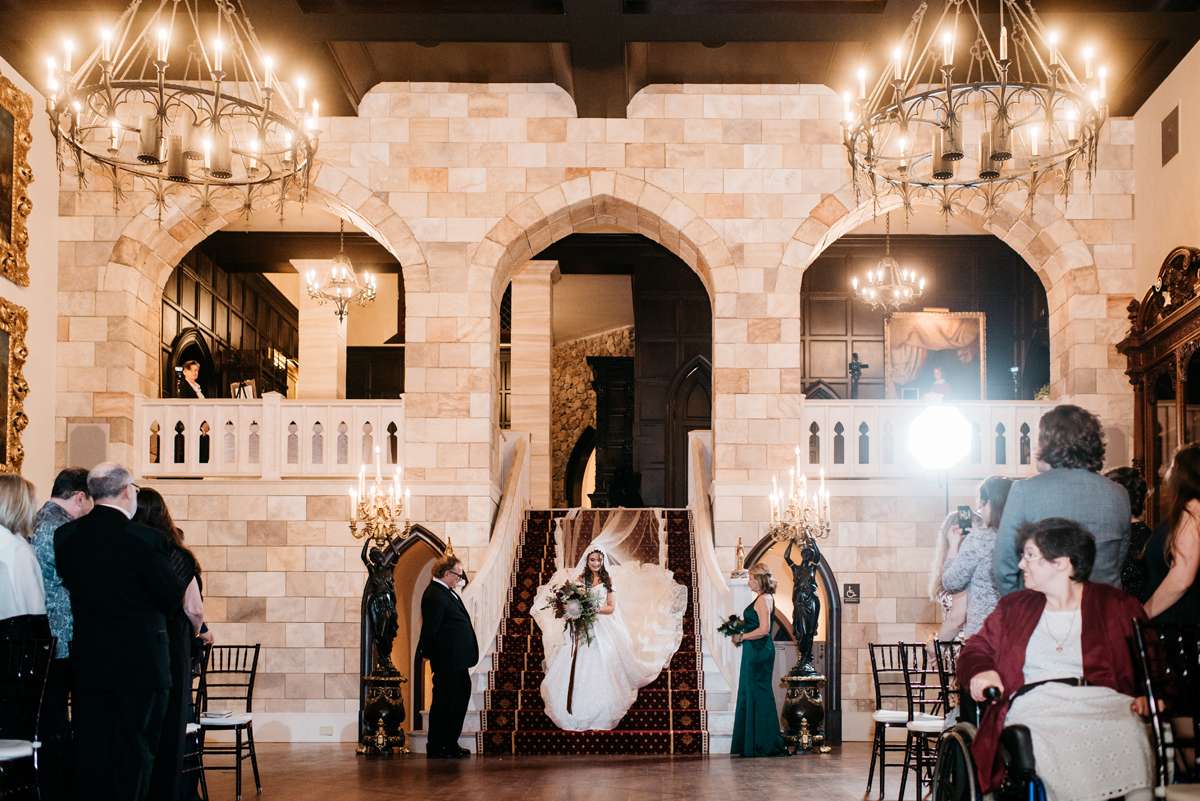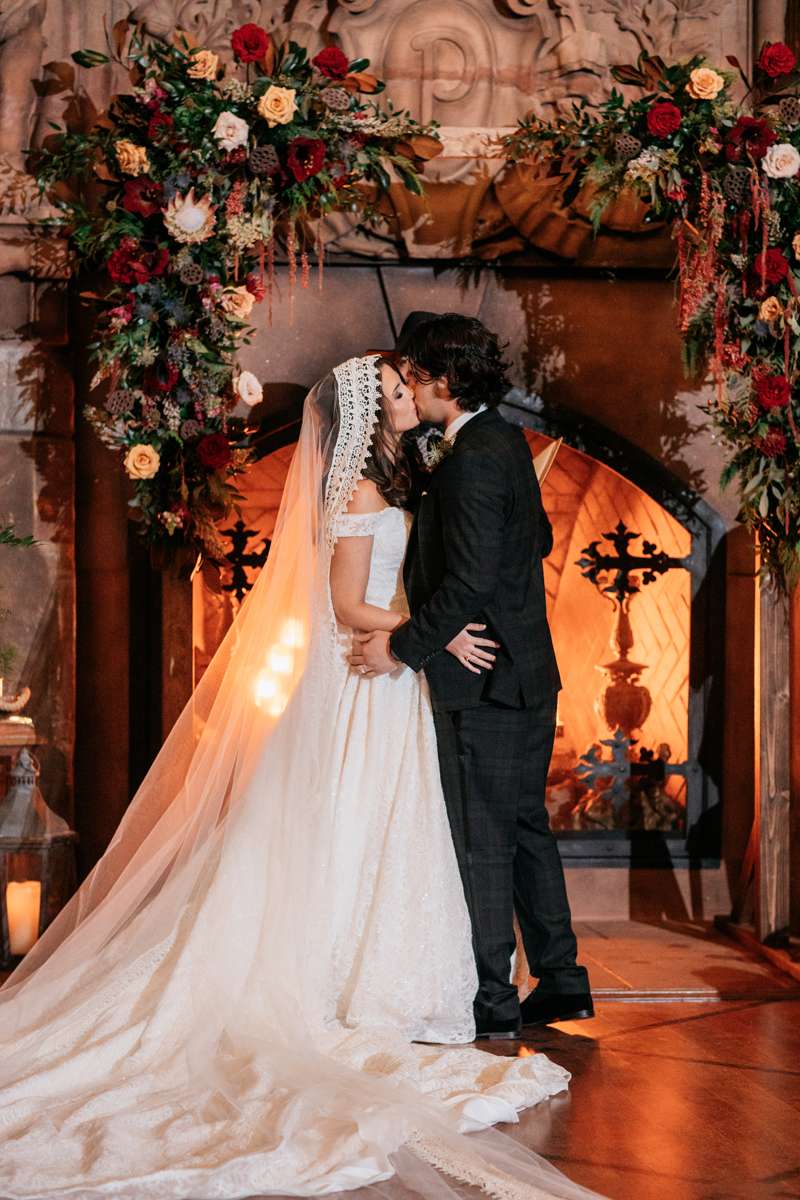 Sabrina's dress was custom made for her by Couture Bridal of Maryland and her grandmother made her very special veil. She explains, "I was very detailed about the veil I wanted. I wanted it to be a longer than cathedral length mantilla style veil to incorporate the Andres' Mexican heritage. My grandmother hand-sewed the entire thing and she was still sewing when we were getting our hair and make-up done!" Her shoes were Badgley Mischka and in the evening she changed into P448 blue glitter sneakers.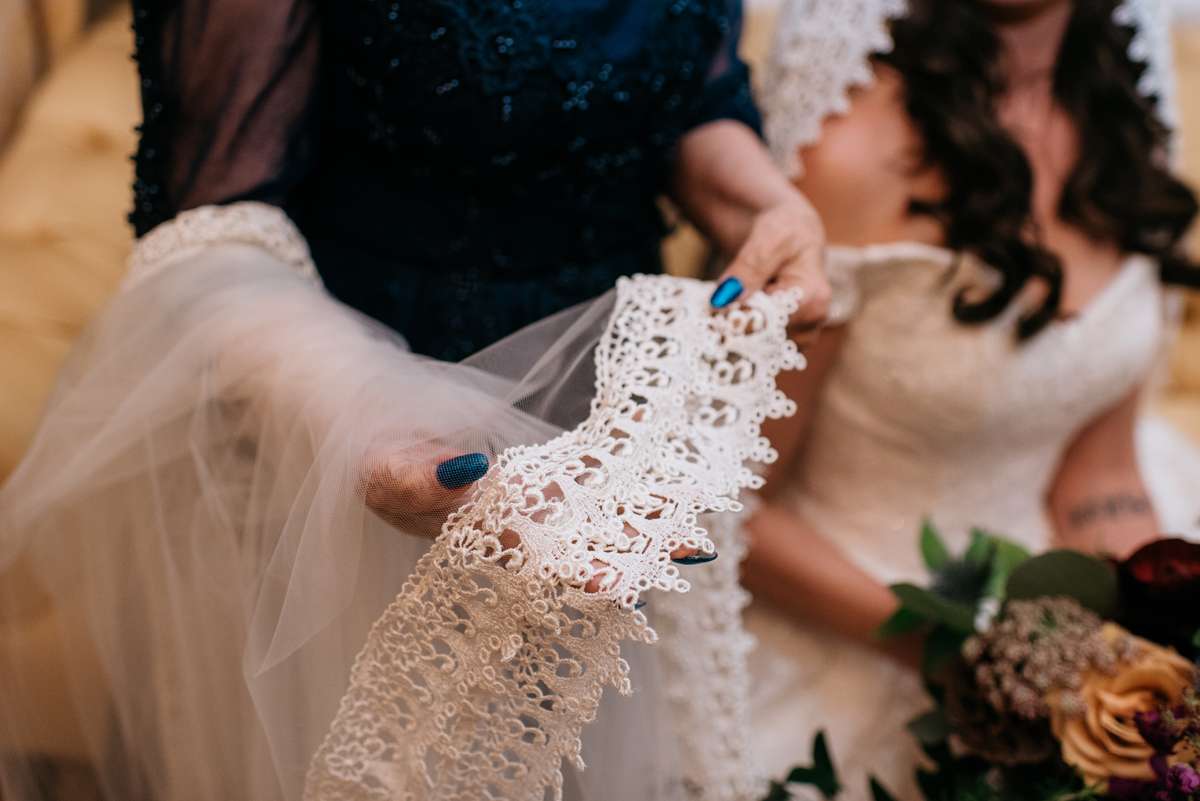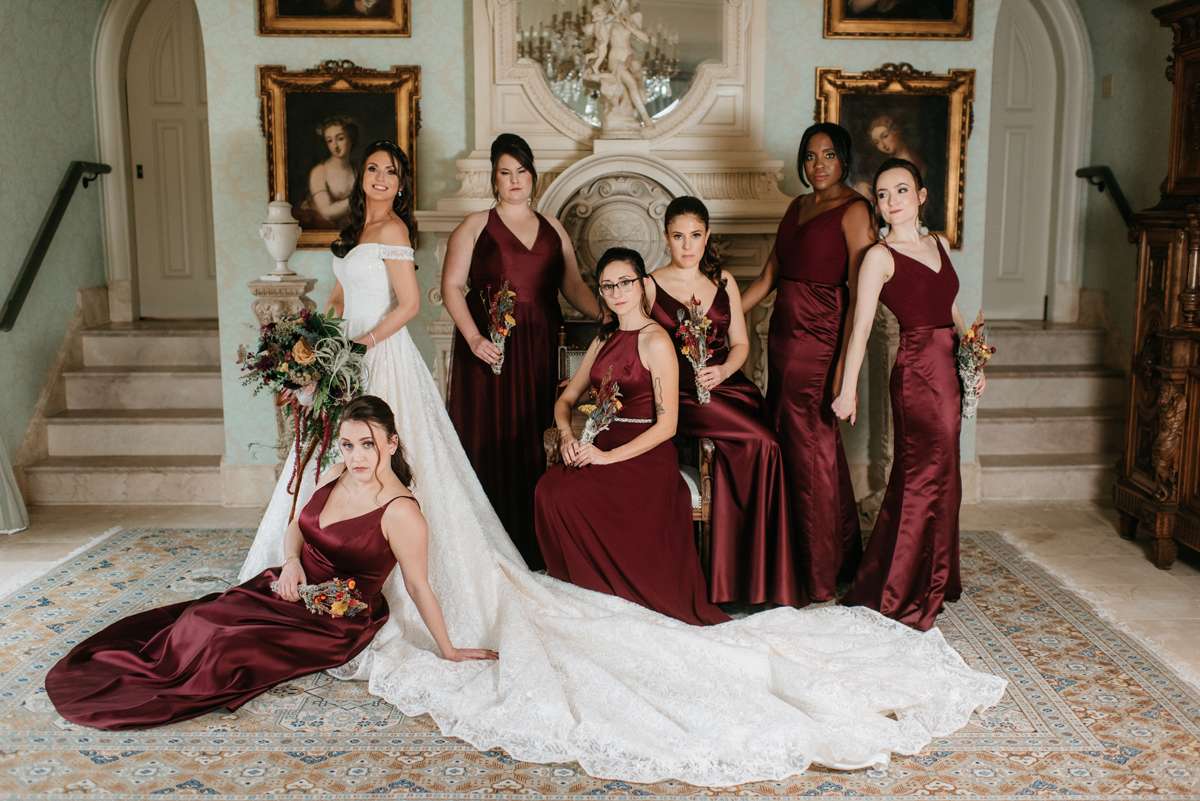 Of their $75,000 budget, their biggest single cost was their venue. Dover Hall, a English tutor style bed and breakfast meets event space decorated to the nines with gorgeous antiques, was the ideal spot. "As soon as we visited the venue we knew it was perfect – we booked it pretty quickly after, for the entire weekend!"
And finally, Sabrina's advice to other couples is to get as much help as you can! "We would definitely recommend getting a wedding planner and if you're on the fence about it, at least get a day-of coordinator. The last thing you want to be doing is stressing about wedding details like timelines and vendor contracts when it's your big day."