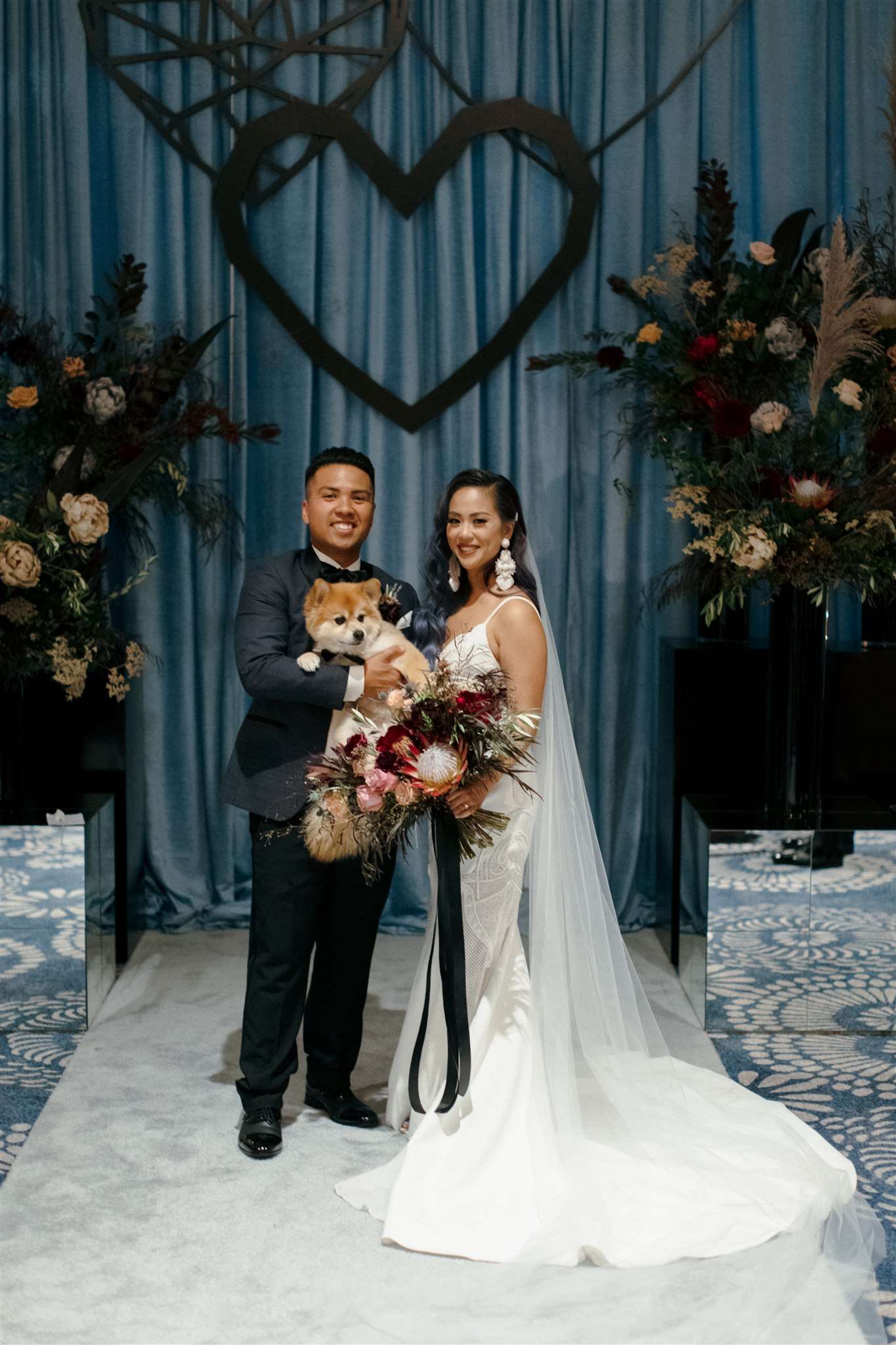 Stephanie and Rich married on their 10 year dating anniversary, to the day. As a couple, they love to be creative and tell a story – Rich's proposal included an elaborate scavenger hunt to all they significant date spots across San Francisco, with meticulously planned video clues pre-recorded and all their friends and family waiting at the final proposal spot! No pressure for their wedding, then.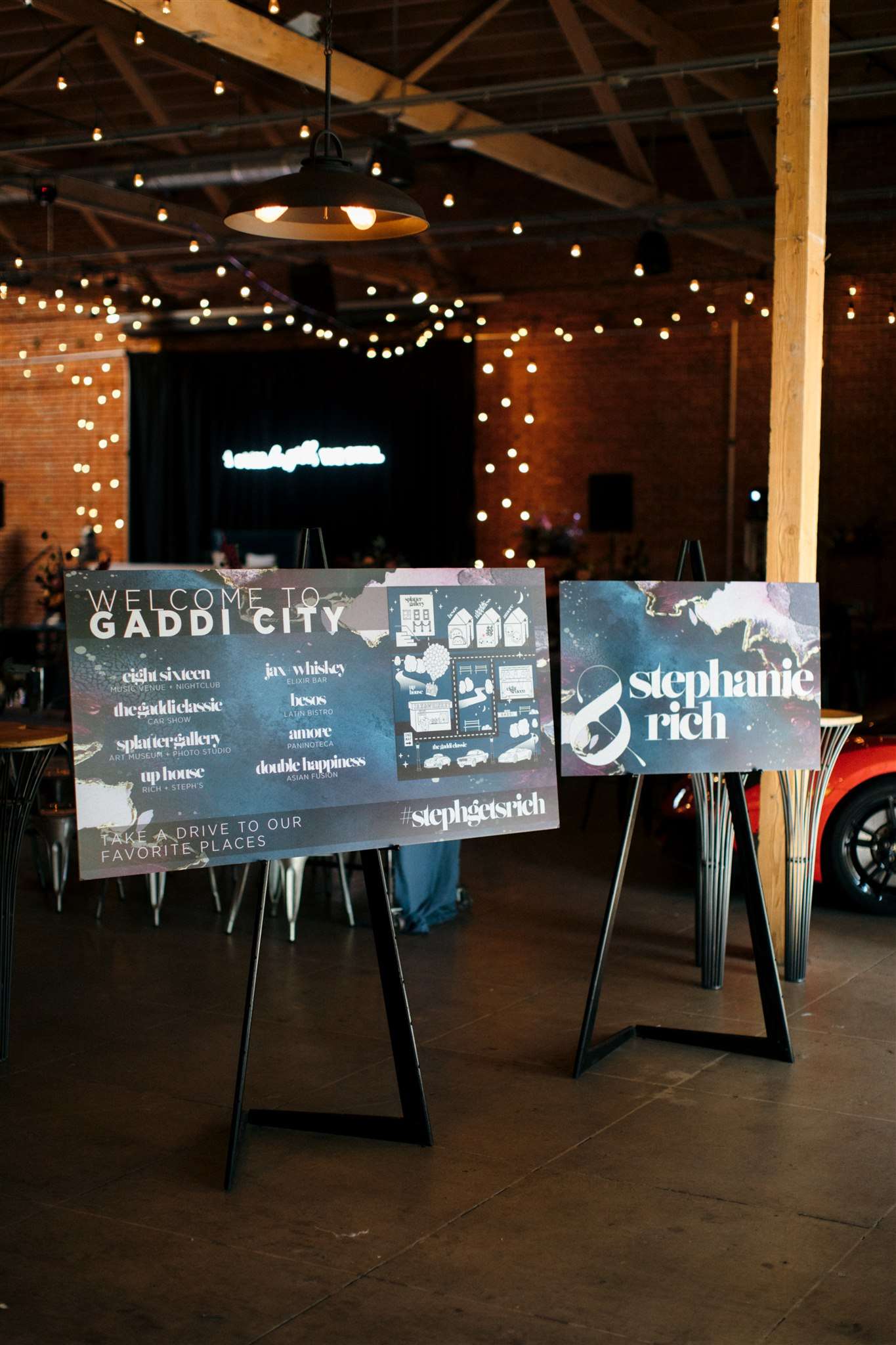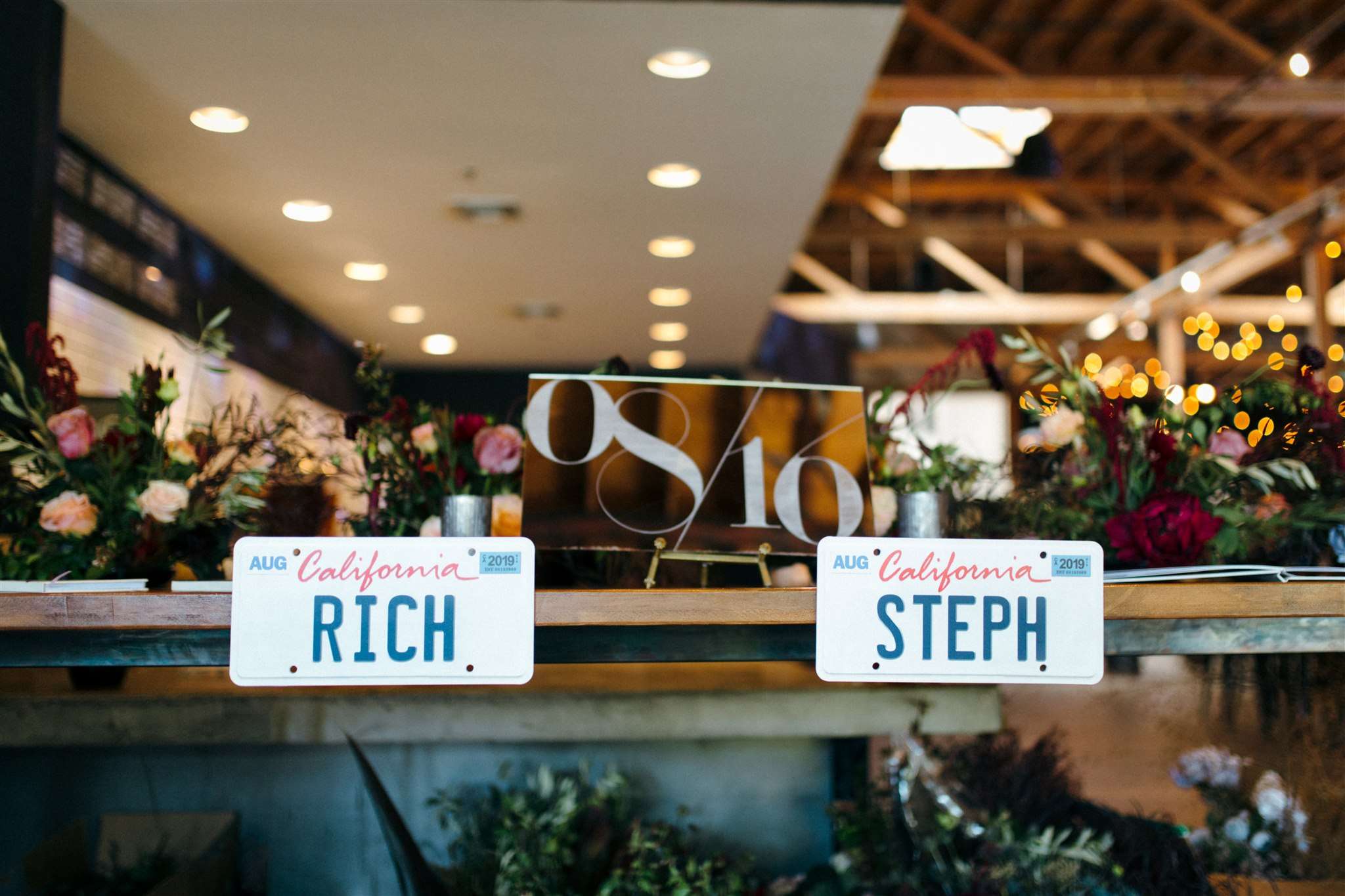 The couple came up with the concept of creating a 'city' to represent their relationship as their reception theme. The couple have deep love for their urban lives – Stephanie grew up in San Francisco and Rich works as an estate agent. They hinted towards it with house-shaped structures and city lamps as props and created 'destinations' for their guests to visit during the reception based on all their favourite past-times; a car show, an art gallery, a bar named after their dogs and 'restaurants' of their favourite foods, to name but a few.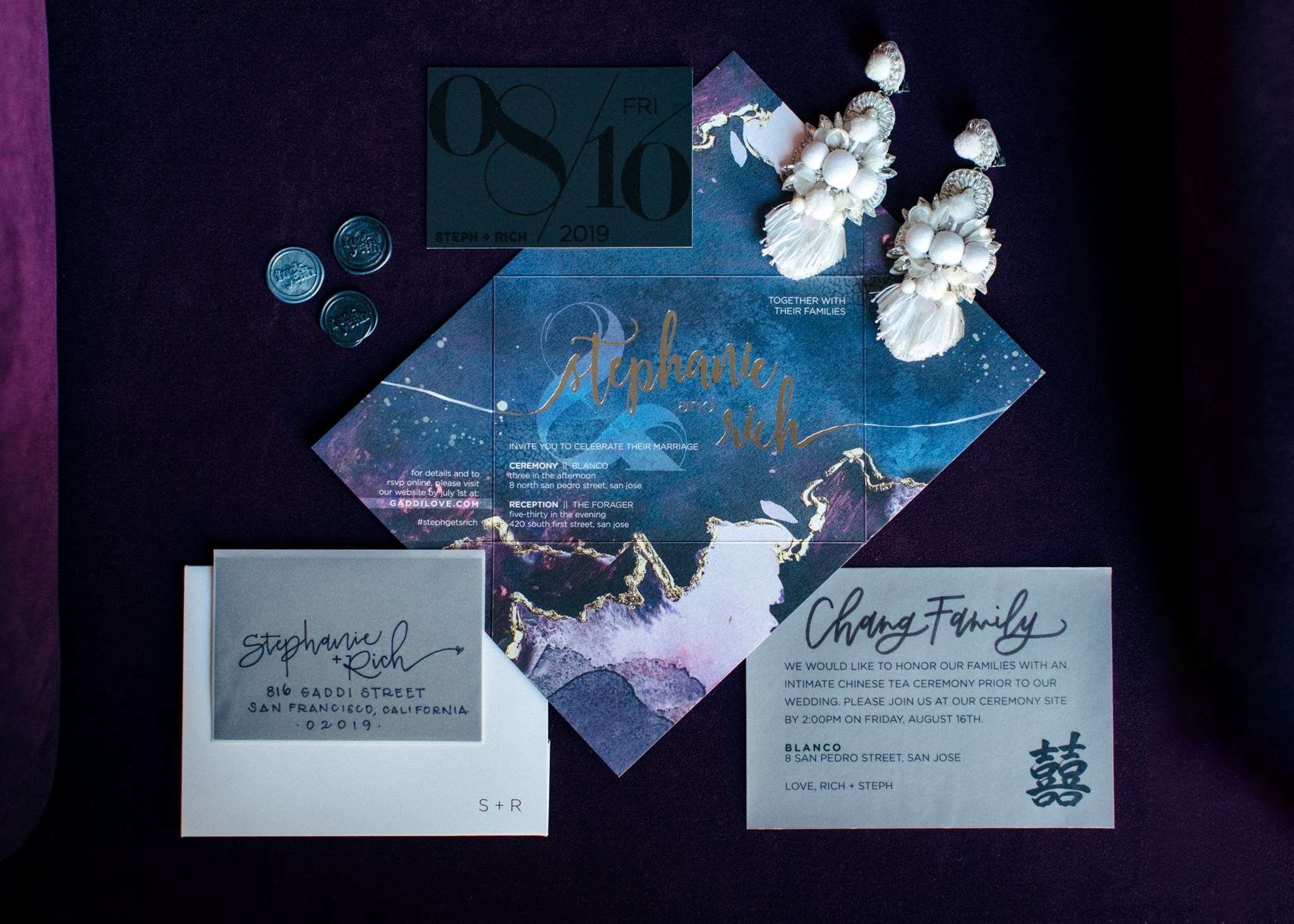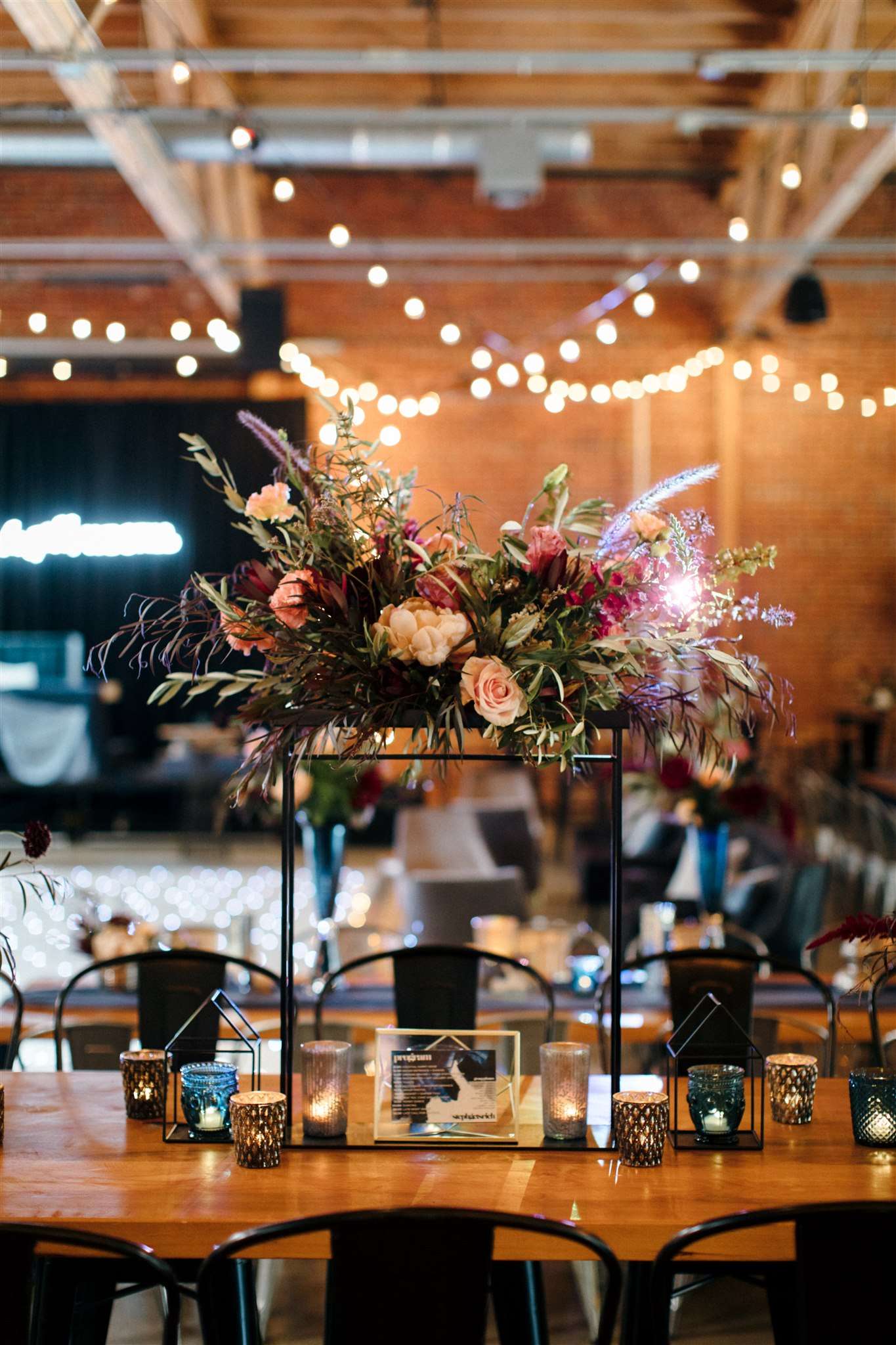 The deep and moody colour palette was Stephanie's vision. "We love black and white for its ability to be both classic and modern," she explained, "and we love the colours of the sunset fading into dusk and the midnight blues of the night sky. We wanted each piece to transition, from the save the dates being black on black with vellum envelopes, to invitations being black and white on the outside and open into the blues/ magentas/ metallics on the inside. Same with the ceremony starting as a black and white base and bringing more colour into the reception space and flowers."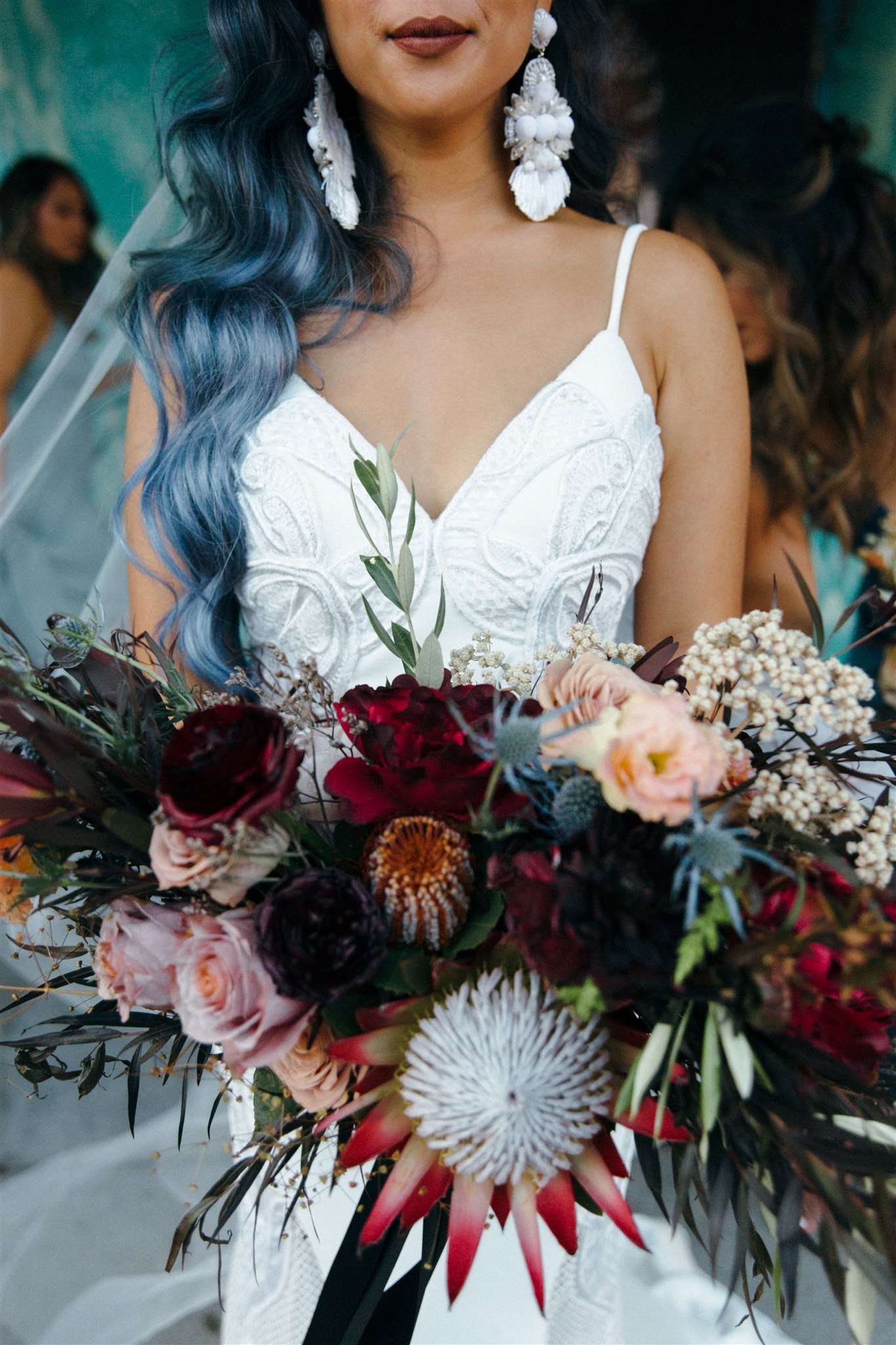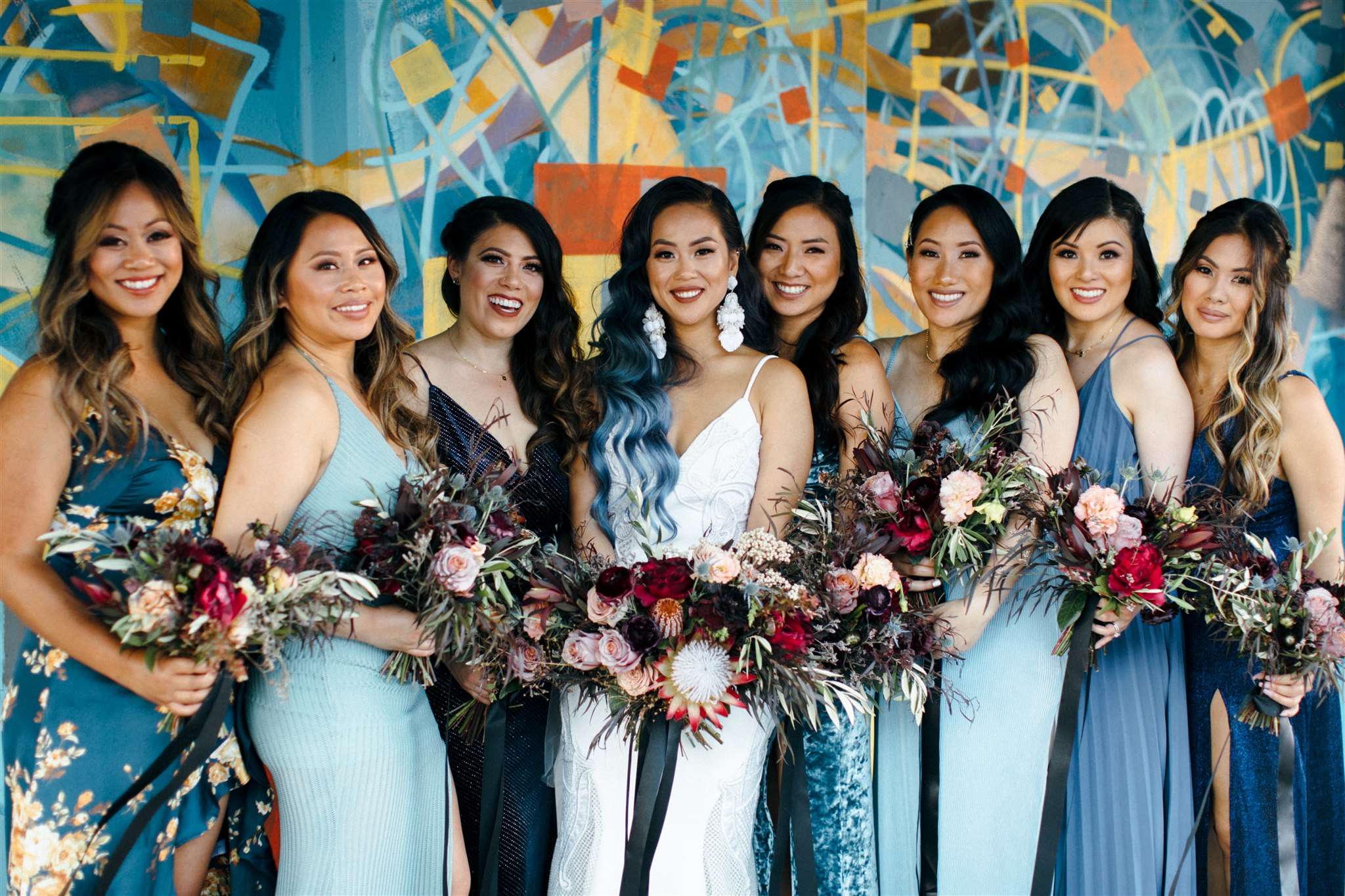 For their ceremony, the couple incorporated all three of their heritages into their western-style wedding; a Chinese tea ceremony with an intimate group prior to their main ceremony, Filipino veil, cord and coin traditions performed by their closest cousins and a Cambodian knot tying ceremony, performed by their bridal party. Stephanie loved the vintage style of all the qipaos featured in In the Mood for Love, so she actually recreated the print and had it printed and made into her cheongsam.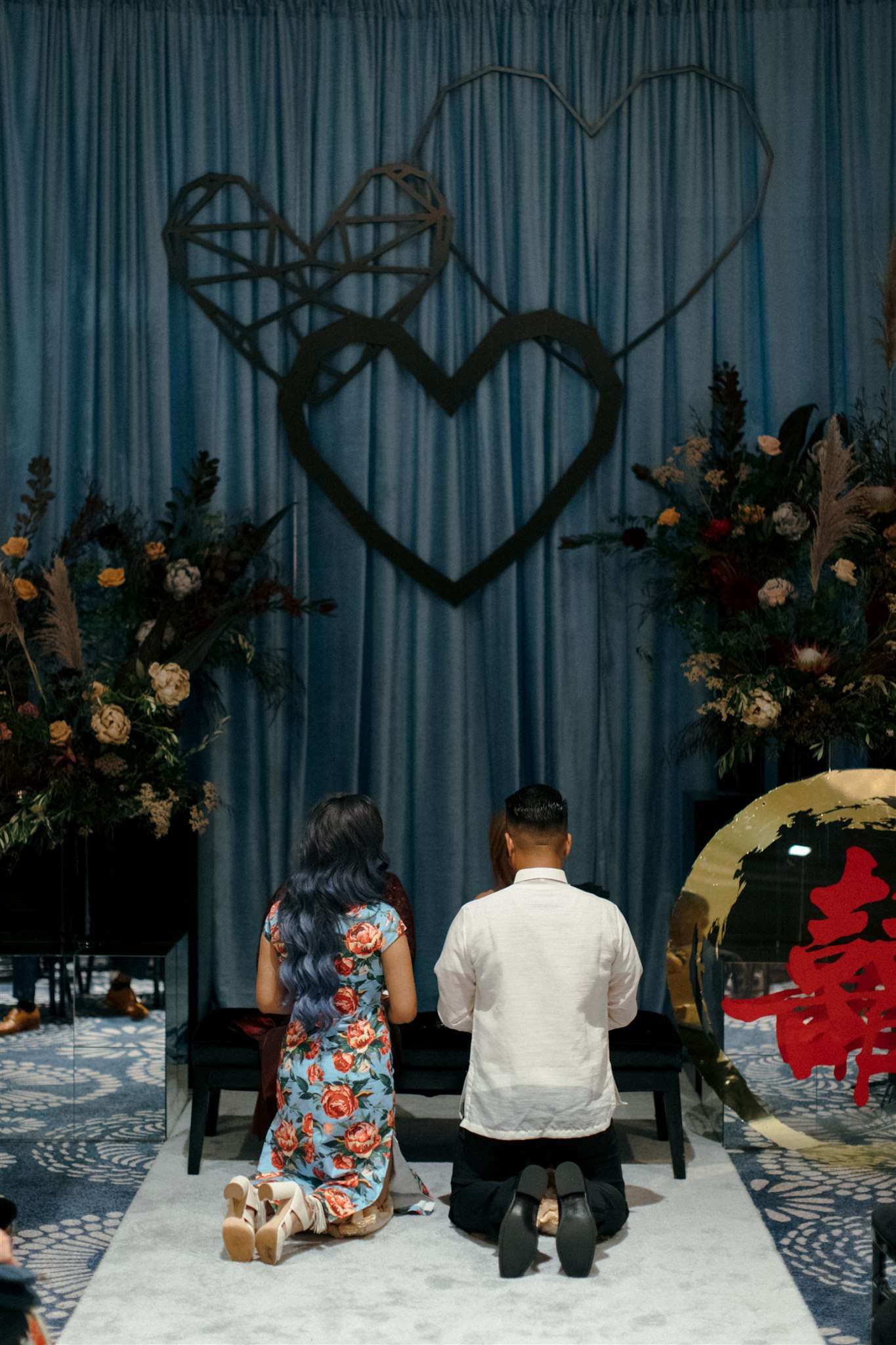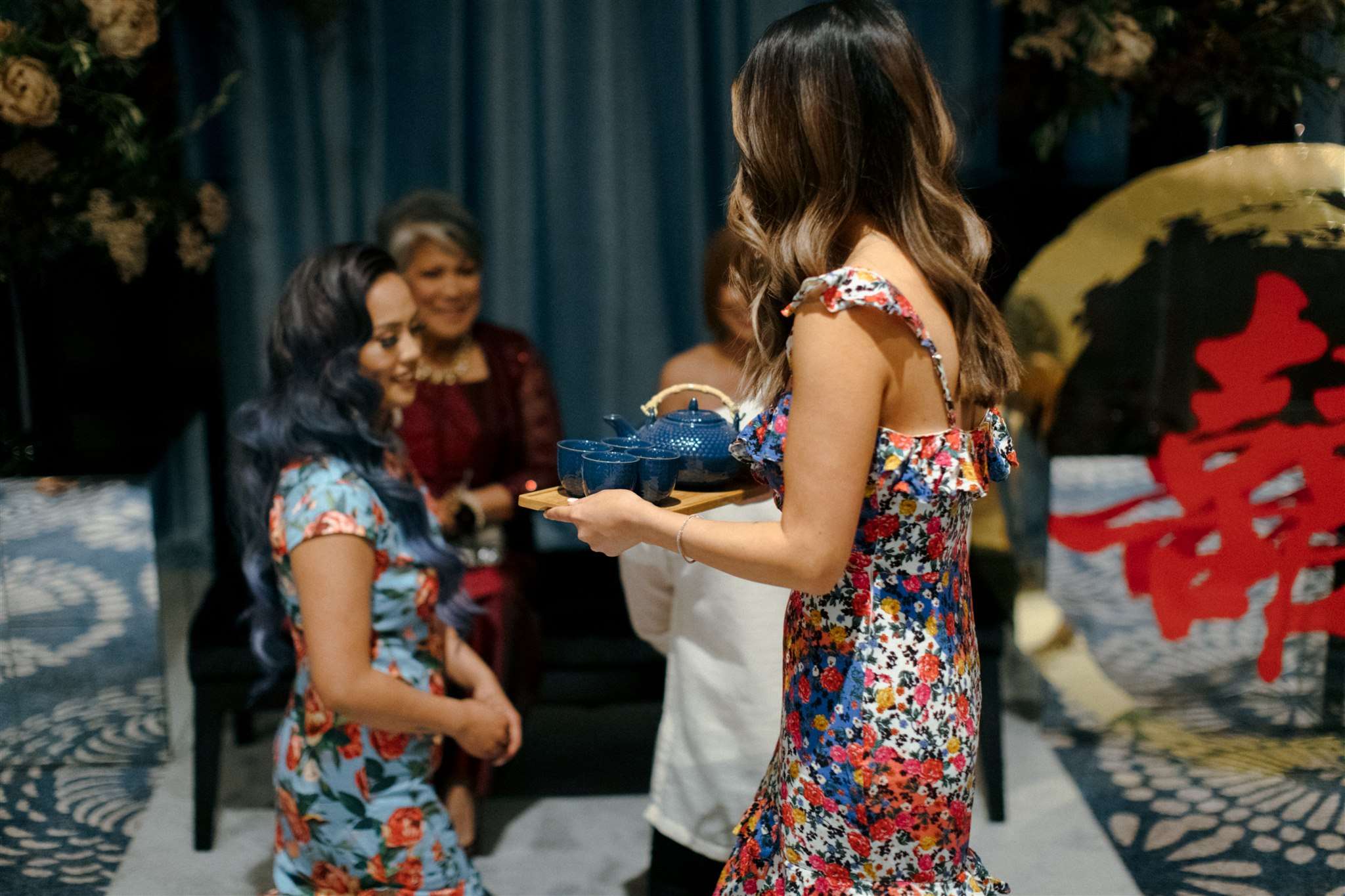 "We knew that with a guest list of 350+ guests, we wouldn't be able to have as much quality time with our guests. We wanted our day to be a reflection of our personalities and an extension of us so that everyone could experience a piece of us even if it wasn't in person. We really wanted to make it our own, with open seating for our guests to move around, mingle and enjoy everyone's company. We hoped to give everyone a piece of us – whether it be art, cars, or food.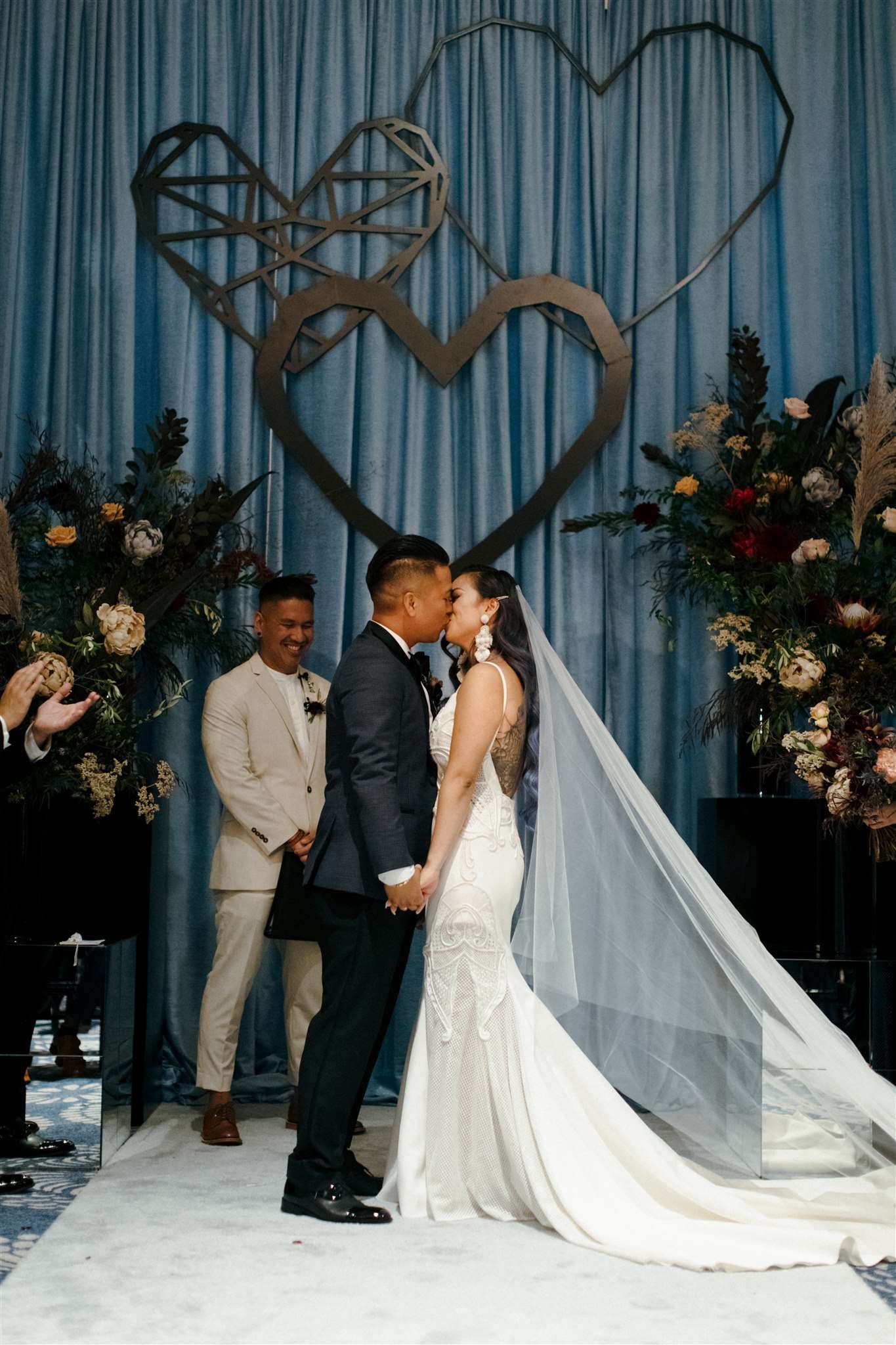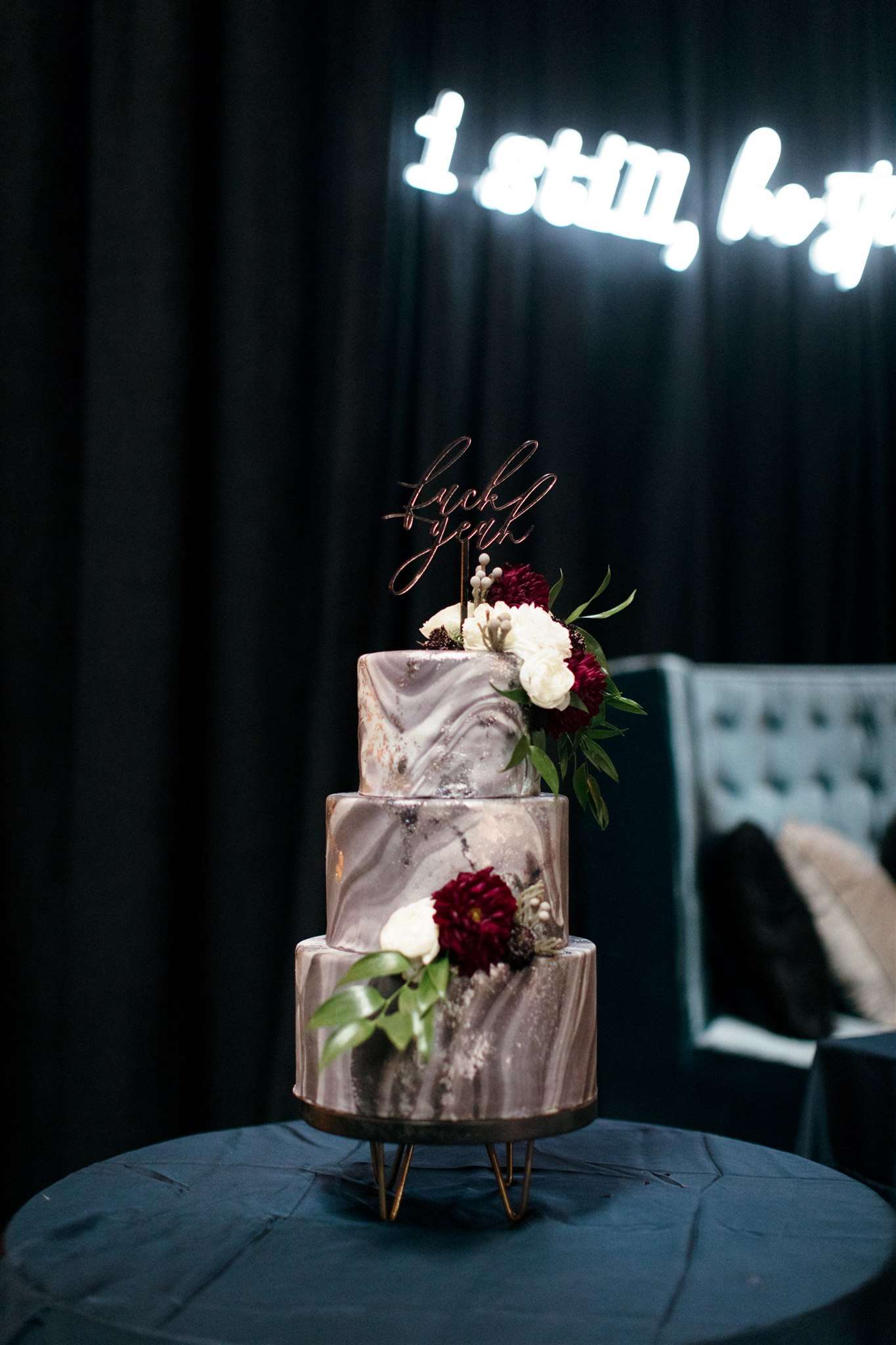 Our favourite part of the wedding was knowing that we'd put together an event that was so uniquely 'us'. At every turn, there was a story and heartfelt meaning which typically involved a family member or friend. Yes, it was a celebration for Rich and Steph, but we can say that it was also about everyone that we love."