Sorry, this product is now sold out!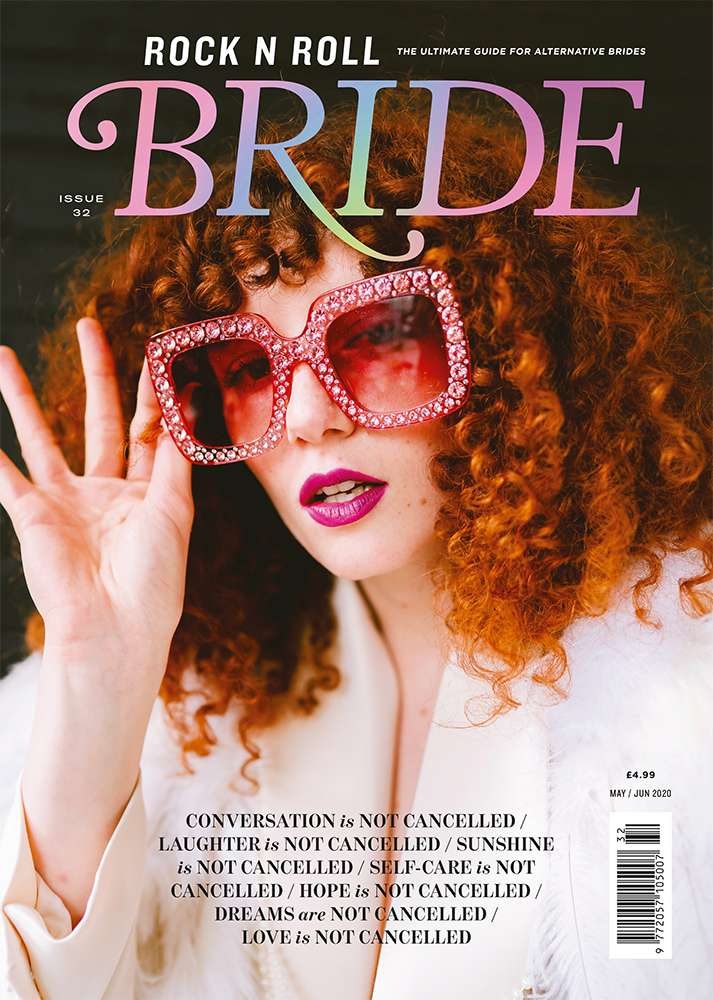 Rock n Roll Bride is a wedding magazine for people who hate wedding magazines.
This is why I started my entire business, as the antithesis to everything I disliked about the world of weddings while I was planning my own wedding. Nothing about that has changed, in fact, I think it's something we're leaning into even more as the brand and business has grown. We really just want to show you that you DO NOT HAVE to have what's trendy, popular, cool or 'normal' when you get married. The landscape of the wedding industry looks very different in 2020 than it did in 2007, but there is still so much work to do. There are still things to question, things to shake up and convention and expectation to reject. It's our job to show you the way, it's your job to make your own decisions about what you want and DO NOT WANT your wedding to be. If you agree with me then you are going to LOVE the latest issue of Rock n Roll Bride magazine, which is on pre-sale today!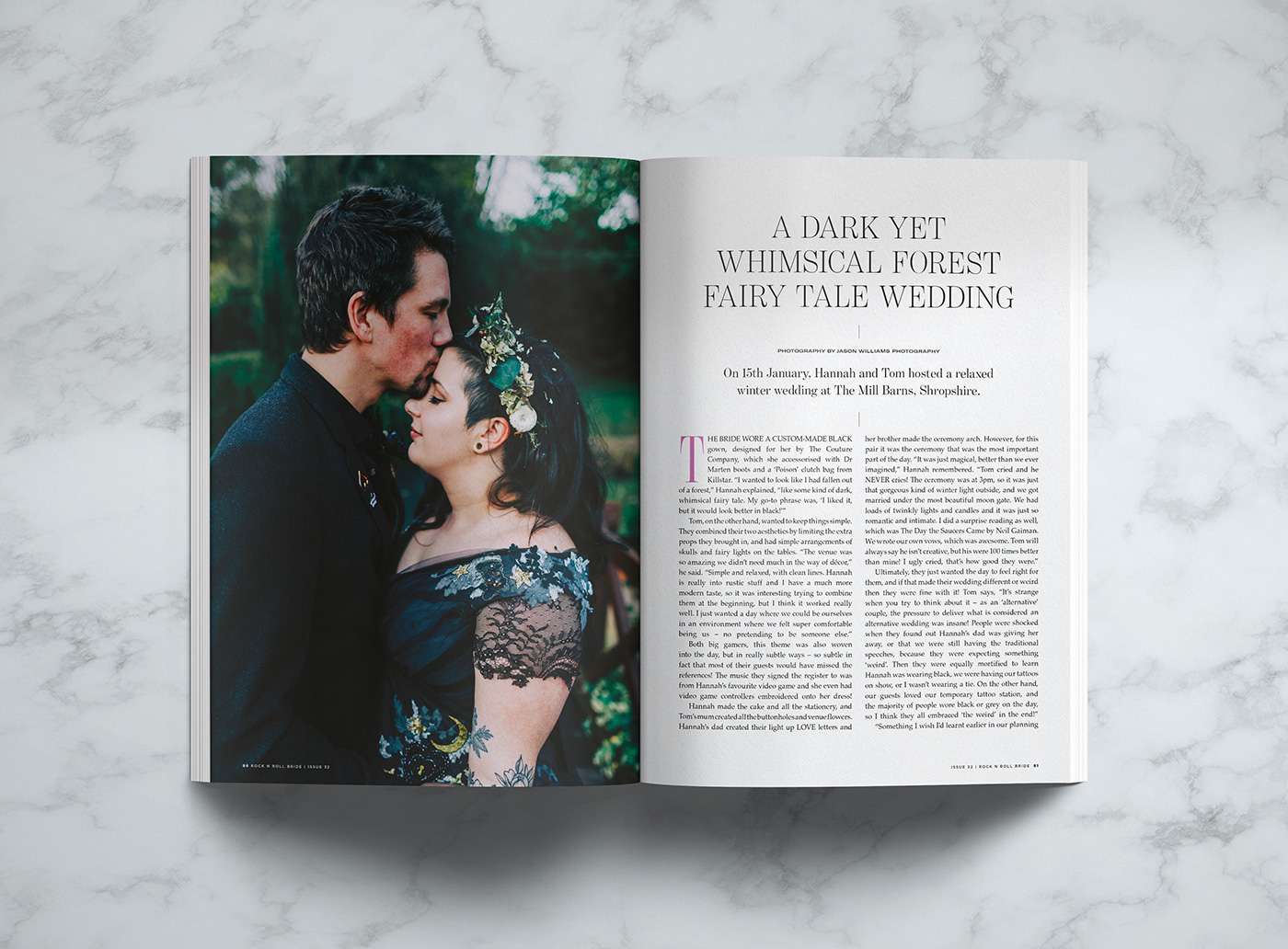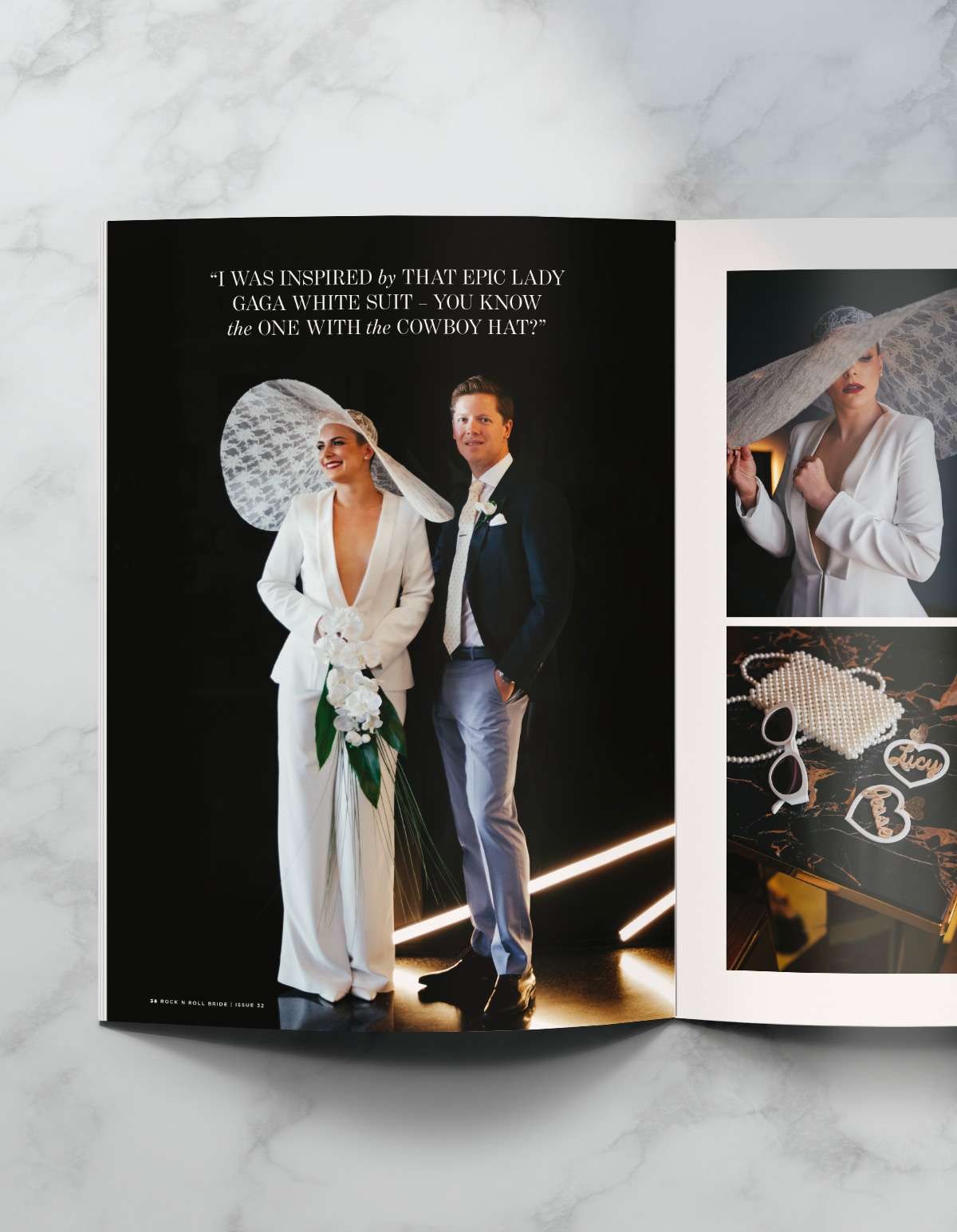 But first I need to address the obvious
Covid-19 has thrown quite a spanner in the works about getting this issue into stores. In fact, we don't even know if most of our stockists will even be OPEN while this issue is on sale. So, for that reason, if you'd like a copy, I'd like to encourage you to order it directly from us. We have produced extra copies to cope with the expected higher demand and we are ready for you!
Stay home, stay safe, and still get your Rock n Roll Bride fix. I mean, WHAT COULD BE BETTER THAN THAT!? You can also subscribe, at no extra cost, and get every issue delivered direct to your door from now on! And remember, UK shipping is still 100% FREE.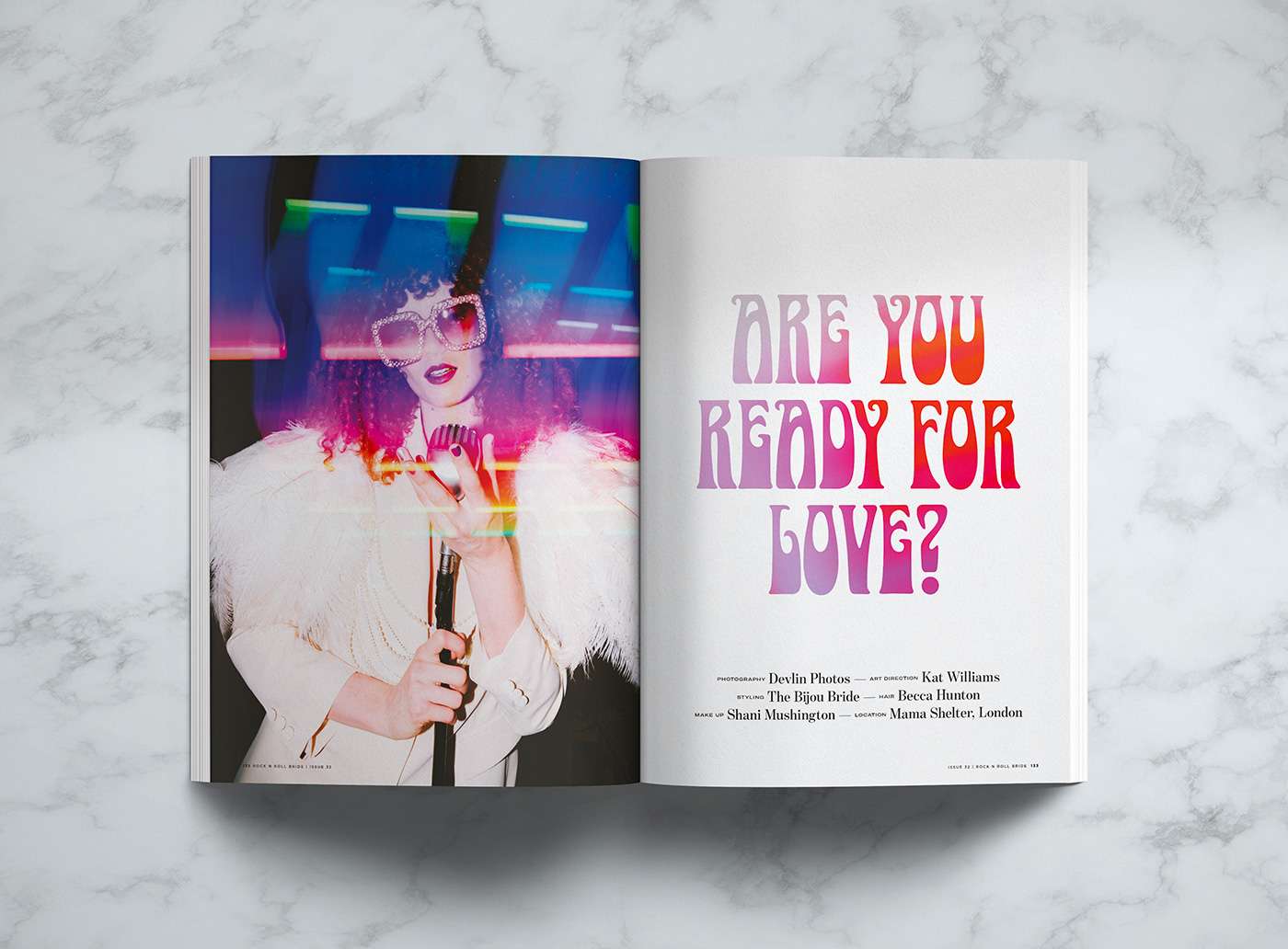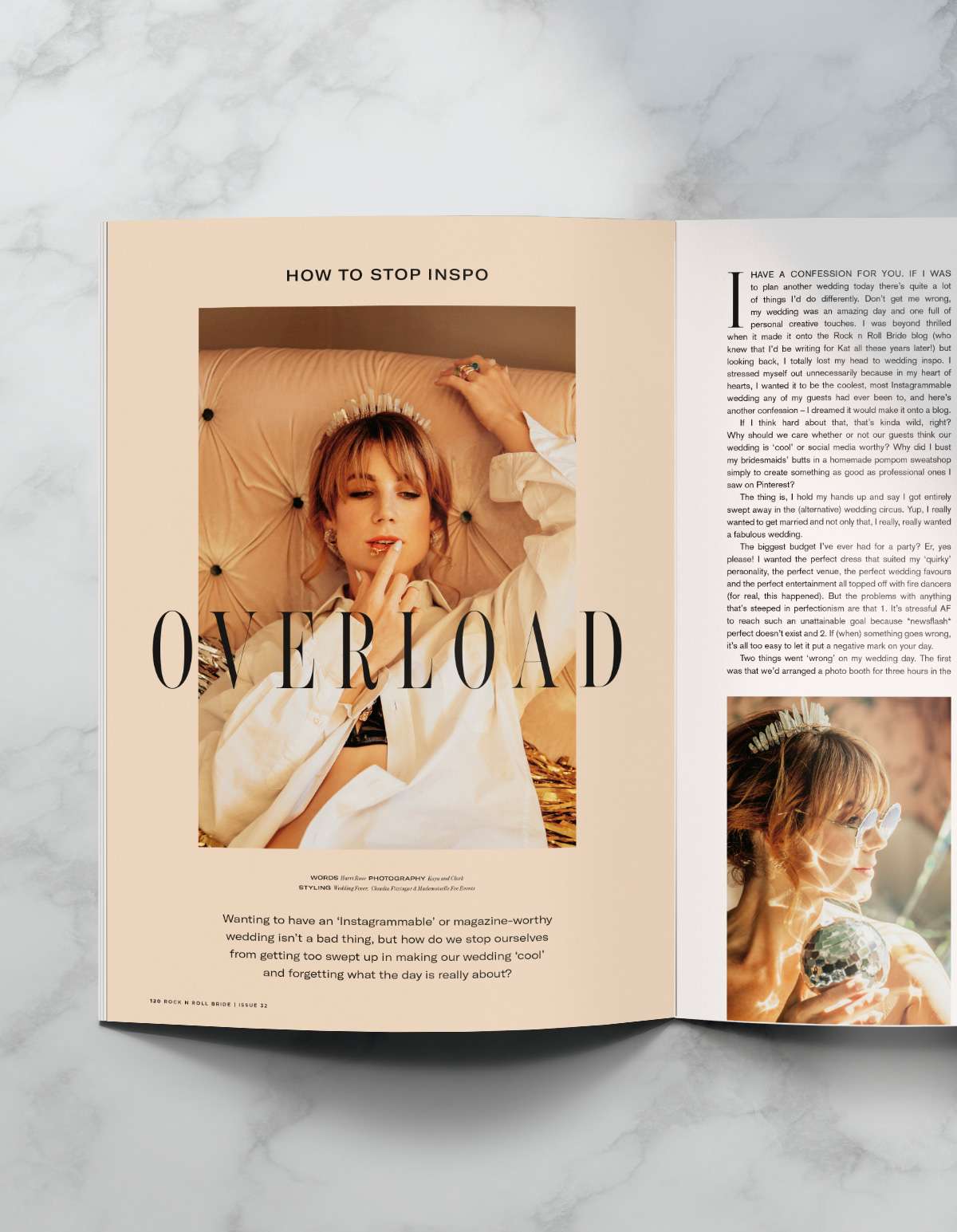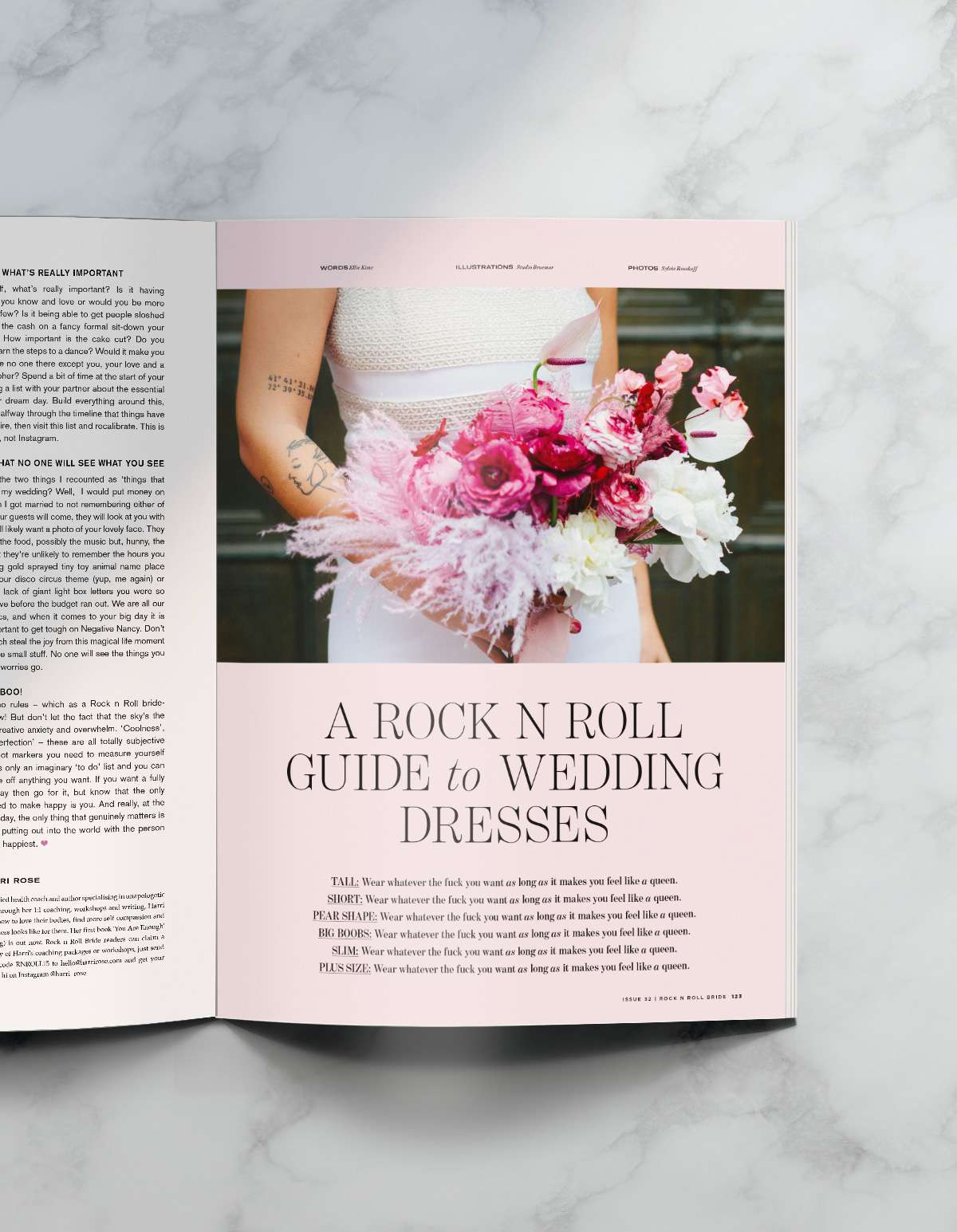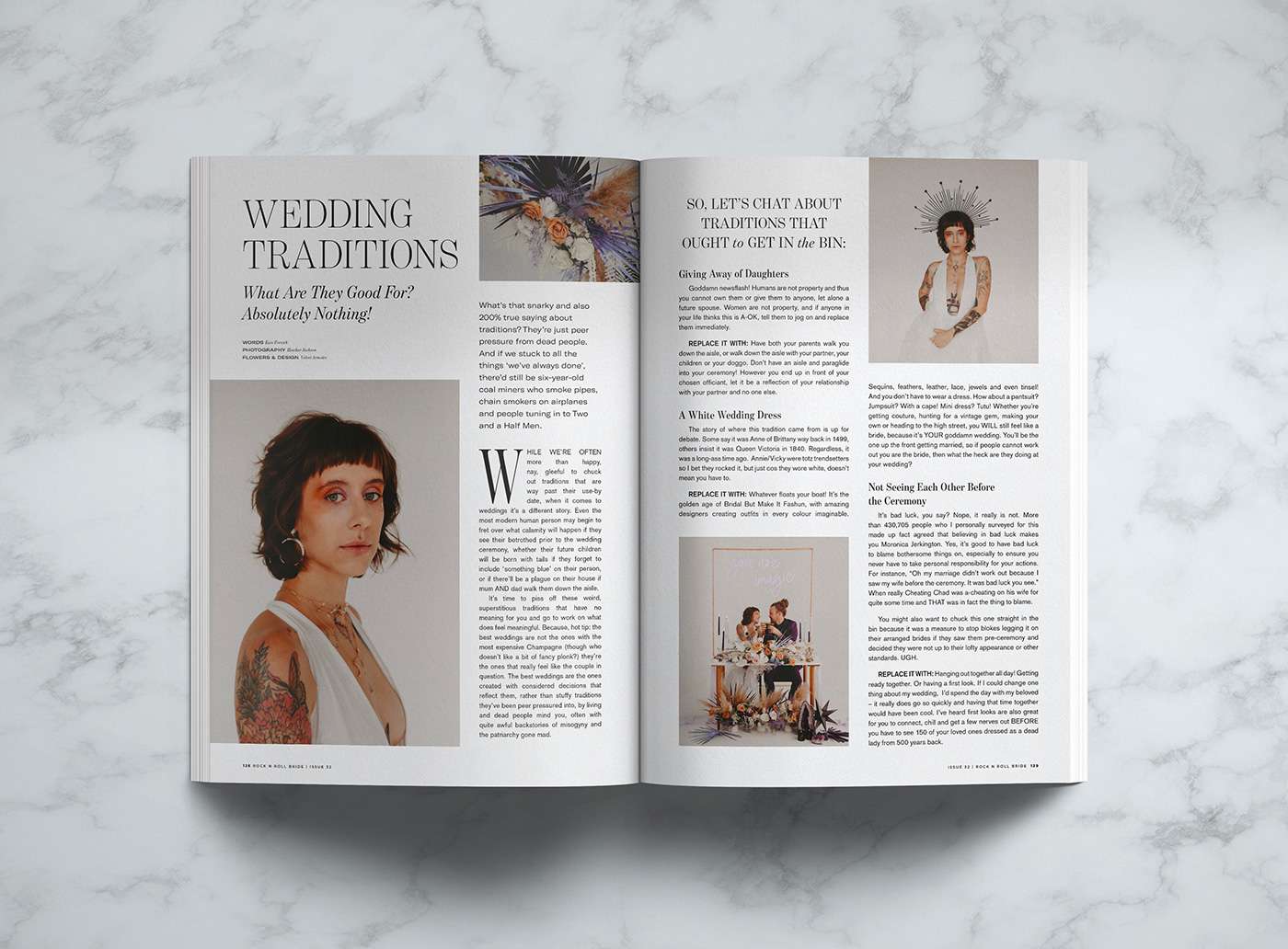 Finally, I have to give an EXTRA BIG SHOUT OUT to all our advertisers in this issue. As you might expect, things are a bit wild in the wedding industry right now and I am forever grateful to every single one of these businesses, most of them small and dealing with their own stresses of keeping their head's above water, for continuing to support us. Even if you are not ready to book new wedding suppliers yet, please keep these guys in mind when you are!
ROCK N ROLL BRIDE APPROVED BAD ASS WEDDING SUPPLIERS THAT WILL ABSOLUTELY MAKE YOUR WEDDING INCREDIBLE:
Anna Fine Jewellery (rings) ? Atelier Rahman (menswear) ? Back To Books (book gift registry) ? Bexbrides (dresses) ? The Bijou Bride (wedding planner) ? Bombini Studio (hair accessories) ? Bridal Reloved (dresses) ? Camera and Kit (photography) ? Cancer Research (charity favours) ? Catherine Blades Bridal (dresses) ? Crown and Glory (hair accessories and veils) ? Cushla Marie Photography (photography) ? Dale Weeks Photography (photography) ? Devlin Photos (photography) ? Doris Loves (temporary tattoos and giant light up letter hire) ? Ella Bella Weddings and Events (wedding planner and stationery) ? Fairytale Asylum (photographer)? FHG Weddings (decorations) ? Funky Flags Bunting (bunting) ? Hazaar of London (dresses) ? Hole Lotta Love Body Piercing (piercing and jewellery) ? Immy Howard Millinery (hair accessories) ? Kimberly Phillips Clothier (dresses) ? Legends Bridal (dresses)? Little Yellow Bus (campervan hire) ? Lovebirds Artistic Weddings (photography) ? Lucy Can't Dance (dresses) ? Paper Bouquets UK (paper flowers) ? Photo Press (stationery) ? Photography by Vicki (photography) ? Poddy and Black (wedding wellies) ? Rachel Spence Photography (photography) ? Rebel Rock (hair and make up) ? Reve Retreat (wedding venue) ? Rosie Red Corsetry & Couture (dresses) ? Sam T Made It (custom pins) ? She Talks to Rainbows (custom shoes) ? The Canvas Tribe (tent hire) ? The Little Horse Picture Booth (photo booth) ? The Petal & The Stem (florist) ? The Pixie Booth (photo booth) ? The White Van Wedding Company (campervan hire) ? Tora Baker Photography (photography) ? Veronica Dearly (funny cards and stuff) ? Wedding Converse (converse customisation) ? Wedding in a Teacup (personalised wedding favours and more) ? Wedfest (stationery) ? Wild Rose Florist (florist) ? Wildchild Jewellery (jewellery)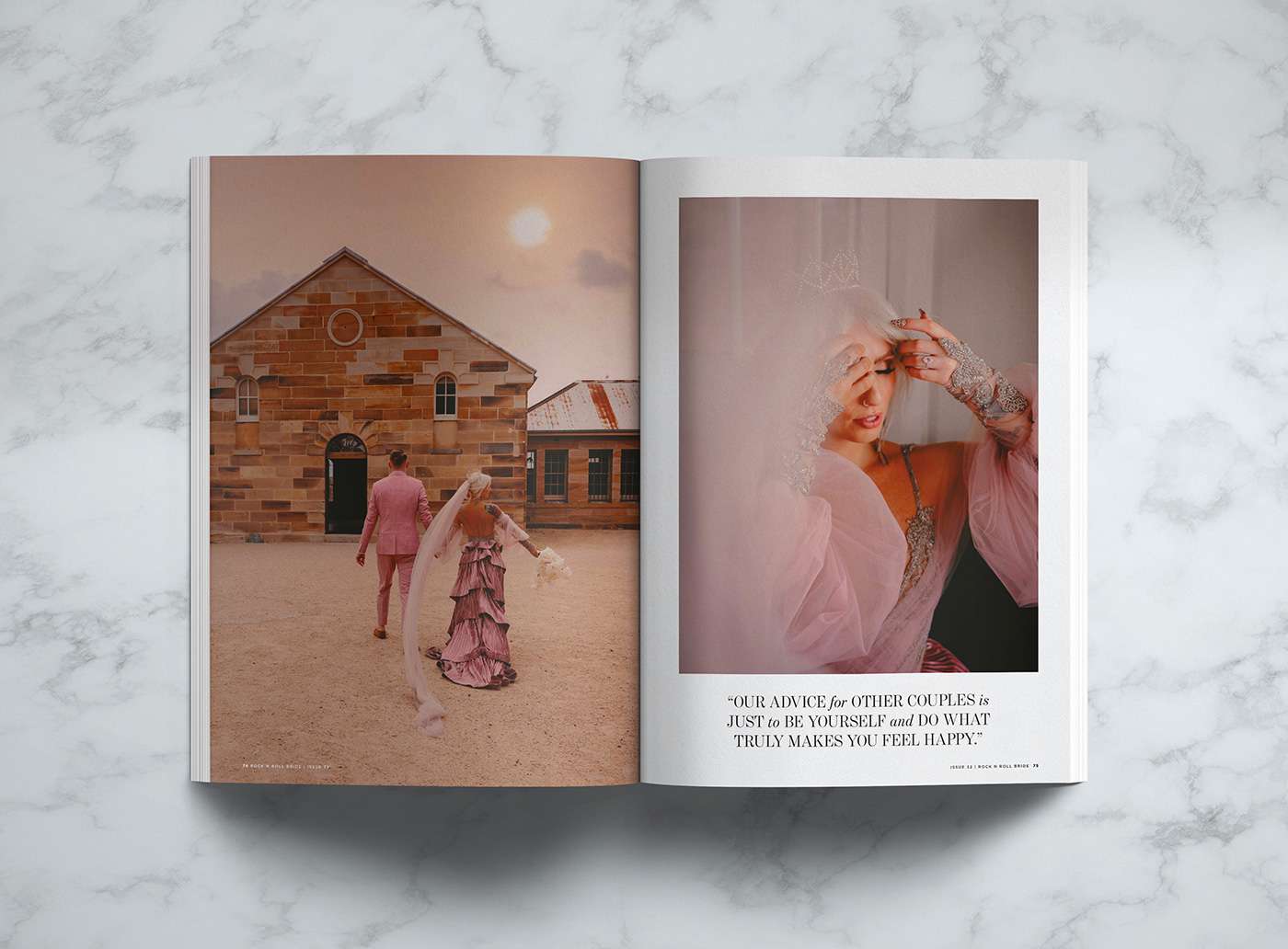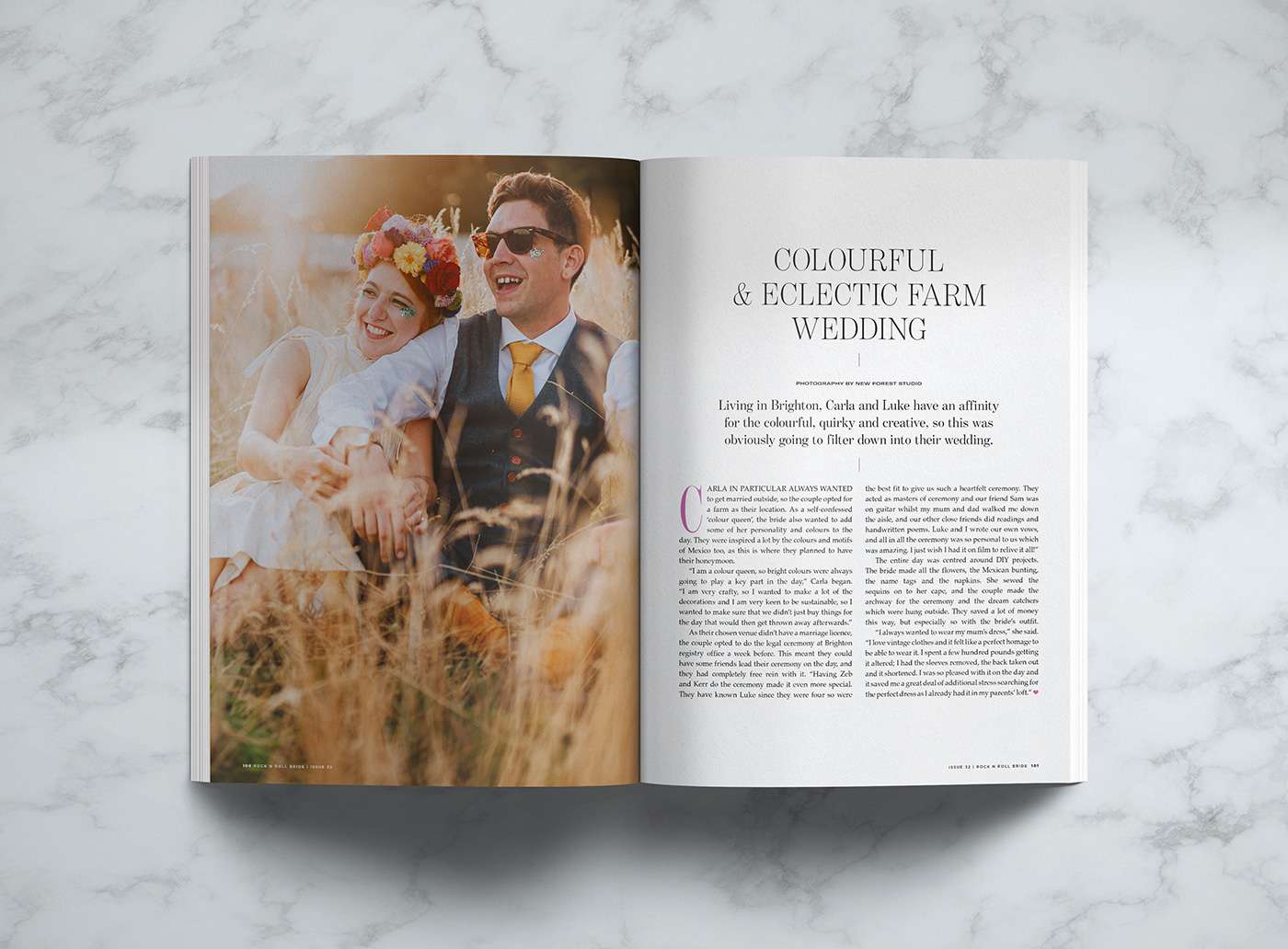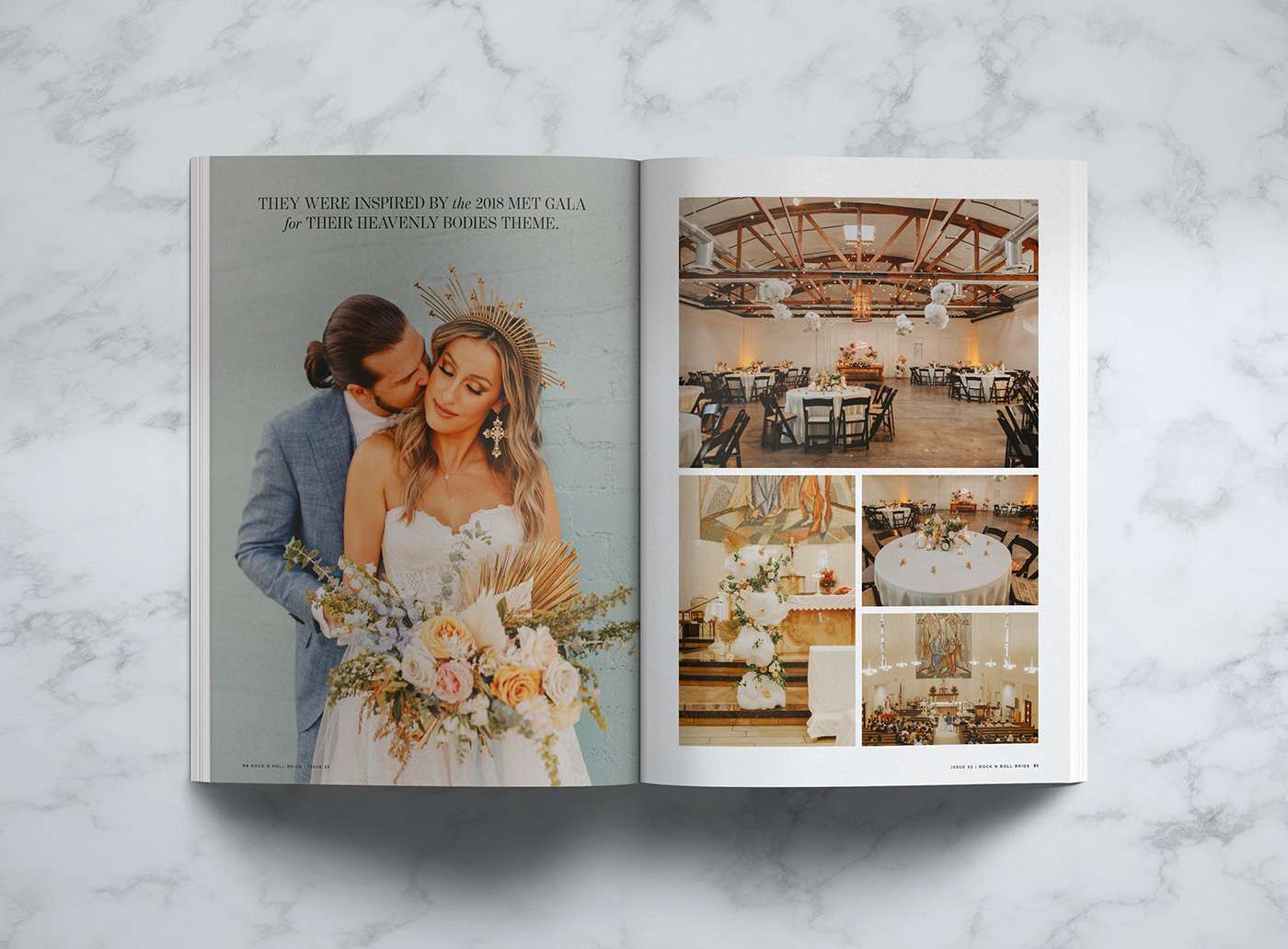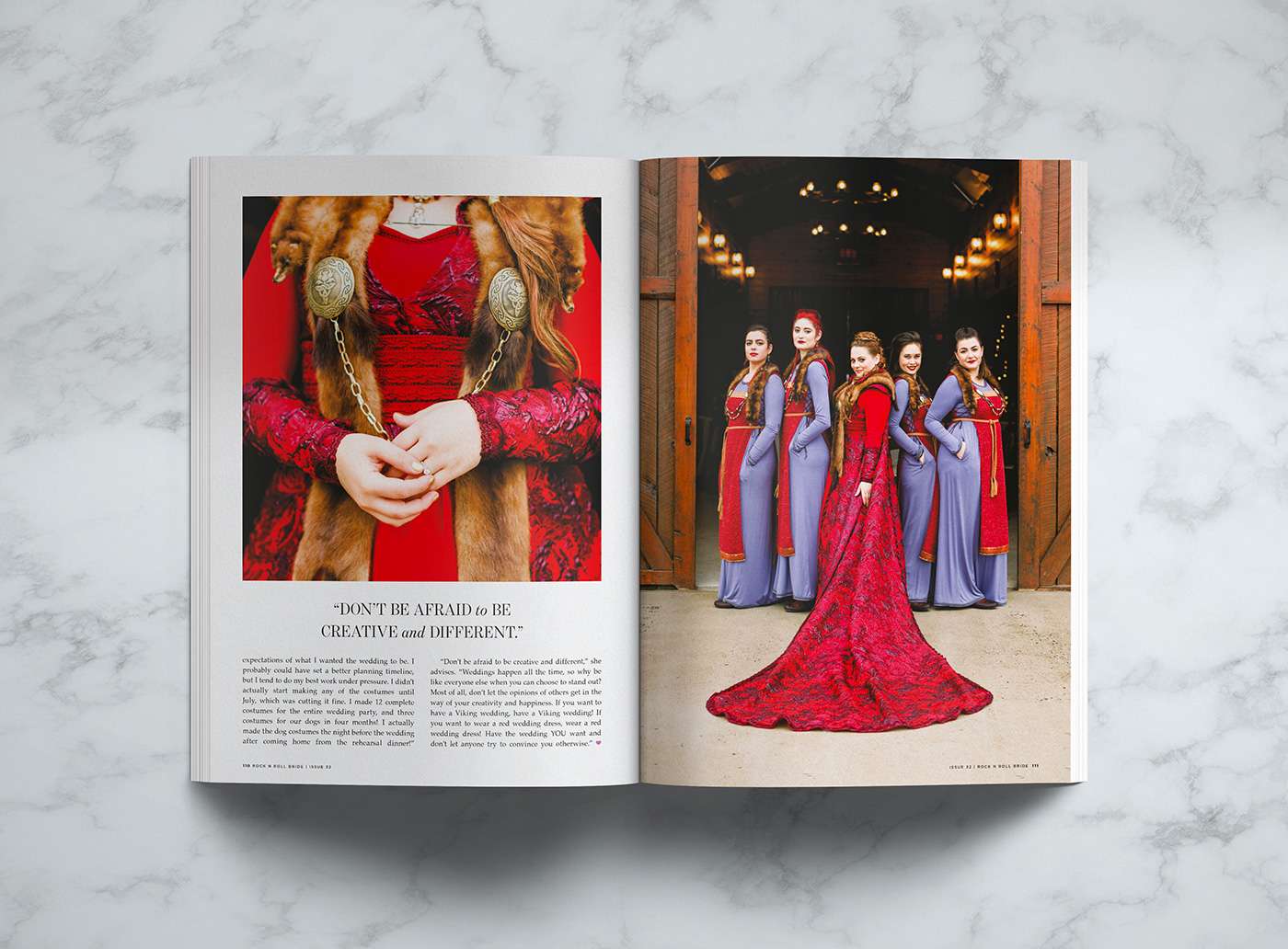 I hope you enjoy this issue but I have no doubt in my mind that you will. So, what are you waiting for? This is the perfect lockdown pick me up. Treat yo'self!
Sorry, this product is now sold out!