Sorry, this product is now sold out!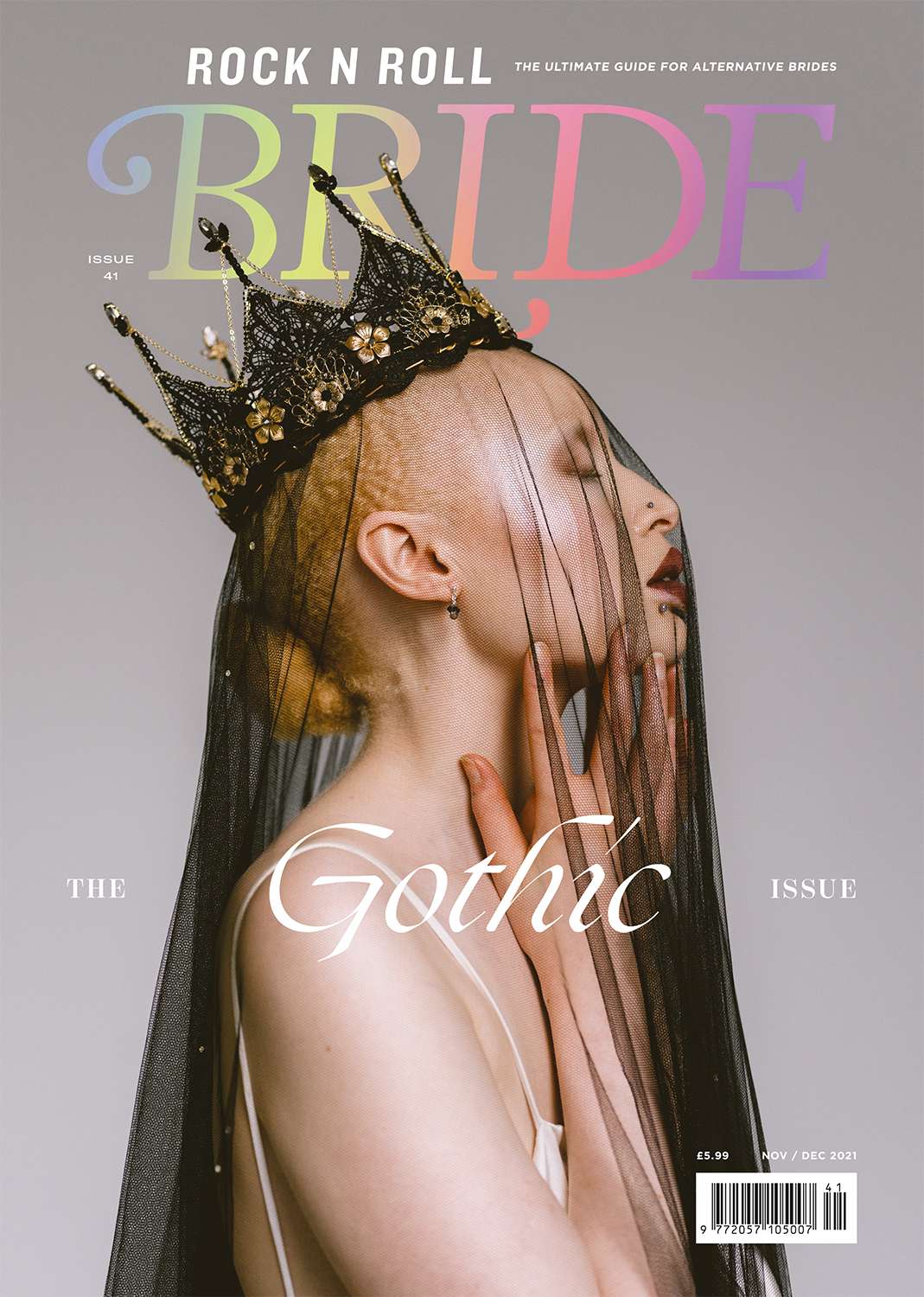 When I decided to start theming each issue of the magazine, doing a gothic/ emo themed edition was a no-brainer. I mean If there's one aesthetic that screams alternative bride more than any other, it's this.
The shoot for this edition was so much fun. Accompanied by the Throwback Thursday Emo Spotify playlist, my team and I relived our teenage years putting together these looks on the gorgeous Nan.
Speaking of Nan, they are a non-binary model with albinism and when I found them, I knew they were the perfect face to bring our gothic meets high fashion vision to life. I also spoke to them for our Meet the Contributor's page, and their answer to this particular question was so great (and too long to publish in full) I wanted to share it here too.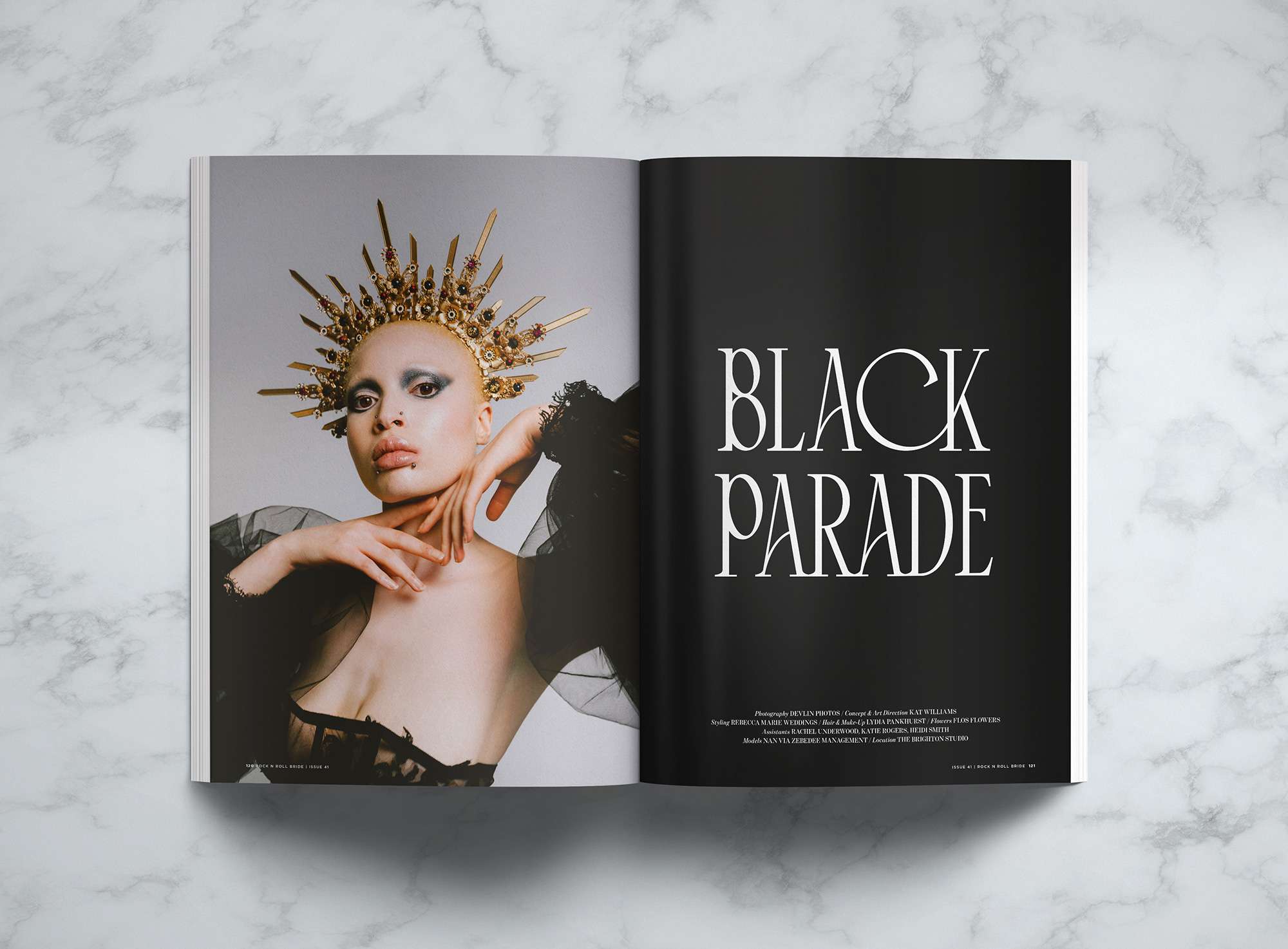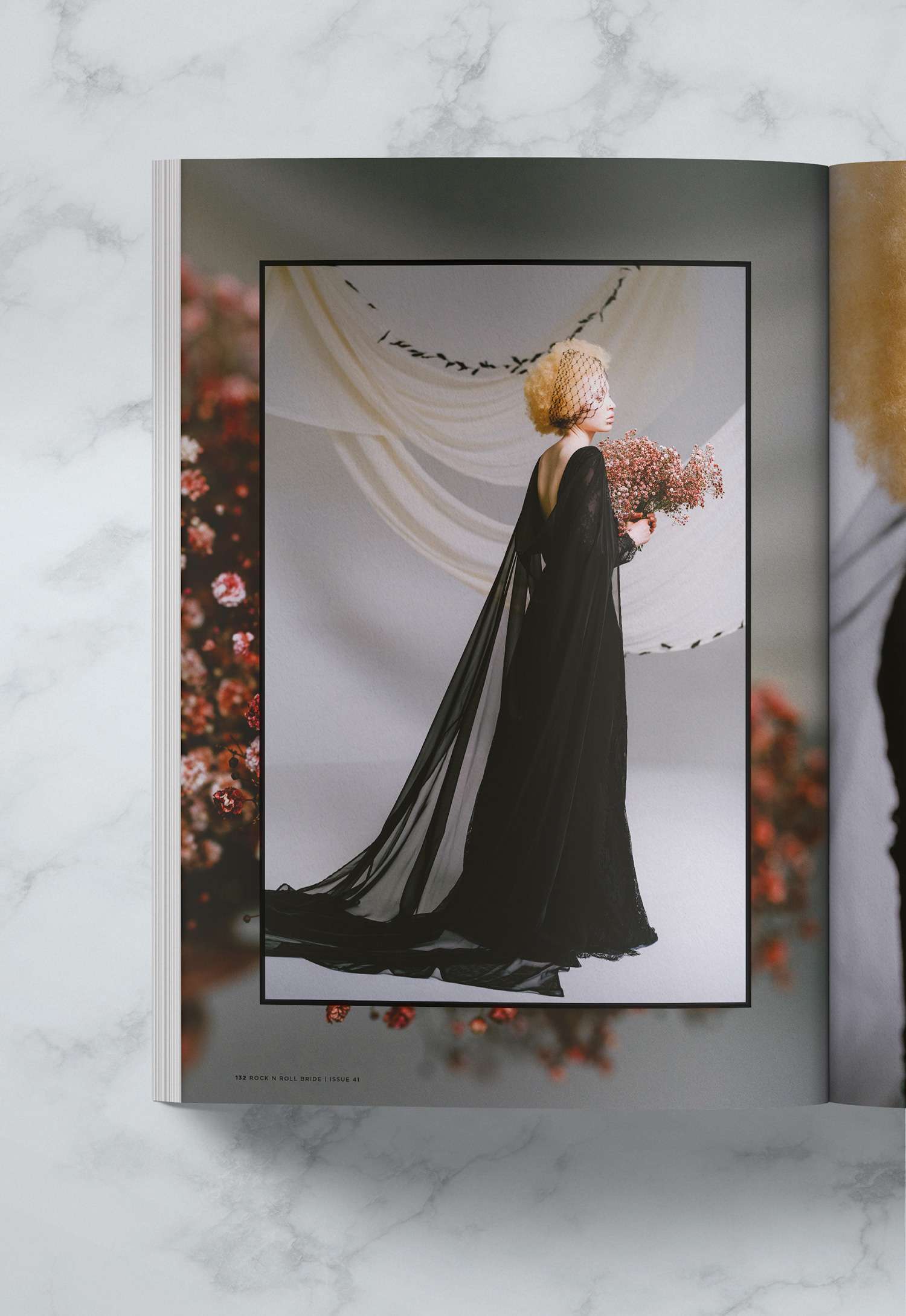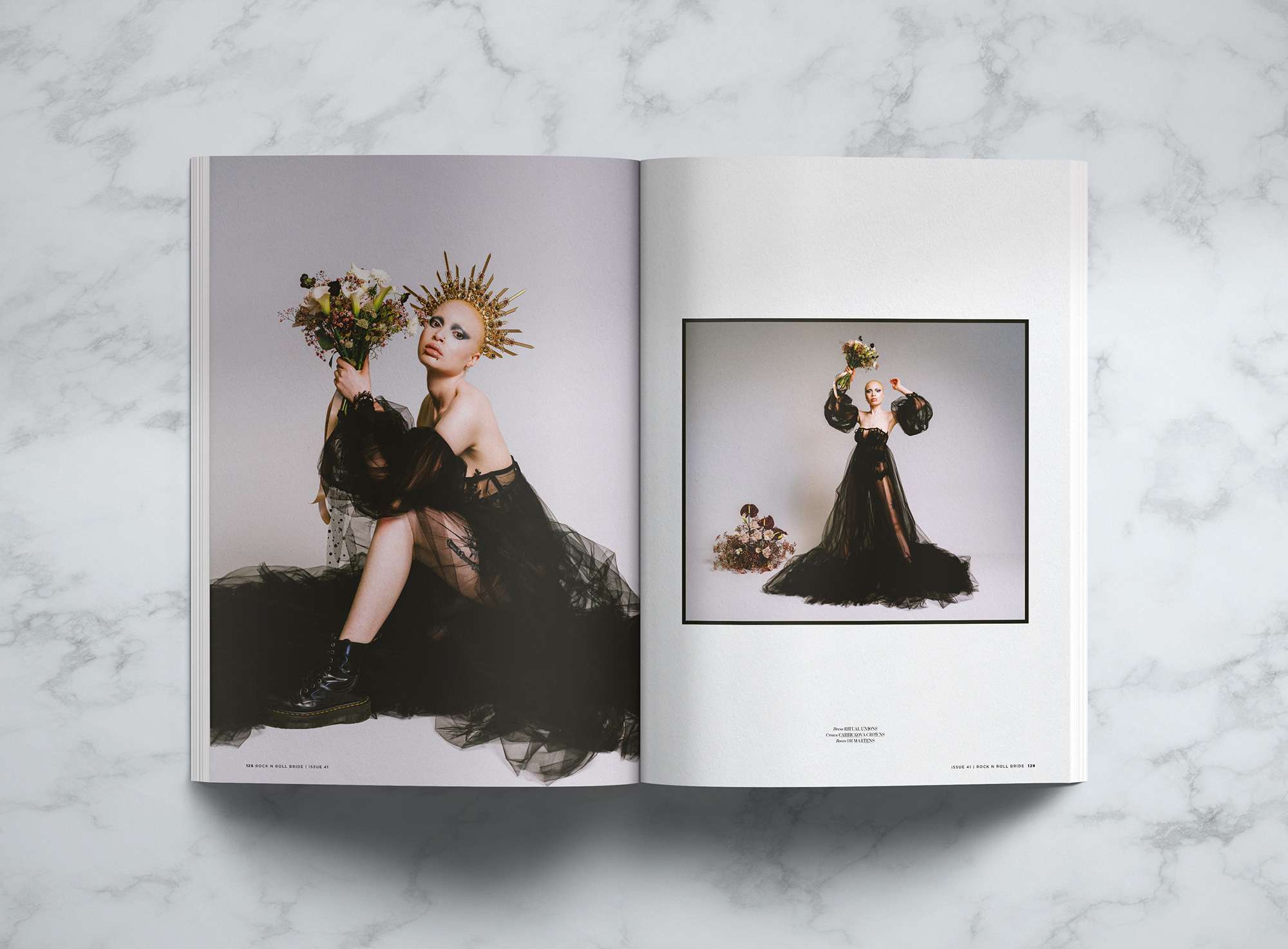 As a non-binary model with albinism how do you feel the fashion and bridal industry could be more inclusive and make everyone feel welcome and seen beyond tokenism?
Unfortunately, in the western world wedding traditions are often rooted in patriarchal values that celebrate traditional representations of beauty. This has led to minorities feeling pushed out, as if their version of love holds less value when compared to white, cis, heterosexual love. In the wedding industry people of colour have always been chronically underrepresented. From bridalwear designers never breaking through and have their work recognised, to bridal magazines actively choosing not to have couples of colour in their publications. Even on a personal level, black brides struggling to find a hairdresser to work with their hair or finding a dress that compliments their skin tone or figure. Our perceptions of beauty and wedding tradition are centred around the white ideal.
When the intersectionality of queerness and gender fluidity comes into play, the problem deepens. This has led to minorities and members of the LGBTQ+ community feeling pushed out and underrepresented.
Even in progressive countries, queer couple are still often forced into the binary by the distinctly heteronormative and conservative nature of weddings; often being asked 'Who's the man in the relationship?', 'Who's wearing the dress/ who's wearing the suit?'. Forcing these gender norms and stereotypes on queer couples is so harmful and particularly problematic for non-binary people. Queer love doesn't have to resemble cis-het love to be understood, valued and respected.
It's clear more representation of BAME and LGBTQ+ communities is needed, not in just showing and displaying black and queer love in publications but by brand putting in the effort to embrace and accommodate all types of beauty. It's not hard to change mesh lining to suit a deeper skin tone. It's not hard to design gender neutral garments for weddings. Despite the belief that black and/or queer love doesn't sell, there is demand and there's a whole demographic of people whose expressions of love are being undervalued. There's space for everyone in the bridal industry. We all deserve to feel beautiful and special on our wedding days.
WE COULD NOT AGREE MORE!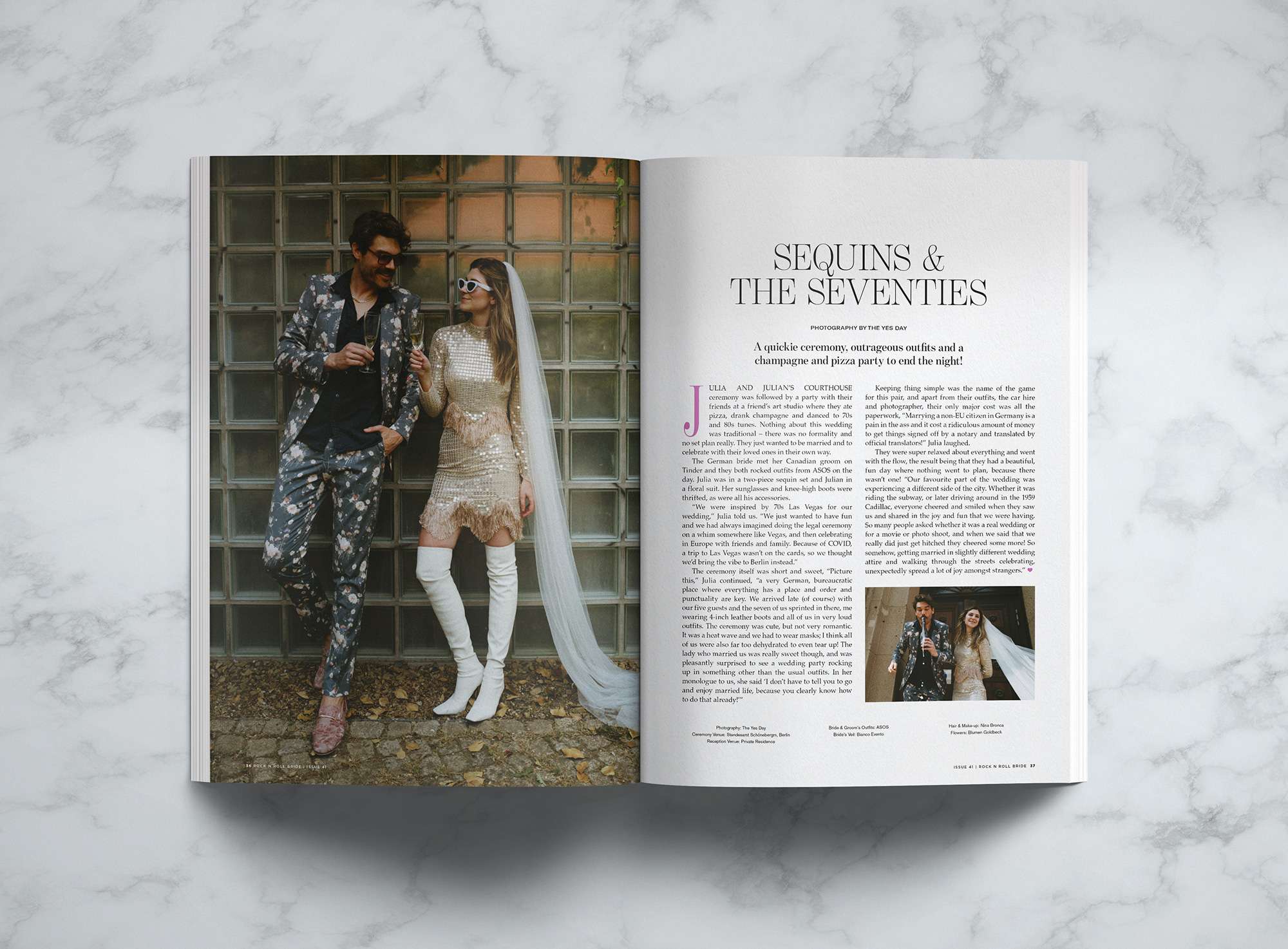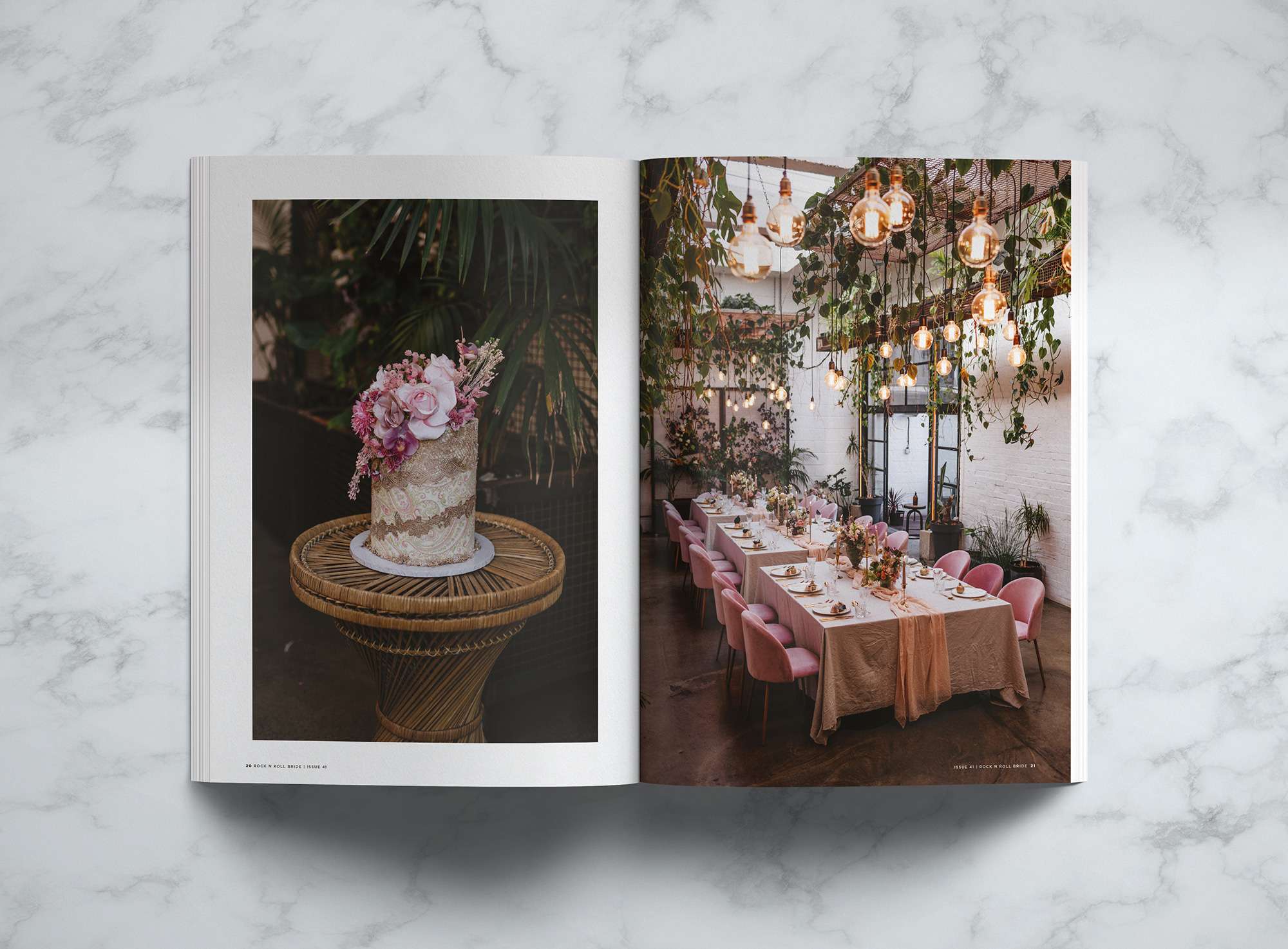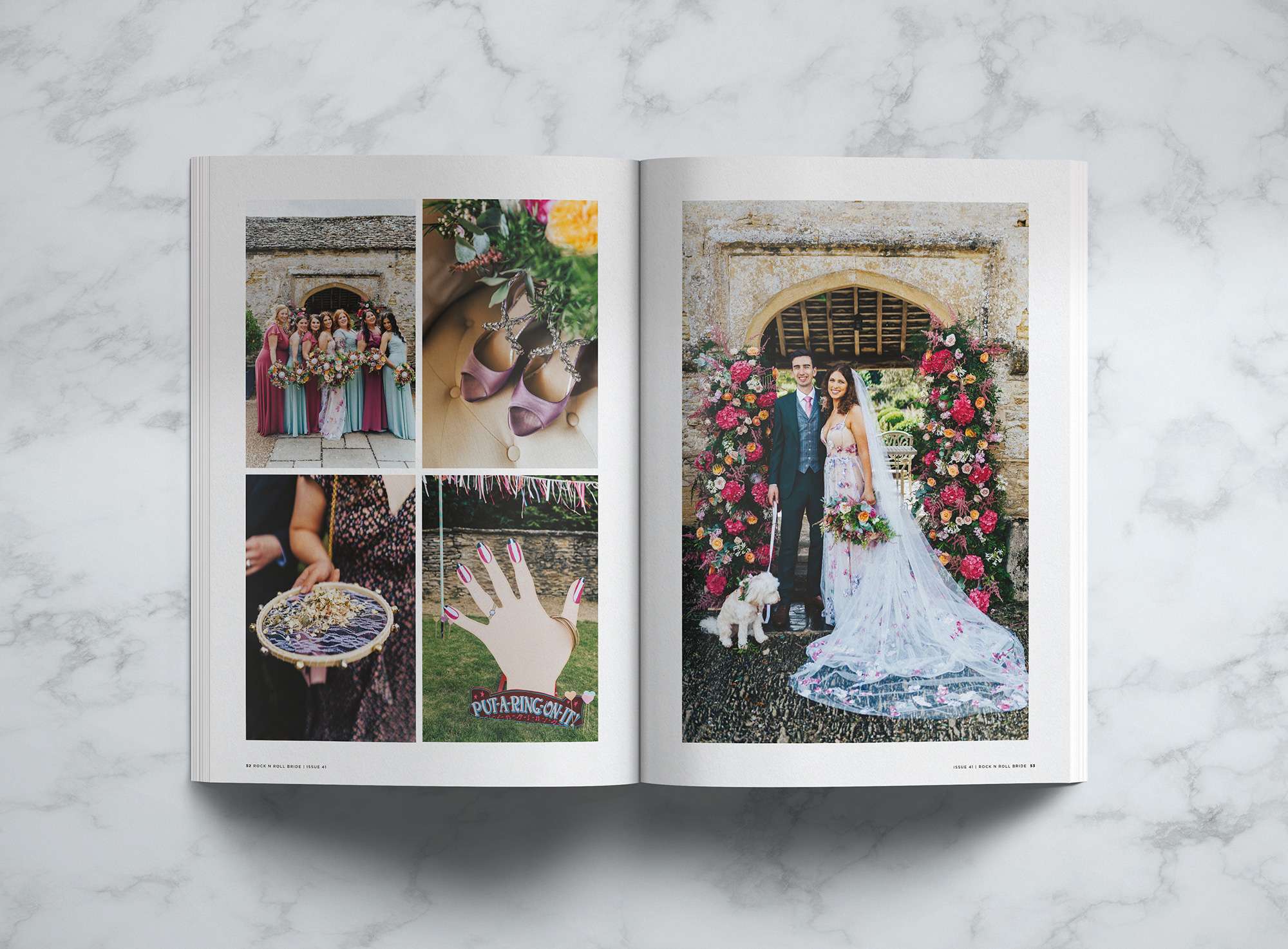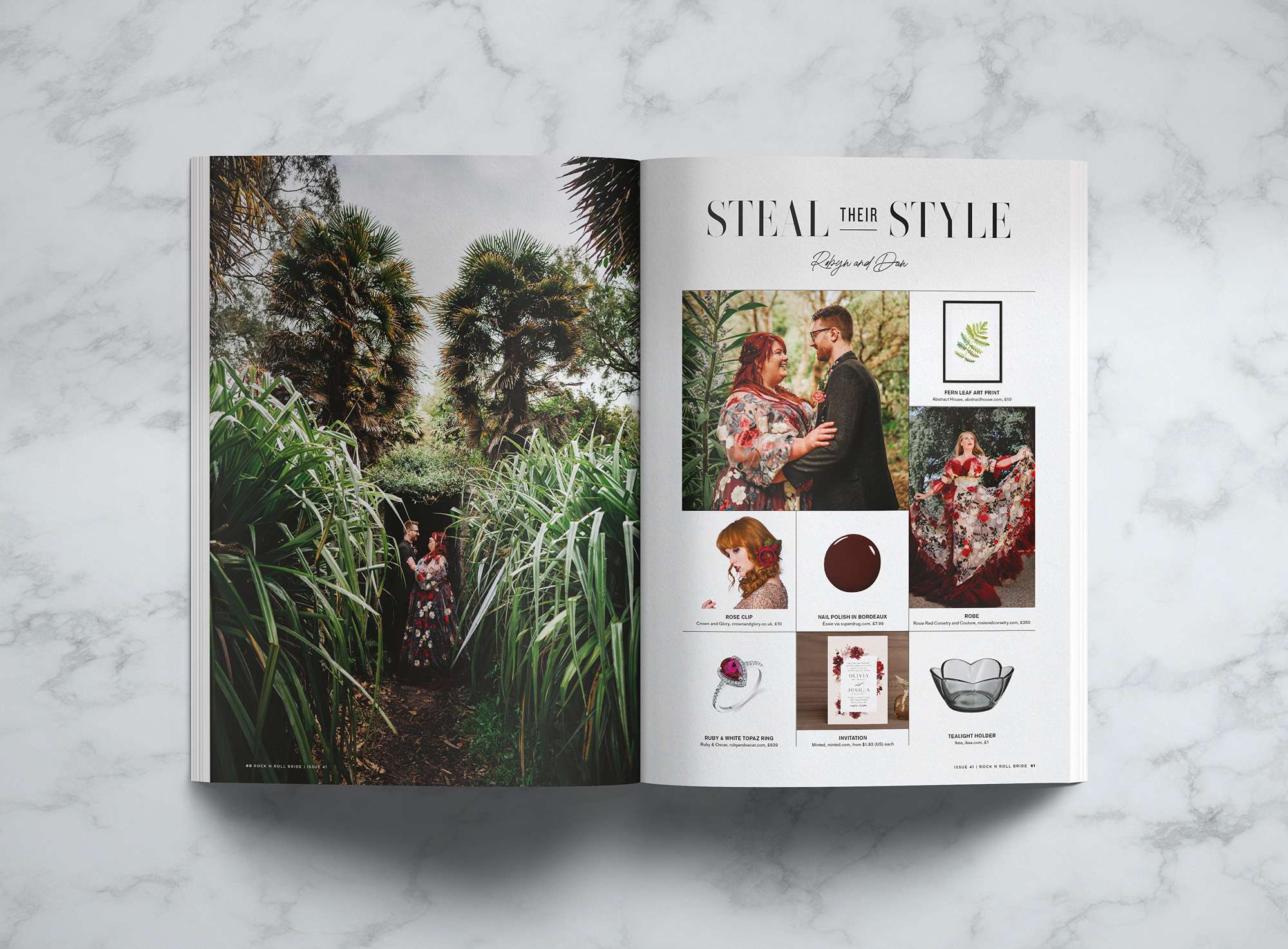 So, what will you find inside the issue? Well, as well as ideas on how you can add some more macabre elements to your wedding day look and style, you'll also find real wedding inspiration for whatever kind of theme you're going for. Not all the weddings are gothic themed as we want every issue to feature a broad and diverse range of weddings and people. There's also plenty of practical advice on how you can bring your own creative vision to your day, especially if your loved ones aren't exactly on board with your ideas!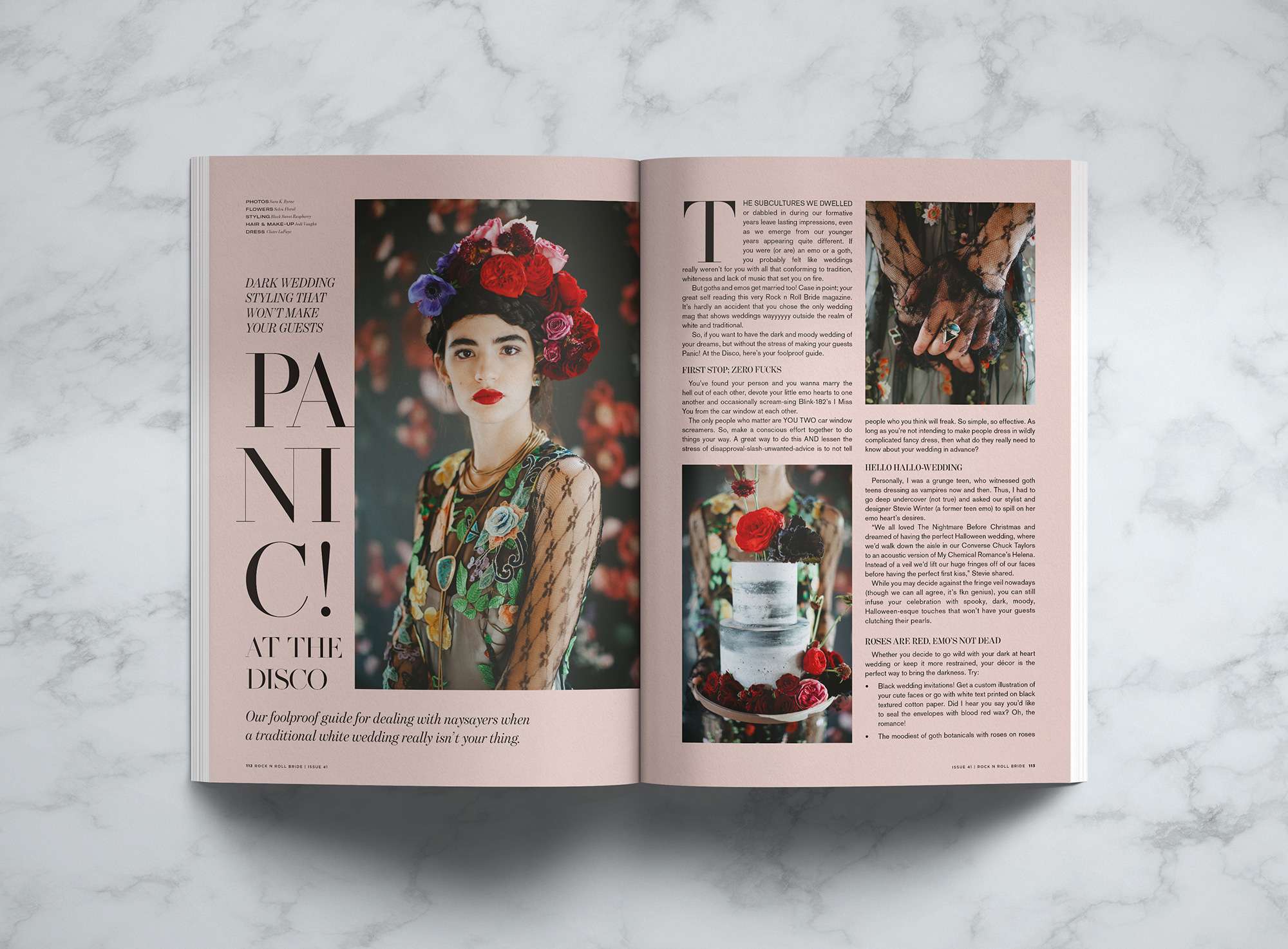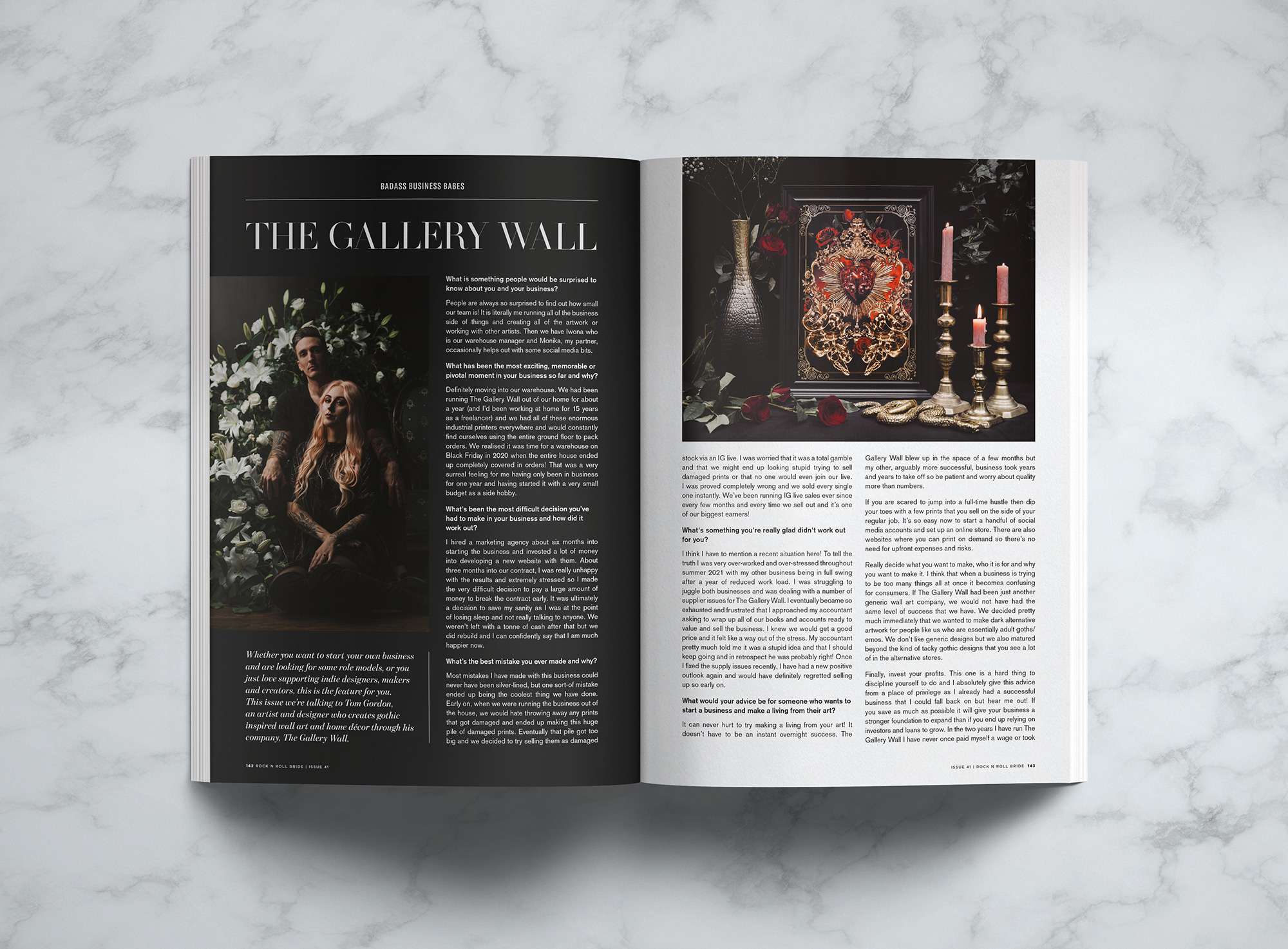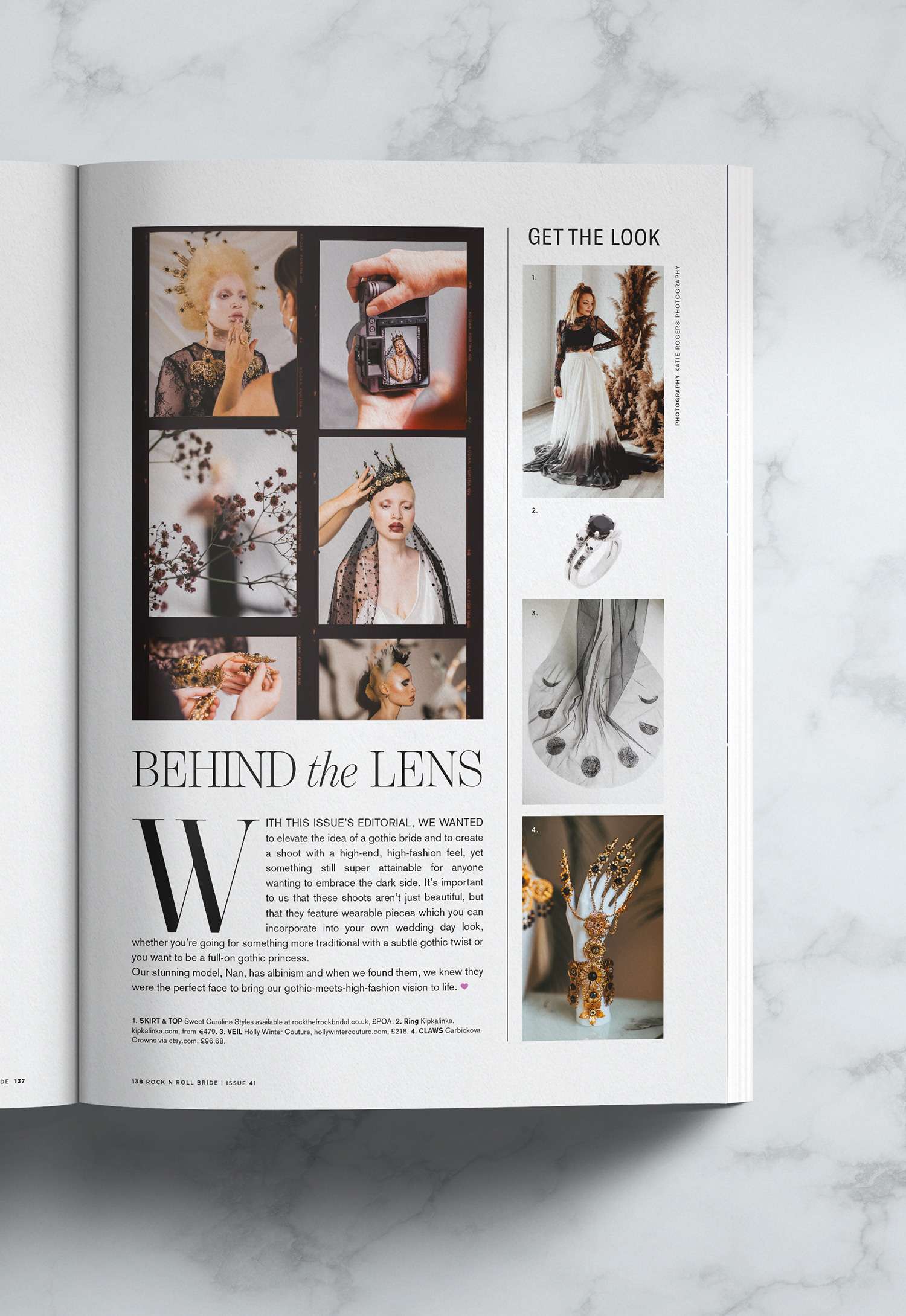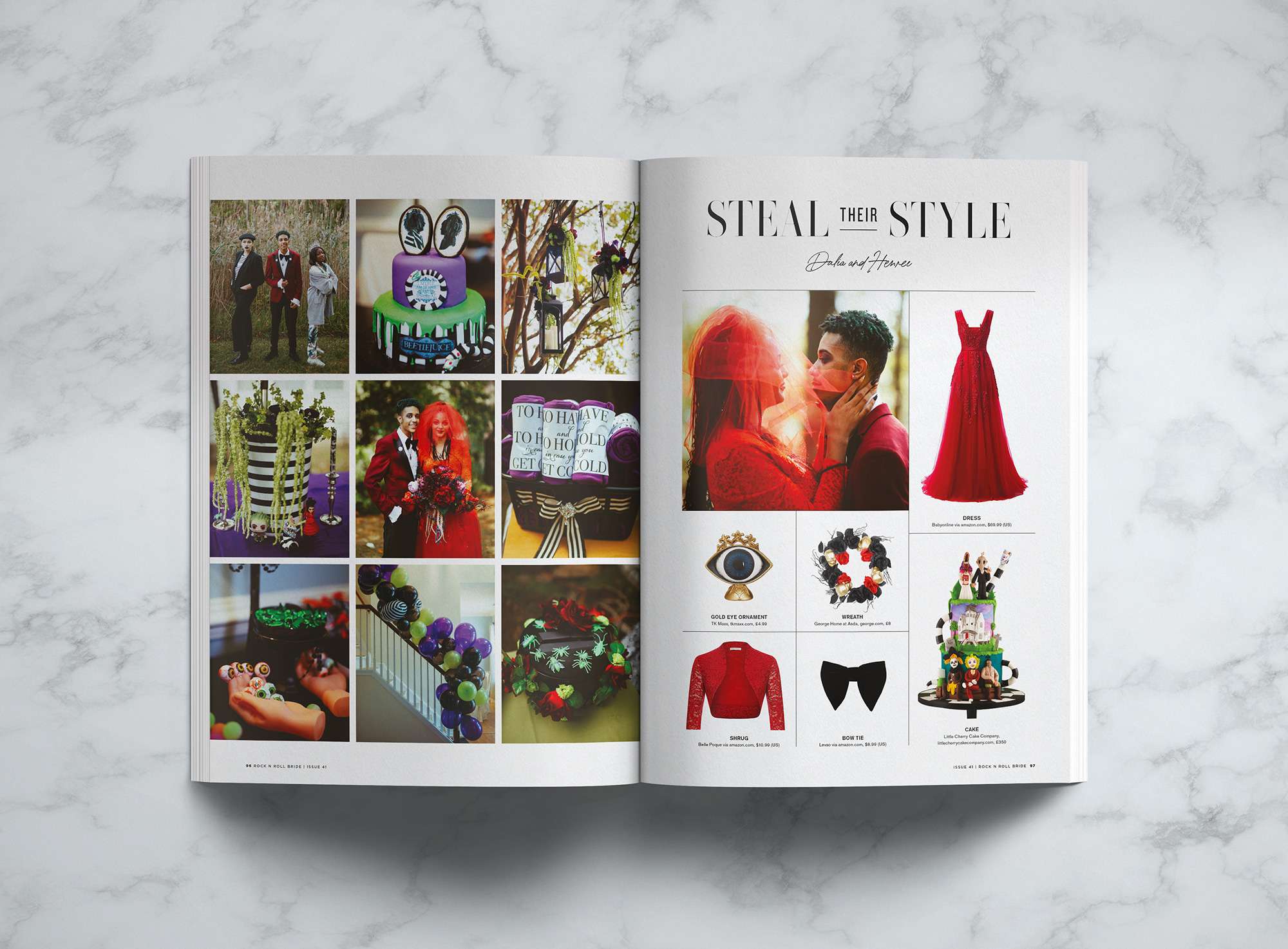 So, whether you're having a Halloween themed day or you're goth and proud year round, I hope your dark little heart enjoys this issue!
You can buy this SINGLE ISSUE or SUBCRIBE using the buttons at the top and bottom of this post. As always, UK postage is free and we ship worldwide.
Sorry, this product is now sold out!
We also wanted to give a special shout out to some of our loyal advertisers who enable us to keep making the magazine we love so much! Zahn is a fantastic wedding photographer from Auckland, New Zealand, Vinny and Charles, from Australia, make beautiful nature engagement and wedding rings (and ship worldwide!) and Catherine Blades Couture, from the UK, designs and makes the most gorgeous showstopping dresses.
If you are a wedding supplier or small business owner and would be interested in advertising in a future issue of the magazine, just get in touch by emailing us on magazine@rocknrollbride.com!