By Southern standards, Abby and Evan's wedding was out of the box. But by New York standards, their new adopted home, it was quite traditional, and they loved this about their day. "We wanted to create a wedding that merged our traditional Southern upbringing and our urban and modern New York life. We loved that our guests were able to experience parts of our story and personalities that they may not get to see every day, or haven't seen in their experience with us."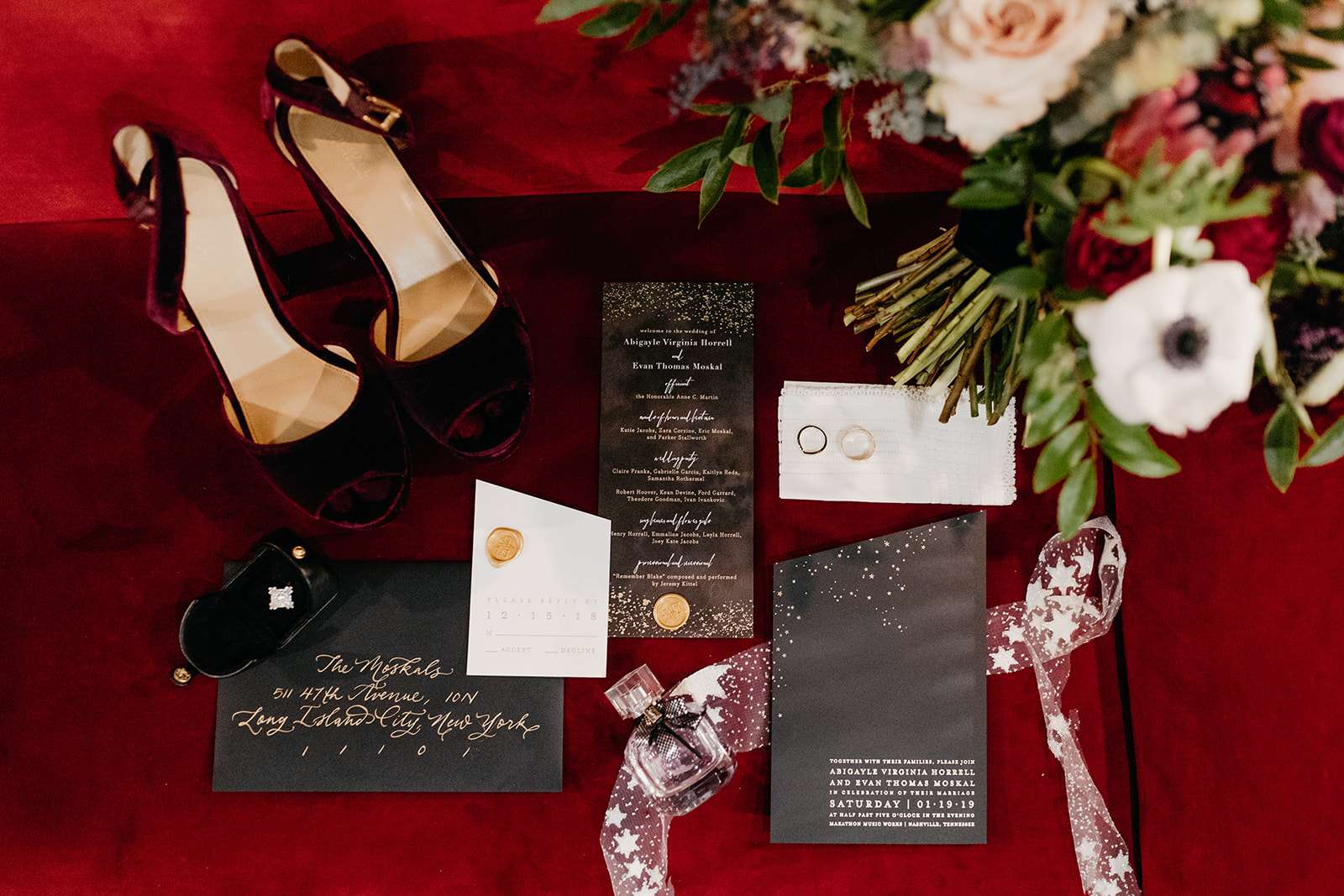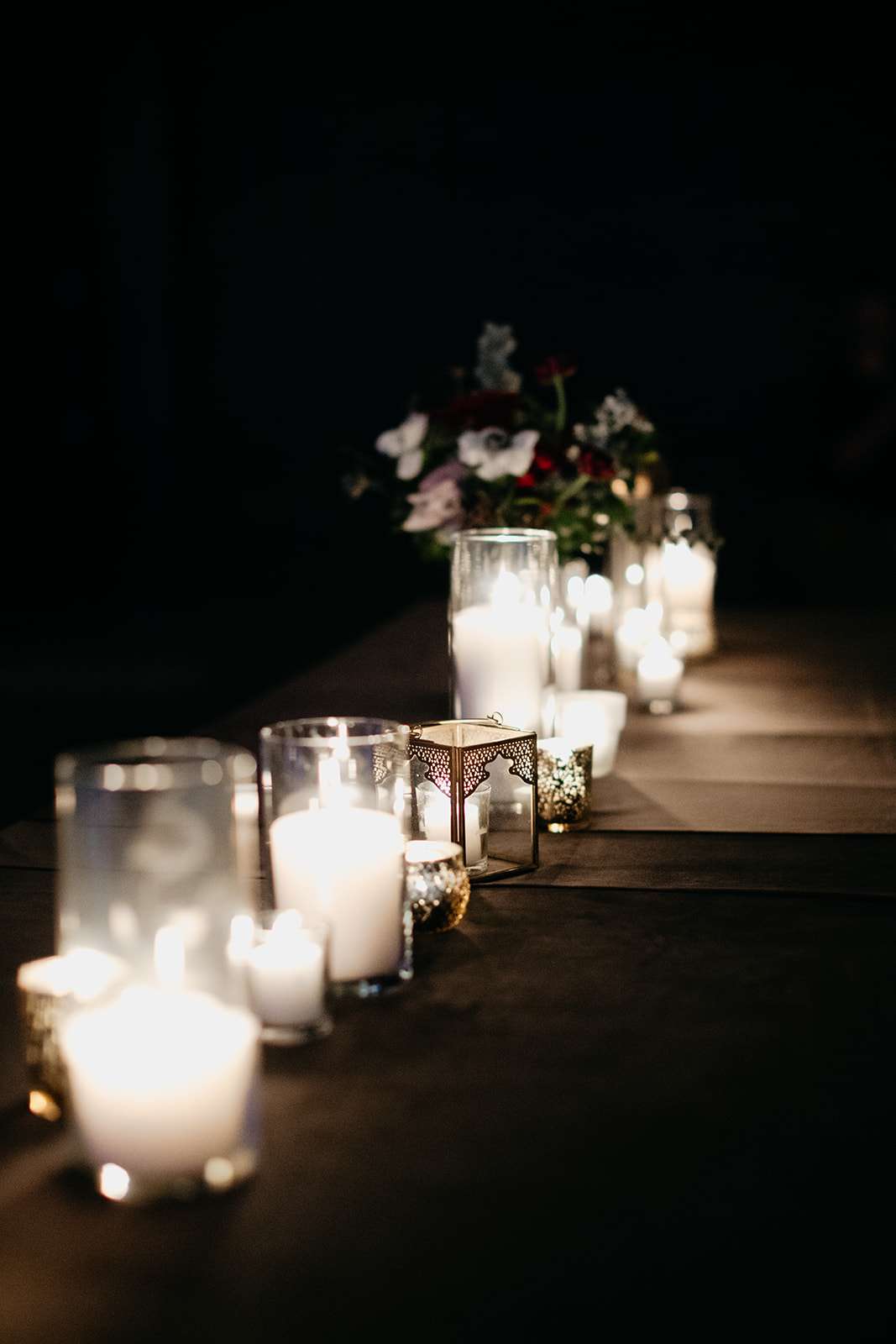 It was held Marathon Music Works in Nashville, Tennessee – a venue the couple used to go to concerts together at during school. They used sentimental details throughout their day; they were married on the vintage rug that Abby played on as a child in her grandparents house, Evan used a stone from Abby's late grandmother's wedding ring to incorporate into her band, and her sister read a letter from their late grandmother that she had sent to her on her own wedding day in 2012 – it was dated January 19th, Abby and Evan's wedding date.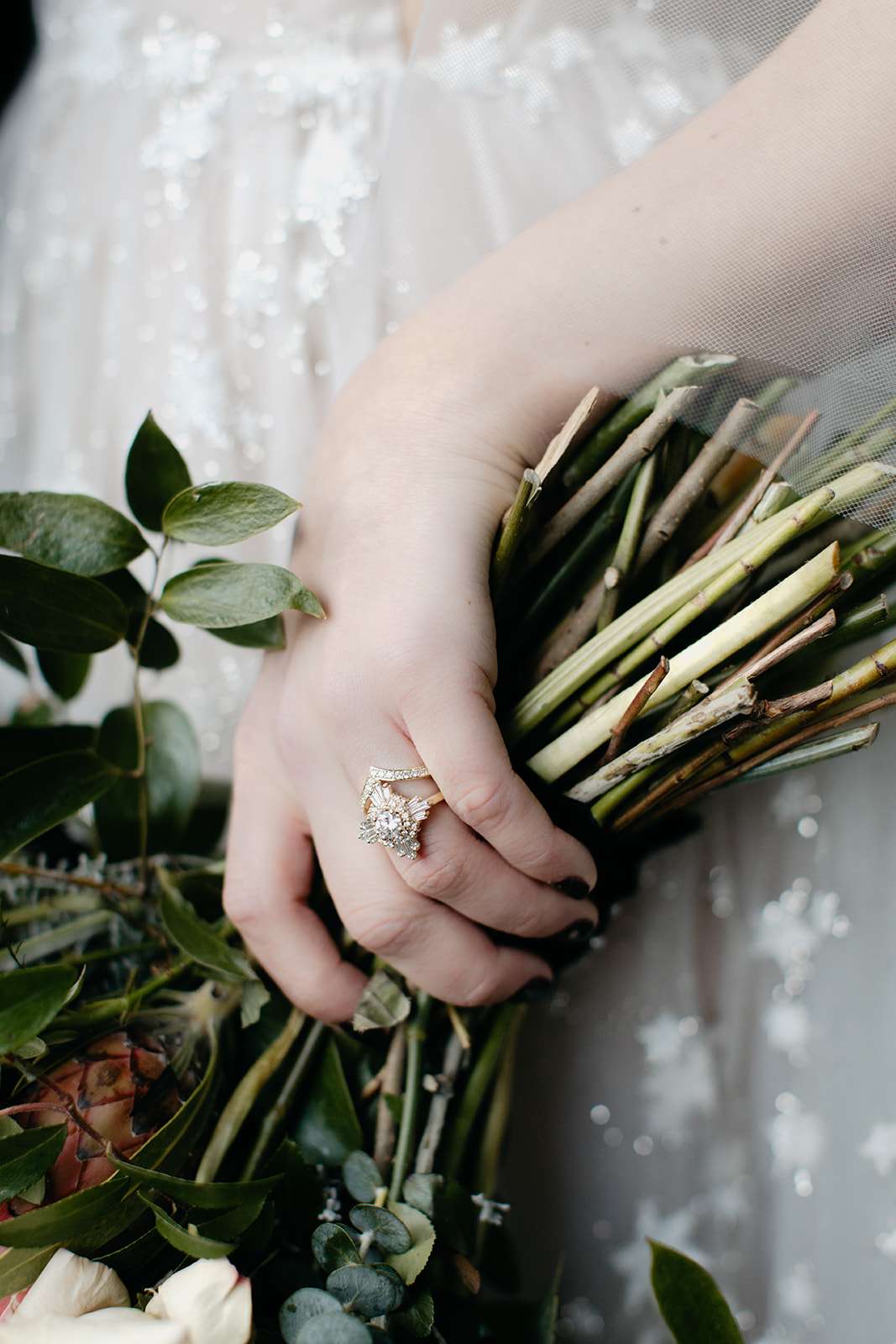 With a $65,000 budget, they were able to work with an incredible team of vendors to bring their day to life, and didn't do any DIY. That's not to say their day wasn't incredibly personal, and the worked hard with them to create a day that was an absolute representation of themselves. "In the South, so many weddings look the same and guests expect a certain experience. We sought out planners, designers, and producers who were eager to challenge themselves, not just recreate something they'd done 100 times before," the bride explained.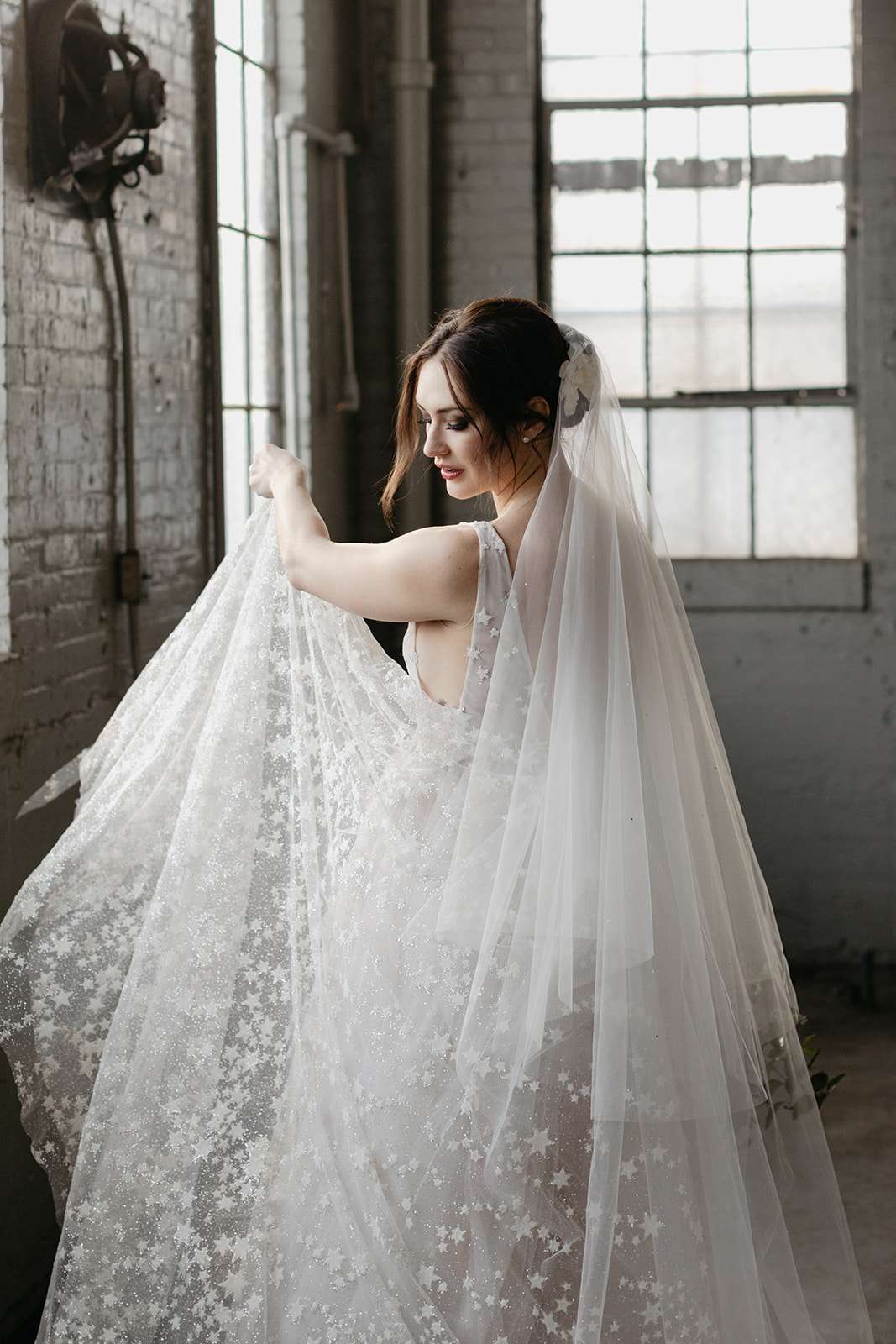 Stylistically, they were inspired by Abby's star covered Galia Lahav dress, pairing celestial touches with bohemian elements to create a luxe, winter theme. "Instead of focusing on getting vendors to recreate things we'd already seen, we chose companies whose work we admired as a whole, and allowed them creative freedom," explained Abby. "This ended up producing some of our favourite details of the day like our candlelit ceremony, greenery hanging to the ground, and stars projected onto the floor. I would have never thought of those things myself because I was so close to it and couldn't see the bigger picture sometimes."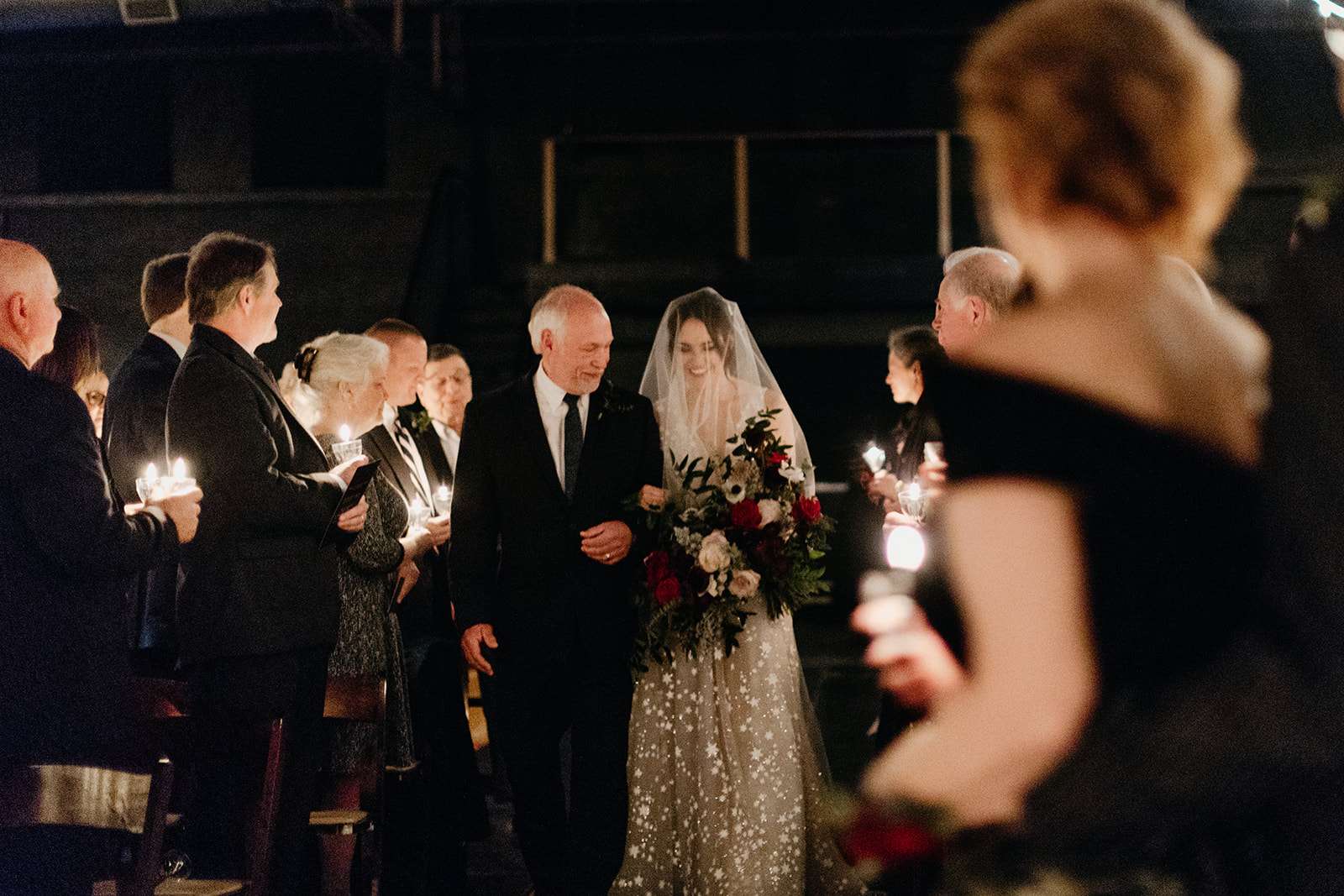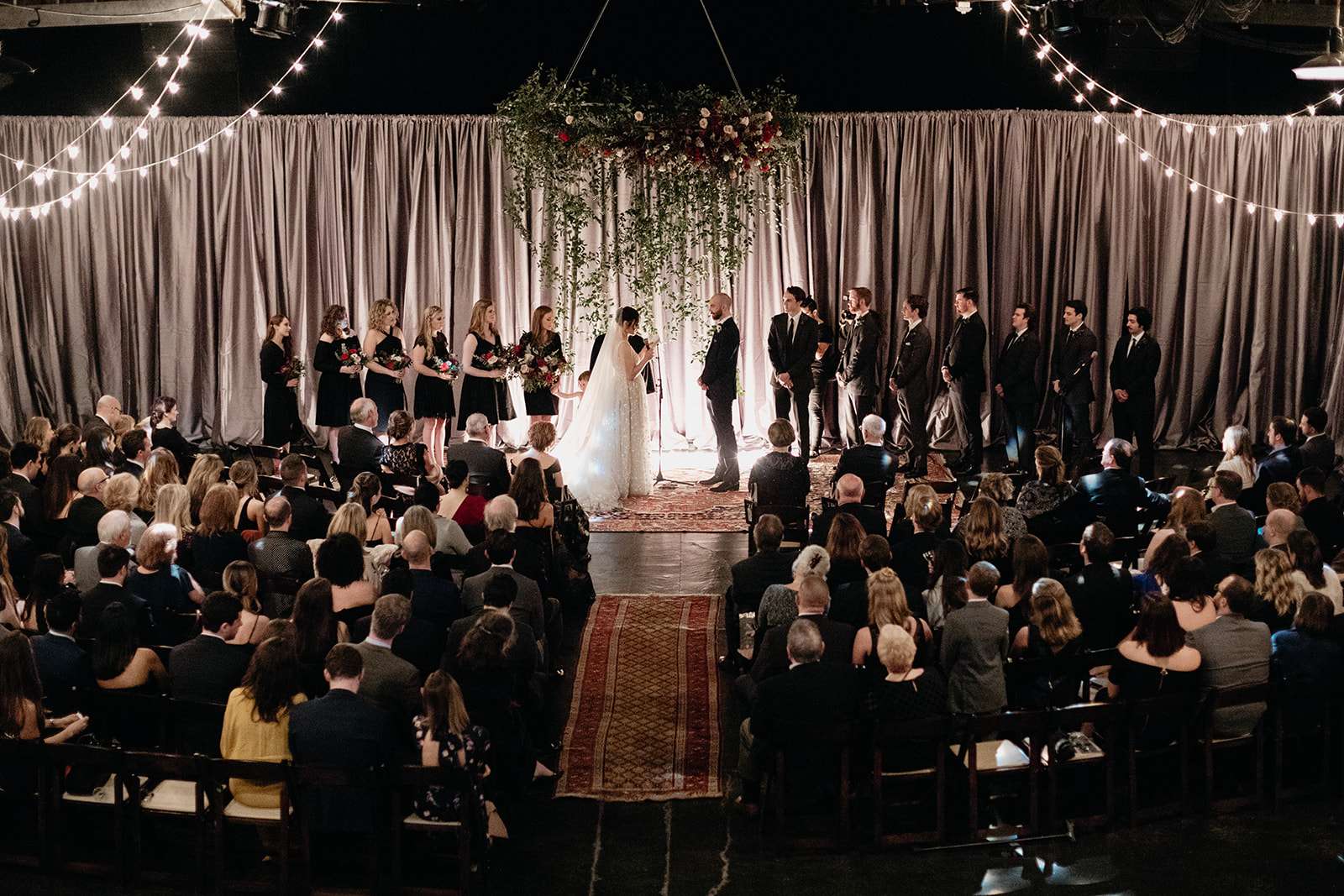 Some of their cost-cutting measures ended up with incredibly heartfelt results; for example, instead of hiring fancy 'getaway car', they were driven home by Evan's dad in the very same Jeep that Evan used to pick Abby up for dates in way back when in high school. In another poignant sentimental moment, Abby's sister gave her another ring on the day that her late grandmother had given to their great aunt in the 1960s, thus continuing the tradition of passing it from sister to sister, "The almost 50 year old ring was covered in stars – I had chills!"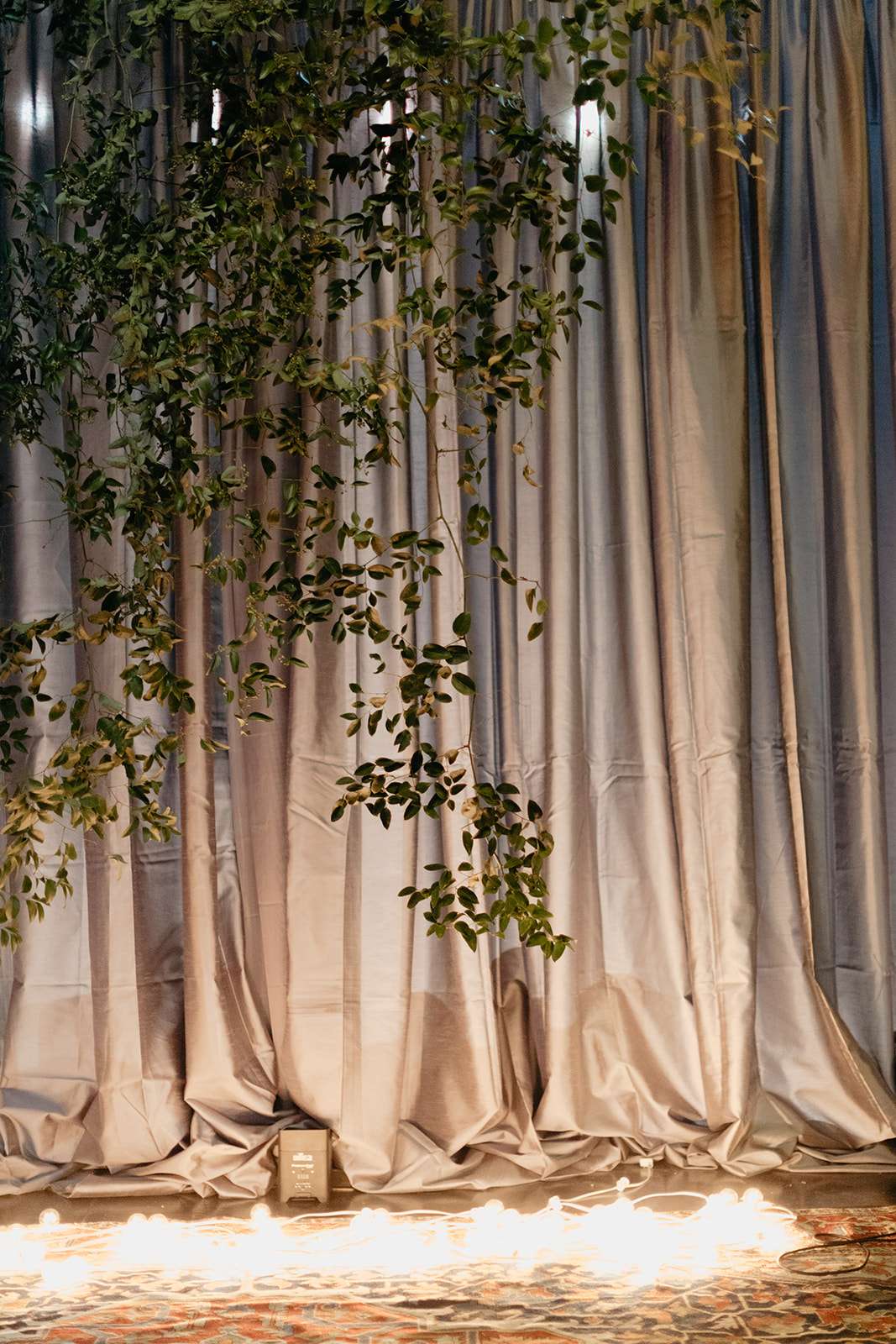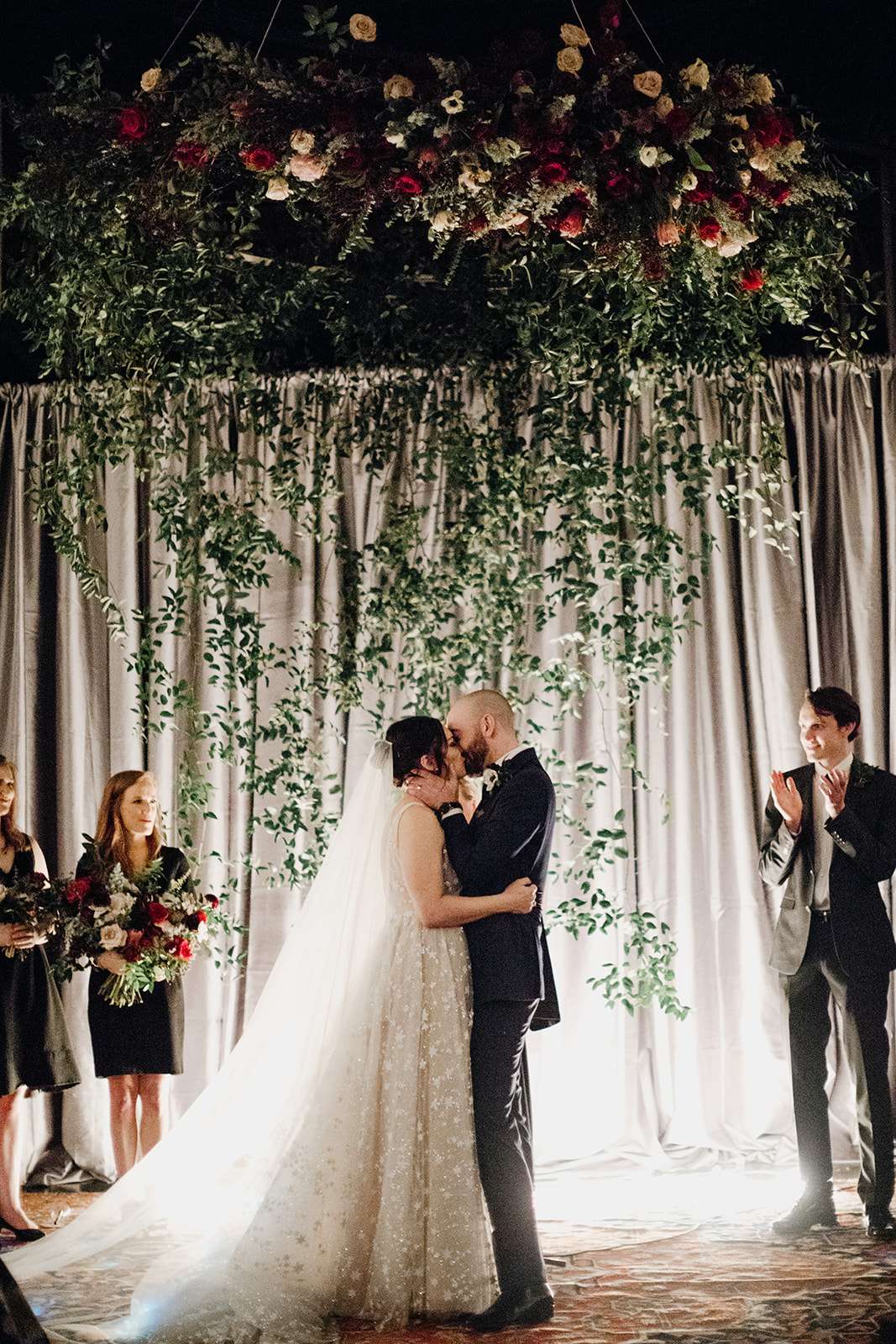 Abby describes the ceremony as her baby – it was the part of their wedding that she dreamed about the most, and had a true vision for. "Our reception was very casual," she said, "so it was important to us that the ceremony be dramatic and emotional. Our goal was for everybody to cry at the ceremony and black out by the end of the party!"
Their wedding planner was all the way in for dramatic and moody aesthetic and had the idea of the candlelit ceremony; when they sat down, each guest was given a small black taper candle. The first candle in each row was lit and guests passed the flame through the crowd, lighting each others candles. "By the time I walked down the aisle with my dad, it was like walking through a sea of stars with all of our favourite faces lit by candlelight. It was unbelievably pretty."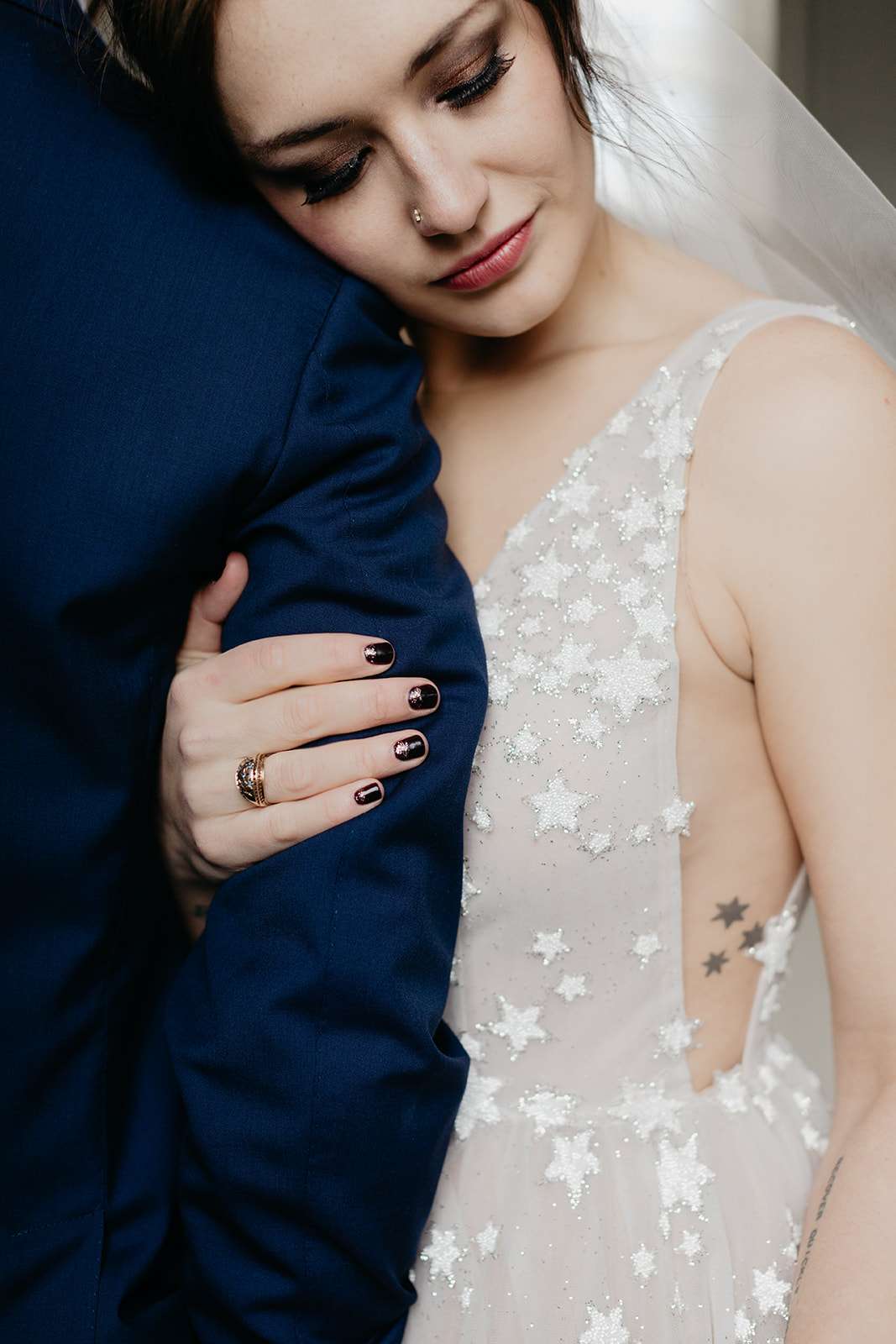 Abby and Evan exchanged vows that they'd written separately but ended up mirroring each other, which was a magical moment. "We've been together since we were 17 and we both talked about how we raised each other and haven't only grown up together, but grow up in love together."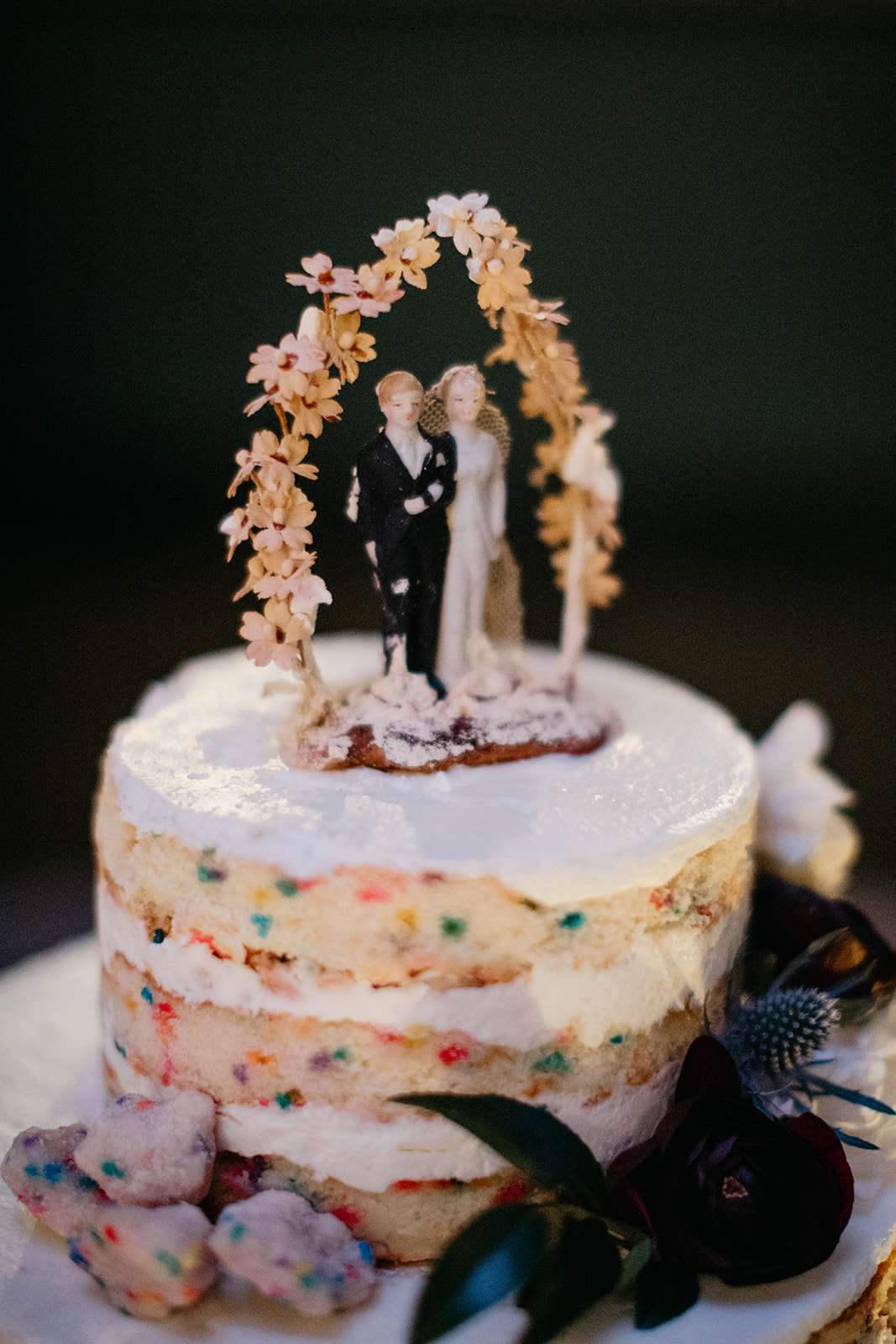 "Planning our wedding was incredibly transformative for me, not just because I got a husband out of it, but a new career!" said Abby.  "I had been feeling stagnant at my job for a while when we began planning our wedding and threw myself into it, taking on tasks that our wedding planner usually would have handled, like our run of show and music cues. He was actually the first one to tell me 'You would be really good at this.' After our wedding was over, I was more than a little depressed; I not only missed getting married but I missed planning to get married! Six weeks after our wedding, I quit my job and went on the hunt for work as an (unqualified) event planner. A few weeks later, I signed with an event production agency in New York and am now their wedding director, designing and planning for couples across the Northeast!"