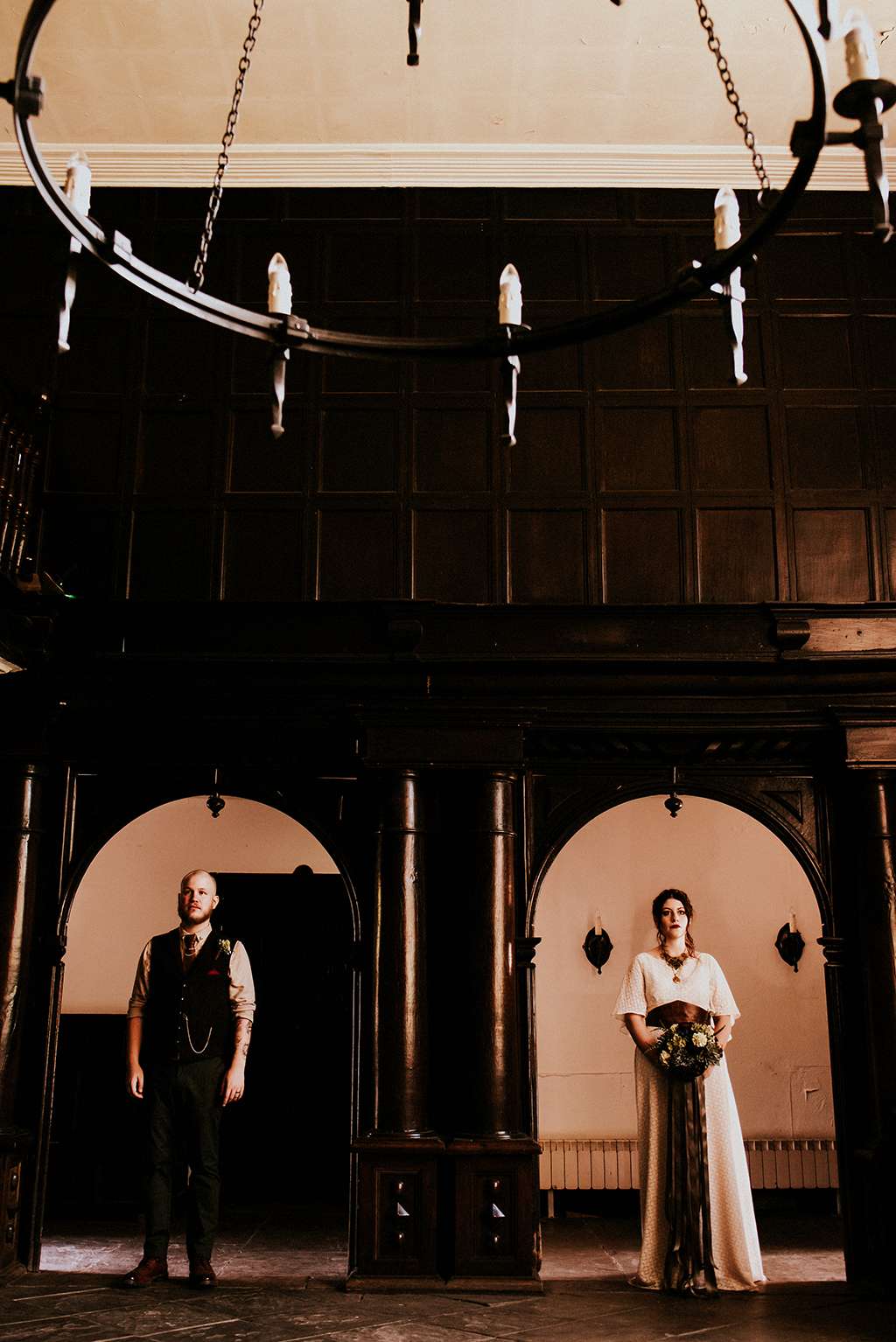 Gemma and Jason had a particularly interesting inspiration behind their wedding day – the desire to capture some weird, Victorian-style portraits! They were also inspired by their previous travels, their love of the outdoors and the history of their venue; Oakwell Hall in Kirklees.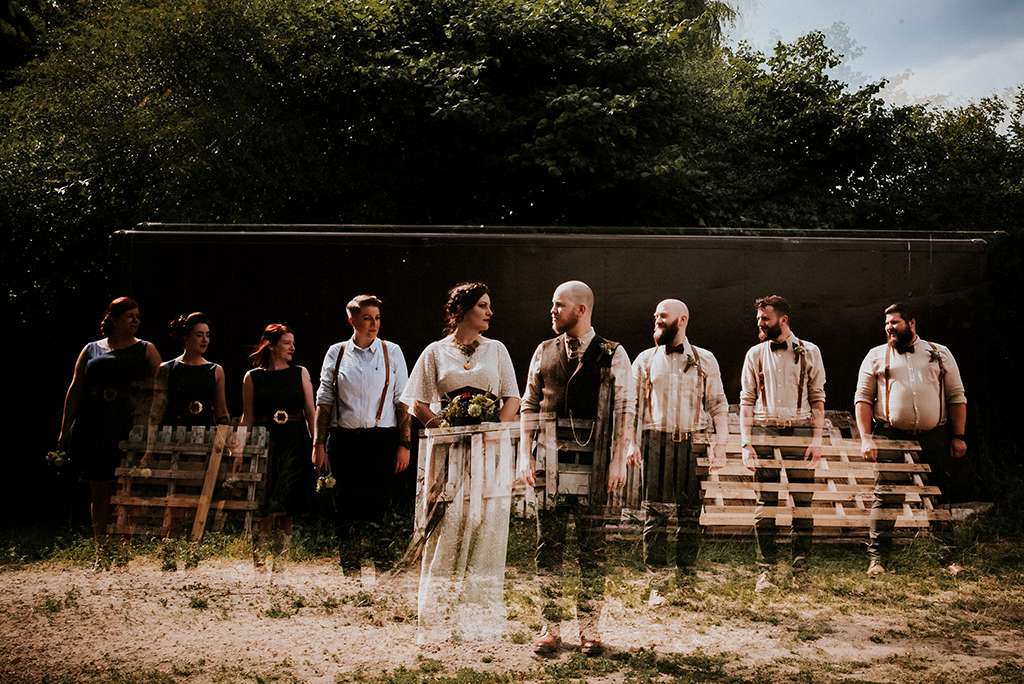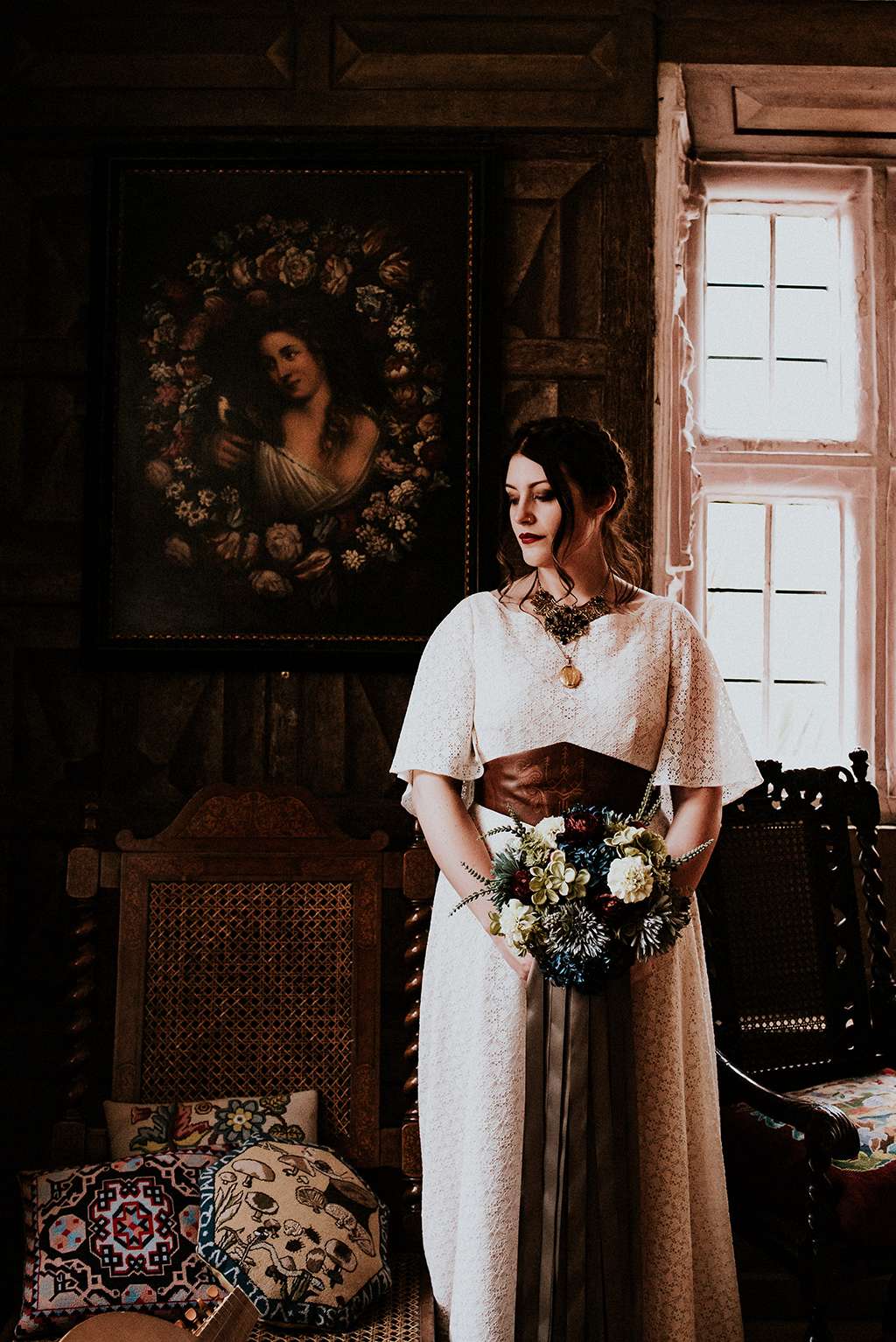 Clad in warped oak panels, the wonky floors and walls decorated with tapestries and the giant leaded windows created a magical space which immediately transported you to the past. With that in mind, they accidentally incorporated a lot of this vibe into the bride's dress and the decor and entertainment. "As we are so intrinsically tied into our own brand, Hord, these visuals couldn't help but be part of the day and it's aesthetics too," explained Gemma.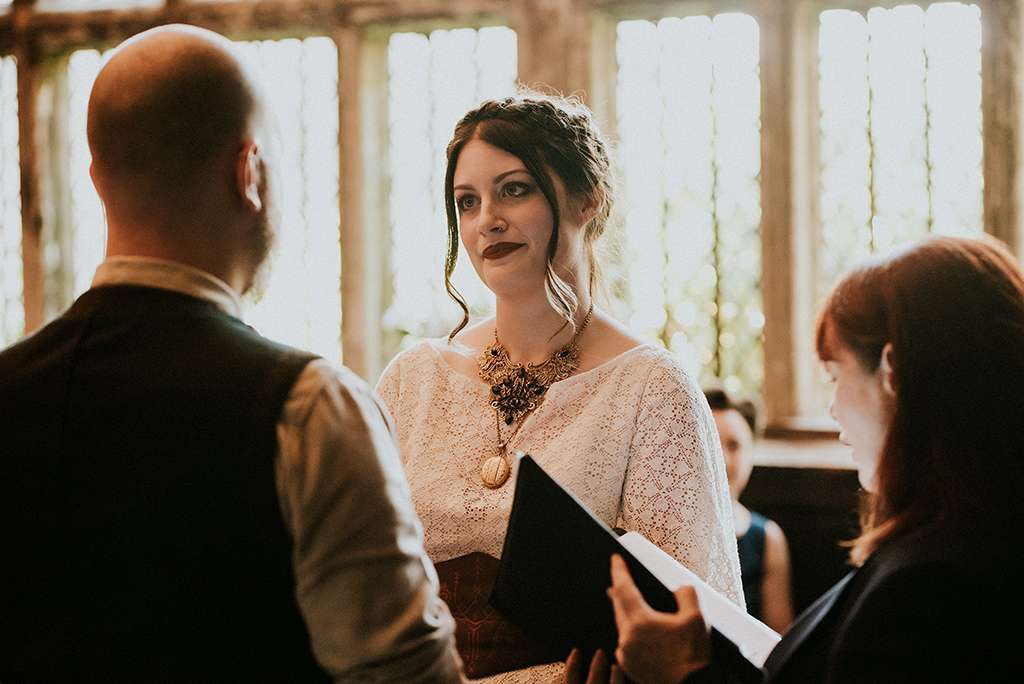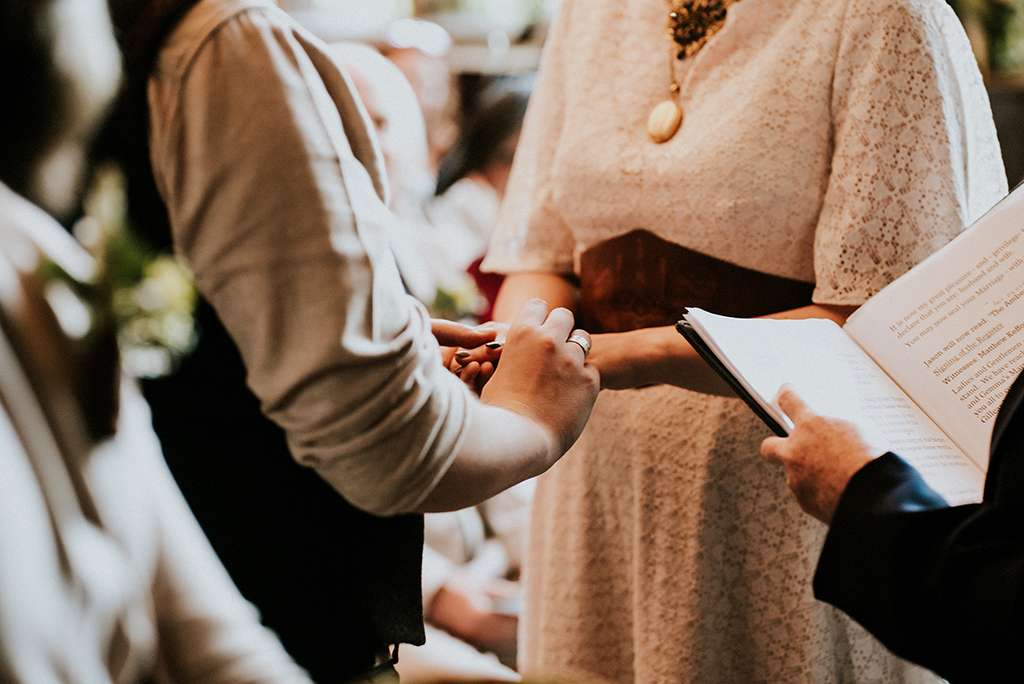 With a £10,000 budget, every waking moment was spent working towards their day. "The sheer scale of work we put into the wedding still makes us tired thinking about it!" said Gemma. "Every element came from our minds and the majority of these ideas came to fruition from our very own hands. This was all in an effort to save money and ended up being a hell of a lot of work but upon reflection it was the best thing we could have done. Our wedding was a true representation of who Jason and I are, and our relationship."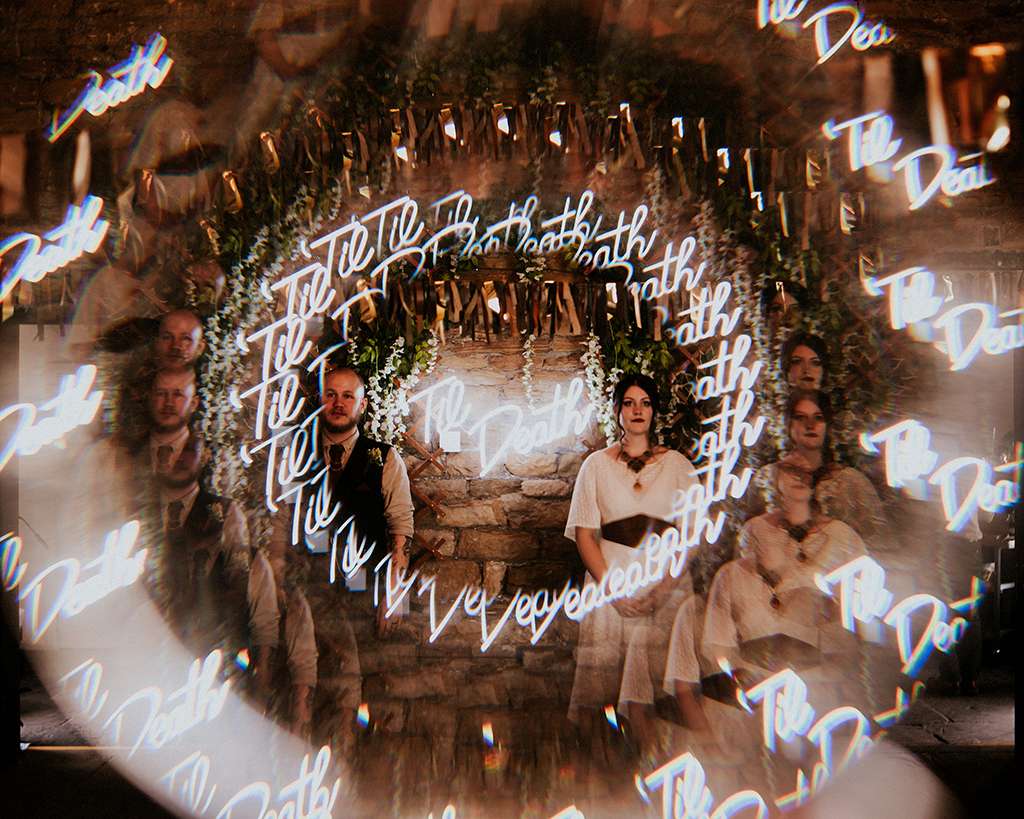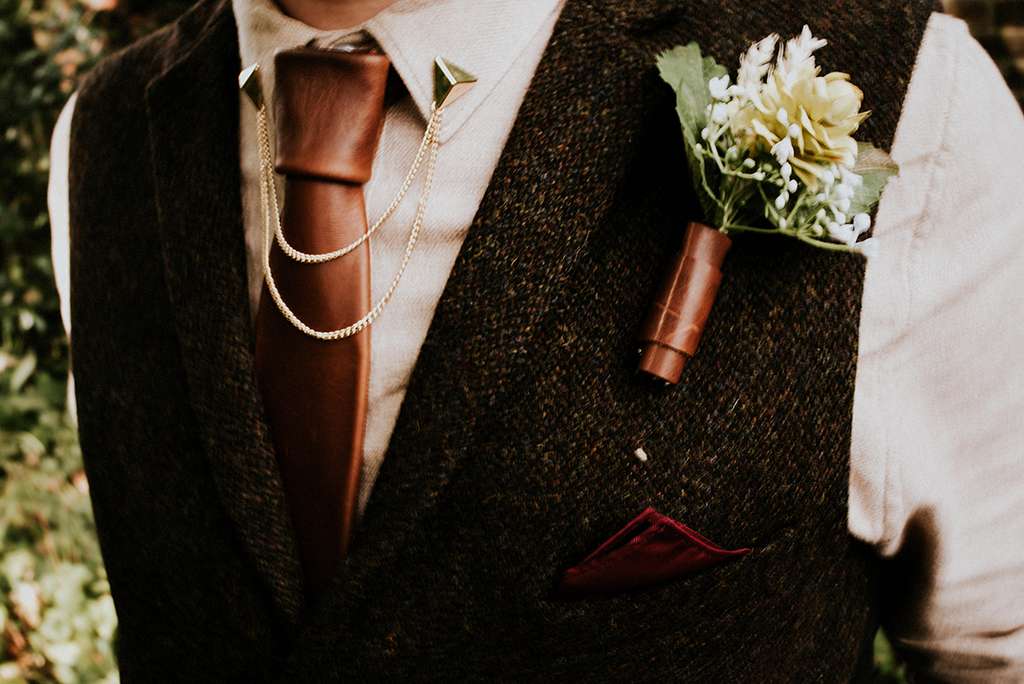 As owners of a personalised leather business, they used their expertise to add a stamp into their day. They made leather dickie bows, engraved belts and braces complete with their wedding logo for the groomsmen and maid of honour, and leather-wrapped bouquets and boutonnieres for the bridesmaids and groomsmen. They made an engraved leather cinching belt with vintage buckle for Gemma and her mum, and leather tie for Jason.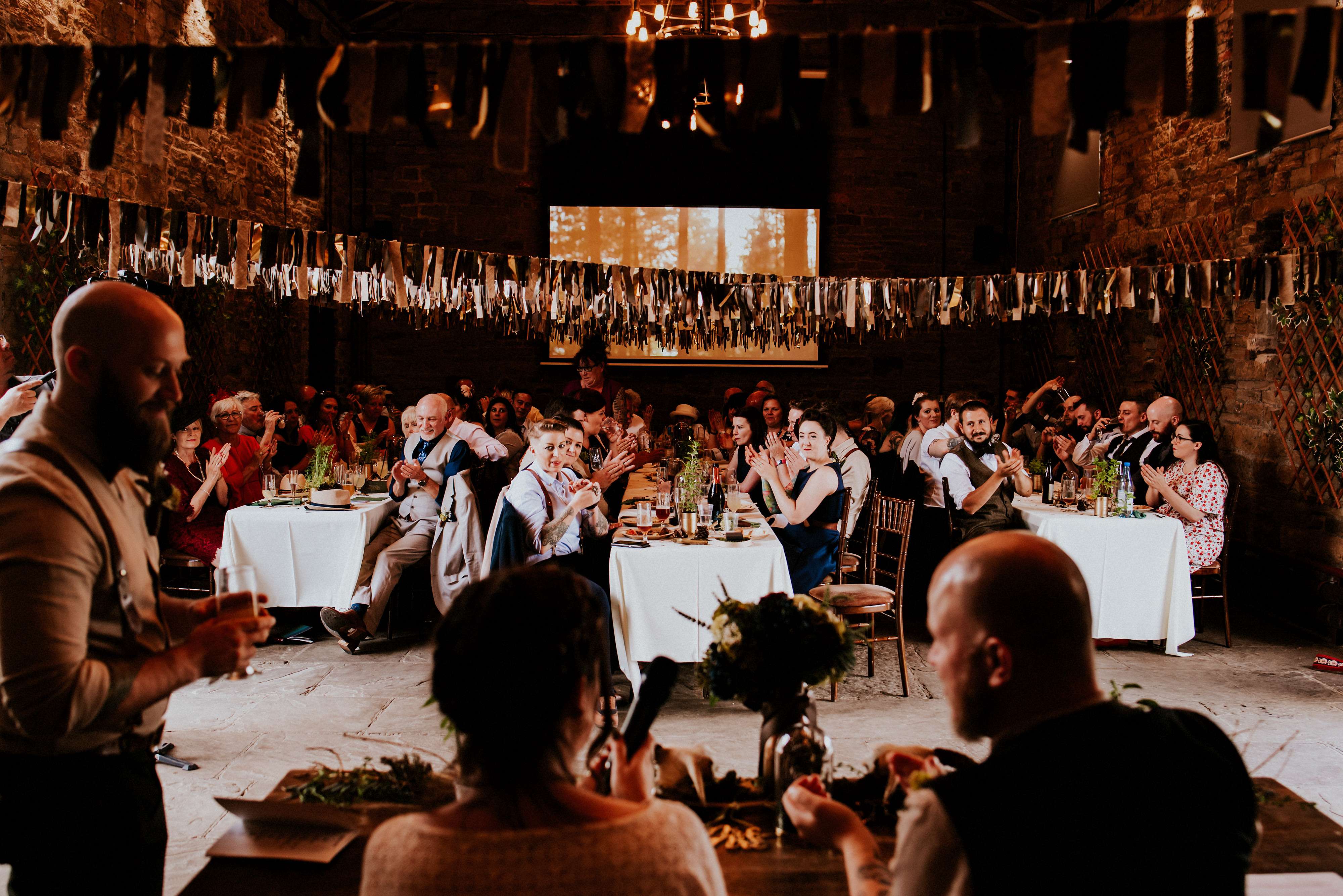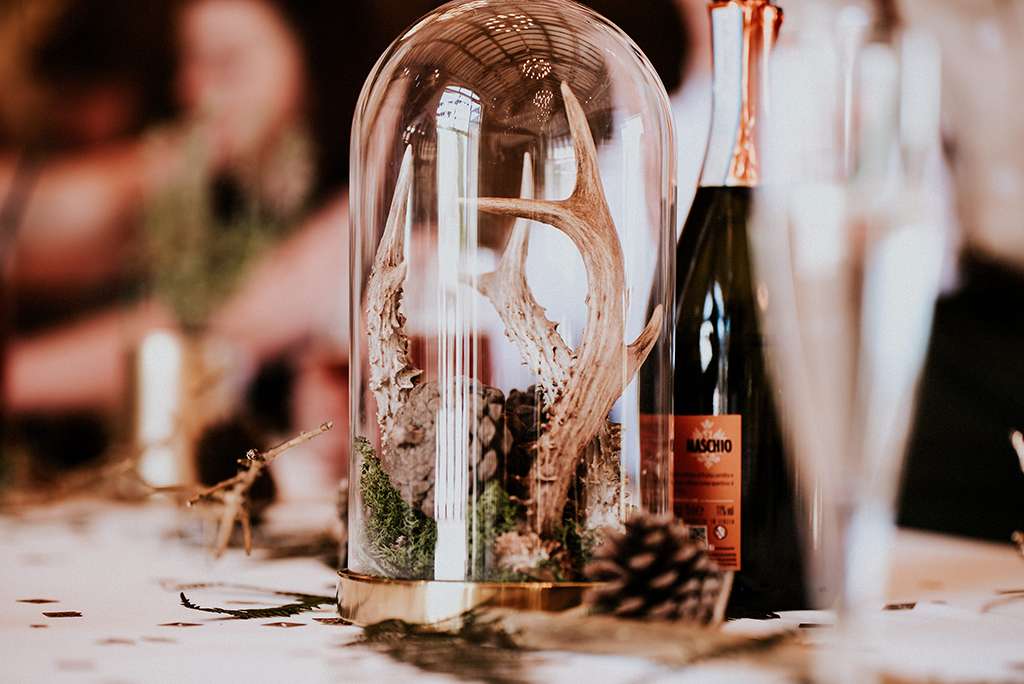 They also made metres and metres of bunting from leather, hessian and ribbon, filled bell jars from Ikea with foraged feathers, animal skulls and family trinkets. They laser cut their own confetti and used artificial fern leaves to display on the tables in their reception and projected forestry video on loop at the far end of the barn. The space was covered with trellises and foliage and they even constructed a last minute archway.
Jason made their own bar complete with keg taps from old pallets and crates, as well as signage to help guests pour their own pint and mix their own cocktail. "It helped that we are already collectors of skulls and random objects, but it was relentless – there is no escape when you have a DIY wedding!"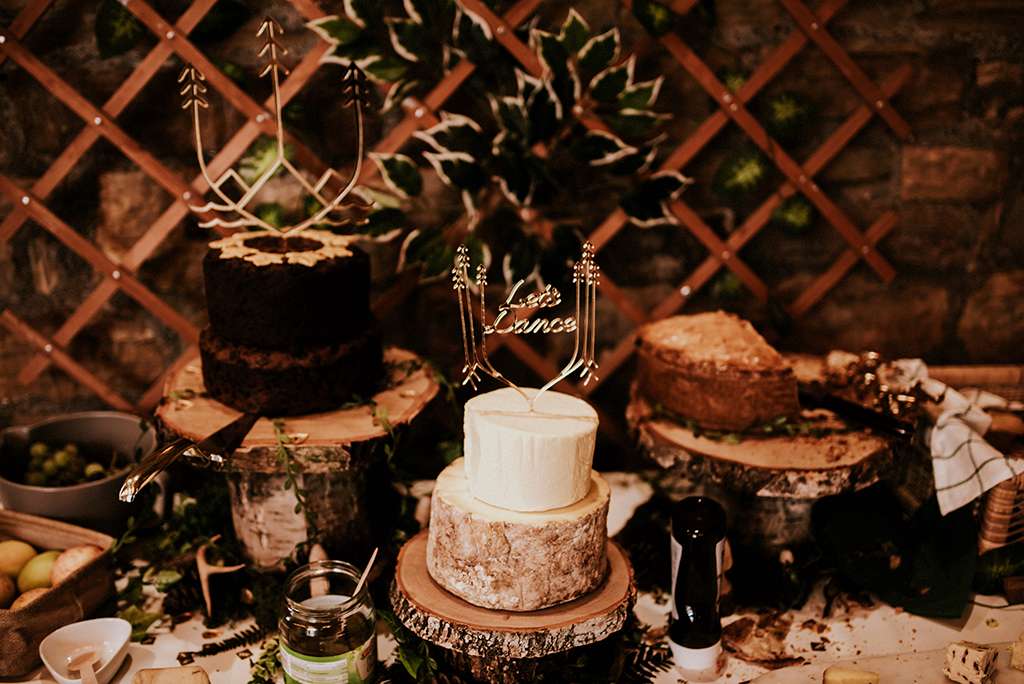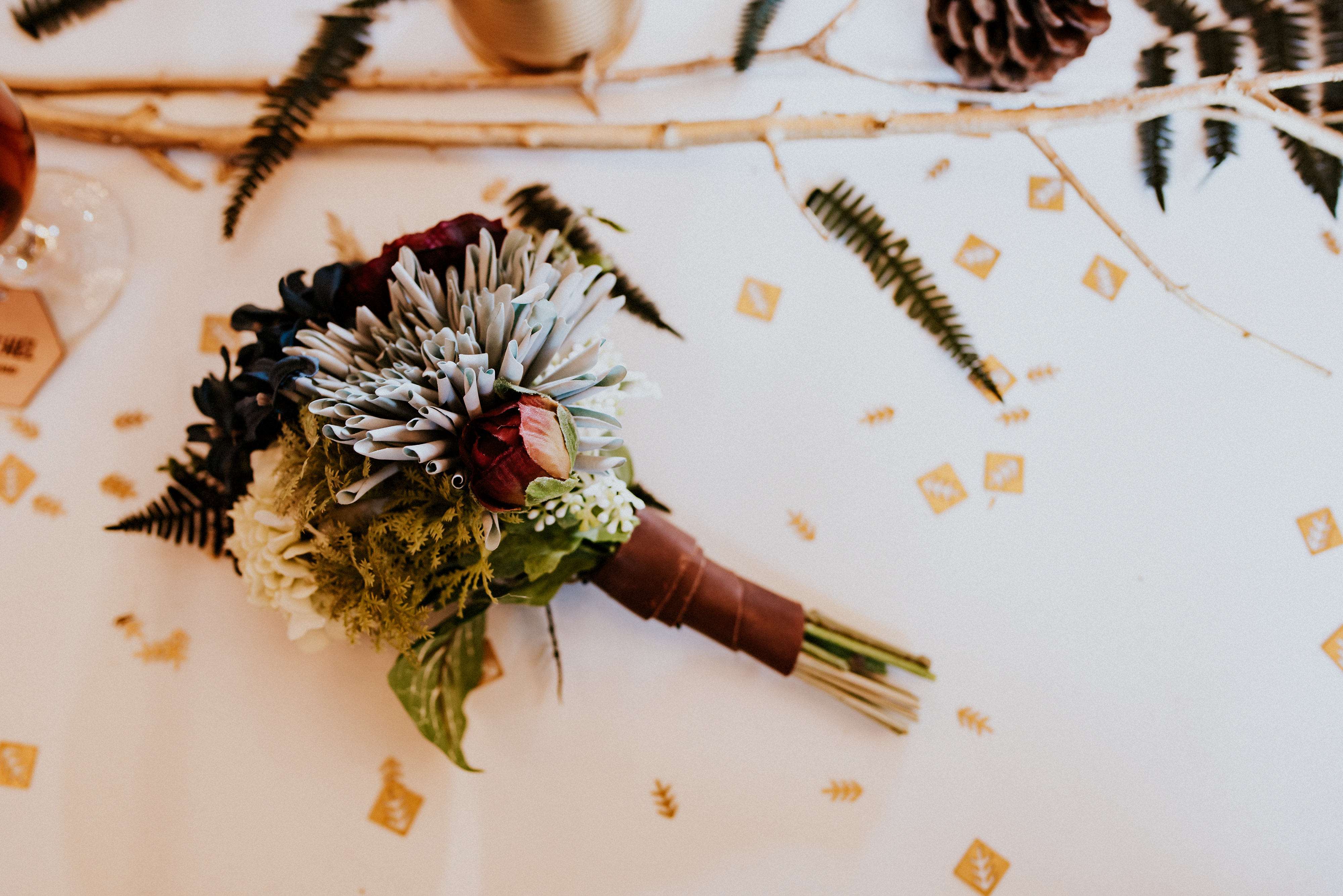 Their ceremony was held in the hall, a beautiful oak clad room with huge leaded windows looking out over woodland and grass. They compiled a playlist of significantly dark and depressing songs for the guests to listen to on arrival to set the tone. Gemma walked down the aisle to Helvegen by Wardruna, a funeral song that starts with a good lengthy thunder storm to keep everyone on the edge of their seats. It was a fairly traditional civil ceremony, but they did our best to pepper it with their own vows and readings. Jason read an excerpt from a Philip Pullman book, which successfully brought the room to tears.
All in all, the ceremony flew by and was not without it's crusade of nervous bumbling around with us not having a clue what we were actually doing – the registrars did a great job of confusing us!"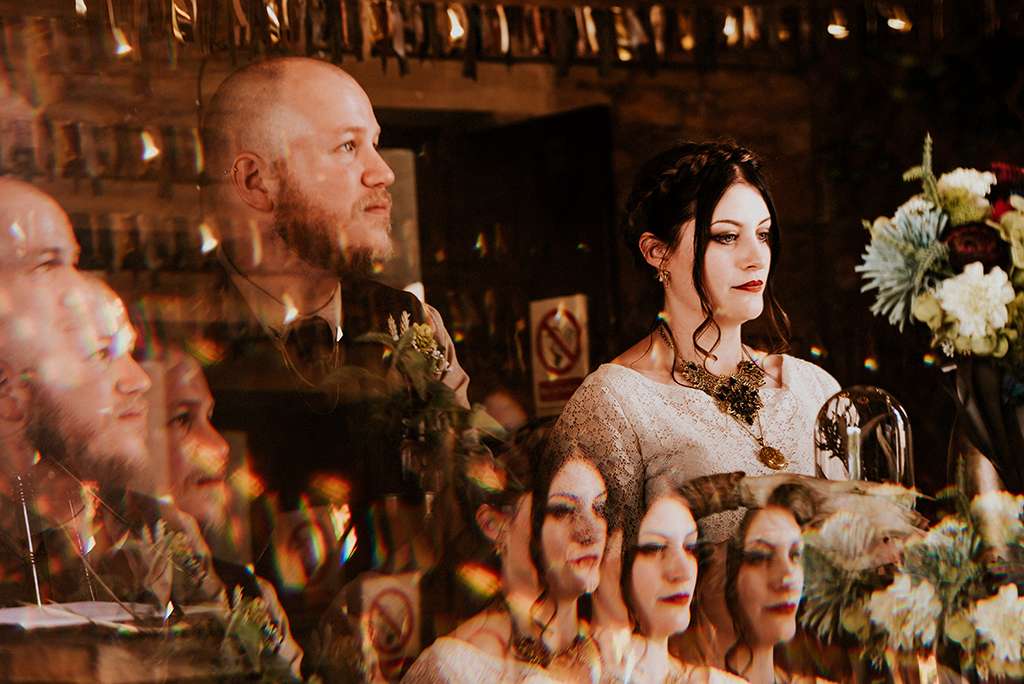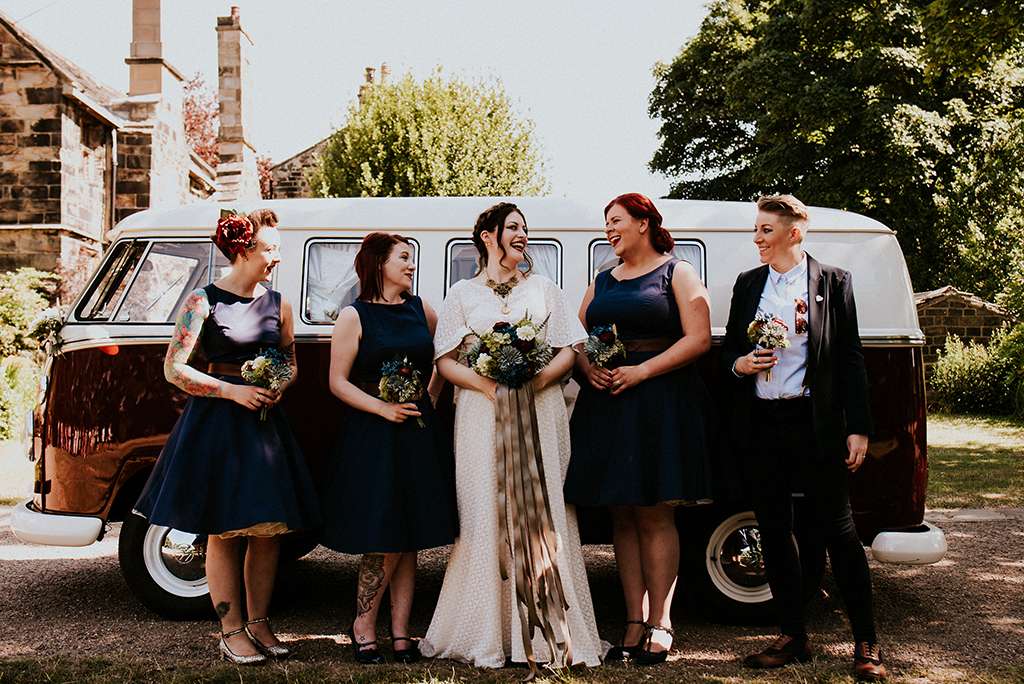 At £2,000, the biggest portion of their budget was spent on the venue, which hosted them for the whole day and also allowed them to provide their own food and alcohol, which saved them a lot of money. For entertainment, they skipped a band or DJ in favour of carefully curated playlists, and as a last-minute decision, inspired by the use of owls in their stationery, they hired a falconry experience to entertain their guests. "This was incredibly good value and as it was a lovely summer's day, the majority of time was spent outside anyway so a band or DJ might have felt forced."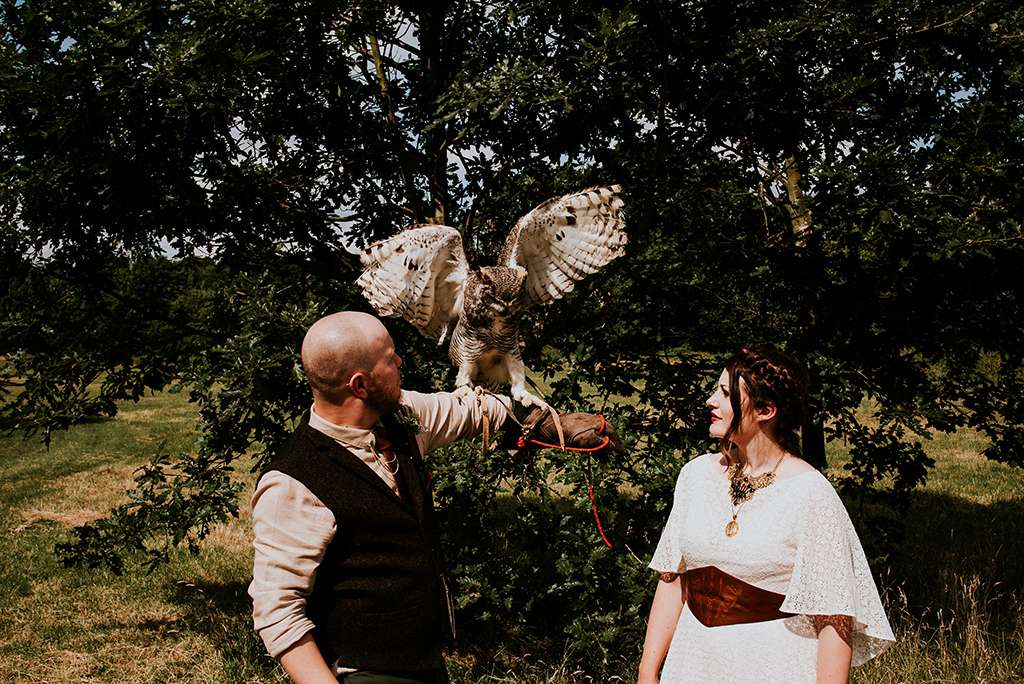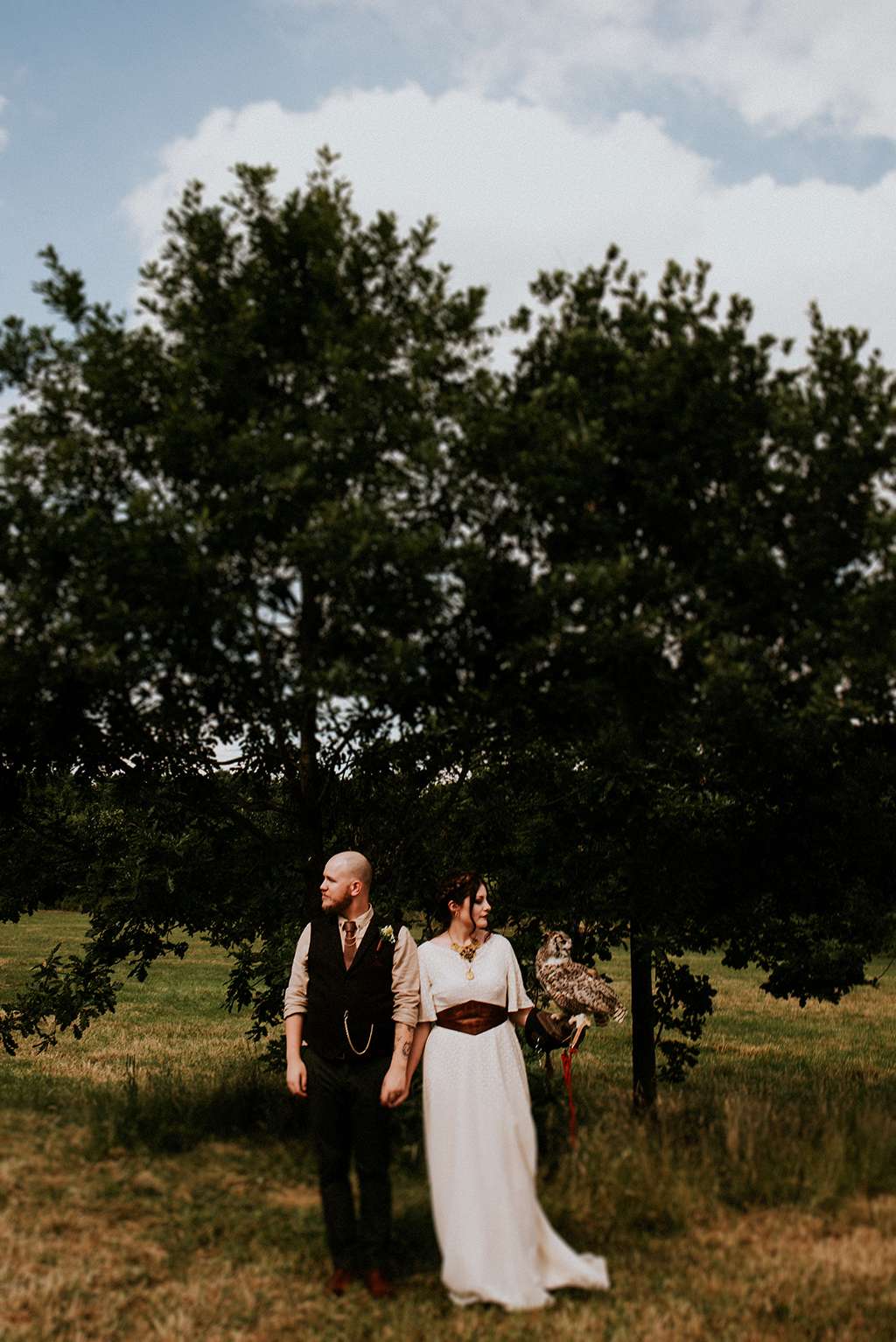 Gemma and Jason really enjoyed the opportunity to get creative together on a variety of projects and really reflect themselves, but in hindsight, they have realised that eloping would have been just as meaningful for them, and maybe even relieved them of some of the stress that came with planning. "We do now feel that eloping would have given us more time to spend with each other on the day", Gemma concluded. "Our advice to others is to really get to the core of who you are both individually and together and for what you want from your day."