Louise and Johan wanted their forest wedding to reflect the surroundings. They chose a neutral and natural colour palette of nudes, greenery and some black. They invested a big portion of their £180k budget on the flowers, decorations and hiring the incredible Blomboy, to bring it all together for them on the day. It was also really important to them to make sure they had the very best food and drink for their guests.
"We were inspired by the area and surroundings", said the bride. "I must admit Johan and I developed this weird attraction to internet culture, such as Vaporwave, plantwave and Lo-Fi so we tried to incorporate various elements from the subculture through things such as pink rope lights, large monstera leaves and so on."
The ceremony, held outside among the trees was decorated with simple wooden alter, benches for their guests to sit on and even more greenery. As they walked back up the aisle as husband and wife their guests showered them with leaves.
"In terms of design, the ceremony was minimal. Johan chose a song called E S R E V N I H T E A D which was such a breath of fresh air to everything else I've heard. More importantly, the officiator nailed it – all issues that we came to deal with during the first six months of marriage. I think it is important to get an officiator that knows you both individually and as a couple – not just a rent-a-pope."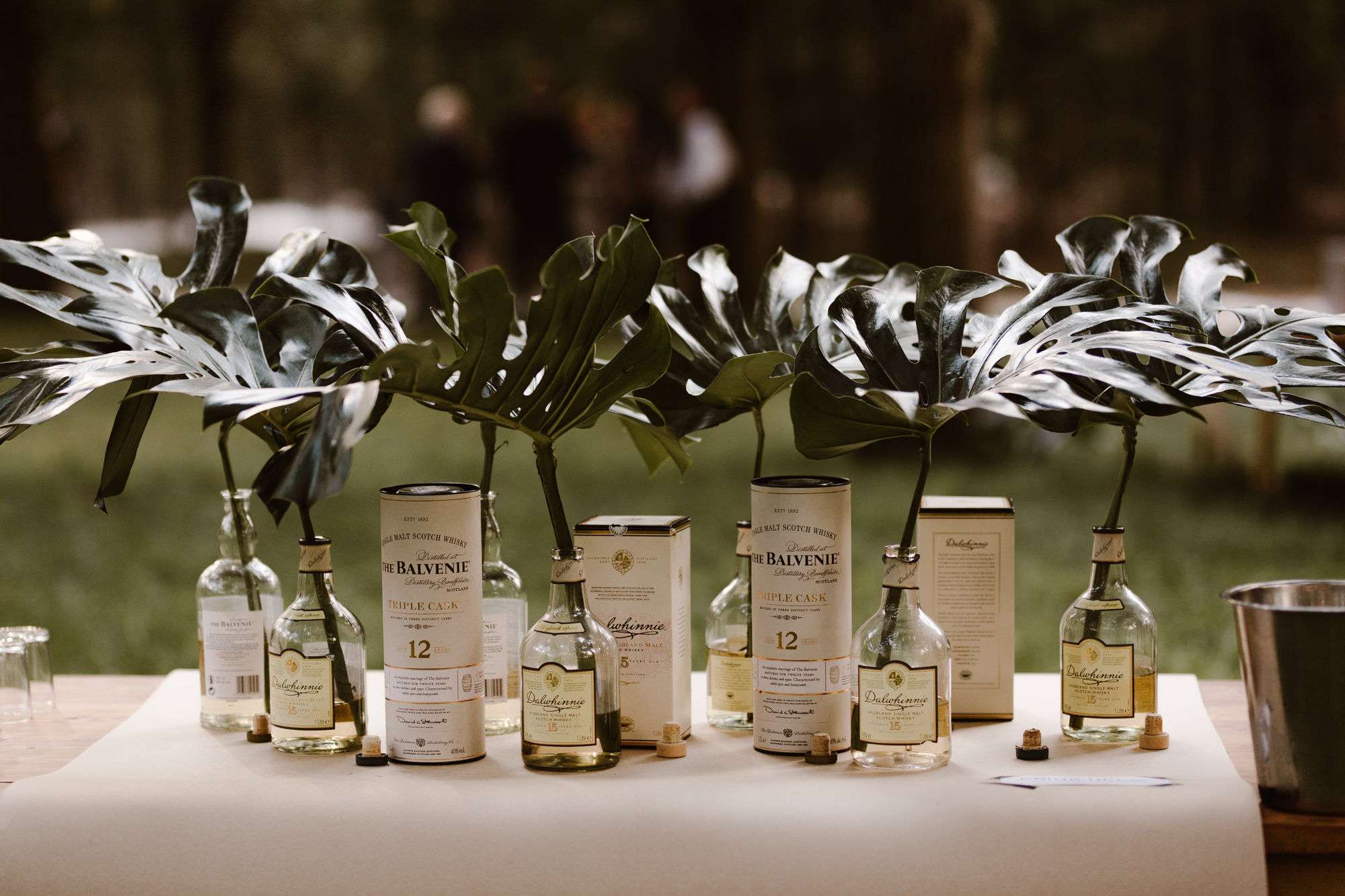 "One of our favourite moments of the day was actually at about midnight when Johan came to fetch me with two whiskeys (just to grab a breather from the party) and took me to back to the spot where the ceremony took place. It was really special to be back the same spot where we made our vows earlier that day, but without people. There was something really significant about the light, music and laughter in the distance and our moment back at the trees and the quiet."
"I loved every minute of our wedding", Louise concluded. "This was by far the best party I've ever been to – and I think everyone's wedding should be. Our advice for other couples would be to just go with it. If someone spills gin over your dress laugh because it isn't red wine!"