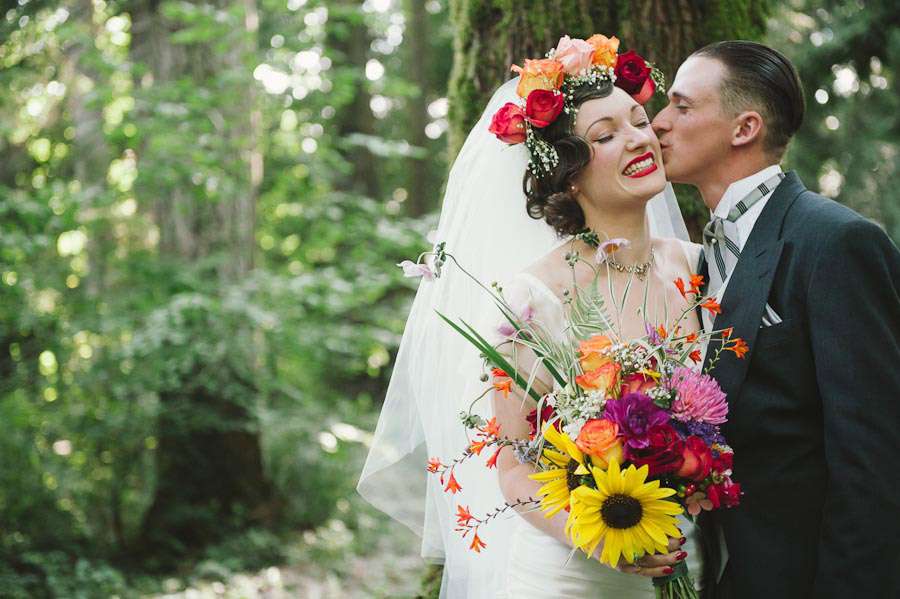 I didn't think people like this existed in real life. When I first laid eyes on Erik & Caitlin's wedding images I was convinced it was a styled shoot with models. This couldn't be an actual wedding, surely? But I was wrong and my heart whooped with joy.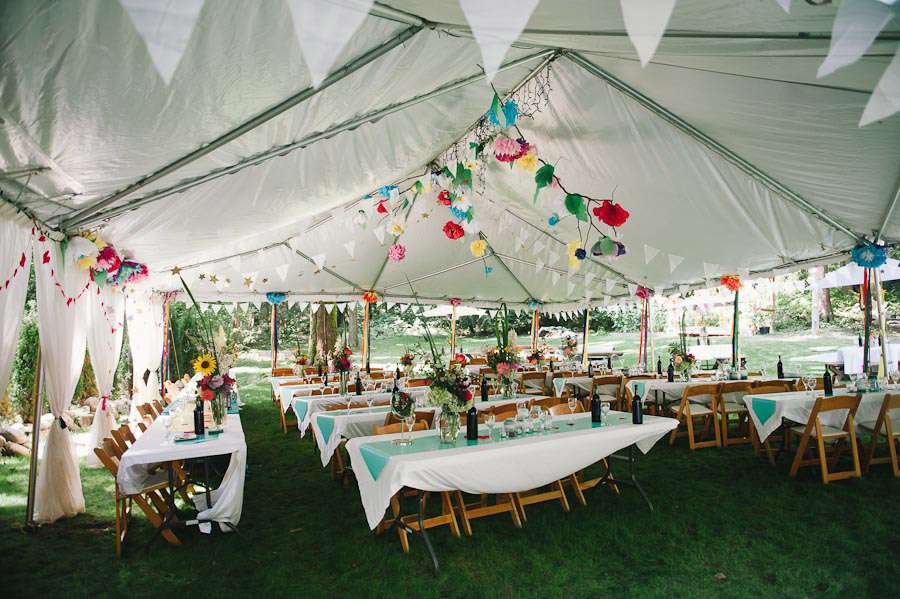 The wedding took place in September at the bride's parent's home. The entire wedding cost less than $5000. (I know! As if it wasn't amazing enough already, right?!) Caitlin designed her own dress (which was made by the mother of the groom and ended up costing only $190, including the veil!), wore $20 shoes (which she customised) and her floral headpiece was made by one of her bridesmaids an hour before the ceremony. The cakes were homemade, the flowers were grown and collected by friends and family and the invitations were hand painted and wax sealed by the bride. All the catering was done by the mother of the bride and the bride's brother Matt acted as bartender. As you can probably imagine the couple also decorated the entire space themselves.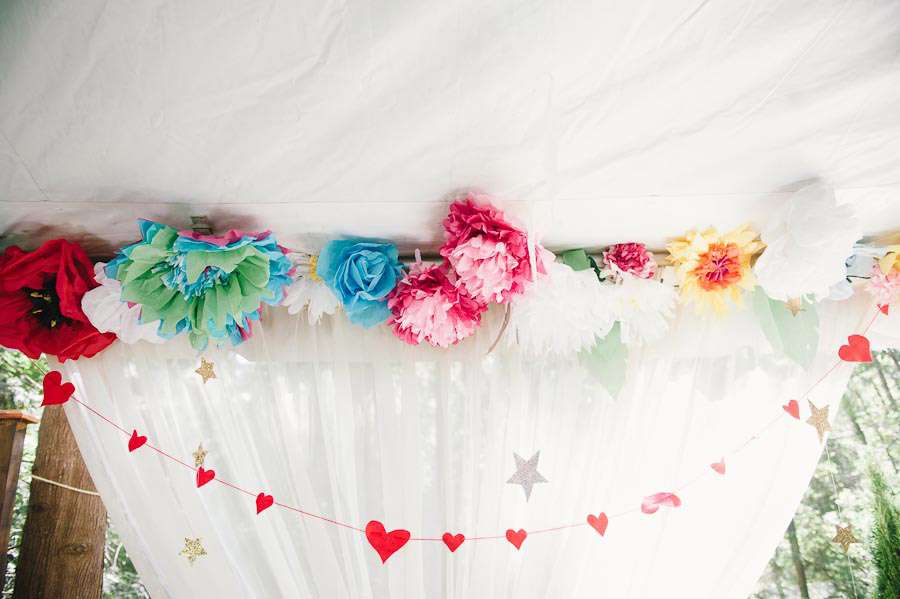 "As a self-professed 'Queen of Parties', I have quite the reputation for throwing very eccentric theme parties", began the bride. "As soon as we announced our engagement, expectations for a grand occasion were high. Knowing this, I decided that a 'themed' wedding would not be appropriate, the 'theme' if any, had to be a 'wedding' themed party. It would encompass all things beautiful and whimsical. This ended up included hearts, stars, rainbows of color, the flowers of summer, the moon and the stars. We have both always been drawn to anything old fashioned, so the vintage look was just a natural outcome."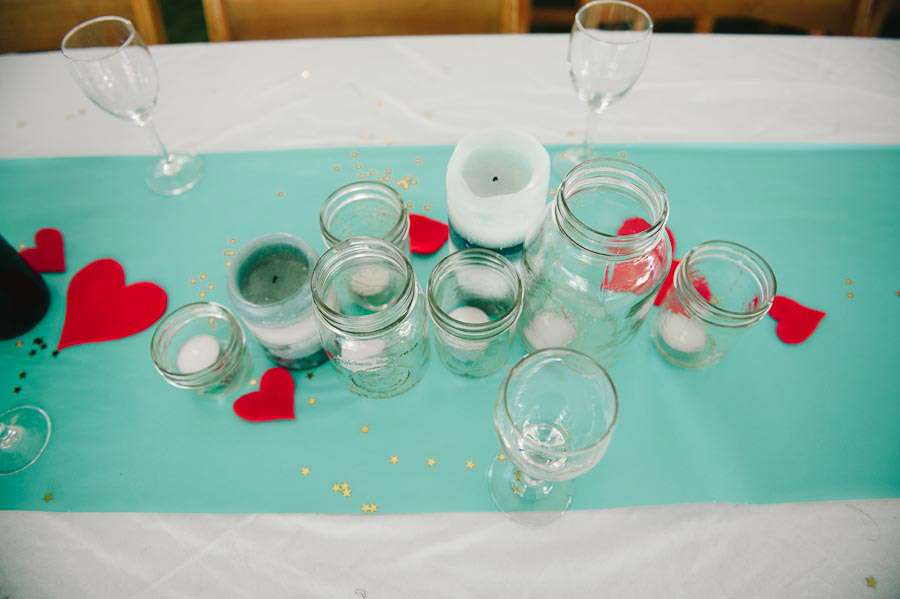 "Another unique part of the wedding was the ratio of friends to family. We both have very small families (about 25 in total) so the rest of the 120+ guests was made up of a family of friends. This created a very relaxed party atmosphere, which suited us just fine."
"In the marquee we had hand dyed rainbow strips of fabric, hand glittered cardboard stars (strung on fishing line), painted wooden heart directional signs, thrifted sheers used to make bunting, hand cut red felt hearts strung on red yarn, metallic streamer curtains, x-mas lights, tiki torches, chinese lanterns, mason jar candle holders and homemade 'chalkboards' (a little tip: do not buy chalkboard paint! It is a conspiracy! It is literally just really matte paint!)."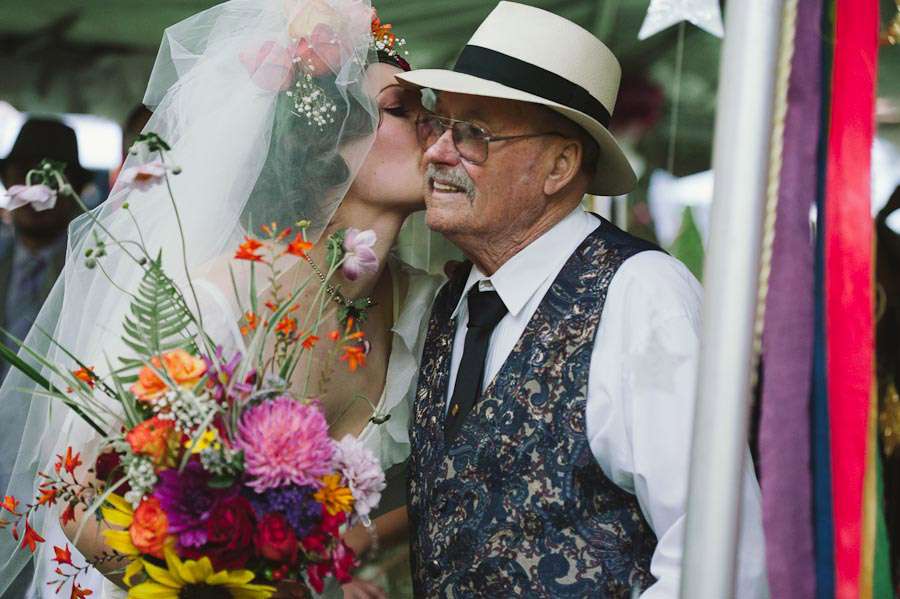 "We also had an industrial sized roll of Purdy's chocolate wrapping paper (in my favorite color, 1950s turquoise ) which we found for $5 at a garage sale and used for table runners (if anyone wants some we still have a million miles of it left!) I made giant tissue paper flowers and we had floral bed sheets and heirloom lace table cloths on the focal tables. Last but certainly not least, the getaway car (we took a little ride after the ceremony for pictures in the woods nearby) was a fully restored  1947 Jaguar, which belonged to Erik's late grandfather. A truly magical experience!"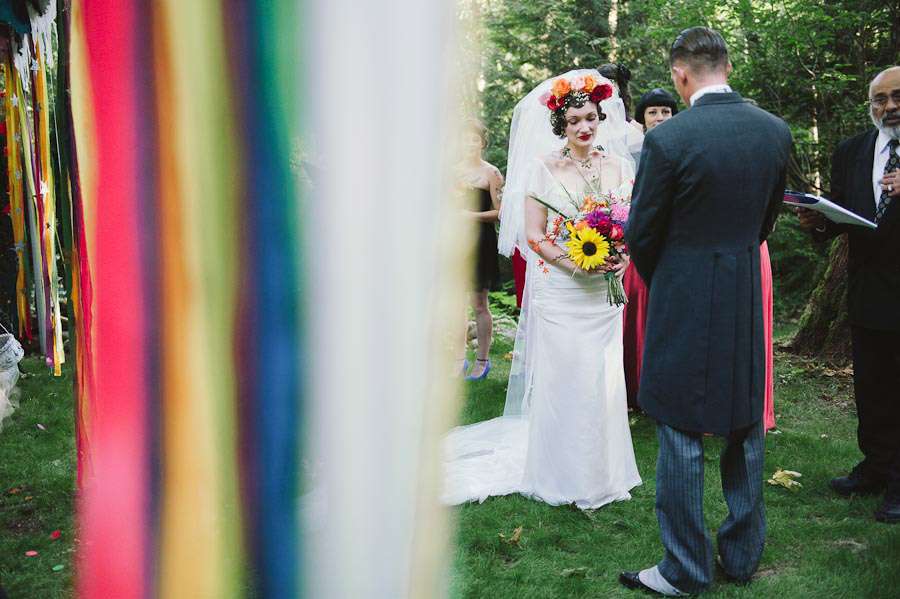 "Start any DIY early", Caitlin advises. "Stay focused and stick to the plan. Only take on a project if you have actually tested it out first. I was able to stay on track with all of the DIY by starting a weekly craft night with crafty friends. After realizing how much being a control freak hinders helpers, the pursuit of perfection was dropped in the name of progress. Learning to let go was hard. But the wedding was a lesson in 'delegation' a very useful thing for any blooming bride. In the world of crafty wedding blogs, DIY is often seen as the cheap alternative. However DIY does not always mean you are saving money, and sometimes your time and stress level is more important. So if you want something, beg, borrow, rent, thrift or (OMG!) actually buy it retail!"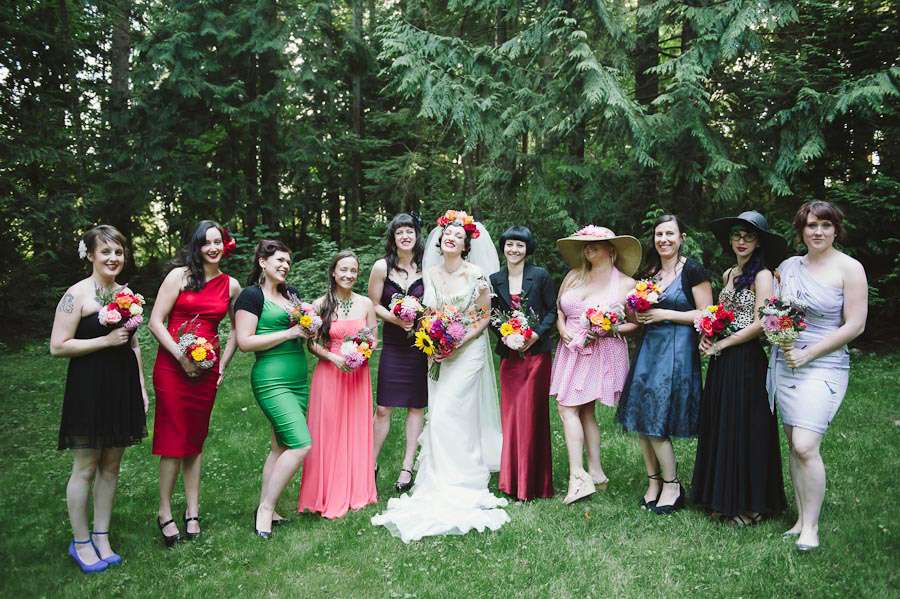 "The best part of our day was the ceremony, it was so magical! I was there at the end of the aisle with my father by my side. The crowd had stood up to greet me, and the music was culminating in a grand thunderstorm. I just stood there for a moment so that I could take it all in, this was the most incredible moment in my life so far!"
I have no regrets about the way we did our wedding", Caitlin concluded. "I realized that no matter how much you plan, nothing will ever be perfect. I felt so much pressure to deliver a wedding that legends are made of. In the end the appetizers were forgotten in all the excitement, the white wine was never chilled or even brought out, the 'game area' was never set up, and the lining of the popcorn kettle that I had tried to find fabric for forever, turned out being the garbage bag it was brought in."
"Did any of this matter in the end? NOT ONE BIT! Because A, we were married. B, everyone was so happy that we could have been married in a garbage can and no one would have noticed. And C, I had hired a photographer who's job it was to make it look a just as good as I will always remember it. Sharalee Prang, the best damn photographer ever! Scoop her up before she goes international!"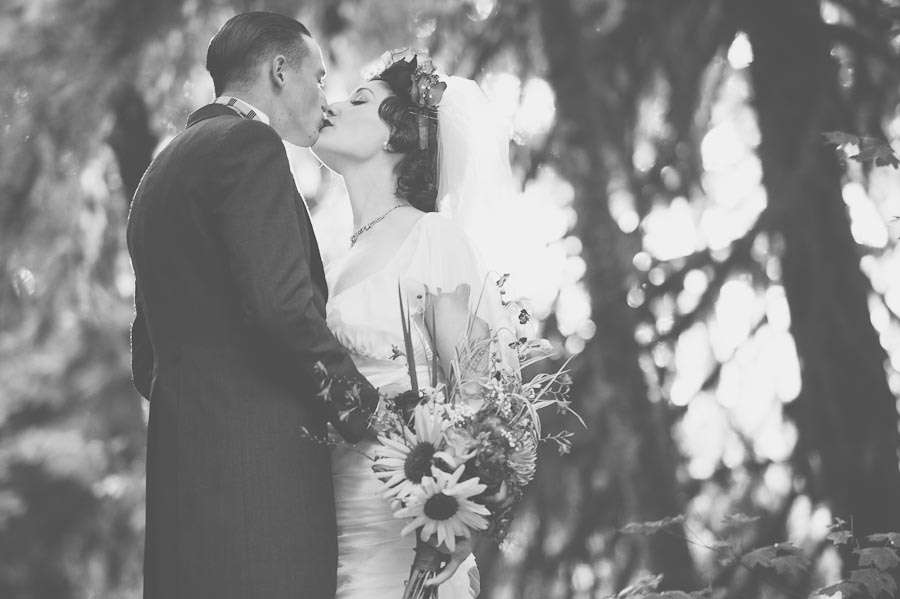 Well there you have it. A wedding that dreams are made of. I'm honestly blown away by the entire thing – which doesn't happen to be very often, believe me! Thank you so much to Erik & Caitlin and the amazing Sharalee Prang, for sharing with us today.