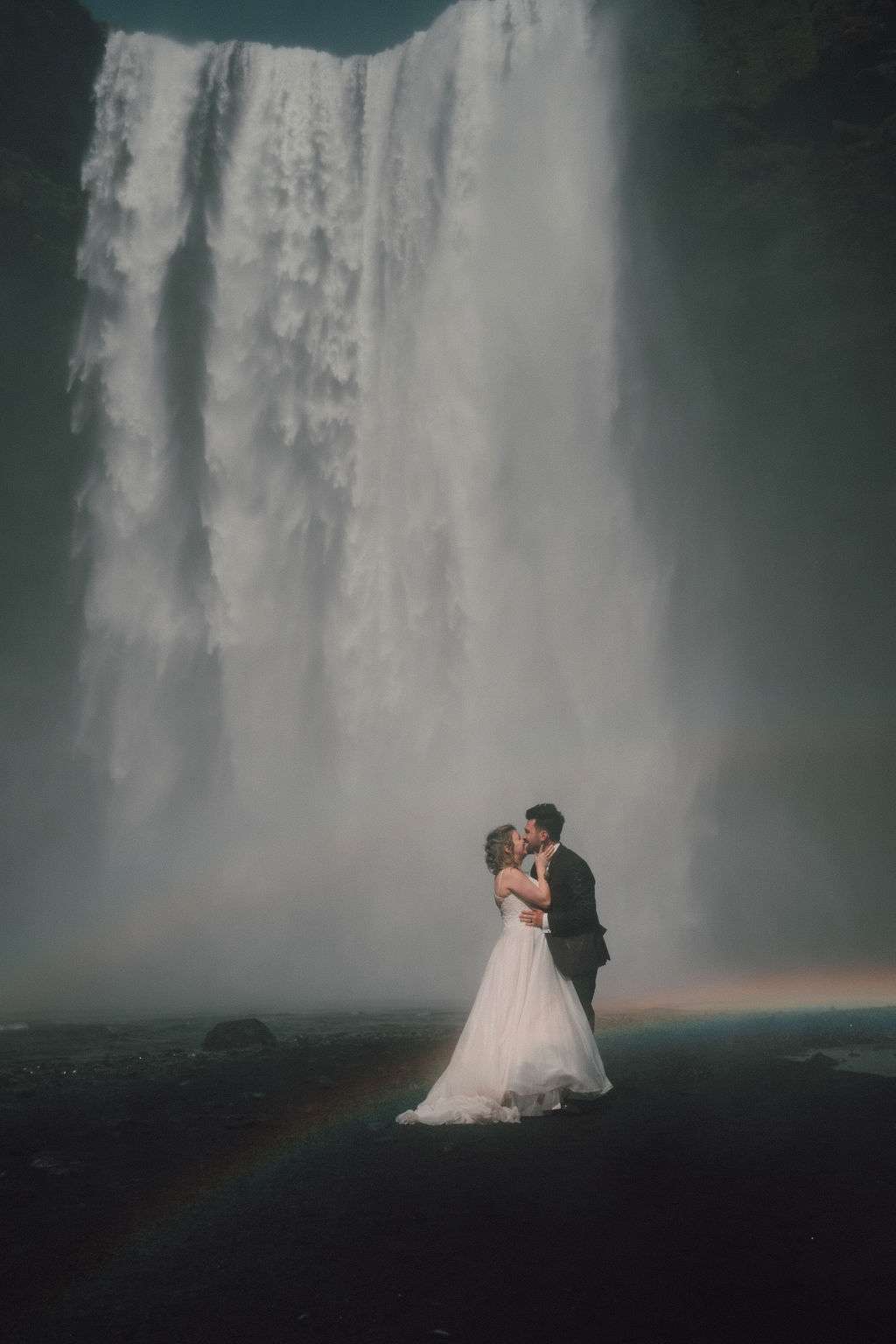 Molly and Jackson knew soon after they started dating that they didn't want a 'regular' wedding. Attending a bunch of friends' weddings together in 2014 (before they were engaged!) solidified in their minds what they did and didn't want. They decided then and there that when it came to their turn to get hitched, they didn't want to pick out tablecloths or plan a seating chart. Instead, they wanted an adventure!
They both love travelling, and at the time there were some crazy good deals flying to Iceland, so they made a decision that that was it – when it was their turn they were going to have a destination wedding in Iceland, the most beautiful place they'd never been to.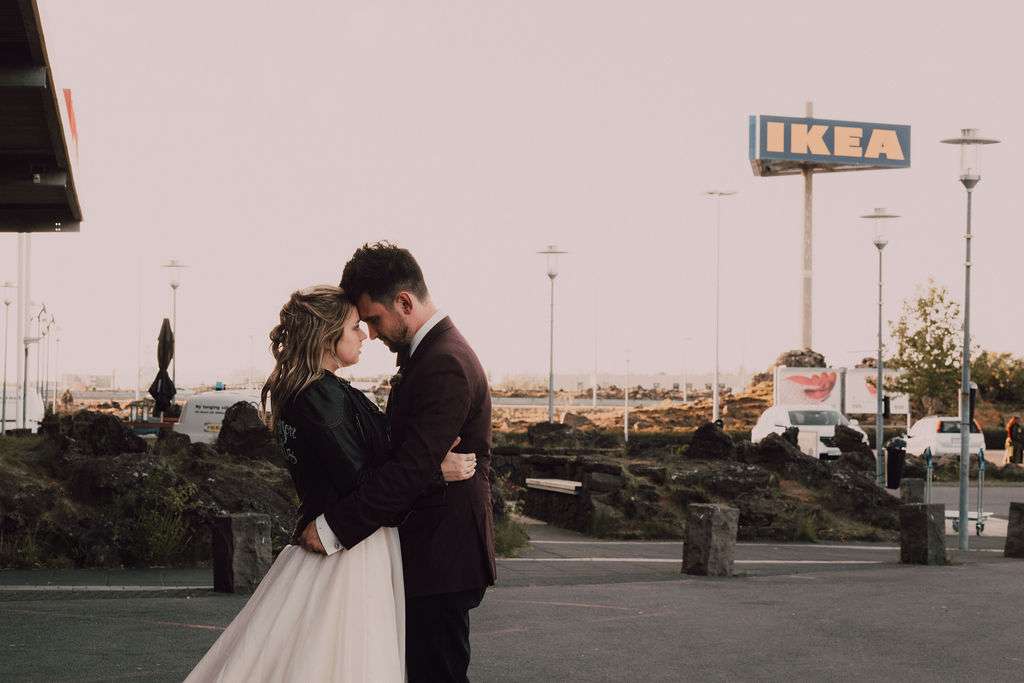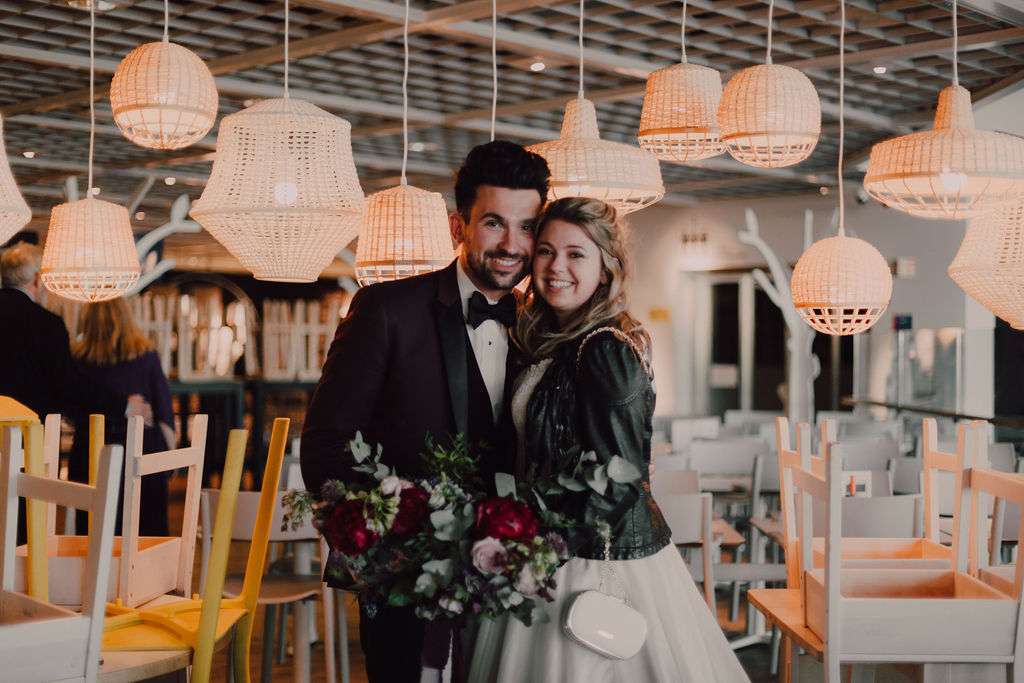 They told their friends and families their plans in the same year. They wanted everyone to understand how serious they were, and give them the heads up with years in advance. When they eventually got engaged in October 2017, people still asked what their plans were! "We were surprised and reminded them that we had brought up Iceland, and we had been serious about that for all these years, so people better go pick out some hiking boots and jackets!" laughed Molly.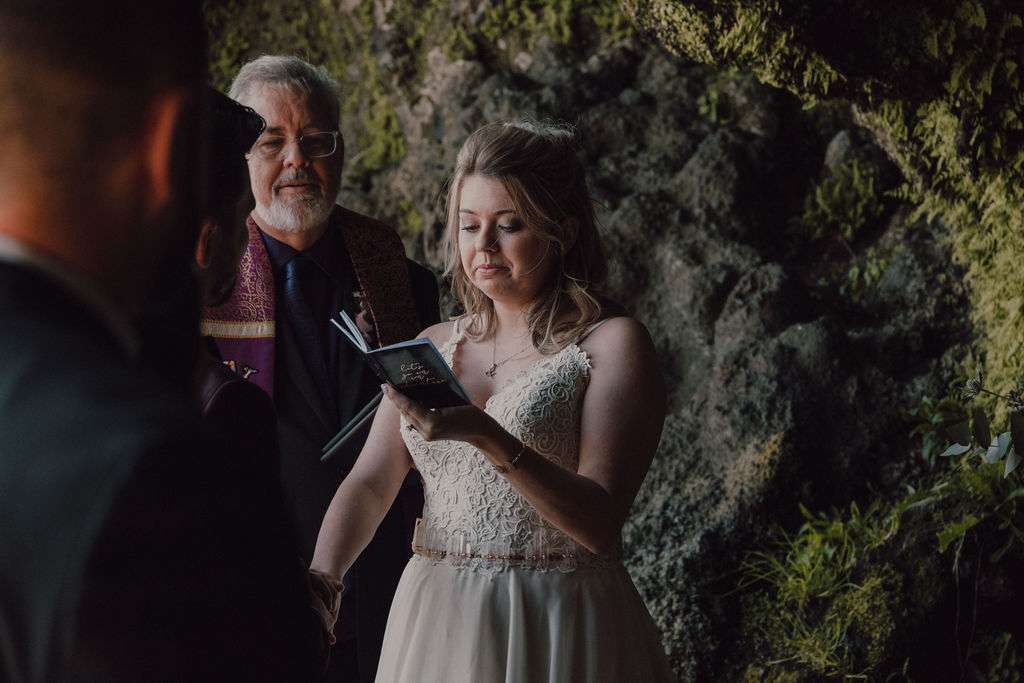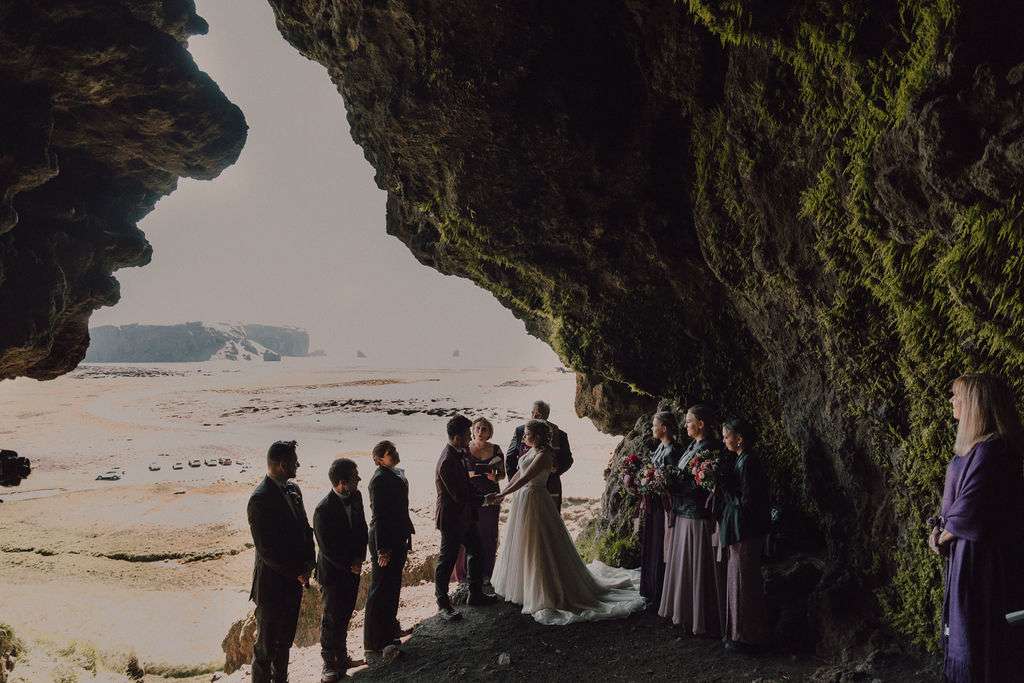 The couple planned a long engagement, with the wedding planned for May 2019, so that they'd have plenty of time to plan without getting stressed. For the most part, they were fine, except as the day grew closer and people became increasingly concerned at their answers to questions!
"People were so worried about the logistics of us getting married in a cave," laughed Molly, "'Have you actually seen it?' (Nope, found it on Instagram, loved the look of it), 'What if random people turn up?!' (Nevermind, wedding crashers are fun) 'What if your dress gets dirty?! (I can't wait to get my dress dirty!) But I think out of all the questions and all the 'shock' we had given people, the largest and most confused responses we got came when we talked about how we were planning on taking guests to dinner at the Reykjavik IKEA."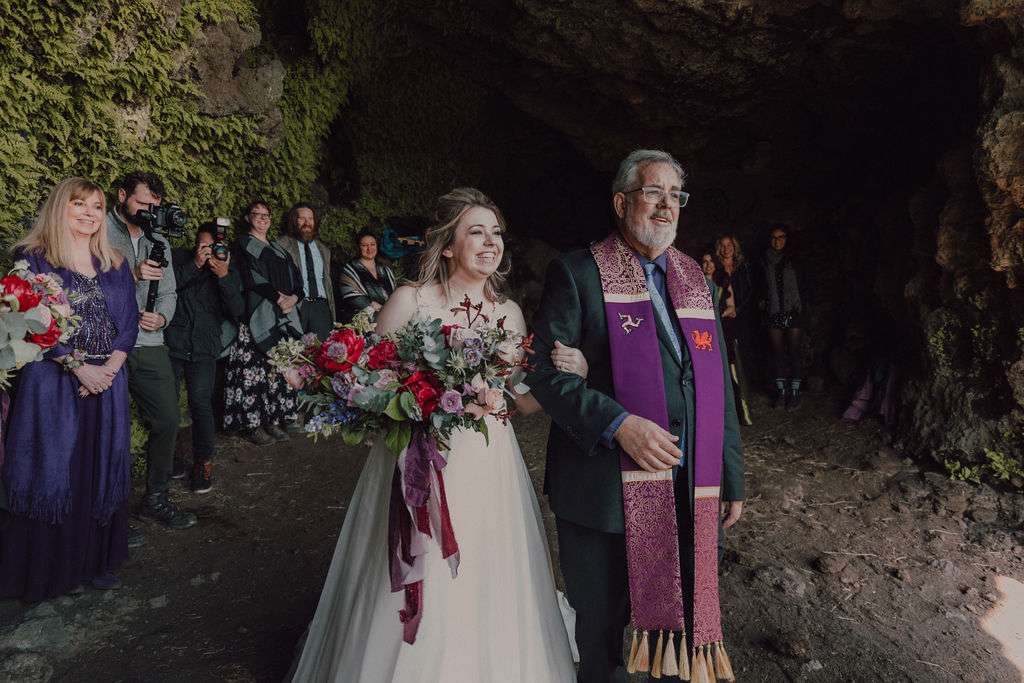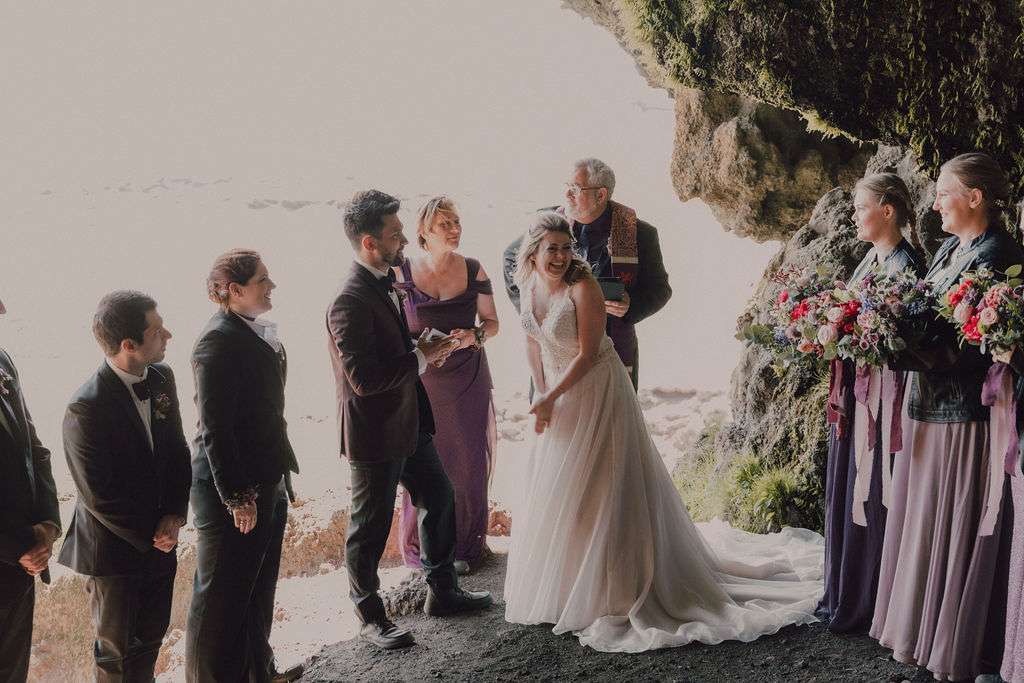 "As strange as it may seem, IKEA is a sentimental place for the two of us, and the menu had EXACTLY what I had been planning to eat on my wedding day since I was a little girl. I'm an English teacher, and a few years ago, I needed to buy some bookshelves from IKEA and take them out to my classroom. Jackson was a friend who happened to have a pickup truck, and he was willing to make the three hour plus drive with me that day. While that most certainly was NOT a date, it was a day that we became much better friends, and now we jokingly refer to it as our 'first date' to others."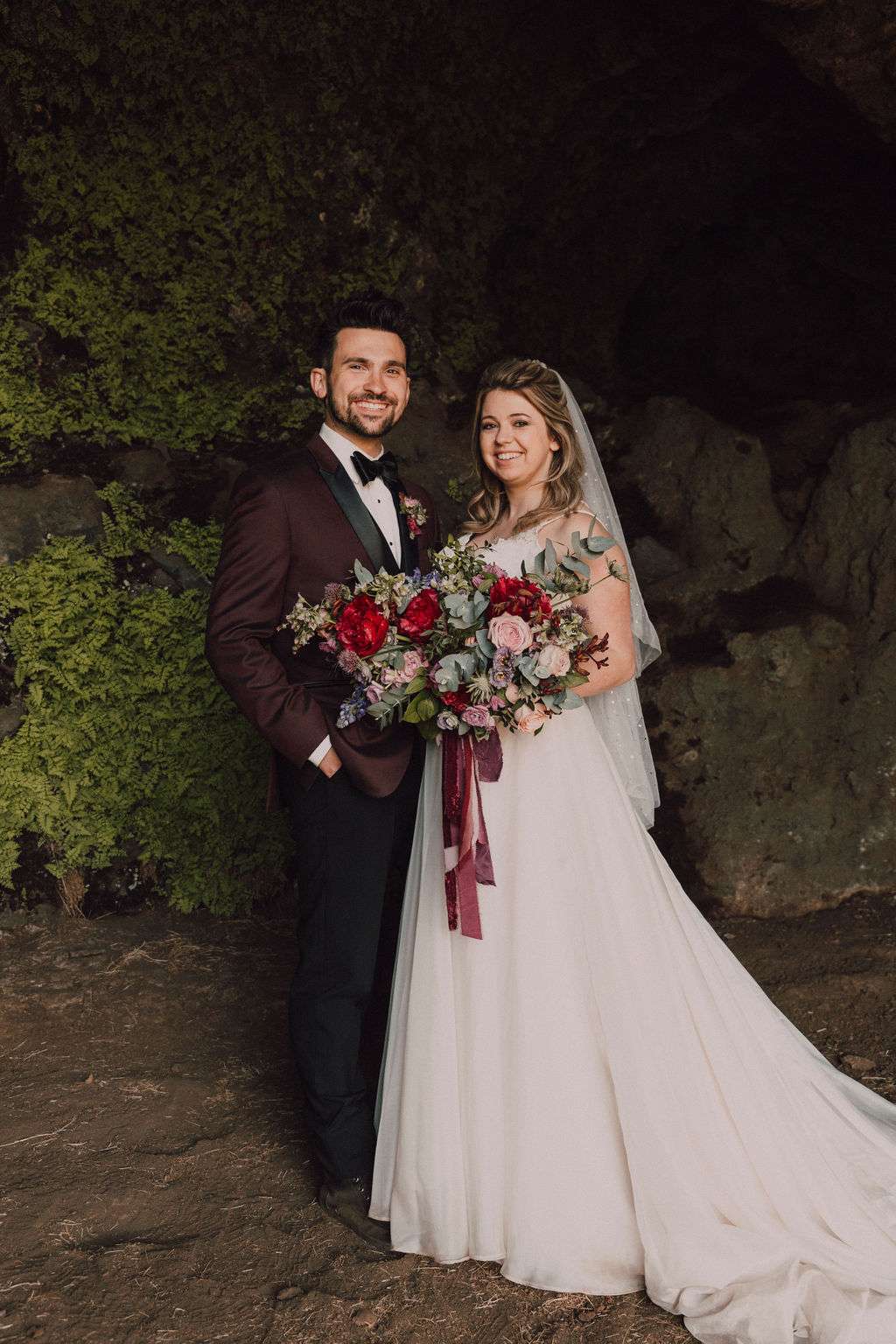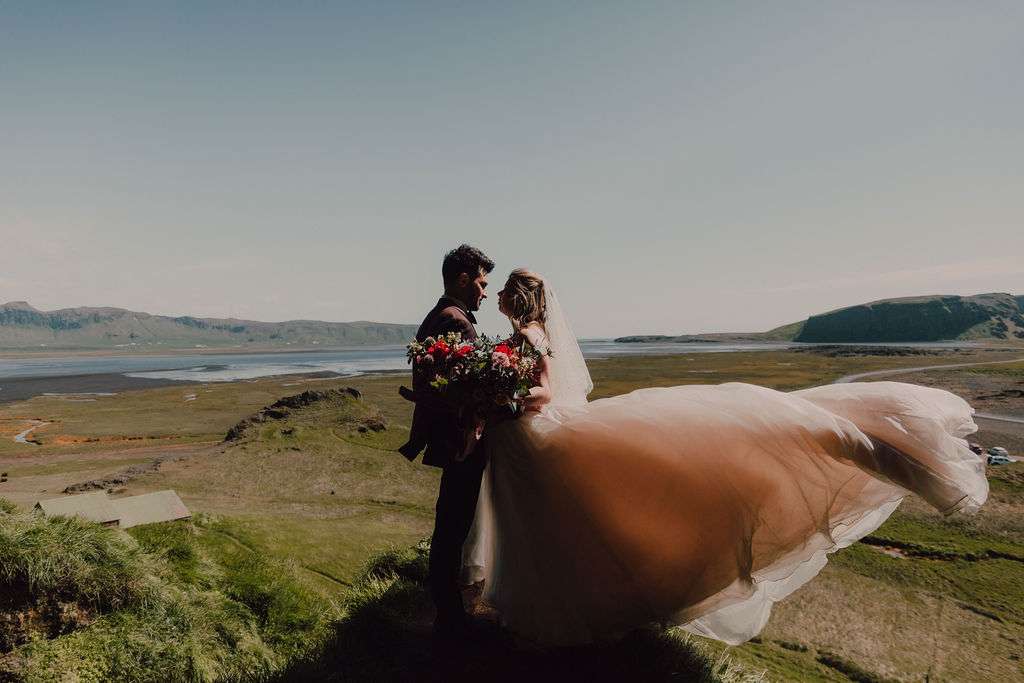 "IKEA has been a special place to us ever since. It also conveniently has chicken nuggets, the food I've been planning to eat on my wedding day since I was in Junior High. I was always a picky eater growing up, and my mum tried to convince me that I needed to diversify my palette because I couldn't exactly have chicken nuggets on my wedding day. While my pallet has definitely gotten better, my level of stubbornness has not, and it was a requirement to eat chicken nuggets on my wedding day. IKEA had everything we needed: sentiment and something to satisfy my stubbornness. "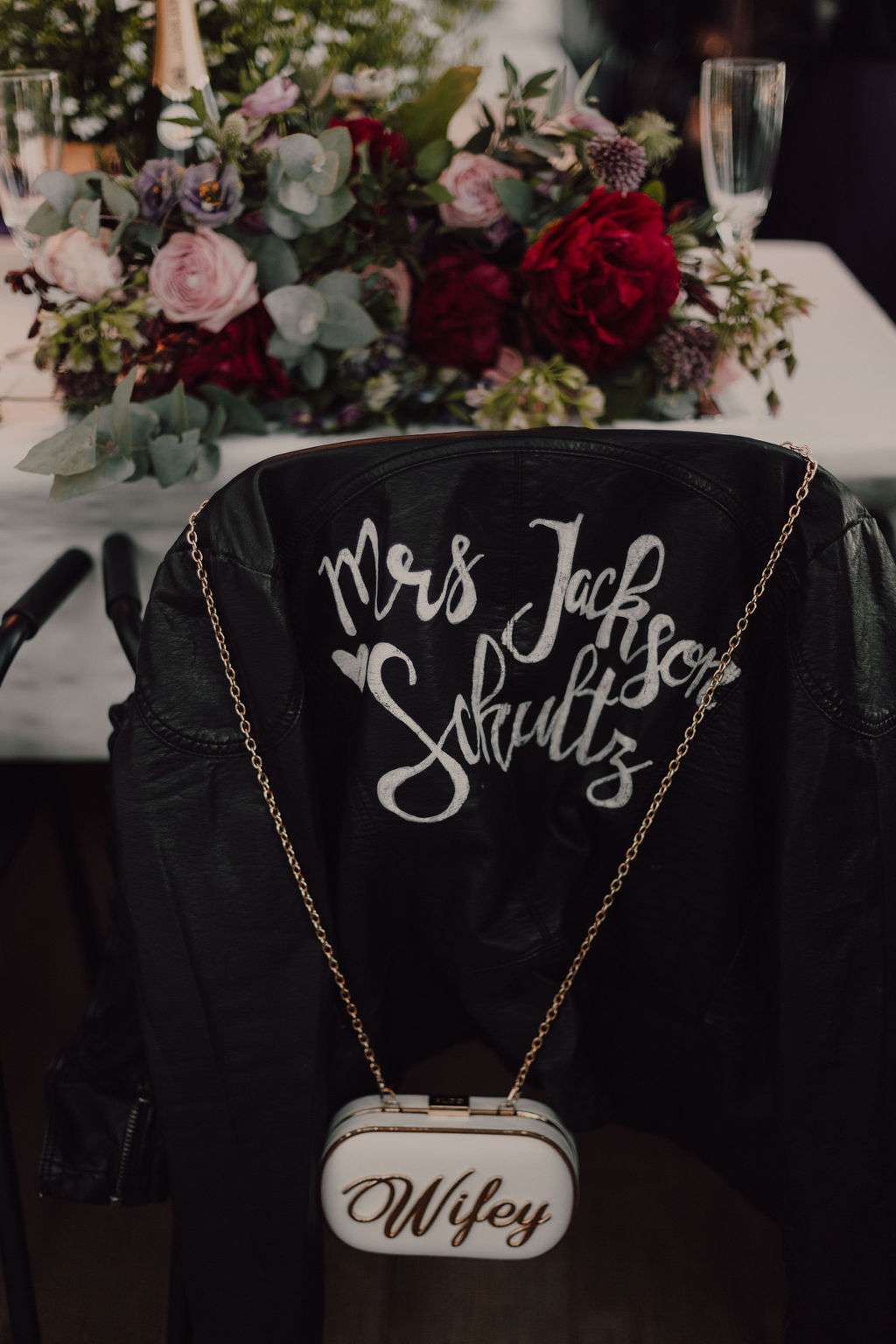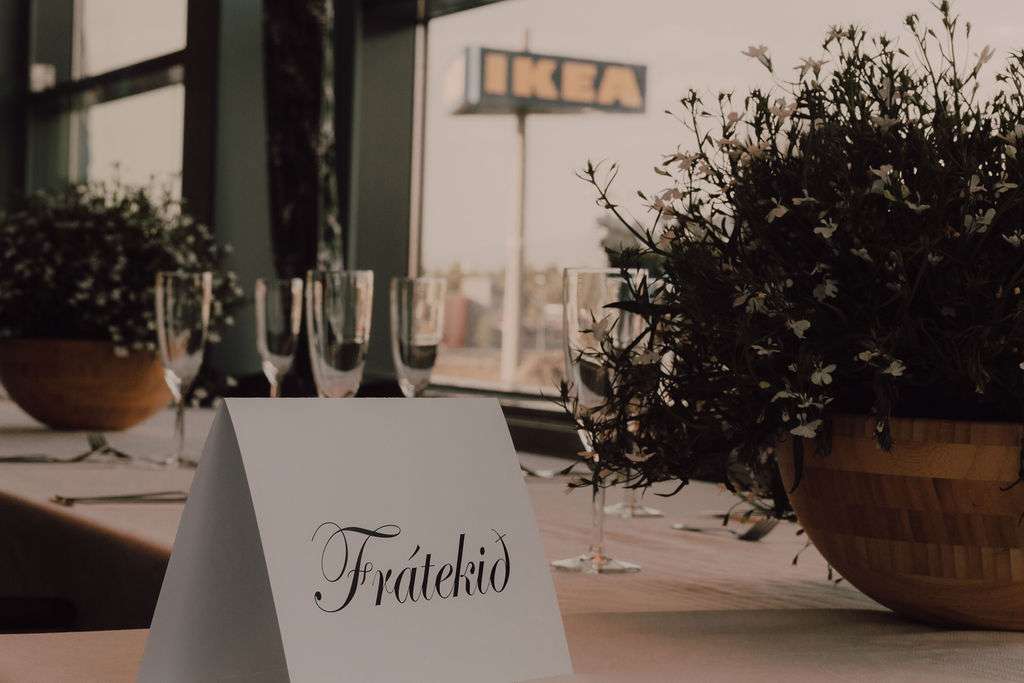 Thus they had the makings of their dream destination wedding, and armed with a budget of less than $10,000, they set about having a day even better than they'd planned. On the day of the wedding, they got ready at an Icelandic farmhouse – taking a walk with the sheep that morning and Jackson cooking breakfast for the bridal party. Come wedding time, they drove to Loftsalahellir cave, and scaled the fifty plus foot cave. "Many of my friends and family were slightly concerned about my ability to hike in a wedding dress, but the IKEA bag hack and a pair of sturdy hiking boots did the trick, and I made it up quickly and somewhat gracefully."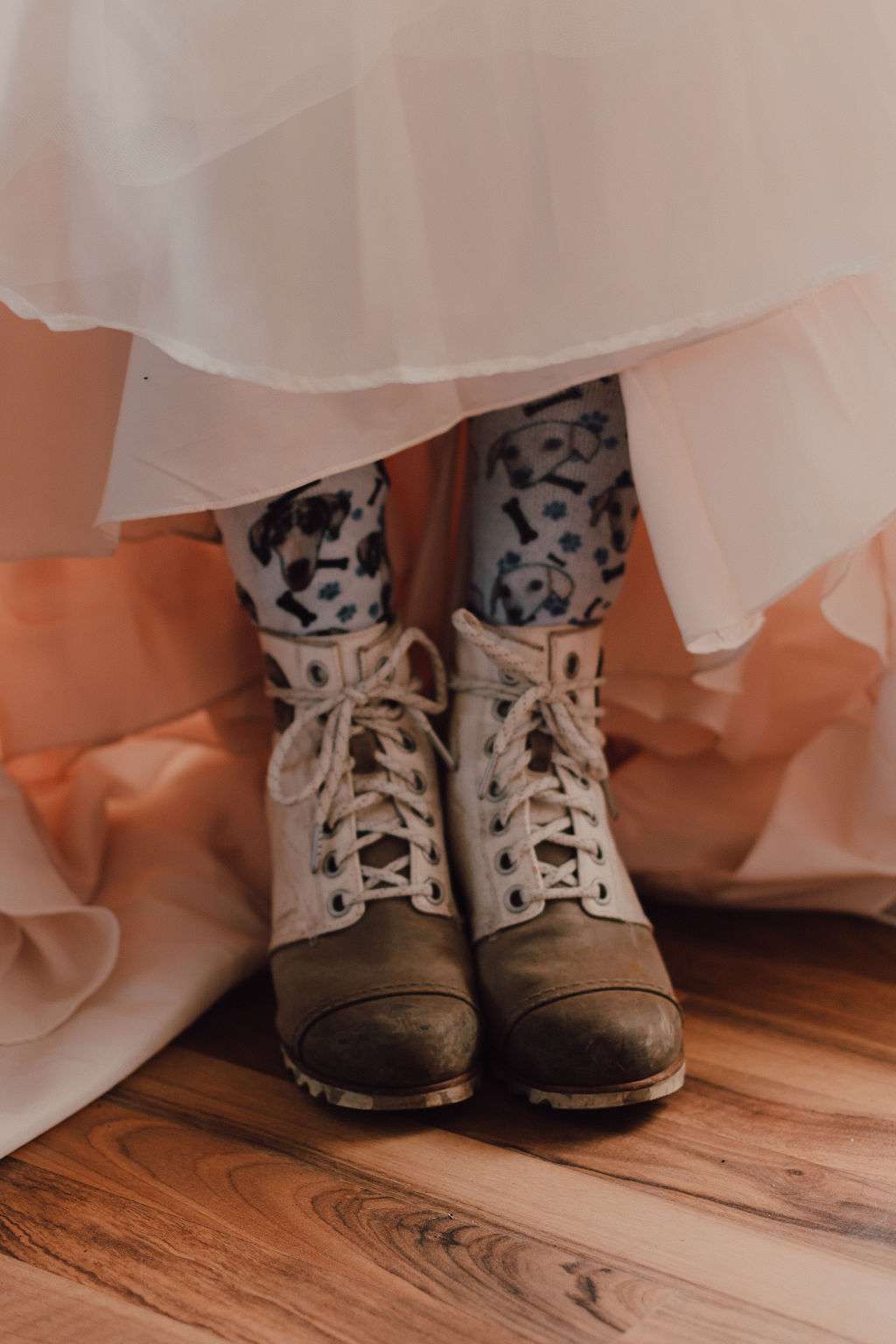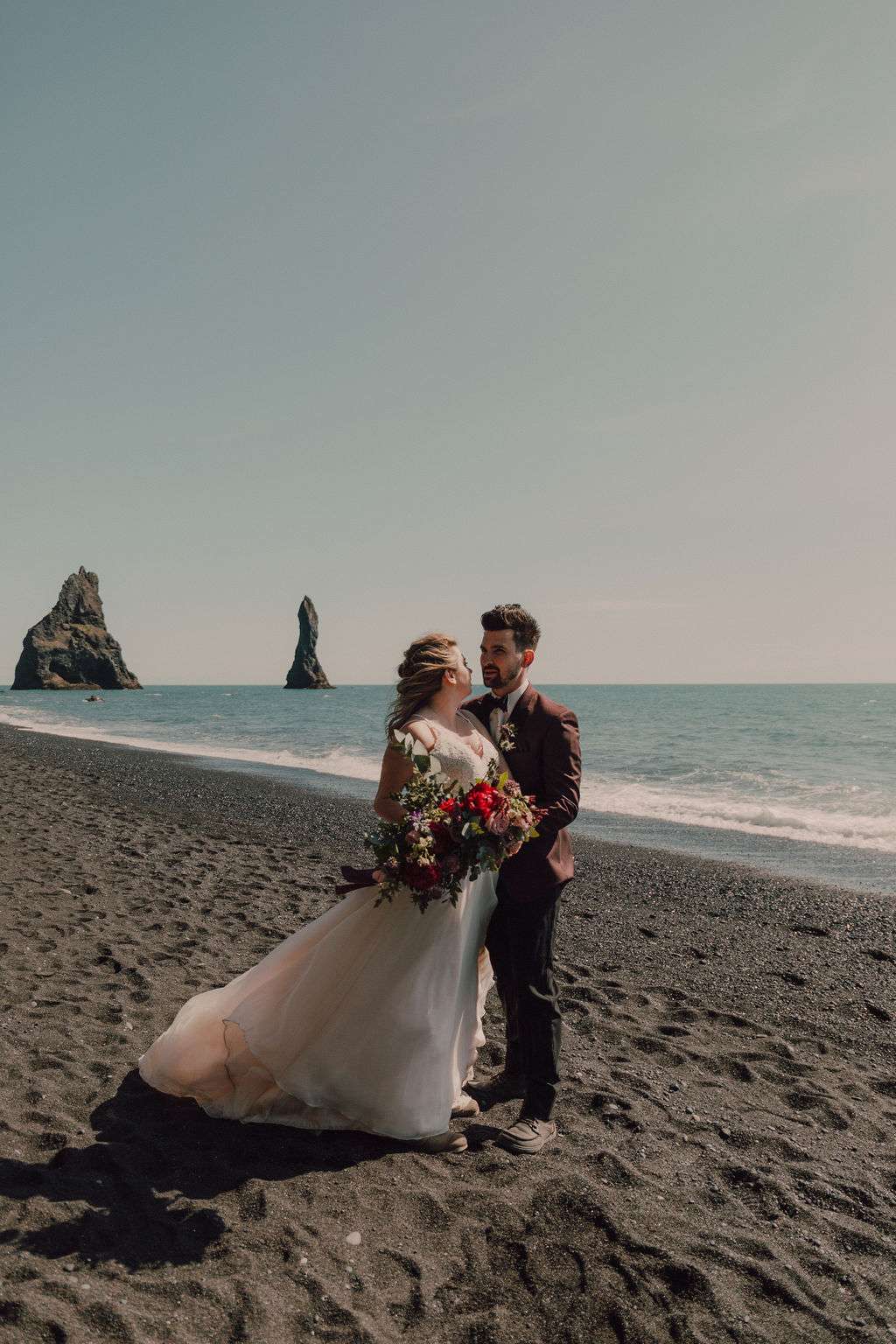 The wedding was emotional and intimate, as Jackson's mum and Molly's dad married them. They planned a unique ceremony that reflected them as a couple. They each got to read vows they had written, then Jackson's mum told a story about Molly, and Molly's dad told a story about him. Molly's dad planned a Celtic handfasting for the ceremony, and also a Scottish Quiach ceremony where they each shared a drink, and then all of their wedding party did as well.
After the ceremony, they began a 'photo tour' with their guests and went to some iconic spots in South Iceland. Jackson and Molly hiked up on top of the cave to have a private moment, then their guests met them at Reynisfjara Black Sand beaches. They climbed the basalt columns, and walked along the beach. After that, they drove to Skogafoss, where they danced in the waterfall getting completely drenched, before hiking to a nearby secret waterfall where their florist had set up a photo spot for them and their guests.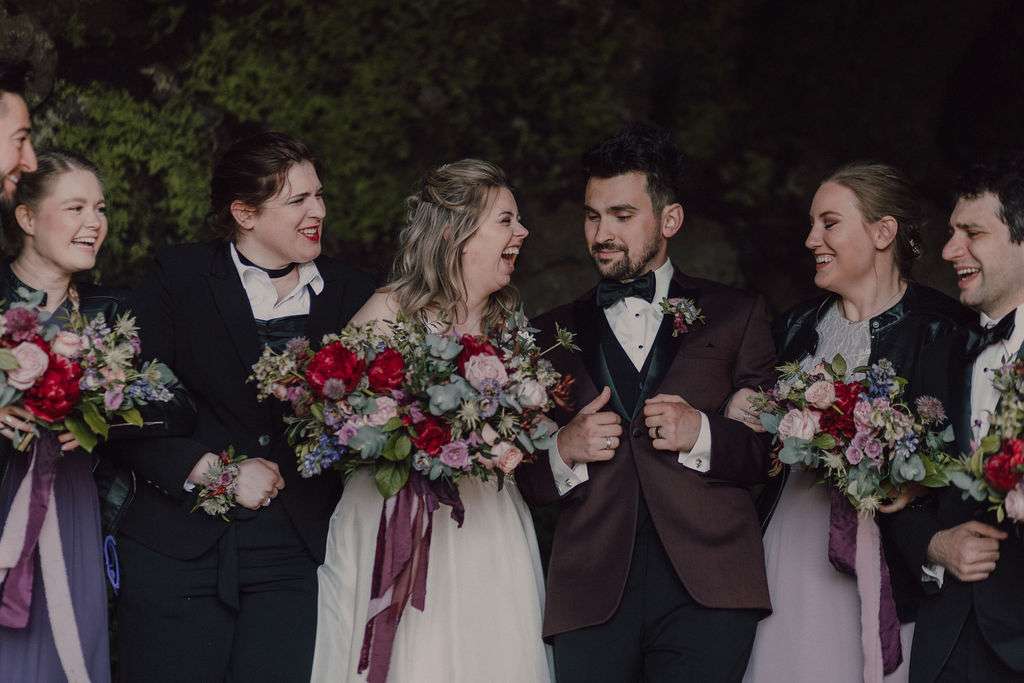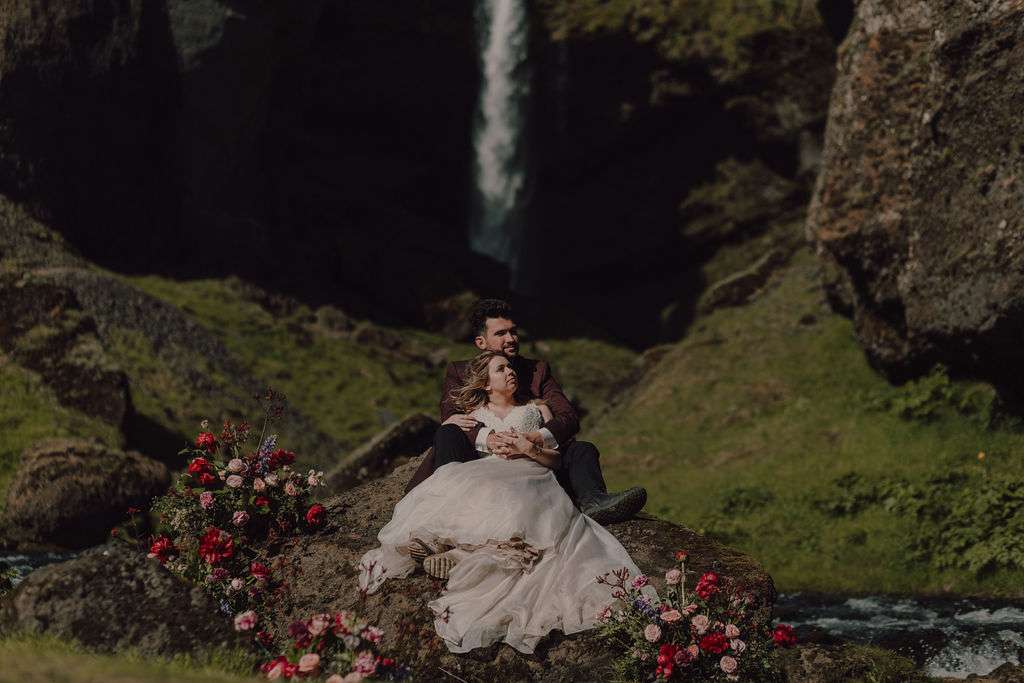 After that, they drove back up to Reykjavik to IKEA where they were met with some odd looks, but mostly just smiles. "I had emailed to let them know we would be coming so they wouldn't be shocked by 25 people in formalwear," explained Molly, "and they went above and beyond to take care of us after hearing our story. They had two reserved tables with tablecloths, floral arrangements, and champagne flutes. They had bought us six bottles of champagne to celebrate with."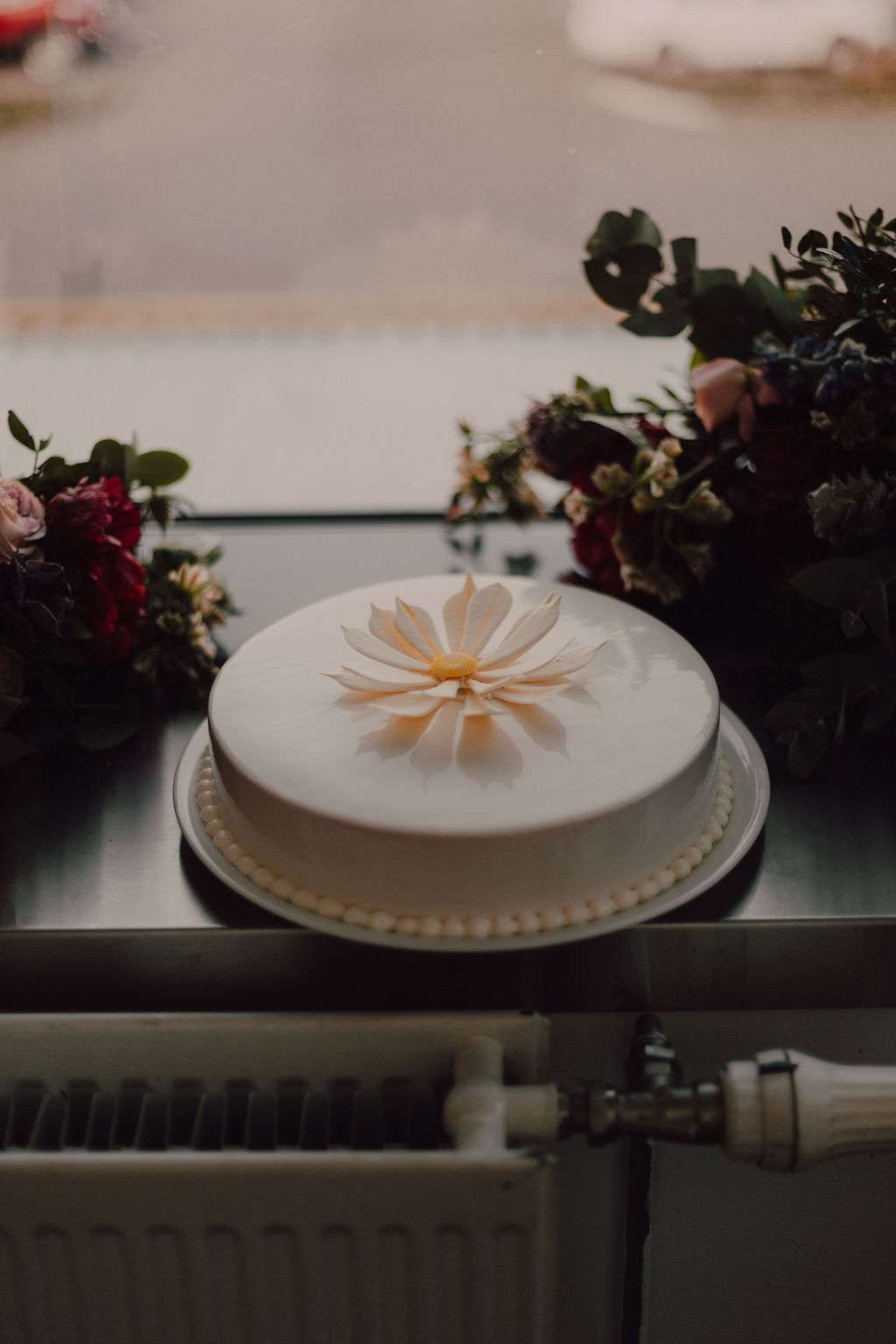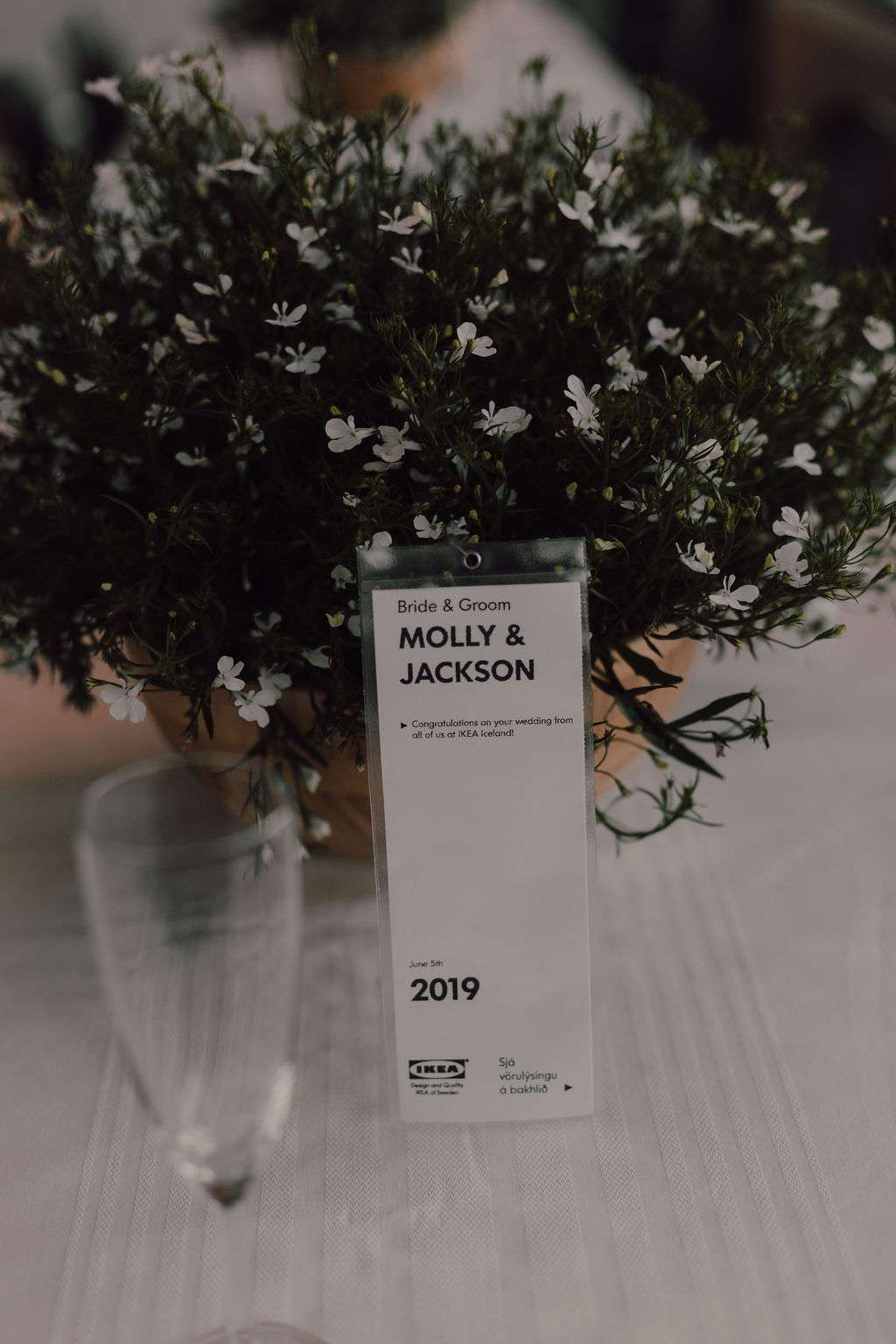 "When we got to our seats, we saw that they made a custom price hang tag with our names and the wedding date, and one of their managers came over and presented us with two beautiful cakes baked by their bakery as a present. I thought I had cried a lot at the ceremony, but I don't think anything made me cry more than the kindness of this company and people I had never even met. From there, our wedding became semi traditional in that we had speeches and at dinner… after going through the cafeteria lines in my wedding dress."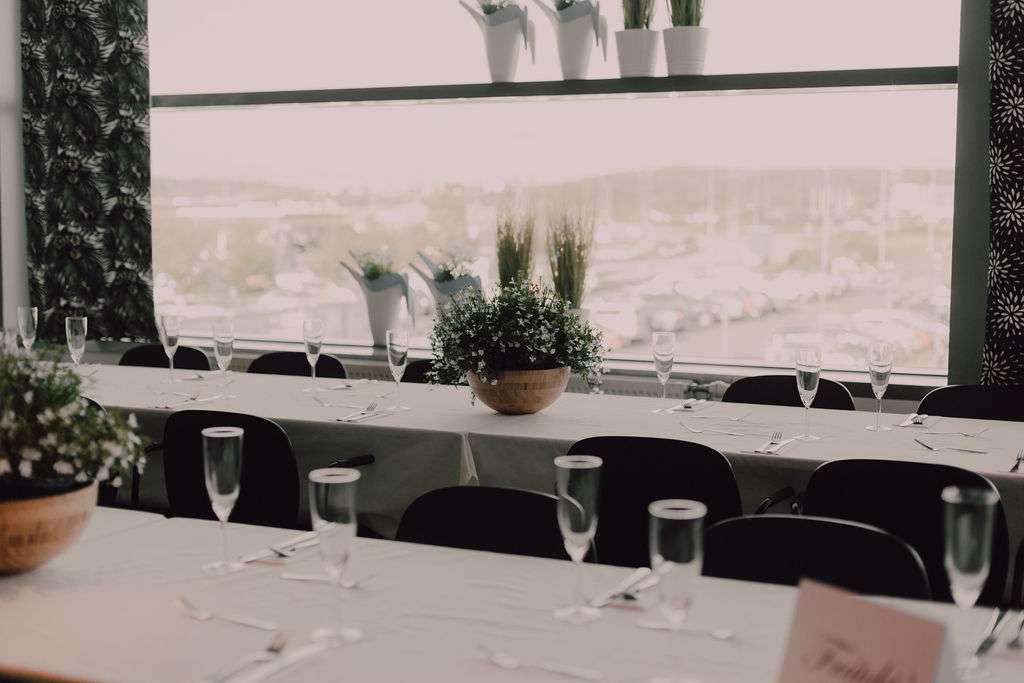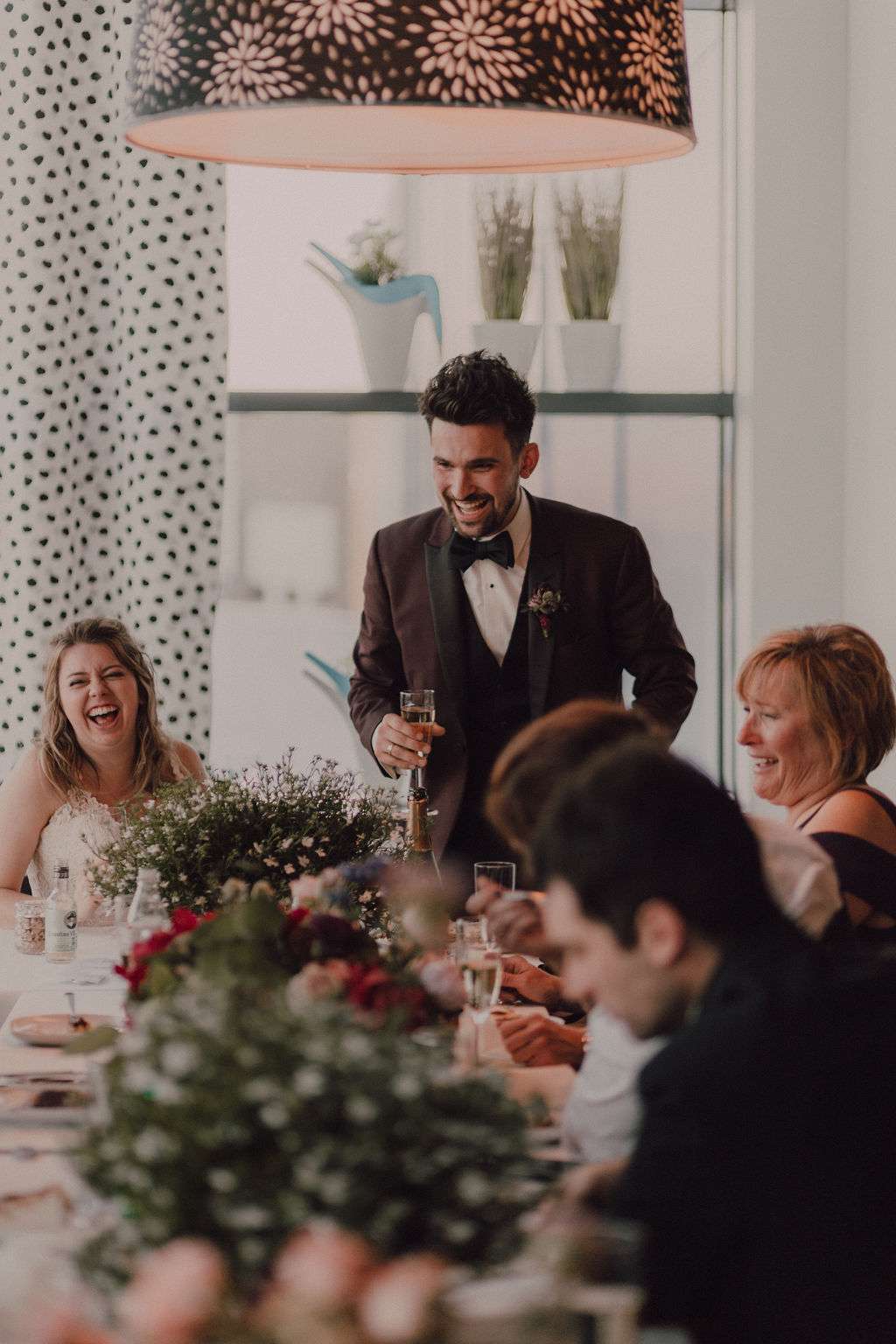 "The whole day was more than I could have ever asked for. It was the adventure wedding that we wanted, and the focus felt like it was just about celebrating life and love with the people who are special to us, which was exactly our dream wedding."