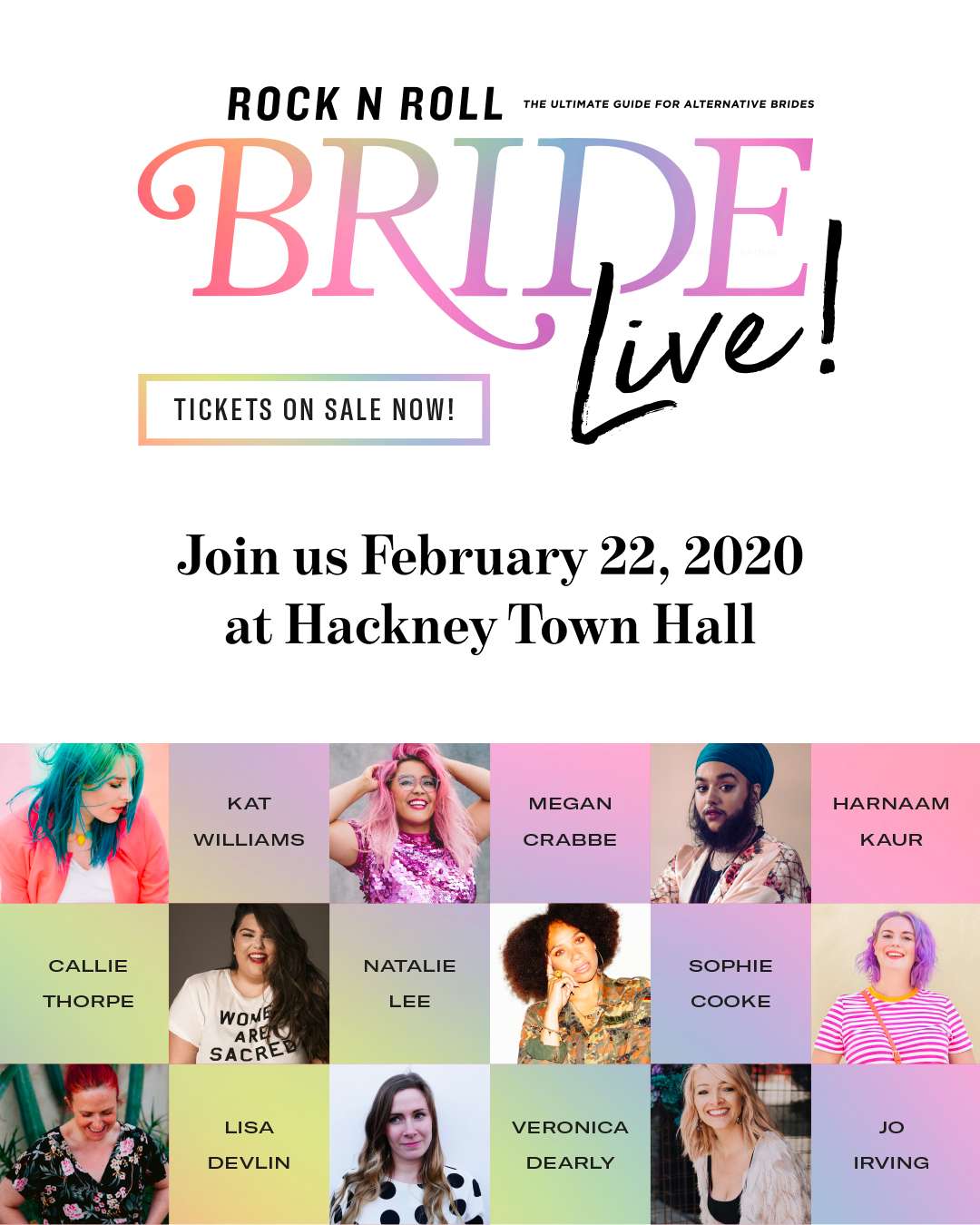 Hold onto your pantaloons because this announcement is about to BLOW YO' HEAD OFF! I am so over-the-top excited to announce the first Rock n Roll Bride live event!
This is not a wedding fair; this is so much more than that.
Taking place at the beautiful Hackney Town Hall on 22/02/2020, this event will bring the magazine and blog to life for the first time ever.
You'll be able to meet and chat to the peeps behind some of my favourite alternative wedding brands and businesses (who have been invited by me personally so you know it's only going to be the best of the best) and throughout the afternoon there will be a series of talks, panels and discussions to help you plan your wedding with passion, attitude and CONFIDENCE.
Oh, and yes, did I mention we're rounding it all off with a party where there will be drinks and canapes for everyone… oh and that every. single. one. of. you. will leave with a mega goodie bag designed by Laurie Lee (the QUEEN of cool!) worth over £70!?
OH. MY. GOD.
Our speaker line-up is quite frankly incredible
Megan Crabbe AKA Body Positive Panda, Natalie Lee of Style Me Sunday, Harnaam Kaur and Callie Thorpe will be joining me for a panel on self-love and body positivity (OMG I KNOW, I COULD PUKE WITH EXCITEMENT)
Official Rock n Roll Bride magazine photographer (who shoots all our editorials as well as somehow finding time to photograph an abundance of amazing alternative weddings every year) Lisa Devlin will be helping you feel your most confident, beautiful and best in front of the camera.
Illustration and humour queen Veronica Dearly will be speaking about overcoming shyness and reminding you that you can do hard things (like, erm, planning a wedding, being centre of attention, dealing with crazy relatives etc etc!)
And finally, Jo Irving of Love Hair & Co. and Sophie Cooke of Crown and Glory will be teaching you some simple yet beautiful hair styles as well as how to accessorise your look with veils and accessories.
Oh, and me! There will be also a lively Q&A session where everything and anything you could possibly want to ask will be answered, and of course, plenty of time to meet, mingle and selfie up a storm!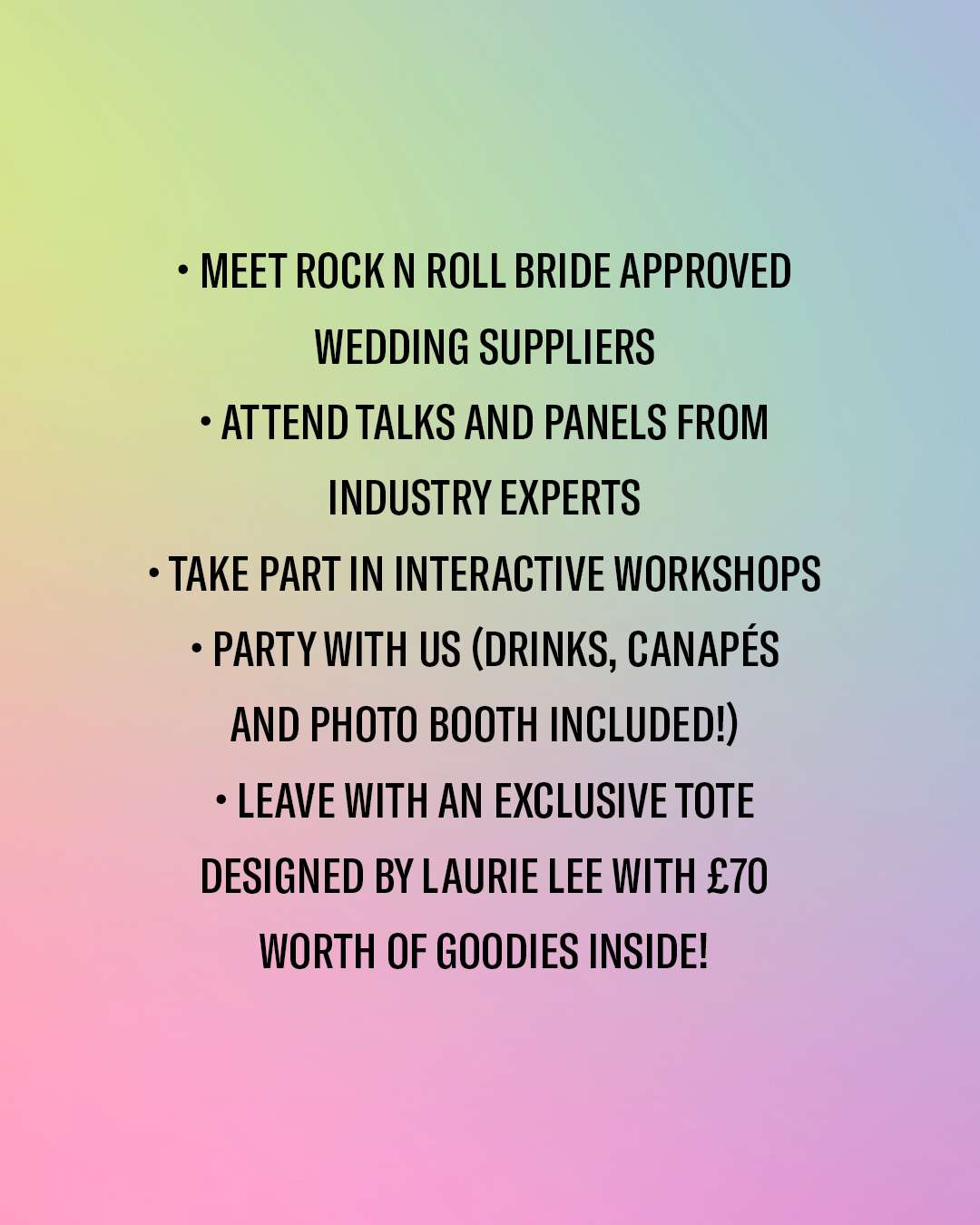 Seriously, could this get any better!?
The event runs from 12-8pm and we'll be rounding off with drinks and canapés (provided by Party Ingredients) all to the sounds of my fave, Paddy of Disco Wed. If you swooned over the pictures and video of my book launch party and wished you could have been there… it's going to be just like that – only BETTER!
The vendors already confirmed to be joining us are (deep breath…)
Crown and Glory who will be showcasing our full veil and accessory collection (so come and try everything on!) and Doris Loves who will be there with their temporary tattoo station and incredible light up letters. You'll be able to see stunning bridal dresses from Bridal Reloved (who resell second hand and pre-loved beauties) and Lucy Can't Dance (the dip dye queen) and marvel at the beauty of Vowed and Amazed's neon signs.
You'll also be able to have mini hair and make up makeovers (sign me up right now!) with Rebel Rock Hair & Make Up and Love Hair Co., go wild in the Everybooth photo booth (the BEST one around IMHO) and geek out to your heart's content while playing video games on Gaming4Weddings' brilliant consoles.
Wild Rose Florist will be making the event look stunning and doing some DIY demos and Buy Our Honeymoon will be on standby, ready to answer all your honeymoon planning questions!
Wedding in a Teacup who make brilliant wedding favours, Devlin Photos who takes the best wedding photos ever, Discowed who will get your wedding reception HOPPING, Wedfest who create the BEST festival inspired stationery, and Plumb and Rabbits Cake Studio who makes the most gorgeous, creative and delicious cakes will also all be there, eager to meet you!
Finally, Bottle Blonde Studio will be showcasing her awesome, one-of-a-kind holographic fantasy accessories (those jackets OMG) and The London Dolls will be doing cute nail art for you all day!
PHEW!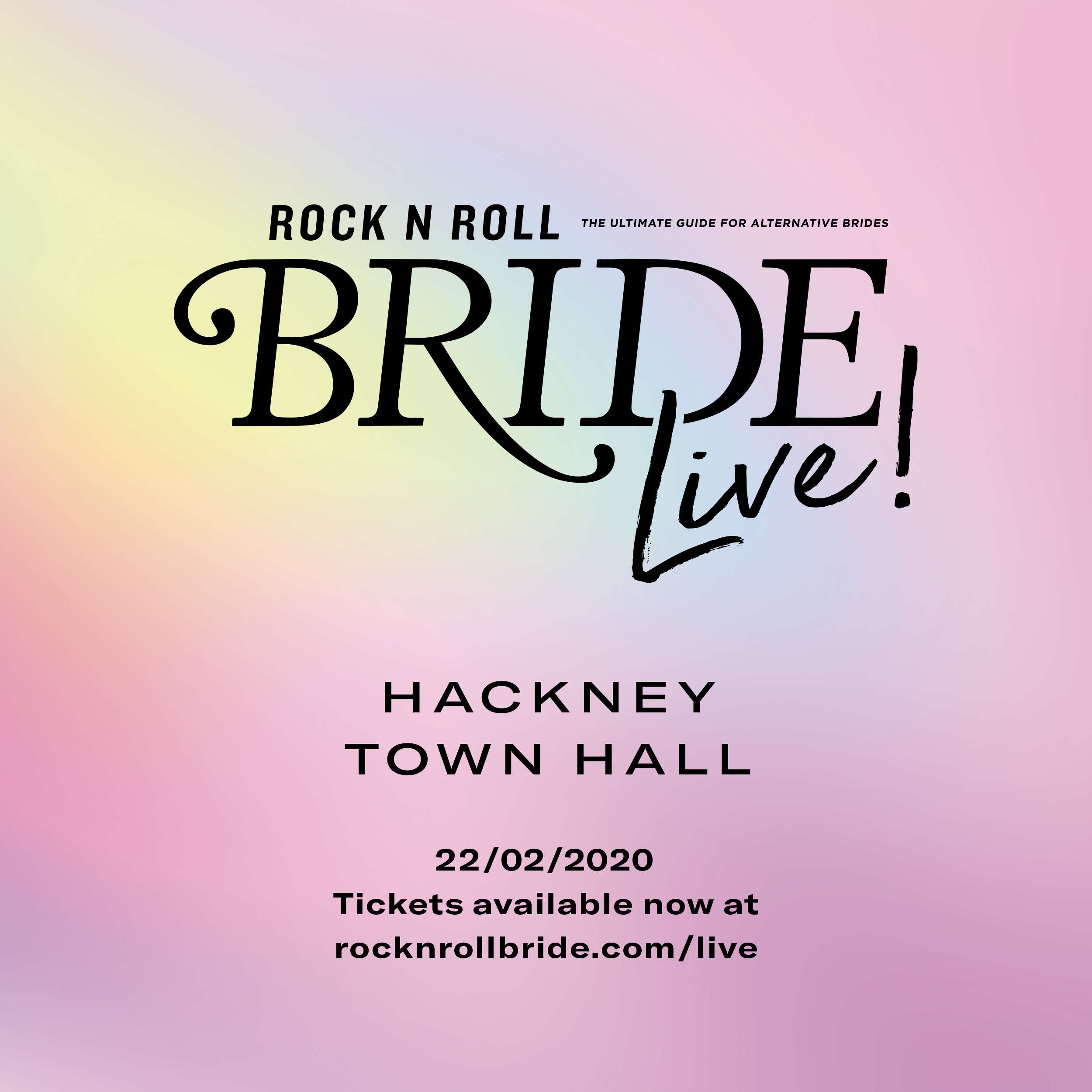 Book your tickets TODAY at the early bird rate of £60.
Your ticket gets you:
✨ Entry to the event
✨ Tea and coffee throughout the day
✨ Access to some of my all-time favourite and Rock n Roll Bride approved wedding suppliers
✨ A seat at all the talks and panels
✨ A live Q&A with all the speakers
✨ All your drinks and canapés at the post-event party
✨ A goodie bag designed by Laurie Lee, the contents of which will be worth at least £70!!
Oh my God, let's flippin' do this, I can't WAIT to see you there!
Total Number of Tickets 		Apply CodeTotal due: £

65

 £

55

Buy Now!
FAQ
Hackney Town Hall is fully accessible, please drop us a line if you have any concerns or questions about this before you book.
Payments are all processed through PayPal. You will not receive a physical ticket. Names will be checked off list on arrival so if your PayPal account is in a different name, please leave a note with your order.
Tickets are non-refundable but can be transferred. Drop us an email if you need to change the name on the ticket(s).
Doors open at 12pm. The event runs until 8pm.
Still got some questions? I've got the answers, drop me a message and I'll do my best to help and if you're a business or brand who'd like to know how you can get involved in the event, we look forward to hearing from you too.