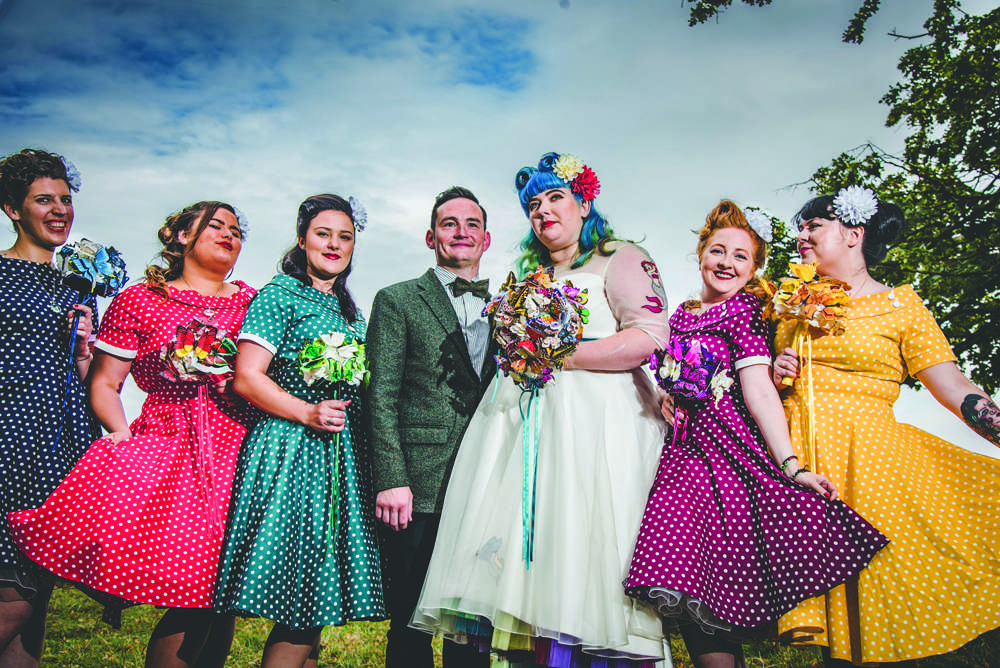 Katy and Mike describe their wedding as "If unicorns came and pooped rainbows on a folk festival where everyone time travelled from the 50s" and, to be honest, I'm not sure I can top that so let's just get on with it shall we!?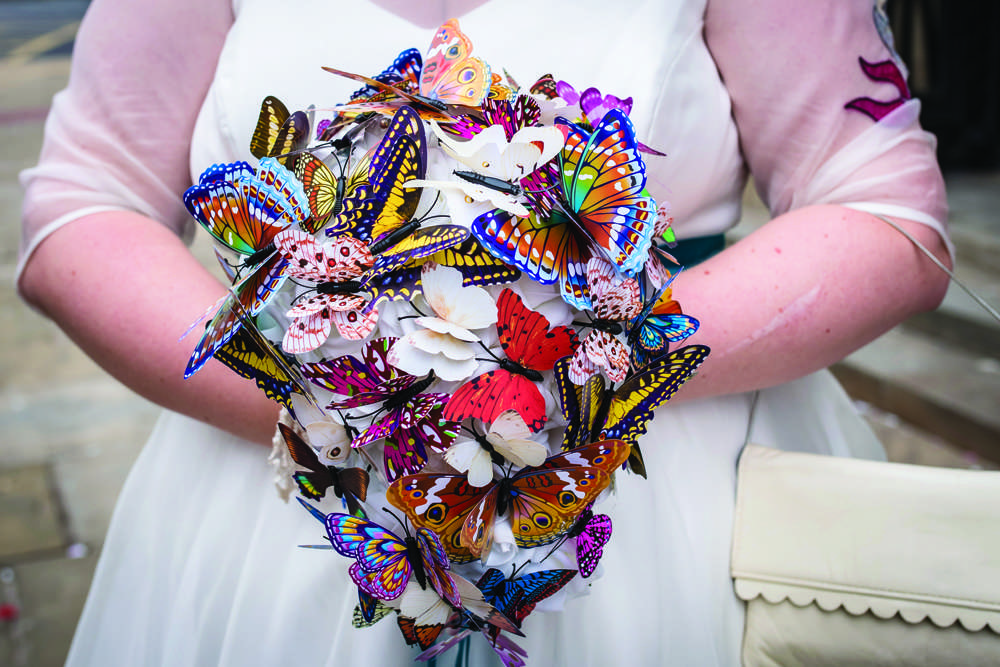 Their ceremony was held at the Guildhall in Hull, a beautiful historic building with loads of marble details. However, venue finding was a super stressful experience for them, as Katy explains. "I wish we had known not to worry about things so much! We had three venues fall through, however, everything works itself out, and we eventually realised that it's best not to settle for something you don't want if something does happen. The ceremony itself was quick and personal I think we were only in there for 20 mins but it was lovely and they made us very comfortable with everything."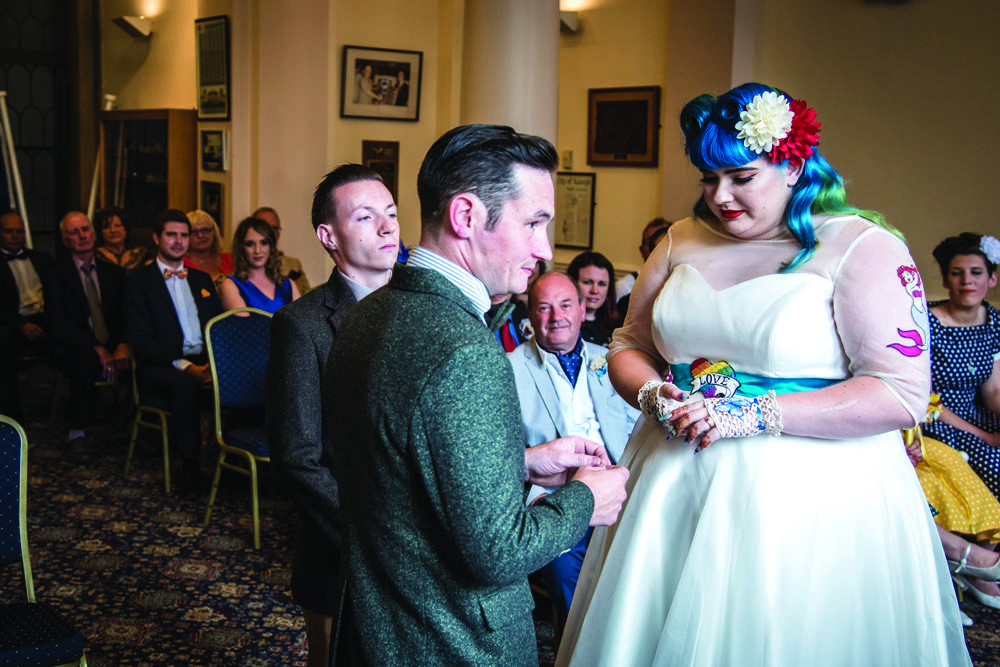 They had their reception at The Potting Shed, a recently renovated pub in Beverley, where they erected a marquee in the garden. To decorate, Katy's mum made 216 feet of bunting (just let that number sink in). She did it in two colourways – one in a vintage style for Katy, and one in a more pirate style for Mike! She also made all of the buttonholes with tweed roses, to match Mike and his groomsmen's tweed suits from Studio Suits and crocheted Katy's gloves.
They bought 20 packs of butterflies to make their bouquets together, and scattered the excess all over the place. They also had a paper fan entrance and paper hot air balloons with little lights in, which up-lit for the evening in rainbow colours!
Katy's bridesmaids wore rockabilly polka dot Dolly & Dotty dresses in an array of colours to match her rainbow dress, which was from The Couture Company and her hair! "The biggest expense we had was the dress," Katy remembers, "because its the perfect dress especially for me and it was worth every single penny. Jo and her team are amazing!" Alongside his Yorkshire tweed jacket and matching braces, Mike wore Levis for ultimate relaxed wedding comfort.
The vibe of the day was so relaxed that they even forgot to cut their cake! For their evening celebrations, Katy and Mike asked everyone to pick a song to curate a giant playlist. "We sat down with our families and made a huge playlist, one for eating a little more chilled then one for partying that had everything from Elvis to Biggie." They also had Ramble Gamble as their band, who were by all admissions amazing, and really helped cement their folk festival feeling.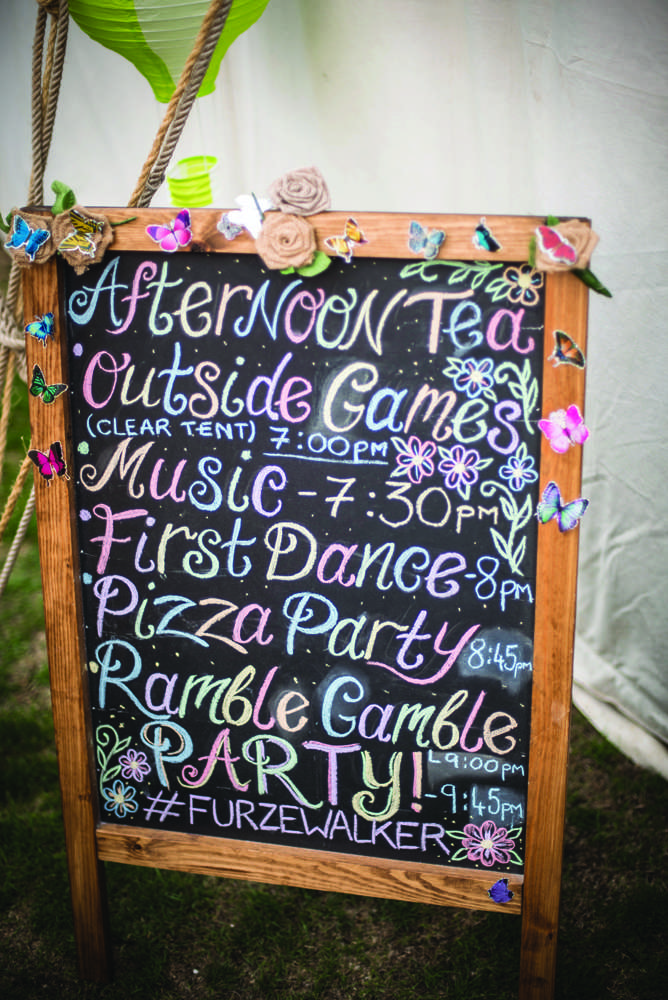 "Our favourite part of the wedding was just all of it", Katy concluded. "It was just a perfect day and it was wonderful how much people were laughing and smiling – everyone still talks to us about it!"