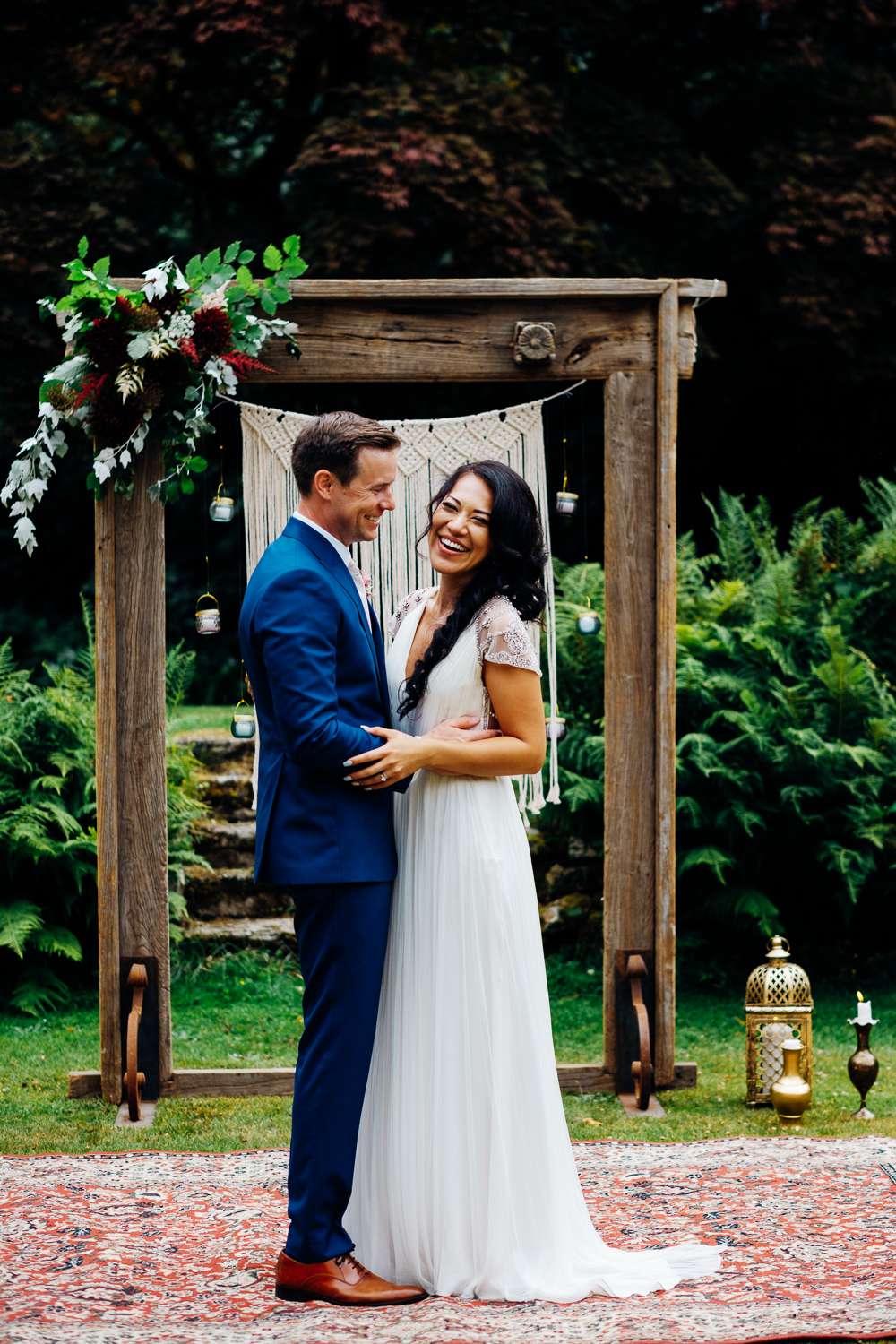 So I'm going to let you in on a little trade secret – every couple that we feature on Rock n Roll Bride get sent a questionnaire that they fill out to tell us more about their wedding. You usually get quite a good feel of the couple's character from what they say and from reading what Sanaa and David had to say – that they basically just wanted their wedding to be the most fun that any of their guests had ever had – we absolutely think they delivered…
They had a small legal ceremony in the Mayor's Parlour at Islington Town Hall followed by a pub lunch in London. A few days later they headed down to Somerset for their big party and a second ceremony, lead by their best friends, Lindsay and Stephen.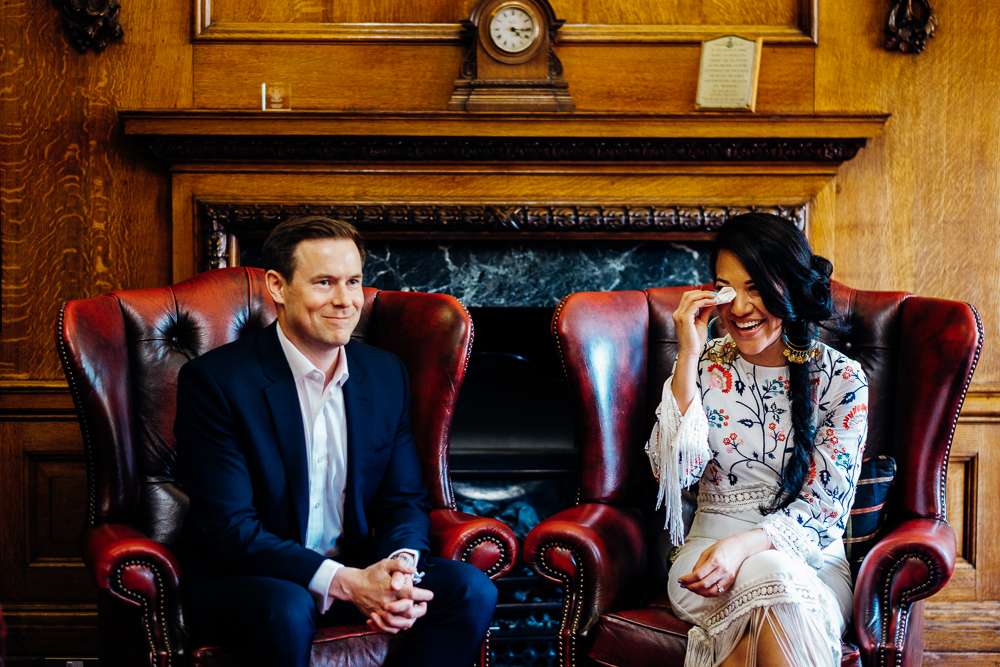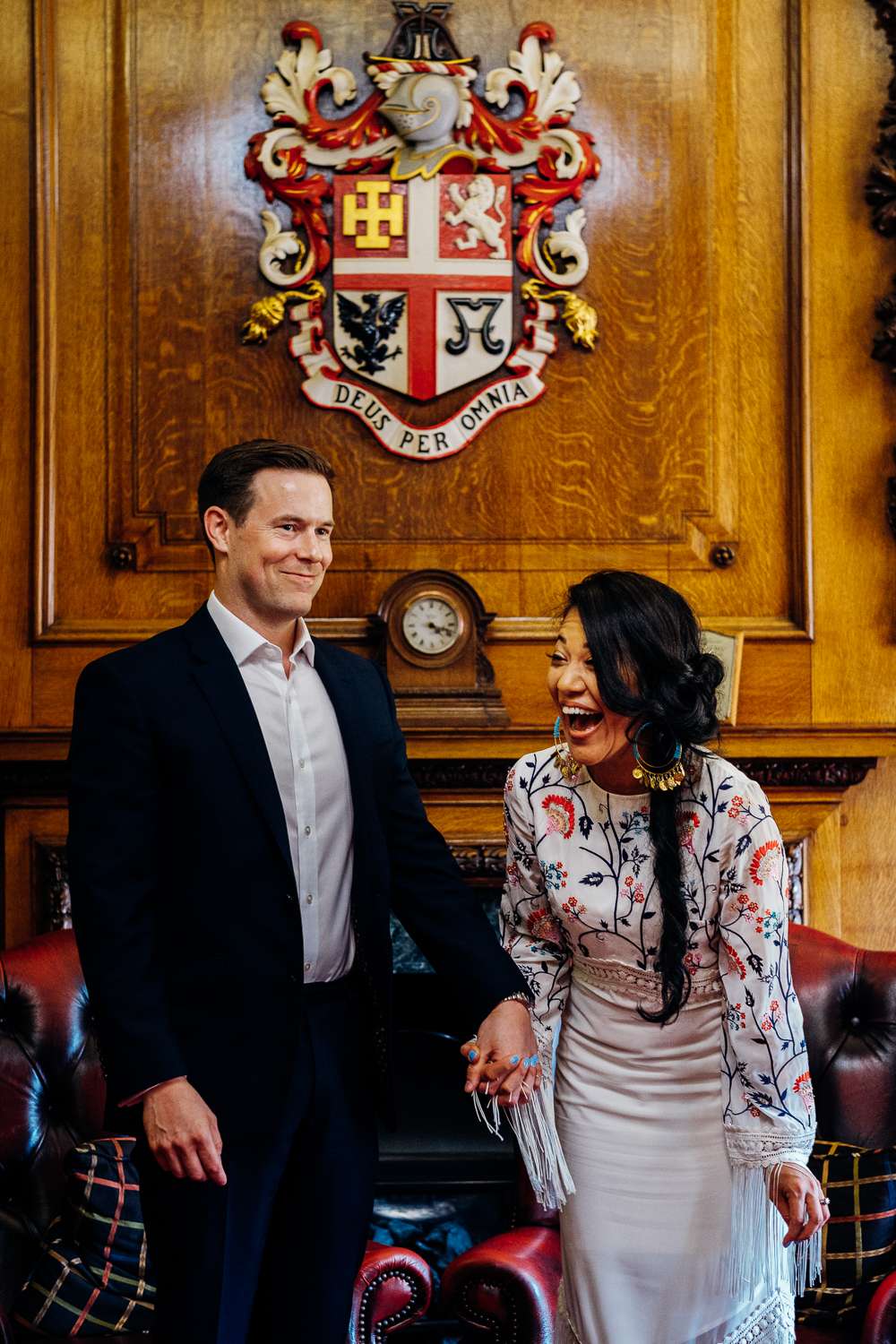 "I'm from California, so I also wanted to marry somewhere outdoors, beautiful, in nature," Sanaa explains. She found Widcombe Grange, in Somerset by literally googling 'big house', 'hot tub' and 'UK'! "It was an extraordinary venue for our wedding weekend! Our families live abroad, and as they hadn't met before the wedding, we wanted space and time for the families to get to know each other before our friends arrived. The 22 acres of landscape woodland gave us space for aw hole weekend of activities."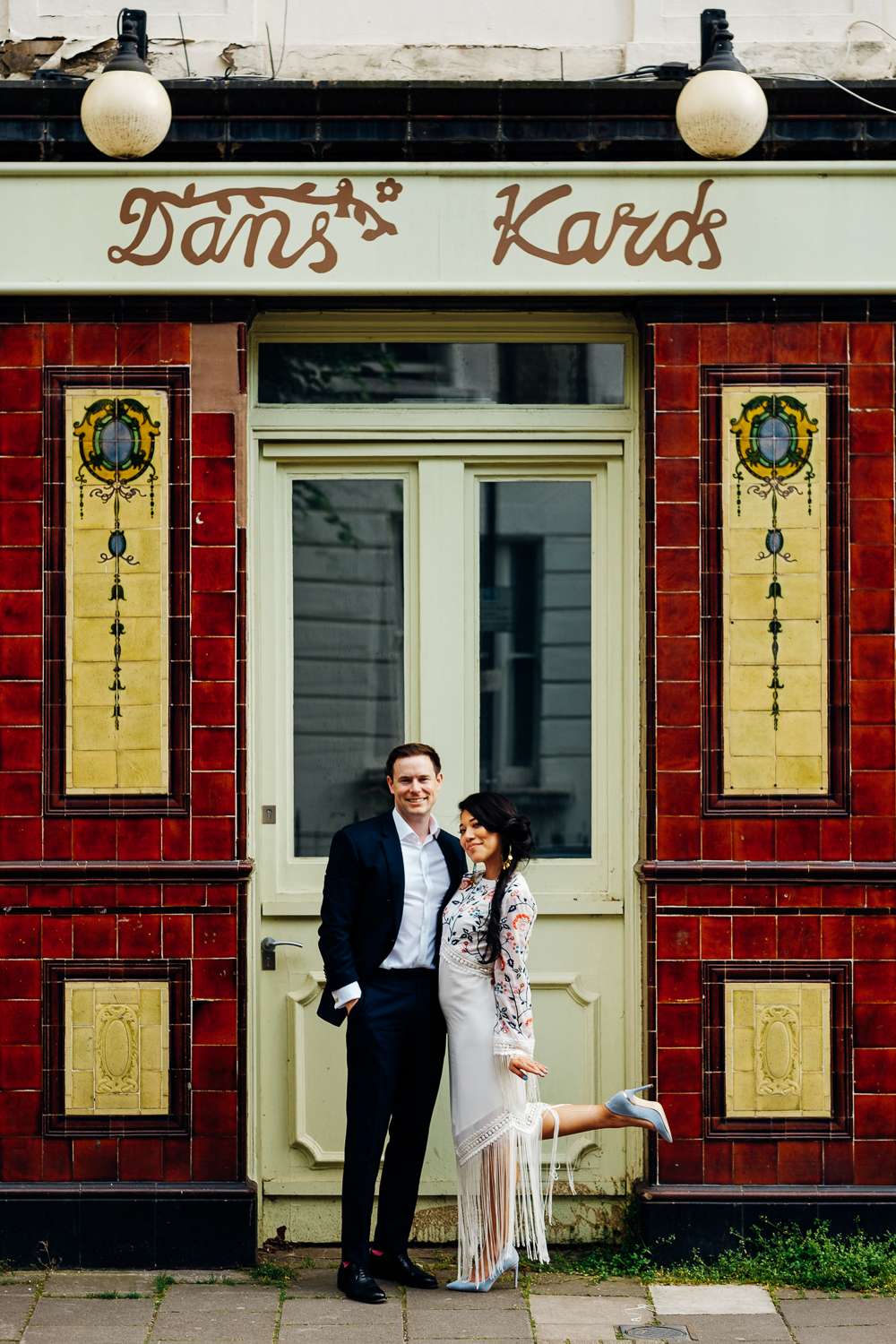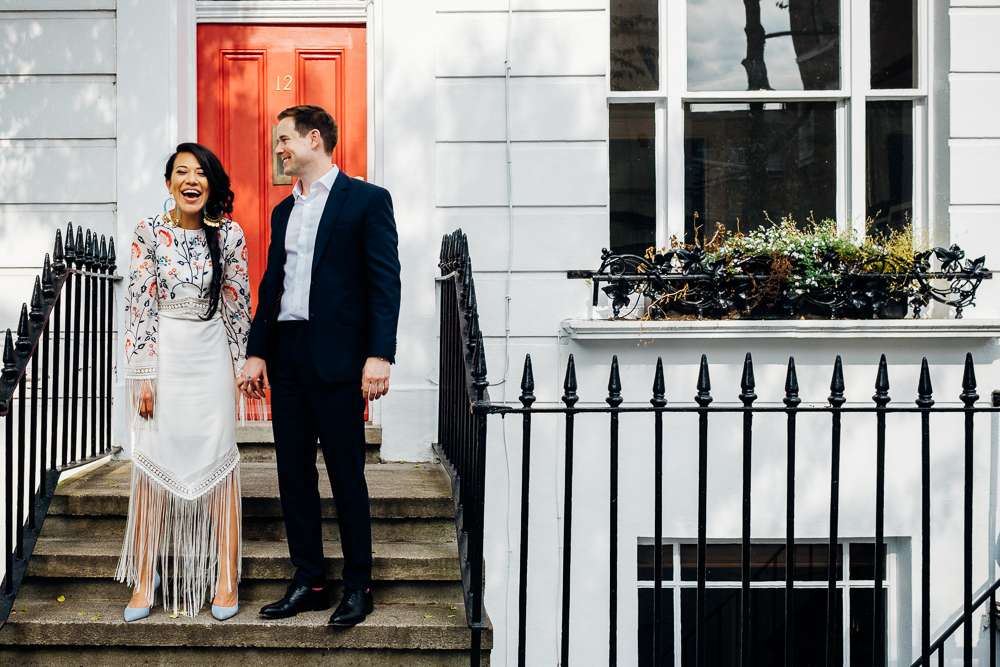 Both Sanaa's Californian roots and her current East London ends came through in the wedding styling. "You'll see some of those 1960s/70s rock influences from snippets of my twenties in LA in our fire pits, evening chill space and our late night shenanigans," she says – plus, the amazing abundance of fringing! (Their ceremony arch, wicker chairs and vintage bars were all from Virginia's Vintage Hire).  "I was thinking painting in treehouses off Laurel Canyon, Topanga Canyon brunching / hiking / vintage shopping and after parties at the Chateau Marmont. That said, we live in Hackney and also incorporated some East End charm with cockney slang table names and beers from our local craft brewery!"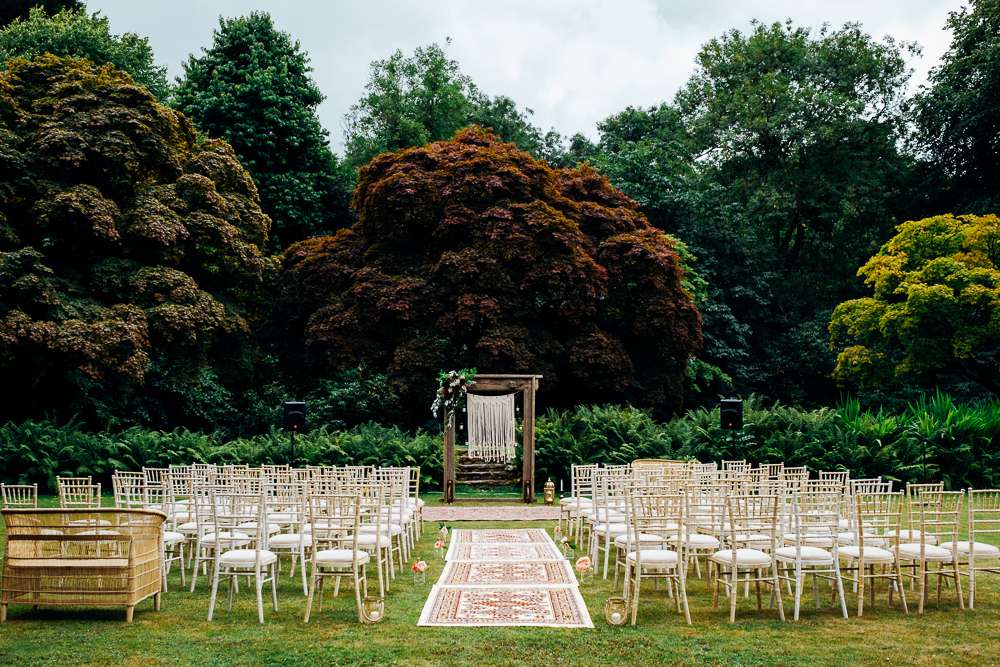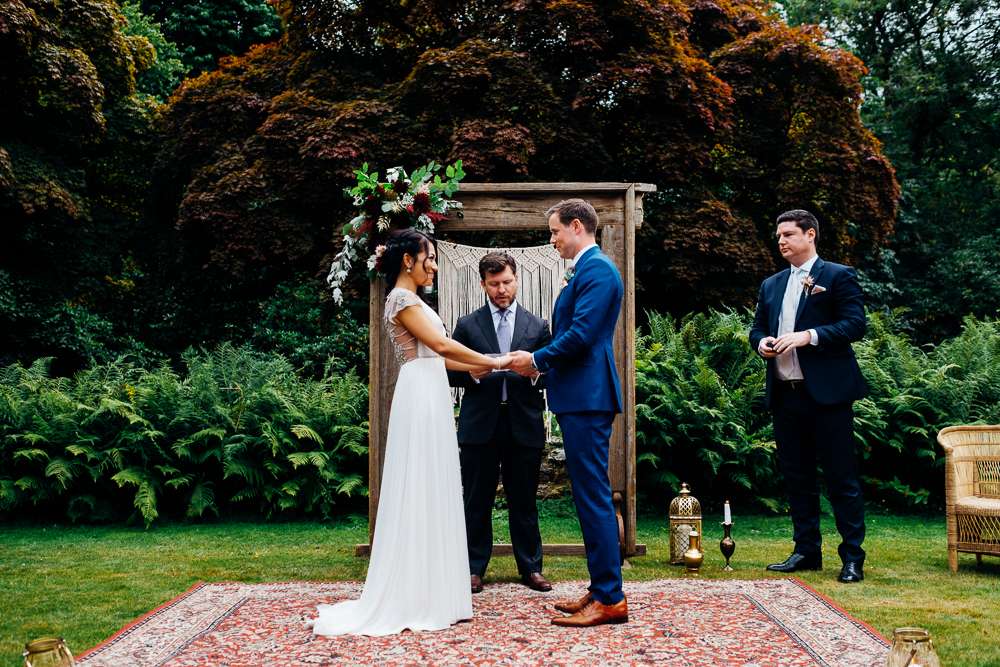 With the groom being a big lover of game, those had to play a big part too. They organised wake boarding and clay pigeon shooting in the week for their families, an archery tournament during the Sunday farewell, and lawn games throughout the weekend. "Cornhole (an American game involving throwing corn-filled bags through a hole in a board that David discovered during his time in the States) was on David's list of must-haves from day 1 of planning. Sourcing a reasonably priced cornhole set in the UK was more challenging than sourcing most of our vendors!"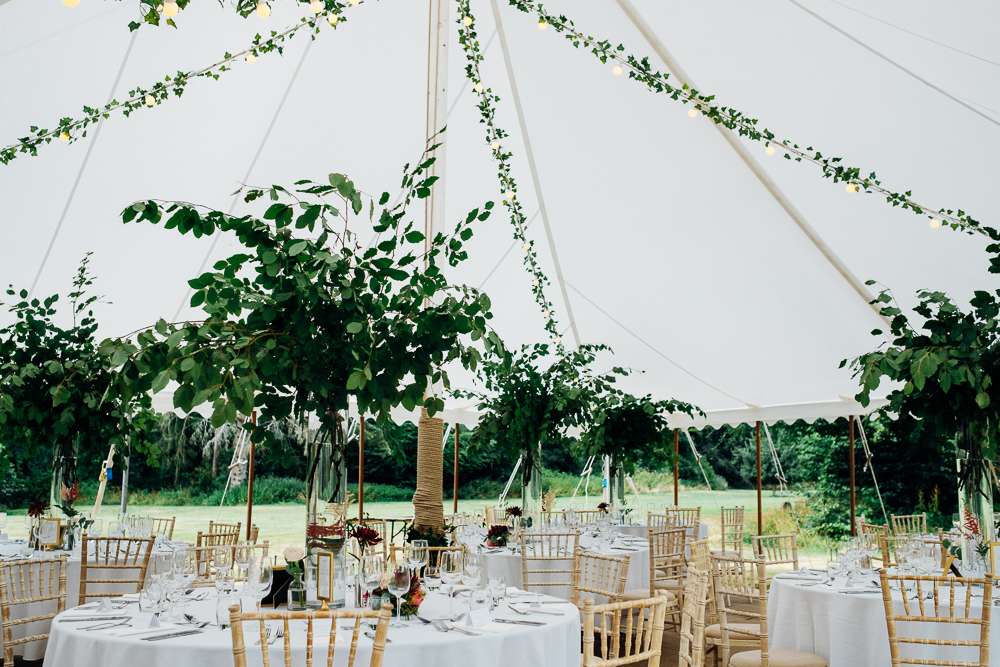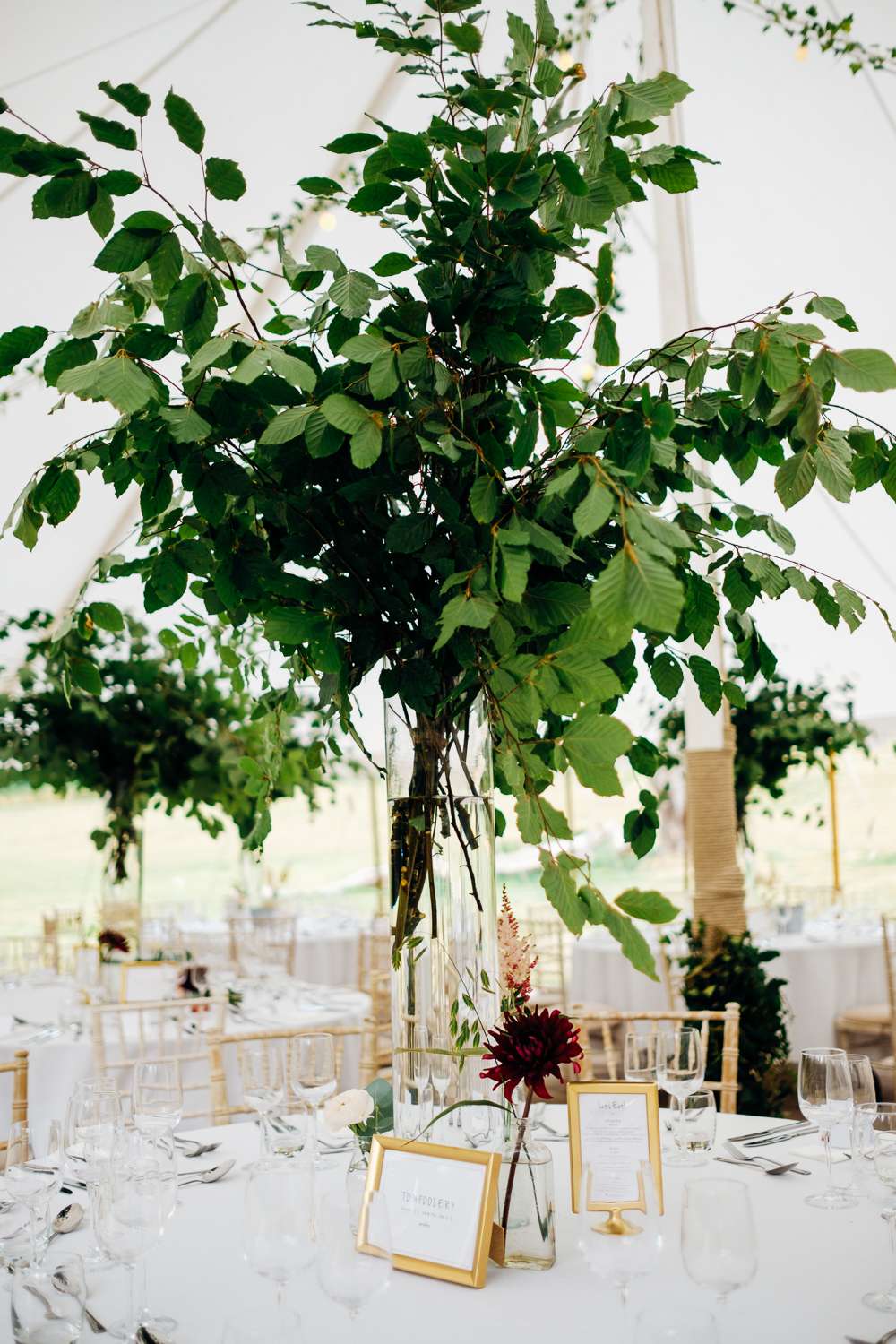 They also focused on the outdoors, with an outdoor ceremony and big leafy centrepieces inside the marquee, and cocktails as David makes fantastic drinks – they had a different drinks menu at every stage of the weekend with every beer, wine and cocktail handpicked. They also finished their dinner with DIY espresso martinis, with a genius side effect! "We passed out giant martini shakers and pre-measured bottles of ingredients to each table. The tables broke into a shake-off, complete with twerking and somersaults (and just one spilt shaker…). It was our sly way of getting some caffeine into everyone before hitting the dance floor – the shake-off was a hilarious and unexpected perk!"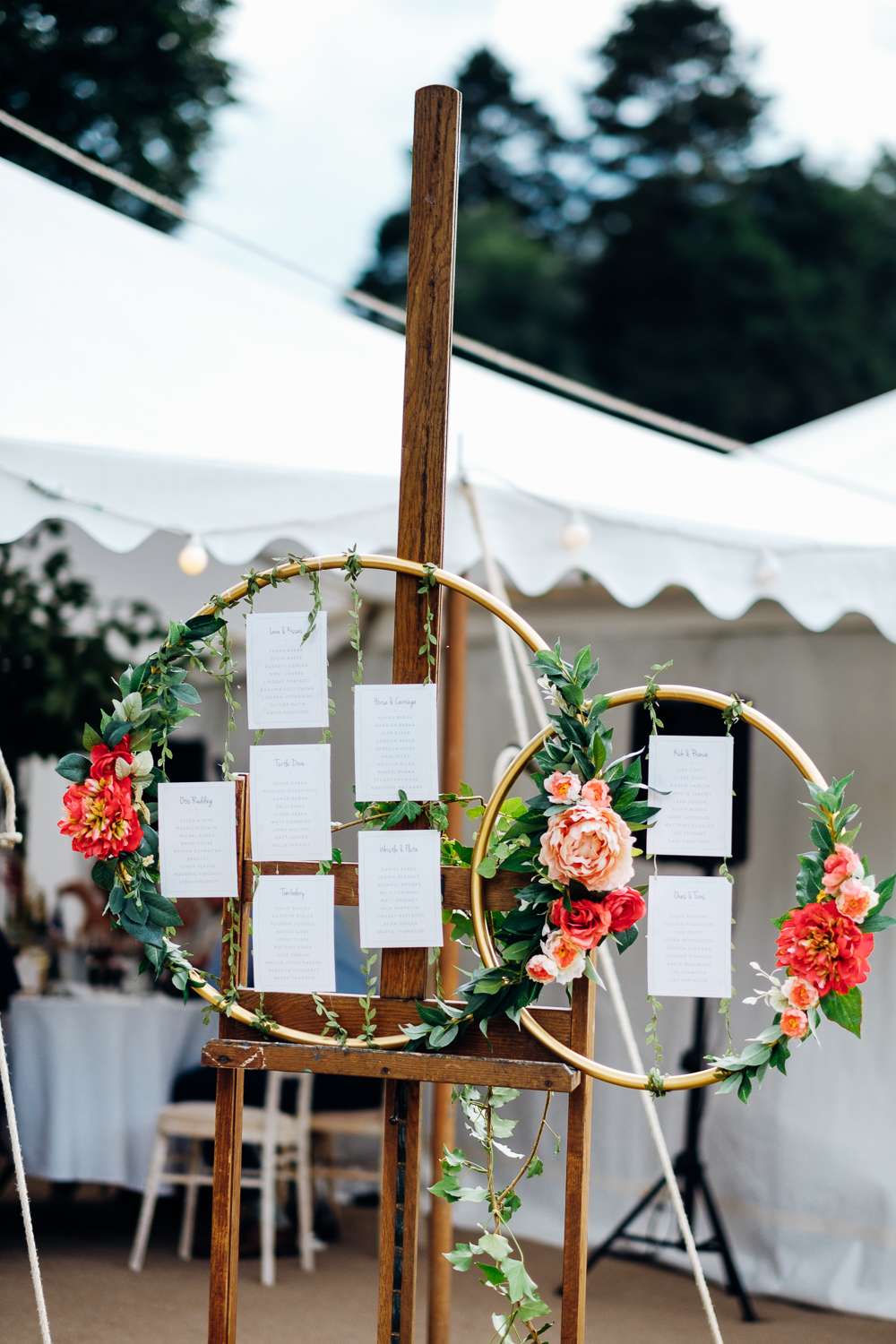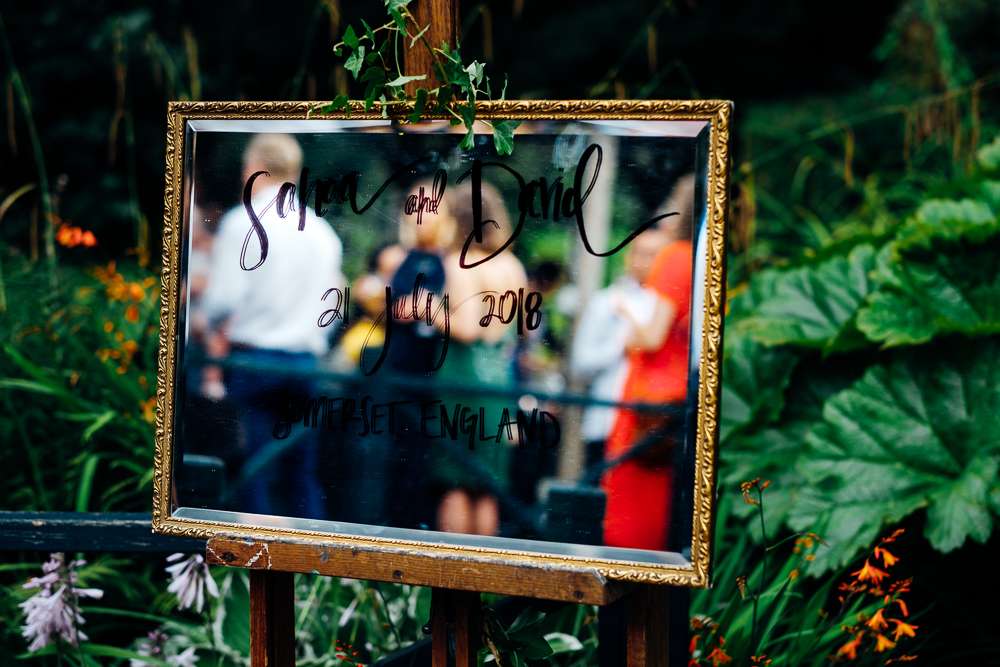 Planning a full weekend of activities and decorating six separate areas over twenty-two acres was no easy feat, with it consuming all of Sanaa's spare time in the run up to the wedding. Luckily, she loves a project, and enjoyed planning everything out! Their venue and their caterers, Milkshed Catering, were also super helpful in this regard. "We were able to do anything and everything we wanted," Sanaa says. "Widcombe Grange provided a beautiful backdrop and a blank slate in terms of planning. Both Widcombe and Milkshed offered their experience to help guide us and were flexible and accommodating, and Katie and Mark at Milkshed Catering bent over backwards to put together a beautiful, creative, delicious menu. They're absolutely amazing people."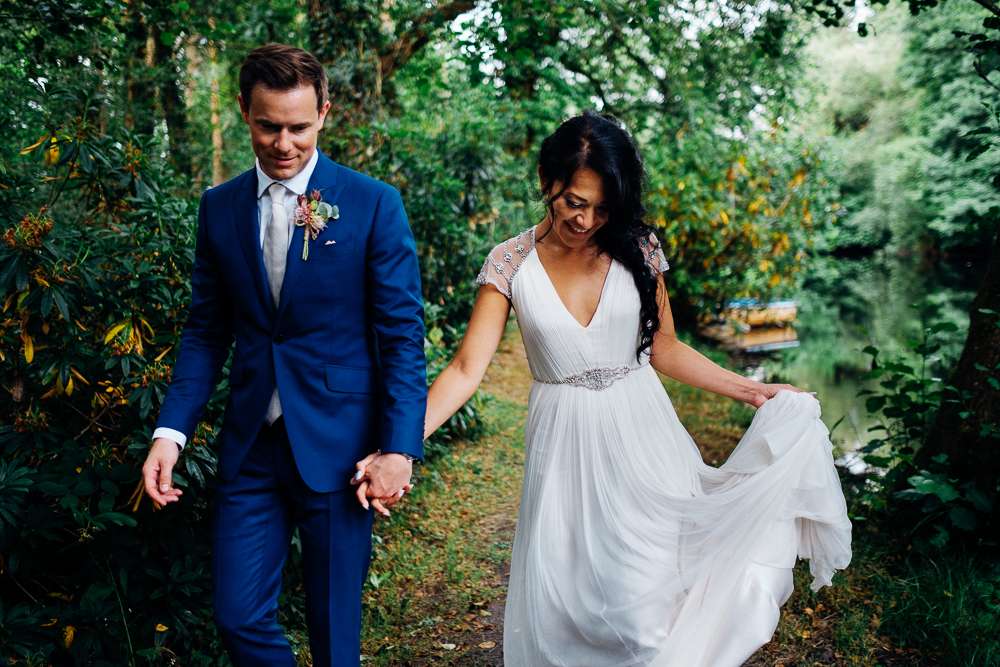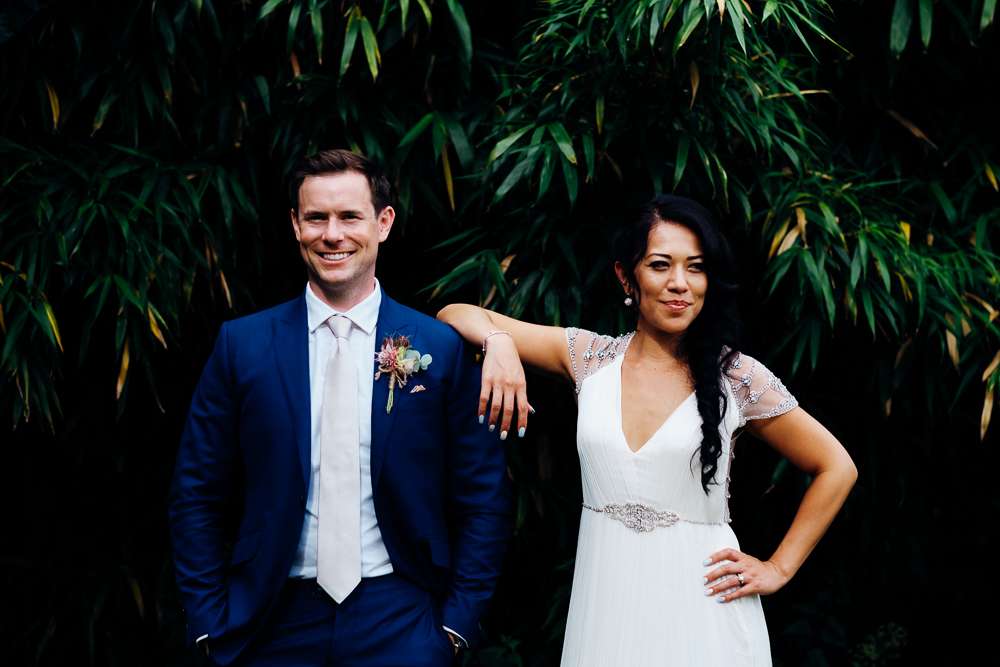 As well as using Paperless Post and withjoy.com for save the dates and invites, Sanaa also designed their table plan, table names, place cards, menus and DIY glitter bar instructions using Canva. "It was a lot of work, but I loved the flexibility of doing it on our own, and we were able to make some very last minute changes to the table plan when one of our guests dropped out." she explains.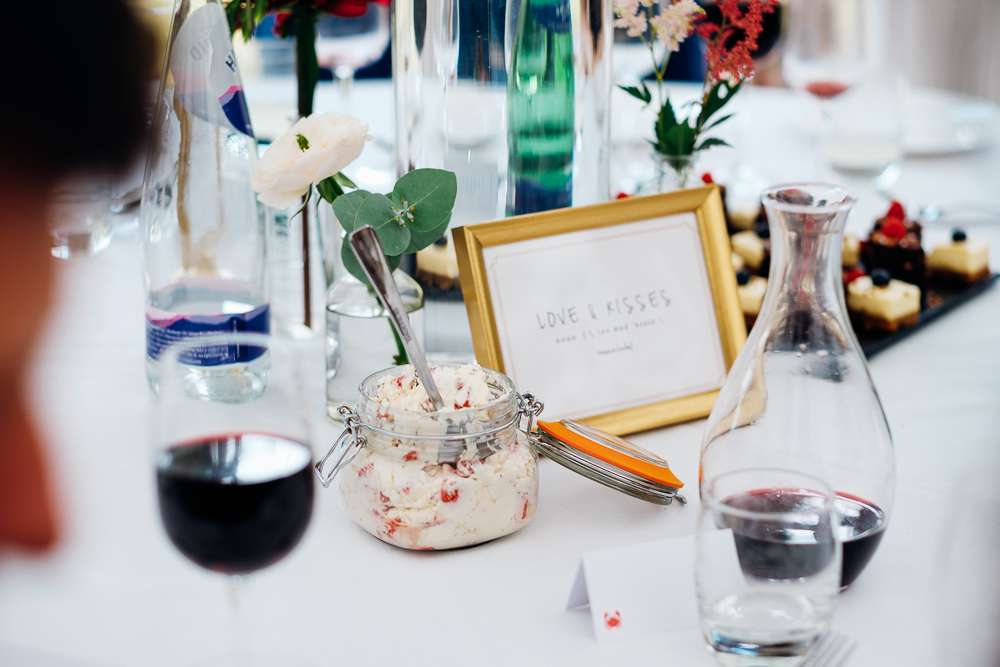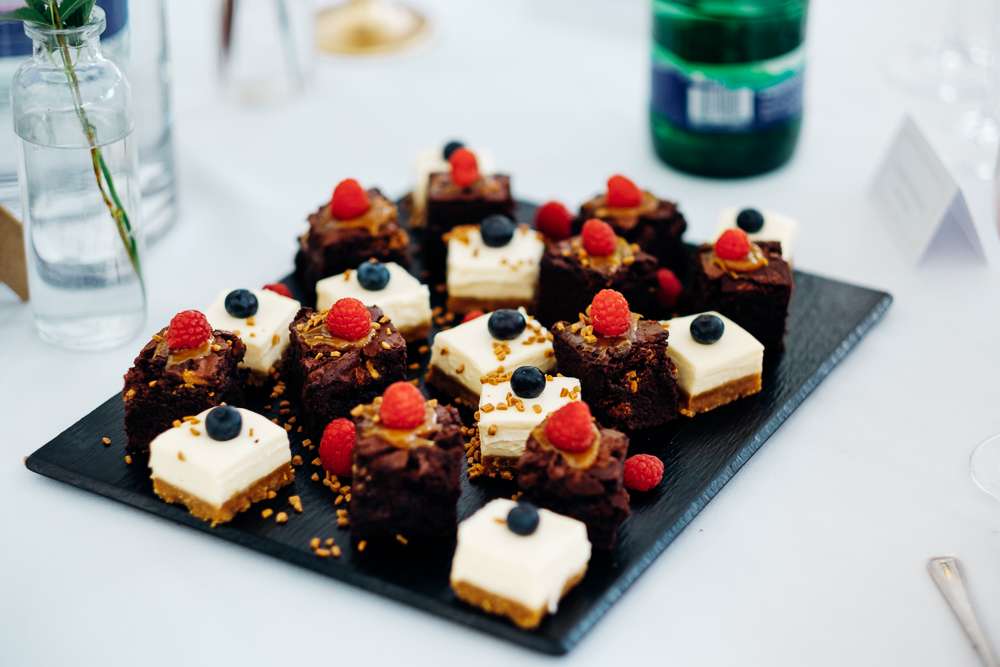 Originally planning to do more of the stuff on the day herself, Sanaa was talked out of 'doing everything on her own' by her recently married friends. She found her hairdresser, Amy Havenhand, just a couple of months before, to perfect her bohemian half-up half-down braided do, and her make up artist, Hannah Oxley. Her flowers were also a last-minute contact. "I contacted Sophie from Earth Gallery Flowers a month before our big day, and am so glad I did. I absolutely loved the big leafy centrepieces that brought the outdoors into our marquee and the flowers on our ceremony arch."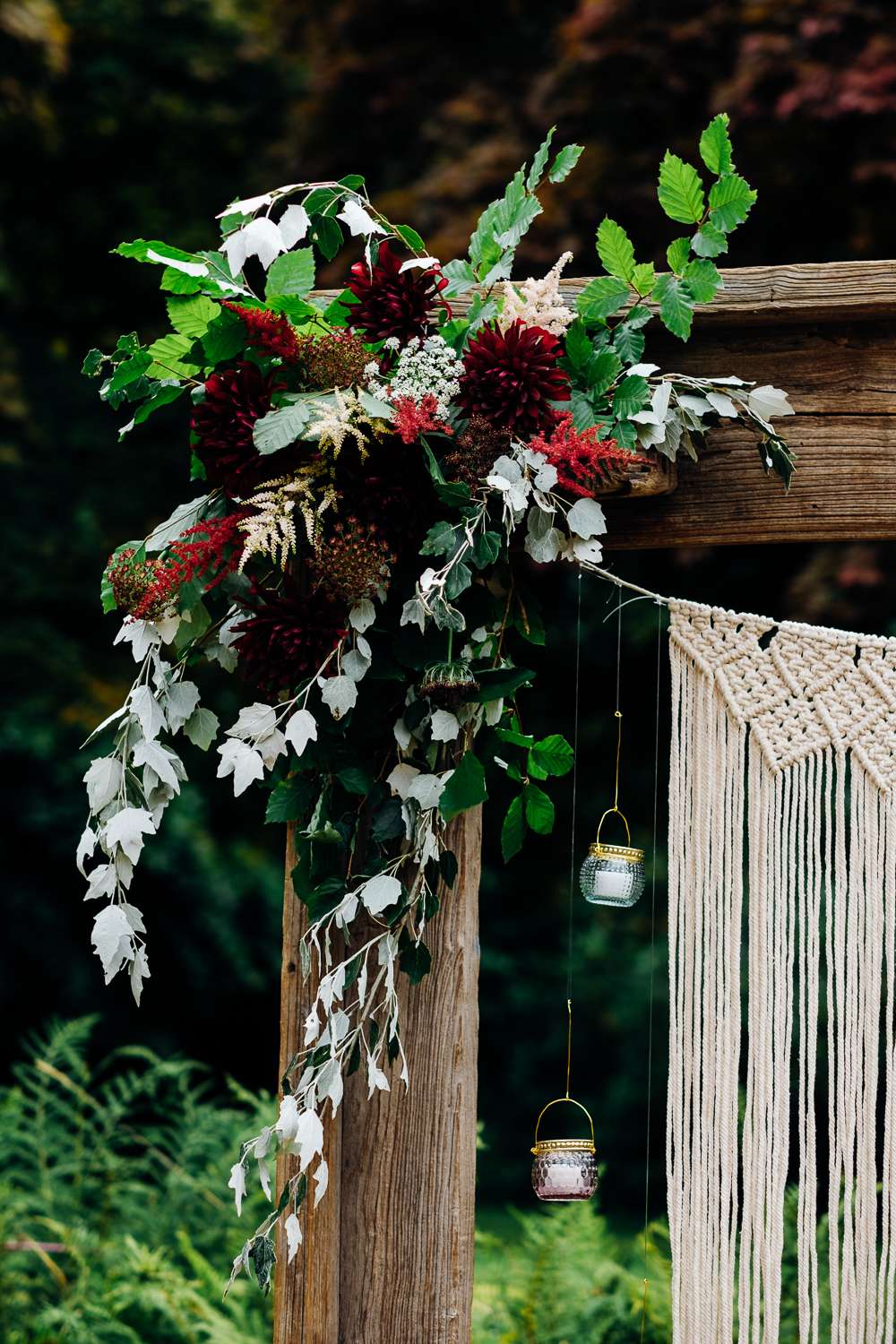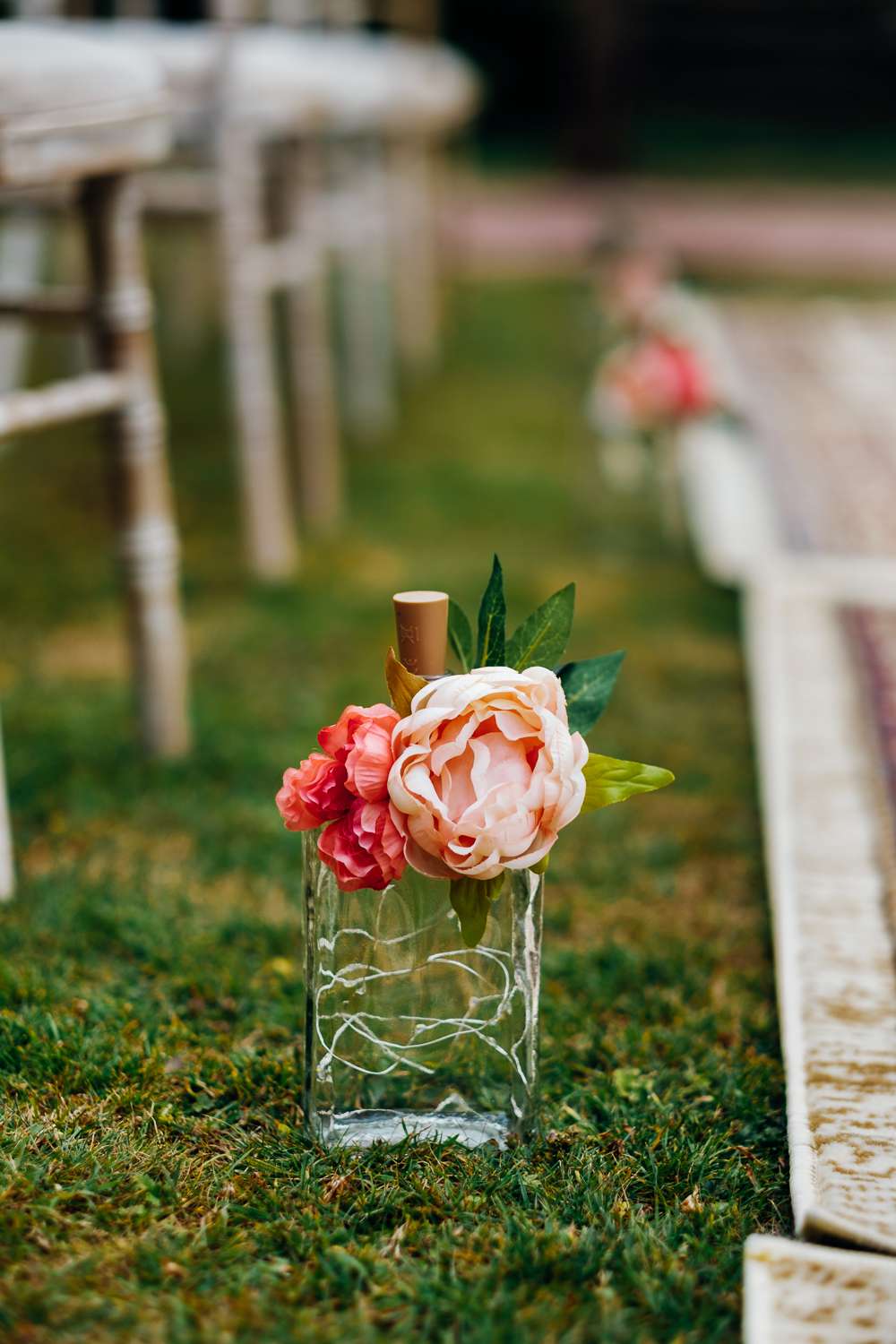 Over the course of the wedding, Sanaa had to pull together five days of wedding outfits. "Most of these were thrown together based on what I already had, and lots and lots of online shopping (including several bag-laden trips to the post office to return all the no-go's), but for the big day my dress was by Catherine Deane, a local London designer. I got really lucky and found it in a Catherine Deane sample sale six months before the wedding." Sanaa's dress was a beautiful flowing number with a gorgeous, heavily-embellished yet elegant back. David wore a made-to-measure bright blue suit from Mark Marengo, and Sanaa's bridesmaids all wore Dessy dresses, bought in LA and co-ordinated across Facetime and Whatsapp!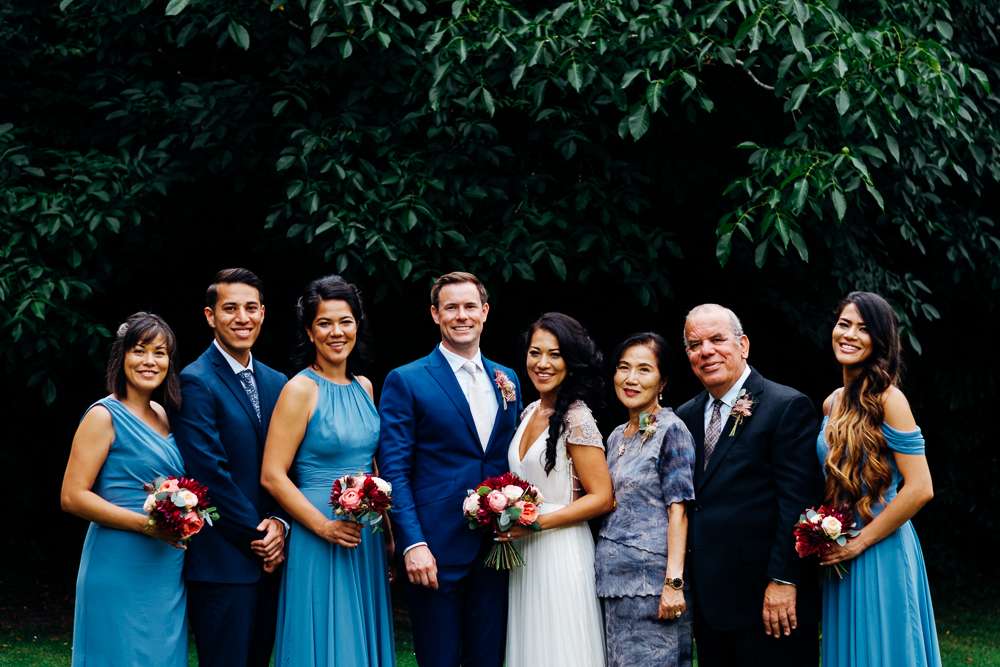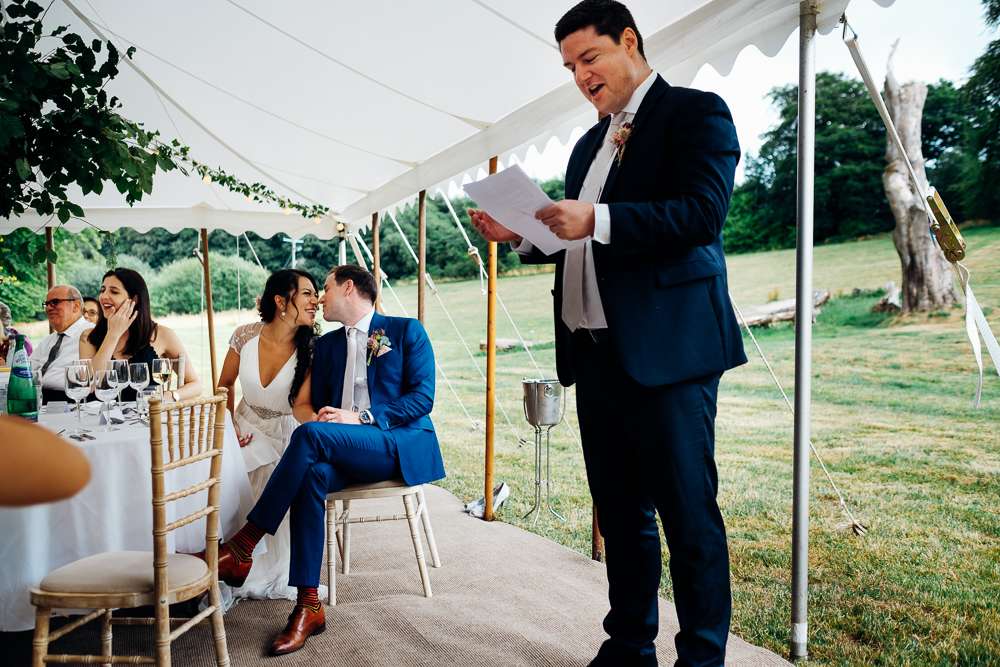 After the reception, things got wild. With Polar Bears Can Dance spinning some excellent tunes, there then some late night streaking from the pool to the hot tub. In light of that, Sanaa and David's advice for couples seems like a very fitting note to end on: "Do what's right for the two of you and enjoy the party. It's the one day in your lives together you'll have everyone you love around you, and they're there just to celebrate you. Live it up!"