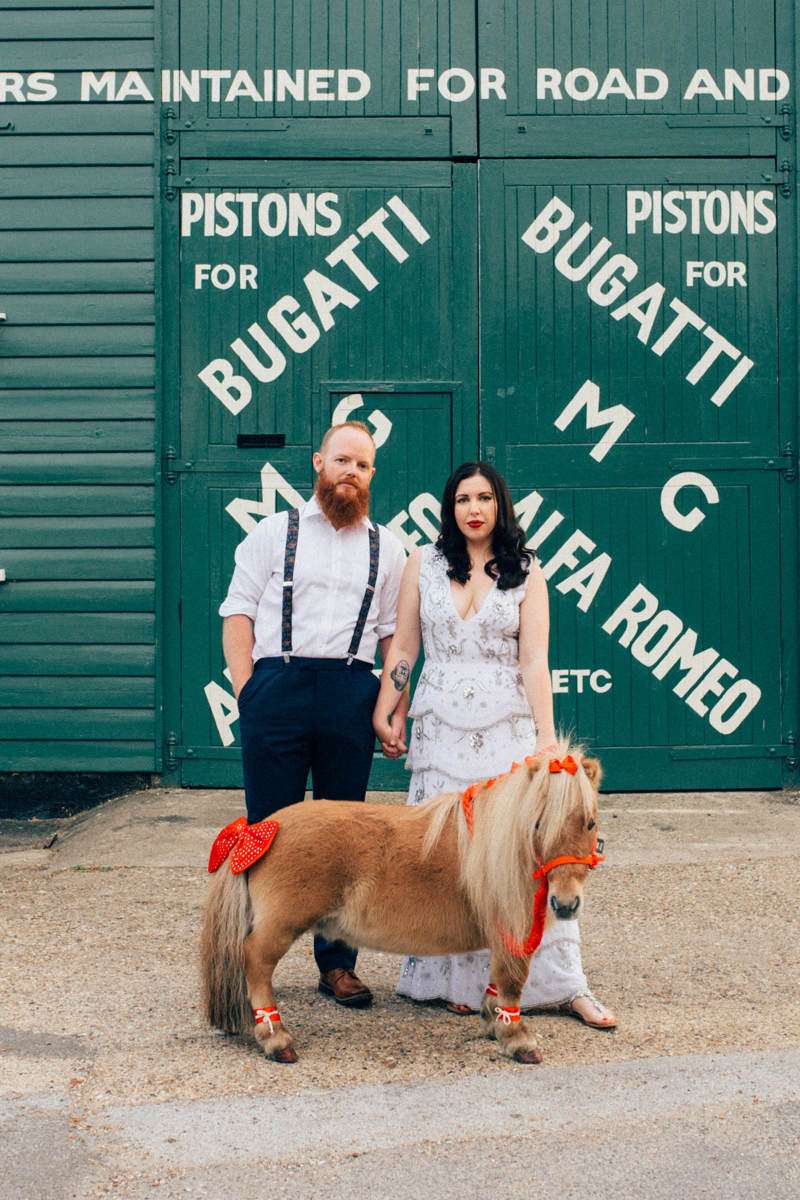 When a bride describes the inspiration for the wedding as "a fun episode of Poirot with lots of tiny animals", you KNOW it's going to be an alternative wedding, and an amazing day! Frankie and Chris (or Jaffa as most people call him) got married on 5th October 2018 at The Brooklands Museum in Surrey. It was the home of an old Motorsports racetrack but is now a museum for vintage vehicles – cars, planes and buses.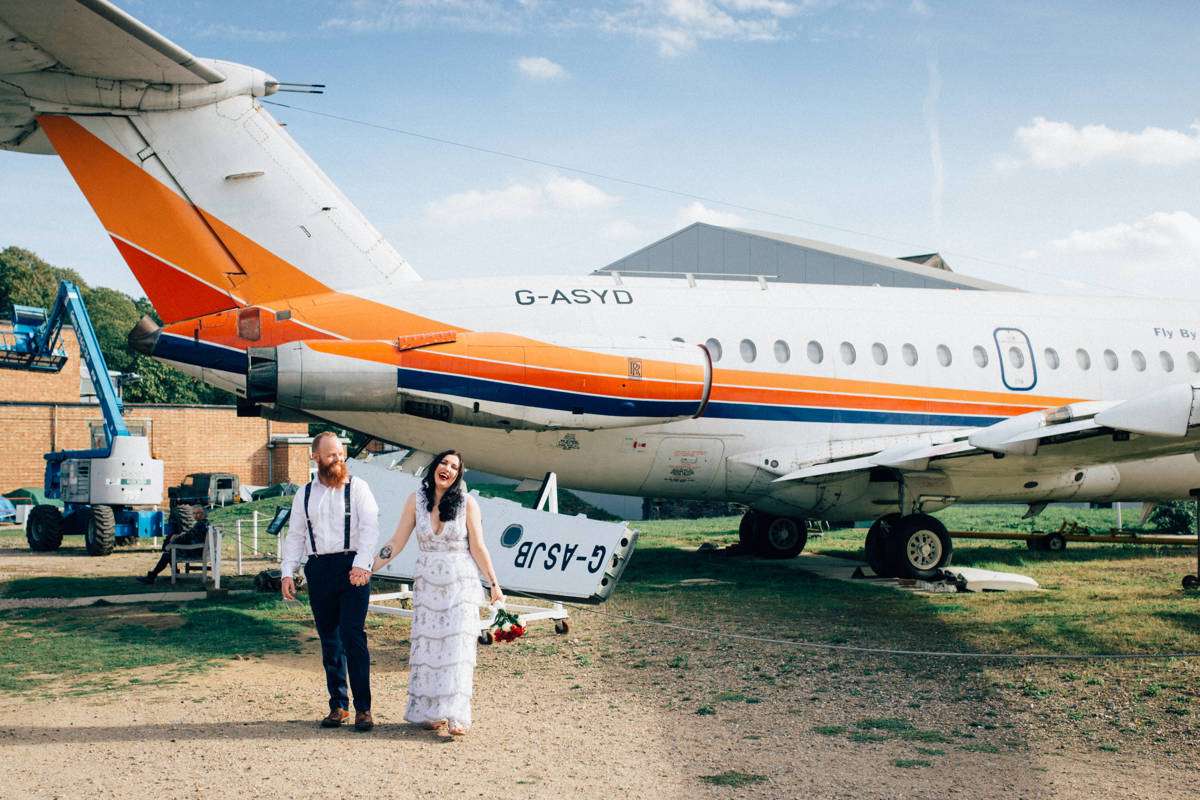 As soon as we saw their beautiful pictures by Nikki van der Molen we squealed with delight – the miniature pony is called Tiny Tony!! I doesn't get any cuter than that! They arranged to have a him there for an hour or so in the afternoon for the guests to meet him. He was very sociable and made for the most adorable photo ops! Animal Magic also brought along a few dogs and a the most laid back friendly cat ever.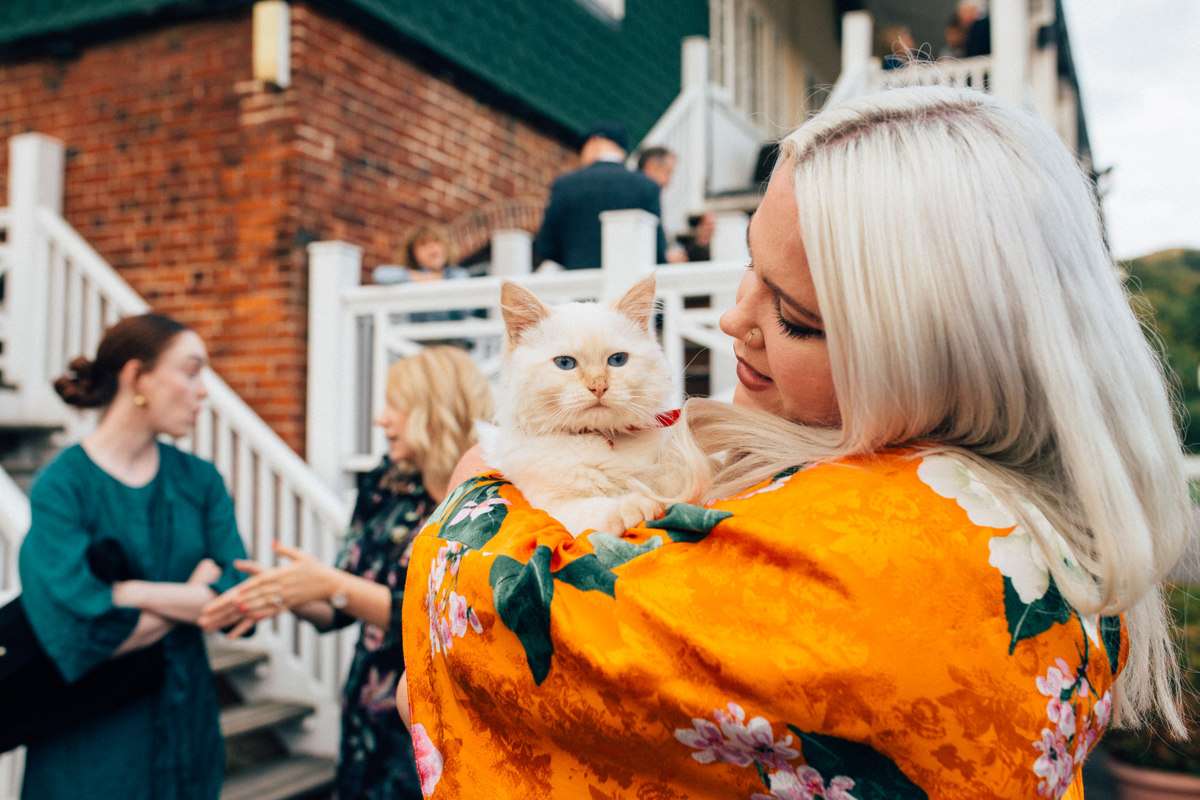 "We wanted the whole thing to be as relaxed and fun as possible, so we chose the Brooklands Museum because it's a really cool and interesting place that we wanted our guests to make the most of," Frankie says. "The venue was our biggest expense but it was worth every penny – our guests really enjoyed looking around, and it made an excellent back drop for photos."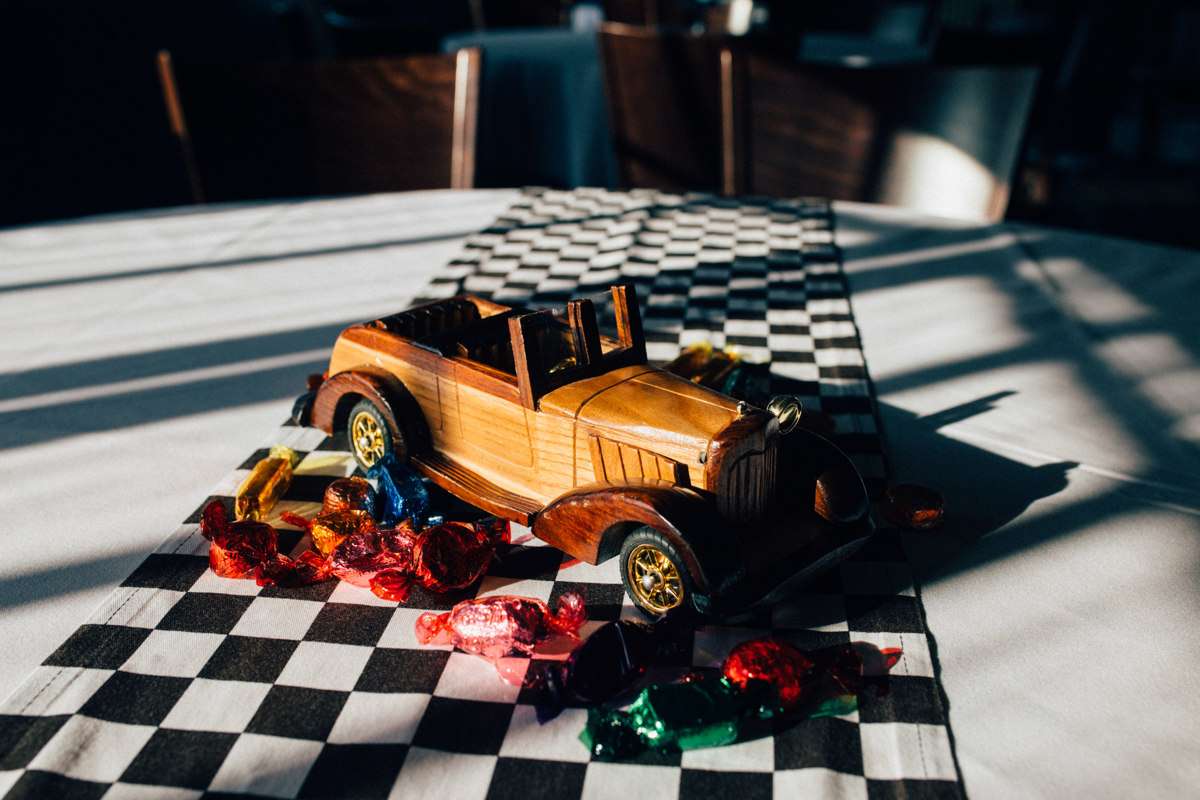 Frankie is a huge Poirot fan so she walked down the aisle to the Poirot theme tune. One of her friends even managed to get her a video message from David Suchet! "We wanted our ceremony to be really quick, as it's arguably the most boring part of the day," Frankie continues. "The registrar was impressed with the choice of music I walked down the aisle to, and said it was a nice change 'because everyone has Ed Sheeran these days' (LOL)."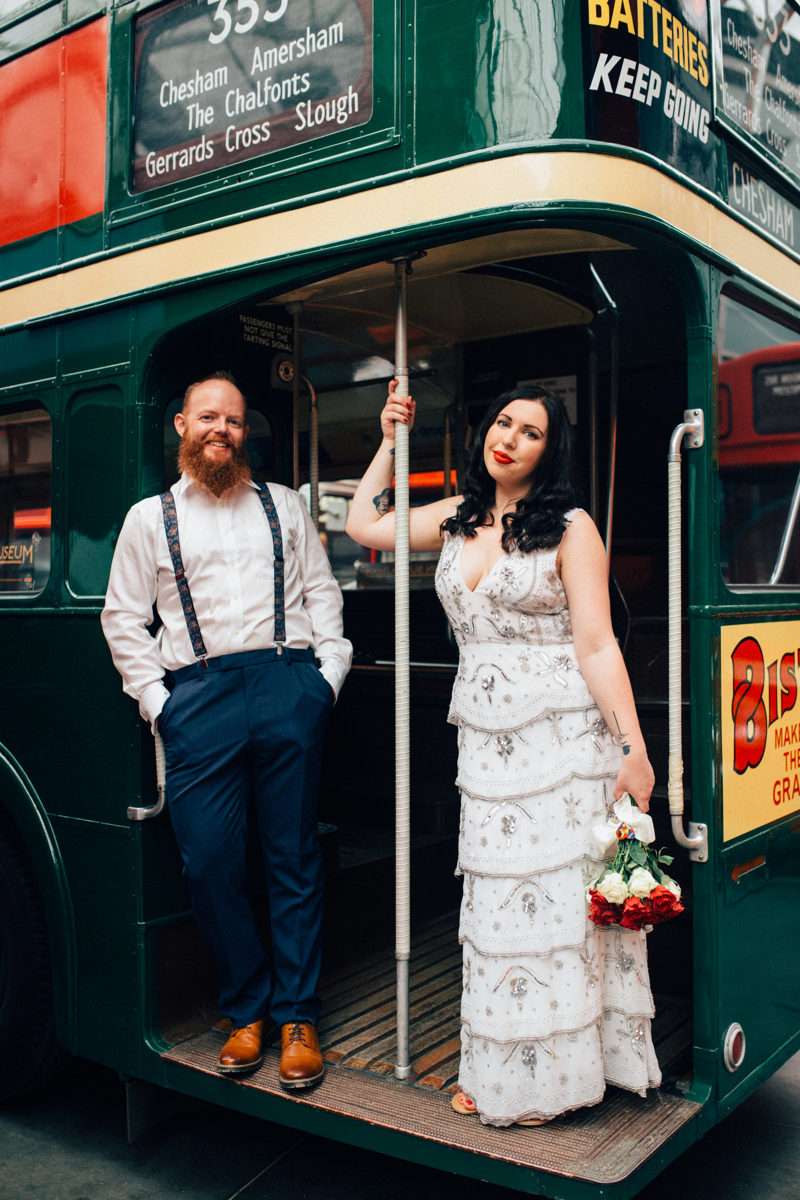 Frankie's beautiful embroidered grey dress was a steal at £150 from Maya at ASOS, and Jaffa's outfit came to under £200 too. The bride was very determined that she wasn't going to spend thousands on a dress she would just wear once. another cost saving exercise was their invites, they sent them via email using Greenvelope. "It's environmentally-friendly and Greenvelope have lots of really beautiful templates to chose from," Frankie says. "Our giant Colin and Connie wedding cakes were only £100 from M&S, and each one served 40 people (so perfect for our 80 guests). Doing our own flowers also saved us a lot – we spent a total of £20 on the most beautiful fresh roses!"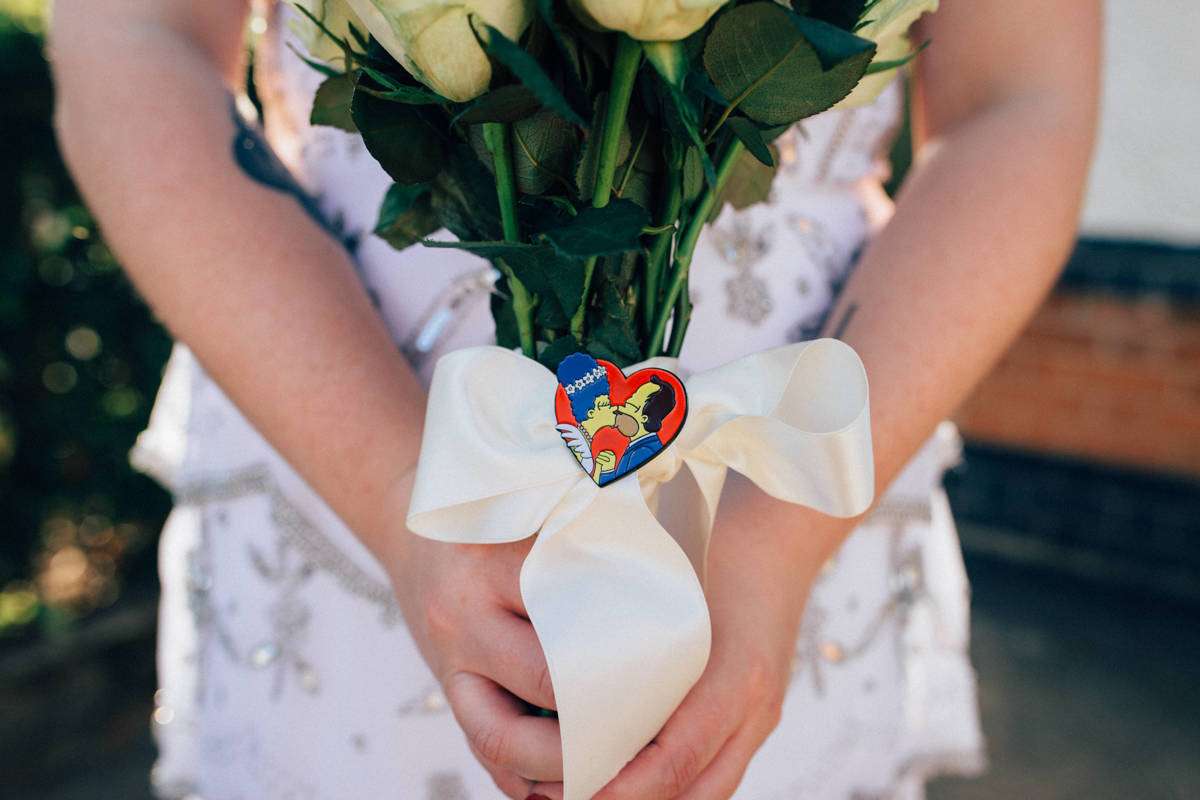 Frankie and her maid of honour, Edith, arranged their own flowers, which Frankie then decorated with a pin of newlywed Marge and Homer Simpson from Why You Little.
As well as her fabulous wedding style, we love Frankie's honesty about the day. When asked if there was anything she'd have done differently, she mentions "I definitely wouldn't have worn the Spanx. Towards the end of the day, they started to roll down and I still have a mark on my stomach from where they cut into my flesh! Apologies if that's too much information…" Not too much info at all – we gotta give the people what they want!