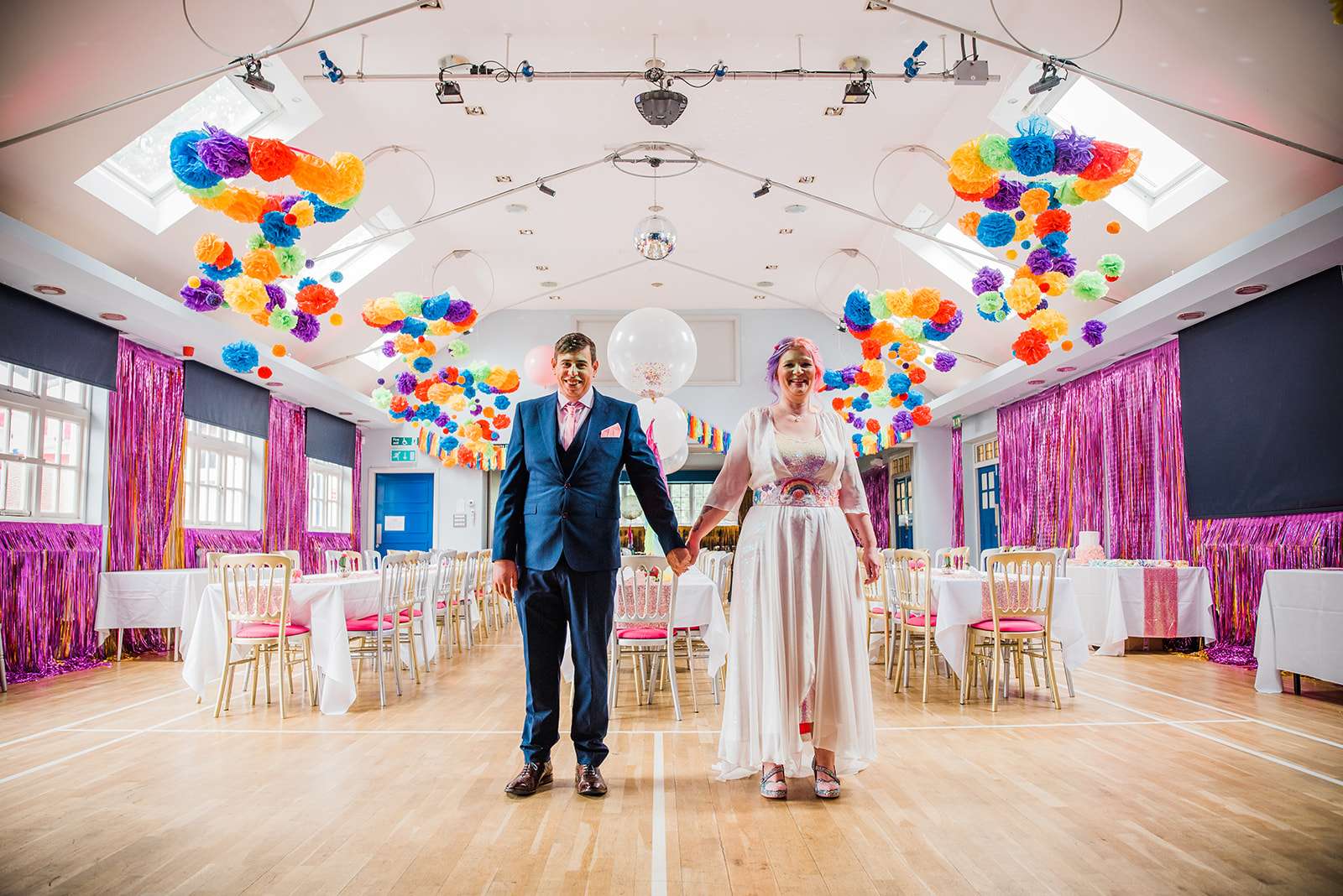 I really feel like a lot of you are going to love Jodie and Lee's rainbow with a hint of kawaii wedding – for starters they transformed a village hall into the inside of a disco ball!
They had their wedding in two phases: admin and party. After posting their party invites at dawn (as they would announce that they were married), Jodie and Lee did the 'admin' bit at Manchester Registry Office. "Whilst people knew we were due to get married, they didn't know when – we only had six close family members with us on that day," said the bride.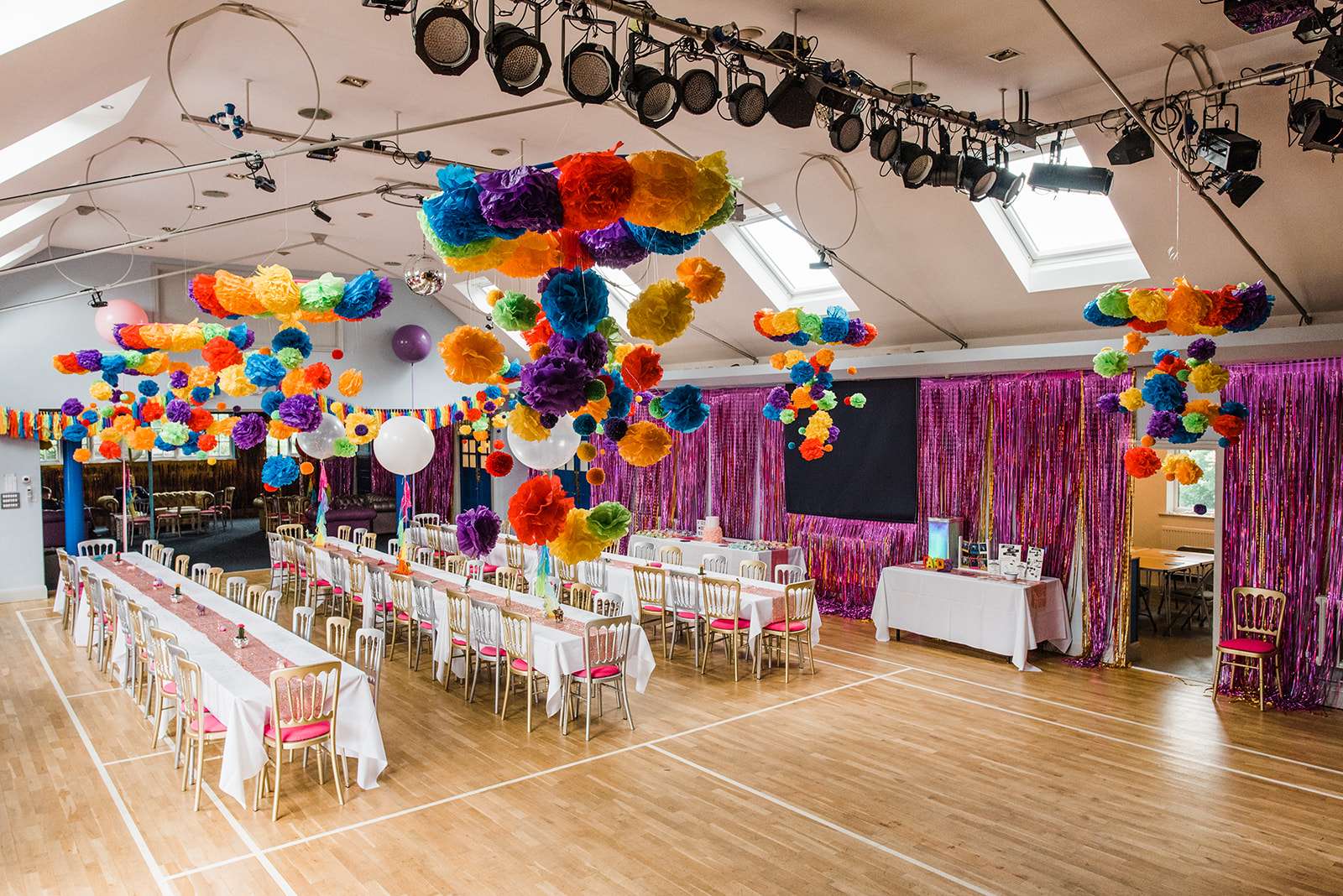 And now for the party: "If I was a thing I would be an actual rainbow," Jodie says, "so we opted for a full on RAINBOW theme with our personalities at the centre of it. My Pinterest board was absolute mayhem, full of bright and amazing ideas but I was struggling to reign it in. We enlisted the help of Apple Tree Events who helped to suggest a more focused approach. We opted for no flowers, instead choosing succulents with bright coloured heads that flower that were planted in mini Prissyem disco balls, placed with an array of animals from Painted Parade all wearing party hats. We used foils to decorate the walls and had a mix of pom pom chandeliers, pom pom garlands, tissue tassel garlands created by Sharelle from Apple Tree and huge colourful balloons dotted all around."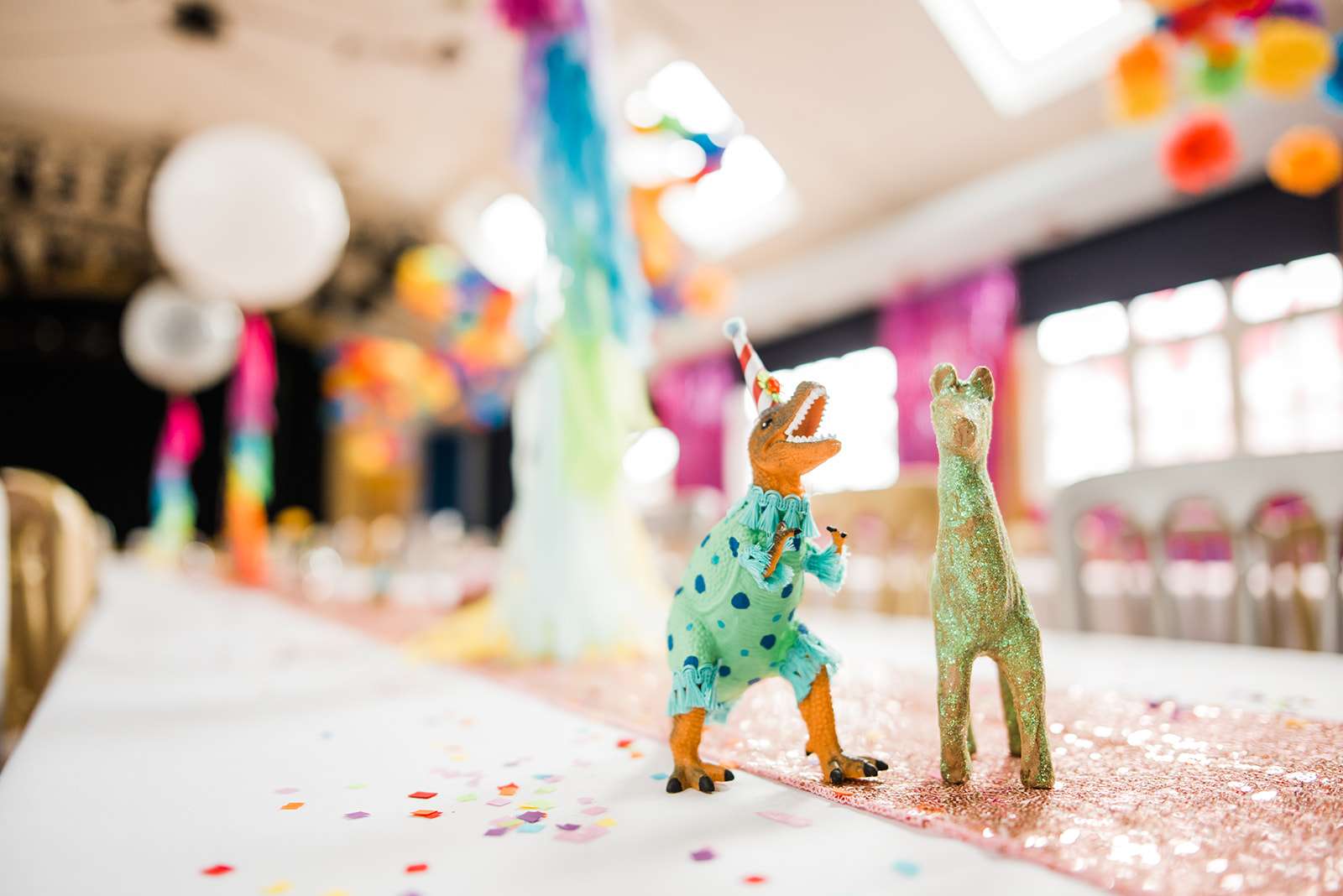 Jodie's outfit also drew on the rainbow theme, in a beautiful and colourful flowing sequin dress from The Couture Company and shoes from Irregular Choice. Her gorgeous pink and purple hair was studded with Paperchase hair clips, and Kimberley Brook accentuated this with soft eyeliner in a colour palette to match.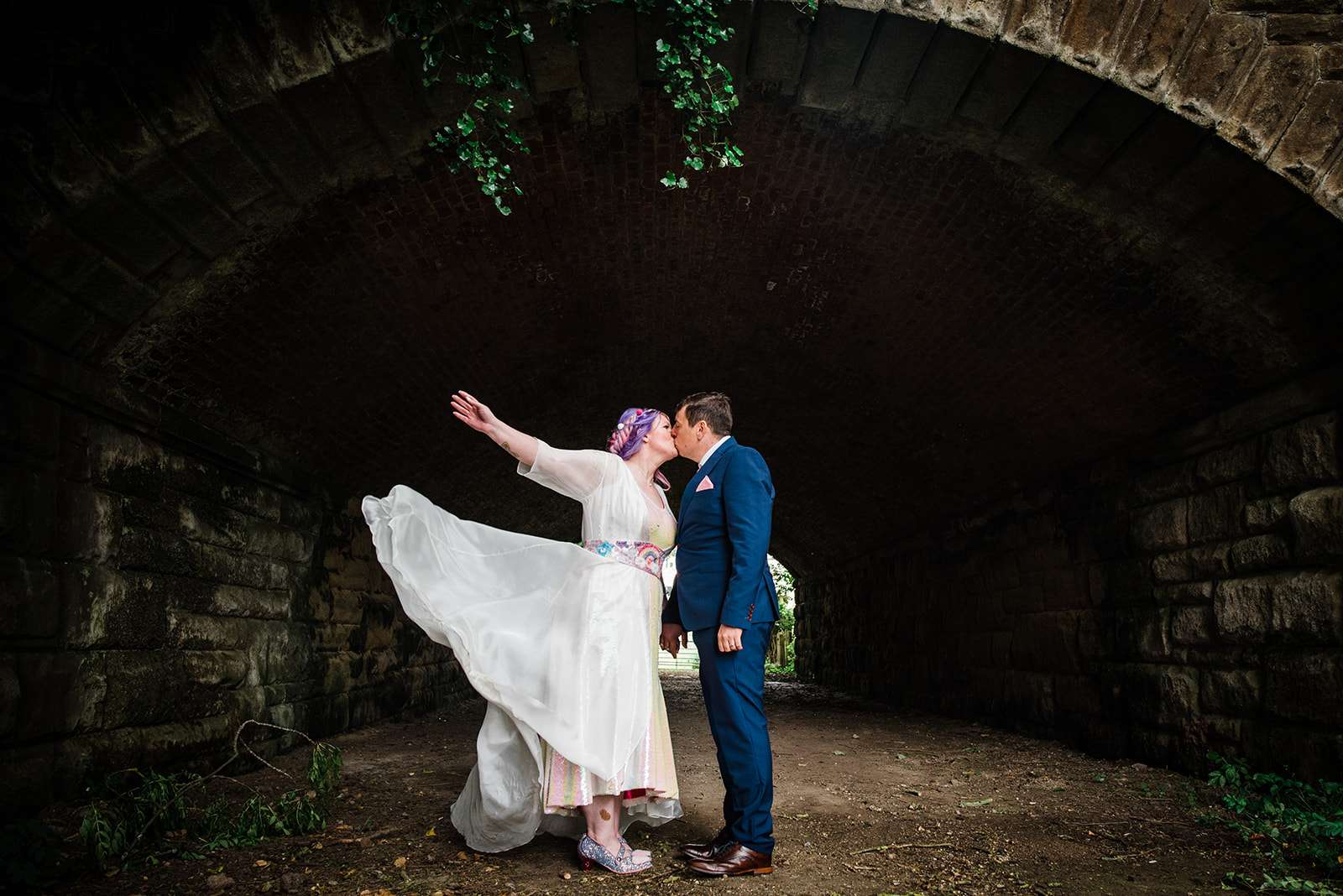 As Jodie and Lee wanted their guests to mix and get to know one another, they didn't have a table plan or set places for guests. "In the bar area we opted to hire some metallic effect Chesterfield sofas whilst crafting some Ikea tables with wicked stickers from Mrs Grossman's Sticker Factory  and holographic sticky back plastic. We had a small side room we were able to use as a kid's room, we put a big top style tent in there with some cushions, inflatables, colouring supplies etc so that they were kept entertained. We also had a temporary tattoo station which was a real hit along with the glitter station from Wish Upon a Sparkle! Glitter beards everywhere!"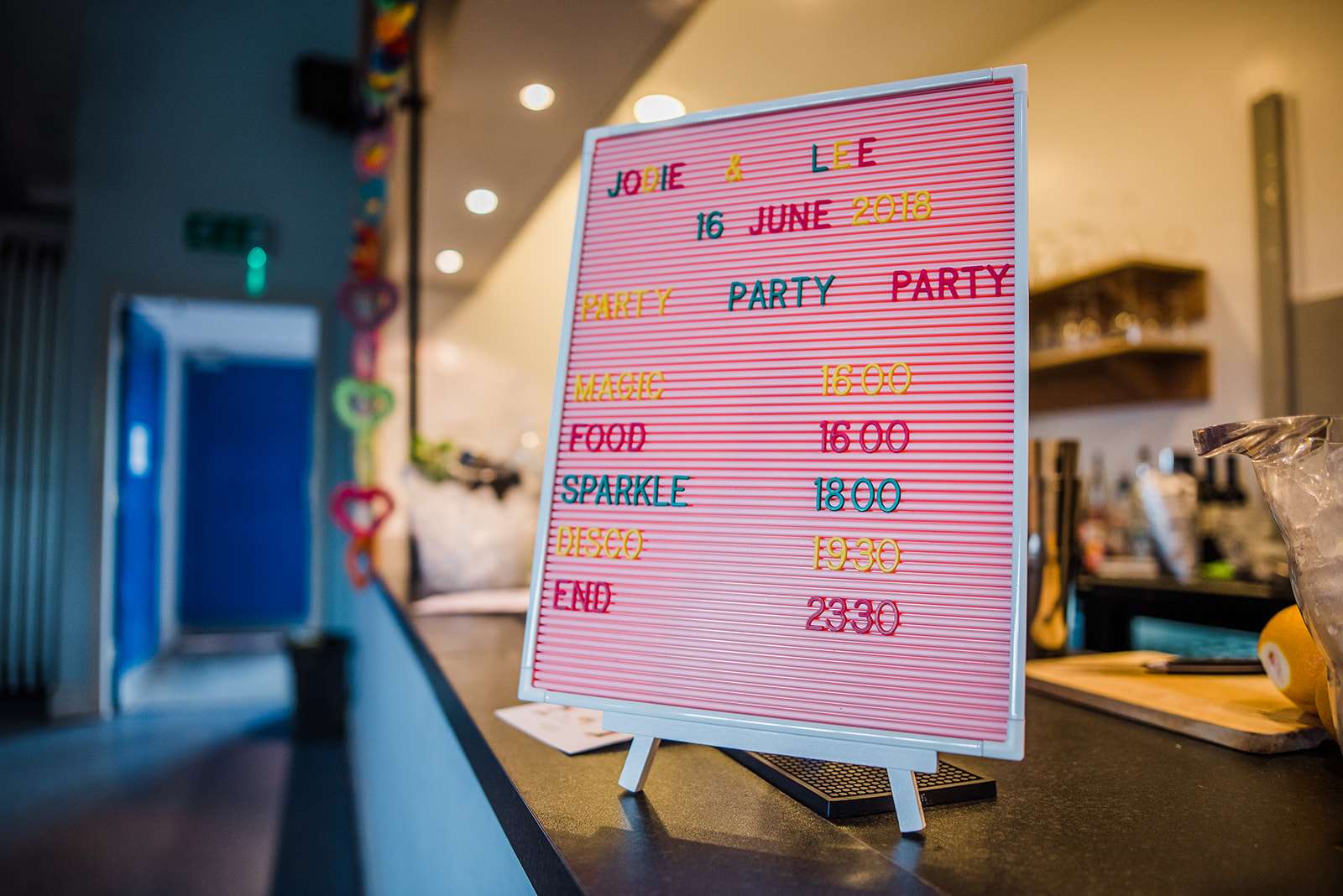 To make their visual delight dreams come alive, Jodie and Lee ended up spending pretty much the same on their venue decoration as they did on their food, which was multiple styles of street food-style dishes to suit everyone's taste. However, they did save money on their venue, as Thorner Victory Hall was around £700 to hire for 48 hours. This gave them time to set it up and take it down without being in a rush, as well as giving them the blank canvas to work with the suppliers they knew would make their day perfect.
"We enjoyed the whole process, from the inception of the idea to developing it and then making it a reality", Jodie and Lee concluded. "Seeing the months of planning and work coming together, and the look of people's faces as they walked into the venue was the best thing – and it made the pain of having to keep the details a surprise for so long worth it!" Major thanks to Parrot & Pineapple Wedding Photography too, for capturing all the incredible details!