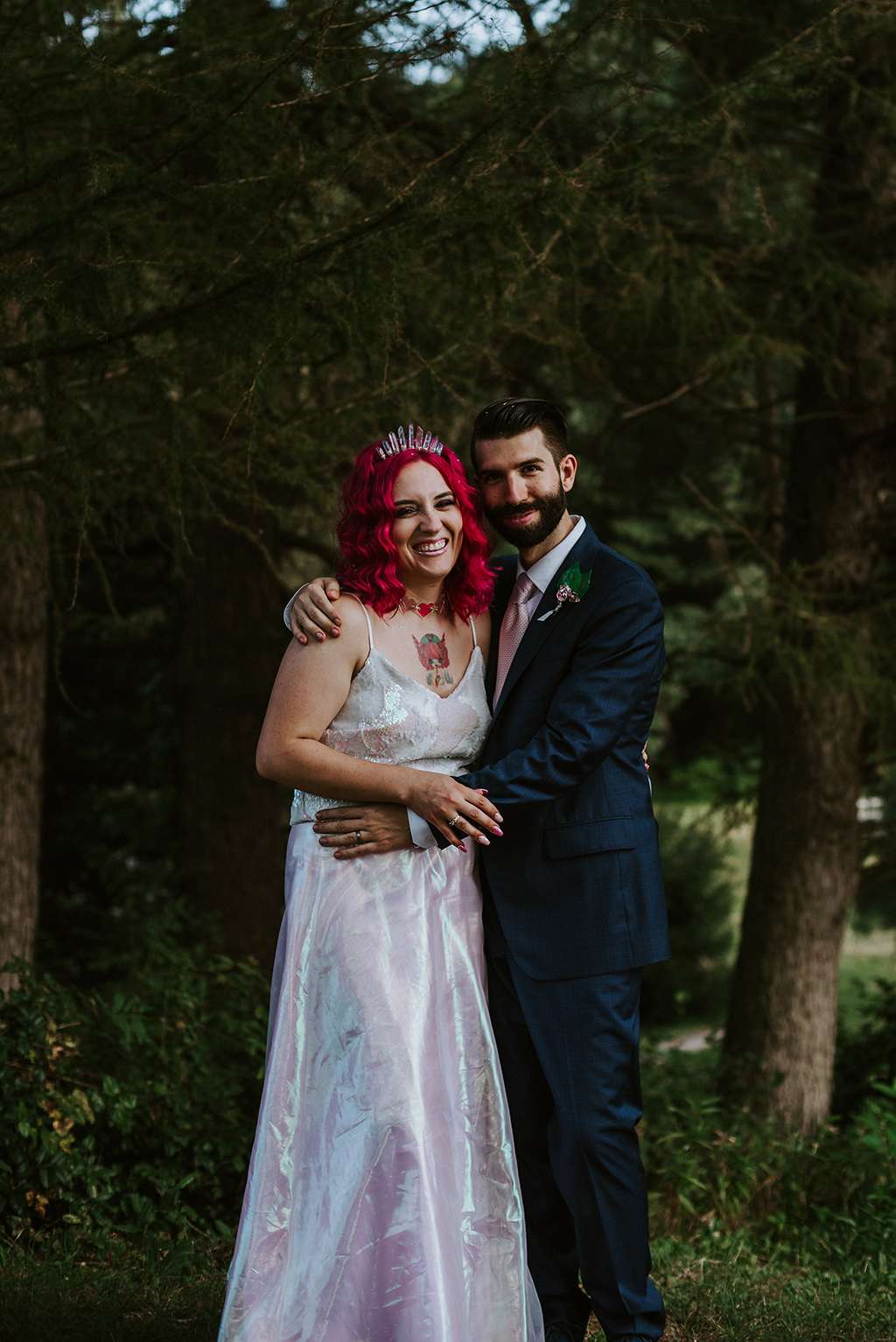 Dena and Dave met at a burlesque show of a mutual friend – Dena was filling in for a performer, dressed as a depression-era hobo complete with fake moustache which she wore all night while they hung out at an after-hours bar.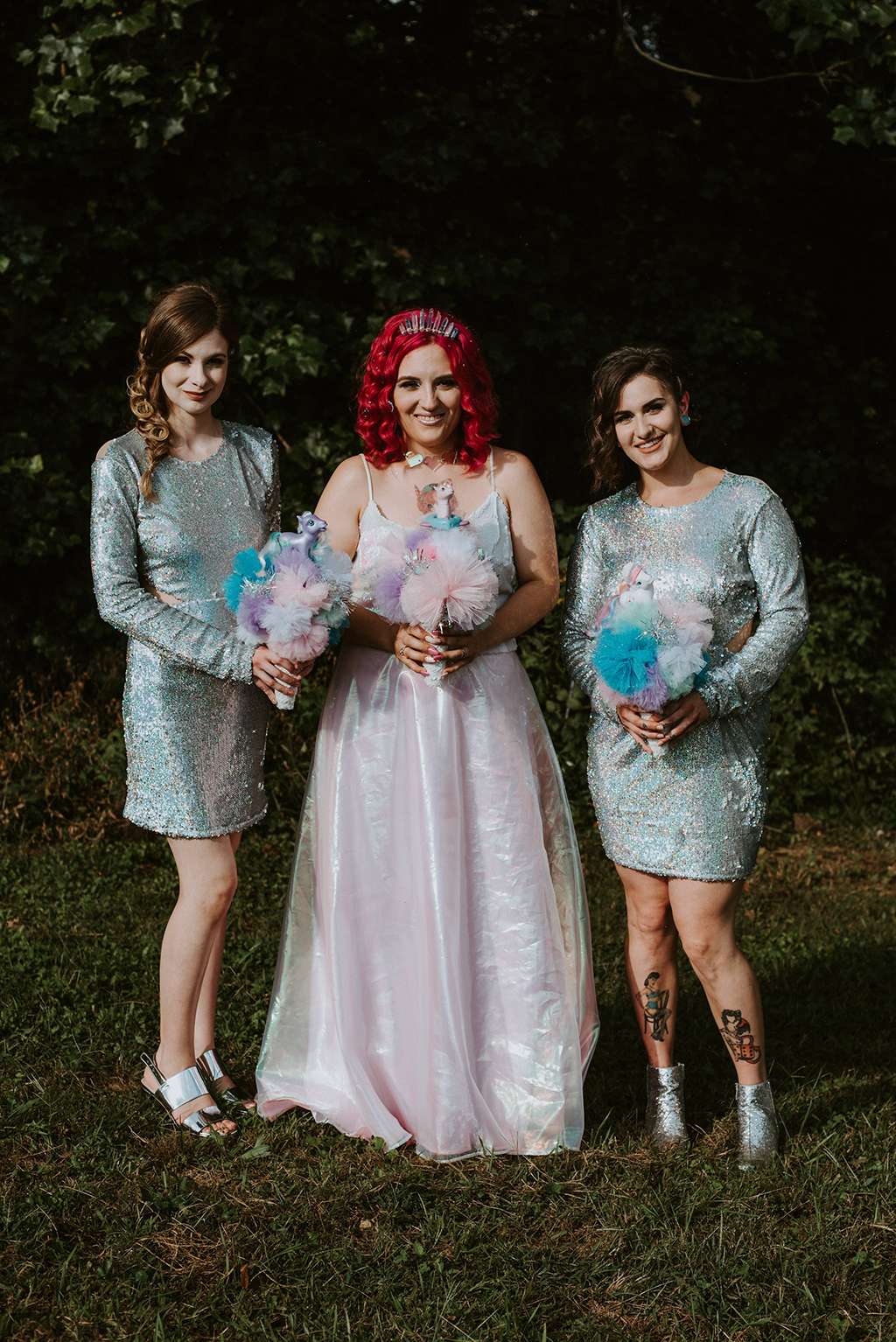 When planning their big day, they had one requirement in mind – a venue that wouldn't kick them out at 10pm! Dena found a small summer camp property on Airbnb and the listing included some photos of a wedding there. They ran with the camp theme, inspired by movies like Wet Hot American Summer, and added in elements of things they love – childhood obsessions, all things kawaii, candy, and their mutual love of cats!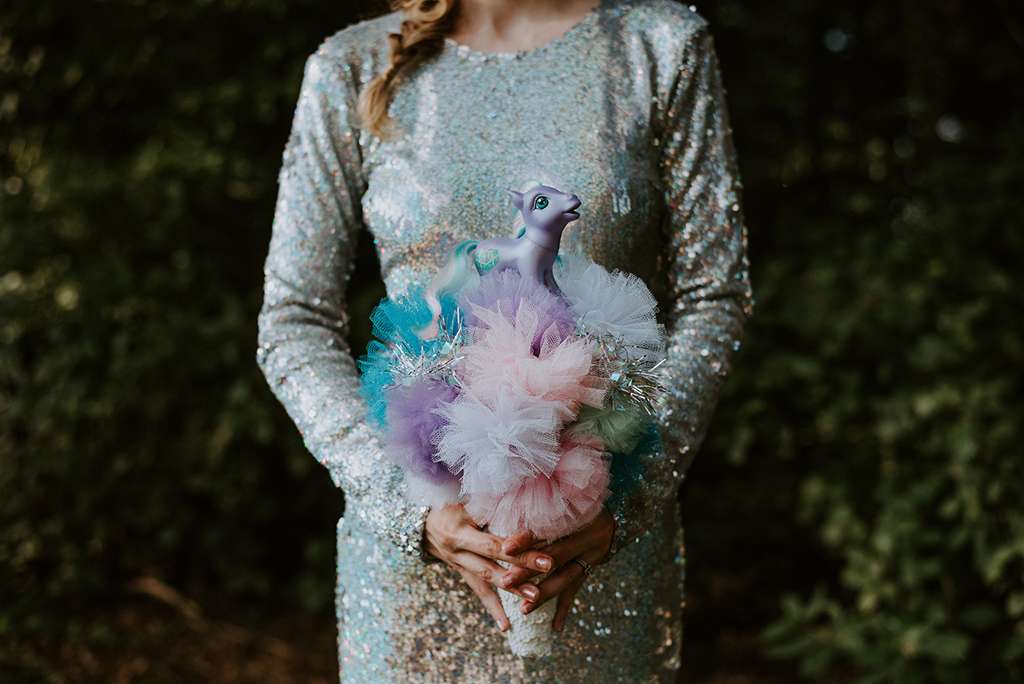 Their non-traditional venue allowed them to be completely free with their decor choices, and do exactly what they wanted. They DIY'd almost everything – from camp brochure invites to custom camp t-shirts, Hello Kitty candy centrepieces to My Little Pony Bouquets! They decorated the ceremony and reception spaces from scratch, including 100 tassel for the paper lanterns.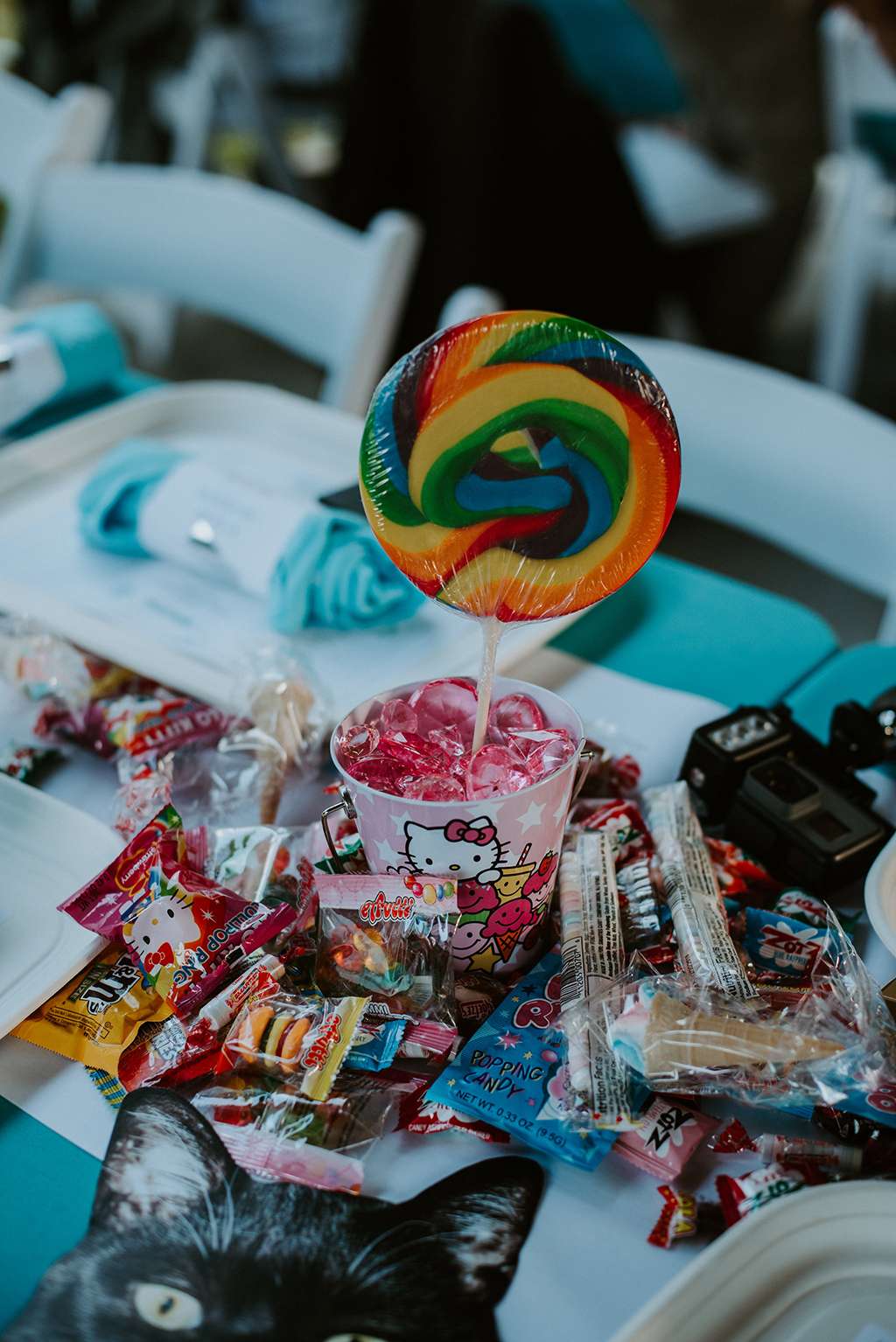 They were lucky enough to be helped by a few key friends and family with set-up and take down, but still underestimated quite how much work and coordination it would take. "I'd definitely advise designating someone to oversee all the set-up and make sure all the helpers know what their jobs are," explained Dena. "The sheer amount of things to do and oversee was very overwhelming, and while we got through it with only a few meltdowns, if you can have an on-the-day co-ordinator, you won't regret it!"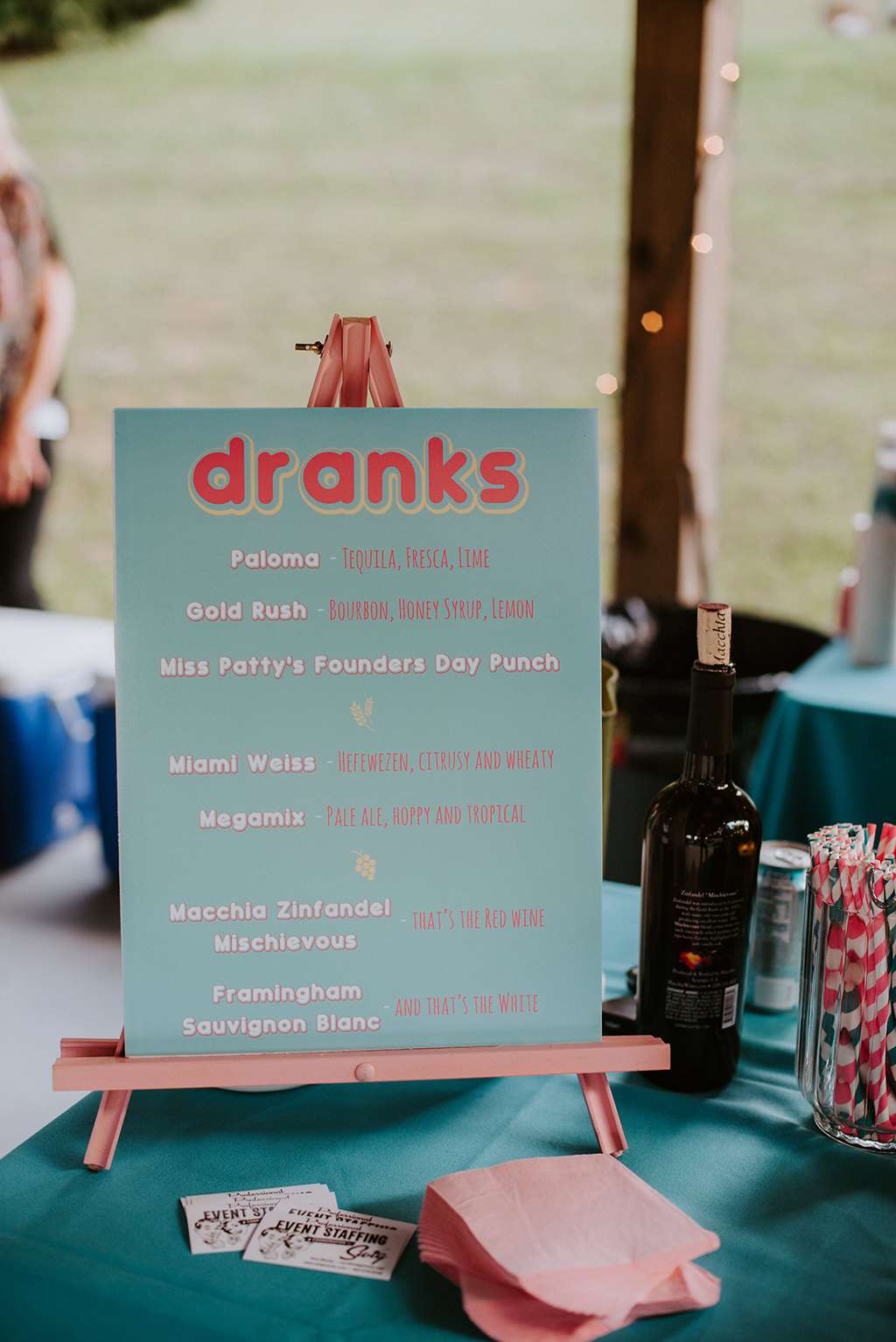 All their hard work paid off though, as they were able to have the unconventional ceremony of their dreams. Dena walked down the aisle to Rebel Girl by Bikini Kill ("My favourite part of the day – I felt like a total badass!") to their ceremony venue of an amphitheatre in the woods. Their officiant – a burlesque MC – performed a very non-standard ceremony, before Dena and Dave read their own vows and then their guests showered them in biodegradable confetti. The guests were also given programs that the couple DIY'd to double as masks of their beloved cat's face, so he could be with them in spirit on their big day! "Roy G. Biy is our first-born fur child, so it was imperative we were able to include him in some way!"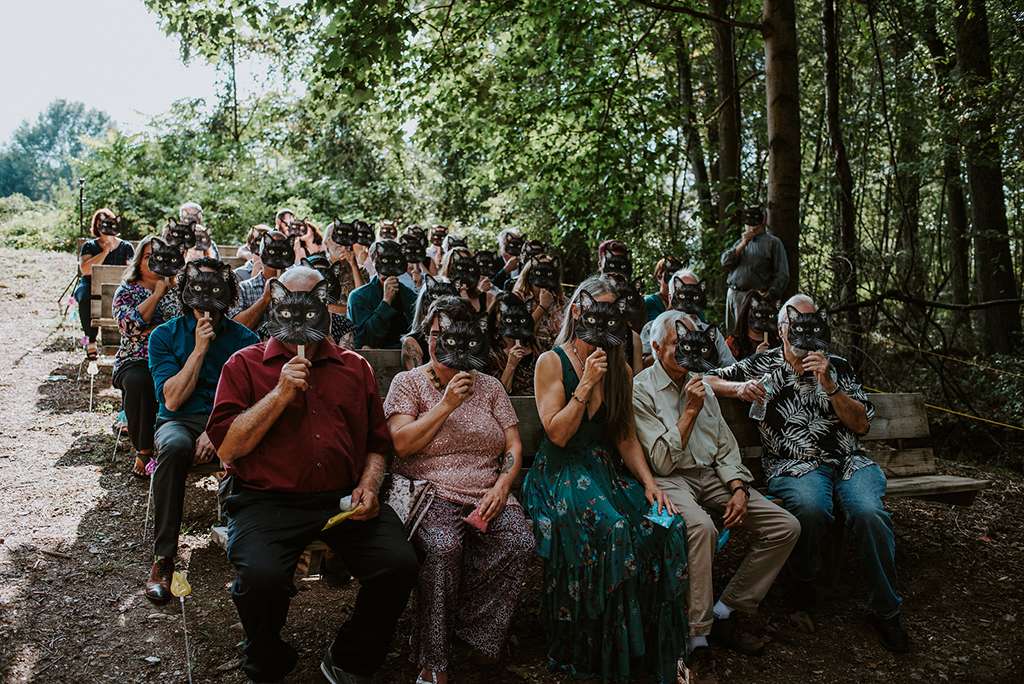 After the ceremony, they moved onto the reception in an open air pavilion – and the party continued all night! In lieu of a cake, the couple toasted s'mores over a campfire, before embarking on a dance-party so raucous a guest needed stitches from doing the caterpillar, and a groomsman put his back out dancing to Billy Idol. They both made sure they were back from the hospital in time to hit the s'more station, though! "We wanted our day to be a fun party, first and foremost," said Dena. "As some of our guests ended up staying at the venue for several days, camping or in the bunk-house, I'd say we achieved what we set out to do – throw an unforgettable kawaii camp-out dance party!"