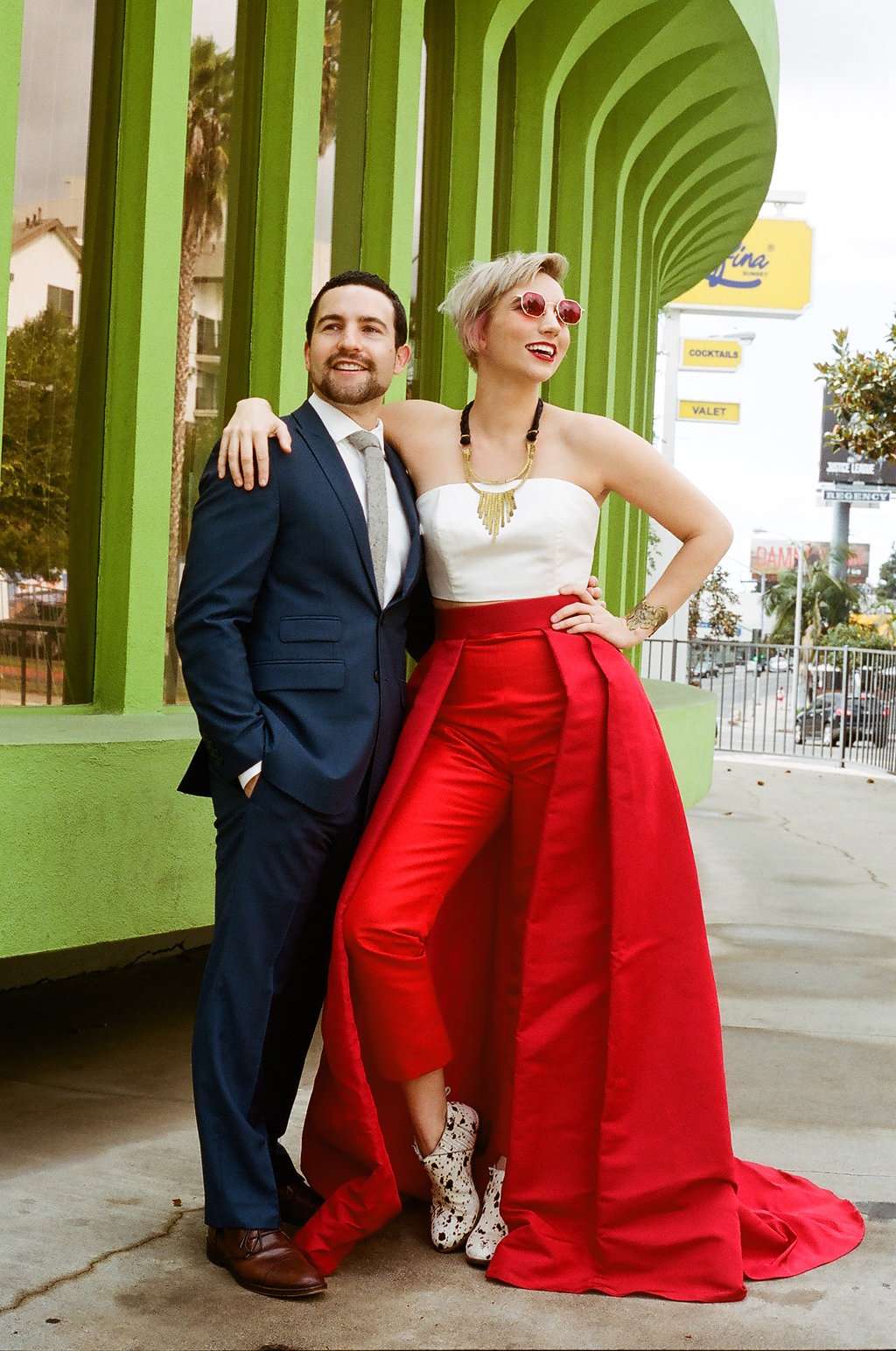 When the bride is a literal, bona fide rockstar, you know the wedding's going to be a corker – and Cato (AKA CATO Sound) and Nick's wedding definitely did not disappoint. They flipped the status quo with a house party and night out dancing on the Saturday and their ceremony and brunch on the Sunday! Cato's outfit also ticks every box ("Gotta have pants, gotta have pockets, gotta have a train" she said) as do their incredible photos. Let's begin, shall we?
"Actually, the inspiration for the wedding came to me in a dream", began Cato. "I woke Nick up, told him what we were doing, and he liked it so we went back to sleep! At first I thought Pinterest would be helpful – oh how wrong I was! I think its best use would be to show a wedding planner what you are thinking, but I think it distorts expectations and encourages us to overspend on one day of our lives money that could give us more freedom in the years to come!"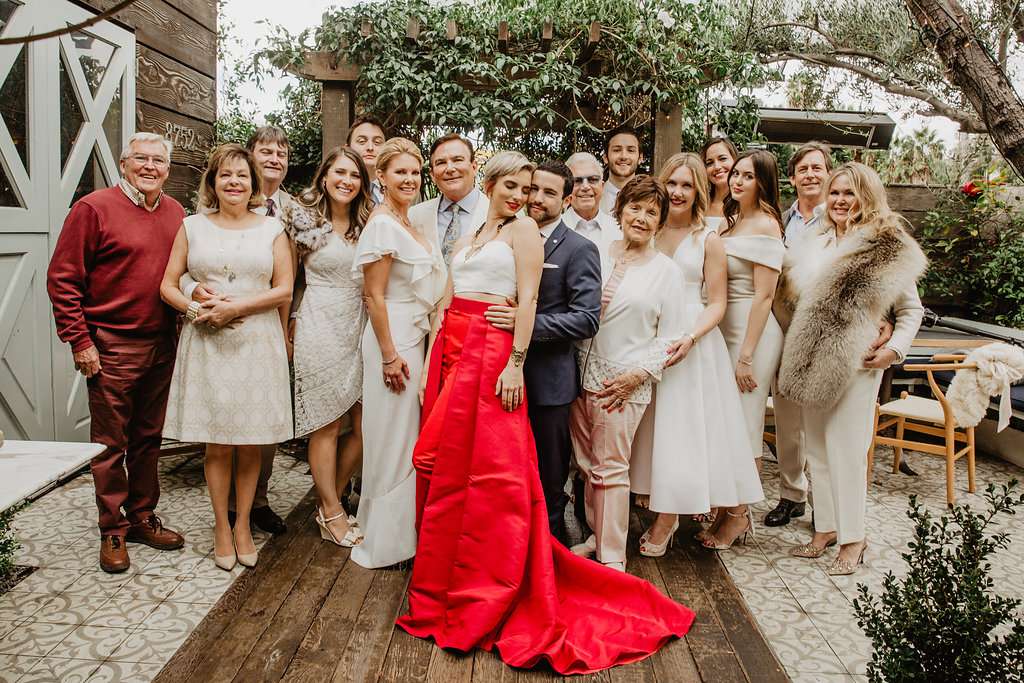 "The biggest inspiration for us in reality was our community. From the very start, we knew our joy was only possible with the support of our community, so we wanted our wedding to be about all of us going through life together. We wanted our friends and family to be woven into our wedding in the same way they are woven into our lives, and thus most of our vendors were friends, or are friends now."
"We held our wedding in reverse, with a Saturday night out dancing at Funky Sole at The Echo in Echo Park, and then a brunch wedding and reception on Sunday," she continued. Their ceremony was a Reform Jewish ceremony with plenty of character. Their Rabbi, Jim Kaufmann, had them write a story about how they'd got to this point, which he then read in three parts woven into the ceremony.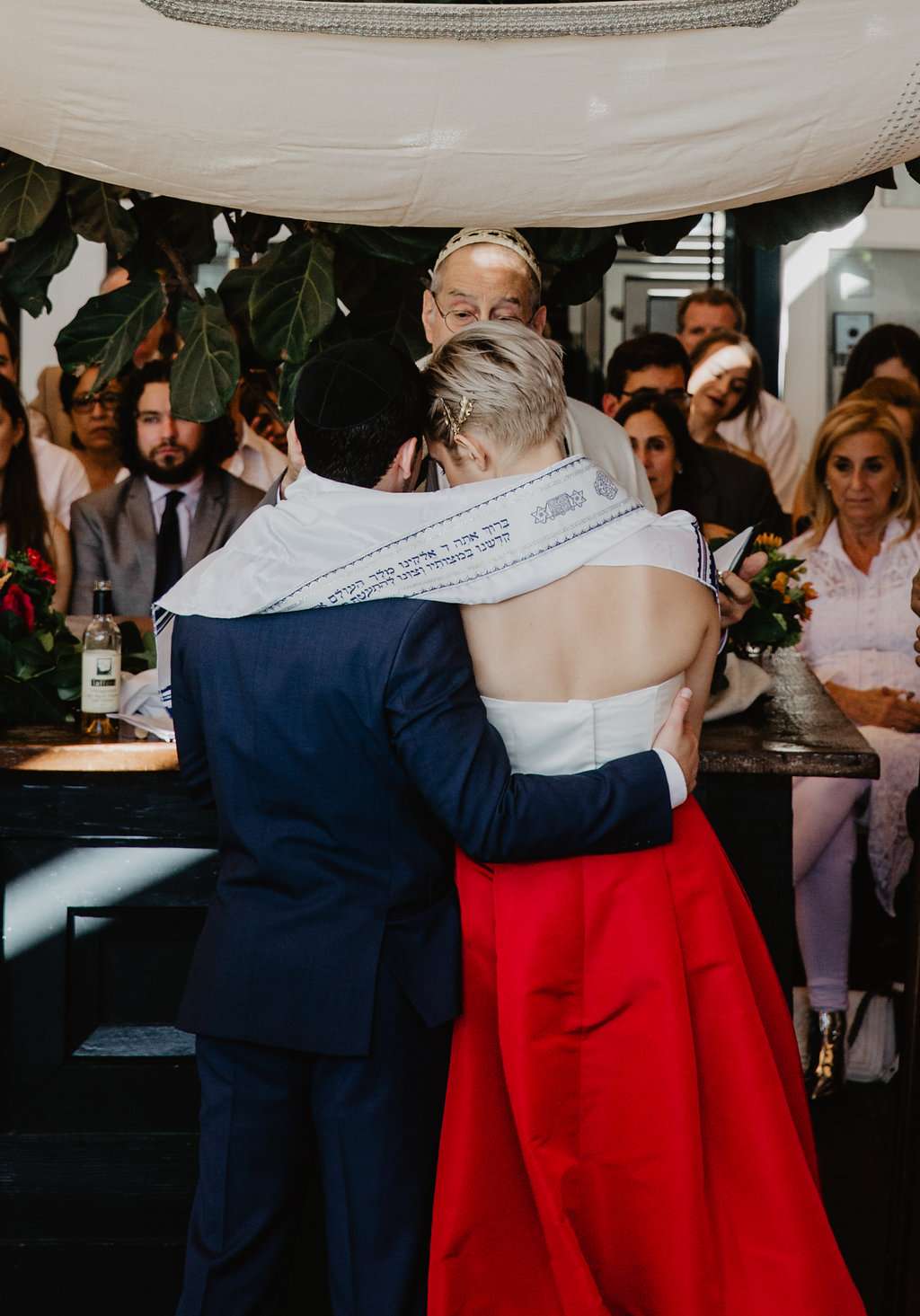 "By the time we exchanged rings, everyone had relived that journey with us. We were very honest about our partnership and it resonated with our guests." It was held at The Eveleigh, a restaurant on Sunset Boulevard, and at the suggestion of their wedding planner Taylor from Reidsley they placed their chuppah in the middle of the room so they were surrounded by their family and friends.
They walked out of their ceremony to a mashup of Disarm by The Smashing Pumpkins, Where is My Mind? by The Pixies, and Wake Up by Arcade Fire, arranged by Ro Rowan, their violinist before heading to the chillest, nicest wedding brunch ever.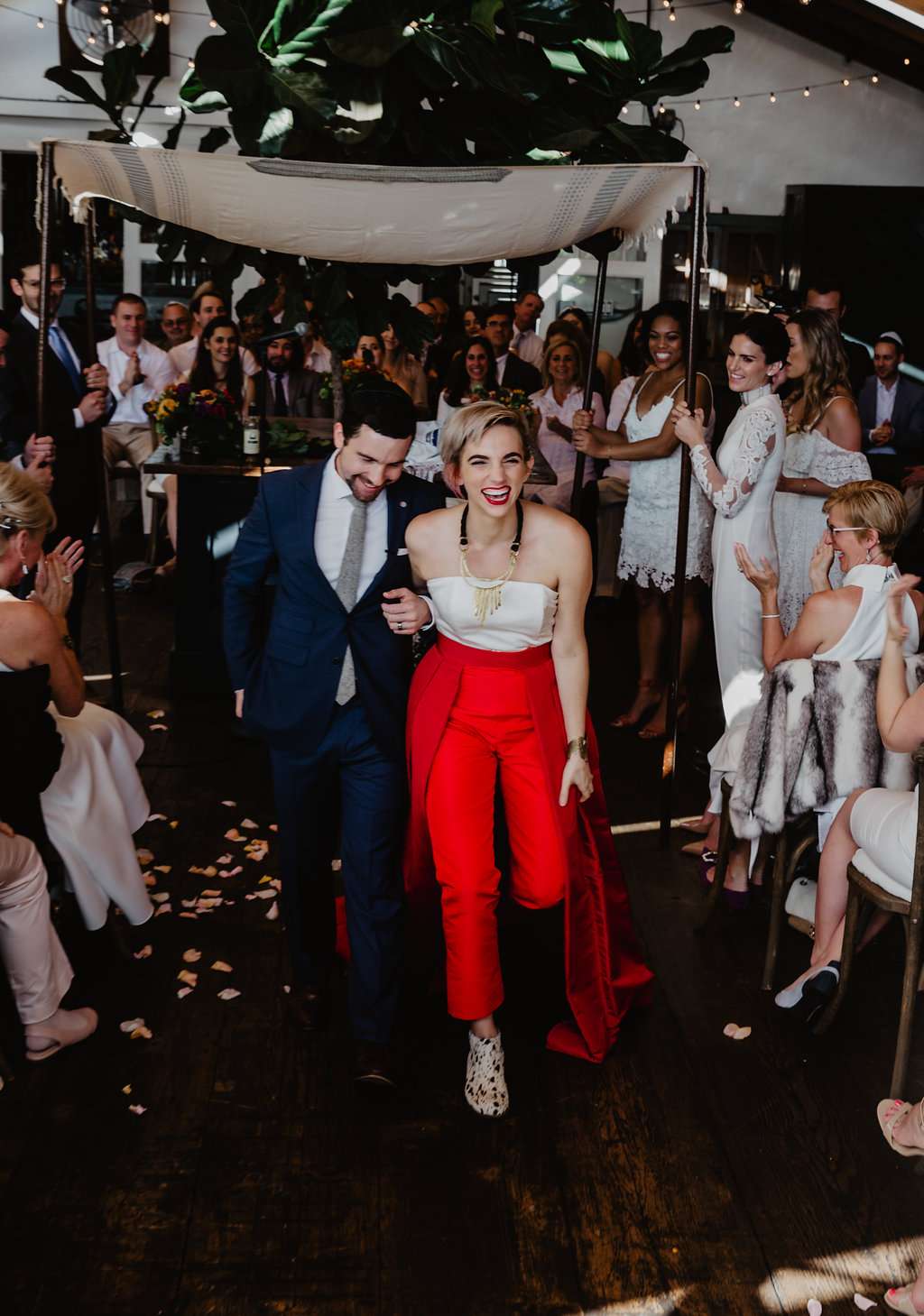 "The Eveleigh is such a great space already, we just threw in a bit of ourselves. We decorated it with random stuff we owned, i.e. antlers, glassware, handkerchiefs in an old tin med kit, kippahs in a basket… We actually just went around the apartment a week before the wedding and grabbed whatever looked fun!" They also bought a poster from Staples to hang on the front door.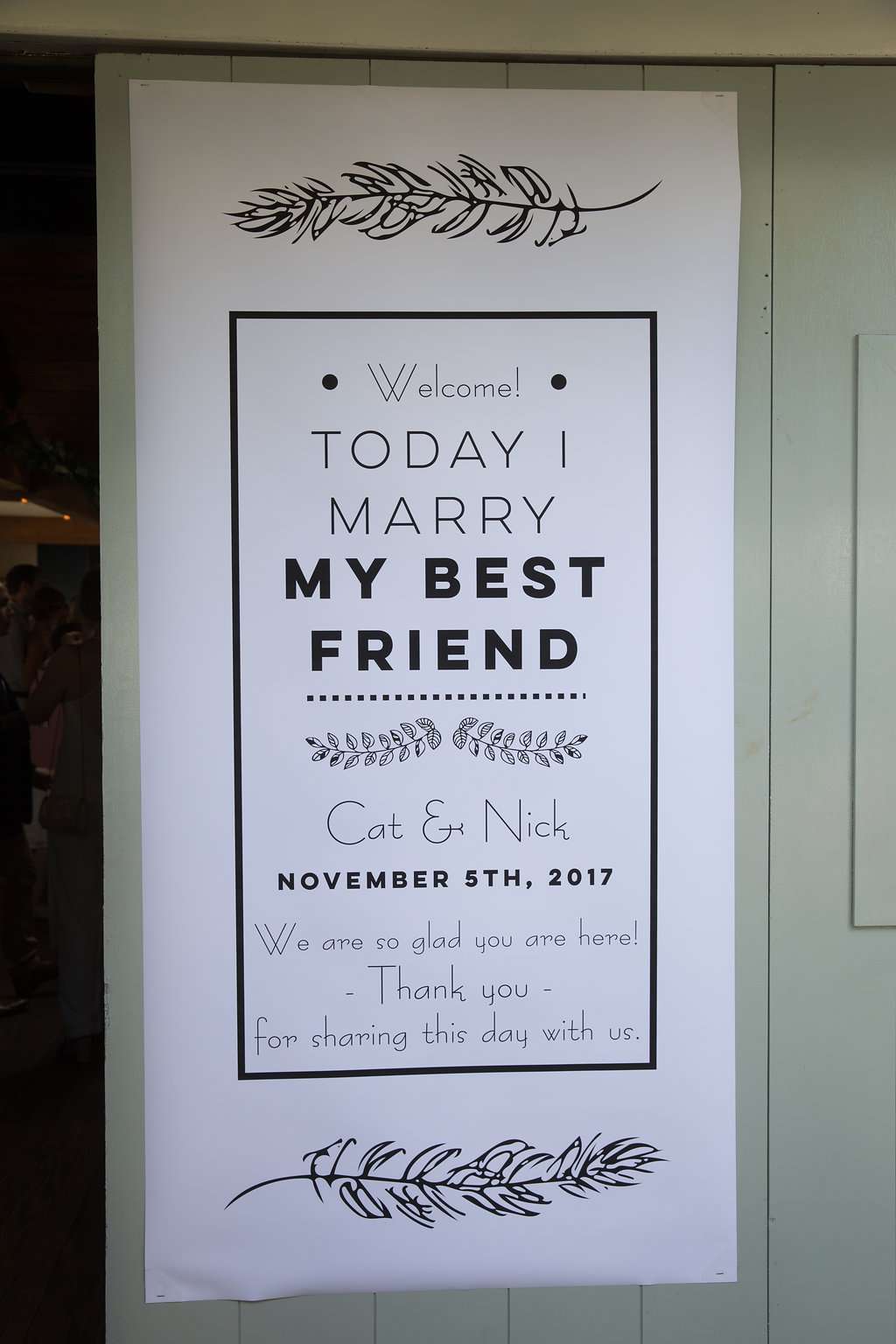 Now, let's talk about these outfits! Cato's outfit is a piece by Alexia Maria, which she added to. "Alexia Maria were great to work with and were down to make small changes to their normal design", she explained. "Gotta have pants, gotta have pockets, gotta have a train. The red meant I had an even better reason to ask all of my guests to wear white and join in the fun. Plus it gave me something great to wear to an awards show a few months later!"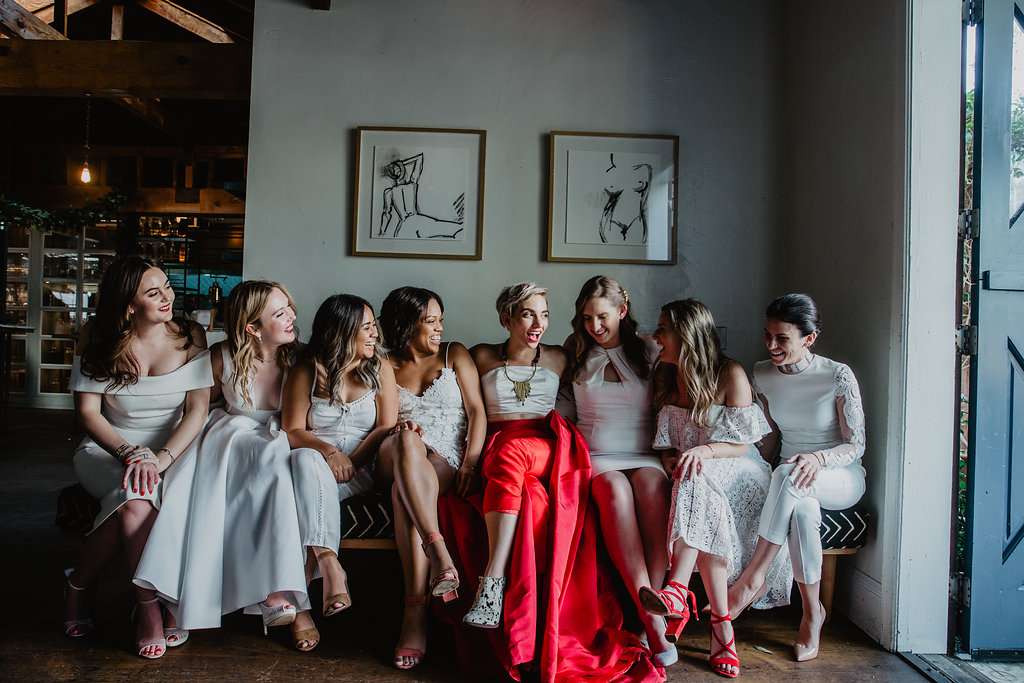 The necklace she wore was a bronze and fabric piece she'd bought when visiting family abroad. "It's a piece that makes me feel commanding and in-my-own-skin, so it felt right for getting married in." Cato also intended to go barefoot, but in the excitement forgot to take them off, so ended up wearing her favourite boots!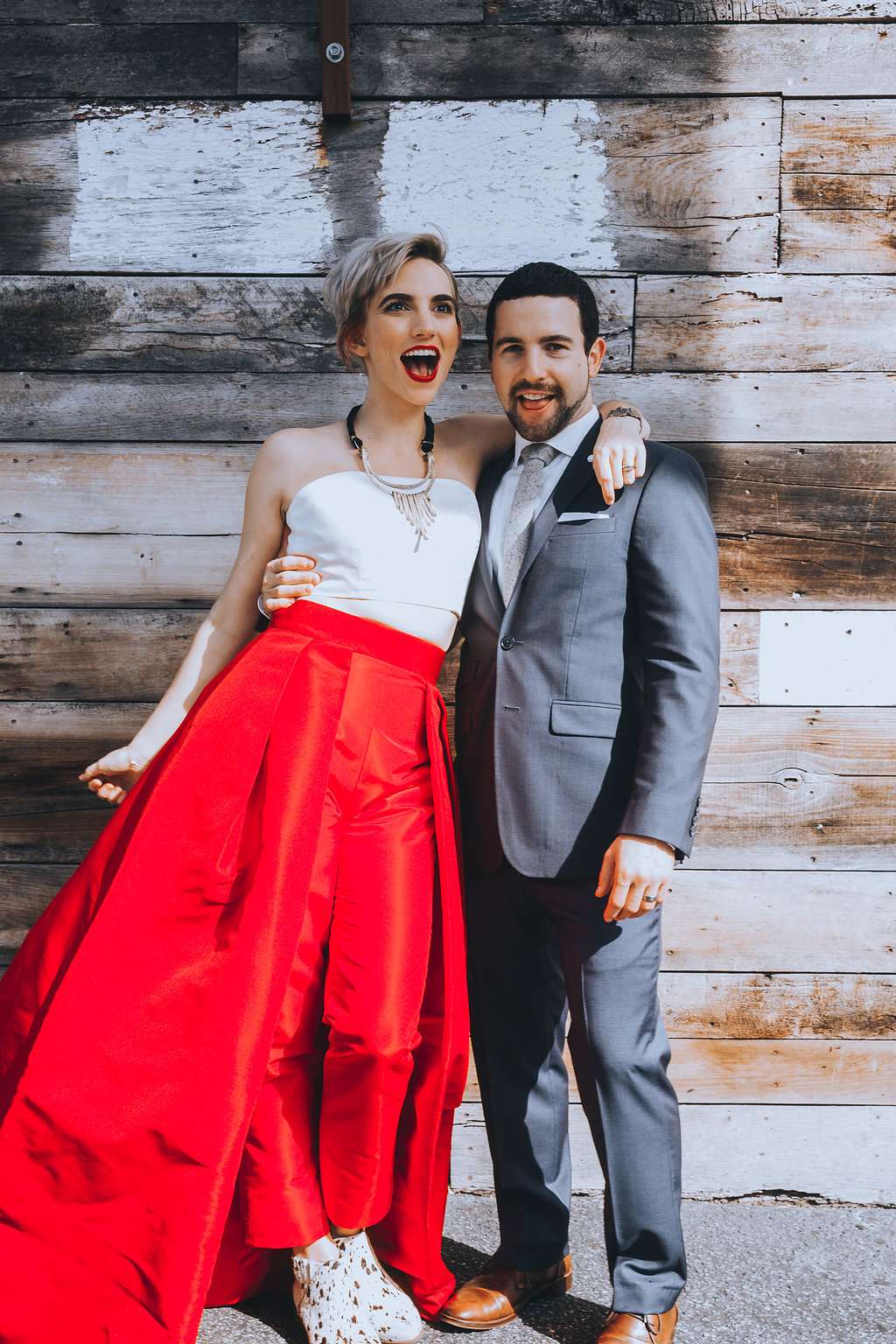 We love every single second of this wedding: anyone who flips the narrative is amazing in our eyes, and especially people who do it this stylishly! When asked for advice for future brides and grooms, they said: "Give yourselves space and time away, together and alone. I actually got a month-long sublet in Hollywood during our engagement and it was the best choice we made – we got a little time to be totally young and independent, and we missed each other terribly.  Also, Take it easy on one another. Be thorough and clear about your expectations and desires right from the start; really listen to one another and write it down for later when you are having to make difficult choices about a day that we are taught to invest so much into. And, finally, once more for those in back, bite the bullet and get a wedding planner!"