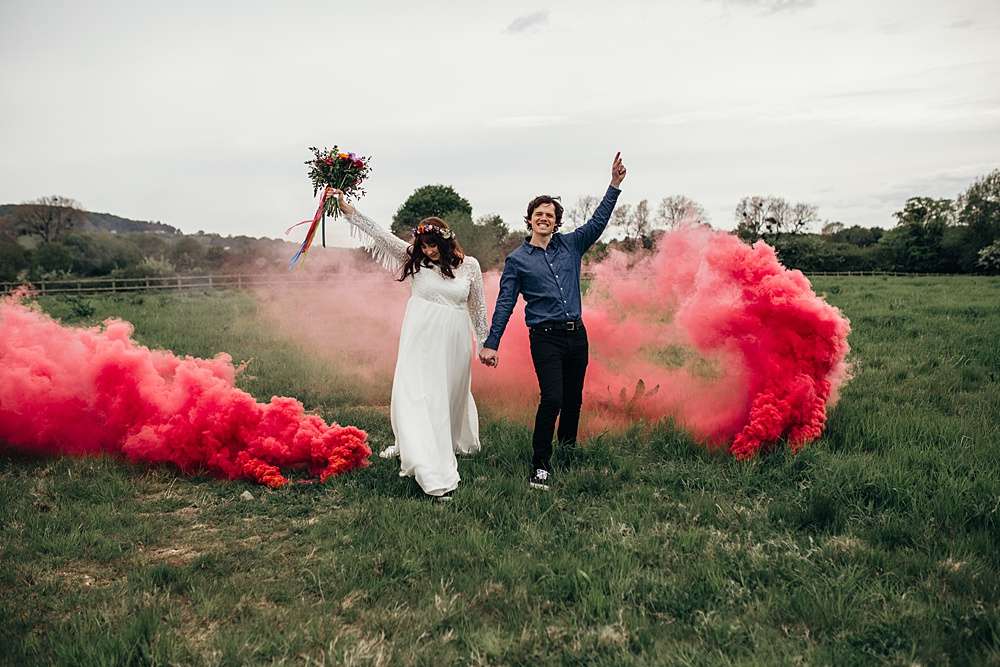 Lizzy and Jack's festival wedding is a thing of beauty; inspired by and featuring things made by lots of their creative friends, they planned a day that was a riot of music, colour, and fun. It was all vegan, too!
As music is super important to the couple – they met in Bournemouth putting on a gig for their degree course, and both work in the industry – they wanted to make it a central part of the day. "For the bridal entrance, I entered the tipi with my bride squad, and with my band – Jack, my dad, and our previous bandmates Fi and Dom – waiting on stage, I joined them on stage to sing Burn The Witch by Radiohead," Lizzy says. "Confetti cannons were let loose and we were off! It felt like such a natural way to kick it all off, avoiding a nerve-wracking walk down the aisle. One of my favourite parts of the wedding was looking out at a sea of cheering family and friends as we were smashing through a Radiohead song, knowing this was going to be an amazing day."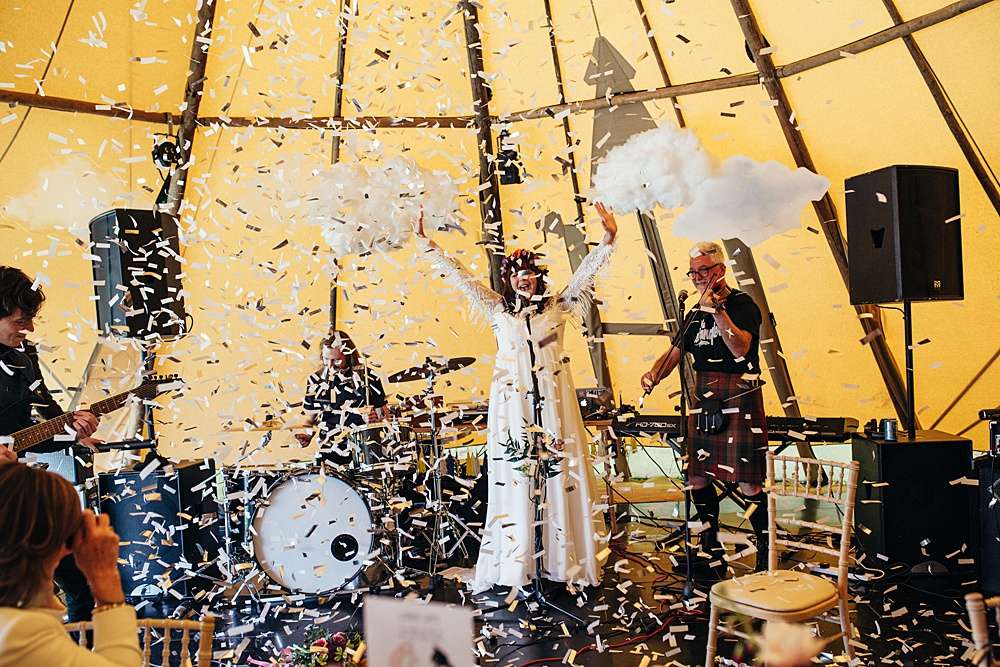 Their wedding venue was a tipi erected in a family garden, allowing Lizzy and Jack to have loads of DIY elements to their wedding. "We tried to cut out all single-use plastics, so collected and painted 100 jam jars for people to keep and drink from. This took my sister and partner about a year – we all had to eat a lot of a specific vegan curry sauce as it comes in tall jars which were perfect!" Lizzy laughs.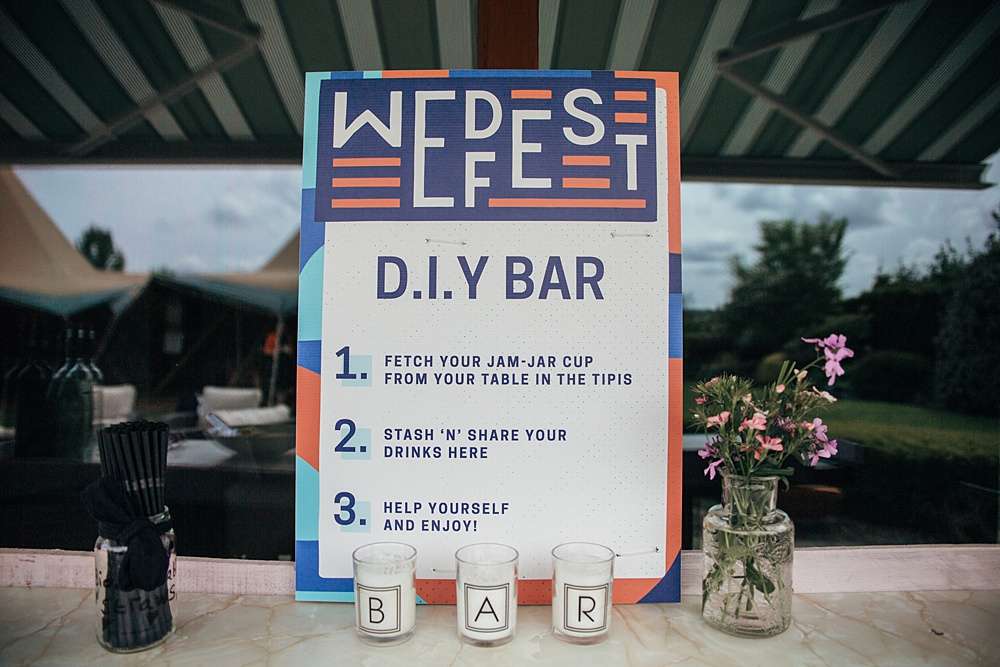 They also decorated the tipi with beautiful fluffy clouds on the stage, which were a thrifty spot: "If you want props, ask retails shops for their old window displays. I got five big clouds to hang from our tipi from White Stuff for a £25 donation to their affiliated charity. Wagamamas kindly saved us 12 Lucky Buddha Beer bottles for our flowers – for free. If you spot things, ask for them. They can only say no! Most people were really happy to be involved, and I sent them photos of their items in use after the wedding and got some really lovely emails back."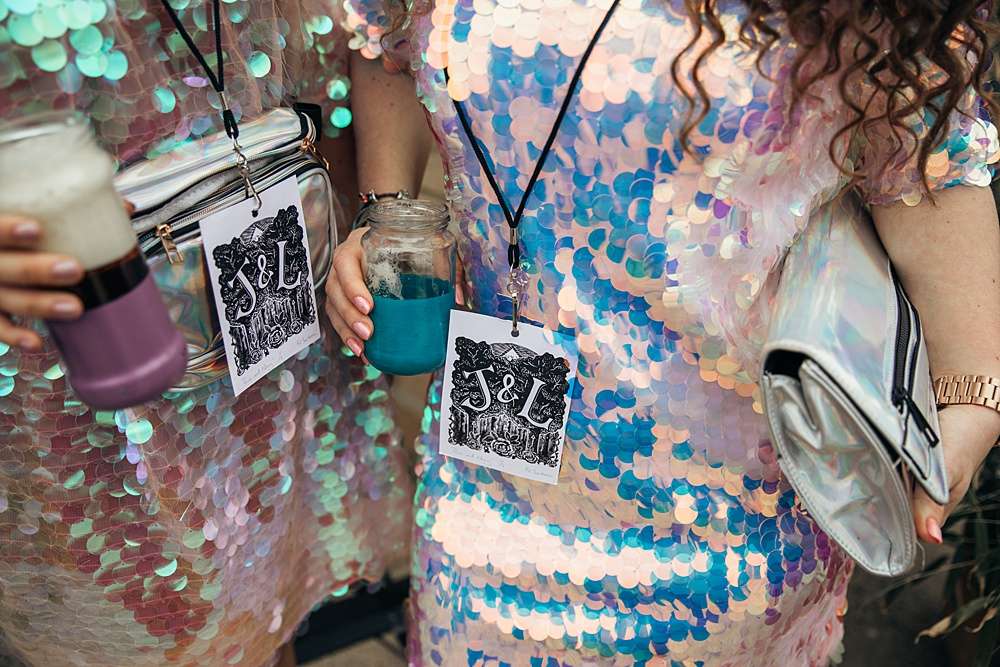 It was also really important to them to support local artists, with Lizzy describing a wedding as a 'commissioning opportunity'. "We commissioned cat illustrator Nathalie Moore to create 13 cats for our table plan, including cocktail cat and yellow hat cat. I was so pleased to support her and we ended up with something unique and beautiful. Our cake and catering supplier were all independent and vegan – like us. When you have money, spending it is a statement. Invest it in awesome people." They also commissioned Robin Mackenzie to make their invites and festival lanyards, and had James Marriott design their signage.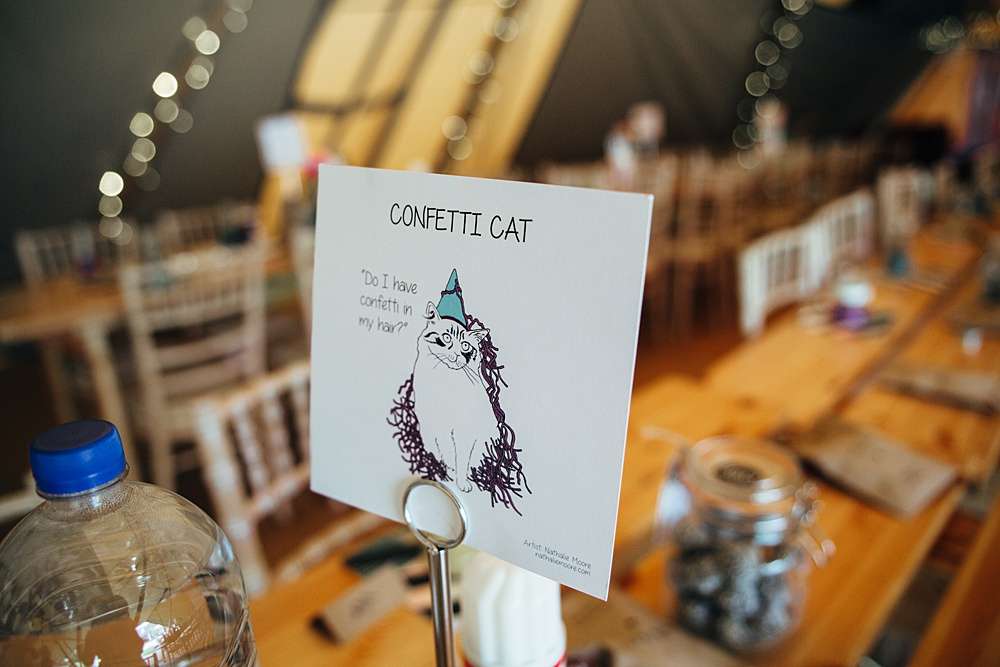 To add to the festival vibes, Lizzy and Jack had a DIY bar as well as an silent disco bouncy castle. Yes, you read that right. If confetti cannons on the entrance weren't enough to tell you this wedding was incredible, that should have cemented it for you!
Fittingly with the music theme, Lizzy wore the beautiful fringed Lucy Can't Dance 'London Calling' dress with Vans, meaning she could scramble over gates to go and have some portraits in nearby fields. "Wuthering Heights came on during our Silent Disco and I realised I had a big white Kate Bush dress. Friends grabbed the edges like a parachute whilst I danced around like my own maypole. History was made!"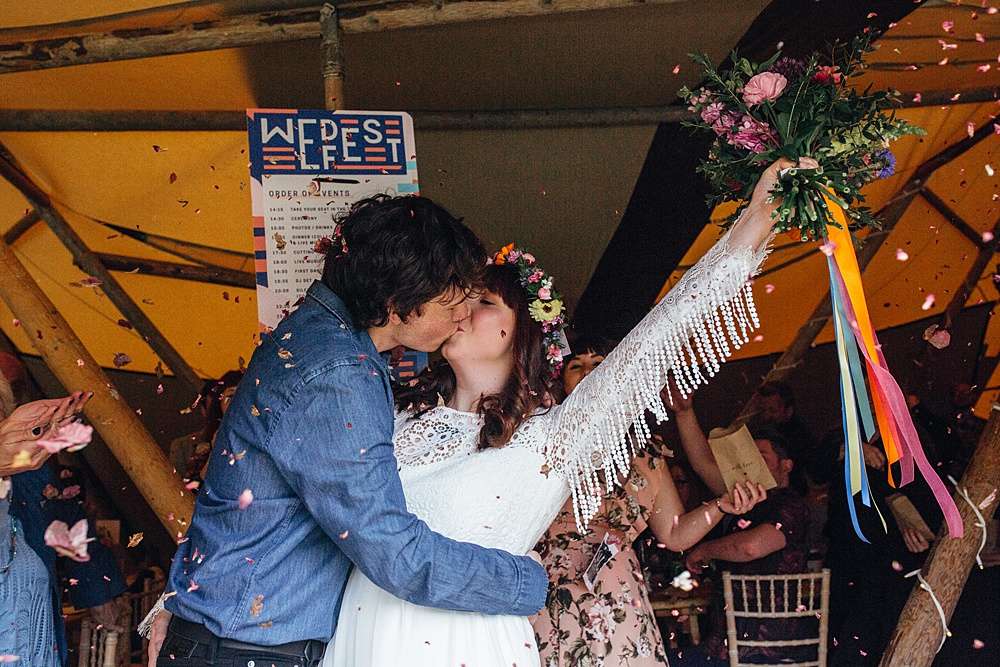 I love Lizzy and Jack's wedding because it's so full of amazing personal details, with styling inspiration for days too. The secret, Lizzy says, is: "Pour love and genuine intent into everything and it will 100% feel awesome and become a reflection of who you both are. If you invite people who genuinely care about who you are, instead of out of obligation, they will feel that love resonate, and bingo bango: you'll smash it."
And, also, she adds: "Get handheld biodegradable confetti cannons. You will never regret this move. Joy in a tube." Case closed.