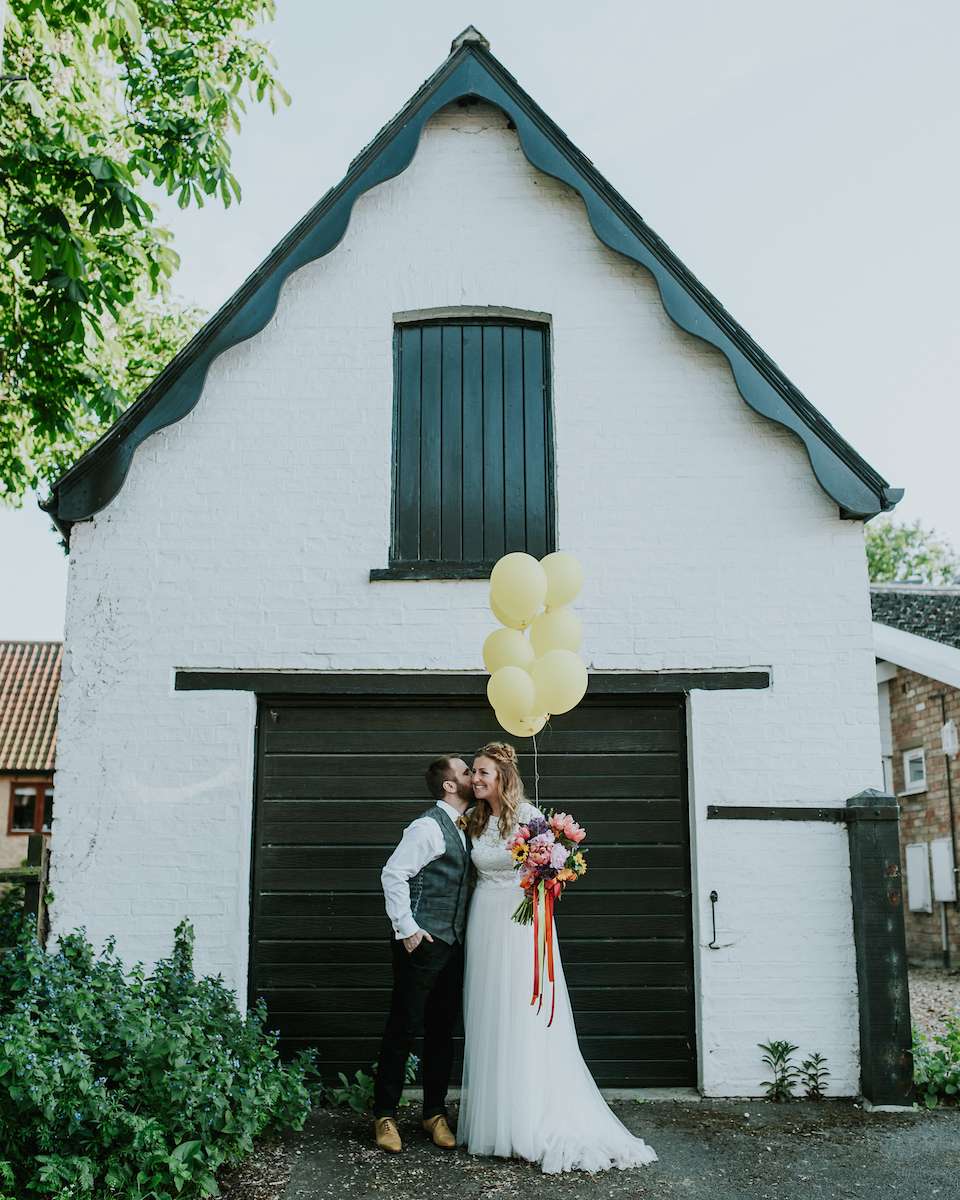 When the bride runs a studio called Hello Sunshine, you might get the inkling that the wedding is going to be a beautifully sunny occasion. Well, Jo and Will's wedding day definitely delivered (as did the British summertime!) Their tipi wedding was a divine colourful, outdoorsy, gin-filled celebration. We're talking more gorgeous DIYs than you can shake a stick at and five food trucks. My kind of party…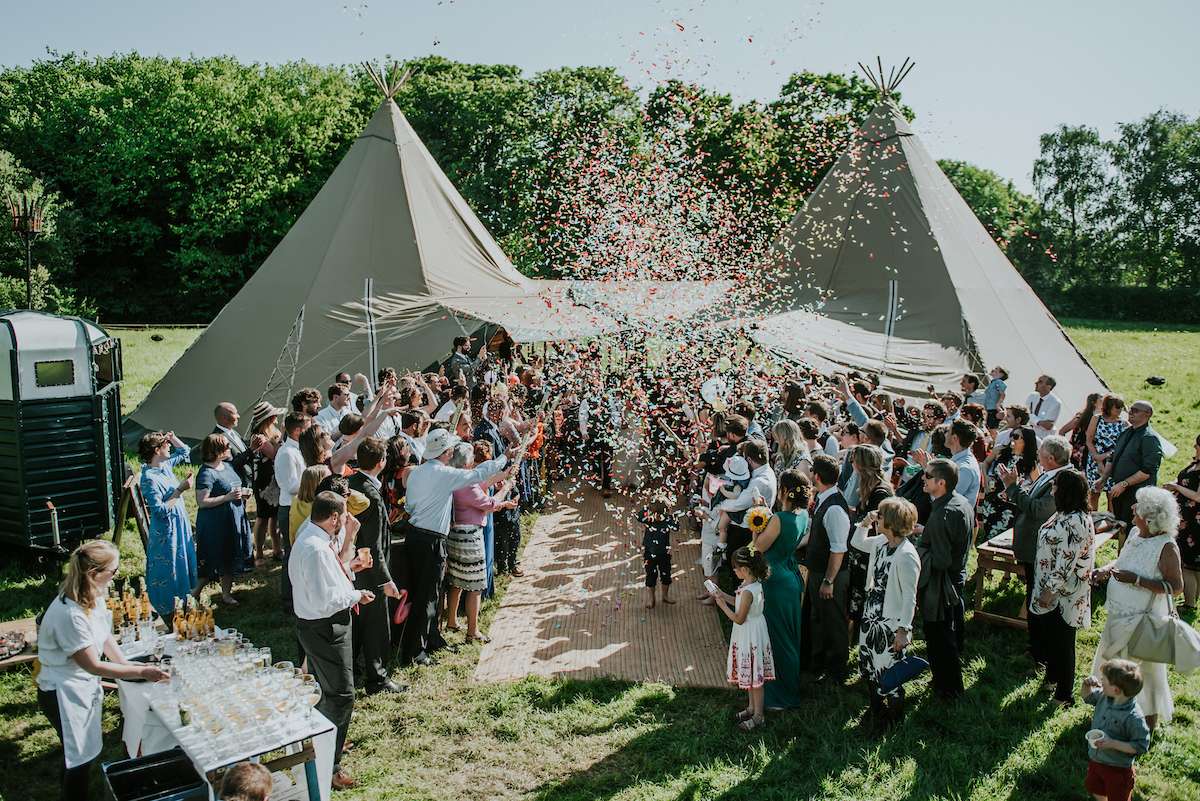 There was no real theme other than colour, fun and food, but it's fair to say Jo and Will stayed totally true to themselves throughout. "From the choice to ignore sit down meals in favour of pick 'n' mix food vans and snacks, to randomly buying and making fun looking props and only having our immediate family forming our bridal parties, we did US," Jo says. "We weren't reinventing the wedding wheel by any means but everything we chose to do/buy/make for our day was 100% down to what we felt happy with and wanted to do."
Michelle Taylor led their ceremony, which she'd taylor-made (geddit) to be a very personal ceremony featuring four of their friends popping up to do readings from Disney and Friends to Edward Monkton's Love Monkey. After giggling her way through her own vows (which she describes as humorous and a little bit romantic) and crying through Will's (which she describes as beautifully written and heartfelt), Jo left with her new husband to a shower of colourful confetti in the glorious Cambridge sunshine.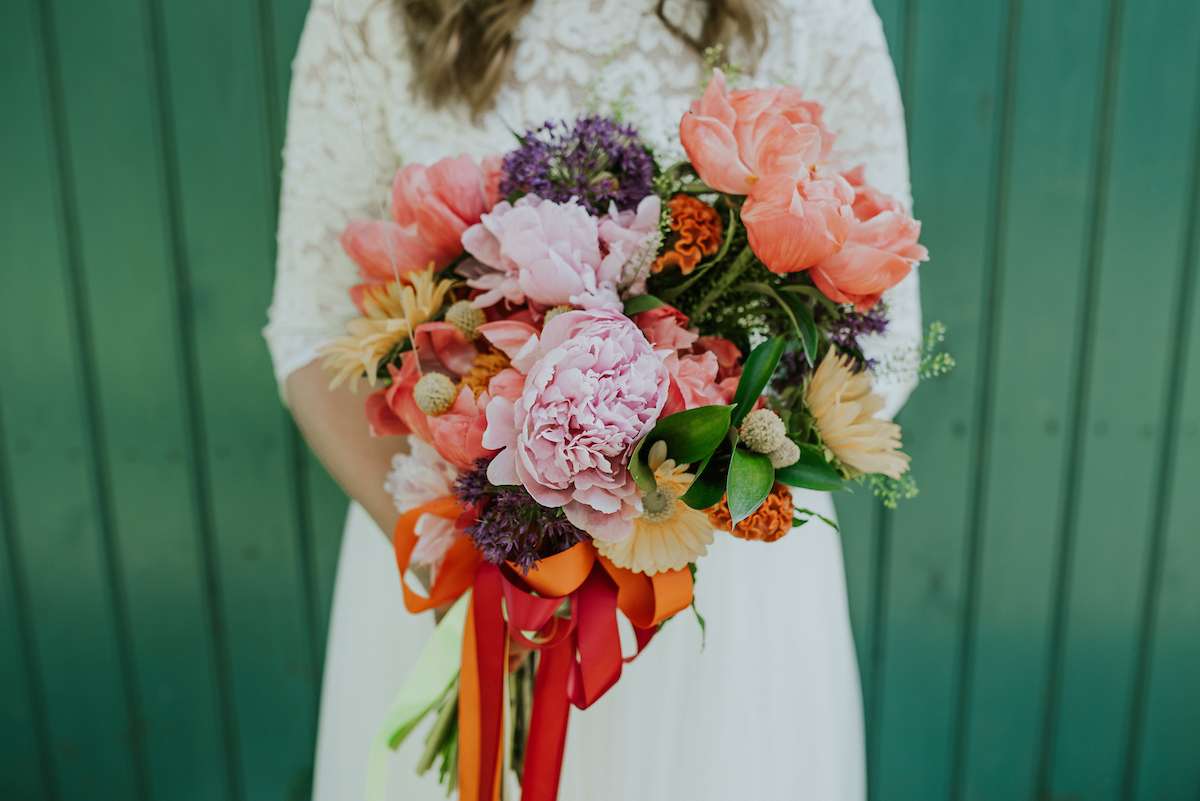 Their drinks reception was on the village green in front of the tipi at Horningsea Pavilion, where they had a number of lawn games they'd handmade for people to enjoy. "My parents run The Workbench Shop and helped us build an a-board welcome sign, a fun signpost for the green, giant noughts and crosses, a molkky set and a coconut shy," Jo says. They also worked together on a life-size Camper van photo booth, with Jo doing the drawing and painting, her dad cutting, and Will making the frame to stand it up.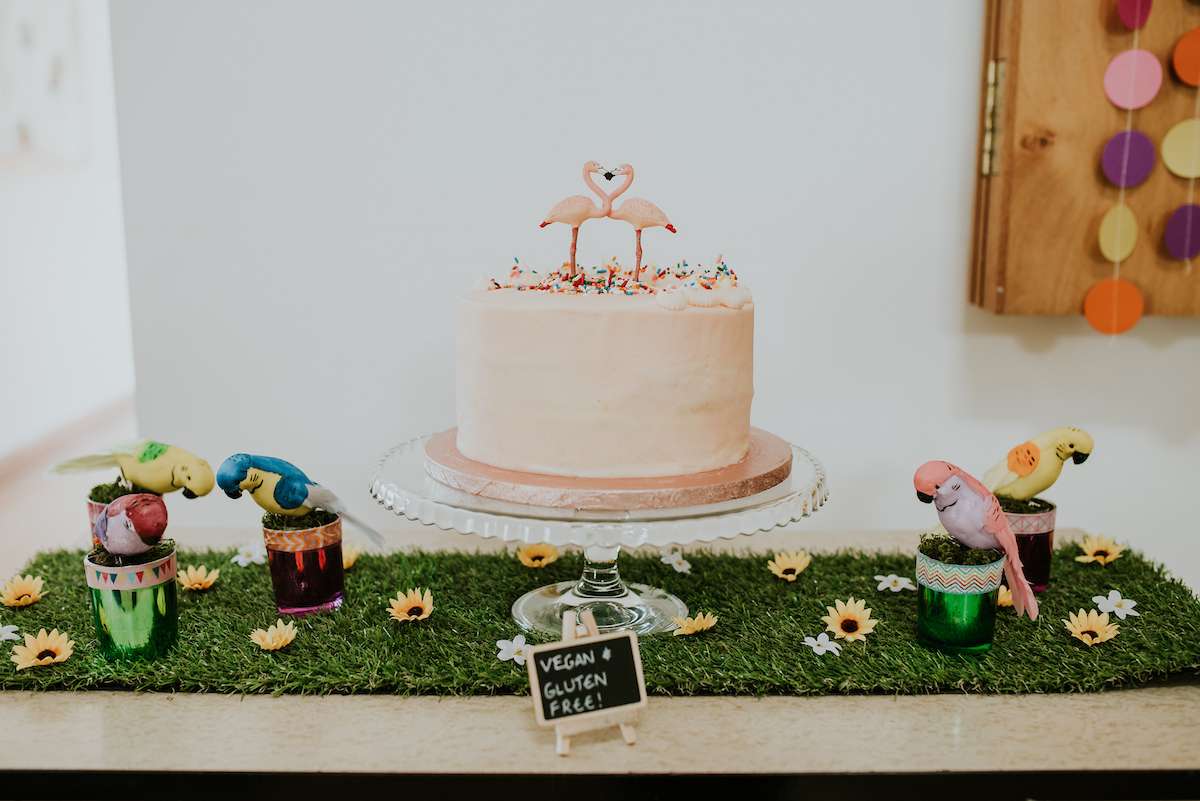 The DIY projects did not stop there. Alongside painted wooden pallets serving as the order of service and the anti-seating plan, Jo and Will also masterminded enamel pin favours based on the camper van they'd hired for their minivan, and a little bell tent on the day filled with pages of Jo's camper van drawings for people to colour in.  Jo also designed their stationery, printed by Pop Press, and Will's kitty cufflinks. With two cats at home who sadly couldn't come on the day, Jo paid homage to them with custom-made patches of their faces from In Twos and Threes which are now permanently sewn onto the back of her denim jacket!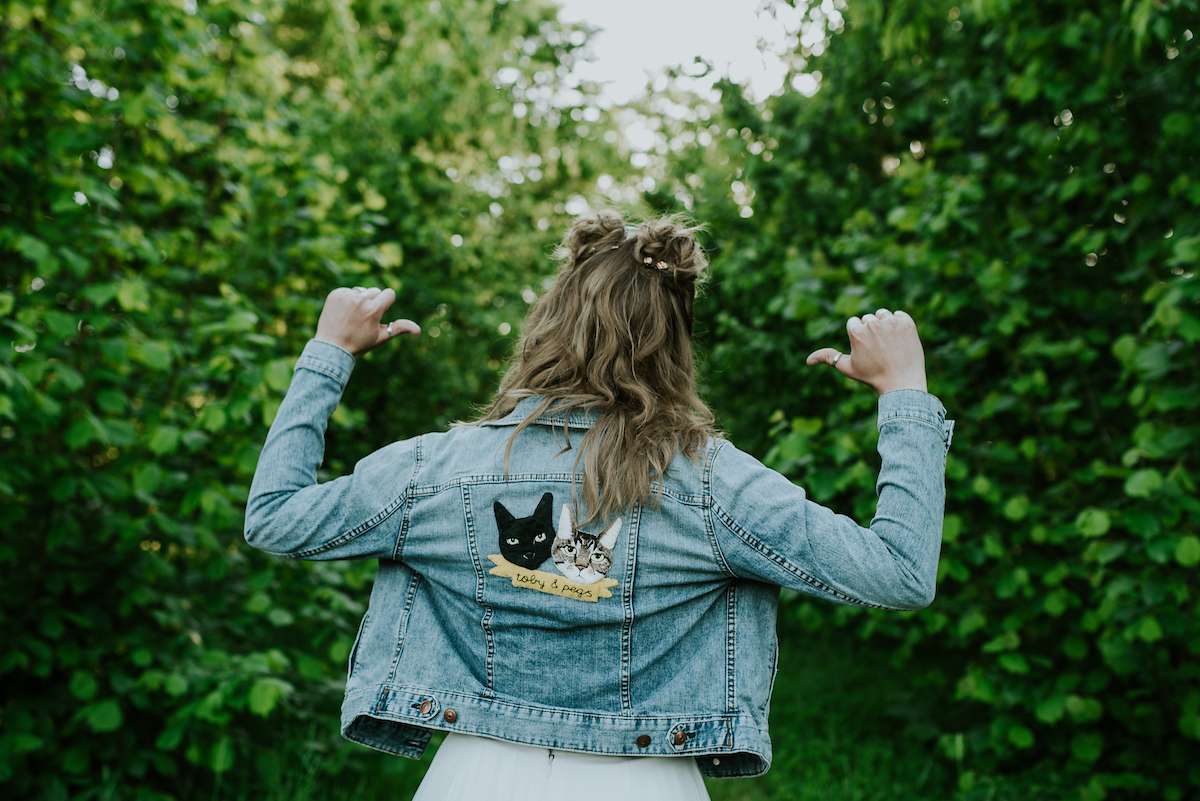 Now, let's talk about food, shall we? "CHOOSING ALL THE FOOD was 100% the best part of planning for us both!" Jo explains. "Chatting to our favourite food vans and working with them to figure out how it could all work together was so much fun and obviously sampling everything from cheese and fried chicken to gelato and mezze boxes was a treat!" Eventually, they ended up having five food vans outside: Mezzes and fries from Wandering Yak, chicken wings and mini sliders from Buffalo Joes, a gelato tricycle from Jack's Gelato, churros and dips from Churros Bar, and a horse box bar from The Gin Joint.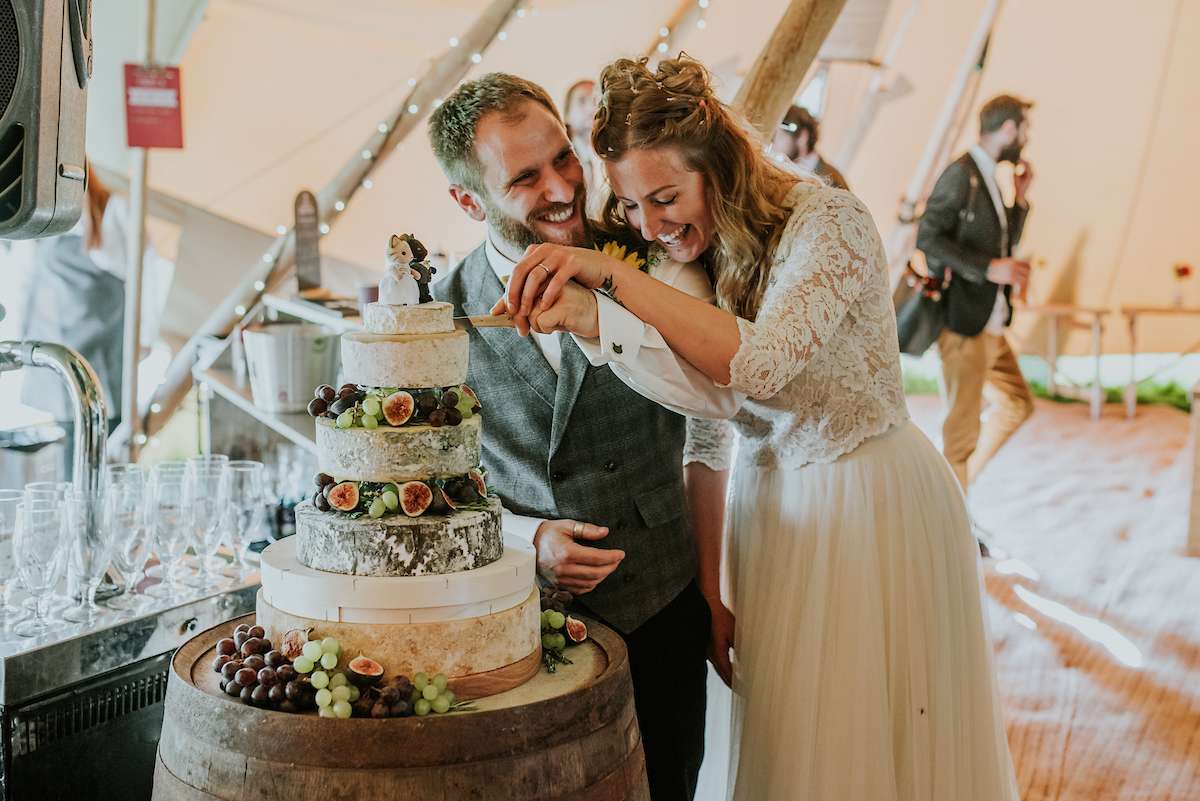 And that's not where the food ends. Jo also wore her three favourite foods in her hair! Nestled in her beaut tousled space buns (by Sian Revill) were Crown and Glory burger, pizza and fries pins.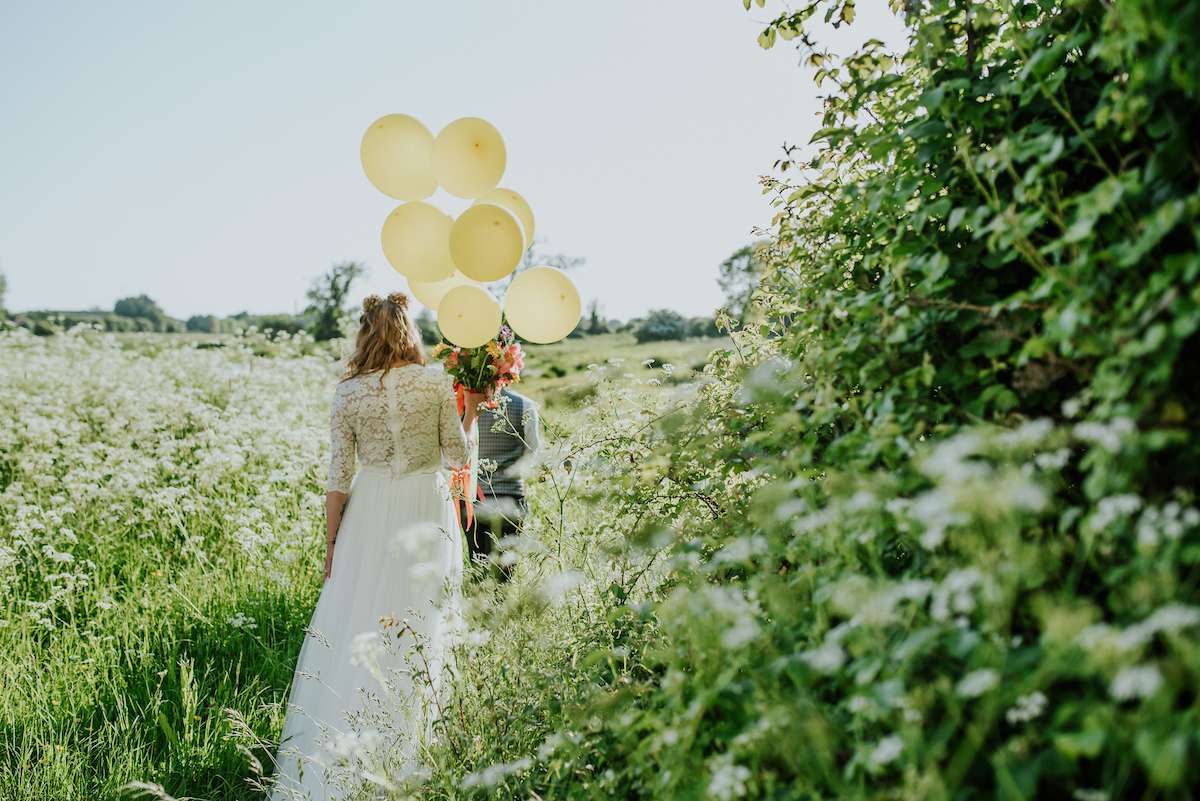 As well as basically being the poster girl bride for gorgeous sunshine and fun, Jo's been totally relatable and honest about the planning. "I wish I'd known just how overwhelming it can be! But then again, I don't know if anyone can prepare you for it…" she says. "I also wish I had been able to read this article after I had gotten engaged because I felt incredibly guilty for so long when I wasn't excited by the idea of planning everything – I just didn't want to talk about it with anyone other than Will and I worried friends and family thought I was being rude or odd for a long time. To hear that it's OK to not be an over-excited bride-to-be and not to love every bit of planning is refreshing!"