Cristina and David's wedding was epic and elegant yet dark and gothic, with two ceremonies, a marching band and a gorgeous venue.
The venue Cristina and David chose was the Domaine de Courson, a beautiful stately home in the village of Courson-Monteloup. Not only is it a stunning, impressive building with rolling greenery and lakes surrounding it, but it has sentimental value too: it's also in the village where they live, had their first apartment together, and where they just bought a house!
Their theme was black and white, which they chose as they felt it would go well with the venue, but also with their guests. "We had a lot of tattooed, non conventional friends at the wedding," Cristina says, "which was very funny because we spent the all day in the Domaine de Courson, which is a very fancy place, where they're not used to having people like us!" Their Victoriana-inspired day was the perfect marriage of the two.
After the civil ceremony inside, Cristina and David led their guests – accompanied by a marching brass band – to their beautiful outdoor ceremony which was laid out on the grass in front of the stately home. "The outdoor ceremony was led by Mathieu, our friend," Cristina continues. "It was very emotional and all our close friends and family had a chance to say a word – we cried a lot. The day of the wedding was actually the 56th year wedding anniversary of my grandparents marriage. They both where there and were so lovely and helpful!"
Alongside trying to exclusively hire suppliers they knew personally (including their make up artist, hairdresser, cake maker and florist) they also did a load of DIY for their wedding. "We did all the stationery by ourselves, and also bought and decided about the tables decorations," Cristina explains. "Since some of our guests were veggie/vegan, my sisters made their food. As beer is where our love story began, we wanted to incorporate it somehow, so for the favours, we offered local brewed beer from the Brasseries Ox (who David has worked with for a long time now). We made DIY stickers for the beers that our friend Dafne designed and our friend Pierre had printed."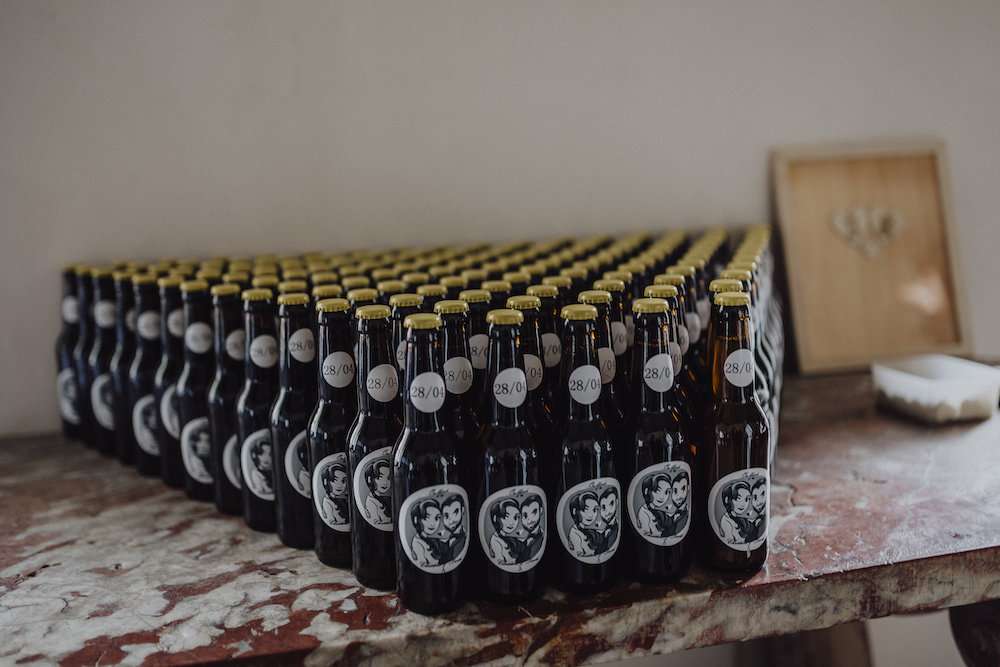 Cristina wore a beautiful Devil Night gown with black accents that showed off her tattoos, as well as a full-length black top layer for when things got slightly chilly. Both her and David wore Louboutins, which they got at a private sale their friend (who works there) invited them to!
After the outdoor ceremony, Cristina and David went to explore the grounds with their photographers Celeye Photographies, and to play with some smoke bombs. The golden hour is so gorgeous on these photos, as is Cristina and David's tangible happiness – so cute! We love how smiley they are – even when falling over!
When asked for a funny story about the day, Cristina told us: "The videographer asked us to run at some point, to capture us and some birds. Unfortunately, my feet got into my gown and I fell! It was a really funny moment and I couldn't stop laughing. I'm glad we have pictures of the moment because it was the funniest part of the day." Told you, still smiling!
In true French style, Cristina's advice for future brides and grooms is "Drink a lot of coffee, because you're not gonna sleep a lot for the next few months." Et Voila!