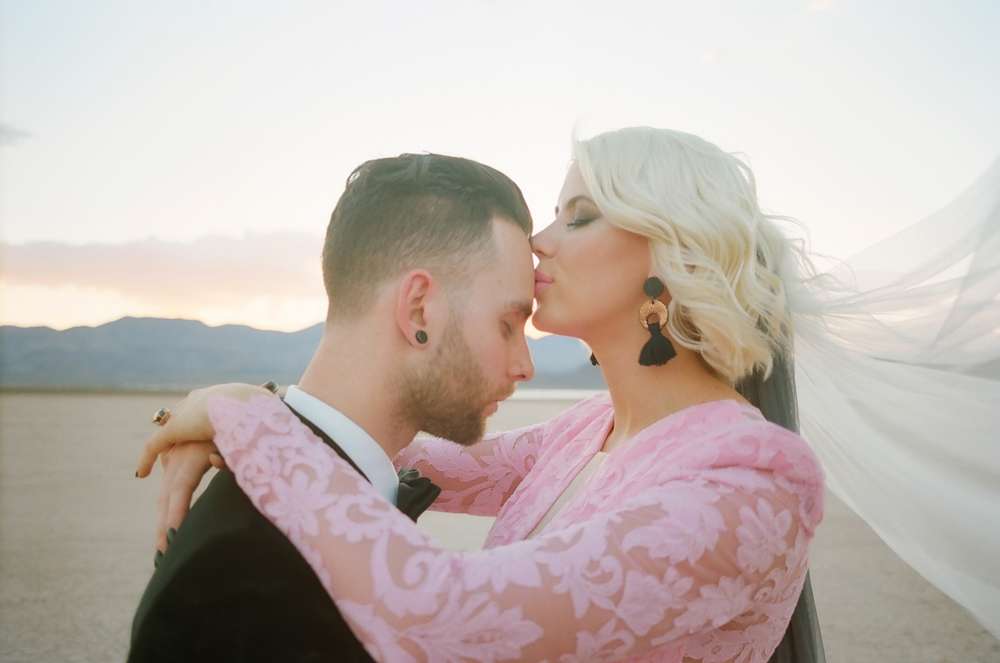 If you look up Rock n Roll in the encyclopaedia of life, you might just find a picture of this couple and their wedding. Eloping to Las Vegas from Australia, and donning a bubblegum pink dress and a sharp suit, Amie and Ben said their 'I dos' on a dry lake bed, before eating at a burger joint and finally heading off to get tattoos. Romantic, sexy and effortlessly cool, or what?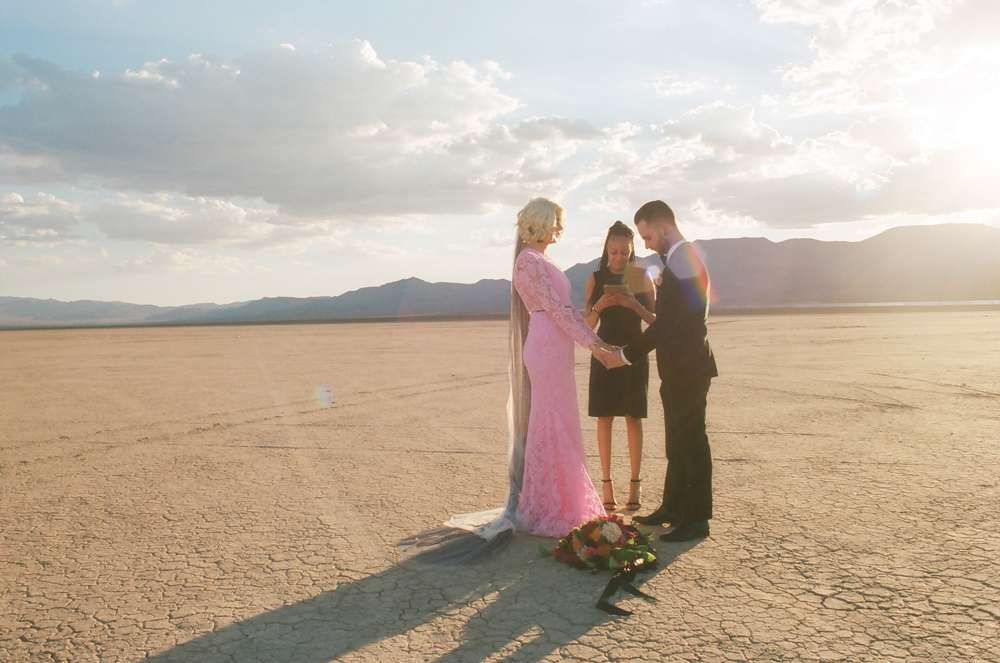 The couple described the theme of their day as "Fun, colourful, retro and little Rock n Roll" with the inspiration for the styling coming from Pinterest, Instagram and a few things they'd been inspired by over the past few years. "We picked things that we thought would be fun, a little bit kooky and would make for some fun photos!" they explained.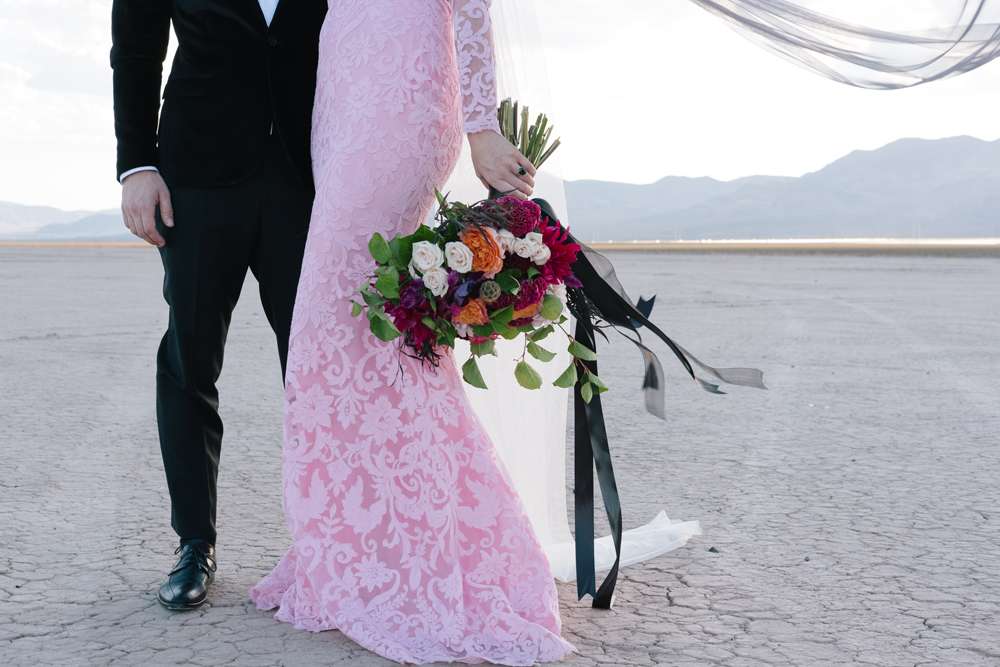 The ceremony was a small and intimate affair at Eldorado Dry Lake Bed, about 45 minutes out from the Strip, at sunset. Just the two of them, their photographers and officiant were there and after the vows they let off smoke bombs and drank Chandon from the bottle! The bride said, "Eloping and avoiding the traditional type of wedding made it more about just the two of us."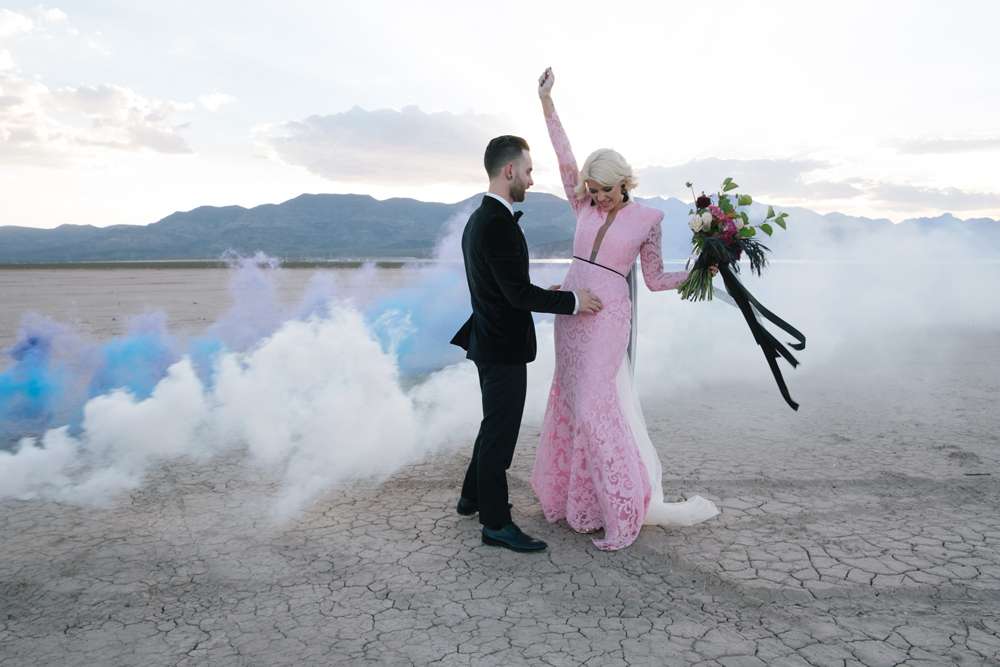 After this, they all went to In-N-Out Burger, strolled the streets of Downtown, Las Vegas, and ended the night at the Precious Slut tattoo shop. Amie said, "Getting matching tattoos at the end of the night dressed in our full wedding attire was pretty fun."
Amie's beautiful pink dress was by Alex Perry from Ganache Boutique, which she wore with shoes from H&M. Ben's suit was by Jack London.
Photographer Andi, one half of Pure Light Creative, said she loved this free-spirited, go-with-the-flow couple. "I think my favourite thing upon meeting them was when I asked Amie how she decided on her pink dress, she told us that she had planned on wearing white but on arriving in Las Vegas, she last-minute picked up that beautiful pink number because she felt that it was more 'her'. I was like 'okay this chick rules'!"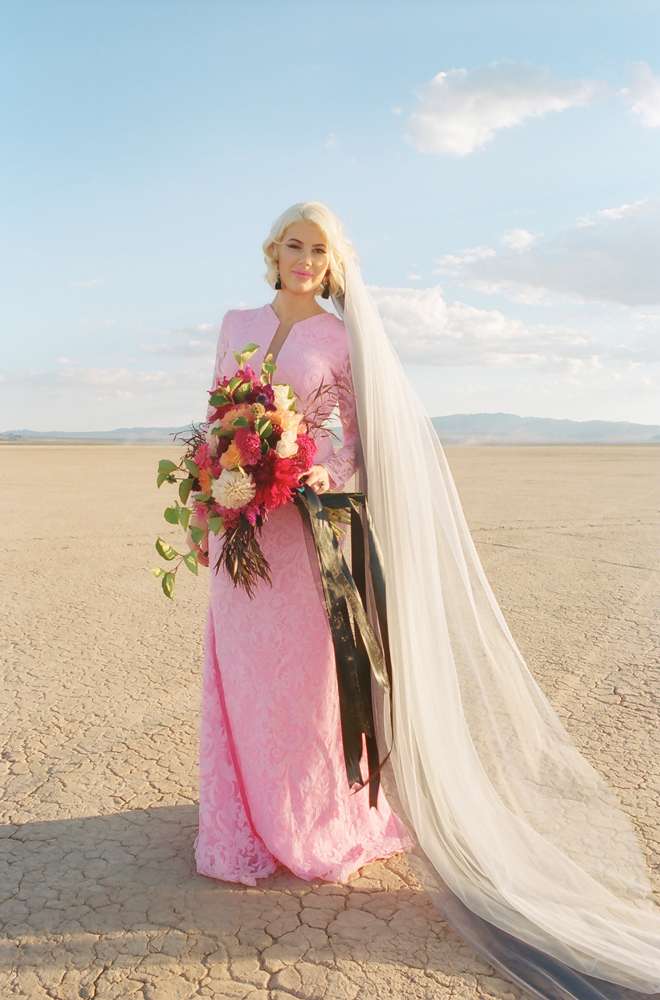 There were a few funny moments in the day, "There was someone doing burn outs in their car as we arrived at the lake bed for our ceremony, "said Amie, "not to mention none of us had used smoke bombs before, and we were all worried that we'd set ourselves on fire (we didn't!)."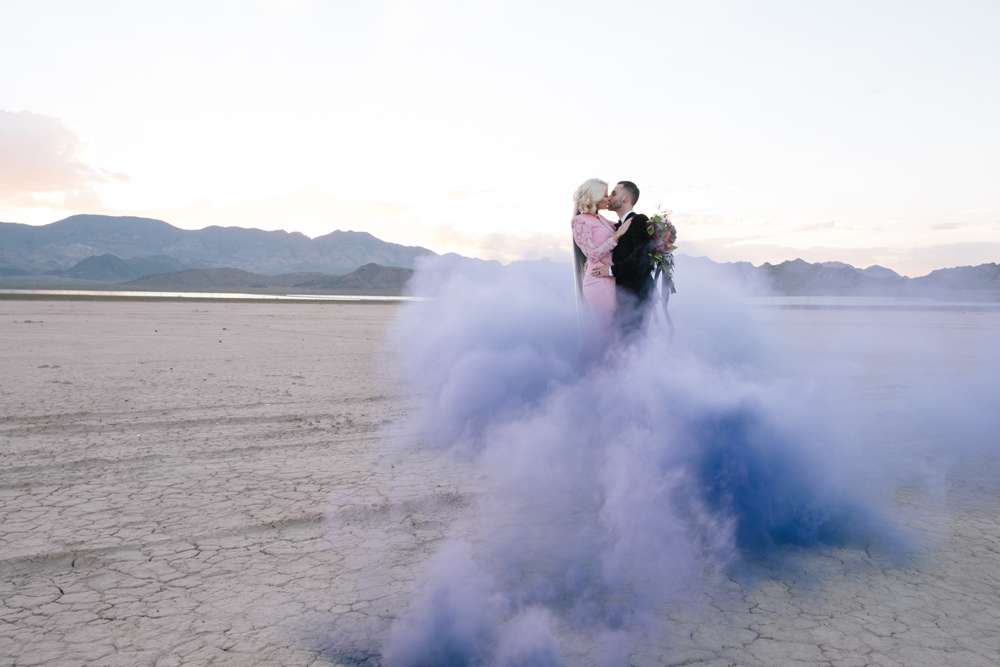 The couple's budget was $5000, and the biggest expense was the photography and videography. Amie said, "We wanted to make sure we had some great memories to hold on to and share with our family and friends after our special day. We used these photos to display at our post-elopement party back in Australia and now in our home."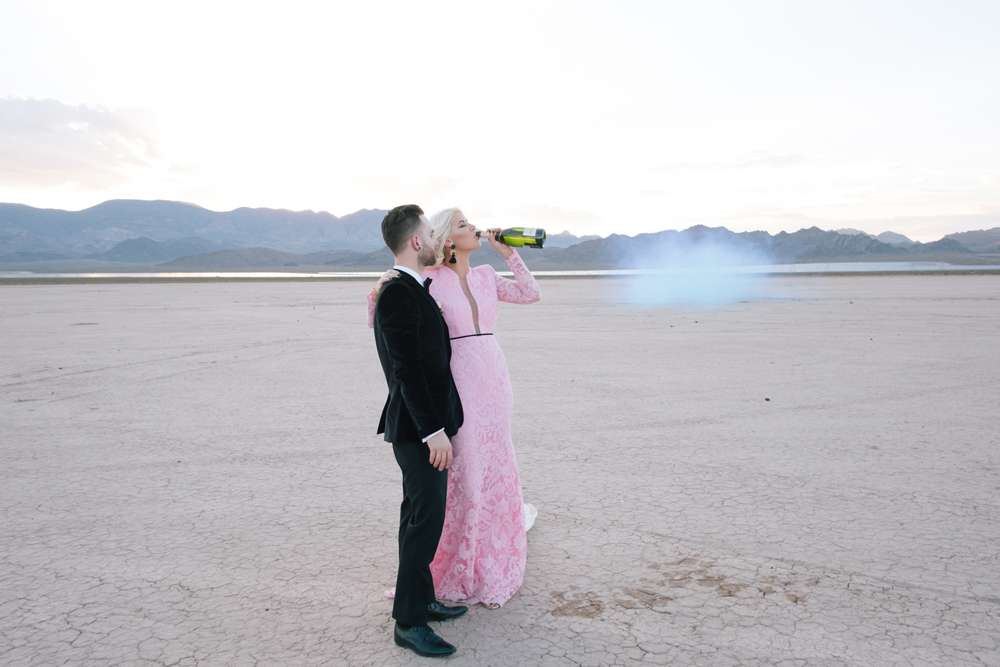 The best thing about planning, the couple said, "Was definitely being able to get creative and express our personalities through the things we chose." And the worst thing had to be the time difference between Australia and the US. Amie said, "This meant we had to have faith in our suppliers, whom we had picked with minimal discussion (all found through Instagram) luckily they all nailed it!"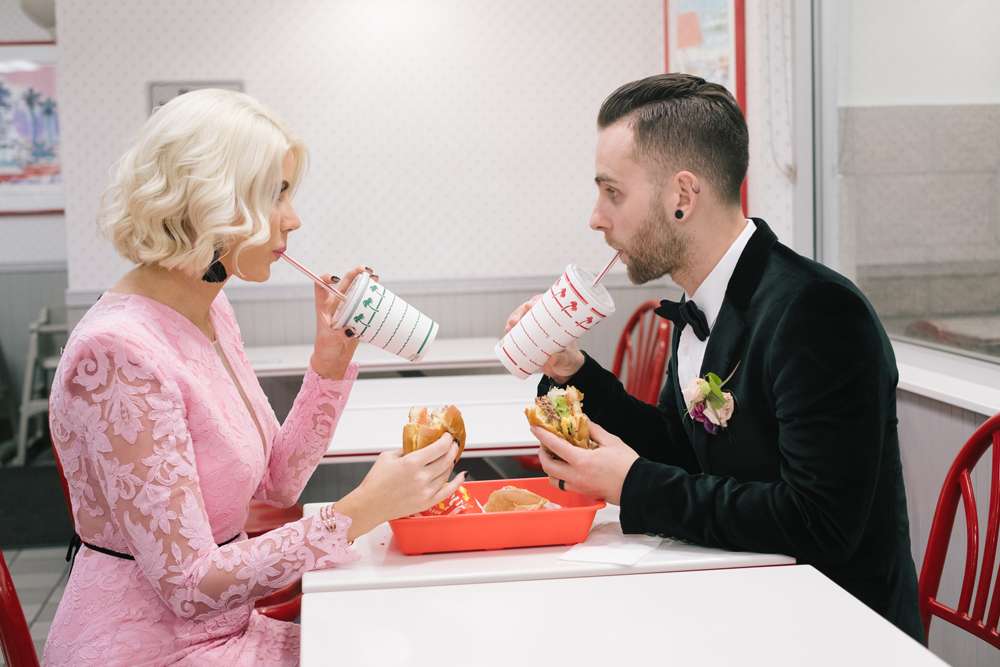 The bride added that they wish they'd known "Not to stress the little things – you wont remember them after such an amazing day, anyway, and less is more." As for anything they might have done differently, Amie said "Possibly move everything forward a few hours so the day would last longer haha!"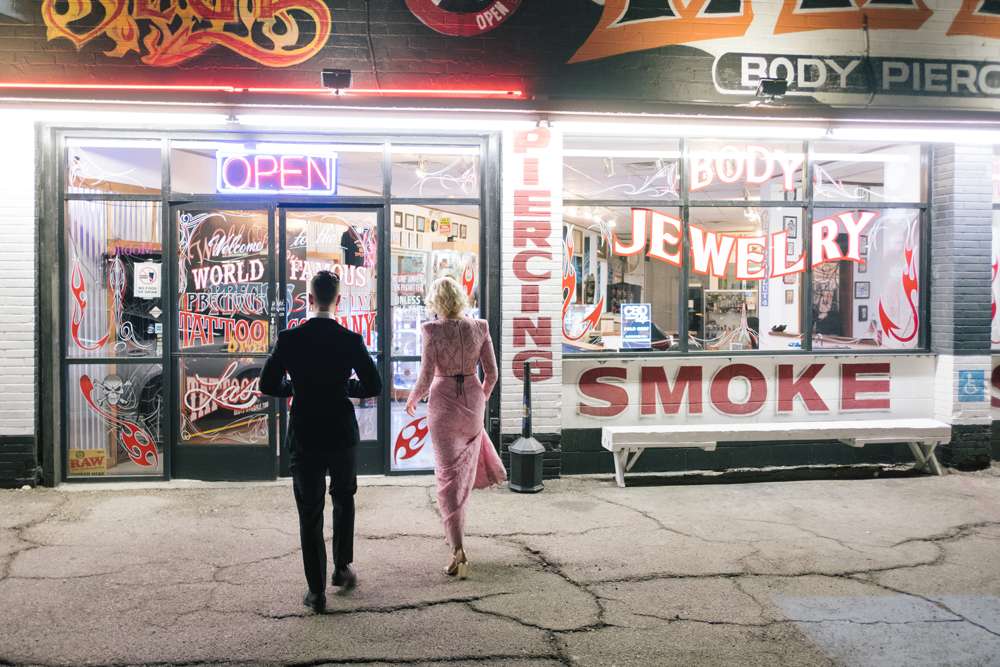 The couple's advice is to "Go with your gut. Take on professional advice, but in the end choose what will make you happy on the day. And make sure you have fun with it and enjoy yourself. Don't stress about what others think and say because all that matters is the two of you. Also don't get sucked into the 'wedding biz' – if you didn't want it or plan for it in the first place, you most probably don't need it!"